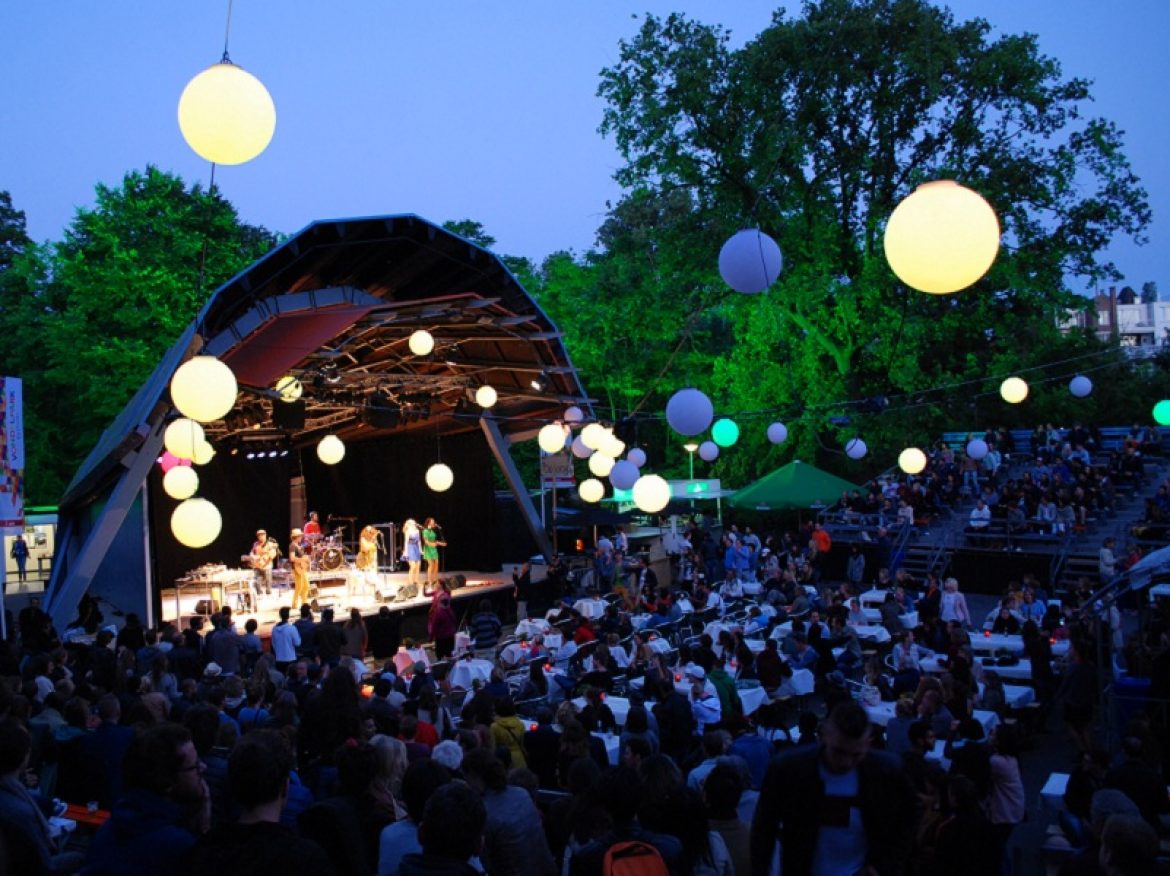 Vondelpark Openluchttheater
The Vondelpark Open Air Theatre is located in the heart of the most beautiful park in the center of Amsterdam. By the way, a walk in the park will enjoy you – there is always a lively amospere and, in addition to ordinary travelers, there is a large number of street performers, strolling musicians, jugglers and so on. Every year the theater offers 125 free shows in a variety of genres: (pop) music, classical, dance, youth, cabaret and comedy. It is pleasant to spend an evening in the open air, and Amsterdam Vondelpark Openluchttheater (ie, the "open-air theater in the Vondelpark") provides a lot of additional features for that. It is also pleases that events here are good, diverse and free.This theater was created in 1974 modelled on "open-air theater" in other capitals of the world, in particular in London and New York. It is a summer theater – it means that performances are shown 3 months of the year, in June, July and August, and only 3 days a week (Friday, Saturday and Sunday). All plays, concerts and performances are held outside the hall. Events are for both adults and children, and it depends on time – for the children in the daytime, for adults in the evening. There is a wide range of the performance genres. The skill of the performers can vary widely, as both new talent and established professionals are on stage.
Here comedy shows, performances of circus artists, concerts, children's shows and performances take place. In the friday night dance shows usually are performed, in the afternoon on Saturday and Sunday – activities for children, on Saturday night – theater performances, concerts and cabaret, and on Sunday – also concerts, but they are bigger. Here both well-known and amateur artists can perform, but indispensable condition is a good level of performance. You can listen to music of various genres: pop, rock, jazz, classical – whatever.
Vondelpark is a large park located in the city center, and the theater – a great opportunity to spend here a pleasant summer evening: to attend the clowns show, to watch the show with the modern, national, or just quietly listen to music sitting on the grass. It's worth noting that the tents for the audience here is not provided for – you will sit in the open air, performances may be canceled due to the bad weather, and also – that the area is not very large, the number of places is limited, a good concert is worth to come a little bit in advance.
Almost all performances, concerts and plays are free. Children's activities begin in the afternoon, the start time of the adults ones may be quite varied.
Visit the official site: www.openluchttheater.nl
Heb je ook zo genoten van Pynarello gisteren in het Vondelpark Openluchttheater? Dan hebben we een tip voor je! Zaterdag 10 augustus staan ze samen met Gallowstreet (vorig jaar bij ons in het Vondelpark!) in het Het Concertgebouw Amsterdam. 'Neo ...

Photos from Vondelpark Openluchttheater's post Hoe kun je je zondagmiddag beter beginnen dan een wandeling door het Vondelpark met als eindpunt een klassiek concert tussen de bomen? Loop gerust eens 'binnen' en geniet met een kopje vers gezette koffie van de beste klassieke concerten. Vandaag ...

Dit weekend is er weer voor ieder wat wils in het Vondelpark Openluchttheater! Dans, muziek, jeugd, comedy, klassiek... wat zit er voor jou bij?

Vrijdag 20.30u DANS: Julidans Extended: At the Park 12 July
Zaterdag 14.00u JEUGD: Jazz Duzz - ...

Pynarello: zo hoorde je klassieke muziek niet eerder! Heb je al plannen voor komend weekend? Lees hier onze tips!
 Klassieke muziek kan anders, avontuurlijker, spontaner, directer. Deze zondag staat er een vol orkest op ons podium zonder dirigent en zonder bladmuziek. Dat kan alleen maar bijzonder zijn! Pynarello is ...

Photos from Vondelpark Openluchttheater's post Julidans is in volle gang! En dit weekend stond het Vondelpark Openluchttheater in het teken van dit internationale dansfestival. Zo zag je bijvoorbeeld een fragment uit 4: Still Life van Nicole Beutler Projects, dansten studenten van Codarts stukken van o.a. ...

Photos from Vondelpark Openluchttheater's post Het was Nederlandstalige middag in het Vondelpark Openluchttheater vanmiddag. Met Aafke Romeijn en Rob Dekay. Het was gezellig druk en de sfeer zat er goed in! Kom jij volgende week zondag ook? Dan hebben we o.a. Tim Knol & Blue ...

Photos from Vondelpark Openluchttheater's post Vandaag begon de dag in het Vondelpark Openluchttheater met Amstedam Young Philharmonic, het jeugdorkest van het Nederlands Philharmonisch Orkest | Nederlands Kamerorkest waarna een ensemble van het Nederlands Kamerorkest 'Peter R de Wolf' speelde. Hele bijzondere klassieke concerten, zoals je ...

Photos from Vondelpark Openluchttheater's post Vanavond zagen we Jort Faber i.s.m. AmsterDans met het prijswinnende stuk Pursue als voorprogramma van De Dutch Don't Dance Division met Ballet Black and White. Het publiek was enorm enthousiast! Volgende week staat de vrijdagavond in het teken van Internationaal ...

Vondelpark Openluchttheater YESSS! Het programma van komend weekend zit weer lekker vol top-optredens. En de zon gaat schijnen, wat wil je nog meer... Wij hebben er in elk geval enorm veel zin in, jij ook? Zo niet, lees dan nog even onze ...

Photos from Vondelpark Openluchttheater's post Een zomerse avond vol dans! Met "The Little Great People" van Jiri Pokorny / Korzo Producties / NDT, een preview van '60' van Off Projects / ICK Amsterdam en Conny Jansen Danst / Davide Bellotta met Fratello | Sorella. Elke ...

Onze tips voor komend weekend: Nog geen plannen dit weekend? Wij wel! Met Martijn Koning, Tim Knol, Conny Janssen Danst, Korzo, ICK, OFF Projects, Nederlands Dans Theater (NDT), Jasper Smit en nog veel meer... Je leest er alles over in onze nieuwsbrief:
Off Projects | ...

Photos from Vondelpark Openluchttheater's post Trijntje Oosterhuis maakte er een fantastisch feest van in het Vondelpark Openluchttheater vanmiddag. De sfeer was top, de zon was erbij, én Candy Dulfer was erbij! Bekijk het fotoverslag en geniet nog even na van deze mooie middag.

Morgen hebben ...

Photos from Vondelpark Openluchttheater's post Zondag start je de dag met een klassiek concert in het Vondelpark Openluchttheater! Vandaag zag je Dudok Quartet - Michele Mazzini en de zon was er ook gewoon weer bij. Later vandaag - vanaf 15.00 uur - komt Trijntje Oosterhuis ...

Photos from Vondelpark Openluchttheater's post De eerste Club Vondel van het seizoen: Dé plek om elke zaterdagmiddag nieuwe muziek te ontdekken. Vandaag Club Vondel met whatimeant en DIEDE, en maandag de Extended Pinkster-editie: Club Vondel X Buiten Spelen voor de GRAP. Het belooft de rest ...

Photos from Vondelpark Openluchttheater's post Kita Menari beet het spits af op de opening van ons zomerprogramma, de sfeer zat er meteen goed in! Daarna ging het publiek volledig los, samen met 155 - eenvijfvijf, en Jeangu Macrooy sloot de middag af. Wat hing er ...

Donderdag 20 juni hebben we de "Tour d'Amour 2019 | Fiets mee!" weer te gast in het Vondelpark Openluchttheater. Fiets je mee?
Vondelpark Openluchttheater
Pros
Great venue with magnificent performances and amazing artists. If you're visiting Amsterdam, this is a great place to see free concerts and shows!
Cons
It is not suitable for people who like comfort.