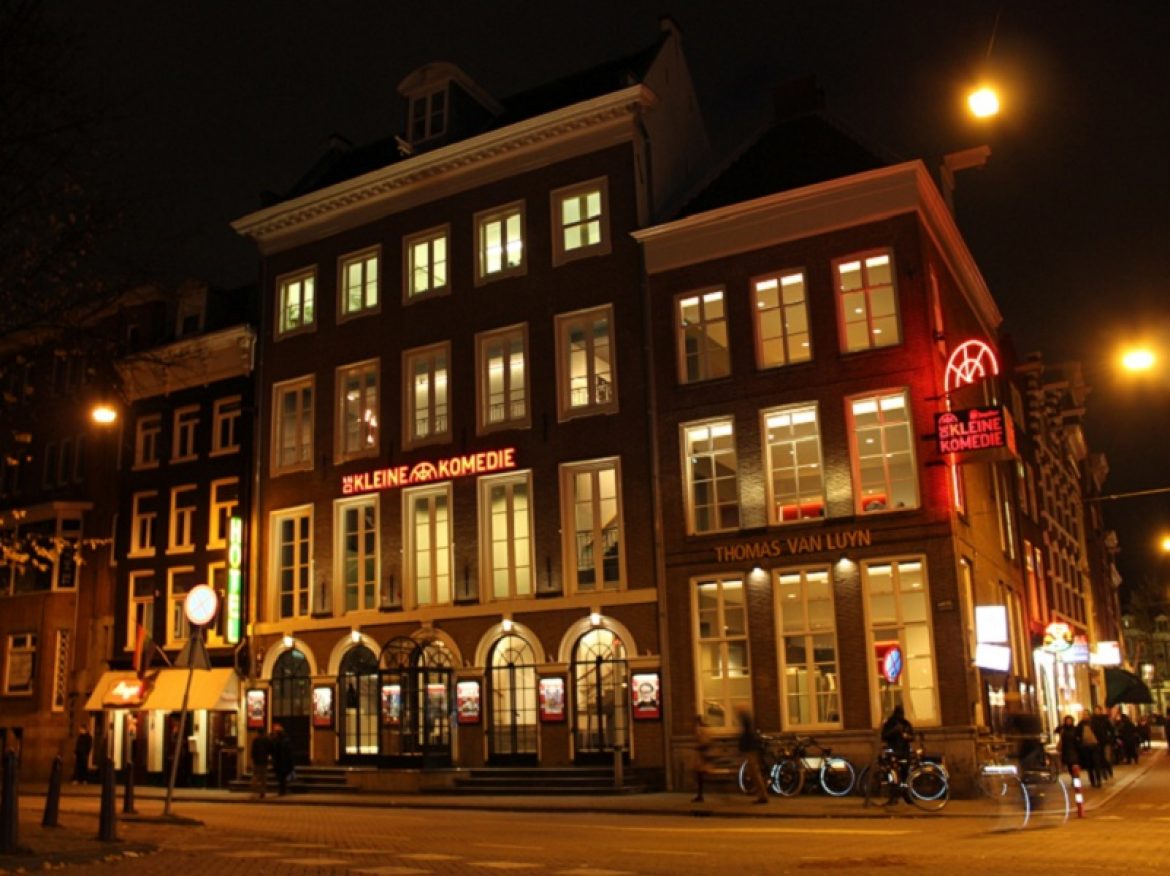 De Kleine Komedie
De Kleine Komedie is a theater located in Amsterdam that was built in 1786. It is located in the oldest theater building of Amsterdam and since the early eighties presents comedy, cabaret and theater music. It can hold 500 theatregoers.The purchase of the land was financed by the firm Hope & Co. De Kleine Komedie focuses on theater making high-quality programs that are the best of this genre in the Netherlands, with a balance between amateur and experienced performers. Another goal is to introduce young artists to a wider audience.  The theater can accommodate up to 500 people, it has enough space to create a pleasant and memorable evening. The red velvet and chandeliers provide a warm décor and its stage is equipped with all technical facilities. De Kleine Komedie has a perfect reputation for producing and programming high-quality performances. De Kleine Komedie is the oldest theater in Amsterdam, it is a unique location with a welcoming, warm and inspiring atmosphere. It is the place for cabaret, comedy and theater concerts.  There is a varied program that includes cabaret and music performances.
History
Started as Theatre Français sur l'Erwtemarkt, where Napoleon and King William I were among the regular visitors. In those years, the performances were often in French and made in a Parisian theater form that was rather popular. French operas and plays were performed in the theatre in the 19th century. The building was later turned into a Neues Deutsches Theater. From 1856 the Scottish Missionary Church located in the building until 1864 under the leadership of the charismatic preacher August Ferdinand Carl Schwartz, the father of the writer Maarten Maartens. Between 1880 and 1883, just started VU University hired some halls of the Scottish Missionary Church and used it as a lecture hall. In 1947 the couple Perin-Bouwmeester opened the theater again under the name De Kleine Komedie.  In the Fifties and Sixties many famous people in the Dutch entertainment world, such as Toon Hermans, Wim Kan and Fons Jansen, made appearances in this theatre. In 1978, the theater was renovated with private funds and reopened. It can develop into an important platform for free and subsidized productions.
As Vrije Universiteit (Free University) of Amsterdam was founded in 1880, it rented some rooms of the Scottish Missionary Church to use for the lectures. In 1883 this building became too small for the quickly growing number of students and the university decided to buy another building.
For more information click here: www.dekleinekomedie.nl
De losse kaartverkoop is gestart! De makers zitten er klaar voor, nu is het de beurt aan jullie. Zie je jouw favoriet al zitten? https://t.co/4ReFgJn3lf

Timeline Photos De losse kaartverkoop voor seizoen 17/18 is gestart! De makers zitten er klaar voor, nu is het de beurt aan jullie. Zie je jouw favoriet al zitten?

www.dekleinekomedie.nl
De Kleine Komedie with NUHR and 4 others.

Na deze heerlijke dag nog even uitwasemen bij de zwoele klanken van @BoeijenMusic in onze prachtige zaal? Koop nu de allerlaatste kaarten!

Deze week:
• Frank Boeijen
• Powervrouwen
• Stef Bos
• Lunchpauzeverhalen met Nelleke Noordervliet
• Eric Vloeimans & Holland Baroque https://t.co/YBT2iDM0lt

Timeline Photos Deze week:
• Frank Boeijen
• Powervrouwen
• Stef Bos
• Lunchpauzeverhalen met Nelleke Noordervliet
• Eric Vloeimans & Holland Baroque

www.dekleinekomedie.nl
De Kleine Komedie with Stef Bos and 4 others.

Timeline Photos Hou je niet zo van voetbal, maar staat je hele huis in het teken van de Europa League-finale van Ajax? Laat dan je voetbalkijkende man lekker achter met zijn vrienden en neem je vriendinnen mee naar de Powervrouwen in De ...

@rasxcfsw2201 Eh? Wij hebben vanavond Martijn Koning staan. Is ook heel erg leuk, maar met veel minder instrumenten.

@IvoThijssen Hi Ivo, dat verschilt per avond. Zodra bekend is wie er dit jaar komen plaatsen we dit op onze website.

Beste Kleine komedie,

De voorverkoop is flauwekul. Met jullie zogenaamde eerlijke verdeling d.m.v. inlogcodes en tijd slots. Dan is ook het reëel als je per slot een maximum zet, want heb je een later slot dan is alles uitverkocht. Hou ...

@ShowInterest Heb je wel overal plaatsen gekozen? Als het dan nog niet lukt, bel dan even met de kassa (0206240534), dan kunnen we je helpen.

@jlaffra Hi Johan. Je kon al vanaf woensdag een inlogtijd aanvragen. Jammer dat dit niet gelukt is! Vanaf 12.00 uur is het aanvragen weer mogelijk.

@jlaffra Hi Johan, de samenstelling is elke avond hetzelfde. Je kunt dus op alle drie de dagen komen kijken!

Wil je nog op audiëntie bij de enige echte Koning van de Lach? Laatste kaarten voor vanavond! Kom en buig (van t lachen) voor @MartijnK0ning

Timeline Photos De voorverkoop gaat zaterdag 20 mei van start! Vraag daarvoor nu een inlogcode en -tijd aan op www.dekleinekomedie.nl. Met deze code en vanaf de doorgegeven tijd kun je zaterdag kaarten voor seizoen 17/18 bestellen.

@Marieke_F Om 12u verandert onze home pagina inderdaad naar de aanvraagpagina! Als je nu al op de website zit: ververs de pagina om 12u met F5.

Timeline Photos Deze week:
• Sjors van der Panne
• Martijn Koning
• Soundos

www.dekleinekomedie.nl
De Kleine Komedie with Soundos and 2 others.

@ruthdevries Dat horen we graag! Heb je inmiddels al een email ontvangen? Wegens de drukte kan het wat langer duren dan normaal.

Timeline Photos 'Over je vak lullen is toch het leukste dat er is.' (Mylou Frencken)

Dat is dan ook precies wat ze gaat doen. Aanstaande vrijdag presenteert Mylou Frencken haar boek Leven in het lied. Ook komen Paul van Vliet, Brigitte Kaandorp, ...

Timeline Photos Ben je Vriend? Vraag dan nu een inlogtijd aan op onze site waarmee je zaterdag kaarten voor het nieuwe seizoen kunt bestellen.

www.dekleinekomedie.nl

Het zijn niet de beste plekken, maar het is wel in het prachtigste theatertje van Amsterdam.
Op 10 juni 2017, in de Kleine Komedie.
Laat een goed bod achter, of stuur me een berichtje.
De Kleine Komedie
Pros
One of the nicest and most beautiful small theaters in the Netherlands. An interior suits the 21st century, while the theater was built rather erlier! Theater with great atmosphere and friendly staff. The shows are fun and well-acted.
Cons
Small hall with low chairs.