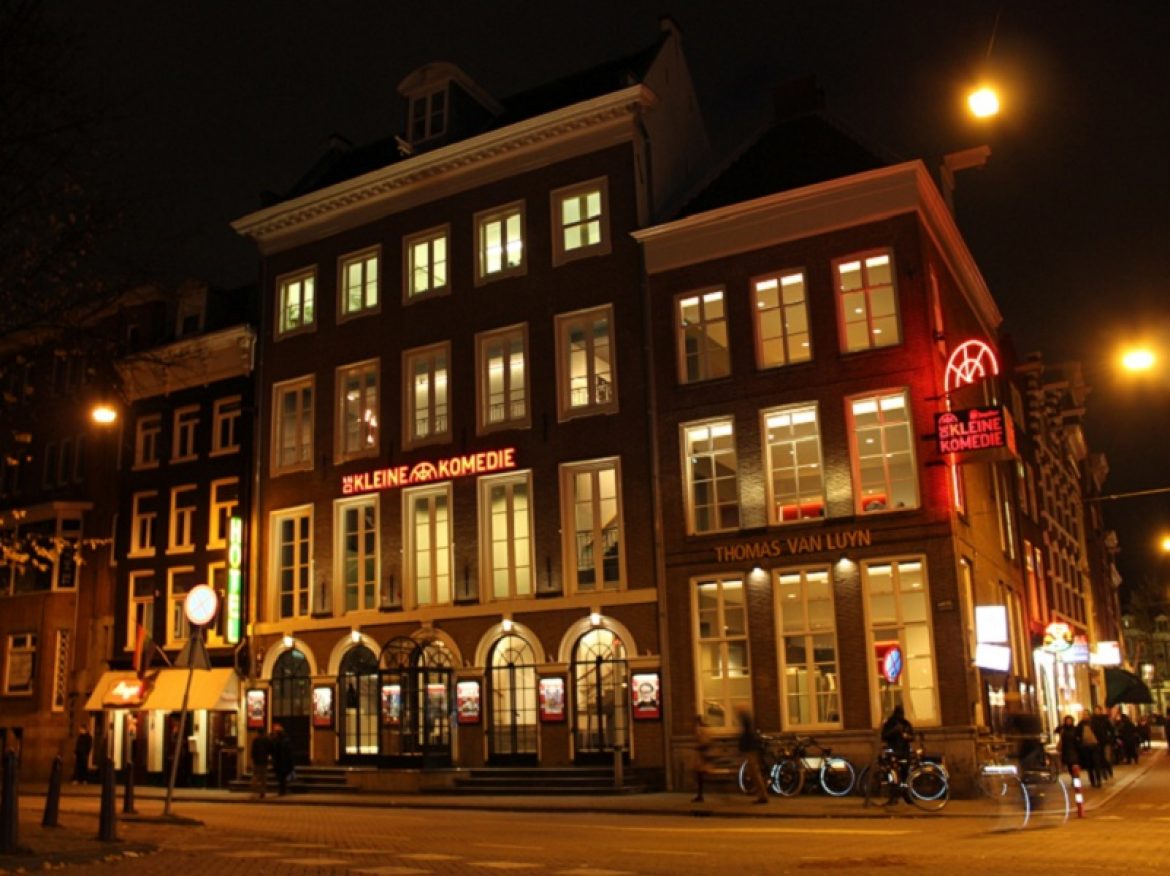 De Kleine Komedie
De Kleine Komedie is a theater located in Amsterdam that was built in 1786. It is located in the oldest theater building of Amsterdam and since the early eighties presents comedy, cabaret and theater music. It can hold 500 theatregoers.The purchase of the land was financed by the firm Hope & Co. De Kleine Komedie focuses on theater making high-quality programs that are the best of this genre in the Netherlands, with a balance between amateur and experienced performers. Another goal is to introduce young artists to a wider audience.  The theater can accommodate up to 500 people, it has enough space to create a pleasant and memorable evening. The red velvet and chandeliers provide a warm décor and its stage is equipped with all technical facilities. De Kleine Komedie has a perfect reputation for producing and programming high-quality performances. De Kleine Komedie is the oldest theater in Amsterdam, it is a unique location with a welcoming, warm and inspiring atmosphere. It is the place for cabaret, comedy and theater concerts.  There is a varied program that includes cabaret and music performances.
History
Started as Theatre Français sur l'Erwtemarkt, where Napoleon and King William I were among the regular visitors. In those years, the performances were often in French and made in a Parisian theater form that was rather popular. French operas and plays were performed in the theatre in the 19th century. The building was later turned into a Neues Deutsches Theater. From 1856 the Scottish Missionary Church located in the building until 1864 under the leadership of the charismatic preacher August Ferdinand Carl Schwartz, the father of the writer Maarten Maartens. Between 1880 and 1883, just started VU University hired some halls of the Scottish Missionary Church and used it as a lecture hall. In 1947 the couple Perin-Bouwmeester opened the theater again under the name De Kleine Komedie.  In the Fifties and Sixties many famous people in the Dutch entertainment world, such as Toon Hermans, Wim Kan and Fons Jansen, made appearances in this theatre. In 1978, the theater was renovated with private funds and reopened. It can develop into an important platform for free and subsidized productions.
As Vrije Universiteit (Free University) of Amsterdam was founded in 1880, it rented some rooms of the Scottish Missionary Church to use for the lectures. In 1883 this building became too small for the quickly growing number of students and the university decided to buy another building.
For more information click here: www.dekleinekomedie.nl
Goede gewoontes moet je in stand houden. Vinden wij. En het is al jaren een goede gewoonte om het seizoen van De Kleine Komedie te beginnen met een avond Preken voor eigen Parochie. Vier actuele blikken op de wereld. Vier ...

Helemaal uitverkocht !
Leve het internet;
is er wellicht
nog een ticket te biets ?

Van een welwillende
Kleine Komediaan.
(Staanplaats of hangplek
zijn beter dan niets.)

@Marco_Kraal Kun je een rechtenvrije portretfoto mailen naar publiciteit@dekleinekomedie.nl voor de publiciteit voor Preken voor eigen Parochie? Groet, Loes

@meijkas Hoi Kasper, excuses voor de trage reactie, en waarschijnlijk weet je 't al, maar 't gaat vanavond helaas niet door.

Wat maakt een Amsterdammer een Amsterdammer? Bestaat er zoiets als een Mokumgen? Een Amstellook? Lebbis gaat op onderzoek uit. Het Amsterdam Verhaal is een haarscherpe analyse vol scherpzinnige observaties. Laatste voorstelling van ons seizoen! https://t.co/MgQFWL44eO https://t.co/j9mO5L5Fc7

De allerlaatste voorstelling van ons seizoen: Het Amsterdam Verhaal.

Wat maakt een Amsterdammer een Amsterdammer? Bestaat er zoiets als een Amstellook? Een Mokumgen? Lebbis gaat op onderzoek uit. Het Amsterdam Verhaal is een haarscherpe analyse vol scherpzinnige observaties. Waar anders ...

Vandaag voor het eerst bij elkaar: onze Muzikale Helden van 2019. Zonder Marlijn Weerdenburg, zij was helaas verhinderd.

De eerste nummers zijn gedropt. We kunnen haast niet wachten!

11 t/m 14 september

www.dekleinekomedie.nl/muzikalehelden2019

Heb jij al kaartjes voor het nieuwe seizoen?

www.dekleinekomedie.nl
De Kleine Komedie is with Rayen Panday and 6 others.

De kaartverkoop voor seizoen 19/20 is gestart!
Bekijk het programma en bestel je kaarten op www.dekleinekomedie.nl
De Kleine Komedie is with Alex Ploeg and Henry van Loon.

🥁Originele creatievelingen opgelet! We hebben een hele mooie social media functie open staan. Schrijf je goed, vind je het leuk om online campagnes te bedenken en uit te voeren en draai je je hand niet om voor creatieve beeldbewerking? Klik ...

Nasrdin Dchar: JA! Nasrdin Dchar was gisteravond te gast bij Pauw, vind hier kaartjes voor zijn voorstelling JA: Nasrdin Dchar - JA | De Kleine Komedie en kijk hier het fragment terug 👇
JA! Zo heet de persoonlijke voorstelling van Nasrdin Dchar, gebaseerd ...

De voorverkoop gaat zaterdag 25 mei van start! Vraag daarom nu een inlogcode en –tijd aan op onze site. Met deze code en vanaf de doorgegeven tijd kun je zaterdag kaarten voor het nieuwe seizoen bestellen.

www.dekleinekomedie.nl
De Kleine Komedie
Pros
One of the nicest and most beautiful small theaters in the Netherlands. An interior suits the 21st century, while the theater was built rather erlier! Theater with great atmosphere and friendly staff. The shows are fun and well-acted.
Cons
Small hall with low chairs.