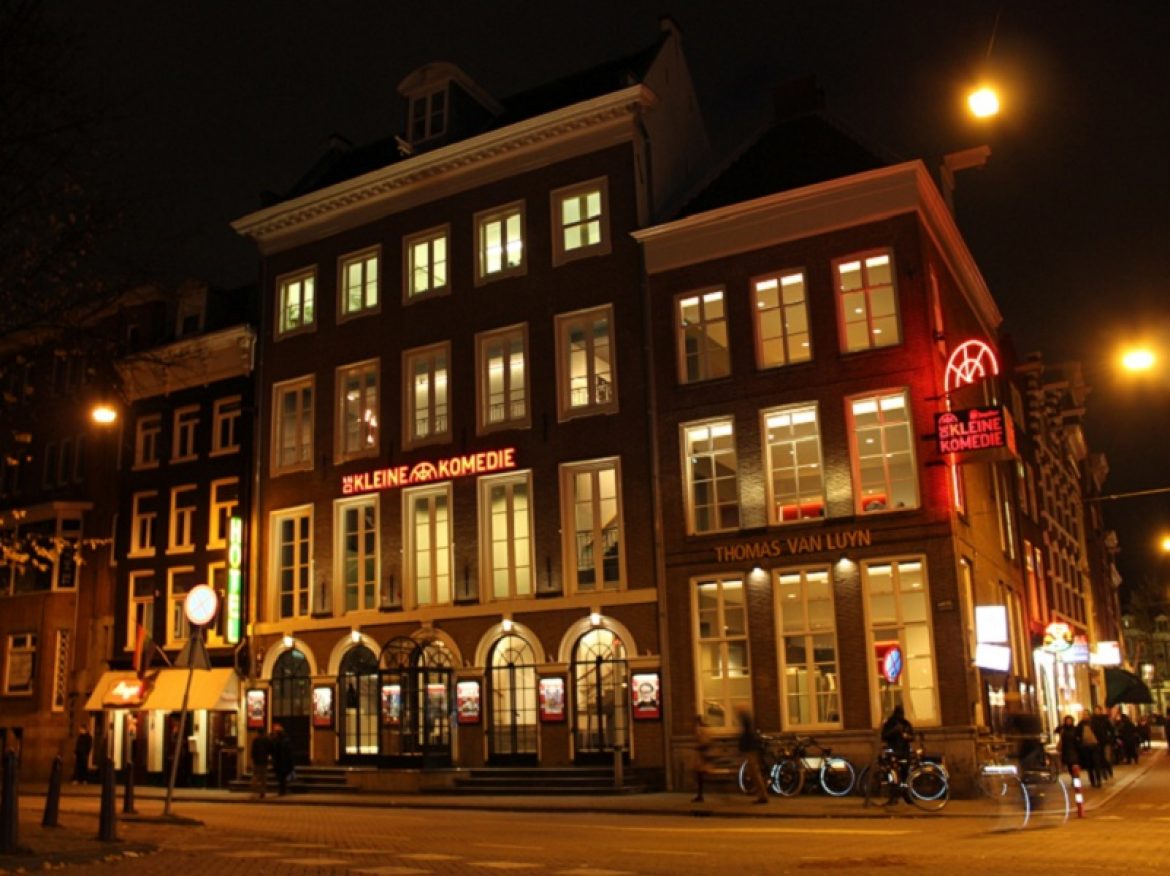 De Kleine Komedie
De Kleine Komedie is a theater located in Amsterdam that was built in 1786. It is located in the oldest theater building of Amsterdam and since the early eighties presents comedy, cabaret and theater music. It can hold 500 theatregoers.The purchase of the land was financed by the firm Hope & Co. De Kleine Komedie focuses on theater making high-quality programs that are the best of this genre in the Netherlands, with a balance between amateur and experienced performers. Another goal is to introduce young artists to a wider audience.  The theater can accommodate up to 500 people, it has enough space to create a pleasant and memorable evening. The red velvet and chandeliers provide a warm décor and its stage is equipped with all technical facilities. De Kleine Komedie has a perfect reputation for producing and programming high-quality performances. De Kleine Komedie is the oldest theater in Amsterdam, it is a unique location with a welcoming, warm and inspiring atmosphere. It is the place for cabaret, comedy and theater concerts.  There is a varied program that includes cabaret and music performances.
History
Started as Theatre Français sur l'Erwtemarkt, where Napoleon and King William I were among the regular visitors. In those years, the performances were often in French and made in a Parisian theater form that was rather popular. French operas and plays were performed in the theatre in the 19th century. The building was later turned into a Neues Deutsches Theater. From 1856 the Scottish Missionary Church located in the building until 1864 under the leadership of the charismatic preacher August Ferdinand Carl Schwartz, the father of the writer Maarten Maartens. Between 1880 and 1883, just started VU University hired some halls of the Scottish Missionary Church and used it as a lecture hall. In 1947 the couple Perin-Bouwmeester opened the theater again under the name De Kleine Komedie.  In the Fifties and Sixties many famous people in the Dutch entertainment world, such as Toon Hermans, Wim Kan and Fons Jansen, made appearances in this theatre. In 1978, the theater was renovated with private funds and reopened. It can develop into an important platform for free and subsidized productions.
As Vrije Universiteit (Free University) of Amsterdam was founded in 1880, it rented some rooms of the Scottish Missionary Church to use for the lectures. In 1883 this building became too small for the quickly growing number of students and the university decided to buy another building.
For more information click here: www.dekleinekomedie.nl
Voor de late beslissers zijn er nog een paar mogelijkheden! Koop nu de laatste kaartjes bij onze kassa op 020 624 05 34! https://t.co/pPdkjyQmpP

Deze week:
•Miss Montreal
•Frans van Deursen & Mirjam van Hengel
•Nathalie Baartman
•De Partizanen
•Tommy Wieringa
•Kees van Beijnum
•Karsu https://t.co/QAEXmgLDHf

Timeline Photos Deze week:
• Miss Montreal
• Frans van Deursen en Mirjam van Hengel
• Nathalie Baartman
• De Partizanen
• Lunchpauzeverhalen met Tommy Wieringa
• Kees van Beijnum
• Karsu

www.dekleinekomedie.nl
De Kleine Komedie with De Bezige Bij and 8 others.

Over een uur gaan we live vanuit de foyer: Aflevering 2 van Daar zal je 'm hebben op @NPORadio1!

Al jaren vriend van KLEINE komedie. Het mooiste en fijnste theater. AliB gezien 2 uur . Vrijdag 24 maart 2017 . Zijn kijk op de wereld is besmettelijk.Hij neemt je mee ,laat je meedenken, weet je te raken. Ik heb ...

Timeline Photos Deze week:
• Niels Geusebroek
• Spinvis
• Ali B
• Remy van Kesteren

www.dekleinekomedie.nl
De Kleine Komedie with Remy van Kesteren and 3 others.

Dank jullie wel. Een groep asielzoekers heeft vanavond plezier gehad in plaats van zorgen.🌹

Wie er snel bij is heeft geluk, want.. Er zijn kaarten vrijgekomen voor Hans Teeuwen vanavond! Alleen te bestellen via de kassa: 020-6240534 https://t.co/bnKF2fhkh3

Timeline Photos Deze week:
• Eva Crutzen
• Frédérique Spigt, Bo Brocken & Marc Stakenburg
• Hans Teeuwen
• Lebbis
• South African Road Trip

www.dekleinekomedie.nl
De Kleine Komedie with Frederique Spigt and 3 others.

Timeline Photos Deze week:
• BarokOpera Amsterdam
• Hans Aarsman
• André Manuel
• Eva Crutzen

www.dekleinekomedie.nl
De Kleine Komedie with Eva Crutzen and 2 others.

Timeline Photos Deze week:
• Patrick Laureij
• Lenette van Dongen
• Klap op de Maand
• Sanne Wallis de Vries, première
• The Soul of Spanish Harlem

www.dekleinekomedie.nl
De Kleine Komedie with Het Parool and 7 others.

Timeline Photos Peter Heerschop presenteert een nieuw maandelijks radioprogramma met en over cabaretiers, acteurs en andere opmerkelijke theatermakers. Live vanuit De Kleine Komedie!

'Daar zal je 'm hebben' biedt een intieme blik in de artiestenfoyer. Seks, drugs & een saucijzenbroodje bij een ...

mocht iemand afhaken en twee kaartjes hebben 4 maart voor Sanne wallis dan gaarne een pb alvast dank
De Kleine Komedie
Pros
One of the nicest and most beautiful small theaters in the Netherlands. An interior suits the 21st century, while the theater was built rather erlier! Theater with great atmosphere and friendly staff. The shows are fun and well-acted.
Cons
Small hall with low chairs.