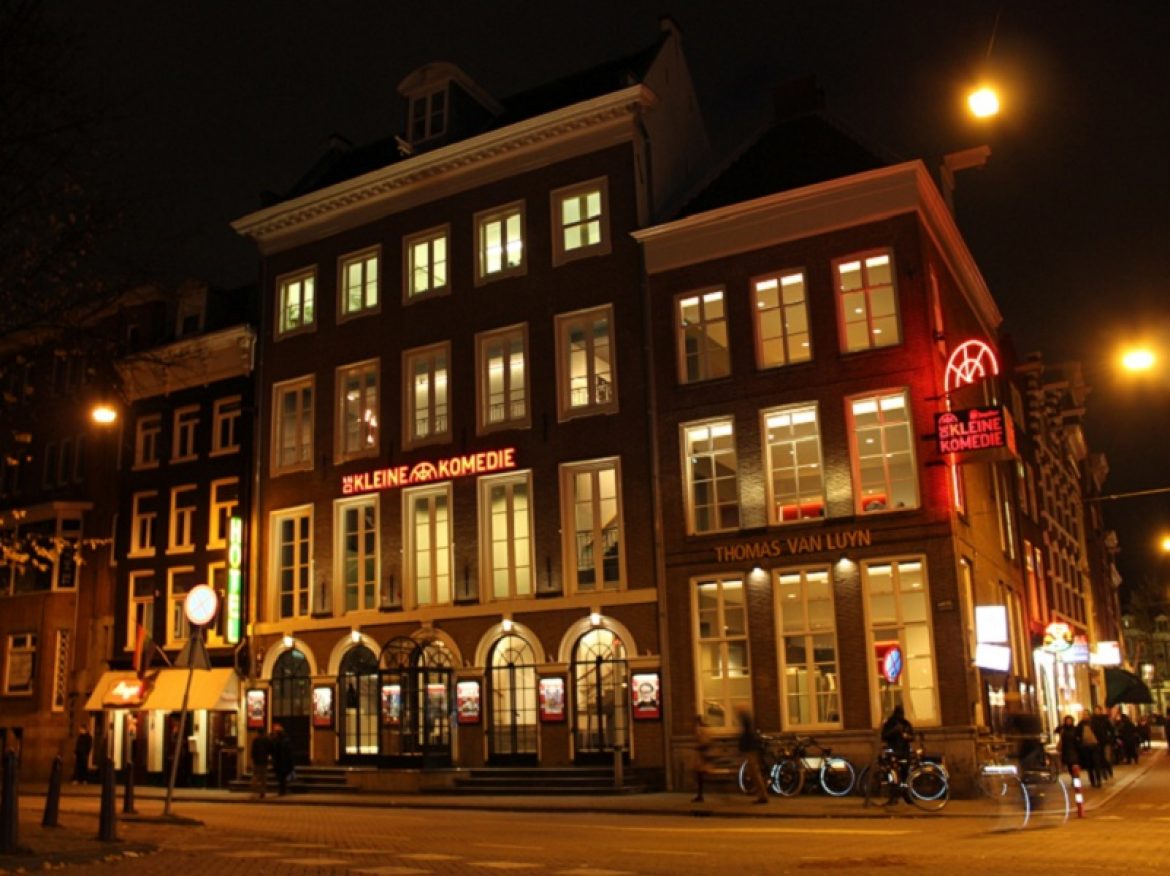 De Kleine Komedie
De Kleine Komedie is a theater located in Amsterdam that was built in 1786. It is located in the oldest theater building of Amsterdam and since the early eighties presents comedy, cabaret and theater music. It can hold 500 theatregoers.The purchase of the land was financed by the firm Hope & Co. De Kleine Komedie focuses on theater making high-quality programs that are the best of this genre in the Netherlands, with a balance between amateur and experienced performers. Another goal is to introduce young artists to a wider audience.  The theater can accommodate up to 500 people, it has enough space to create a pleasant and memorable evening. The red velvet and chandeliers provide a warm décor and its stage is equipped with all technical facilities. De Kleine Komedie has a perfect reputation for producing and programming high-quality performances. De Kleine Komedie is the oldest theater in Amsterdam, it is a unique location with a welcoming, warm and inspiring atmosphere. It is the place for cabaret, comedy and theater concerts.  There is a varied program that includes cabaret and music performances.
History
Started as Theatre Français sur l'Erwtemarkt, where Napoleon and King William I were among the regular visitors. In those years, the performances were often in French and made in a Parisian theater form that was rather popular. French operas and plays were performed in the theatre in the 19th century. The building was later turned into a Neues Deutsches Theater. From 1856 the Scottish Missionary Church located in the building until 1864 under the leadership of the charismatic preacher August Ferdinand Carl Schwartz, the father of the writer Maarten Maartens. Between 1880 and 1883, just started VU University hired some halls of the Scottish Missionary Church and used it as a lecture hall. In 1947 the couple Perin-Bouwmeester opened the theater again under the name De Kleine Komedie.  In the Fifties and Sixties many famous people in the Dutch entertainment world, such as Toon Hermans, Wim Kan and Fons Jansen, made appearances in this theatre. In 1978, the theater was renovated with private funds and reopened. It can develop into an important platform for free and subsidized productions.
As Vrije Universiteit (Free University) of Amsterdam was founded in 1880, it rented some rooms of the Scottish Missionary Church to use for the lectures. In 1883 this building became too small for the quickly growing number of students and the university decided to buy another building.
For more information click here: www.dekleinekomedie.nl
De Meestervoorspeller! Gisteravond was @Viggowaas te gast bij @pauwnl om te vertellen over zijn nieuwe voorstelling.

Op 19 en 20 mei staat de enige echte Meestervoorspeller in De Kleine Komedie.

https://t.co/fWjJMnlxtp

Iris Hond was gisteravond te gast bij Pauw om te vertellen over haar voorstelling 'Home'.

Ook gaf ze alvast een prachtig voorproefje van haar optreden op 10 februari bij ons in De Kleine Komedie! https://t.co/eWIUSvLZkw

Gisteravond was @Hademini te gast bij Pauw om te vertellen over 'Hadewych Doet de Dames'. Ook gaf ze alvast een voorproefje van wat we op 21 en 22 januari in De Kleine Komedie te zien krijgen! https://t.co/I2reYoaKJn

2019 duurt nog 28 dagen. En in die 28 dagen speel ik nog 20 x #oudejaars2019.
Als je t snel zegt valt t best mee: Groningen Delft Hoorn Tiel Utrecht Maastricht Eindhoven Amersfoort Zutphen Gouda Amstelveen Breda Zaandam Zwolle en ...

'Zin' is een toneelstuk-in-een-toneelstuk dat met bijna niets te vergelijken is ★★★★☆

Zin om te komen kijken? Dat kan vanaf vanavond t/m zaterdag.
https://t.co/J5jh5b0OTH via @volkskrant

@Joostbnd @BureauHerleef @KroosSara Tot aan de foyer toch zeker. En ik vrees dat we hem daarna moeten innemen. Maar dat doen wij graag hoor! Eten we hem ook meteen voor u op. Doen we met met liefde.

"Lawrence of Arabia is zo een boeiende belevenis, vol enthousiast gedeelde informatie, maar nooit topzwaar, en met hier en daar oergeestige scènes van met name Giovanni Brand en Kirmiziyüz zelf." @volkskrant ****

Vanavond te zien voor de allerlaatste keer. https://t.co/PwWpGsc8JI

.@Pauwnl gemist? Ronald Snijders @NormaleMensen presenteerde zijn nieuwe schrikkelkalender. Met de dag van de hondsdolheid en veel extra feestdagen. Het is dan ook verschrikkelijk leuk dat hij op schrikkeldag zijn allerlaatste voorstelling bij ons speelt.

https://t.co/QFaNxymTx3

Vanavond gaat zijn voorstelling '1 kilo' in premiere. Een interview met Kasper van der Laan. https://t.co/rokIRrI76M

Kasper van der Laan speelt de komende vijf dagen zijn debuutvoorstelling 1 Kilo. Wat er zo knap aan is? Het is vijf dagen uitverkocht! Een debuut! Wat een talent! https://t.co/HZD0vCFmHT

📽️ LAST MINUTE TIP: LIL' BUCK: REAL SWAN 📽️

Lil Buck groeide in korte tijd uit tot een ware sensatie. Zijn versie van de Stervende Zwaan is inmiddels door miljoenen mensen bekeken op YouTube. Dit weekend bij @dekleinekomedie en @De_Zwijger:
/> ...

Bekijk de trailer van Lawrence Of Arabia. Een voorstelling over 27 scènes die nog misten in de film. Wat ook leuk is om te weten: Je hoeft de film niet van tevoren gezien te hebben om het theaterstuk te begrijpen. ...

'Kees van Amstel weet van elke situatie wel iets komisch te maken.' Vier sterren in de Volkskrant!
https://t.co/pLG8iJ7Q2h

Binnenkort bij ons: de bijzondere voorstelling Lawrence of Arabia.
Naar de gelijknamige wereldberoemde film.
Marjolein Van Heemstra en Sadettin Kırmızıyüz blazen het stof van de oude filmrollen en maken een vervolg.

Lees verder op @volkskrant :
https://t.co/3ByLQsdZwV https://t.co/9HSwR7V84E

En tevens aanstaande zondag: de unieke samenwerking tussen Lavinia Meijer en pianist Michiel Borstlap. Zij is wereldvermaard als klassiek harpiste, hij top-pianist in de internationale muziekwereld. Een sterren duo!

Voor kaarten: https://t.co/sNL2rOnGNF https://t.co/znhZGaXsVi
De Kleine Komedie
Pros
One of the nicest and most beautiful small theaters in the Netherlands. An interior suits the 21st century, while the theater was built rather erlier! Theater with great atmosphere and friendly staff. The shows are fun and well-acted.
Cons
Small hall with low chairs.