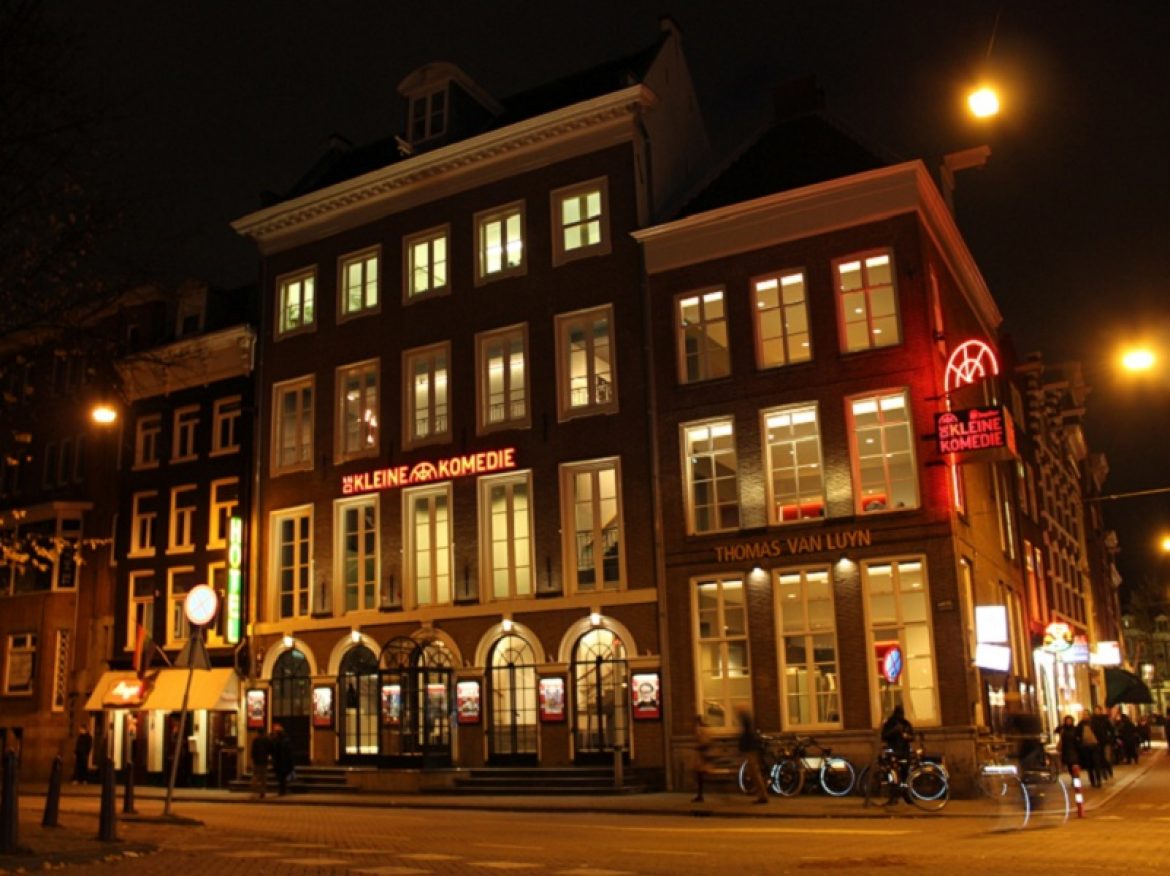 De Kleine Komedie
De Kleine Komedie is a theater located in Amsterdam that was built in 1786. It is located in the oldest theater building of Amsterdam and since the early eighties presents comedy, cabaret and theater music. It can hold 500 theatregoers.The purchase of the land was financed by the firm Hope & Co. De Kleine Komedie focuses on theater making high-quality programs that are the best of this genre in the Netherlands, with a balance between amateur and experienced performers. Another goal is to introduce young artists to a wider audience.  The theater can accommodate up to 500 people, it has enough space to create a pleasant and memorable evening. The red velvet and chandeliers provide a warm décor and its stage is equipped with all technical facilities. De Kleine Komedie has a perfect reputation for producing and programming high-quality performances. De Kleine Komedie is the oldest theater in Amsterdam, it is a unique location with a welcoming, warm and inspiring atmosphere. It is the place for cabaret, comedy and theater concerts.  There is a varied program that includes cabaret and music performances.
History
Started as Theatre Français sur l'Erwtemarkt, where Napoleon and King William I were among the regular visitors. In those years, the performances were often in French and made in a Parisian theater form that was rather popular. French operas and plays were performed in the theatre in the 19th century. The building was later turned into a Neues Deutsches Theater. From 1856 the Scottish Missionary Church located in the building until 1864 under the leadership of the charismatic preacher August Ferdinand Carl Schwartz, the father of the writer Maarten Maartens. Between 1880 and 1883, just started VU University hired some halls of the Scottish Missionary Church and used it as a lecture hall. In 1947 the couple Perin-Bouwmeester opened the theater again under the name De Kleine Komedie.  In the Fifties and Sixties many famous people in the Dutch entertainment world, such as Toon Hermans, Wim Kan and Fons Jansen, made appearances in this theatre. In 1978, the theater was renovated with private funds and reopened. It can develop into an important platform for free and subsidized productions.
As Vrije Universiteit (Free University) of Amsterdam was founded in 1880, it rented some rooms of the Scottish Missionary Church to use for the lectures. In 1883 this building became too small for the quickly growing number of students and the university decided to buy another building.
For more information click here: www.dekleinekomedie.nl
Op 29 januari neemt Kamiel Rongen je live op ons podium mee in de wereld van Waterballet. Door het zien van deze voorstelling krijg je een exclusief inkijkje in het maakproces van de kunstenaar. Zijn werk is ook te zien ...

Op tv: Ronald Snijders. Zijn shows Welke Show en Groot Succes 2 staan op Netflix. Maar One Man Show ontbreekt. Dat gemis is in te halen, want deze is straks te zien op NPO2 extra, om 20.30 uur. https://t.co/k12xDuwJ0f https://t.co/M7l8N4HlqH

Vorige week werd de nieuwste voorstelling van Ronald Goedemondt 'Numero Uno' op SBS6 uitgezonden. Ronald moest de tournee in 2020 helaas voortijdig stoppen vanwege de corona maatregelen. Gelukkig is de show net op tijd vastgelegd. #komediethuis
/>👉 https://t.co/nqGckRuzgH

Daar zijn we weer! Ook in 2021 geven we je de beste kijk-, lees- en luistertips op Komedie Thuis. We blikken nog één keer terug op vorig jaar met Rayen Panday, die het hele jaar perfect samenvatte in vijf minuten.

...

Volgende week donderdag (14-01) zie je mijn allereerste show om 20:30 bij NPO2extra.
Even m'n pa smsen dat dit weer op TV komt 🙈 https://t.co/b366Ww2Fea

In 'De andere Oudejaars', zaterdag op televisie, zingen cabaretiers Jan Beuving en Patrick Nederkoorn originele liedjes over 2020 en ruziën ze over de misbaarheid van de kunstenaar. https://t.co/wTNeBEZI3q

Voor degene die voor een dichte deur stond
Voor degenen die we niet konden bereiken
Voor degene die dacht dat-ie te laat was
moet nu weten: hij is toch te bekijken

De Andere Oudejaars, van @pnederkoorn, @TomDicke en mij, opgenomen ...

Dit wordt jouw jaar! Tenminste, als je de tips van @_kasper van der Laan voor je goede voornemens opvolgt. Met 'de zeven gouden sleutels' van Kasper sluiten wij de Adventskalender af. Iedereen bedankt voor het kijken, een goed 2021!

Het ...

Het is Dolfs eenendertigste (31!) Oudejaars, op de 31e van december. Dat wil je niet missen. Om 15.00 uur live te zien op ons youtube kanaal!

Ook te vinden via onze adventskalender 🎄
👉 https://t.co/4oHs5yIFeD https://t.co/025QbLqLTG

Ronald Goedemondt wilde graag iets leren over wijn, dus ging hij langs bij zijn goede vriend Leo Alkemade voor een wijnproeverij! Het resultaat: een hilarische middag én een klein beetje extra kennis over wijn.

Open het vakje op https://t.co/Sn0CNhW69S! 🎄 ...

Dag 29 van onze Adventskalender alweer: Rosa da Silva zingt het prachtige 'Ik neem jou mee' (oorspronkelijk door Gerard Van Maasakkers) op ons podium. Met Remko Wind op piano. 
 
Open het vakje op https://t.co/Sn0CNhW69S! 🎄 https://t.co/DHjX3YfXbm

Jeroen van Merwijk heeft vandaag een Edison Oeuvreprijs Kleinkunst ontvangen. De Edison Stichting kent Van Merwijk de prijs toe voor zijn uitgebreide, diverse oeuvre en altijd compromisloze visie. In verband met zijn verblijf in Frankrijk is de prijs overhandigd door ...

Kijk eens wie er na kerst nog een adventje tegenaan mag gooien?
Omdat er altijd iets is om naar uit te kijken.

Claudia de Breij | De Kleine Komedie Adventskalender | 27 december https://t.co/y1bFxYOVfl via @YouTube

Binnenkort loopt de termijn van Gershwin Bonevacia af. Als er niets gebeurt, zal hij de laatste stadsdichter van Amsterdam zijn, stellen Vivienne Ypma, Ronald Ockhuysen en Jeroen van Kan.

https://t.co/RmqUiiFV05
De Kleine Komedie
Pros
One of the nicest and most beautiful small theaters in the Netherlands. An interior suits the 21st century, while the theater was built rather erlier! Theater with great atmosphere and friendly staff. The shows are fun and well-acted.
Cons
Small hall with low chairs.