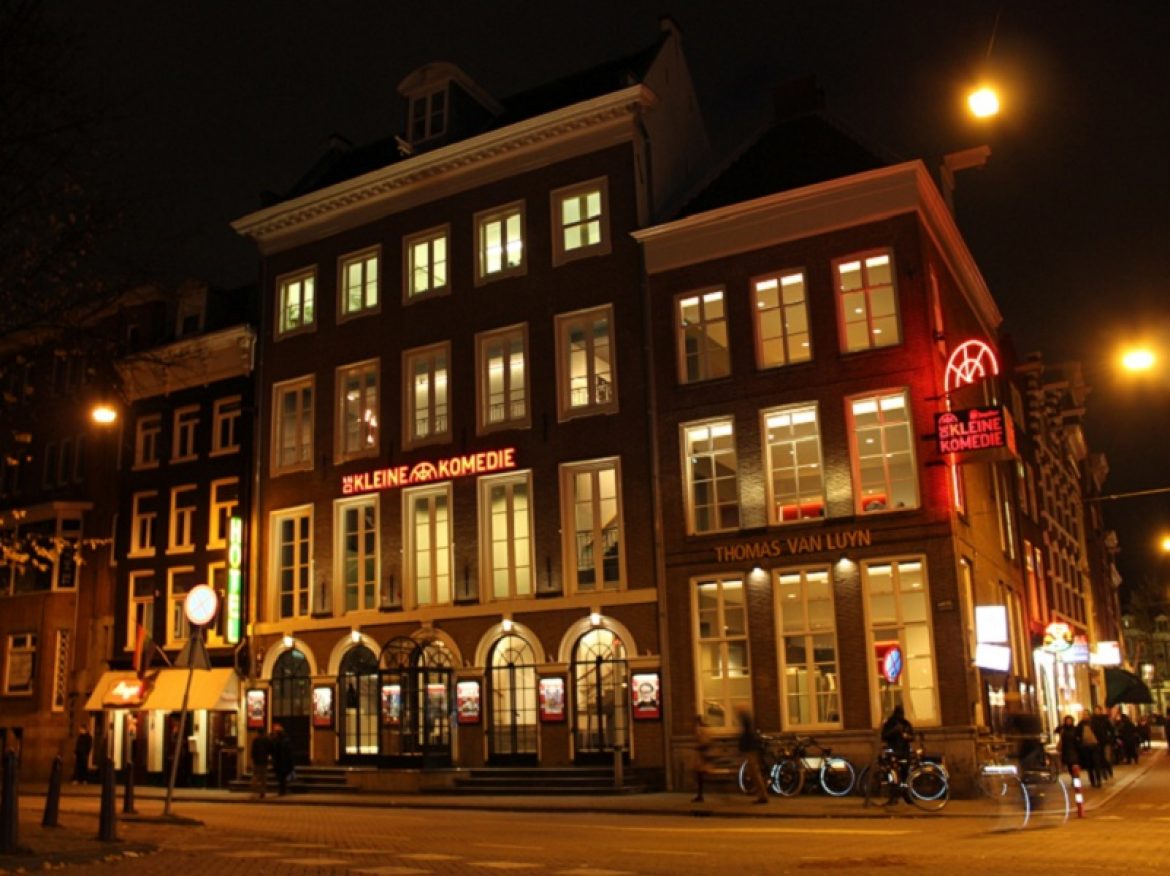 De Kleine Komedie
De Kleine Komedie is a theater located in Amsterdam that was built in 1786. It is located in the oldest theater building of Amsterdam and since the early eighties presents comedy, cabaret and theater music. It can hold 500 theatregoers.The purchase of the land was financed by the firm Hope & Co. De Kleine Komedie focuses on theater making high-quality programs that are the best of this genre in the Netherlands, with a balance between amateur and experienced performers. Another goal is to introduce young artists to a wider audience.  The theater can accommodate up to 500 people, it has enough space to create a pleasant and memorable evening. The red velvet and chandeliers provide a warm décor and its stage is equipped with all technical facilities. De Kleine Komedie has a perfect reputation for producing and programming high-quality performances. De Kleine Komedie is the oldest theater in Amsterdam, it is a unique location with a welcoming, warm and inspiring atmosphere. It is the place for cabaret, comedy and theater concerts.  There is a varied program that includes cabaret and music performances.
History
Started as Theatre Français sur l'Erwtemarkt, where Napoleon and King William I were among the regular visitors. In those years, the performances were often in French and made in a Parisian theater form that was rather popular. French operas and plays were performed in the theatre in the 19th century. The building was later turned into a Neues Deutsches Theater. From 1856 the Scottish Missionary Church located in the building until 1864 under the leadership of the charismatic preacher August Ferdinand Carl Schwartz, the father of the writer Maarten Maartens. Between 1880 and 1883, just started VU University hired some halls of the Scottish Missionary Church and used it as a lecture hall. In 1947 the couple Perin-Bouwmeester opened the theater again under the name De Kleine Komedie.  In the Fifties and Sixties many famous people in the Dutch entertainment world, such as Toon Hermans, Wim Kan and Fons Jansen, made appearances in this theatre. In 1978, the theater was renovated with private funds and reopened. It can develop into an important platform for free and subsidized productions.
As Vrije Universiteit (Free University) of Amsterdam was founded in 1880, it rented some rooms of the Scottish Missionary Church to use for the lectures. In 1883 this building became too small for the quickly growing number of students and the university decided to buy another building.
For more information click here: www.dekleinekomedie.nl
Rundfunk is bijgeboekt!
Heb je je eindelijk aan je puberteit ontworsteld, hijgt ineens de dood in je nek.
Todesangstschrei is nu ook te bezoeken op 7 én 8 februari 2020.
Wees er snel bij, het gaat hard!
https://t.co/nIAd92luPs https://t.co/yhwYXuAzf2

Tim Knol & Blue Grass Boogiemen stonden afgelopen zomer nog op Lowlands. Aanstaande zondagmiddag zijn ze bij ons! Bekijk deze fantastische video over hun optreden op het festival gemaakt door Diets Dijkstra.
@timknol

Kaarten: https://t.co/N6jgMM6n49 https://t.co/VxZ7daav8P

Eric Vloeimans en zijn akoestische trio met accordeonist Tuur Florizoone en cellist Jörg Brinkmann.
Het drietal speelt in OLIVER'S CINEMA III filmmuziek én filmische muziek, van soundtracks van Ennio Morricone tot nieuwe composities voor denkbeeldige films.
Vanavond om 20.15 uur. ...

Voor wat het waard is (reprise) - Pieter Derks, is bijna uitverkocht. Of ook wel: de laatste kaarten! Nog maar een paar! Stuk of 10! https://t.co/l9rv8l2Id3

'In een wereld vol positief ingestelde conformisten is het fijn dat er nog types als Janneke de Bijl rondlopen.' @parool
Lees de recensie van haar première hier:
https://t.co/xZnCrB7oaQ

.@fritsspits en zijn vrouw Greetje kregen al op hun vijftiende verkering. Na een huwelijk van 46 jaar overleed Greetje, Frits schreef een boek over de mooie jaren met haar en het gemis van nu. #Pauw https://t.co/g1FkFm7kvt

Vanavond gaat de voorstelling KABARETT DAPITULETT, met o.a. Hans Dagelet, in premiere in de Kleine Komedie in Amsterdam. Kijk voor meer informatie op: https://t.co/92TNS2dyYd

Voor de mensen die er morgenavond bij zijn, en de mensen die het helaas moeten missen: vanavond is @fritsspits te gast bij @pauwnl over zijn nieuwe boek 'Alles lijkt zoals het was', en de gelijknamige voorstelling. https://t.co/EjwxR1xxOl

Een bericht uit @parool over de voorstelling 'Kabarett Dapitulett, anarchistisch muziektheater met teksten van de Russische schrijver Daniil Charms.' Vanavond in première! https://t.co/wCQpuzQaKi
De Kleine Komedie
Pros
One of the nicest and most beautiful small theaters in the Netherlands. An interior suits the 21st century, while the theater was built rather erlier! Theater with great atmosphere and friendly staff. The shows are fun and well-acted.
Cons
Small hall with low chairs.