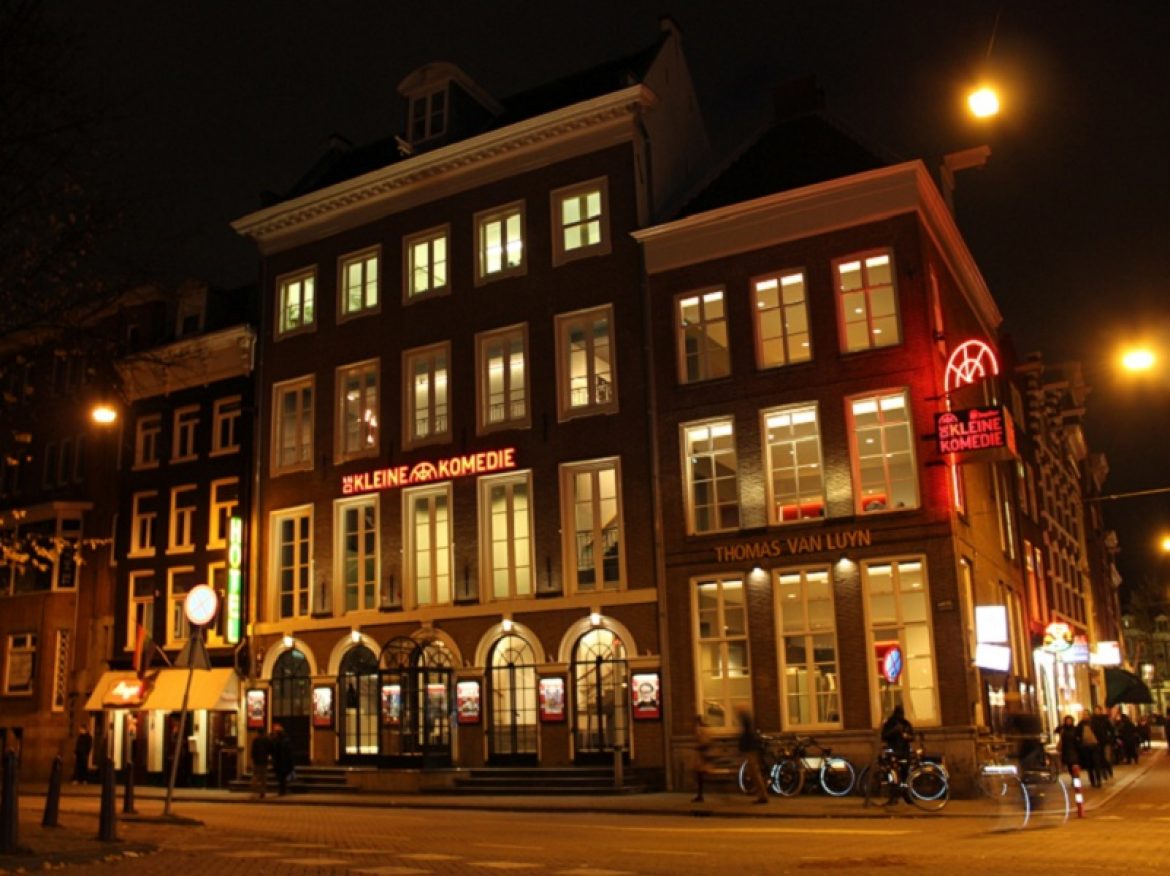 De Kleine Komedie
De Kleine Komedie is a theater located in Amsterdam that was built in 1786. It is located in the oldest theater building of Amsterdam and since the early eighties presents comedy, cabaret and theater music. It can hold 500 theatregoers.The purchase of the land was financed by the firm Hope & Co. De Kleine Komedie focuses on theater making high-quality programs that are the best of this genre in the Netherlands, with a balance between amateur and experienced performers. Another goal is to introduce young artists to a wider audience.  The theater can accommodate up to 500 people, it has enough space to create a pleasant and memorable evening. The red velvet and chandeliers provide a warm décor and its stage is equipped with all technical facilities. De Kleine Komedie has a perfect reputation for producing and programming high-quality performances. De Kleine Komedie is the oldest theater in Amsterdam, it is a unique location with a welcoming, warm and inspiring atmosphere. It is the place for cabaret, comedy and theater concerts.  There is a varied program that includes cabaret and music performances.
History
Started as Theatre Français sur l'Erwtemarkt, where Napoleon and King William I were among the regular visitors. In those years, the performances were often in French and made in a Parisian theater form that was rather popular. French operas and plays were performed in the theatre in the 19th century. The building was later turned into a Neues Deutsches Theater. From 1856 the Scottish Missionary Church located in the building until 1864 under the leadership of the charismatic preacher August Ferdinand Carl Schwartz, the father of the writer Maarten Maartens. Between 1880 and 1883, just started VU University hired some halls of the Scottish Missionary Church and used it as a lecture hall. In 1947 the couple Perin-Bouwmeester opened the theater again under the name De Kleine Komedie.  In the Fifties and Sixties many famous people in the Dutch entertainment world, such as Toon Hermans, Wim Kan and Fons Jansen, made appearances in this theatre. In 1978, the theater was renovated with private funds and reopened. It can develop into an important platform for free and subsidized productions.
As Vrije Universiteit (Free University) of Amsterdam was founded in 1880, it rented some rooms of the Scottish Missionary Church to use for the lectures. In 1883 this building became too small for the quickly growing number of students and the university decided to buy another building.
For more information click here: www.dekleinekomedie.nl
Dinsdag 17-8 komt de Elektra Podcast met Raoul Heertje online, dus abonneer in je podcastapp. Opnemen met publiek erbij was te gek.

Op 4 oktober neem ik in de @dekleinekomedie op met @philippegeubels

Wil je daar bij zijn, koop dan ...

De Theatertroep is ervan overtuigd dat je via humor het beste iets kan zeggen over de maatschappij: "Iemand zei ooit: jullie vallen van achteren aan." Luister naar de zesde aflevering van Studio Humor in je favoriete podcastapp. #dekleinekomedie #studiohumor #podcast ...

DE AVOND VAN DE STADSDICHTER

16 september vindt in De Kleine Komedie een bonte voorstelling plaats waarin Gershwin Bonevacia verschillende van zijn favoriete artiesten vraagt om te komen spelen, musiceren, dichten, lezen en vertellen.

@GBonevacia @dekleinekomedie https://t.co/NZSRMmN4o2

Kom je ook bij deze leuke club werken? We hebben meerdere vacatures op onze website! Ben je onze nieuwe Medewerker publiciteit / online marketeer, Theatermedewerker, Kassamedewerker of Medewerker beheer & administratie gebouw?  
 
Voor meer info 👉 https://t.co/CHgLeMF1vq https://t.co/QS8ONwpcAK

Volgens Janneke de Bijl zit de kracht van een goede grap 'm in herkenbaarheid: "Ik vind soms dat mensen te veel uit de kast halen om leuk te zijn." Luister naar de vijfde aflevering van Studio Humor in je favoriete ...

Volgens @MichaWertheim is het vermogen om te mislukken de hoogste vorm van humor en kunst: "Struikelen is één van de meest artistieke dingen die je kan doen." Luister naar de vierde aflevering van Studio Humor in je favoriete podcastapp. #dekleinekomedie ...

Danny Vera's nummer 1 van de Top 2000 afgelopen jaar, hoe zou die in het Nederlands klinken? Jan Rot ging er mee aan de slag en nam hem op.
@janrot

Luister nu naar Achtbaan via https://t.co/DDCpStx2Sc

Gisteravond hebben we afscheid genomen van Tamara. We wensen haar veel succes bij de Gemeente Amsterdam! https://t.co/WKp4lD53VI

Op NPO 2 extra nu de voorstelling 'Vette jus' van Bert Klunder. Geen echte tv-registratie, maar een werkopname. Klunder draagt ook geen zender, maar zijn stem was zo luid dat je daar niet veel last van hebt. https://t.co/z81aLf0kyT

Onze kaartverkoop voor september en oktober is vandaag voor iedereen gestart! Heb je al kaarten? Laat ons vooral weten waar je naartoe gaat!

Heb je nog geen kaarten? Ga dan snel naar 👉 https://t.co/URTQ2n4e71 https://t.co/hn7KTx2ngy

Om 12u vandaag start de kaartverkoop!
29 sept t/m 1 okt a.s kunt u mij aanschouwen in 'Kom'! In première gegaan op 7 maart 2020, de laatste première in @dekleinekomedie voor de lockdown... Kom wordt muzikaal begeleid door Wouter Planteijdt ...
De Kleine Komedie
Pros
One of the nicest and most beautiful small theaters in the Netherlands. An interior suits the 21st century, while the theater was built rather erlier! Theater with great atmosphere and friendly staff. The shows are fun and well-acted.
Cons
Small hall with low chairs.