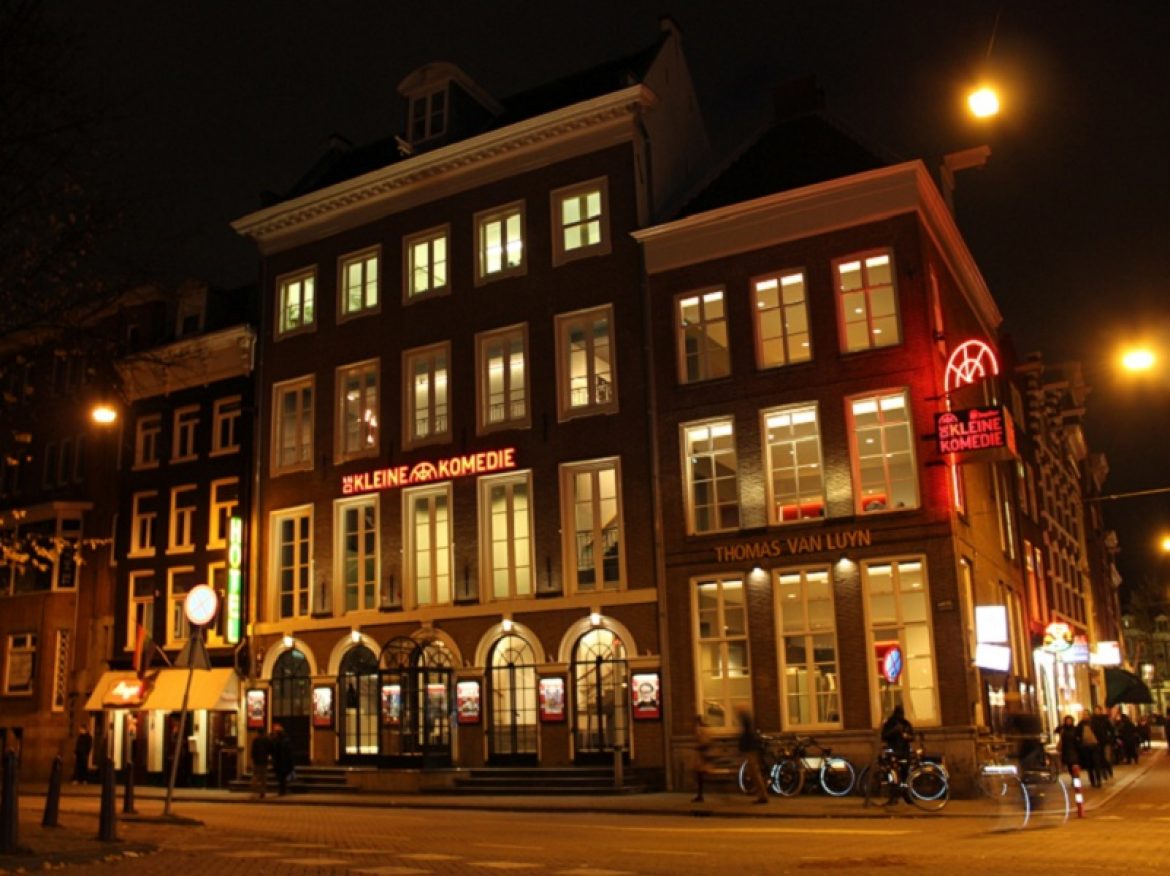 De Kleine Komedie
De Kleine Komedie is a theater located in Amsterdam that was built in 1786. It is located in the oldest theater building of Amsterdam and since the early eighties presents comedy, cabaret and theater music. It can hold 500 theatregoers.The purchase of the land was financed by the firm Hope & Co. De Kleine Komedie focuses on theater making high-quality programs that are the best of this genre in the Netherlands, with a balance between amateur and experienced performers. Another goal is to introduce young artists to a wider audience.  The theater can accommodate up to 500 people, it has enough space to create a pleasant and memorable evening. The red velvet and chandeliers provide a warm décor and its stage is equipped with all technical facilities. De Kleine Komedie has a perfect reputation for producing and programming high-quality performances. De Kleine Komedie is the oldest theater in Amsterdam, it is a unique location with a welcoming, warm and inspiring atmosphere. It is the place for cabaret, comedy and theater concerts.  There is a varied program that includes cabaret and music performances.
History
Started as Theatre Français sur l'Erwtemarkt, where Napoleon and King William I were among the regular visitors. In those years, the performances were often in French and made in a Parisian theater form that was rather popular. French operas and plays were performed in the theatre in the 19th century. The building was later turned into a Neues Deutsches Theater. From 1856 the Scottish Missionary Church located in the building until 1864 under the leadership of the charismatic preacher August Ferdinand Carl Schwartz, the father of the writer Maarten Maartens. Between 1880 and 1883, just started VU University hired some halls of the Scottish Missionary Church and used it as a lecture hall. In 1947 the couple Perin-Bouwmeester opened the theater again under the name De Kleine Komedie.  In the Fifties and Sixties many famous people in the Dutch entertainment world, such as Toon Hermans, Wim Kan and Fons Jansen, made appearances in this theatre. In 1978, the theater was renovated with private funds and reopened. It can develop into an important platform for free and subsidized productions.
As Vrije Universiteit (Free University) of Amsterdam was founded in 1880, it rented some rooms of the Scottish Missionary Church to use for the lectures. In 1883 this building became too small for the quickly growing number of students and the university decided to buy another building.
For more information click here: www.dekleinekomedie.nl
Vandaag zijn wij niet telefonisch bereikbaar, omdat het afscheidsfeest van onze directeur Vivienne Ypma plaatsvindt.

Hoewel de Komedie druk aan het feestvieren is, kun je ons altijd bereiken via de mail.

Vanaf morgen staan wij ook weer over de telefoon ...

Zangeres Janne Schra, singer-songwriter Wende, cabaretier Lisa Loeb, theatermaker Peter van Rooijen, cabaretier Richard Groenendijk en zanger Joost Spijkers zijn genomineerd voor de Annie M.G. Schmidtprijs voor beste theaterlied. @SterrevdH sprak met hen.
https://t.co/E4OmeSyi0D

Henderball. De enige echte. Terug van weggeweest. Volgende week speelt 'ie maar liefst 5 avonden de Komedie plat. En kijk hoe goed het 'm staat. #gevelpic https://t.co/4Hi3zvevkx

Helaas is de voorstelling van Pheifer en Blom van vanavond afgelast in verband met storm Eunice.

Als je kaarten had wordt z.s.m. contact met je opgenomen via de mail.

Vrijdag 18 en zaterdag 19 februari komen @anniekpheifer en Jacqueline Blom de Komedie onveilig maken met hun voorstelling 'En en'.

én met een volle zaal én met een drankje aan de bar. En met jou? https://t.co/1PPbCDOw6g

Elke dinsdag een nieuwe #gevelpic bij de Komedie. Vandaag: Martijn Kardol. Ooit hing hij de jassen op in onze garderobe, vorige week spelden die letters op de gevel zijn naam. Puik plaatje, Martijn.

📸@Benz https://t.co/NWUDHihA3q

We gaan weer open. Hoewel het op 1.5 meter financieel eigenlijk niet te behappen is, kunnen we niet anders dan onze bespelers een podium bieden en ons publiek weer met open armen ontvangen. En dat doen we. Er staan veel ...

De cultuursector is open, maar de 1,5 metermaatregel maakt het wel erg moeilijk om te spelen zonder veel verlies te lijden. En voor een amper gevulde zaal staan, willen artiesten liever niet. 'Het is fijn dat we weer mogen, maar ...

Als nieuwe staatssecretaris voor Cultuur treft Gunay Uslu (D66) een kunstsector die snakt naar erkenning door het kabinet. 'Zet maar een dvd'tje op', dat zul je haar niet horen zeggen. 'De waardering mag meer worden geuit.' https://t.co/B26r2kwpCA

Vanwege de versoepelingen voor cultuur bezocht ik @TEYLERS, @dekleinekomedie en @PathedeMunt. Wat ik heb gezien en gehoord, voelt heel dubbel. Er mag meer, maar het wordt niet voor iedereen direct beter. Veel mensen hebben gauw perspectief nodig, dus daar werk ...

Live verhalen? Literatuur? In een theater? Mét publiek?
Het kan weer - bijvoorbeeld as vrijdagmiddag. Dan lees ik allerlei moois uit de wereldliteratuur voor in @dekleinekomedie. Wees welkom.

https://t.co/NALKNyi6yM

Vijftig gelukkige toeschouwers kijken woensdag in Kapsalon Theater De Kleine Komedie in Amsterdam veilig op anderhalve meter afstand van elkaar naar kappers die op het podium gezelschap krijgen van Freek de Jonge en Jochem Myjer. 'We zijn hier aan toe' ...
De Kleine Komedie
Pros
One of the nicest and most beautiful small theaters in the Netherlands. An interior suits the 21st century, while the theater was built rather erlier! Theater with great atmosphere and friendly staff. The shows are fun and well-acted.
Cons
Small hall with low chairs.