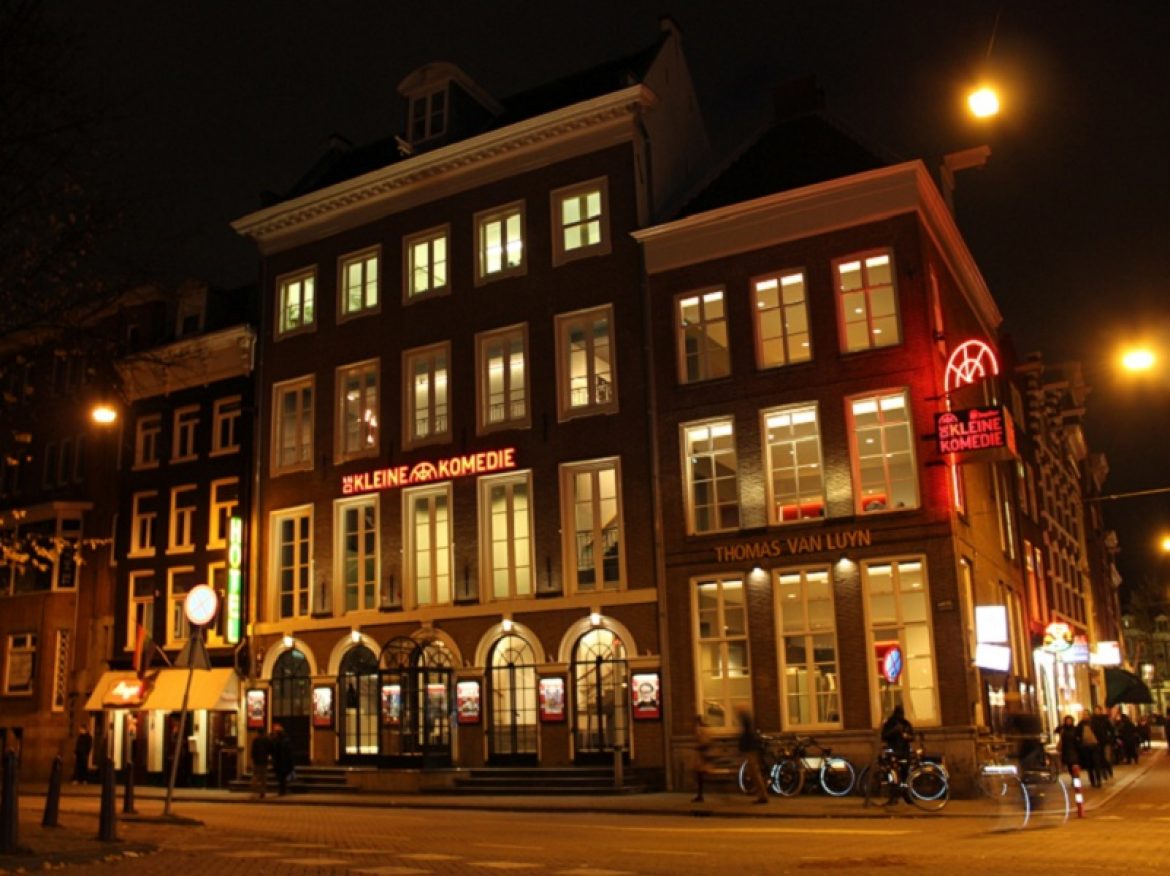 De Kleine Komedie
De Kleine Komedie is a theater located in Amsterdam that was built in 1786. It is located in the oldest theater building of Amsterdam and since the early eighties presents comedy, cabaret and theater music. It can hold 500 theatregoers.The purchase of the land was financed by the firm Hope & Co. De Kleine Komedie focuses on theater making high-quality programs that are the best of this genre in the Netherlands, with a balance between amateur and experienced performers. Another goal is to introduce young artists to a wider audience.  The theater can accommodate up to 500 people, it has enough space to create a pleasant and memorable evening. The red velvet and chandeliers provide a warm décor and its stage is equipped with all technical facilities. De Kleine Komedie has a perfect reputation for producing and programming high-quality performances. De Kleine Komedie is the oldest theater in Amsterdam, it is a unique location with a welcoming, warm and inspiring atmosphere. It is the place for cabaret, comedy and theater concerts.  There is a varied program that includes cabaret and music performances.
History
Started as Theatre Français sur l'Erwtemarkt, where Napoleon and King William I were among the regular visitors. In those years, the performances were often in French and made in a Parisian theater form that was rather popular. French operas and plays were performed in the theatre in the 19th century. The building was later turned into a Neues Deutsches Theater. From 1856 the Scottish Missionary Church located in the building until 1864 under the leadership of the charismatic preacher August Ferdinand Carl Schwartz, the father of the writer Maarten Maartens. Between 1880 and 1883, just started VU University hired some halls of the Scottish Missionary Church and used it as a lecture hall. In 1947 the couple Perin-Bouwmeester opened the theater again under the name De Kleine Komedie.  In the Fifties and Sixties many famous people in the Dutch entertainment world, such as Toon Hermans, Wim Kan and Fons Jansen, made appearances in this theatre. In 1978, the theater was renovated with private funds and reopened. It can develop into an important platform for free and subsidized productions.
As Vrije Universiteit (Free University) of Amsterdam was founded in 1880, it rented some rooms of the Scottish Missionary Church to use for the lectures. In 1883 this building became too small for the quickly growing number of students and the university decided to buy another building.
For more information click here: www.dekleinekomedie.nl
Toen De Kleine Komedie in maart sloot zijn we begonnen met Komedie Thuis, de leukste kijk-, lees- en luistertips van De Komedie.
Nu, opnieuw gesloten, gaan we onverstoord door. Zo proberen we je het Komediegevoel te geven, maar dan vanuit ...

Gisteravond trad Pieter de Graaf in het kader van @ADE_NL op in de Komedie, te volgen vanuit huis, via een livestream. Iedereen bedankt voor het kijken. Voor wie het gemist heeft: zo schitterend zag het er uit. 👇 https://t.co/wWybO1kcJT

Aanvankelijk hoopten we open te kunnen blijven ter ondersteuning van de bespelers die voor 30 bezoekers op willen treden en voor het publiek dat graag wil komen kijken. Voortschrijdend inzicht heeft ons doen besluiten onze deuren toch te sluiten.

👉https://t.co/9bHTxrN9Pl ...

Kramer geeft hier aan -als er naar volledige lockdown wordt geïnformeerd- hoe ongekend zorgvuldig coronaprotocol wordt nageleefd in @dekleinekomedie . Is ook mijn ervaring. En geldt voor veel andere theaters https://t.co/mWTjtOitbr

Gershwin Bonevacia presenteert De Meesters.
Kunstenaars brengen een ode aan Hollandse Meesters, de iconen en levende legendes die hen voorgingen.
Samen met Gerson Main, Izaline Calister, Derek Otte & pianist Jermaine Westfa.
Kaarten zijn nu te koop via 👇
https://t.co/uCGJNNwSh6 ...

Luister in Chris Bajema's podcast naar een hoorspel over Pierre Perin en Tilly Perin Bouwmeester, de redders van ons theater na de Tweede Wereldoorlog.
Aan het einde een gouden tip om naar de prachtige voorstelling van Minoux te gaan!

https://t.co/NLOYAoRZ5S

De subsidieaanvraag van De Kleine Komedie is gehonoreerd!
Een enorme opluchting en ontzettend fijn nieuws in deze moeilijke periode.

En nu? Tijd voor champagne! En tijd om te knallen. We hebben mooie voorstellingen in het verschiet.

👉 https://t.co/EGKVSZdjI1 https://t.co/eeneAGQC1k

@linnpadberg We hebben net de bevestiging gekregen dat het optreden van Lucas aanstaande zaterdag doorgaat! Veel plezier alvast!

Helaas zal Hans Aarsman zijn voorstelling vanavond nog maar voor 2 x 30 bezoekers kunnen spelen. Maar als je al een kaartje hebt gekocht voor een van de voorstellingen in de Komedie de komende tijd, verandert er dus niks.

We ...

Goed nieuws: we horen bij de locaties die een ontheffing krijgen omdat het panden zijn van groot cultureel, historisch, nationaal of internationaal belang! In de praktijk betekent dit dat we maximaal 111 bezoekers mogen toelaten (in plaats van 30).

Meer: ...

Wegens het oplopen van het aantal coronabesmettingen in Nederland mogen theaters vooralsnog 30 bezoekers per voorstelling toelaten. Zodra we meer weten brengen we jullie op de hoogte.

Lees het nieuwsbericht op onze site: https://t.co/8JHwpqJCRu https://t.co/ne9HlFM68P

@linnpadberg Ha Linn, dank voor je bericht. We zijn op dit moment bezig om ons te informeren, we houden het publiek dat al kaarten heeft op de hoogte (via de mail en onze andere kanalen). We hopen binnenkort met meer ...
De Kleine Komedie
Pros
One of the nicest and most beautiful small theaters in the Netherlands. An interior suits the 21st century, while the theater was built rather erlier! Theater with great atmosphere and friendly staff. The shows are fun and well-acted.
Cons
Small hall with low chairs.