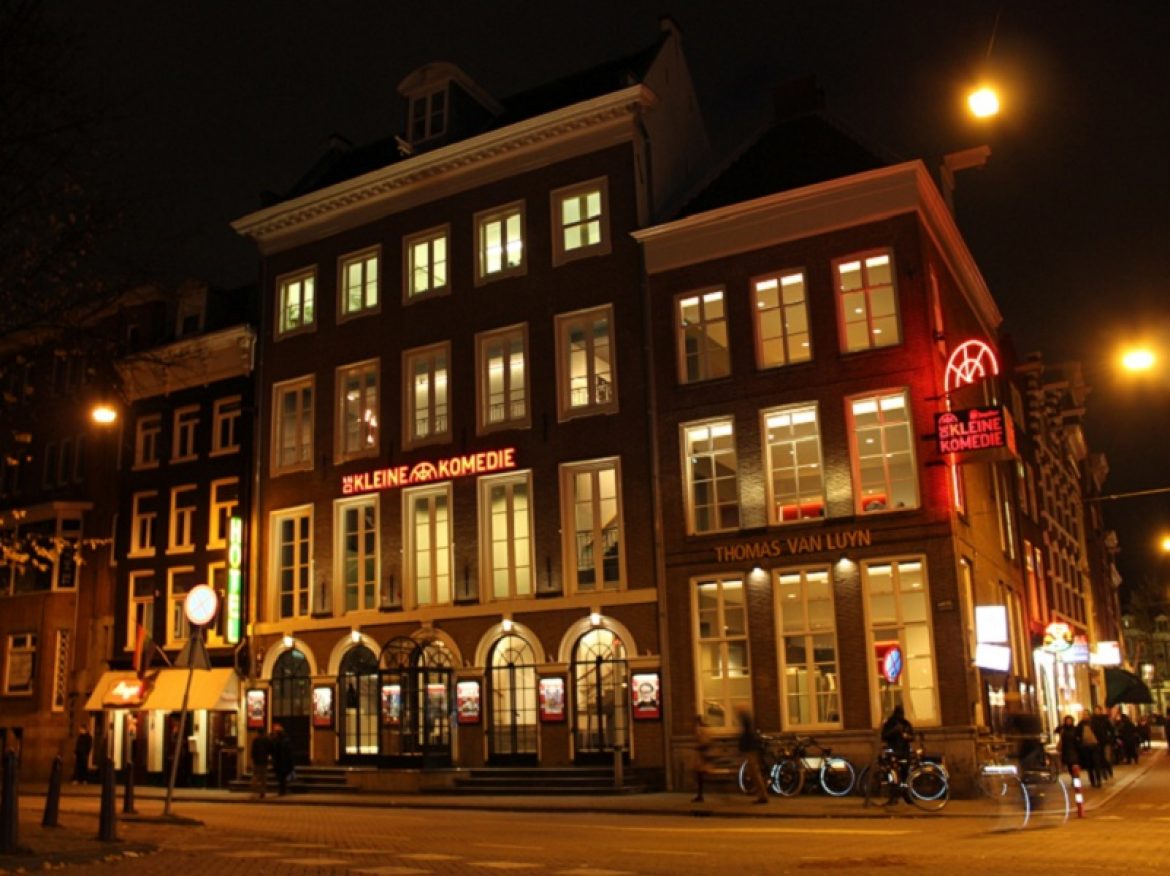 De Kleine Komedie
De Kleine Komedie is a theater located in Amsterdam that was built in 1786. It is located in the oldest theater building of Amsterdam and since the early eighties presents comedy, cabaret and theater music. It can hold 500 theatregoers.The purchase of the land was financed by the firm Hope & Co. De Kleine Komedie focuses on theater making high-quality programs that are the best of this genre in the Netherlands, with a balance between amateur and experienced performers. Another goal is to introduce young artists to a wider audience.  The theater can accommodate up to 500 people, it has enough space to create a pleasant and memorable evening. The red velvet and chandeliers provide a warm décor and its stage is equipped with all technical facilities. De Kleine Komedie has a perfect reputation for producing and programming high-quality performances. De Kleine Komedie is the oldest theater in Amsterdam, it is a unique location with a welcoming, warm and inspiring atmosphere. It is the place for cabaret, comedy and theater concerts.  There is a varied program that includes cabaret and music performances.
History
Started as Theatre Français sur l'Erwtemarkt, where Napoleon and King William I were among the regular visitors. In those years, the performances were often in French and made in a Parisian theater form that was rather popular. French operas and plays were performed in the theatre in the 19th century. The building was later turned into a Neues Deutsches Theater. From 1856 the Scottish Missionary Church located in the building until 1864 under the leadership of the charismatic preacher August Ferdinand Carl Schwartz, the father of the writer Maarten Maartens. Between 1880 and 1883, just started VU University hired some halls of the Scottish Missionary Church and used it as a lecture hall. In 1947 the couple Perin-Bouwmeester opened the theater again under the name De Kleine Komedie.  In the Fifties and Sixties many famous people in the Dutch entertainment world, such as Toon Hermans, Wim Kan and Fons Jansen, made appearances in this theatre. In 1978, the theater was renovated with private funds and reopened. It can develop into an important platform for free and subsidized productions.
As Vrije Universiteit (Free University) of Amsterdam was founded in 1880, it rented some rooms of the Scottish Missionary Church to use for the lectures. In 1883 this building became too small for the quickly growing number of students and the university decided to buy another building.
For more information click here: www.dekleinekomedie.nl
Vanavond om 22:25 wordt mijn oudejaarsconference uitgezonden op NPO1. Ik ben trots op het resultaat. Ik wens iedereen alvast een geweldig nieuwjaar en mocht je haat willen sturen, ik ga je wel overhoren of je de voorstelling hebt afgekeken! #vuurwerk

Lebbis en Jansen: voor het eerst in 15 jaar weer samen op het podium van De Kleine Komedie. Want vlak voordat de heren geëerd werden met het Zilveren Raampje, namen ze nietsvermoedend een mini-oudejaars op...

👉https://t.co/mb9jVfyyn2 https://t.co/S6IazKSDMs

Eindejaarskadootje!
Met de band een lied gemaakt om 2021 voor jullie samen te vatten, voor @dekleinekomedie opgenomen maar hij staat nu ook op Spotify en andere streamingdiensten!

Kijk de clip hier:
https://t.co/VfTQhYPtxJ

Pieter Derks, hij vat het jaar zo voor je samen

Dat het niet altijd best was, dat is nou eenmaal zo

Pieter kan niet ontbreken in onze boom vol mooie namen

En daarom geven wij zijn lied aan jou cadeau

...

Een aantal van onze favoriete makers heeft het pand versierd. De kerstsfeer zit er goed in; aan ons heeft het niet gelegen!🎄 https://t.co/lQ64x9ftY5

Ach joh, als het dan toch regent met kerst maken we er thuis wel een White Christmas van. Francis van Broekhuizen heeft het goed begrepen. Vanuit haar woonkamer reist ze de hele besneeuwde wereld af. Meezingen mag!

👉https://t.co/rFMJvHxBZo https://t.co/PbrI5BnyPE

Geen publiek in de zaal weliswaar, maar de toekenning van het Zilveren Raampje aan Lebbis en Jansen is nu terug te kijken. Zo was je er toch een beetje bij.

Lebbis en @Dolfjansen, staat jullie goed hoor!

https://t.co/9tNBTTPzgG

@ABergmans Houd onze adventskalender dan maar goed in de gaten 👀

Vanavond stonden Lebbis en Jansen voor het eerst in 15 jaar weer samen op ons podium voor de opnames van een mini-oudejaars. Na afloop zijn de mannen geëerd met het Zilveren Raampje voor hun belangrijke bijdrage aan het gezicht van ...

Margreet Dolman heeft zo haar tactieken om die polariserende gesprekken tijdens de kerstdagen door te komen. Zo zorgt je ervoor dat het kerstdiner niet op slaande ruzie uitloopt. En als dat niet is waar het met kerst om draait...

👉https://t.co/rFMJvHPcQW ...

Na ruim 15 jaar heeft Vivienne Ypma het stokje inmiddels officieel overgedragen aan Jörgen Tjon A Fong.

Per 1 december trad Jörgen aan als directeur; per 1 januari vertrekt Vivienne. We gaan haar zeker missen en verheugen ons ondertussen op ...

Oh dennenboom! Kerstboom van 3.5m in de aanbieding, geheel gratis af te halen bij De Kleine Komedie.

Nog een bescheiden boompje nodig? Manoeuvreer deze je woonkamer in. Verras je buren met een mooie boom. Of zet 'm wraakzuchtig in de ...

Terwijl de cadeaus onder de boom liggen en we luidkeels meezingen met Mariah Carey, ontgaat het ons nog wel eens waar het met kerst nou eigenlijk om gaat. Nina de la Parra vindt er iets van.

👉https://t.co/rFMJvHxBZo https://t.co/gZaE2jxLWN

Flip Noorman zingt Leonard Cohen. En hoe! In de donkerste dagen van het jaar biedt Flip warmte met zijn diepdonkere stem. Hij stak de klassieker "I'm your man" in een Nederlandstalig jasje, en zo kom je ineens heel makkelijk de ...
De Kleine Komedie
Pros
One of the nicest and most beautiful small theaters in the Netherlands. An interior suits the 21st century, while the theater was built rather erlier! Theater with great atmosphere and friendly staff. The shows are fun and well-acted.
Cons
Small hall with low chairs.