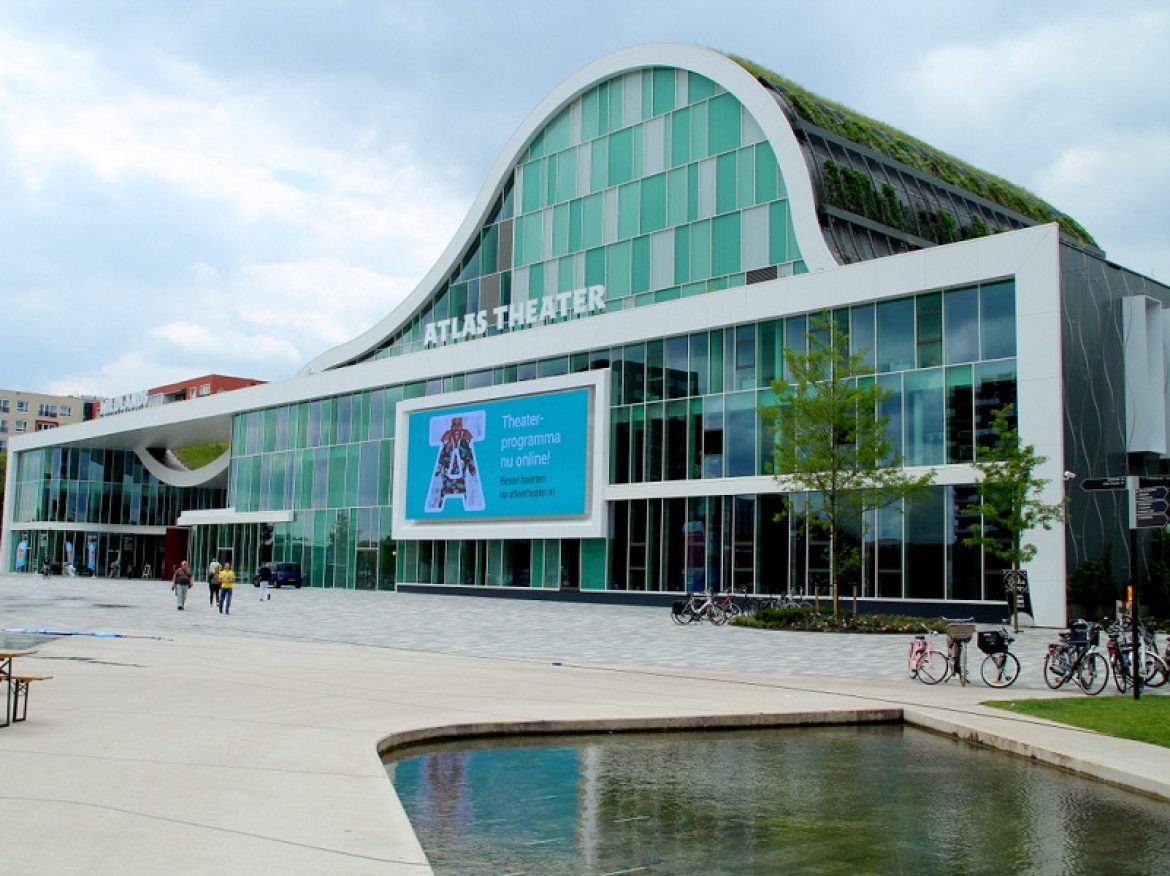 Atlas Theater
The Atlas Theatre is a multifunctional theater building located at the Town Hall Square in Emmen. In addition to two theaters the complex also includes a convention center, restaurants and offices. The building is located on the Town Hall Square in Emmen and marks the transition between the center of Emmen and Wildlands. In addition, it acts as building access Wildlands Adventure Zoo Emmen. The complex consists of two more or less "loose buildings', which are connected with each other by means of an air bridge and a green roof. The building has two entrances, with an entrance to the theater and an entrance for Wildlands Adventure Zoo.  The Atlas Theatre has a large hall with 800 seats and a small hall with 300 seats and 800 standing places. Both rooms have a foyer, where visitors can look outside through the transparent facade.
The construction of the new theater of Emmen was started on October 10, 2014, after years of making plans. The municipality wanted to replace the theater Muzeval by a more modern theater for a long time, but the plans were slow to take off. Eventually, the plans were implemented and mayor Cees Bijl came up with the idea to combine theater and zoo (theme) park. After a selection of architects the design of the Danish architect Henning Larsen was chosen as the winning one. Ultimately, this design was further developed by the Dutch Van den Berg Group.  The official opening of the complex was in October 2016. The Atlas Theatre consists of theater hall,two foyers, theater restaurant, souvenir shop, seven conference rooms and so on.
The Atlas Theater is a new theater where you feel at home. Atlas Theater has an annual adventurous programming. It offers great performances for young and old. And not just for Emmen, but for miles around. This theater is a multifunctional accommodation for any type of show, concert, conference or other event. With a large hall with more than 800 seats, a flat floor hall with 300 seats, various meeting and banquet facilities, and self catering facilities. It is brand new and equipped with optimal facilities.
The Atlas Theater offers various possibilities to make an entire evening in the theater unforgettable. Before each evening performance, you can enjoy a delicious dinner. Theatre Restaurant is located on the first floor of the theater at the end of the lobby. The restaurant has panoramic view of the Town Hall Square. At the Town Hall Square, next to the entrance to the theater, you can find the Atlas Café. The café is open daily. Enjoy a delicious drink and a variety of appetizers. At the Town Hall Square is the open terrace of the Atlas pub if the weather permits.
You can find more information on the official site: www.atlastheater.nl
Het ATLAS Theater heeft alle technische apparatuur, vaardigheden en de creativiteit in huis om online events te organiseren in een veilige omgeving! Benieuwd naar de mogelijkheden? Lees hier meer: https://t.co/u6PTSISh9w https://t.co/sAuENwXSfl

Vorige week was het grote podium in de Rabo Zaal weer omgebouwd tot een prachtige TV studio voor de nieuwjaarsreceptie van de Gemeente Emmen. 🙌🏻 Opnieuw een geslaagd online event in samenwerking met @radioZO34, PLDS Showtechniek en @GemeenteEmmen! https://t.co/oKeZs7TEyv

Samen zijn heeft nog nooit zoveel betekenis gehad als dit jaar. We hopen dat we samen in het nieuwe jaar weer vele mooie theatermomenten mogen beleven. Wij wensen je dan ook heel veel 'samen' en gezondheid in het nieuwe jaar! ...

Zoals jullie tijdens de persconferentie gehoord hebben moeten we vanwege de lockdown helaas de deuren weer sluiten (tot 19 januari). Uiteraard krijgt iedereen die kaartjes heeft voor de voorstellingen t/m 19 januari z.s.m. persoonlijk bericht via de mail! #totnadepauze https://t.co/TWzXlAJEco

Vraag een gratis ATLAS mondkapje aan! 😷 Vanaf vandaag is het dragen van een mondkapje in o.a. winkels, musea en theaters verplicht. Wij hebben zelf een mondkapje laten maken die jij vanaf vandaag gratis kunt aanvragen via deze link: https://t.co/ElrRSnxfeN ...

Een video komt het dichtst in de buurt bij écht contact! Het is de perfecte manier om in deze bijzonder (corona)tijd je medewerkers en relaties te bereiken. Benieuwd naar de mogelijkheden? 🎄 Lees hier meer: https://t.co/n5I3nAB68C https://t.co/c7mINT215V

Gisteravond is tijdens de persconferentie duidelijk geworden dat het ATLAS Theater vanaf woensdagavond 4 november 22:00 uur voor een periode van minimaal twee weken haar deuren moet sluiten. Blijf op de hoogte via deze pagina: https://t.co/S467zSQdwV https://t.co/WxCu8sZODu

Afgelopen dinsdag was er weer een persmoment en alhoewel er geen nieuwe maatregelen werden aangekondigd, werd wel duidelijk dat de huidige maatregelen zeer waarschijnlijk t/m december gaan duren. Om die reden hebben wij alle voorstellingen t/m maandag 30 november geannuleerd. ...

'Onze artiesten' hebben zich vermenigvuldigd en zitten nu ook bij Theater De Lievekamp in de zaal! 🧡 Wat een gezelligheid. Het theater in Oss was zo enthousiast over het concept en heeft het van ons mogen overnemen. https://t.co/3C15SbpyOD

We hebben helaas moeten besluiten om alle voorstellingen t/m woensdag 11 november te annuleren. Benieuwd wat er met jouw gekochte kaarten gebeurt? Check dan je mail of deze pagina. 👉🏻 https://t.co/S467zSQdwV https://t.co/mwwvJ40vfi

Helaas hebben de nieuwe maatregelen ook consequenties voor de programmering van het ATLAS Theater. Kaarthouders ontvangen z.s.m. per e-mail meer informatie. Houdt verder onze website en socials in de gaten voor updates. #CoronaUpdate https://t.co/Xyra8CU52X

We kunnen helaas niet alle stoelen vullen met bezoekers, dus vullen we ze nu met artiesten!😍We hebben veel artiesten gefotografeerd bij ons in het theater en deze foto's hebben we gebruikt als opvulling in de zaal. Zo zit je gezellig ...

YEAH, wij hebben een vrijstelling gekregen van de Veiligheidsregio! Dat betekent dat de geplande voorstellingen voorlopig gewoon door kunnen gaan conform de 1,5 meter richtlijnen. Dus geen beperking van maximaal 30 personen! We zien je graag bij ons in het ...

Minister Van Engelshoven op bezoek bij Het Houten Huis en Club Guy & Roni: 'Theater is veel veiliger dan een supermarkt' https://t.co/B0QMPn5IaZ

@OostBert Goede tip! We laten even een kijkje nemen of dit mogelijk is.

@OostBert Oeps! We gaan het voor je aanpassen in ons systeem. Kun je ons een mailtje sturen met je NAW gegevens? Dan kunnen wij de juiste klantenkaart opzoeken. Groet, ATLAS

Vacature alert! 🚨 Wij zoeken een enthousiaste, professionele, pro-actieve en vooral gastgerichte Medewerker Horeca M/V die op zoek is naar een inspirerende baan in de horeca! Ben jij een echte horeca topper? Lees dan snel verder! Meer info: https://t.co/rCWeoN5oCo https://t.co/zLYn4byCmy

YEAH! De verkoop voor het nieuwe theaterseizoen is vanaf nu GESTART! 🤩 Haast je snel naar onze website, want er zijn per voorstelling maar een beperkt aantal kaarten beschikbaar: https://t.co/xY6vH4LYAk 🏃🏼‍♀️ https://t.co/okQf8nCmbO
Atlas Theater
Pros
Theather is very modern.
Cons
The Atlas Theatre does not have its own car park.