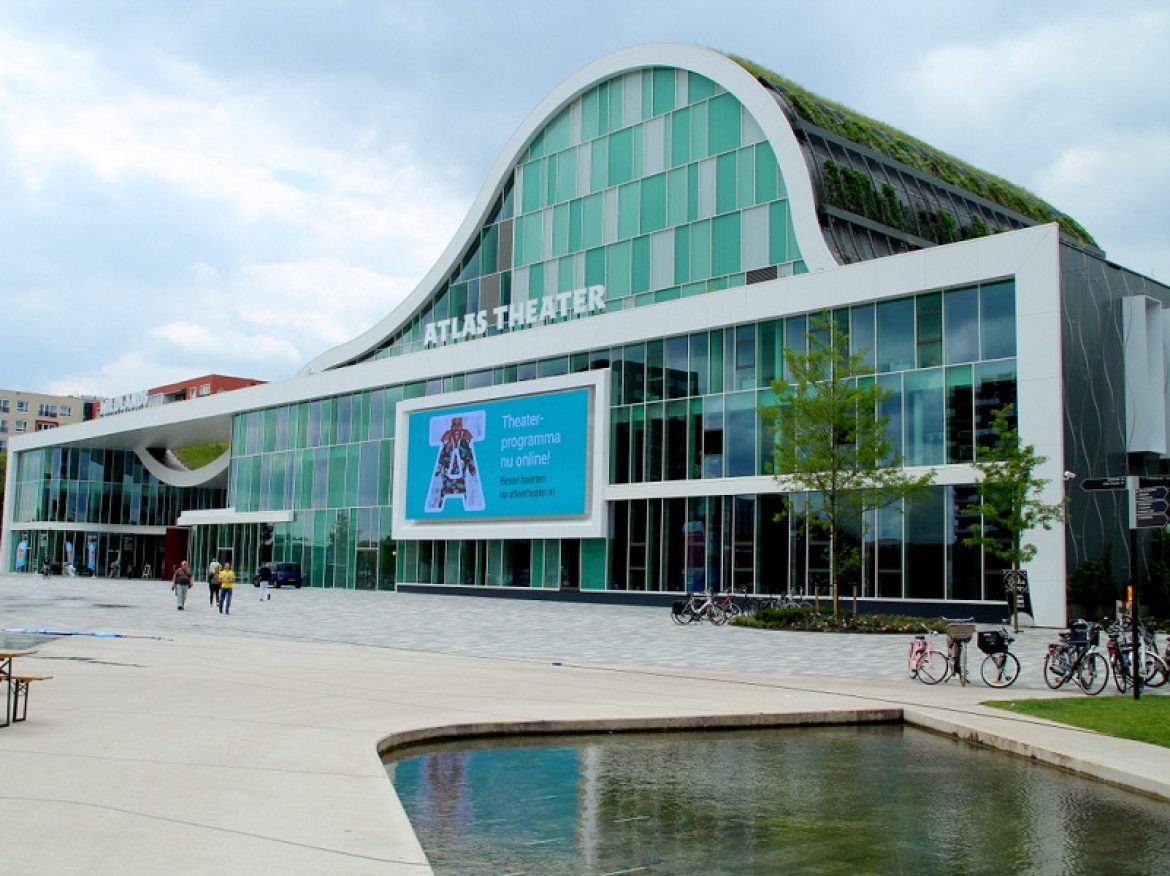 Atlas Theater
The Atlas Theatre is a multifunctional theater building located at the Town Hall Square in Emmen. In addition to two theaters the complex also includes a convention center, restaurants and offices. The building is located on the Town Hall Square in Emmen and marks the transition between the center of Emmen and Wildlands. In addition, it acts as building access Wildlands Adventure Zoo Emmen. The complex consists of two more or less "loose buildings', which are connected with each other by means of an air bridge and a green roof. The building has two entrances, with an entrance to the theater and an entrance for Wildlands Adventure Zoo.  The Atlas Theatre has a large hall with 800 seats and a small hall with 300 seats and 800 standing places. Both rooms have a foyer, where visitors can look outside through the transparent facade.
The construction of the new theater of Emmen was started on October 10, 2014, after years of making plans. The municipality wanted to replace the theater Muzeval by a more modern theater for a long time, but the plans were slow to take off. Eventually, the plans were implemented and mayor Cees Bijl came up with the idea to combine theater and zoo (theme) park. After a selection of architects the design of the Danish architect Henning Larsen was chosen as the winning one. Ultimately, this design was further developed by the Dutch Van den Berg Group.  The official opening of the complex was in October 2016. The Atlas Theatre consists of theater hall,two foyers, theater restaurant, souvenir shop, seven conference rooms and so on.
The Atlas Theater is a new theater where you feel at home. Atlas Theater has an annual adventurous programming. It offers great performances for young and old. And not just for Emmen, but for miles around. This theater is a multifunctional accommodation for any type of show, concert, conference or other event. With a large hall with more than 800 seats, a flat floor hall with 300 seats, various meeting and banquet facilities, and self catering facilities. It is brand new and equipped with optimal facilities.
The Atlas Theater offers various possibilities to make an entire evening in the theater unforgettable. Before each evening performance, you can enjoy a delicious dinner. Theatre Restaurant is located on the first floor of the theater at the end of the lobby. The restaurant has panoramic view of the Town Hall Square. At the Town Hall Square, next to the entrance to the theater, you can find the Atlas Café. The café is open daily. Enjoy a delicious drink and a variety of appetizers. At the Town Hall Square is the open terrace of the Atlas pub if the weather permits.
You can find more information on the official site: www.atlastheater.nl
SIRENE SALE! De voorstelling 'La Superba' van Toneelgroep Maastricht is 24 uur lang (vanaf 12.00 uur) in de Sirene Sale! Wees er snel bij, de hoeveelheid tickets is beperkt en de actie is enkel 24 uur lang geldig!

Tickets & ...

Morgen is het weer tijd voor de Sirene Sale!

Maandag 5 maart stipt om 12:00 uur, wanneer het Emmense luchtalarm getest wordt, start bij het ATLAS Theater de Sirene Sale! Op dat moment is er één voorstelling die voor de ...

Achter de schermen zijn wij inmiddels al druk bezig met het nieuwe theaterseizoen en daarbij hebben we jouw hulp nodig! Welke tv-helden zou je graag in het ATLAS Theater willen ontmoeten? Laat het ons in een reactie hieronder weten!

Bekijk ...

Voute Vrijdag - Het foutste feest op Goede Vrijdag WIN 4 KAARTEN VOOR VOUTE VRIJDAG!

Vrijdag 30 maart is het zover: dan zal de foutste feestzaal van Drenthe verrijzen! Dansen, feesten en (her)beleven van de allergrootste Foute hits die eigenlijk best goed zijn! Confetti zal dwarrelen, handjes de lucht ...

In maart gaan er een aantal fantastische voorstellingen in de voorverkoop! Houd onze Facebookpagina en website goed in de gaten om op de hoogte te blijven en om er als eerste bij te zijn!

www.atlastheater.nl

Voute Vrijdag - Het foutste feest op Goede Vrijdag Het ATLAS Theater gaat verbouwen, de foutste feestzaal van Drenthe zal verrijzen. De theaterstoelen zullen plaatsmaken voor de dansvloer, het podium gaat omhoog, de bar wordt geplaatst en het Foutste uur van Nederland zal de plaatjes door de zaal slingeren!

...

Le Roux d'Anjou - Echte liefde "A fles a day keeps the doctor away."

Lieneke Le Roux en Mylène d'Anjou slaan de handen ineen voor de absurdistische, muzikale cabaretkomedie 'Echt Liefde', daarbij geïnspireerd door 'Absolutely Fabulous'. Terwijl ze op ramkoers liggen met de snel veranderende wereld ...

Deze week in het ATLAS Theater

• do 1 & vr 2 mrt: VAMOS!
• za 3 mrt: De Kleine Zeemeermin

Tickets & meer info: bit.ly/Voorstellingen2018

Martijn Koning - Koning te rijk Martijn Koning doet het op zijn manier. Een rode lijn? Daar doet hij weinig mee. "Ik doe sowieso iedere avond iets anders. Als ik elke avond hetzelfde doe, word ik gek". Benieuwd wat Martijn voor het ATLAS Theater in petto ...

A JE TO! Nog geen plannen voor het weekend? Kom dan morgen om 14.00 of 16.00 uur met je (klein)kind naar de voorstelling 'A je To!' van Buurman & Buurman in het ATLAS Theater!


Tickets & meer info (14.00 uur): bit.ly/BuurmanEnBuurman1400
Tickets & ...

Wat zijn we dankbaar het "theater te delen" met deze man in de grote zaal, en wij....in de kleine. Verschil moet er zijn! @AtlasEmmen

Overigens hebben we Charlotte maar ingeruild voor Jochem. Hij zingt ook een aardig nootje!!! https://t.co/USeahh70UR
Atlas Theater
Pros
Theather is very modern.
Cons
The Atlas Theatre does not have its own car park.