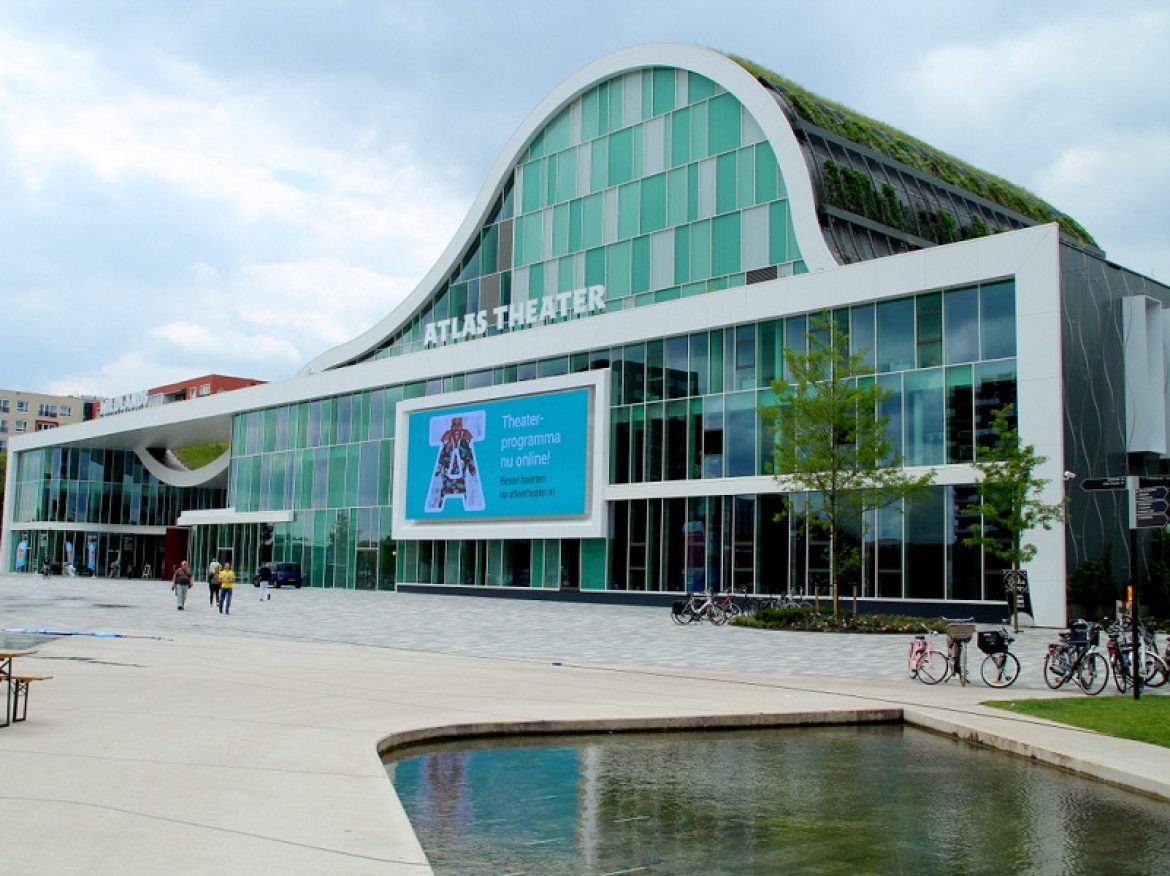 Atlas Theater
The Atlas Theatre is a multifunctional theater building located at the Town Hall Square in Emmen. In addition to two theaters the complex also includes a convention center, restaurants and offices. The building is located on the Town Hall Square in Emmen and marks the transition between the center of Emmen and Wildlands. In addition, it acts as building access Wildlands Adventure Zoo Emmen. The complex consists of two more or less "loose buildings', which are connected with each other by means of an air bridge and a green roof. The building has two entrances, with an entrance to the theater and an entrance for Wildlands Adventure Zoo.  The Atlas Theatre has a large hall with 800 seats and a small hall with 300 seats and 800 standing places. Both rooms have a foyer, where visitors can look outside through the transparent facade.
The construction of the new theater of Emmen was started on October 10, 2014, after years of making plans. The municipality wanted to replace the theater Muzeval by a more modern theater for a long time, but the plans were slow to take off. Eventually, the plans were implemented and mayor Cees Bijl came up with the idea to combine theater and zoo (theme) park. After a selection of architects the design of the Danish architect Henning Larsen was chosen as the winning one. Ultimately, this design was further developed by the Dutch Van den Berg Group.  The official opening of the complex was in October 2016. The Atlas Theatre consists of theater hall,two foyers, theater restaurant, souvenir shop, seven conference rooms and so on.
The Atlas Theater is a new theater where you feel at home. Atlas Theater has an annual adventurous programming. It offers great performances for young and old. And not just for Emmen, but for miles around. This theater is a multifunctional accommodation for any type of show, concert, conference or other event. With a large hall with more than 800 seats, a flat floor hall with 300 seats, various meeting and banquet facilities, and self catering facilities. It is brand new and equipped with optimal facilities.
The Atlas Theater offers various possibilities to make an entire evening in the theater unforgettable. Before each evening performance, you can enjoy a delicious dinner. Theatre Restaurant is located on the first floor of the theater at the end of the lobby. The restaurant has panoramic view of the Town Hall Square. At the Town Hall Square, next to the entrance to the theater, you can find the Atlas Café. The café is open daily. Enjoy a delicious drink and a variety of appetizers. At the Town Hall Square is the open terrace of the Atlas pub if the weather permits.
You can find more information on the official site: www.atlastheater.nl
Trailer R&B Oldskool hits Kun je ook geen genoeg krijgen van R&B oldskool hits?💯🎶 John Williams NL neemt je mee op reis door zijn eigen platenbak met al zijn favoriete RNB hits van toen. Jodeci, Boyz II Men, SWV, Blackstreet en nog veel meer ...

Nog eventjes en dan kunnen jullie onze overheerlijke gerechten proeven tijdens MM Culinair! 🍤🥘🥂🍴 Wij zijn er klaar voor, kom je ook?

Save the date: zaterdag 31 augustus & zondag 1 september
#bethere #emmen #mmculinair

📸 Richard Broekhuijzen

Het nieuwe theaterseizoen staat weer voor de deur en dat betekent weer veel keuze, heel veel keuze...🤯 Kun je nou niet kiezen tussen al die nieuwe voorstellingen of ben je op zoek naar een leuk en origineel cadeau? Wij hebben ...

ATLAS deel uit | Win je aankoopbedrag terug! WIN JE AANKOOPBEDRAG TERUG! 😱😱
Heb jij ze al gespot? Onze toffe zomertasjes? We hebben ze tijdens diverse festivals in Emmen uitgedeeld en je maakt nog één keer kans om een exemplaar te bemachtigen tijdens MM Culinair! Maak een ludieke/unieke/grappige ...

Sioen plays Graceland | Promo Vandaag is het precies 33 jaar geleden dat het legendarisch album 'Graceland' van Paul Simon werd uitgebracht. 🎶 Muzikaal en maatschappelijk gezien een iconisch werk, dat de wereld veranderde en bruggen sloeg. 'Graceland' won in 1986 de Grammy Award voor ...

Brigitte Heitzer komt opnieuw naar Emmen! Brigitte Heitzer, je hebt haar misschien al zien schitteren in Evita en Miss Saigon. 💫 Volgend seizoen is ze opnieuw te zien in het ATLAS Theater in 'Goodbye, Norma Jeane'! Een musical over de laatste nacht van Marilyn Monroe.

Tickets ...

Genreflyers! De genreflyers zijn bijna klaar om naar de drukker te gaan! 🖨 Alle voorstellingen van jouw favoriete genre, lekker overzichtelijk in één boekje. Hoe handig is dat?! 👊🏻 #thankmelater

MM Culinair promo Fijnproevers opgelet! 🙋‍♀ Mocht je het hebben gemist: wij doen mee met MM Culinair! 🍽 Op zaterdag 31 augustus & zondag 1 september staan wij op het Marktplein in Emmen met een aantal overheerlijke gerechten. 🙌🏻 Leuke manier om kennis ...

Goed nieuws! 🙌🏻 Ook komend seizoen kunnen jongeren weer voor een tientje naar het ATLAS Theater! Bekijk hier de voorwaarden: bit.ly/Korting_Jongeren

Ontmoet de cast van De Weltmeister!
Deze week stellen we jullie voor aan dochter Stine (Ella Kamerbeek). Theo's oudere zus. Indirect is ze slachtoffer van het ontketende vrijheidsgevoel van de jaren '60. Stine duikt graag in avonturen met seks, drank ...

Atlas Theater pakt uit tijdens Emmer uitmarkt: Henk Westbroek, Bouke en Stéphanie Struijk: De ... https://t.co/J8WSgvMp7l

Photos from ATLAS Theater's post Over precies een maand is het weer tijd voor het leukste festival van het jaar: UITmarkt Emmen, Stadsbbq edition 6, 7, 8 september 2019. 🎉 Zet 'm alvast in je agenda! 📆 Op het ATLAS Podium (hoofdpodium) krijg je op ...

Vol Atlas Theater in Emmen neemt afscheid van 'positivo' Finus Tinge: 'Overal zag je een lichtpuntje in https://t.co/G1QlhLVmeg

Fan van Avicii? Het Noord Nederlands Orkest brengt een eerbetoon aan de absolute meester van de melodie! 🎚🎶 Wake me up, Hey Brother en Waiting for love uitgevoerd door een groot orkest, hoe gaaf is dat?! 🎻🎷🎺

Tickets & meer ...

De Verleiders Female | Teaser Het woord is aan de vrouwen! 🙋‍♀ DE VERLEIDERS maken stukken over macht. Eén onderwerp hebben ze laten liggen: de machtsongelijkheid tussen mannen en vrouwen. Maar dat gaat veranderen. Want hier zijn DE VERLEIDERS FEMALE! Brandende kwesties als maatschappelijke rolverdeling, ...

Liefhebber van James Bond? 😎 Dorona Alberti, Tim Akkerman en het Metropole Orkest dompelen je onder in de wereld van spionage en glamour. 🕵‍♂ In 'The Music from James Bond' hoor je de meest iconische songs uit vroege en recentere ...

Photos from ATLAS Theater's post TE LEUK! 😍 We hebben al veel leuke, unieke en grappige foto's ontvangen van de ATLAS tasjes! 📸 Wil je ook kans maken om je aankoopbedrag voor seizoen 2019/2020 terug te winnen? 💸 Bemachtig dan aankomende zondag tijdens Gouden Pijl ...

KIJKTIP! 👀 Aanstaande vrijdag 2 augustus om 21:00 uur zal Showponies 1 worden uitgezonden op NPO 3! Dé ideale voorbereiding op Showponies 2! 🦄 #dealexklaasenrevue

Tickets & meer info: bit.ly/Showponies_2

We hebben een nieuwe vacature online staan! 👀 Wij zijn op zoek naar een Medewerker Frontoffice Gastheer / Gastdame met een creatieve, enthousiaste en proactieve werkhouding en die affiniteit heeft met de theaterwereld. #ateam Meer info: https://t.co/RH2Yy7DH2x https://t.co/7DPRaOO8eb

We hebben een nieuwe vacature online staan! 👀 Wij zijn op zoek naar een Medewerker Frontoffice Gastheer / Gastdame met een creatieve, enthousiaste en proactieve werkhouding en die affiniteit heeft met de theaterwereld. #ateam

Meer info: bit.ly/Vacature_ATLAS

Zie hier de gelukkige winnaars van de Gouden Envelop tijdens het Regenboogfestival Emmen. Wil jij ook kans maken op de Gouden Envelop (én een te gek ATLAS tasje)? Kom dan aanstaande zondag naar de Gouden Pijl!

📍🗓 Tijdens de Gouden ...

Hondsrug-leerlingen maken promovideo in Atlas Theater: Emmen - Het Atlas Theater heeft in samen ... https://t.co/bRWR6aAw6t
Atlas Theater
Pros
Theather is very modern.
Cons
The Atlas Theatre does not have its own car park.