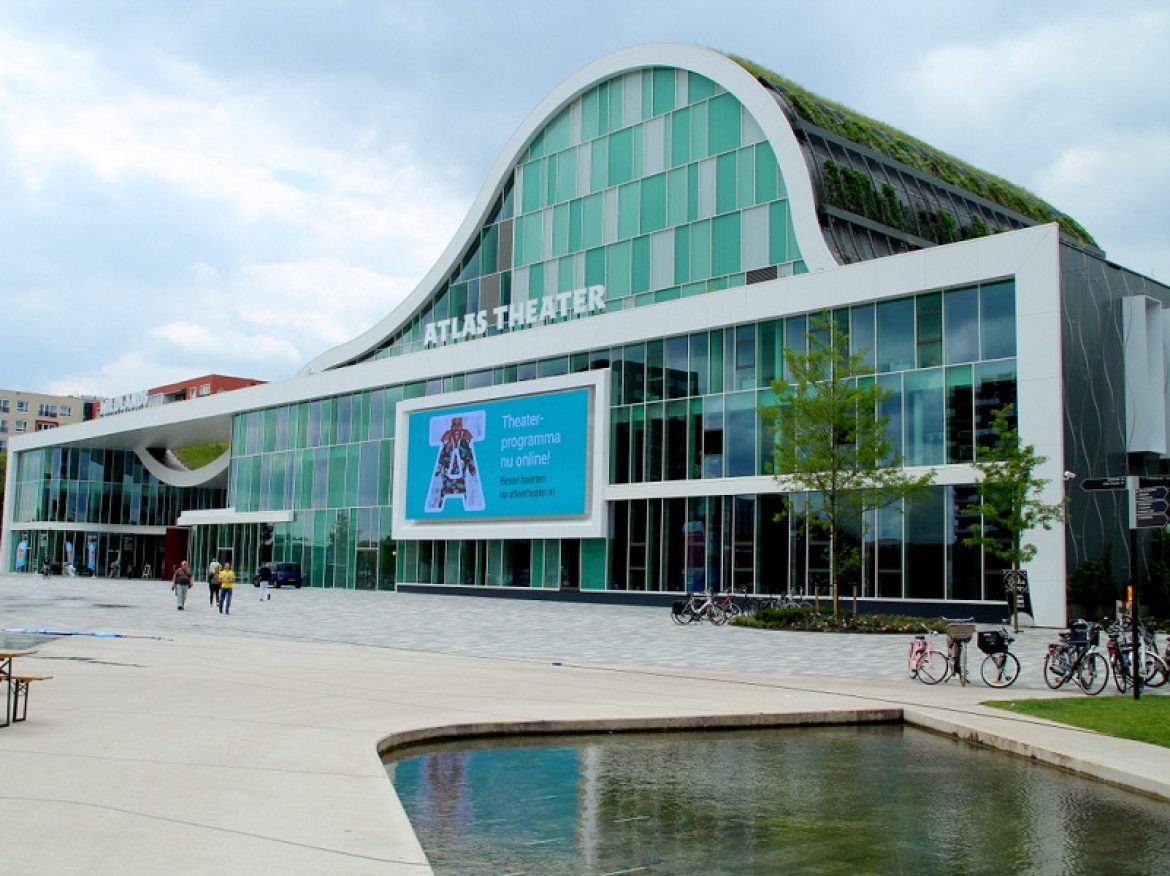 Atlas Theater
The Atlas Theatre is a multifunctional theater building located at the Town Hall Square in Emmen. In addition to two theaters the complex also includes a convention center, restaurants and offices. The building is located on the Town Hall Square in Emmen and marks the transition between the center of Emmen and Wildlands. In addition, it acts as building access Wildlands Adventure Zoo Emmen. The complex consists of two more or less "loose buildings', which are connected with each other by means of an air bridge and a green roof. The building has two entrances, with an entrance to the theater and an entrance for Wildlands Adventure Zoo.  The Atlas Theatre has a large hall with 800 seats and a small hall with 300 seats and 800 standing places. Both rooms have a foyer, where visitors can look outside through the transparent facade.
The construction of the new theater of Emmen was started on October 10, 2014, after years of making plans. The municipality wanted to replace the theater Muzeval by a more modern theater for a long time, but the plans were slow to take off. Eventually, the plans were implemented and mayor Cees Bijl came up with the idea to combine theater and zoo (theme) park. After a selection of architects the design of the Danish architect Henning Larsen was chosen as the winning one. Ultimately, this design was further developed by the Dutch Van den Berg Group.  The official opening of the complex was in October 2016. The Atlas Theatre consists of theater hall,two foyers, theater restaurant, souvenir shop, seven conference rooms and so on.
The Atlas Theater is a new theater where you feel at home. Atlas Theater has an annual adventurous programming. It offers great performances for young and old. And not just for Emmen, but for miles around. This theater is a multifunctional accommodation for any type of show, concert, conference or other event. With a large hall with more than 800 seats, a flat floor hall with 300 seats, various meeting and banquet facilities, and self catering facilities. It is brand new and equipped with optimal facilities.
The Atlas Theater offers various possibilities to make an entire evening in the theater unforgettable. Before each evening performance, you can enjoy a delicious dinner. Theatre Restaurant is located on the first floor of the theater at the end of the lobby. The restaurant has panoramic view of the Town Hall Square. At the Town Hall Square, next to the entrance to the theater, you can find the Atlas Café. The café is open daily. Enjoy a delicious drink and a variety of appetizers. At the Town Hall Square is the open terrace of the Atlas pub if the weather permits.
You can find more information on the official site: www.atlastheater.nl
Minister Van Engelshoven op bezoek bij Het Houten Huis en Club Guy & Roni: 'Theater is veel veiliger dan een supermarkt' https://t.co/B0QMPn5IaZ

@OostBert Goede tip! We laten even een kijkje nemen of dit mogelijk is.

@OostBert Oeps! We gaan het voor je aanpassen in ons systeem. Kun je ons een mailtje sturen met je NAW gegevens? Dan kunnen wij de juiste klantenkaart opzoeken. Groet, ATLAS

Vacature alert! 🚨 Wij zoeken een enthousiaste, professionele, pro-actieve en vooral gastgerichte Medewerker Horeca M/V die op zoek is naar een inspirerende baan in de horeca! Ben jij een echte horeca topper? Lees dan snel verder! Meer info: https://t.co/rCWeoN5oCo https://t.co/zLYn4byCmy

YEAH! De verkoop voor het nieuwe theaterseizoen is vanaf nu GESTART! 🤩 Haast je snel naar onze website, want er zijn per voorstelling maar een beperkt aantal kaarten beschikbaar: https://t.co/xY6vH4LYAk 🏃🏼‍♀️ https://t.co/okQf8nCmbO

Lieve ATLAS bezoekers, alle voorstellingen worden tot en met 1 juni 2020 geannuleerd of uitgesteld. Dat betekent dat dit seizoen helaas ten einde is. Het belangrijkste is onze gezondheid en we hopen iedereen gezond en wel in het nieuwe theaterseizoen ...

Door de opgelegde maatregelen vanuit het kabinet zijn wij genoodzaakt om alle voorstellingen tot en met 31 maart te annuleren. Voor meer informatie verwijzen wij u graag door naar onze website: https://t.co/EUf5xY0IkO

Gefeliciteerd Metropole Orkest​ met deze fantastische prijs! 🏆 Goed nieuws voor het Noorden van Nederland: het Metropole Orkest komt dinsdag 25 februari exclusief naar het ATLAS Theater​! Tickets & meer info: https://t.co/YYbs50YIxP https://t.co/2oEjMgLJVg via @NUnl

Leuk, een kijkje achter de schermen bij het Atlas Theater in Emmen, maar waar is Freek Vonk? https://t.co/M1ltsRhQAb

#vacature alert! 🚨 Wij zijn op zoek naar een Medewerker Theatertechniek M/V met een creatieve, enthousiaste en proactieve werkhouding en die ervaring heeft als technicus in de theater- of evenementenbranche! Lees snel verder! ⬇

Meer info: https://t.co/KNQad9gXwH https://t.co/Cztp4UWWJA

Tegen inlevering van twee toegangskaarten voor de voorstelling en de bon uit de Emmer Courant krijgen bezoekers het sprookjesboek gratis mee naar huis! https://t.co/c4A23xzSJm

SIRENE SALE! 🚨 De voorstelling Sioen plays Graceland - Paul Simon's meesterwerk is 24 uur lang (vanaf 12.00 uur) in de #SireneSale! Wees er snel bij, de hoeveelheid tickets is beperkt en de actie is enkel 24 uur lang geldig!

...
Atlas Theater
Pros
Theather is very modern.
Cons
The Atlas Theatre does not have its own car park.