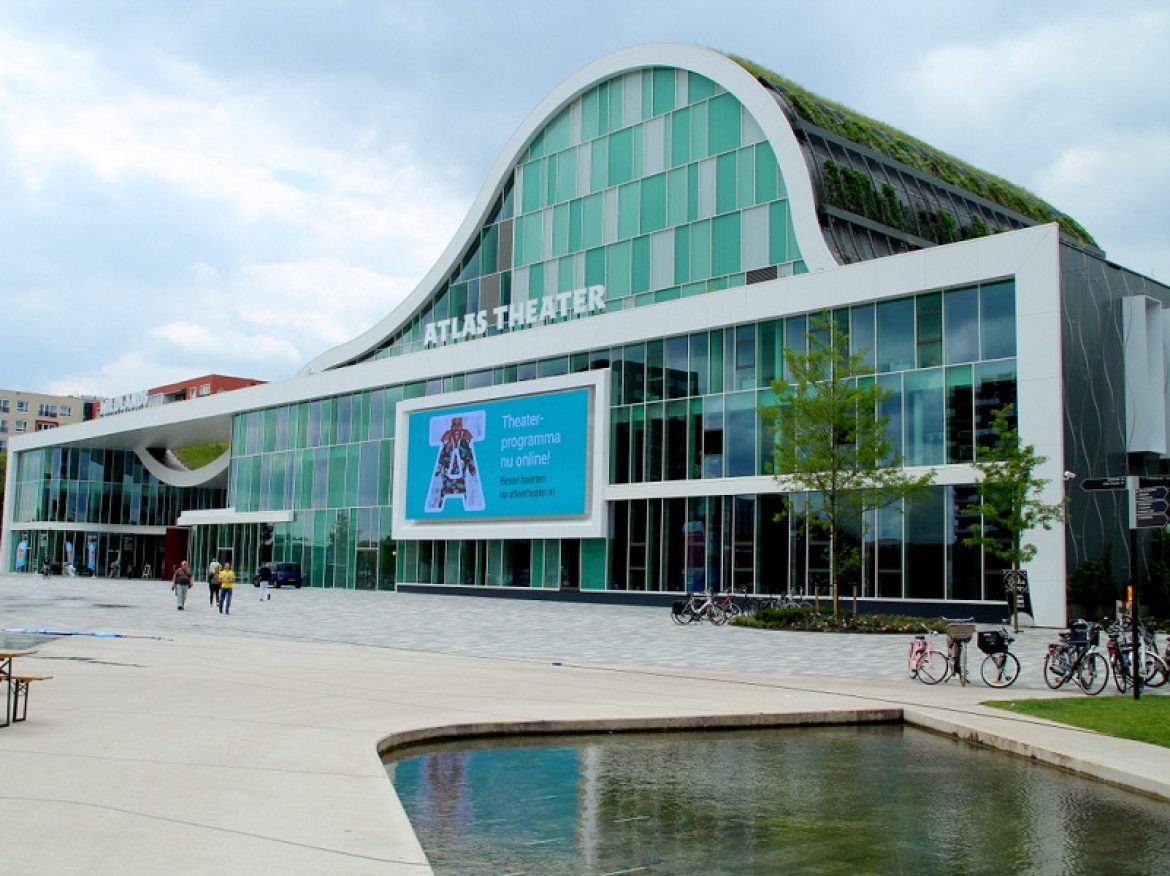 Atlas Theater
The Atlas Theatre is a multifunctional theater building located at the Town Hall Square in Emmen. In addition to two theaters the complex also includes a convention center, restaurants and offices. The building is located on the Town Hall Square in Emmen and marks the transition between the center of Emmen and Wildlands. In addition, it acts as building access Wildlands Adventure Zoo Emmen. The complex consists of two more or less "loose buildings', which are connected with each other by means of an air bridge and a green roof. The building has two entrances, with an entrance to the theater and an entrance for Wildlands Adventure Zoo.  The Atlas Theatre has a large hall with 800 seats and a small hall with 300 seats and 800 standing places. Both rooms have a foyer, where visitors can look outside through the transparent facade.
The construction of the new theater of Emmen was started on October 10, 2014, after years of making plans. The municipality wanted to replace the theater Muzeval by a more modern theater for a long time, but the plans were slow to take off. Eventually, the plans were implemented and mayor Cees Bijl came up with the idea to combine theater and zoo (theme) park. After a selection of architects the design of the Danish architect Henning Larsen was chosen as the winning one. Ultimately, this design was further developed by the Dutch Van den Berg Group.  The official opening of the complex was in October 2016. The Atlas Theatre consists of theater hall,two foyers, theater restaurant, souvenir shop, seven conference rooms and so on.
The Atlas Theater is a new theater where you feel at home. Atlas Theater has an annual adventurous programming. It offers great performances for young and old. And not just for Emmen, but for miles around. This theater is a multifunctional accommodation for any type of show, concert, conference or other event. With a large hall with more than 800 seats, a flat floor hall with 300 seats, various meeting and banquet facilities, and self catering facilities. It is brand new and equipped with optimal facilities.
The Atlas Theater offers various possibilities to make an entire evening in the theater unforgettable. Before each evening performance, you can enjoy a delicious dinner. Theatre Restaurant is located on the first floor of the theater at the end of the lobby. The restaurant has panoramic view of the Town Hall Square. At the Town Hall Square, next to the entrance to the theater, you can find the Atlas Café. The café is open daily. Enjoy a delicious drink and a variety of appetizers. At the Town Hall Square is the open terrace of the Atlas pub if the weather permits.
You can find more information on the official site: www.atlastheater.nl
Photos from ATLAS Theater's post Ben je vandaag ook met Doornroosje op de foto gegaan? 👸 Volgend seizoen te zien in ATLAS!

Tickets & meer info: bit.ly/Doornroosje_ATLAS

Photos from ATLAS Theater's post Ons mini-theatertje staat klaar! 🥳 Kom je ook? Laat je schminken, ga met Doornroosje op de foto (en maak gelijk kans op een sprookjespakket) 👸 en geniet van lekkere suikerspinnen! 🤸‍♀️

Na het succes van 'R&B Oldskool hits' kan een vervolg niet uitblijven en in Part Two dendert de trein snoeihard door, met John Williams NL als machinist. Het belooft weer een heerlijk Old Skool feestje te worden, met Salt-n-Pepa, Jodeci, ...

Je maakt nog 11 dagen kans op gratis kaartjes voor het nieuwe seizoen! 🙌🏻🤩 Schrijf je in voor onze nieuwsbrief en wie weet win jij een Podium Cadeaukaart t.w.v. € 50,-! Schijf je hier in: bit.ly/misniks

Actieperiode: 5 t/m 25 ...

Te gek! Wie is nog meer aan het genieten van The Michael Jackson Tribute?! 🎶🎤🎙

Kom jij het A-team versterken? 💪🏻 Wij zoeken een enthousiaste, creatieve en initiatiefrijke Educatief Medewerker (16 uren per week) die de educatieve activiteiten en projecten in het ATLAS Theater ontwikkelt en er voor zorgt dat ze soepel verlopen!

Meer info: ...

Voormalig BZN-iconen Jan Keizer en Anny schilder zetten een punt achter hun gezamenlijke muzikale carrière! 🎶 Na bijna 55 jaar op de bühne te hebben gestaan, kijken ze terug op een schitterende carrière en doet het muzikale duo een greep ...

Onze felicitaties voor iedereen die geslaagd is! 📚🎒 Ken je iemand die geslaagd is? 🥳 Like dan nu dit bericht en tag diegene die een vrijkaartje verdient voor een voorstelling naar keuze! We maken maandag 17 juni de winnaar bekend ...

ZO34 Heb jij al kaartjes voor het Drèents Liedtiesfestival? 🎤🎶

Tickets & meer info: bit.ly/DreentsLiedtiesfestival
Afgelopen vrijdag waren de overige 6 finalisten van het DLF - Drèents Liedtiesfestival te gast bij de Vlinderstad Superchart. Kelly Valke zong haar nummer waarmee ze ...

Aankomend weekend staan wij weer op het Alles Kids in Drenthe festival in Emmen! 🥳🤩Wij gaan in een mini-theatertje voor de ingang van het theater de Kids Afterparty nabootsen! Dat betekent muziek, schmink, ballonnen, suikerspinnen en een meet & greet ...

Photos from ATLAS Theater's post OPROEP! De makers van De Weltmeister zoeken foto's uit 1974! 📷 Het jaar 1974 was onder meer de tijd van Caraco ijs, Vicky Leandros, Pipi Langkous, Toppop en natuurlijk het WK in Duitsland. Maar misschien ook wel van verhuizen naar ...

In Best of Ireland hoor je populaire traditionele folksongs en nummers van de huidige lichting Ierse artiesten.☘ Ook komt er een speciale gast mee: Johnny Logan, Mister Eurovision himself! Dus hoor je zeker zijn hits 'What's Another Year?' en 'Hold ...

Na het grote succes van twee jaar geleden komt Checkpoint Theater terug met een show vol ontploffingen, interactie en spectaculaire tests. 💣💥 Voor veiligheidsbrillen en gehoorbeschermers wordt gezorgd en dan gaan de remmen los. Duik weg voor het frietschietkanon, leer ...

Ben jij fan van The Rolling Stones? 🙋‍♀ Dan hebben wij goed nieuws, want Legendary Albums Live brengt het album Sticky Fingers naar het ATLAS Theater! Geniet van een topuitvoering van het creatieve hoogtepunt van Jagger, Richards & Co.

Vijftig ...

Verras je vader met een mooie tekening! 🦸‍♂ Maak een foto van je creatie en stuur 'm voor zondag 16 juni naar [email protected] Wie weet win jij wel twee vrijkaarten voor Ton Kas incl. mannenavond als extra cadeau voor je ...

Ode aan legendarisch gevangenisconcert van Johnny Cash! ⚡ The Man in Black was op de toppen van zijn kunnen toen hij, na 'Johnny Cash at Folsom Prison' uit 1968, een jaar later opnieuw een rauwe en eerlijke registratie maakte van ...

Hondsrug-leerlingen maken promovideo in Atlas Theater Emmen - Het Atlas Theater heeft in samenwerking met het Hondsrug College een filmopdracht bedacht voor het vak CKV (culturele kunstzinnige vormgeving). De leerlingen moesten aan de hand van een aantal onderwerpen een promotievideo schieten in het theater en konden ...

Hondsrug-leerlingen maken promovideo in Atlas Theater: Emmen - Het Atlas Theater heeft in samen ... https://t.co/bRWR6aAw6t

Gratis kaartjes voor het nieuwe seizoen?🙌🏻🤩 Schrijf je dan nu in voor onze nieuwsbrief en maak kans op een Podium Cadeaukaart t.w.v. € 50,-! Schijf je hier in: bit.ly/misniks

Actieperiode: 5 t/m 25 juni. De winnaar ontvang persoonlijk bericht middels ...

Verliefd op Ibiza promo Dames opgelet! Heb je zin in een leuke avond uit met vriendinnen? Kom dan naar Verliefd op Ibiza de Musical met Guido Spek, Johnny Kraaijkamp jr. en anderen! ☀🌴 Na het film- en tv-succes kun je nu genieten van een ...

Zojuist is het nieuwe programma bekend gemaakt! Tijdens de presentatie, in een uitverkocht huis, genoten genodigden van live previews van o.a. Hadewych Minis, Enge Buren en VOF de Kunst. De reguliere verkoop start morgen, dinsdag 7 mei om 12.00 uur. ...

SIRENE SALE! 🚨 De 5 sterrenvoorstelling 'Opslaan Als' van Eva Crutzen is 24 uur lang (vanaf 12.00 uur) in de #SireneSale! Wees er snel bij, de hoeveelheid tickets is beperkt en de actie is enkel 24 uur lang geldig! Tickets: ...
Atlas Theater
Pros
Theather is very modern.
Cons
The Atlas Theatre does not have its own car park.