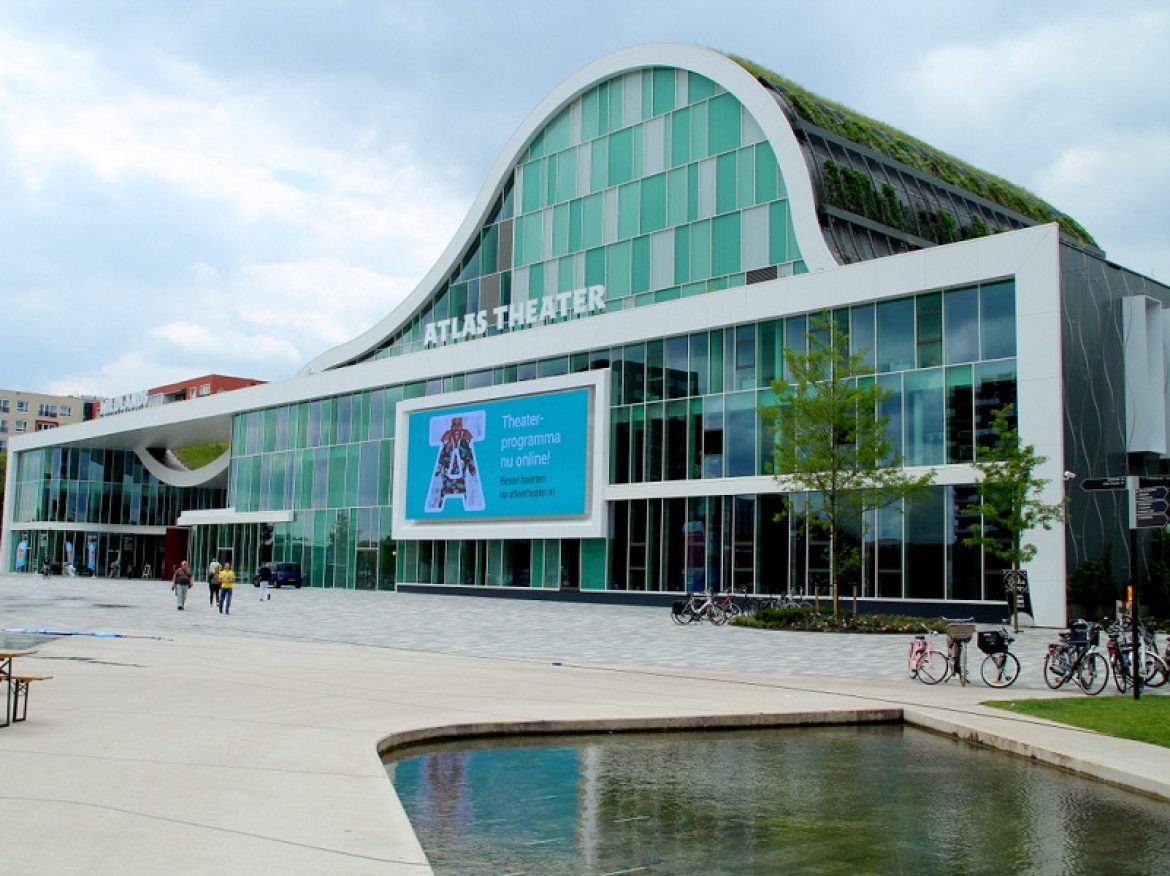 Atlas Theater
The Atlas Theatre is a multifunctional theater building located at the Town Hall Square in Emmen. In addition to two theaters the complex also includes a convention center, restaurants and offices. The building is located on the Town Hall Square in Emmen and marks the transition between the center of Emmen and Wildlands. In addition, it acts as building access Wildlands Adventure Zoo Emmen. The complex consists of two more or less "loose buildings', which are connected with each other by means of an air bridge and a green roof. The building has two entrances, with an entrance to the theater and an entrance for Wildlands Adventure Zoo.  The Atlas Theatre has a large hall with 800 seats and a small hall with 300 seats and 800 standing places. Both rooms have a foyer, where visitors can look outside through the transparent facade.
The construction of the new theater of Emmen was started on October 10, 2014, after years of making plans. The municipality wanted to replace the theater Muzeval by a more modern theater for a long time, but the plans were slow to take off. Eventually, the plans were implemented and mayor Cees Bijl came up with the idea to combine theater and zoo (theme) park. After a selection of architects the design of the Danish architect Henning Larsen was chosen as the winning one. Ultimately, this design was further developed by the Dutch Van den Berg Group.  The official opening of the complex was in October 2016. The Atlas Theatre consists of theater hall,two foyers, theater restaurant, souvenir shop, seven conference rooms and so on.
The Atlas Theater is a new theater where you feel at home. Atlas Theater has an annual adventurous programming. It offers great performances for young and old. And not just for Emmen, but for miles around. This theater is a multifunctional accommodation for any type of show, concert, conference or other event. With a large hall with more than 800 seats, a flat floor hall with 300 seats, various meeting and banquet facilities, and self catering facilities. It is brand new and equipped with optimal facilities.
The Atlas Theater offers various possibilities to make an entire evening in the theater unforgettable. Before each evening performance, you can enjoy a delicious dinner. Theatre Restaurant is located on the first floor of the theater at the end of the lobby. The restaurant has panoramic view of the Town Hall Square. At the Town Hall Square, next to the entrance to the theater, you can find the Atlas Café. The café is open daily. Enjoy a delicious drink and a variety of appetizers. At the Town Hall Square is the open terrace of the Atlas pub if the weather permits.
You can find more information on the official site: www.atlastheater.nl
ISH - Dance Collective Vandaag worden skills van de straat naar het theater gebracht door ISH - Dance Collective! Na 15 jaar gaat de groep terug naar hoe het ooit begon en brengt met 'Elements of Freestyle' een urban-arts show naar het toneel, met ...

Vandaag verwelkomen we de crew van @ISHtheatre met 'Elements of freestyle' in het @AtlasEmmen. Veel succes en veel plezier vandaag!

Ik moet mijn boosheid een beetje terug nemen. Er zijn eindelijk gratis kaarten in Drachten geregeld. Dank hier voor, namens een eerste instantie boze opa.

Henk

Vrienden ATLAS Theater 30 plaatsen voor GRATIS breakdance freerun workshops...Je kunt je nog opgeven via info@vriendenatlastheater.nl! (vol = vol)!
"Hoe cool is dit!?

ISH - Dance Collective komt 29 maart naar het ATLAS Theater en geeft deze dag GRATIS breakdance en freerun workshops ...

Aretha Franklin is vandaag 75 jaar geworden! Volgend seizoen speelt @ShirmaRouse bij ons met de voorstelling 'Aretha, the Queen of soul'.

Shirma Rouse voor Aretha Franklin De queen of soul Aretha Franklin is vandaag 75 jaar geworden! Van harte gefeliciteerd (happy birthday!) namens ons en Shirma Rouse! Volgend theaterseizoen staat Shirma weer bij ons in het theater met de voorstelling 'Aretha! The Queen of Soul'. Als ...

Roodkapje De Musical - 8 april Na een reeks betoverende sprookjesmusicals blaast Van Hoorne Entertainment 'Roodkapje' nieuw leven in! Het eeuwenoude sprookje over een lief meisje dat koekjes gaat brengen naar haar zieke oma, wordt opnieuw bewerkt tot een heerlijke familievoorstelling.

Tickets & meer info: http://bit.ly/_Roodkapje
...

Opvliegers 2 trailer Volgende week dinsdag beleven we het avontuur van de allerleukste vriendinnenclub van Nederland op een vakantie vol sneeuw, skipassen en skilessen, knappe skileraren, heftige après-ski, stoeltjesliften, gejodel en natuurlijk de overgangsproblemen waar de vriendinnen mee te kampen hebben... Wie gaat ...

Timeline Photos De theatertour 'Sssss...Ach, laat ook maar' van Miss Montreal is vandaag gestart! In deze muziekvoorstelling legt Sanne 'onmeunig' veel van haar ziel bloot. Voor diegenen die Sanne niet kennen zal dit een bijzondere kennismaking zijn en voor haar fans die ...

Guido Weijers bij RTL Late Night - Geluksgeheimen Onlangs onthulde Guido Weijers al enkele geluksgeheimen in RTL Late Night. Voor meer wetenschappelijke en filosofische feiten over geluk kun je 6 april terecht in het ATLAS Theater tijdens 'Masterclass Geluk'. En dit niet zomaar een 'cabaretshowtje'! ;)

Tickets & ...

De recensies over musical 'De Marathon' zijn fenomenaal en het regent sterren! Musicalworld kent 5 sterren toe: https://t.co/wuLmoqAQLH

Timeline Photos De kaartverkoop voor de wereldberoemde musicalklassieker 'My Fair Lady' is gisteravond gestart! Op 30 en 31 maart 2018 kunnen we één van de beste musicals ooit gemaakt beleven! Komen jullie ook?

Tickets & meer info:
30 maart 2018: http://bit.ly/MyFairLady_30-3-18
31 ...

Timeline Photos YES! Vandaag wordt de cast van 'My Fair Lady' bekend gemaakt tijdens Tijd voor MAX om 17:10! Deze wereldberoemde en tijdloze musical is terug in de theaters en speelt op 30 en 31 maart 2018 bij ons in het ATLAS ...

deMarathon Vanavond is de première van deMarathon in het Luxor theater! 1 & 2 april is deze bloedgeestige in Emmen te zien ;)!
Vanavond is het zover. De première van De Marathon in het Luxor Theater! Na weken keihard trainen zijn ...

31 maart, Ashton Brothers - ENFANTS TERRIBLES 31 maart staan de Ashton Brothers in het ATLAS Theater met voorstelling 'Enfants Terribles'. Dit is een sensationeel spektakel waarbij de gevaarlijkste acts, de vreemdste trucs en de meest hilarische nummers omvormen tot een bonte mix van muziek, acrobatiek en ...

Musical De Marathon - 4 mijl van Emmen 4MIJL HARDLOPERS OPGELET! Doe jij mee met de 4 mijl van Emmen op 2 april? Dan kun je op vertoon van je inschrijvingsbewijs met €7,50 korting naar de bloedgeestige musical 'deMarathon' in het ATLAS Theater op 1 of 2 april! ...

Timeline Photos Hans Liberg staat 16 maart in onze Rabo Zaal met zijn voorstelling 'Trálálálá voor iederéén'! Dit wordt zijn eerste en tegelijkertijd ook zijn laatste voorstelling in het ATLAS Theater, omdat Hans na dit seizoen stopt met theatermaken... kom dus nog ...
Atlas Theater
Pros
Theather is very modern.
Cons
The Atlas Theatre does not have its own car park.