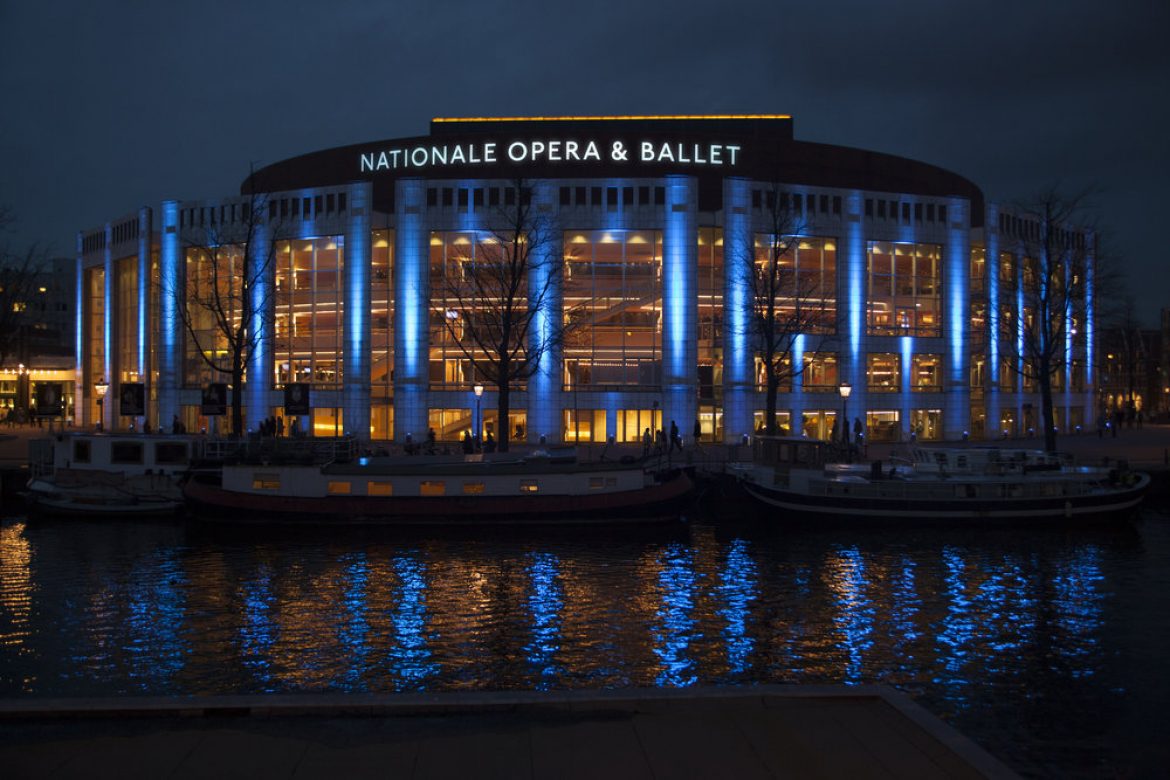 Stopera
Stopera is a building complex of city hall, opera and music theater located in Amsterdam. Stopera is located in Amsterdam's city center, between Waterloo Square, river Amstel and Zwanenburgwal. This location was chosen in 1954 as a site for a new town hall. Construction of the new combined city hall and music theater at the Waterloo caused a great controversy, because dozens of medieval buildings of the original Jewish neighborhood had to be demolished. The complex was built in 1986, although the talk about the fact that the city needed a new musical theater and the new city hall, were from the beginning of the XX century.Due to the constant lack of funds the construction was delayed, and projects have not been approved.  In 1979, an architect from Vienna Wilhelm Holzbauer proposed to place municipality and musical theater in the same building. The revolutionary proposal suddenly was approved by the city authorities; the government also agreed to build it. The building was designed by the architects Cees Dam and Wilhelm Holzbauer and it was opened on September 23, 1986. The exterior of Stopera is a massive building, faced with red brick. The curved facade of the building is decorated with white marble. Through numerous panoramic windows of the lobby of the theater you can see a wonderful view of the river.
Stopera. This building is known in Amsterdam under such a strange title. It sounds unusual, but actually it accurately reflects the essence. It is a new concept – the result of the combination of two words, stadhuis and opera, ie the "town house" and "opera". And it means that the city government, and the city's main opera house are in this building under the same roof. It  is not necessarily to talk about this theater a lot – it's just the leading theater in the country, the official residence of the Dutch National Opera, Dutch National Ballet and the National Symphony Orchestra. The repertoire is diverse – some works are used with using someone else's choreography or staging, but most – with its own. Their own productions are famous all over the world. There are classic works, but in fact this theater is characterized by the fact that it seeks to create something new from famous classical works, to propose some kind of avant-garde element. It is applies to the both opera and the ballet. The repertoire is constantly updated, the company of theatre is international – leading artists from other countries come to work here. This place is very important for the fans of excellent performed classical music. All operas are performed in the original language.
You can find more information on the official site: www.operaballet.nl
"Considering it could have looked disjointed – with three creative inputs – this attractive new work has remarkable cohesion and vitality."
-@bachtrack about 'Beethoven'.

Tickets for the livestream are still available: https://t.co/6MidZxlwBu

Rose is a fully danced story by our Young Creative Associate @MilenaSidorova about intimate relationships. The film is set on the borderline of what is real and what only happens in our mind.

Watch Rose here: https://t.co/P2TWB2JHlX
#ballet

I Feel It Too by Young Creative Associate @SedrigVerwoert tells the story of now. Starting with the naivety of pre-corona life, through the lockdown, to a sense of limitation and confrontation with our mortality.

Watch the premiere tonight at 8:15pm ...

Yesterday we premiered Memento by our Young Creative Associate Wubkje Kuindersma on our YouTube channel. This choreography is a remembrance of the strange times we are living in at the moment.

Watch Memento here: https://t.co/dtyRg00WHU

#ballet #premiere

Nicolas en Ella van Poucke zijn pianist en cellist, broertje Timothy is tweede solist bij @DutchNatBallet. Wat verklaart dit veelzijdige artistieke succes binnen één familie? Genen? Thuisonderwijs? De kookkunst van moeder Mercedes? https://t.co/gnsOVmN73S

Het @DutchNatBallet neemt met de talentengroep Junior Company deel aan de pilot 'Testen voor Toegang'. Het aangepaste programma omvatte onder meer een première van choreografe Wubkje Kuindersma. (●●●●) https://t.co/T9kGMlQSBK

Today is your last chance to get tickets for our Spring Special. Today at 3pm (CEST) our dancers get the chance to perform their favorite choreographies.

Go and get your tickets now before it's too late: https://t.co/fP4oHsitrU

#ballet #livestream
📸: ...

Opgelet! Vanavond om 19.25 uur bij NTR op NPO2 'Hans van Manen: van oud naar jong'. Over hoe het instuderen van balletten als Sarcasmen en Déjà vu in zijn werk gaat en wat er van de dansers wordt verwacht.

@NPO2 ...

Tweede soliste Floor Eimers en NTR regisseur Joost van Krieken zijn vanavond om 22.30 uur te gast in het @NPORadio4 programma Opium om te praten over de Hans van Manen documentaire 'Van oud naar jong' die dit weekend, zondag 4 ...

Want to celebrate Easter in a luxurious way? We are giving away a stay from 4 to 6 April at Hotel de l'Europe in Amsterdam including breakfast and dinner! All you have to do is buy a ticket for our ...

Hans van Manen fans opgelet: De documentaire Hans van Manen; van oud naar jong, is op zondag 4 april om 19:25 te zien bij de NTR op NPO 2. De documentaire gaat over hoe het instuderen in zijn werk gaat ...

Join us for the support act before the premiere of In and Out on our Instagram page! @ErnstMeisner will give the Junior Company a ballet class. Afterwards you can ask Ernst and the dancers all your questions.

Live in 15 ...

To celebrate the start of Spring, we are presenting the intimate and versatile Spring Special on Easter Monday, 5 April 2021. A program chosen by our dancers themselves containing old and new works!

For more information and tickets: https://t.co/dl4NyFjPWv
📸: ...

Our newest ballet class is now online on our YouTube channel. Click on the link to join @ErnstMeisner and dancers Mila Nicolussi Caviglia and Guillermo Torrijos of the Junior Company: https://t.co/I5CqGdx4FL
Stopera
Pros
The hall is very comfortable. The quality of the opera and ballet performances is outstanding. The atmosphere, the area and facilities are excellent.