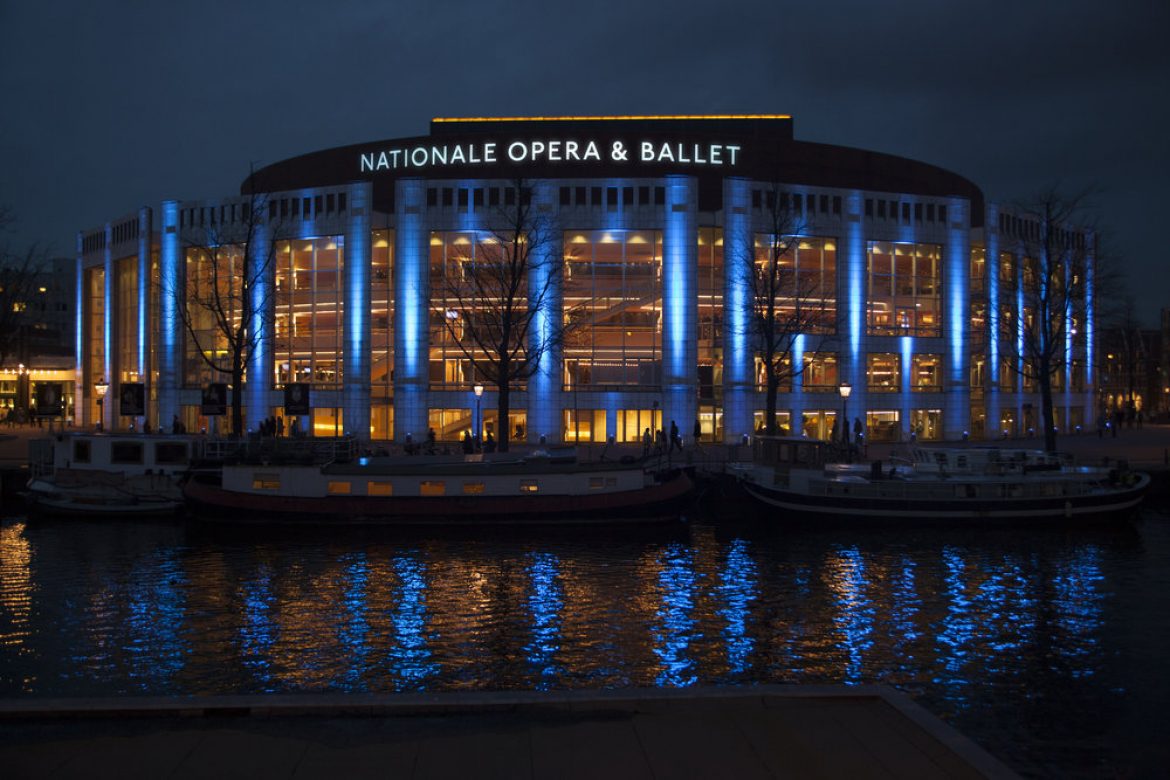 Stopera
Stopera is a building complex of city hall, opera and music theater located in Amsterdam. Stopera is located in Amsterdam's city center, between Waterloo Square, river Amstel and Zwanenburgwal. This location was chosen in 1954 as a site for a new town hall. Construction of the new combined city hall and music theater at the Waterloo caused a great controversy, because dozens of medieval buildings of the original Jewish neighborhood had to be demolished. The complex was built in 1986, although the talk about the fact that the city needed a new musical theater and the new city hall, were from the beginning of the XX century.Due to the constant lack of funds the construction was delayed, and projects have not been approved.  In 1979, an architect from Vienna Wilhelm Holzbauer proposed to place municipality and musical theater in the same building. The revolutionary proposal suddenly was approved by the city authorities; the government also agreed to build it. The building was designed by the architects Cees Dam and Wilhelm Holzbauer and it was opened on September 23, 1986. The exterior of Stopera is a massive building, faced with red brick. The curved facade of the building is decorated with white marble. Through numerous panoramic windows of the lobby of the theater you can see a wonderful view of the river.
Stopera. This building is known in Amsterdam under such a strange title. It sounds unusual, but actually it accurately reflects the essence. It is a new concept – the result of the combination of two words, stadhuis and opera, ie the "town house" and "opera". And it means that the city government, and the city's main opera house are in this building under the same roof. It  is not necessarily to talk about this theater a lot – it's just the leading theater in the country, the official residence of the Dutch National Opera, Dutch National Ballet and the National Symphony Orchestra. The repertoire is diverse – some works are used with using someone else's choreography or staging, but most – with its own. Their own productions are famous all over the world. There are classic works, but in fact this theater is characterized by the fact that it seeks to create something new from famous classical works, to propose some kind of avant-garde element. It is applies to the both opera and the ballet. The repertoire is constantly updated, the company of theatre is international – leading artists from other countries come to work here. This place is very important for the fans of excellent performed classical music. All operas are performed in the original language.
You can find more information on the official site: www.operaballet.nl
Waarom was Wagner's Tannhäuser in Parijs een flop?
Luister naar deze podcast waarin Benjamin Rous vertelt over de reis van Richard Wagner naar Parijs en de totstandkoming van zijn opera Tannhäuser die vanaf april bij ons te zien is.🎼
http://bit.ly/f-podcast-tannhauser

's cover photo De Nationale Opera - Dutch National Opera updated their cover photo.

"Je krijgt alle vrijheid om je te onwikkelen"
Lees het interview over de Amerikaanse bas-bariton Cody Quattlebaum en de Italiaanse sopraan Gloria Giurgola die meedoen aan De Opera Studio, het nieuwe talentontwikkelingsprogramma van De Nationale Opera.
Interview: http://bit.ly/interview-cody-gloria

Kinderkorenfestival 2019 Kinderkoren opgelet!
7 april is het weer zo ver, het Kinderkorenfestival! Ervaar hoe het is om samen met andere kinderkoren in het grootste Operahuis van Nederland te zingen. Er zijn nog kaarten beschikbaar. Meer info vind je hier: http://bit.ly/f-kinderkoor-info

Attention ...

aus LICHT Van licht tot kostuum, Karlhein Stockhausen werkte alles tot in de puntjes uit voor zijn magnum opus LICHT. Hoe is het om aan zo'n kostuum te werken? Voor de opera-marathon aus LICHT maken de studenten van de Meester Coupeur Opleiding ...

Fin de partie "Perfect symbiosis of words and music in Fin de partie at the Opera Forward Festival" ★★★★★ Bachtrack

Fin de Partie beleefde gister een succesvolle première! Zie hier de dialoog tussen Hamm en Clov. Er zijn nog maar 2 voorstellingen deze ...

De Nationale Opera - Dutch National Opera added a cover video.

The Second Violinist: 7 & 9 March "a work that needs to be seen more than once" ★★★★★ The Guardian
The Second Violinist, een muzikale thriller over een obsessieve violist, is alleen 7 en 9 maart te zien in het Muziekgebouw aan 't IJ​.

Kaartjes zijn hier ...

Liefdesduet Caruso a Cuba Beluister het prachtige liefdesduet van Caruso en Aida uit Caruso a Cuba.

'Alles klopt in deze voorstelling' Volkskrant*****

Deze nieuwe opera is alleen deze week 4 keer te zien in Internationaal Theater Amsterdam​. Ben je onder de 35? Pak dan ...

"Homo Instrumentalis" van Silbersee is helemaal uitverkocht, maar hier kan je alsnog een stukje van deze indringende muziekvoorstelling zien!

"Homo Instrumentalis" by Silbersee is completely sold out. Here's a sneak peek from this thrilling and visual production about the powerbalance ...

OFF19 Verslag 1: Opening night Opera Forward Festival is van start. Bekijk het hele videoverslag van de opening: http://bit.ly/2tHE3v1

Morgen vanaf 13:30 kun je bij Nationale Opera & Ballet terecht voor: korte opera's, het Viotta Jeugdorkesten, Fear of the Unkown met Niels Broos, Manu van ...

Teaser Fin de Partie (posten 1 maart) Fin de Partie is het opera debuut van de 93-jarige componist György Kurtág. Het libretto is van Samuel Becket's Endgame en de regie is in handen van niemand minder dan Pierre Audi. "Simpel, maar liefdevol en wonderschoon op de bühne ...
Stopera
Pros
The hall is very comfortable. The quality of the opera and ballet performances is outstanding. The atmosphere, the area and facilities are excellent.