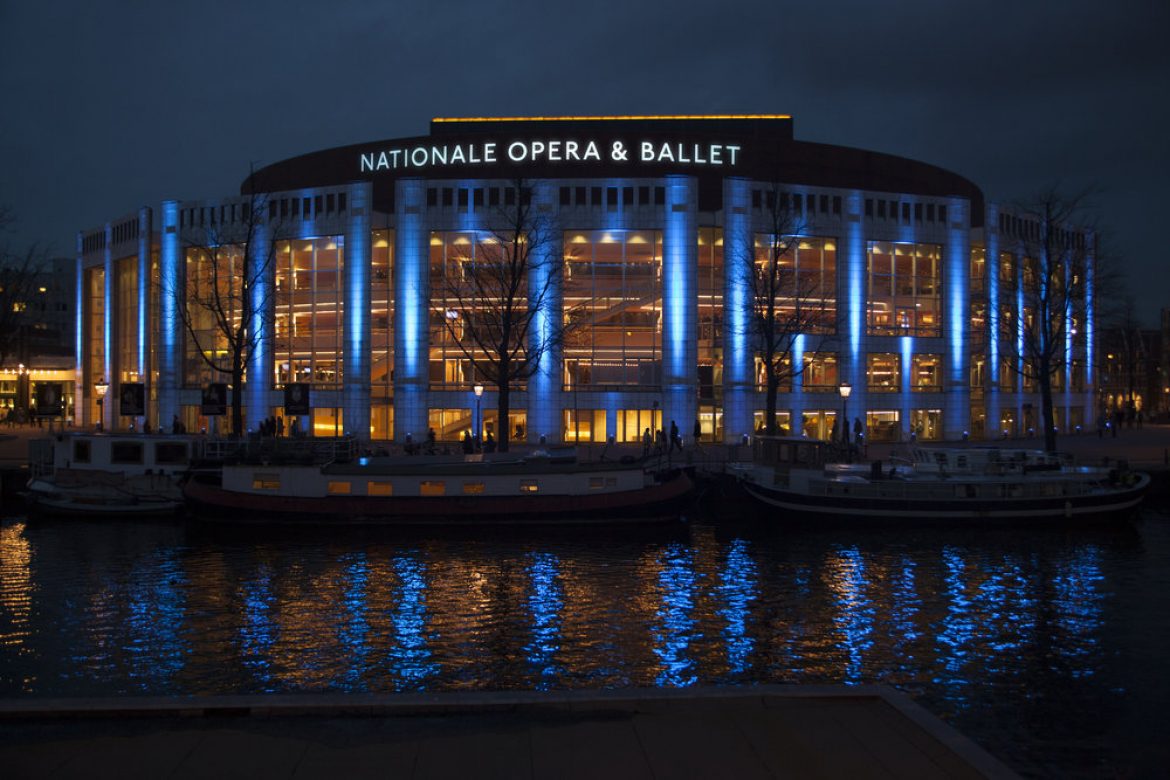 Stopera
Stopera is a building complex of city hall, opera and music theater located in Amsterdam. Stopera is located in Amsterdam's city center, between Waterloo Square, river Amstel and Zwanenburgwal. This location was chosen in 1954 as a site for a new town hall. Construction of the new combined city hall and music theater at the Waterloo caused a great controversy, because dozens of medieval buildings of the original Jewish neighborhood had to be demolished. The complex was built in 1986, although the talk about the fact that the city needed a new musical theater and the new city hall, were from the beginning of the XX century.Due to the constant lack of funds the construction was delayed, and projects have not been approved.  In 1979, an architect from Vienna Wilhelm Holzbauer proposed to place municipality and musical theater in the same building. The revolutionary proposal suddenly was approved by the city authorities; the government also agreed to build it. The building was designed by the architects Cees Dam and Wilhelm Holzbauer and it was opened on September 23, 1986. The exterior of Stopera is a massive building, faced with red brick. The curved facade of the building is decorated with white marble. Through numerous panoramic windows of the lobby of the theater you can see a wonderful view of the river.
Stopera. This building is known in Amsterdam under such a strange title. It sounds unusual, but actually it accurately reflects the essence. It is a new concept – the result of the combination of two words, stadhuis and opera, ie the "town house" and "opera". And it means that the city government, and the city's main opera house are in this building under the same roof. It  is not necessarily to talk about this theater a lot – it's just the leading theater in the country, the official residence of the Dutch National Opera, Dutch National Ballet and the National Symphony Orchestra. The repertoire is diverse – some works are used with using someone else's choreography or staging, but most – with its own. Their own productions are famous all over the world. There are classic works, but in fact this theater is characterized by the fact that it seeks to create something new from famous classical works, to propose some kind of avant-garde element. It is applies to the both opera and the ballet. The repertoire is constantly updated, the company of theatre is international – leading artists from other countries come to work here. This place is very important for the fans of excellent performed classical music. All operas are performed in the original language.
You can find more information on the official site: www.operaballet.nl
Dé barokopera van dit seizoen verdween voor lange tijd in de archieven. Eliogabalo is zelden uitgevoerd en nu het is tijd om de verloren jaren in te halen 🌀🕣 Meer: http://bit.ly/fb-elio

The Baroque opera of this season disappeared for a ...

Behind the scenes Gurre-Lieder Zelden is een scenische wereldpremière zo hartstochtelijk onthaald als Schönbergs laatromantische Gurre-Lieder in 2014. Hoe werd deze productie op de planken gebracht? Kijk mee in ons rekwisietenatelier 🐎💥 Meer: http://bit.ly/f-gurrelieder

Rarely has a theatrical world premiere been so warmly received ...

Shortfilm - The Boxer Opera is meer dan je denkt. Het is topsport. Boksring en theaterpodium komen samen in de korte versie van 'The Boxer' 🥊🎭 Te zien op 24, 25 en 27 september tijdens het Nederlands Film Festival bij Pathé Rembrandt in Utrecht.

...

Trois Gnossiennes, a choreography by Hans van Manen, was danced at the Gala of @BalletOParis ⭐🎈

Trailer Eliogabalo Één groot carnaval maken van je vier jaar durende heerschappij 👑🎉 Dat is wat de wellustige tiener-keizer, Heliogabalus, doet in Eliogabalo. De grote barokopera van het seizoen! Meer: http://bit.ly/fb-elio

Turning your four-year reign into one big carnival 👑🎉 That is ...

Timeline Photos Laatste kansen! 📣 La forza del destino is nog vier keer bij ons te zien. Wil je het liefdesdrama nog meemaken? Ben er dan vooral bij! Meer: http://bit.ly/FBLaForza

Last chances! 📣 La forza del destino will be shown for the ...

Trailer Gurre-Lieder Gurre-Lieder, een romantische Schönberg in regie van Pierre Audi. De kaartverkoop voor o.a. deze voorstelling is NU gestart 🕛🎶 Info en tickets: http://bit.ly/f-gurrelieder

Gurre-Lieder, a romantic Schönberg directed by Pierre Audi. Ticket sales for this performance has started NOW 🕛🎶 ...

Een gratis concert tijdens de lunch 🍞🎶 Vanaf volgende week kun je iedere dinsdag weer om 12:30 uur genieten van een lunchconcert in onze foyer. Zien we je op 19 september? Lees meer: http://bit.ly/f-lunch

A free concert during your lunch ...

Watch the livestream of the Gala tonight on Facebook from 7pm ✨ Fun fact: you can win 2 tickets for Mata Hari if you join the livestream 🎈 https://t.co/mSMpXPShnb
Stopera
Pros
The hall is very comfortable. The quality of the opera and ballet performances is outstanding. The atmosphere, the area and facilities are excellent.