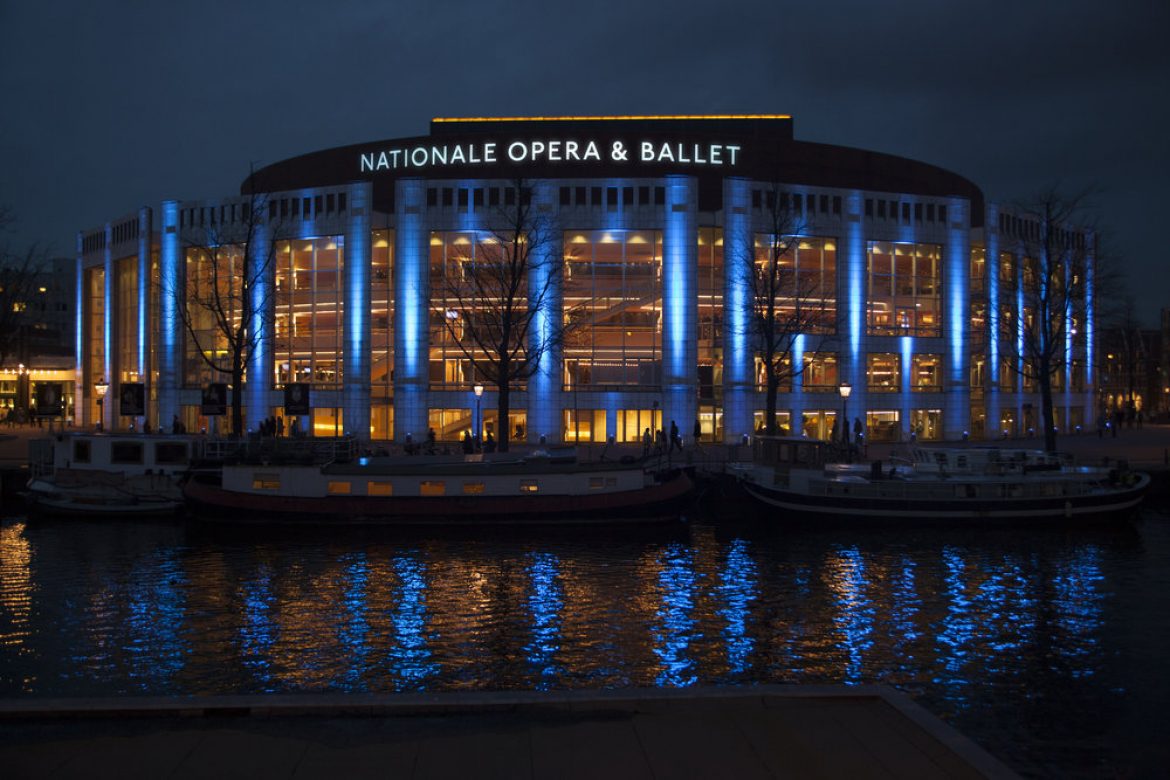 Stopera
Stopera is a building complex of city hall, opera and music theater located in Amsterdam. Stopera is located in Amsterdam's city center, between Waterloo Square, river Amstel and Zwanenburgwal. This location was chosen in 1954 as a site for a new town hall. Construction of the new combined city hall and music theater at the Waterloo caused a great controversy, because dozens of medieval buildings of the original Jewish neighborhood had to be demolished. The complex was built in 1986, although the talk about the fact that the city needed a new musical theater and the new city hall, were from the beginning of the XX century.Due to the constant lack of funds the construction was delayed, and projects have not been approved.  In 1979, an architect from Vienna Wilhelm Holzbauer proposed to place municipality and musical theater in the same building. The revolutionary proposal suddenly was approved by the city authorities; the government also agreed to build it. The building was designed by the architects Cees Dam and Wilhelm Holzbauer and it was opened on September 23, 1986. The exterior of Stopera is a massive building, faced with red brick. The curved facade of the building is decorated with white marble. Through numerous panoramic windows of the lobby of the theater you can see a wonderful view of the river.
Stopera. This building is known in Amsterdam under such a strange title. It sounds unusual, but actually it accurately reflects the essence. It is a new concept – the result of the combination of two words, stadhuis and opera, ie the "town house" and "opera". And it means that the city government, and the city's main opera house are in this building under the same roof. It  is not necessarily to talk about this theater a lot – it's just the leading theater in the country, the official residence of the Dutch National Opera, Dutch National Ballet and the National Symphony Orchestra. The repertoire is diverse – some works are used with using someone else's choreography or staging, but most – with its own. Their own productions are famous all over the world. There are classic works, but in fact this theater is characterized by the fact that it seeks to create something new from famous classical works, to propose some kind of avant-garde element. It is applies to the both opera and the ballet. The repertoire is constantly updated, the company of theatre is international – leading artists from other countries come to work here. This place is very important for the fans of excellent performed classical music. All operas are performed in the original language.
You can find more information on the official site: www.operaballet.nl
Opera and ballet can remain a connecting force in these complex and difficult times. Dutch National Opera & Ballet has launched an online platform: operaballet/online #staysafe https://t.co/OXIdZVtCAI

@gla1ve_csgo @natusvincere Fandeme go' stil ikke kun i sejr, men i sært også i de få nederlag i gennemgik sammen. Sådan som Nicolai og du tager det her viser hvor store i rent faktisk er; hvorfor i er det største ...

De Junior Company is op tournee naar Indonesië om daar het prachtige Unboxing Ballet op te voeren. Ze dansen de choreografieën Embers, Ballet 101, Fuse en No Time Before Time. We wensen de dansers en crew alvast veel toi toi ...

De Junior Company gaat volgende week op tournee naar Indonesië om daar het prachtige Unboxing Ballet op te voeren. Ze dansen de choreografieën Embers, Ballet 101, Fuse en No Time Before Time. Wens de dansers en crew alvast een toi ...

Vanavond: @AndreavanPol in gesprek met Timothy van Poucke, te zien in Notenkraker en Muizenkoning @DutchNatBallet In ons atelier wordt gewerkt aan een #kerst-song. Verder volgens we Pianoduo Amacord en kijken we op het nachtkastje van Jibbe Willems. 22.30 uur @NPORadio4 ...

Geniet jij ook zo van al het moois dat Nationale Opera & Ballet te bieden heeft en wil jij deze liefde graag delen met de mensen om je heen? Geef dan tijdens de feestdagen een Vriendschap cadeau! Zie voor meer ...

Aanstaande woensdag gaat Annabelle Lopez Ochoa, choreograaf van het gloednieuwe ballet Frida, live op onze Instagram @nationaleoperaballet voor een Q&A om 16:00 uur. Annabelle altijd al iets willen vragen? Dit is je kans! https://t.co/gUwsP1wgD0

❗Stage alert❗ Vanaf februari zijn er nieuwe stageplekken beschikbaar bij Nationale Opera & Ballet. Van pers en content tot educatie en techniek.

Wil je ook stage lopen bij het grootste theaterproductiehuis van Nederland? Reageer dan snel! https://t.co/gGyrMdAuUk https://t.co/J7J8bq8roO

De documentaire Dance or Die, over Ahmad Joudeh, heeft gister een #Emmy gewonnen. Ahmad kwam in 2016 naar Nederland, met behulp van The Dance for Peace Fund, georganiseerd door Het Nationale Ballet. Gefeliciteerd Ahmad!

Ontwerper Dieuweke van Reij ontwerpt zowel het decor als de kostuums voor het gloednieuwe ballet Frida. Ze laat zich inspireren door Frida's schilderijen en haar kledingstijl. Met wie wil jij deze kostuums in het echt bewonderen? https://t.co/1Tm0L9eIYA

De top van de Nederlandse dans is op 14 november te zien bij het Nederlands Balletgala van het Dansersfonds van Alexandra Radius en Han Ebbelaar. Het fonds bestaat 40 jaar en dat wordt groots gevierd!
Stopera
Pros
The hall is very comfortable. The quality of the opera and ballet performances is outstanding. The atmosphere, the area and facilities are excellent.