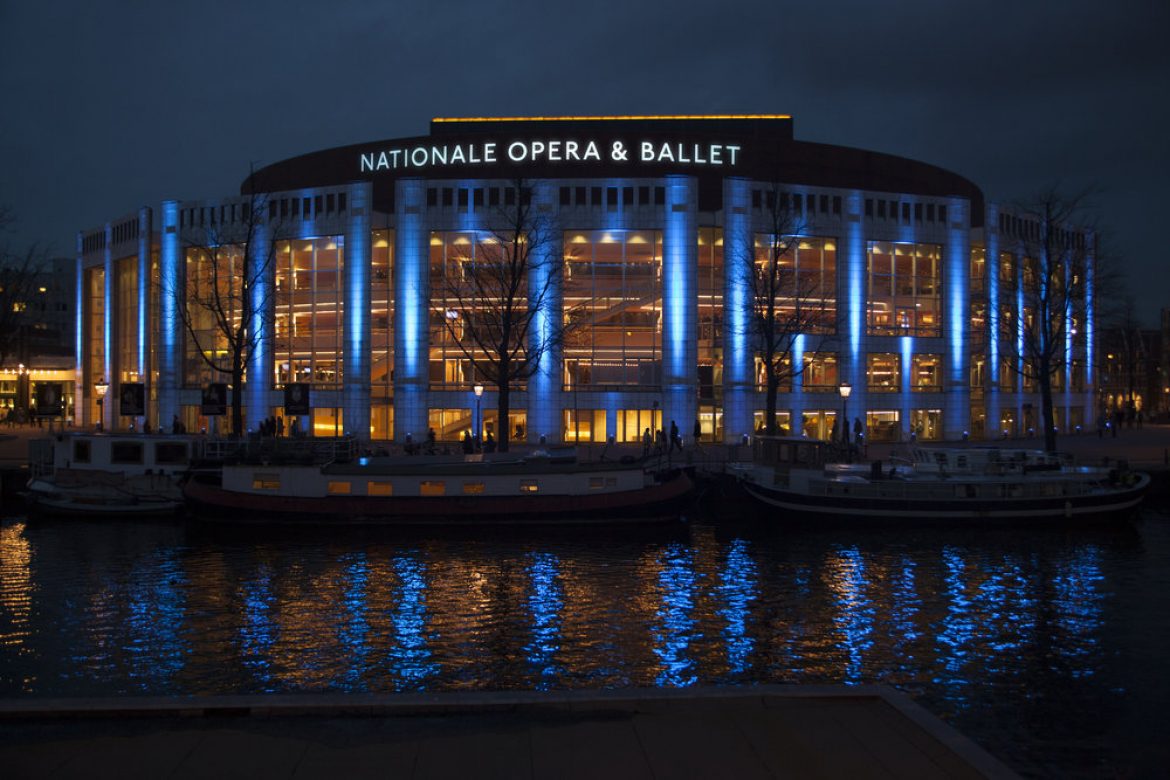 Stopera
Stopera is a building complex of city hall, opera and music theater located in Amsterdam. Stopera is located in Amsterdam's city center, between Waterloo Square, river Amstel and Zwanenburgwal. This location was chosen in 1954 as a site for a new town hall. Construction of the new combined city hall and music theater at the Waterloo caused a great controversy, because dozens of medieval buildings of the original Jewish neighborhood had to be demolished. The complex was built in 1986, although the talk about the fact that the city needed a new musical theater and the new city hall, were from the beginning of the XX century.Due to the constant lack of funds the construction was delayed, and projects have not been approved.  In 1979, an architect from Vienna Wilhelm Holzbauer proposed to place municipality and musical theater in the same building. The revolutionary proposal suddenly was approved by the city authorities; the government also agreed to build it. The building was designed by the architects Cees Dam and Wilhelm Holzbauer and it was opened on September 23, 1986. The exterior of Stopera is a massive building, faced with red brick. The curved facade of the building is decorated with white marble. Through numerous panoramic windows of the lobby of the theater you can see a wonderful view of the river.
Stopera. This building is known in Amsterdam under such a strange title. It sounds unusual, but actually it accurately reflects the essence. It is a new concept – the result of the combination of two words, stadhuis and opera, ie the "town house" and "opera". And it means that the city government, and the city's main opera house are in this building under the same roof. It  is not necessarily to talk about this theater a lot – it's just the leading theater in the country, the official residence of the Dutch National Opera, Dutch National Ballet and the National Symphony Orchestra. The repertoire is diverse – some works are used with using someone else's choreography or staging, but most – with its own. Their own productions are famous all over the world. There are classic works, but in fact this theater is characterized by the fact that it seeks to create something new from famous classical works, to propose some kind of avant-garde element. It is applies to the both opera and the ballet. The repertoire is constantly updated, the company of theatre is international – leading artists from other countries come to work here. This place is very important for the fans of excellent performed classical music. All operas are performed in the original language.
You can find more information on the official site: www.operaballet.nl
Hou je van dans en/of opera en ben je op zoek naar een leuke bij-baan? Wij zoeken medewerkers voor de shop in ons theater. Aanmelden kan hier: http://bit.ly/f-hnb-shopmedewerker

Great news! Lorenzo Viotti will open our opera season in September!
He will be conducting the Netherlands Philharmonic Orchestra in Pagliacci / Cavalleria rusticana directed by Robert Carsen.
This is your chance to see our future chief conductor in action ...

Tag your "summer romance" and maybe you'll win two tickets for the seductive opera Carmen! We can't imagine a better way to relight that fire than a date to Carmen.

De kostuums speelden een hoofdrol in Il Barbiere di Siviglia.😉 Kijk maar!

These costumes from Il Barbiere di Siviglia will make your head spin.🤯 Have a look!

Trailer Die Zauberflöte by Dutch National Opera #throwbackhursday Die Zauberflöte was weer een feest afgelopen seizoen. Was jij er bij? Tip: Mozart's melodische muziek is dit seizoen in Cosí fan Tutte te beluisteren. http://bit.ly/f-dno-cosif
----------------------------------------------------------------------------------------------------
#throwbackthursday What a treat was Die Zauberflöte last season! Did you enjoy ...

'Seht die Sonne' - Gurre-Lieder Haal het zomerse zonnetje (alsnog) naar binnen met dit magistrale fragment 'Seht die Sonne' gezongen door het DNO-koor in Gurre-Lieder! 🌞🌞
------------ ------------ ------------ ------------
Let the sunshine in today with this fragment 'Seht die Sonne' sung by the masterly ...

We're giving away two tickets for Verdi's Nabucco! It's been a while since Dutch National Opera has performed Nabucco. When was the last production? Post your answer in the comments below.

De Nationale Opera - Dutch National Opera The perfect time for a fairy-tale? Christmas! How about La Cenerentola, Cinderella à la Rossini in December. An extravagant production for the whole family with colorful costumes designed by the director himself, Laurent Pelly.

Fate is waiting In December bracht Alex Ollé (La Fura dels Baus) het verloren meesterwerk Oedipe van George Enescu naar ons toneel. Het was een indrukwekkende voorstelling met prachtige koorstukken en sublieme zangers zoals Johan Reuter, Sophie Koch en Violeta Urmana. Wie heeft ...

Liefdesduet Caruso a Cuba Beluister het prachtige liefdesduet van Caruso en Aida uit Caruso a Cuba gezongen door Jeanine de Bique en Airam Hernández. Heb jij deze opera tijdens het Opera Forward Festival gezien?
----------------------------------------------------------------------------------------------------
Listen to this beautiful love-duet between Caruso and Aida ...

Win two tickets for the iconic opera "Die Walküre" staged by Pierre Audi! Let us know your favorite wagner opera and telll us why. Answer in the comments and maybe you will get to enjoy Eva-Maria Westbroek as Sieglinde.

Tussen theater en het echte leven Wij openen het seizoen met een grootse Italiaanse voorstelling die speelt met onze perceptie van theater en realiteit. Waar stopt de werkelijkheid en begint het theater? Geniet van het heerlijke drama van Pagliacci/Cavalleria Rusticana uitgevoerd door topzangers. Pagliacci/Cavalleria Rusticana is ...

Photos from De Nationale Opera - Dutch National Opera's post Carmen is sensual, heartbreaking and unforgettable. In this production of Canadian Director Robert Carsen, 400(!) extras are involved in the fourth act. The Young Colombian Conductor Andrés Orozco-Estrada conducts the Rotterdam Philharmonic Orchestra in his DNO debut. Enough reasons to ...

Photos from De Nationale Opera - Dutch National Opera's post "Never before has Dutch National Opera presented such a convincing bacchanal" - NRC
Last season, Christof Loy's staging of Tannhäuser premiered in our theatre with the Netherlands Philharmonic Orchestra and conductor Marc Albrecht. Did you see it?

aria Madama Butterfly Sopraan Elena Stikhina zingt de prachtige aria 'Un bel di Vedremo' uit Madama Butterfly in regie van Robert Wilson. Heb jij deze opera gezien?
----------------------------------------------------------------------------------------------------
Listen to this beautiful aria of Madama Butterfly, sung by soprano Elena Stikhina. Did you ...

Win 2 tickets for Pagliacci / Cavalleria rusticana! Tag someone who deserves a passionate evening full of Italian opera and maybe you'll win!

Oedipe De ontroerende opera over de Griekse mythe van koning Oedipus raakt ons nog altijd diep. Maar hoe ziet Oedipe er 'behind the scenes' uit? Maak het hier mee! Heb jij deze prachtige opera gezien?

- - -

The moving opera ...
Stopera
Pros
The hall is very comfortable. The quality of the opera and ballet performances is outstanding. The atmosphere, the area and facilities are excellent.