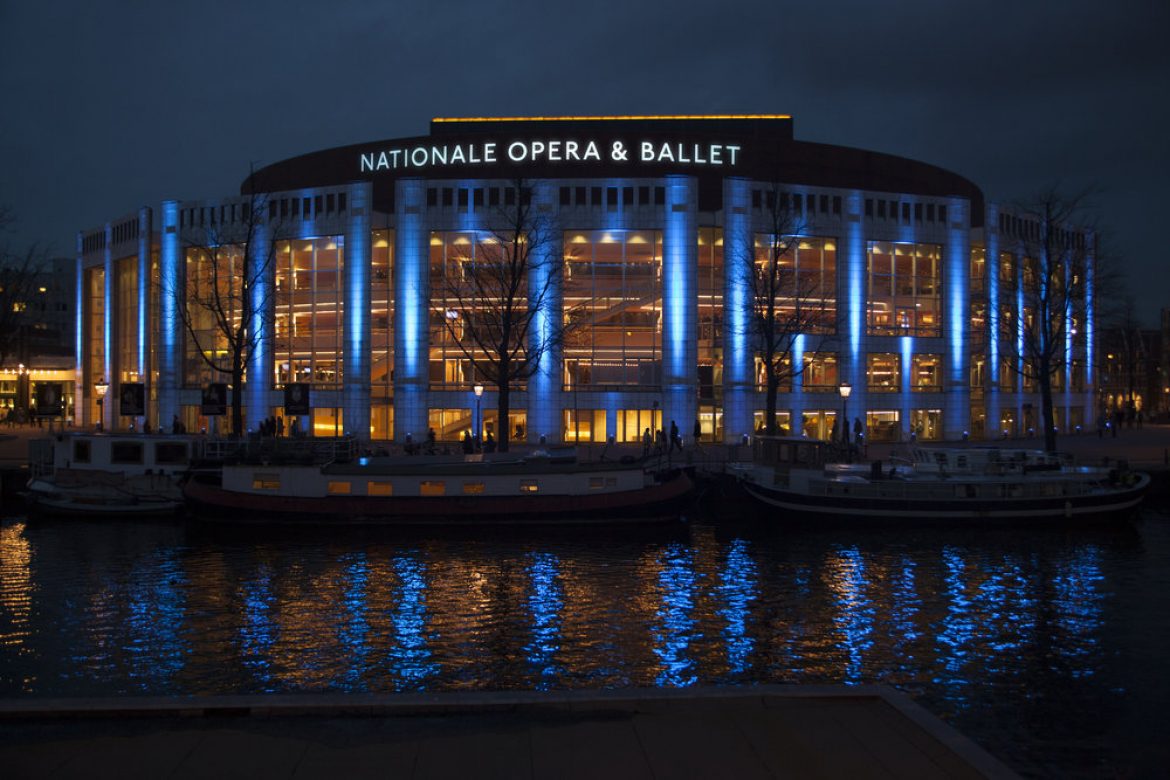 Stopera
Stopera is a building complex of city hall, opera and music theater located in Amsterdam. Stopera is located in Amsterdam's city center, between Waterloo Square, river Amstel and Zwanenburgwal. This location was chosen in 1954 as a site for a new town hall. Construction of the new combined city hall and music theater at the Waterloo caused a great controversy, because dozens of medieval buildings of the original Jewish neighborhood had to be demolished. The complex was built in 1986, although the talk about the fact that the city needed a new musical theater and the new city hall, were from the beginning of the XX century.Due to the constant lack of funds the construction was delayed, and projects have not been approved.  In 1979, an architect from Vienna Wilhelm Holzbauer proposed to place municipality and musical theater in the same building. The revolutionary proposal suddenly was approved by the city authorities; the government also agreed to build it. The building was designed by the architects Cees Dam and Wilhelm Holzbauer and it was opened on September 23, 1986. The exterior of Stopera is a massive building, faced with red brick. The curved facade of the building is decorated with white marble. Through numerous panoramic windows of the lobby of the theater you can see a wonderful view of the river.
Stopera. This building is known in Amsterdam under such a strange title. It sounds unusual, but actually it accurately reflects the essence. It is a new concept – the result of the combination of two words, stadhuis and opera, ie the "town house" and "opera". And it means that the city government, and the city's main opera house are in this building under the same roof. It  is not necessarily to talk about this theater a lot – it's just the leading theater in the country, the official residence of the Dutch National Opera, Dutch National Ballet and the National Symphony Orchestra. The repertoire is diverse – some works are used with using someone else's choreography or staging, but most – with its own. Their own productions are famous all over the world. There are classic works, but in fact this theater is characterized by the fact that it seeks to create something new from famous classical works, to propose some kind of avant-garde element. It is applies to the both opera and the ballet. The repertoire is constantly updated, the company of theatre is international – leading artists from other countries come to work here. This place is very important for the fans of excellent performed classical music. All operas are performed in the original language.
You can find more information on the official site: www.operaballet.nl
Saddenend by the news that famous Dutch actress, dancer, comedienne and singer Corrie van Gorp passed away last weekend at the age of 78. She was a member of @DutchNatBallet from 1961 'til 1966. https://t.co/CDqj21BNCw

We will bring our 'Back to Ballet - classic' program 4 times live & direct from our theatre in your homes via livestream. On 28 Nov & 4, 9 & 12 Dec. @ 20.15 CET. Incl. Swan Lake pdd, Le ...

On 19th December we will bring you a special #Christmas Gala live from our theatre! With excerpts from classics as Nutcracker & Romeo & Juliette, new works by David Dawson & Wubkje Kuindersma & rep by Hans van Manen and ...

In de jaarlijkse Critic's Choice, van het toonaangevende danstijdschrift Dance Europe zijn eerste solisten Maia Makhateli en Qian Liu beide opgenomen in de categorie 'Danser van het jaar' over het internationale dansseizoen 2019-2020. #ballet https://t.co/TzxoCgFFVP

Kijk vanmiddag naar de Podium Dans Special met Hans van Manen. In deze twee uur durende special zijn een aantal van zijn beste werken in z'n geheel te zien. Via: NPO 2 extra om 17:15 #ballet #PodiumDans https://t.co/BGrZWzxZhD

Vanavond is Floor Eimers te gast in Dans met mij op NPO 2. Ambassadeurs Igone de Jongh en Jan Kooijman delen hun liefde voor dans en gaan in gesprek met bijzondere gasten. Kijk om: 22:25 uur op NPO 2 https://t.co/8CMDohqdWF

Online première van Dancing Apart Together: Kijk vanavond om 19:00 uur naar de online première en chat live mee met Ernst Meisner: https://t.co/T1v7wEpFAR #ballet

2/2 Live en delen van Dancing Apart Together zijn wel opgenomen. Vanaf 3 oktober kunt u Dancing Apart Together gratis zien via https://t.co/6SiDoMf7iq. Vanaf 10 oktober kunt u als kaartkoper Live met een code ook gratis online bekijken. Meer info: ...

1/2 De gemeente Amsterdam heeft vandaag besloten dat er maximaal 30 mensen in een binnenruimte bij elkaar mogen komen. Dancing Apart Together en Live worden gezien deze geringe capaciteit vanavond helaas geannuleerd.

On 18 July the South African International Ballet Competition came to a close with a spectacular Gala featuring dancers from across the globe. The jury was led by our director Ted Brandsen. Read more about the event here: https://t.co/WRbfuJDFJq #ballet ...

We're happy to welcome a new principal!🎉 The young Austrian dancer Jakob Feyferlik will be joining Dutch National Ballet as a principal at the 27th of July 2020. https://t.co/J6ArSeRyZu

Big news: our General Director Els van der Plas is leaving Dutch National Opera & Ballet on 1 November. She will become the business manager of the Bonnefanten museum in Maastricht. https://t.co/Xwty0w2TEI

Good news! The new programming of the second half of season 20/21 of Dutch National Ballet is here. Tickets will be available from September 29, or you can order a subscription now. Check out our website for more information: https://t.co/SKVWmn1G6T ...

Het is nog onzeker wanneer wij, en vele andere culturele podia, de deuren van ons theater weer mogen openen. Maar jij kunt ons helpen: bewaar je ticket tot onze deuren, of de deuren van een andere instelling waar je kaarten ...
Stopera
Pros
The hall is very comfortable. The quality of the opera and ballet performances is outstanding. The atmosphere, the area and facilities are excellent.