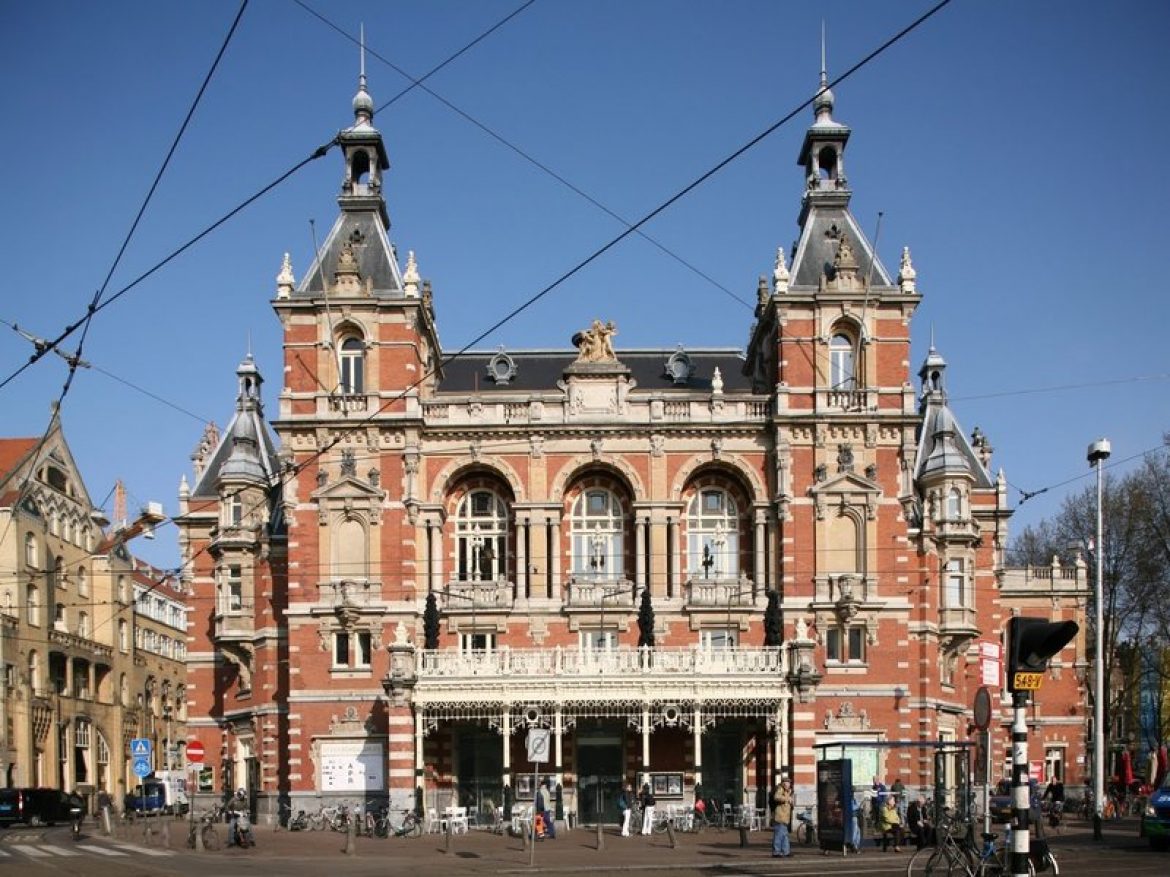 Stadsschouwburg
The Stadsschouwburg (Dutch: Municipal Theater) is the name of a theatre building located at the Leidseplein. Stadsschouwburg is the oldest theater in the Netherlands. Theater Stadsschouwburg earlier was considered the official residence of the Dutch National Opera in Amsterdam, and it's enough to draw attention to this theater. Now this theater is the main theater stage in the Netherlands. The Dutch National Opera is one of the most important opera companies in the country, existing since 1946. This theater is really old – the first building for it was built on this place in 1774. It burned down in 1890, and then the new bizarre building,that looks like a gingerbread house, was build. Despite its fairy-tale look, the performances here are serious, such as big world premieres, often with guest stars. There are also innovative and own theater productions, which are performed around the world. The theater has an original appearance with elements of Neo-Renaissance and Neo-Baroque. In the halls of the theater a large collection of painted portraits of actors and actresses hangs.
Theater company and repertoire
The programming of Stadsschouwburg is very diverse. There are performances by top companies from home and abroad. Two troupes are performing here – Dutch National Ballet and Opera. The level of performances is very high, often singers or dancers from other theaters are invited for some performances – also here you can see performances of the best artists in the world. The choreography in the ballet are their own, or made by the famous choreographer – qualification of artists allows to perform the most difficult work. Some of the performances are classical, with good choreography, costumes, decorations and some of the are innovative. For example, an act of an opera can be transferred to the present, and dancers can be wearing ambiguous costumes, staging many technical innovations and so on. Unlike many other classical theaters, there are many contemporary plays and ballets. Another interesting point is that there are plays which it is possible to watch with children. For example, the program includes a ballet inspired by the book Narnia: The Lion, the Witch and the Wardrobe. Also there are performances of young artists, some of them, too, you can attend with your family. Also the theater presents leading festivals such as the Holland Festival and Julidans. The warm atmosphere and magnificent performances and features make this place rather unique.
Stadsschouwburg has two halls. The Great Hall is the most beautiful hall in the Netherlands, dates from 1894 and was built in the so-called court theater style: horseshoe-shaped and richly decorated with ornaments, statues and chandeliers. The hall is ideal for presentations, conferences, award shows but also for receptions or dinners on stage. Also the hall can be used for ceremonies and weddings.
See more at: tadsschouwburgamsterdam.nl
'Ik schrijf mijn leven op toneel' - Ivo van Hove (de Volkskrant 16-8-2019). Hij is nu gelauwerd met de Johannes Vermeerprijs, de Staatsprijs voor de kunsten. Hoe feestelijk wil je een seizoen beginnen? Van harte Ivo!
foto: Jan Versweyveld

Dit jaar hebben wij niet één, niet twee, maar drie voorstellingen van festival Summer Dance Forever bij ons in huis.

Op donderdag 22 augustus kan je de voorstelling Dans L'Engrenage van Dyptik zien. Met een energieke mix van hiphop en ...

'Het spelplezier spat ervan af bij deze absurdistische interpretatie van de roman van Alexandre Dumas, die volstrekt niet serieus wordt genomen.' - NRC Handelsblad.
Info en kaarten

Hij: Wat heb je aan?
Zij: Mijn gele jurk
Hij: En daaronder?
Zij: Mijn rooie slip
Hij: Dezelfde?
Zij: Ja. Maar ik heb het wel gewassen hoor. Sinds eergisteren.

Het jaar van de kreeft is terug! Volgende week gaan Maria ...

Bart Slegers in gesprek met Freud Onze record-acteur Bart Slegers (hij speelt dit seizoen in maar liefst 9! voorstellingen) maakt met nep-Freud een rondje door de schouwburg om te praten over de echte Freud. Ze spreken over zijn vroegste jeugdherinnering, het Toneelbordeel en de speciale backstage ...

Het Nationaal instituut Nederlands slavernijverleden en erfenis (NiNsee) organiseert dit jaar opnieuw het Tula herdenkingsconcert bij ons in huis. Een muzikaal eerbetoon aan de Curaçaose verzetsstrijder Tula.

Dit jaar neemt zanger en componist Izaline Calister ons mee op reis naar ...

24 augustus vieren we het 125-jarig bestaan van de Schouwburg. En wie jarig is, trakteert!

Dus programmeren we de hele dag gratis previews, voorstellingen in de Grote Zaal én kun je oog in oog komen te staan met grote namen ...

Meet the artist: de Duitse regisseur en tekstschrijver Falk Richter. Hij is deze dagen in Nederland om de voorstelling Small town boy bij te wonen. Richter schreef de tekst, Marcus Azzini regisseert. In het najaar komt hij terug met Am ...

Wat een feest om na te praten met Valentijn De Hingh in onze Salon! Dinsdag trapte onze eigen 'Pack' af met een gendervariant van 'Wie ben ik?' Van panseksueel tot queer, alles kwam langs. Gisteren sprak Valentijn met regisseurs Marcus ...

Trailer Fun Home "Men zou willen dat het musical-aanbod in Nederland vaker zoiets bijzonders te zien gaf."- NRC ⭐️⭐️⭐️⭐️

"Het familiedrama Fun Home stort een karrenvracht aan emoties en melodieën over de mensen in de zaal heen, waardoor deze prachtige musical een diepe ...

Vanavond is het zover: de premiere van de Nederlandse versie van Small Town Boy. Toi toi toi voor cast, crew en alle anderen ❤️🧡💛💚💙💜 #letloverule

'Het stuk is veel méér dan een politiek pamflet voor homorechten. Het gaat over jezelf ...

Op 20 august openen de acht danseressen van Paradox-Sal festival Summer Dance Forever bij ons in huis met hun voorstelling Queen Blood.🔥Een stuk vol vrouwen-power door house-danser en choreograaf Ousmane Sy (Babson). Door middel van dans en beweging proberen zij ...

Publieksreacties - De Drie Musketiers Nog steeds niet over de streep gehaald om naar De Drie Musketiers van Theatergroep De Warme Winkel te gaan? Of ben je gewoon benieuwd wat je te wachten staat?

Bekijk dan de publieksreacties van dit spektakeltheater, rechtstreeks uit Het Amsterdamse ...

Geen paniek: zijn deadlines niet jouw sterkste kant en heb je voor het najaar nog geen stageplek?

Dan kun je die deadlines bij ons onder de knie krijgen. We hebben per september een stageplek op de afdeling communicatie en de ...

De voorstelling Between us van The Ruggeds op 21 augustus tijdens Summer Dance Forever is helaas gecanceld wegens blessures bij de dansers. Maar niet getreurd, want er is een waardige vervanger gevonden! YZ, een van de festivalfavorieten van vorig jaar, ...

21 Question's with Akram Khan 21 vragen aan Akram Khan en zijn zes fenomenale dansers zie je in de serie Dance Passion #21. Vanaf gister staan ze in het Court d'Honneur des Palais des Papes op het Festival d'Avignon. Over ruim een maand kun je ...

Rauwe en kwetsbare autobiografische musical Musicalactrice Renée van Wegberg weet als geen ander hoe het is om een bestaand persoon te spelen. Haar Liesbeth List was vrijwel niet van de echte te onderscheiden. De komende twee weken kruipt zij in de huid van de Amerikaanse ...

We gaan digitaal! Al zou je dat niet zeggen met deze foto die vanochtend gemaakt is. Bij de voorbereidingen op de digitale schermen die op ons gebouw geïnstalleerd worden, stuitten wij op het gevelbord uit lang vervlogen tijden. Pareltjes toch?

Outwitting the Devil - Akram Khan Akram Khan 'The master mover who redefined dance.' aldus The Guardian, sloot vorig jaar Julidans af met Xenos. Dit jaar brengt hij tijdens het slotweekend van Julidans zijn nieuwste creatie Outwitting the Devil in première. Niet om de hoek, op ...

Photos from Internationaal Theater Amsterdam's post De pers kwam en zag dat het goed was: 'Een krankjoreme versie van het klassieke Franse ridderverhaal De Drie Musketiers.'- NRC Handelsblad. 'Het is een pleidooi voor aandachtigheid en draagt ook bespiegeling in zich, tegelijkertijd biedt de voorstelling lekker tegendraads ...

Julidans x Internationaal Theater Amsterdam Heb je het Julidans videoscherm al gespot in onze rotonde? Het festival is haar laatste week in en er staan nog wat hoogtepunten op de planning: Omar Rajeh in duet met een drone, over de vernietiging van Aleppo (alleen vanavond ...

Internationaal Theater Amsterdam Op vier zwoele zomeravonden organiseren we - samen met Toneelgroep Oostpool, OpusOne en Pride Amsterdam- bijzondere gesprekken rondom ITA Pride, onder leiding van Pride ambasadeur, dj en model Valentijn De Hingh.

Na afloop van Fun Home en Small Town Boy ...
Stadsschouwburg
Pros
Really great building with a lot of possibilities for concerts, theater and other forms of amusement.