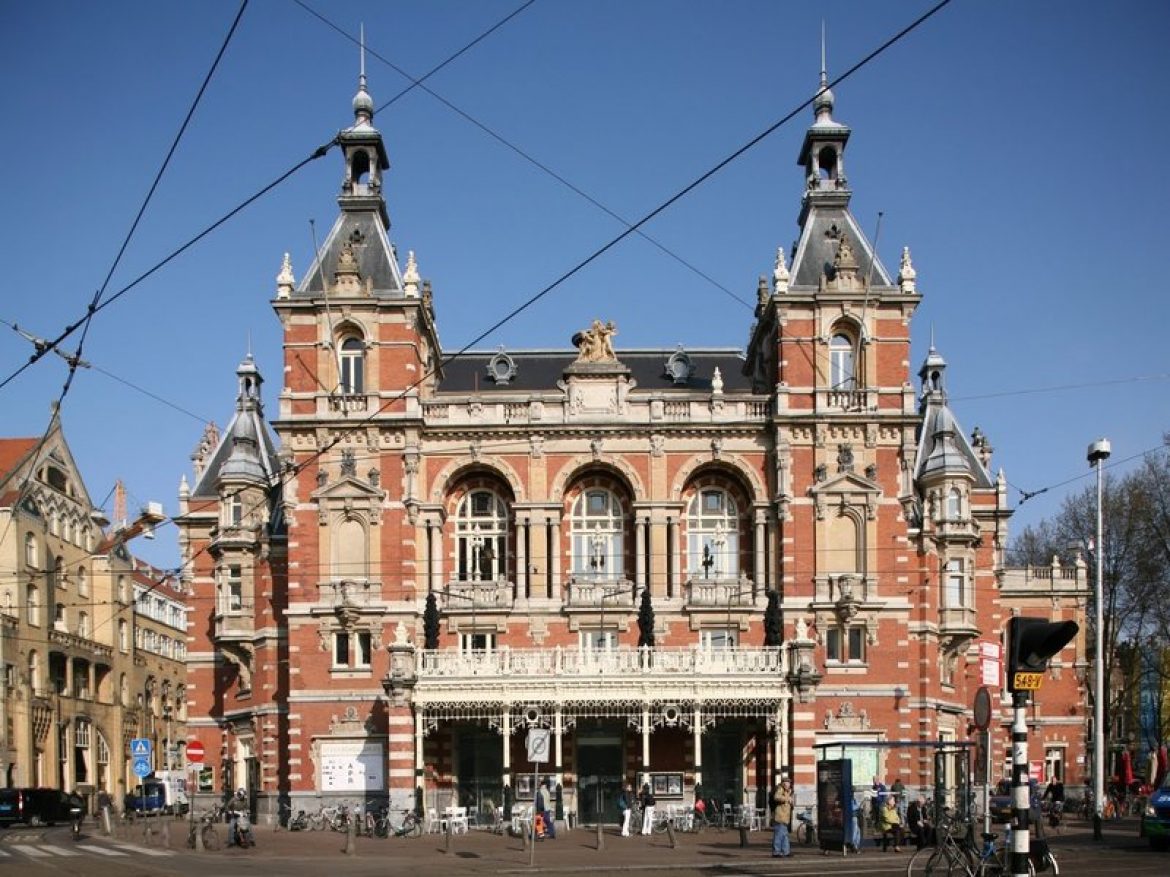 Stadsschouwburg
The Stadsschouwburg (Dutch: Municipal Theater) is the name of a theatre building located at the Leidseplein. Stadsschouwburg is the oldest theater in the Netherlands. Theater Stadsschouwburg earlier was considered the official residence of the Dutch National Opera in Amsterdam, and it's enough to draw attention to this theater. Now this theater is the main theater stage in the Netherlands. The Dutch National Opera is one of the most important opera companies in the country, existing since 1946. This theater is really old – the first building for it was built on this place in 1774. It burned down in 1890, and then the new bizarre building,that looks like a gingerbread house, was build. Despite its fairy-tale look, the performances here are serious, such as big world premieres, often with guest stars. There are also innovative and own theater productions, which are performed around the world. The theater has an original appearance with elements of Neo-Renaissance and Neo-Baroque. In the halls of the theater a large collection of painted portraits of actors and actresses hangs.
Theater company and repertoire
The programming of Stadsschouwburg is very diverse. There are performances by top companies from home and abroad. Two troupes are performing here – Dutch National Ballet and Opera. The level of performances is very high, often singers or dancers from other theaters are invited for some performances – also here you can see performances of the best artists in the world. The choreography in the ballet are their own, or made by the famous choreographer – qualification of artists allows to perform the most difficult work. Some of the performances are classical, with good choreography, costumes, decorations and some of the are innovative. For example, an act of an opera can be transferred to the present, and dancers can be wearing ambiguous costumes, staging many technical innovations and so on. Unlike many other classical theaters, there are many contemporary plays and ballets. Another interesting point is that there are plays which it is possible to watch with children. For example, the program includes a ballet inspired by the book Narnia: The Lion, the Witch and the Wardrobe. Also there are performances of young artists, some of them, too, you can attend with your family. Also the theater presents leading festivals such as the Holland Festival and Julidans. The warm atmosphere and magnificent performances and features make this place rather unique.
Stadsschouwburg has two halls. The Great Hall is the most beautiful hall in the Netherlands, dates from 1894 and was built in the so-called court theater style: horseshoe-shaped and richly decorated with ornaments, statues and chandeliers. The hall is ideal for presentations, conferences, award shows but also for receptions or dinners on stage. Also the hall can be used for ceremonies and weddings.
See more at: tadsschouwburgamsterdam.nl
Op zondag 14 april komt het sprookjesballet Vier verhalen en een dag (8+) van Introdans en Spinvis naar ons theater. Een sprookje dat gaat over toekomst en vrijheid. Vrijheid om te kiezen, vrijheid om anders te zijn, vrijheid om te ...

All hands on deck belooft een wilde avond op zee te worden met zingende dansers en dansende musici. Een voorstelling vol wonderlijke combinaties van dans, humor, muziek en theater.

De Theaterkrant noemt het een 'Geoliede samenwerking tussen virtuoze dansers en ...

Pssst, weet je nog van Missie, die bloedmooie theatervoorstelling over een missionaris in Congo, die meerdere keren bij ons te zien was? We weten het niet zeker, maar misschien is er wel een opvolger gemaakt bij NTGent dit keer. Black, ...

We sturen je weer het bos in deze zomer. Vergezeld door Theatergroep De Warme Winkel die dit jaar de grote zomerproductie in het Amsterdamse Bostheater voor haar rekening neemt.

De Warme Winkel gaat vol op het orgel in haar bewerking ...

Morgen gaat de nieuwe ITA-juniorproductie Amsterdam XXX jr. in première. In de voorstelling schetsen 22 Amsterdamse jongeren een eigentijds portret van samenleven en vriendschap in hun stad.

Nieuwsgierig? Bekijk dan nu de gloednieuwe trailer.

ODISSEIA - Voorstellingen — Internationaal Theater Amsterdam Een rockende, spannende, wilde, sexy theatertrip: dat is Odisseia van de beroemde - en in eigen land beruchte - Braziliaanse regisseur Leonardo Moreira.

Deze 4,5 durende theatersensatie, geïnspireerd door de Oudgriekse Odyssea, zie je a.s. dinsdag in onze Grote Zaal, ...

Schuif morgen weer aan bij onze gratis vrijmibo mét inhoud. We spreken met mensen die zijn verkozen door de stad om wat ze willen met of doen voor de stad. Over rolmodellen en de kracht van verkiezingen.

Met o.a. Abdelhamid ...

Internationaal Theater Amsterdam De openbare repetitie. Met nog enkele dagen tot de wereldpremière altijd een spannend moment! A.s. woensdag 13 maart kun je ongecensureerd meekijken hoe regisseur Julien Gosselin de laatste hand legt aan onze nieuwste productie Vallende man. Inclusief dramaturgische inleiding.

Bestel ...

"Groots en overrompelend brave new world 2.0 stelt prikkelende vragen over de toekomstige mens. De prikkelende inhoud, gecombineerd met het topensemble, maakt Brave new world 2.0 tot één van de meest intrigerende voorstellingen van dit theaterseizoen." — ★★★★★ NRC

Afgelopen ...

Conny Janssens nieuwe dansvoorstelling BROOS gaat over kwetsbaarheid, in alle leeftijden, van piepjong tot stokoud. Waar kwam de inspiratie voor BROOS vandaan? We gingen lunchen met Conny Janssen.

"Hoe is het om als een kind de wereld in te kijken? ...

Choreograaf en pionier van de Afrikaanse hedendaagse dans Salia Sanou keert terug naar zijn favoriete thema's: eenzaamheid en afwijking, individu tegenover collectief, herkomst en ontworteling, grenzen en verbanning.

Aan de basis van Du désir d'horizons liggen dansworkshops die Sanou gaf ...

Onze nieuwste ITA-ensemble productie Vallende man gaat bijna in premièr.

In deze bewerking van Don DeLillo's Falling Man tekent regisseur Julien Gosselin het schrijnend portret van mensen die hun identiteit na 9/11 zijn kwijtgeraakt en in een veranderende wereld de ...

Zondag ging de nieuwe opera van Micha Hamel tijdens het Opera Forward Festival bij ons in première.

"Caruso a Cuba bewijst dat het stellen van existentiële vragen kan uitmonden in een bedwelmende theatervoorstelling" ***** de Volkskrant

Een gloedvol pleidooi voor ...

🚨 De sirenes gingen stipt om 12:00 uur af op het Leidseplein! 🚨

De komende 24 uur krijg je 50% korting op één geselecteerde voorstelling. Wees er snel bij, want op = op.

Bekijk welke voorstelling er voor je klaar ...

'Revolutions is een verbluffende theatrale 'experience' over een wereld waarin de ongelijkheid een toppunt bereikt.' - De Volkskrant ****

Een dystopische sciencefiction thriller over privacy, liefde en vrijheid. De tekst is geschreven door Daan Windhorst, die eerder de tekst schreef ...

Vandaag gaat Opera Forward Festival van start. Het festival verkent met toonaangevend nieuw werk en progressieve kunstenaars de toekomst van de opera. In het kader van het festival zijn operavoorstellingen op verschillende locaties in Amsterdam te zien.

Zo gaat op ...

Jeugd-abonnement — Internationaal Theater Amsterdam Is je kind zes jaar of ouder en dol op theater? Neem dan een ITA-Jeugdabonnement en ga samen voordeling naar twee geweldig leuke jeugdvoorstellingen in april en mei. Te bezoeken voor de fijne prijs van € 45 (volw.) en € ...

Na een theaterbreak van een jaar, keren de broers Henry en Joshua terug met een bizar verhaal. Maar echt. Dat laten ze zien met hun vierde programma 'Hotperdomme Nou!'

Vrijwel overal zijn de The Brothers Timisela uitverkocht, maar goed dat ...

Holland Festival — Internationaal Theater Amsterdam FESTIVAL ALERT: Na succesvolle edities van Brandhaarden en Lieve Stad, maken wij ons gelijk op voor de volgende festivals.

Deze week hebben we Opera Forward Festival in huis en zojuist werd het volledige programma van Holland Festival bekend gemaakt. Ons ...

Louise Lecavalier was jarenlang het gezicht van La La Human Steps, het beroemde Canadese gezelschap van Édouard Lock.

Ze schitterde in werken die sindsdien als mijlpalen van de dans worden beschouwd en werkte met muziekgrootheden als Frank Zappa en David ...

Binnenkort komt Hamlet, de familievøørstelling van Theater Rotterdam naar ons theater. Een voorstelling die bol staat van de haastverkledingen, kolderieke knokpartijen en swingende songs.

De eerste 4 data zijn al bijna uitverkocht, maar niet getreurd want we hebben een extra ...

Internationaal Theater Amsterdam En de foto's van afgelopen vrijdag!

📷 Ernst van Deursen
Yallah! Yallah! en uitloop 'JA' van Nasrdin Dchar.

foto's: Ernst van Deursen
Internationaal Theater Amsterdam shared an album.

Internationaal Theater Amsterdam Bekijk nu alle foto's van de opening van festival Lieve Stad en de première van 'JA' van Nasrdin Dchar.

Internationaal Theater Amsterdam shared an album.

Voor onze rubriek Lunchen met… nodigen we een acteur, danser of maker uit voor een lunch en een goed gesprek in onze Café|Brasserie.

Kom je net van de tandarts?
"Nee, mijn zoontje van vier zit in zijn worstelfase. Vanochtend ging ...

In de tweede week van Lieve Stad combineert ICK hedendaagse dans met muziek uit Al-Andalus gespeeld door het Amsterdams Andalusisch Orkest.

Morgen zie je 'Mijn misjpoge', over het Joods Amsterdam van vroeger, met o.a. Mike Burstyn en donderdag en vrijdag ...

Lieve Stad - 15 februari '19 Yallah! Yallah! en uitloop 'JA' van Nasrdin Dchar.

foto's: Ernst van Deursen
Internationaal Theater Amsterdam added 83 new photos — at Internationaal Theater Amsterdam.
Stadsschouwburg
Pros
Really great building with a lot of possibilities for concerts, theater and other forms of amusement.