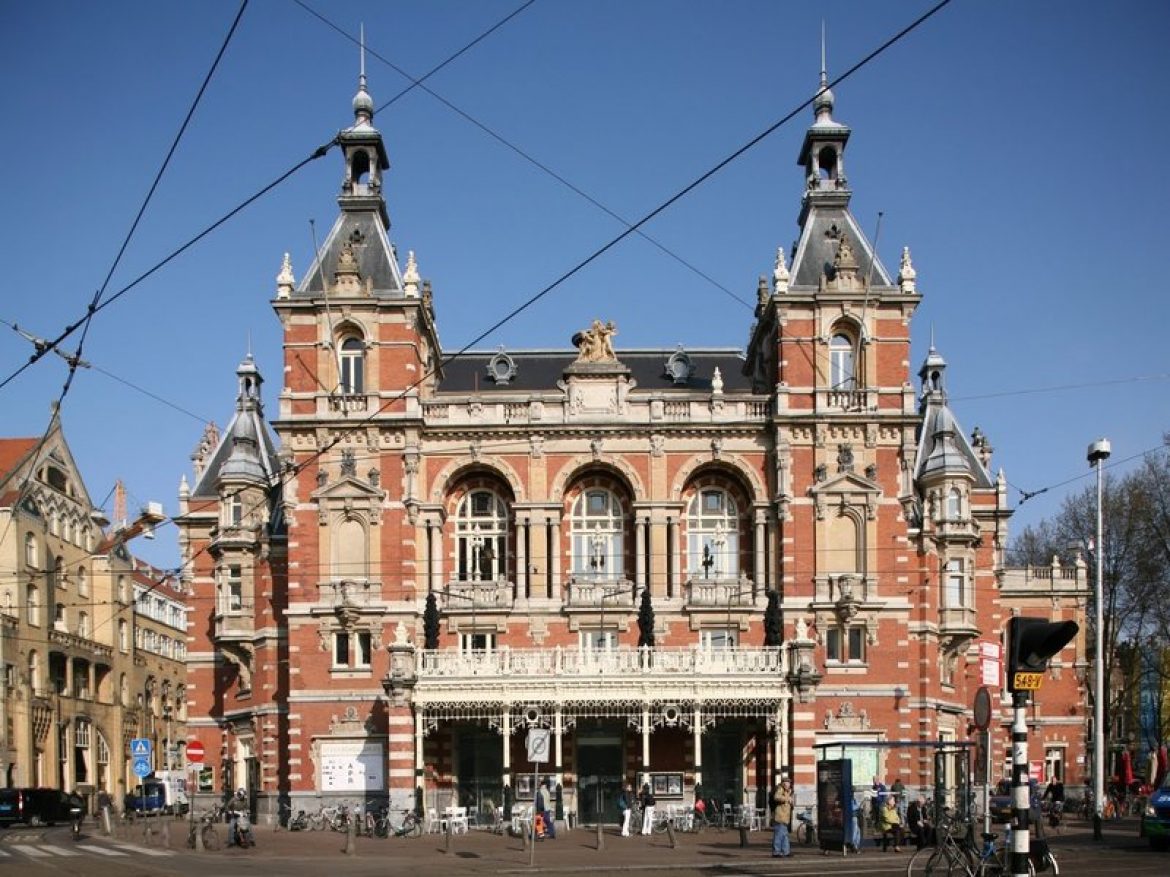 Stadsschouwburg
The Stadsschouwburg (Dutch: Municipal Theater) is the name of a theatre building located at the Leidseplein. Stadsschouwburg is the oldest theater in the Netherlands. Theater Stadsschouwburg earlier was considered the official residence of the Dutch National Opera in Amsterdam, and it's enough to draw attention to this theater. Now this theater is the main theater stage in the Netherlands. The Dutch National Opera is one of the most important opera companies in the country, existing since 1946. This theater is really old – the first building for it was built on this place in 1774. It burned down in 1890, and then the new bizarre building,that looks like a gingerbread house, was build. Despite its fairy-tale look, the performances here are serious, such as big world premieres, often with guest stars. There are also innovative and own theater productions, which are performed around the world. The theater has an original appearance with elements of Neo-Renaissance and Neo-Baroque. In the halls of the theater a large collection of painted portraits of actors and actresses hangs.
Theater company and repertoire
The programming of Stadsschouwburg is very diverse. There are performances by top companies from home and abroad. Two troupes are performing here – Dutch National Ballet and Opera. The level of performances is very high, often singers or dancers from other theaters are invited for some performances – also here you can see performances of the best artists in the world. The choreography in the ballet are their own, or made by the famous choreographer – qualification of artists allows to perform the most difficult work. Some of the performances are classical, with good choreography, costumes, decorations and some of the are innovative. For example, an act of an opera can be transferred to the present, and dancers can be wearing ambiguous costumes, staging many technical innovations and so on. Unlike many other classical theaters, there are many contemporary plays and ballets. Another interesting point is that there are plays which it is possible to watch with children. For example, the program includes a ballet inspired by the book Narnia: The Lion, the Witch and the Wardrobe. Also there are performances of young artists, some of them, too, you can attend with your family. Also the theater presents leading festivals such as the Holland Festival and Julidans. The warm atmosphere and magnificent performances and features make this place rather unique.
Stadsschouwburg has two halls. The Great Hall is the most beautiful hall in the Netherlands, dates from 1894 and was built in the so-called court theater style: horseshoe-shaped and richly decorated with ornaments, statues and chandeliers. The hall is ideal for presentations, conferences, award shows but also for receptions or dinners on stage. Also the hall can be used for ceremonies and weddings.
See more at: tadsschouwburgamsterdam.nl
Internationaal Theater Amsterdam Een internationaal geroemd ensemble. Bijzondere voorstellingen. Een een extra feestelijk nieuw seizoen: de schouwburg bestaat 125 jaar. De kaartverkoop start vandaag.

Toitoitoi (of Merde! zoals ze in Parijs zullen zeggen) voor Robert Wilson​, Isabelle Huppert, Ludovico Einaudi en Darryl Pinckney en hun team voor de wereldpremière van Mary Said what She Said vanavond bij Théâtre de la Ville (page officielle). Van ...

Vandaag gaat de film Aladdin in première in bioscopen door heel het land. Maar Aladdin is niet alleen in de bioscoop te vinden deze week, ook bij ons in het theater. Theater Terra, bekend van De Kleine Zeemeermin, komt aanstaande ...

Morgenavond, filmavond: we hebben de première in huis van de documentaire Nureyev, één van de beroemdste balletdansers ter wereld, die uitgroeide tot een popcultuur icoon van zijn tijd.

Na afloop: een nagesprek tussen Joyce Roodnat en Rachel Beaujean, voormalig balletdanseres ...

Aanstaande zaterdag is de voorstelling A seat at the table voor het allerlaatst in Amsterdam te zien bij ons in het theater. Twijfel je nog? Dan heeft maker Saman Amini een speciale boodschap voor jou.👇

onder tsjechovs microscoop 'Een van de dingen die me op het moment bezighouden, is de huidige tendens om terug te kijken, de nostalgie. Ik wil onderzoeken wat de functie daarvan is en hoe we dat kunnen vermijden'

Wat is Simon McBurney van plan ...

Podcast #35: James Kennedy Op dinsdag 21 mei staat de jaarlijkse talkshow De Staat van de Stad in het teken van de identiteit van Amsterdam.

De avond is al volledig uitverkocht, maar voor wie geen kaartje heeft weten te bemachtigen is er een podcast.

...

In 1958 studeerde Ingeborg Elzevier af aan de Toneelschool Amsterdam. Nu ruim 60 jaar later kijkt ze terug op een lange succesvolle carrière als actrice. Dit doet ze samen met Hein Janssen tijdens Een leven lang theater op zondag 19 ...

happyChaos - Mijn Amsterdam, Ons Europa Komende zaterdag neemt happyChaos ons huis over voor het programma Mijn Amsterdam, Ons Europa. De avond draait om wat er tijdens de Europese verkiezingen op 23 mei op het spel staat voor de jonge Amsterdammer en/of Europeaan.

De verkiezingsretoriek voorbij, ...

Milo Rau (Brandhaarden 2019) did it again. Zijn nieuwste voorstelling Orestes in Mosul (première april 2019) maakte weer diepe indruk.

'Rau moderniseert niet; hij toont op onopgesmukte, journalistieke manier de parallellen. Dat is voldoende om groots en belangwekkend theater te ...

Photos from Internationaal Theater Amsterdam's post Acht mannen (dansers, zangers en een drummer), de zinsbegoochelende kunst van M.C. Escher, dans én opera. Zie hier de basisingrediënten van de nieuwe voorstelling van Nicole Beutler, 8: Metamorphosis. Zaterdag 18 mei is de avant-premiere, om 19:00 en om 21:00 ...

Post van de Timisela Brothers!

Amsterdam, we komen er aan! Eerst even dit. Onze Molukse achtergrond heeft altijd een bijzondere plaats in ons theaterwerk. Maar we geloven ook dat ons werk meer is dan dat.

Het gaat over de kleine ...

Photos from Internationaal Theater Amsterdam's post Op zoek naar wat meer verdieping rondom Clybourne Park en iets nieuws leren over de voorstellingsthema's gentrification en white privilige?

Kom dan vanavond en morgenavond om 19:30 naar de uitgebreide en zeer boeiende inleiding door Wouter Pocornie; architect, bouwkundige en ...

Stagiair(e) programmering en planning gezocht!

Ben jij geïnteresseerd in de totstandkoming van de programmering van een theater? Wil je graag ervaring opdoen in de culturele sector bij een van de grootste culturele instellingen van Amsterdam? Heb je affiniteit met de ...

🚨 De sirenes loeien op het Leidseplein! 🚨

De komende 24 uur krijg je 50% korting op één geselecteerde voorstelling. Dit keer Clybourne Park, een gevatte voorstelling over gentrificatie. Wees er snel bij, want op = op.

Bekijk hier de ...

Is de Bijlmer over 10 jaar onbetaalbaar? Is de Bijlmer over 10 jaar onbetaalbaar?

De nieuwste voorstelling van Well Made Productions gaat over raciale spanningen, gentrificatie en wit privilege. Bijlmerenzo.nl zoekt uit in hoeverre dit in Amsterdam Zuidoost aan de gang is. Blijft die typische 'Bijlmer-sfeer' bewaard ...

Nog op zoek naar een origineel Moederdagcadeau?

Kom op de vooravond van Moederdag naar MoederNACHT: een avond georganiseerd door de Junior Board van ITA: young professionals die door ons werden uitgedaagd om een groot publieksprogramma te maken in de Grote ...

Wij zoeken een stagiair dramaturgie voor het seizoen 19/20!

Ben jij in het seizoen 19/20 derde- of vierdejaarsstudent aan een relevante opleiding zoals dramaturgie of theaterwetenschap? Dan is deze stage wellicht iets voor jou.

Tijdens de stage zal je de ...

We lichten alvast een tipje van de sluier op voor seizoen 19|20. Volgend seizoen is de verpletterende bingewatch-marathon Trojan Wars van HNTjong en Het Nationale Theater te zien bij ons in het theater! Een vijf uur durende theater experience gebaseerd ...

De kaartverkoop van Julidans, het internationale festival voor hedendaagse dans, is begonnen. Deze 29e editie vindt plaats van 2 t/m 14 juli en toont nieuwe creaties (in vele gevallen 'vers van de pers') van uitgesproken choreografen.

ITA is zoals ieder ...

Gisteren en eergisteren was Brave New World 2.0 van NITE volledig uitverkocht.

Baal je dat je "één van de meest intrigerende voorstellingen van dit theaterseizoen" (volgens NRC ⭐⭐⭐⭐⭐) hebt gemist?

Dan hebben we misschien wel het beste nieuws van deze ...

Dé hit van Oerol 2017 is terug in het theater!

A seat at the table is een actueel, confronterend en ontroerend verhaal gebaseerd op eigen ervaringen met alledaags racisme en uitsluiting.

"Saman Amini geeft pijnlijke, actuele voorbeelden van alledaags racisme ...

'Tornado Tom spuwt en schmiert, rapt en ratelt. Literatuur op zijn geilst.' – De Standaard.

Zondag 5 mei vieren we niet alleen de Bevrijding maar ook het jubileum van de Vlaamse schrijver Tom Lanoye. De teksten Ten Oorlog, De Russen, ...

Over een maand is het alweer tijd voor de allerlaatste jeugdvoorstelling van het seizoen.

Na het succes van De kleine zeemeermin is Theater Terra terug met een gloednieuwe familiemusical, Aladdin, naar het wereldberoemde sprookje van 1001 Nacht.

In dit betoverende ...

Vers van de pers: Barbara Baarsma, directievoorzitter van Rabobank Amsterdam en hoogleraar marktwerking en mededingingseconomie aan de UVA, is toegevoegd aan het toch al zeer uitgebreide programma van Staat van de Stad 2019.

Wat verbindt ons nog en hoe verandert ...

Dit jaar komen theatermakers en publiek weer bij elkaar bij ons in het theater voor een bijzondere overgang van 4 naar 5 mei tijdens Nacht Na de Dam.

Een intieme vaudeville met niet meer dan een klein podium, een microfoon, ...

Ben jij op zoek naar een leuke bijbaan? Wij zijn op zoek naar een flexibele teamplayer om ons team in de brasserie te ondersteunen.

Je bent verantwoordelijk voor een plezierig en aangenaam verblijf voor de gasten in onze uitdagende horecafaciliteit, ...

John Landschot, het (im)populaire personage uit The Nation, komt 13,14 en 15 mei terug naar de Grote Zaal met 'De wereld volgens John'. Zaterdag was de première en de recensies liegen er niet om:

"Magistrale voorstelling" - Trouw ⭐⭐⭐⭐⭐

"Coopmans ...

Damien Jalet – schitterde voorheen in het werk van Wim Vandekeybus - maakt over de hele wereld furore met bijzondere samenwerkingen met bijvoorbeeld Sidi Larbi Cherkaoui, Marina Abramović en Hussein Chalayan.

Zijn samenwerking met de Japanse beeldend kunstenaar Kohei Nawa ...
Stadsschouwburg
Pros
Really great building with a lot of possibilities for concerts, theater and other forms of amusement.