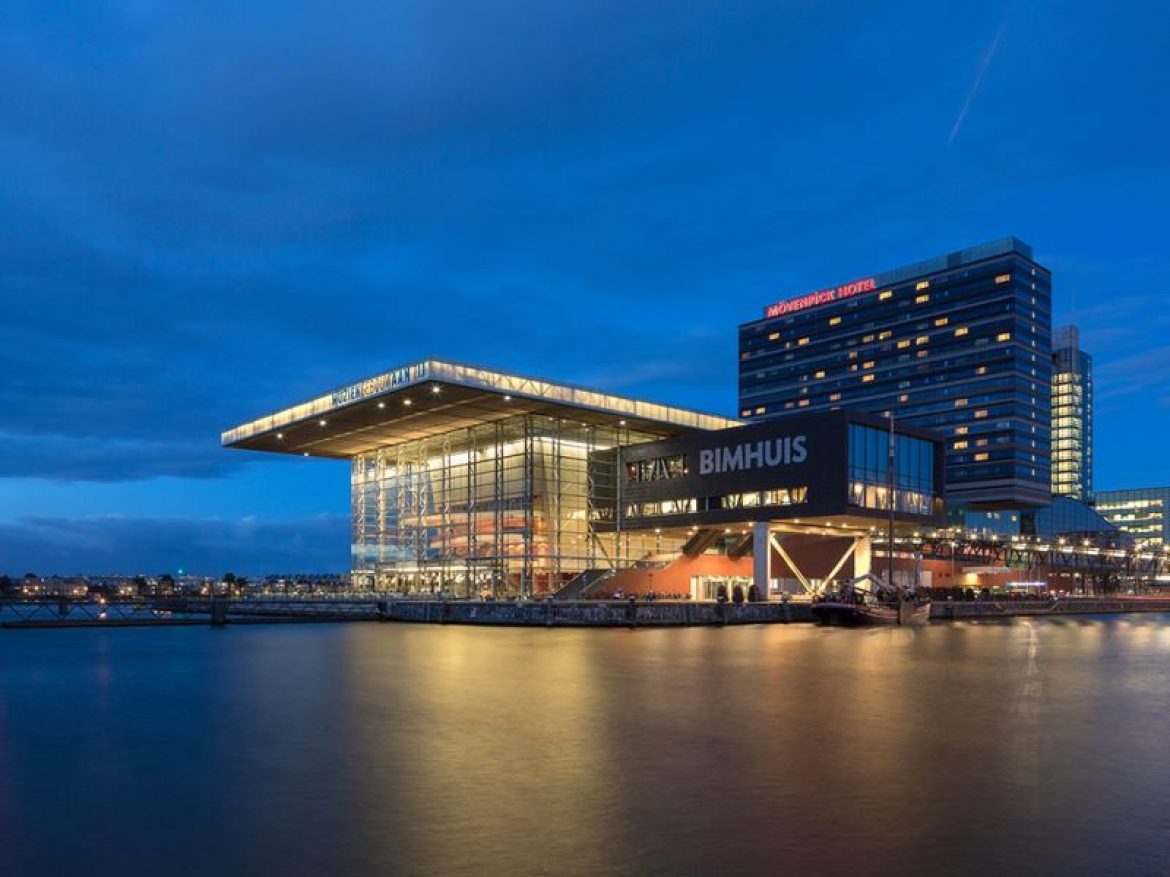 Bimhuis
Bimhuis is one of the best European jazz theaters, and there are lots of things to see. To be more precise, it is a concert hall for jazz and improvised music. It is located in a strange building that looks like a giant black cube. The architectors tried to create the atmosphere of the old jazz club. The building turned out to be rather original, comfortable and equipped with all the technical innovations for sound recording. Bimhuis was founded in 1973 and until the summer of 2004 it was located in the Oude Schans in the city center. the modern Bimhuis was opened in January 2005 and it represents a ultramodern venue with the most advanced technical and acoustic solutions that create the perfect sound. Concert Hall features an amphitheater with a capacity of more than 200 people. In addition to the concert hall for jazz music in the Bimhuis complex there is a nice restaurant, a night bar and a large terrace by the water. The stage is located in front of a large glass wall through which visitors can see breathtaking views of the historic center of Amsterdam.
Specialists of Bimhuis would be happy to teach how to play a misical instrument. Interestingly, the central place in learning takes not just the study of music theory and playing instruments but teaching high-quality of improvisation and improvisational music. Bimhuis contribute to the development of talent, and considers that beginning improvisers need this friendly support. The Bimhuis is a member and co-founder of the Europe Jazz Network. The Bimhuis is one of the leading venues for jazz and improvised music world. Artists like Brad Mehldau, John Scofield, Joshua Redman and Archie Shepp were early on its stage.
The theater has a huge program – there are more than 300 events per year. Most of them are concerts, but there are many other things: workshops, conferences, discussions, etc. The theater specializes in musical innovation and improvisation, so some of the concerts here are made by young musicians. Another performances are made by the masters of jazz music, the best jazz performers in the world come here. All programmes are jazz, but they are quite diverse. There are an old wonderfull jazz performers, there are talented newcomers, who in 10 years will be the masters, there are improvised concerts. This theater was built specifically for jazz concerts, so the stage is surrounded by the audience on all sides, and the rooms are chamber. This theater has unique atmosphere, and it is the main reason for coming here.
You can obtain more detailed information on the official site: bimhuis.nl
Teaser Mark Haanstra Oene van Geel Shapes and Time TURN YOUR SOUND UP! And listen to this teaser for the upcoming debut album from Mark Haanstra & Oene van Geel: Shapes and Times. The album is a quest for deceleration and focus in a world in which fragmentation and ...

Movember has long passed, so it is due time to wax Tommy's Moustache. On Wednesday April 11 Tommy Got Waxed. The bands Tommy Moustache and Sheep Got Waxed come together on this day resulting in an explosive and inflammable combination ...

Movember has long passed, so it is due time to wax Tommy's Moustache. On Wednesday April 11 Tommy Got Waxed. The bands @Tommy_Moustache and Sheep Got Waxed peform in the BIMHUIS. Expect an explosive concert

More info & tickets > ...

Talents from different parts of the world come together at the BIMHUIS on Thursday March 22 for the finals of the 10th Keep an Eye International Jazz Award. Participating musicians are often seen again on stages all around the world ...

Photos from Bimhuis's post Guitar lovers, this is for you: On March 14, 15 and 16 the BIMHUIS is visited by great guitar players!

On Wednesday March 14 African guitarist Lionel Loueke will perform with American pianist Kevin Hays. These Blue Notes artists will ...

Did you watch the closing ceremony of the 2018 Winter @Olympics? The marimba was put in the spotlight during the national anthem of South Korea. Curious for more of this great instrument? Join us on Sunday March 11 for the ...

Timeline Photos De energie knalt van het podium tijdens de eerste set van de Saxophone Summit: Trio Rein de Graaff met saxofonisten (van links naar rechts) Alan Skidmore, Benjamin Herman en Tineke postma spelen klassiekers van onder andere Miles, 'Trane en Monk.

Charles McPherson has been at the foreground of jazz sinds 1960. First in the bands of Charles Mingus, later als a soloartist. McPherson is considered to be a master of the musical language of Charlie Parker. With his own music ...

Mammal Hands - Boreal Forest (Official Video) [Gondwana Records] Mammal Hands was founded in 2012 by clarinetist/saxophone player Jordan Smart, pianist Nick Smart and percussionist Jesse Barret. The trio has released three albums since then, which where well received. The band combines different genres with experimental sounds, like metalic ...

Jazz and film music ensemble I Compani brings an ode to Paris with music, poetry and projected images. A double concert with Reeds & Deeds, dedicated to the music of Rahsaan Roland Kirk. Band members have played in Willem Breuker ...

Zara McFarlane Boiler Room London Live Set Vocalist Zara McFarlane is one of the most remarkable rising stars in British soul jazz. She made her debut in 2011, has since produced 3 records en gained a growing following. On her latest record Arise she mixes influences from ...

'Bojan Z. is one of the most gifted and acclaimed jazz pianists of Europe', according to Enola Magazine. He started with a classical music education, but he increasingly preferred jazz. The result: a mix of jazz, classical music, rock and ...

Niño de Elche - Mensaje Diafónico de Val del Omar This Thursday singer-songwriter, vocal artist and improvisator Niño de Elche will present his latest CD 'Antología del Cante Flamenco Heterodoxo' to Dutch audiences in the BIMHUIS. During the second concert of the Flamenco Biënnale Intermezzo this provocative performer will offer ...

Benjamin Herman, Tineke Postma en Alan Skidmore, three world class saxophone players come together for the Saxophone Summit this Saturday March 3. Fired on by the piano trio of Rein de Graaff.
Tickets &info https://t.co/VfenfaDD2I
Picture: Frans Hanswijk https://t.co/JIB0611yua

Benjamin Herman, Tineke Postma en Alan Skidmore, three world class saxophone players come together for the Saxophone Summit this Saturday March 3. Fired on by the piano trio of Rein de Graaff.
Tickets &info bit.ly/2CuzCK7
Picture: Frans Hanswijk

Photos from Bimhuis's post What an amazing first edition of BIMHUIS Sound System! Last Friday, Radikal Rüpert and Pastimes threw an awesome party at BIMHUIS, playing an eclectic mix of music styles. Thanks guys! We look forward to the April edition of BIMHUIS SOUND ...

Photos from Bimhuis's post In 2 weeks time the spectacular closing concert of the Amsterdam Marimba Weekend takes place in the BIMHUIS. This afternoon concert on Sunday march 11 is all about the many sides of the marimba. World music, impro and jazz can ...

24 May 2018 - Kaja Draksler Octet | BIMHUIS, Amsterdam Jazzism magazine named Kaja Draksler one of the leading improwomen of this time. 'I can be myself with impro' according to Draksler. On Thursday may 24 this former participant of the October Meeting, will perform in the BIMHUIS with her ...

BIMHUIS Sound System - Bimhuis Tonight you will witness a brand new concept launched at the BIMHUIS: SOUND SYSTEM. While enjoying a miraculous view over the skyline of Amsterdam, we're sticking to the most elementary ingredients of a proper party. DJ Pastimes and DJ Radikal ...

Jure Pukl (helemaal rechts op de foto) met band van studenten van het Conservatorium van Amsterdam vandaag tijdens de masterclass met Melissa Aldana, Joe Sanders, Gregory Hutchinson. Vanavond treedt Pukl met zijn band op, met special guests Tineke Postma, Ben ...