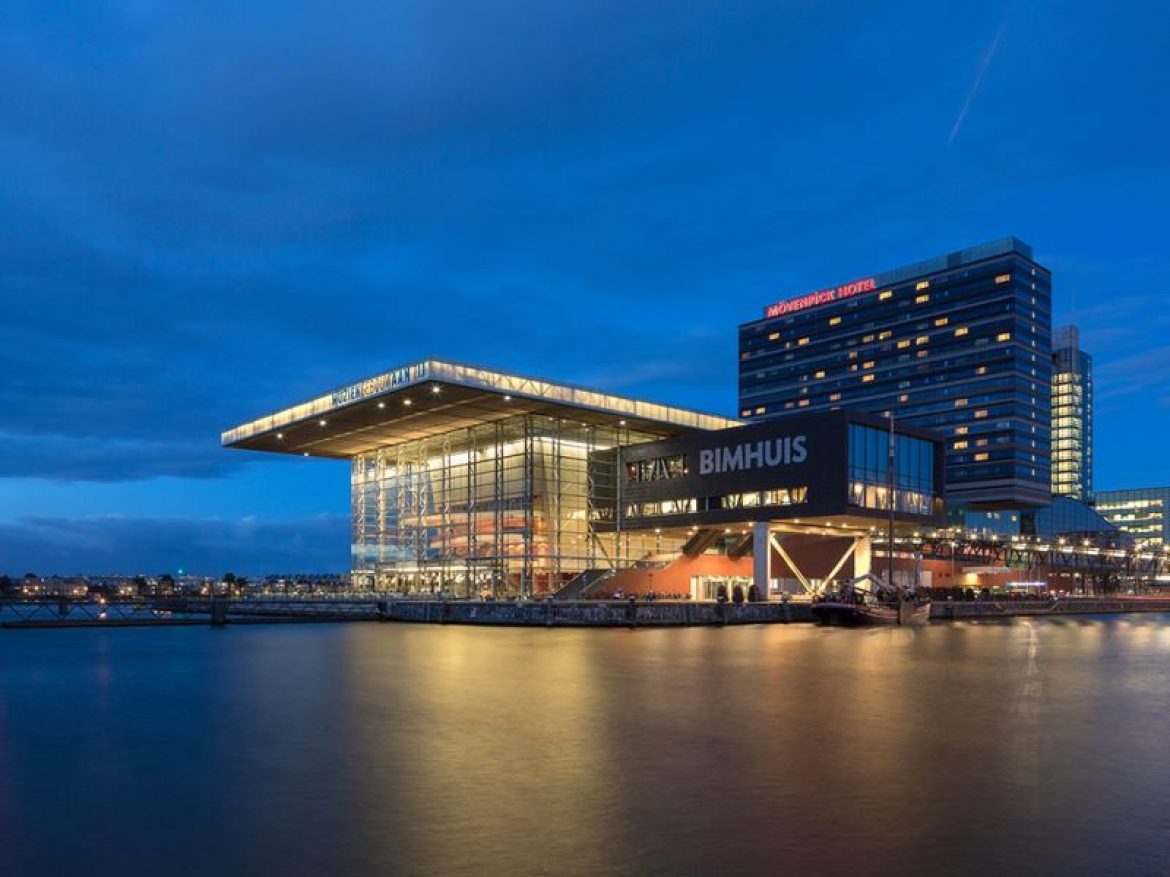 Bimhuis
Bimhuis is one of the best European jazz theaters, and there are lots of things to see. To be more precise, it is a concert hall for jazz and improvised music. It is located in a strange building that looks like a giant black cube. The architectors tried to create the atmosphere of the old jazz club. The building turned out to be rather original, comfortable and equipped with all the technical innovations for sound recording. Bimhuis was founded in 1973 and until the summer of 2004 it was located in the Oude Schans in the city center. the modern Bimhuis was opened in January 2005 and it represents a ultramodern venue with the most advanced technical and acoustic solutions that create the perfect sound. Concert Hall features an amphitheater with a capacity of more than 200 people. In addition to the concert hall for jazz music in the Bimhuis complex there is a nice restaurant, a night bar and a large terrace by the water. The stage is located in front of a large glass wall through which visitors can see breathtaking views of the historic center of Amsterdam.
Specialists of Bimhuis would be happy to teach how to play a misical instrument. Interestingly, the central place in learning takes not just the study of music theory and playing instruments but teaching high-quality of improvisation and improvisational music. Bimhuis contribute to the development of talent, and considers that beginning improvisers need this friendly support. The Bimhuis is a member and co-founder of the Europe Jazz Network. The Bimhuis is one of the leading venues for jazz and improvised music world. Artists like Brad Mehldau, John Scofield, Joshua Redman and Archie Shepp were early on its stage.
The theater has a huge program – there are more than 300 events per year. Most of them are concerts, but there are many other things: workshops, conferences, discussions, etc. The theater specializes in musical innovation and improvisation, so some of the concerts here are made by young musicians. Another performances are made by the masters of jazz music, the best jazz performers in the world come here. All programmes are jazz, but they are quite diverse. There are an old wonderfull jazz performers, there are talented newcomers, who in 10 years will be the masters, there are improvised concerts. This theater was built specifically for jazz concerts, so the stage is surrounded by the audience on all sides, and the rooms are chamber. This theater has unique atmosphere, and it is the main reason for coming here.
You can obtain more detailed information on the official site: bimhuis.nl
Busy week ahead with Bimlab 38 curated by Giuseppe Doronzo & Frans van der Hoeven, Joey Baron/Bram de Looze/Robin Verheyen, Keep an Eye Foundation final jazz award, Beats & Pieces Big Band, Phronesis, Urbex & Ben van Gelder!

Monday it's time again for Bimlab, the impro series in our cafe. In This 38th edition, curators saxophone player Giuseppe Doronzo and bassist Frans van der Hoeven put together a band featuring pianist Harmen Fraanje and drummer Tristan Renfrow. Tickets ...

Tight-knit bunch, Beats & Pieces, is not your average big band. All kinds of influences pop up in their performances, from Radiohead to Kenny Wheeler. A highlight is 'Let's Dance' which quotes several David Bowie songs. Tickets --> bit.ly/Beats_PiecesBigBand

Throwing it back to all the drummers who have performed at the Bimhuis. Elvin Jones has performed on our stage multiple times since the 70's. Did you see him live? This Friday another awesome drummer, Allison Miller, will perform on ...

Mar 24, 2019 | Teus Nobel | Bimhuis End the week on a high note with Dutch trumpet hero Teus Nobel. With his acoustic band Liberty Group he presents his new album 'Journey of Man'. "One of the best trumpet-productions in Dutch Jazz ever" (Jazzenzo). Tickets --> bit.ly/TeusNobel_LibertyGroup

Mar 23, 2019| Harold López-Nussa Trio | Bimhuis No plans this weekend? Get into some Cuban jazz vibes with pianist Harold López-Nussa​. Together with David Sanchez, Christian Scott, and Stefan Harris he formed the sensational Ninety Miles Project. This Saturday the charismatic pianist is back at Bimhuis with ...

Our concertseries Via Belgica is in full swing. This Thursday, Flemish folk/minimal-duo Linus will perform on our stage with Niels Van Heertum, Ingar Zach and a Bimhuis familiar face Nils Økland. The full program --> bit.ly/Via_Belgica

Wanted:
enthusiastic people to put the Amsterdam adventurous music scene on the map.

The Amsterdam scene for jazz, improvised and other adventurous music deserves to be better known. Almost daily, creative musicians play and organize concerts in diverse places in ...

Coming up this week: Linus + Økland / van Heertum / Zach, Allison Miller's Boom Tic Boom, Harold López-Nussa Trio, and Teus Nobel - Liberty Group!

Joshua Abrams & Natural Information Society | Bimhuis Radio This weekend we throw back to Joshua Abrams & the Natural Information Society. Electronic sounds are mixed into traditional and minimalist jazz concepts. Truly one of the most energetic performances we have recorded here at the Bimhuis Radio​. Listen to ...

Vitor Goncalves , performing with Yotam Silberstein quartet in Bimhuis on March 14th, 2019

March 16, 2019 | David Kweksilber | Bimhuis Deze zaterdag worden alle kanten van saxofoon- en klarinetvirtuoos David Kweksilber belicht; in een avond bespeelt hij solo 39 rieten, blaast hij mee in saxofoonhelden-band TUMB, begeleidt hij samen met gitarist Wiek Hijmans tapdanser Peter Kuit én krijgt hij met ...

Jazz legend, 'Professor Bop', Rein de Graaff will perform for the very last time this Friday. This piano hero has performed at the Bimhuis since 1974 and therefore says a final farewell on our stage with a saxophone celebration with ...

From bebop to tango and cool jazz to flamenco: guitar player Yotam Silberstein smoothly transitions between all of these genres with an unprecedented precision. This whizz-kid made name for himself in the bands of John Pattitucci and Monty Alexander. Now ...

A brandnew and busy week! With Jazz Orchestra of the Concertgebouw's Jazz Factory, Stephan Crump/Ingrid Laubrock/Cory Smythe , Yotam Silberstein Quartet, Rein de Graaff Trio - Alto Madness, Spot on David Kweksilber and the Franz von Chossy trio.