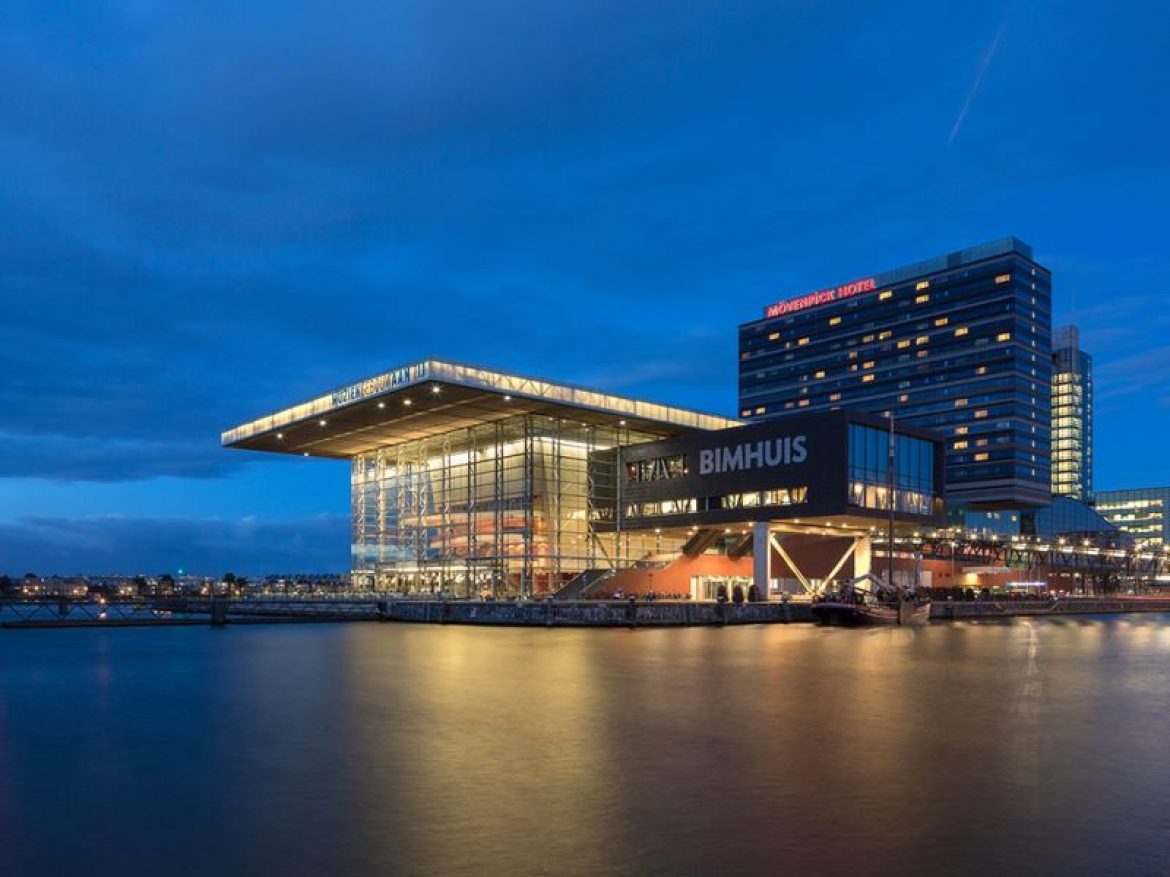 Bimhuis
Bimhuis is one of the best European jazz theaters, and there are lots of things to see. To be more precise, it is a concert hall for jazz and improvised music. It is located in a strange building that looks like a giant black cube. The architectors tried to create the atmosphere of the old jazz club. The building turned out to be rather original, comfortable and equipped with all the technical innovations for sound recording. Bimhuis was founded in 1973 and until the summer of 2004 it was located in the Oude Schans in the city center. the modern Bimhuis was opened in January 2005 and it represents a ultramodern venue with the most advanced technical and acoustic solutions that create the perfect sound. Concert Hall features an amphitheater with a capacity of more than 200 people. In addition to the concert hall for jazz music in the Bimhuis complex there is a nice restaurant, a night bar and a large terrace by the water. The stage is located in front of a large glass wall through which visitors can see breathtaking views of the historic center of Amsterdam.
Specialists of Bimhuis would be happy to teach how to play a misical instrument. Interestingly, the central place in learning takes not just the study of music theory and playing instruments but teaching high-quality of improvisation and improvisational music. Bimhuis contribute to the development of talent, and considers that beginning improvisers need this friendly support. The Bimhuis is a member and co-founder of the Europe Jazz Network. The Bimhuis is one of the leading venues for jazz and improvised music world. Artists like Brad Mehldau, John Scofield, Joshua Redman and Archie Shepp were early on its stage.
The theater has a huge program – there are more than 300 events per year. Most of them are concerts, but there are many other things: workshops, conferences, discussions, etc. The theater specializes in musical innovation and improvisation, so some of the concerts here are made by young musicians. Another performances are made by the masters of jazz music, the best jazz performers in the world come here. All programmes are jazz, but they are quite diverse. There are an old wonderfull jazz performers, there are talented newcomers, who in 10 years will be the masters, there are improvised concerts. This theater was built specifically for jazz concerts, so the stage is surrounded by the audience on all sides, and the rooms are chamber. This theater has unique atmosphere, and it is the main reason for coming here.
You can obtain more detailed information on the official site: bimhuis.nl
Tune in tonight at 20.30 to Bimhuis Radio & TV and watch Get The Blessing perform on our stage. Expect 'Trip-hop informed contemporary jazz-rock at its very best' (Time Out). 👉 bit.ly/BimhuisTV

in a couple of minutes live on stage Maarten Hogenhuis Trio with the man himself on saxophone, Phil Donkin on the bass and Mark Schilders on drums @mhogenhuis listen on https://t.co/A0CpLVLySF

Marquis Hill Blacktet | Bimhuis 2019 Did you miss the Marquis Hill Blacktet concert? Or do you want listen to it again? Watch the concert back on Bimhuis TV. Our next live broadcast is tomorrow 20.30, Get The Blessing --> bit.ly/BimhuisTV

Get ready for the energetic British formation Get The Blessing. With the joined forces of Portishead's Jim Barr and Clive Deamer, also live drummer of Radiohead'. 'Cool, stylish, irresistible' (The Telegraph). The concert will also be streamed live by Bimhuis ...

May 16, 2019 | Itamar Borochov Quartet | Bimhuis Don't miss out on rising star from Brooklyn Itamar Borochov. Tomorrow this born Israeli will let his trumpet sing, mixing all kinds of melodies. 'A unique hybrid of the Middle East and Brooklyn' (Downbeat) Tickets --> bit.ly/Itamar_Borochov_Quartet

Ready for a new week? This week we have lined up for you: GROSCHENBLUES: Claron McFadden & Sven Ratzke, Itamar Borochov Quartet, The Necks, Maarten Hoogenhuis Trio / Joris Roelofs solo and Get The Blessing. Have a nice week!

18/05: Maarten Hogenhuis Trio @BIMHUIS Saxophonist Maarten Hogenhuis is what you call a Dutch jazz pillar. With his exciting power jazz group BRUUT he blew away the BIMHUIS stage before, now he's back on May 18 with his own trio to do it once again. ...

The BIMHUIS has one of the most beautiful views of Amsterdam. Especially from the restaurant! Complete your evening and have a nice dinner before the concert with, for example, a spicy feta crème brûlée or spaghetti calamares. After the concert, ...

Former The Ex bass player Luc Ex has been bringing together extraordinary musicians from all over the world for years. This Sunday, that's no different. This time he plays with the superior London saxophonist Rachel Musson, Holland pride reed player ...

Start the weekend with some musical fireworks from Madagscar. Primadonna Monika Njava puts everyone under a spell with her supple voice and swinging percussion. With her band Toko Telo she brings a new interpretation of Malagasy styles such as tsapiky, ...