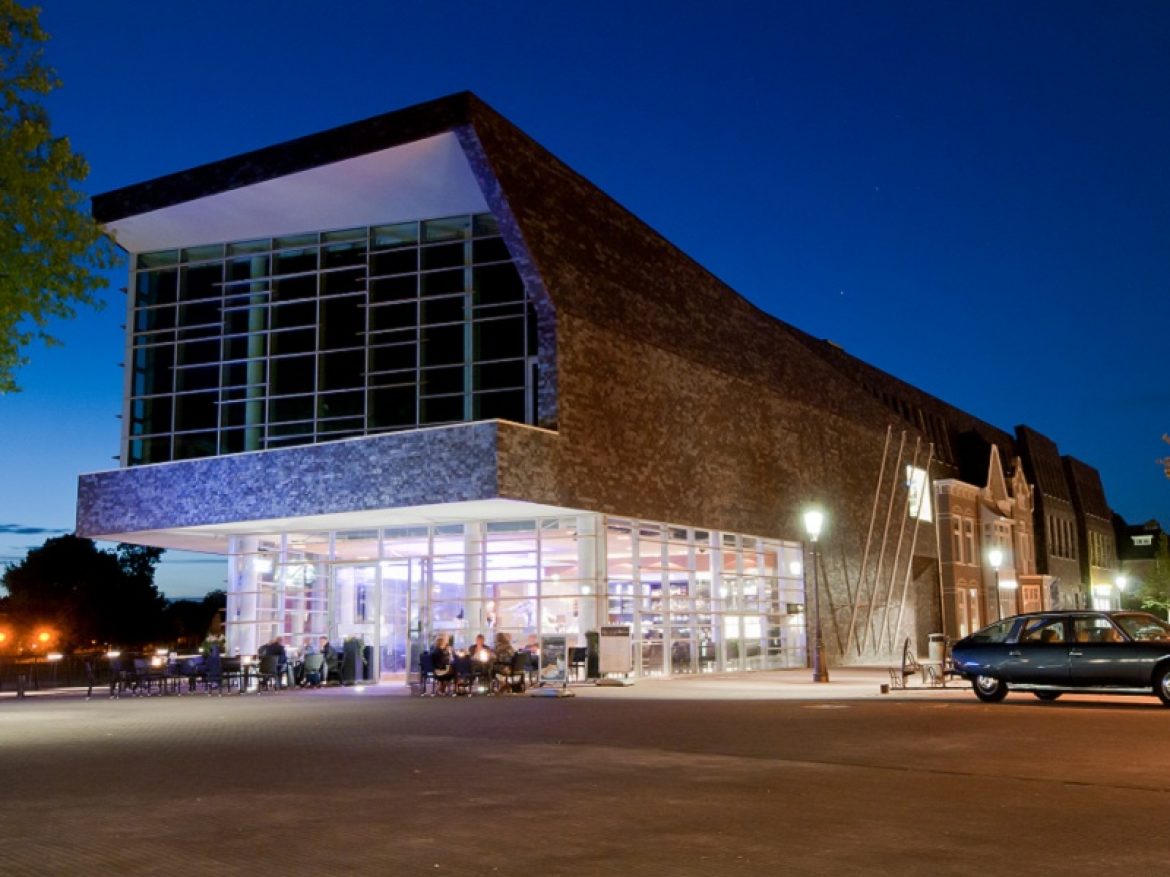 Theater Hofpoort
Hofpoort Theater is a theater located in Coevorden.The theater is located on the first floor of the Court of Coevorden, a multipurpose hall. Besides the municipality in this building Hofpoort Theatre and Grand Cafe De Heeren van Coevorden are located. The theater was set up by the Foundation Cultuurpodium Coevorden (established in December 2010). The theater was opened in May 2011 with a performance by Ali B. The logo and corporate identity of Theatre Hofpoort are designed by Rob Buschman from Gees. The theater can accommodate up to 175 people. There is also a telescopic stand that can be extended during a performance. Retracted, the hall can be used for example as a council chamber. Theatre Hofpoort is a perfect venue for cabaret and theater performances. In addition to the music, children's show and cabaret performances there also can be found drama, Christmas and New Year concerts.
The theater's name is inspired by the name of the new town named Hof van Coevorden. The complex of town hall and theater designed by architectural firm RAU. The theater is also used as the council chamber of the town hall. At the opening the theater made 24 of shows per year in 2010, there are now about 50 per year. From May 2011 each year dozens of theater, film and music performances and related activities took place in this amazing venue. High numbers of visitors and the many volunteers make the theater really successful.
The theater program is very diverse. Do you feel like going to the theater an afternoon with the kids? Then visit a family show. Fancy an evening laughing with friends? Then a cabaret show is highly recommended. In addition to programming include performances in the genres of drama, dance and music here on the podium in Coevorden. Hofpoort is characterized by its exceptional hospitality, small size and economical accessibility. The Hofpoort Theatre provides a cultural platform where visitors and artists feel always welcome. Hofpoort theater program is broad, coherent and depends on the wishes of the local community and visitors from the surrounding area. The theater is also unique for its multifunctional use. The hall is located in the town of Coevorden and it is used by councils of the Municipality of Coevorden on weekdays. Theater Hofpoort is also a suitable space for a corporate event, meeting or conference or it can be a stage for amateur company, school or organization. Hofpoort theater allows you to use the theater. The theater has an extendable standand a room for 250 people. There is enough space for a conference setting.
See more: www.theaterhofpoort.nl
Ondanks de regen was het een fijn feestje op de Weeshuisweide! Grote dank aan Scouting Coevorden, TIPPO&JOLPO Entertainment, Jelle Amersfoort & Band én team Keen Theatertechniek 🇳🇱 #koningsdag #werkgroepweeshuisweide 👑

Het is droog! Kom dansen, zingen en springen op de Weeshuisweide bij het Kinderpopconcert! We beginnen om 14 uur 🎉 https://t.co/Vgh9bX3DPK

Stilte voor de oranje-storm...
Om 11 uur start Scouting Coevorden met de spelletjes op de Weeshuisweide, van 13 - 16 uur zijn TIPPO&JOLPO er met koninklijke schmink en op dit gave podium start om 14 uur het Kinderpopconcert! 🇱🇺

Als je nu denkt: "Wat zal ik deze zondagmiddag eens gaan doen?", hebben wij wel een idee voor je!
Tim Knol sluit vanmiddag om 15.00 uur de serie Kasteelsessies af in de kelder van Kasteel Coevorden. De laatste kaarten zijn ...

Degenen die erbij waren hadden gisteren een mooie avond met pedaalridders Steven Rooks en Henk Lubberding!
WTC Coevorden dank voor jullie komst 🚴🏻‍♂️

Zondag doet Tim Knol de laatste Kasteelsessie van dit seizoen en er zijn nog een paar kaarten!
(The Blue Grass Boogiemen zijn er dan niet bij, maar wie weet wat volgend seizoen in petto heeft ;-) )
Voor nu een ...

Henk Lubberding en Steven Rooks vertellen vrijdagavond in Hofpoort hun mooiste wielrenverhalen aan Evert ten Napel en u kunt daarbij zijn! Kaarten voor 'Pedaalridders' zijn verkrijgbaar via https://t.co/9LK0sbqyr8 en bij The Readshop Coevorden.