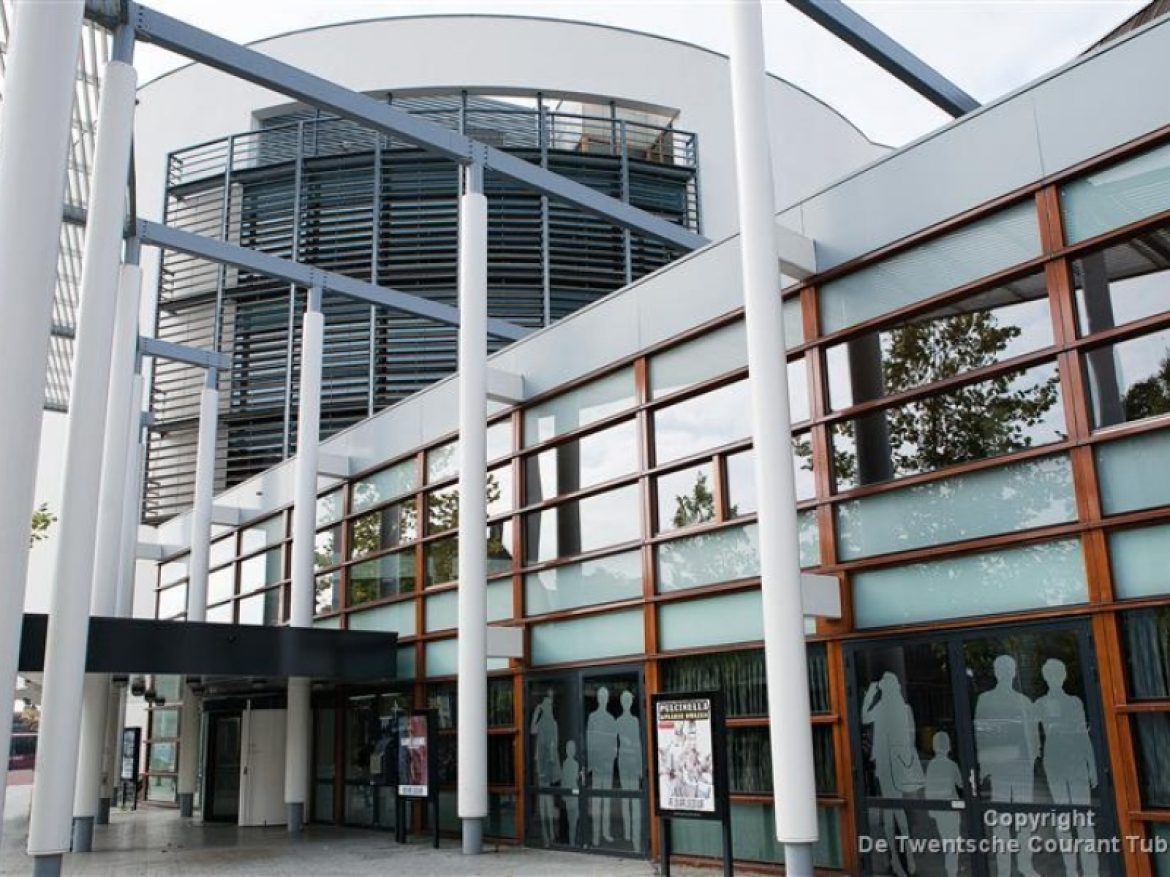 Rabotheater Hengelo
The Rabotheater Hengelo is a theater built in 2001 and located in the center of Hengelo, it has two beautifully designed and also extremely functional theaters (with 327 and 880 seats), a movie theater (with 90 seats), several meeting rooms and spacious foyers. The Rabotheater was designed by architect Jan Hoogstad. In 2009, an exhibition of Arent Weevers took place at the theater and in 2000 the comedian Wilfried Finkers worked in the Rabotheater as head of technical services. The opening was on April 21, 2001 with Creon, an opera by Huub Kerstens by the National Touring Opera. The building is designed on the basis of mathematical cylindrical and rectangular forms. In Rabotheater there is year-round wide variety of performances. So you can laugh at comedy shows, listen to great music in different styles, be impressed by dance or get drawn into a theater. There are plays for children, but many performances are fun for young and old.
This season the theater has presented 160 professional performances, 24 school performances, 45 amateur performances and 160 movie screenings. In addition, the building is often used for commercial activities such as conferences, product presentations and staff meetings. The halls and foyers can be divided very flexibly. In both theater halls, the seats can be removed. This allows the rooms to be used for trade shows, such as dining room or a big party. There is a suitable venue for any occasion!  The organization has 20 permanent employees, approximately 30 call employees and an additional 15 volunteers. The extensive program of the Rabotheater offers something for everyone. The theater offers an attractive program consisting of shows and concerts in the genres: comedy, dance, youth / family, classical, music, musical, opera, show and so on. There is a wide range of child / youth and family shows. Children from 2 years can visit performances in the Rabotheater. But also for the older kids it's super cool! In addition to the varied program of theater, the Rabotheater offers an inspiring and versatile decor for events from 10 to 2,000 people. Each season the Rabotheater has lots of nice children's performances in the program. It is a magical experience where fantasy meets reality. The education department of the Rabotheater wants to make this experience even more special by offering activities. By Sunday afternoon performances, it is possible to participate in a theater workshop, you also have an opportunity to sign up for a tour. This takes about 50 to 60 minutes and begins with a short presentation about the theater followed by a guided tour and behind the scenes. The tour is suitable for the groups up to 15 people.
Check out more here: www.rabotheater.nl
Volg de nieuwste ontwikkelingen bij onze facebookpagina De Hengelose Revue

Adelheid Roosen | FE Vandaag is het Wereld Alzheimer Dag. Een mooie dag om onderstaande indrukwekkende verhaal te delen. Adelheid Roosen | FE komt met haar verhaal ook naar #Hengelo. Op 15 december vertoont zij haar documentaire, waarmee ze diverse prijzen won. Vervolgens gaat ...

Trijntje Oosterhuis Vanmiddag heeft Trijntje Oosterhuis in aanwezigheid van een huiskamer vol #pers en Marco Borsato haar nieuwe #album 'Leven van de Liefde' gepresenteerd . Bekijk alvast het voorproefje. Het complete album 💿 en nog veel meer beleef je live 🎶 op ...

Theater Rotterdam Op woensdag 29 november komt Theater Rotterdam naar Hengelo met Revolutionary Road. Acteur Jacob Derwig en dramaturg Casper Vandeputte gaan met elkaar in gesprek over deze voorstelling.
Dramaturg Casper Vandeputte ging vanmiddag live in gesprek met acteur Jacob Derwig over ...

Joris Linssen & Caramba Momenteel is Joris Linssen te zien op televisie als de presentator van Hello Goodbye. Elke donderdag om half negen op #NPO1. Op 14 februari is Joris met zijn band Caramba in #Hengelo, met de voorstelling Serenade. Kun je niet wachten, ...

Vanavond vanaf 19:00 uur is het weer tijd voor Politiek Café - Hengeloos Peil live vanuit Brasserie So Nice (Schouwburg #Hengelo). Te gast zijn o.a. wethouder Marcel Elferink en raadsleden Bas van Wakeren (ProHengelo) en Floor van Grouw (SP Hengelo: ...

Theater Rotterdam Vandaag wordt officieel Theater Rotterdam geopend 🎉. Kijk live mee naar de opening! Gefeliciteerd Rotterdam! En tot snel in Hengelo! 😀
Theater Rotterdam is geopend!
Schouwburg Hengelo shared Theater Rotterdam's live video.

Liefhebber van #toneel 🎭? Beleef een interessante avond met ' Toneelgroep Oostpool legt het uit'. Artistiek directeur Marcus Azzini en dramaturg Fanne Boland vertellen over wat hun drijft, waar ze voor staan, hoe en waarom ze theater maken, etc. Woensdag ...

Photos from Schouwburg Hengelo's post Leuke foto's ontvangen van een gast met als begeleidende tekst: "Wie wat bewaart die heeft nog een "up to date" tas!" 😀
Schouwburg Hengelo added 2 new photos.

Het is weer de 1e maandag van de maand 12:00 uur, dus tijd voor de Sirene Sale! 📢 Maximaal 100 kaarten 1e rang voor één voorstelling met 50% korting. 😀 Kijk snel welke voorstelling er in de sale zit: https://www.schouwburghengelo.nl/sirene-sale/
Rabotheater Hengelo
Pros
A beautiful theater with very friendly service. Beautiful rooms with comfortable chairs and nice café.