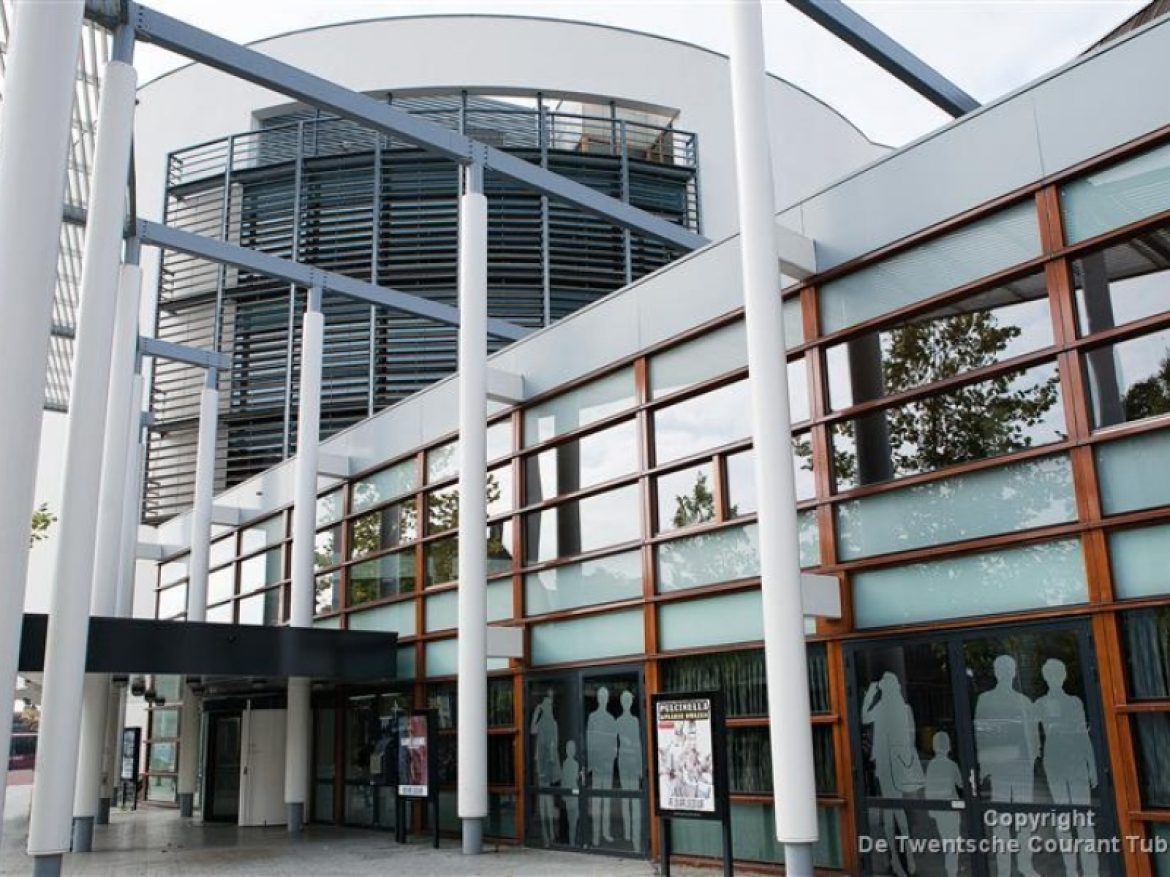 Rabotheater Hengelo
The Rabotheater Hengelo is a theater built in 2001 and located in the center of Hengelo, it has two beautifully designed and also extremely functional theaters (with 327 and 880 seats), a movie theater (with 90 seats), several meeting rooms and spacious foyers. The Rabotheater was designed by architect Jan Hoogstad. In 2009, an exhibition of Arent Weevers took place at the theater and in 2000 the comedian Wilfried Finkers worked in the Rabotheater as head of technical services. The opening was on April 21, 2001 with Creon, an opera by Huub Kerstens by the National Touring Opera. The building is designed on the basis of mathematical cylindrical and rectangular forms. In Rabotheater there is year-round wide variety of performances. So you can laugh at comedy shows, listen to great music in different styles, be impressed by dance or get drawn into a theater. There are plays for children, but many performances are fun for young and old.
This season the theater has presented 160 professional performances, 24 school performances, 45 amateur performances and 160 movie screenings. In addition, the building is often used for commercial activities such as conferences, product presentations and staff meetings. The halls and foyers can be divided very flexibly. In both theater halls, the seats can be removed. This allows the rooms to be used for trade shows, such as dining room or a big party. There is a suitable venue for any occasion!  The organization has 20 permanent employees, approximately 30 call employees and an additional 15 volunteers. The extensive program of the Rabotheater offers something for everyone. The theater offers an attractive program consisting of shows and concerts in the genres: comedy, dance, youth / family, classical, music, musical, opera, show and so on. There is a wide range of child / youth and family shows. Children from 2 years can visit performances in the Rabotheater. But also for the older kids it's super cool! In addition to the varied program of theater, the Rabotheater offers an inspiring and versatile decor for events from 10 to 2,000 people. Each season the Rabotheater has lots of nice children's performances in the program. It is a magical experience where fantasy meets reality. The education department of the Rabotheater wants to make this experience even more special by offering activities. By Sunday afternoon performances, it is possible to participate in a theater workshop, you also have an opportunity to sign up for a tour. This takes about 50 to 60 minutes and begins with a short presentation about the theater followed by a guided tour and behind the scenes. The tour is suitable for the groups up to 15 people.
Check out more here: www.rabotheater.nl
Introdans - Leve Larbi Vanavond is Introdans met hun show 'Leve Larbi' te zien in Schouwburg Hengelo!

'Leve Larbi' van Introdans draait om het werk van de wereldberoemde Vlaams-Marrokaanse choreograaf Sidi Larbi Cherkaoui. Onlangs werd hij door het Duitse tijdschrift Tanz voor de derde ...

Saskia en Paulette zijn binnenkort met hun show 'Vuile Huichelaar - de zesde…-Morgen begint nu!' in Kulturhus Borne te zien!

Saskia en Paulette hebben zich altijd bezig gehouden met de liefde. Ze zijn verliefd geworden, hebben samengewoond, kinderen gekregen en ...

De toneelmakerij - Snowflake (12+) Vrijdag 5 april komt De Toneelmakerij met de voorstelling 'Snowflake' naar Schouwburg Hengelo!

In 'Snowflake' volgen we zes jongeren in de virtuele wereld. Ze hebben allemaal één doel: Sofie wil zo snel mogelijk Koreaans leren, Nada experimenteert met avatar- en ...

BonteHond - Vadertje en Moedertje (6+) Zondag 7 april is de voorstelling 'Vadertje en Moedertje' van Theatergezelschap BonteHond te zien in Schouwburg Hengelo!

'Vadertje & Moedertje' (6+) gaat over sprookjes en over hoe middeleeuwse verzinsels nog steeds onze moraal en rolverdeling bepalen. Er wordt afgerekend met ...

Vrije Voeten - Trekvogels (8-14 jaar) Donderdag 28 maart komt Vrije Voeten met hun show 'Trekvogels' naar Schouwburg Hengelo!

Stel je voor dat je opeens je land moet achterlaten; wat neem je mee? Wat is je het dierbaarst? Wie zou je vertrouwen?
Onder begeleiding van live ...

Photos from Schouwburg Hengelo's post Woensdag 20 maart komt Het Nationale Theater met zijn theaterbelevenis 'Onze Straat' naar Schouwburg Hengelo!

De voorstelling gaat over een straat zoals er duizenden zijn, met een avondwinkel, een wasserette en bewoners die wel een voordeur maar niet hun leven ...

YAMATO - Passion De drummers van YAMATO komen naar Schouwburg Hengelo met het spektakel 'Passion'!
De Japanse drummers zijn atletisch, muzikaal en trainen het hele jaar door, van 's ochtends vroeg tot 's avonds laat. Dat is ook nodig, want het bespelen van ...

Spannend! Vanmiddag is de eerste voorronde van het open podium in Schouwburg Hengelo!
Wie vind jij het beste? Bij binnenkomst ontvangt het publiek een stemformulier en kiest het samen met de jury van Schouwburg Hengelo wie er door gaat naar ...

Vanavond komt Theaterkoor Multiple Noise met zijn show 'En ... leefden ze nog lang en gelukkig?' naar Schouwburg Hengelo!
Multiple Noise is een krachtig en enthousiast Hengelo's gezelschap dat zang en theater combineert. De muzikale leiding is in handen van ...

Verslag persdag Hanna van Hendrik Bekijk hier een verslag van de persdag van theaterspektakel Hanna van Hendrik. Lijkt het je leuk om komende zomer mee te spelen in deze voorstelling? Er worden nog (amateur)spelers gezocht!

De audities voor het ensemble en een aantal kleine rollen ...

Theater Rotterdam - Hamlet, de familievøørstelling Vanavond en morgenavond komt Theater Rotterdam met 'Hamlet (8+), de familievøørstelling' naar Schouwburg Hengelo!

Het zit de Deense puberprins Hamlet niet echt mee. Hij raakt zijn pa kwijt, zijn oom trouwt met zijn moeder, zijn vriendinnetje Ophelia begrijpt hem niet ...

Voor het eerst in jaren staat Freek de Jonge weer helemaal alleen op het toneel, dit keer in de gedaante van een suppoost.
In zijn nieuwe voorstelling 'De Suppoost' is de cabaretier, die dit jaar 75 wordt, openhartig over deze ...

Vanmiddag geeft het Vlaams ensemble Revue Blanche het concert 'Misia, Parijs begin 20ste eeuw' in de Waterstaatskerk Hengelo!
Ga op reis naar het verleden met de muzikale vertelling rond het leven van Misia Sert (1872-1950), de koningin van de Parijse ...

Dierenliefhebbers opgelet! Morgenmiddag komt Ageeth de Haan met haar show 'Daar komen de dieren (2-7 jaar)' naar Schouwburg Hengelo!
Ageeth de Haan maakte de voorstelling samen met de
WNF-Bamboeclub.
Prachtige 'wildlife' beelden vormen het decor van dit bijzondere muziektheaterprogramma. De ...

Morgenmiddag is 'Your Stage Gym & Dansgala 2019' te zien in Schouwburg Hengelo!

De Dutch Gymnastics - KNGU organiseert in samenwerking met Sportvereniging H.G.V. uit Hengelo het 'Your Stage Gym- & Dansgala 2019'! Dit jaar vindt het Your Stage Gym- ...

Vanavond is de e͟e͟r͟s͟t͟e͟ superhelden saga musical happening ter wereld 'Marvellous' te zien in Schouwburg Hengelo!

Schieten, vliegen, duiken, racen, vlammen en explosies. Dat kan natuurlijk niet in het theater. Toch?
'Marvellous(16+)' is een grappig, spannend en ontroerend epos over ...

Waylon komt naar Schouwburg Hengelo! Op vrijdag 13 december geeft hij, met een zevenkoppige band, het theaterconcert 'My Heroes Have Always Been Cowboys'. Hierin vertelt hij over zijn liefde voor Countrymuziek en is hij openhartig over The Voice, The Common ...

Vanavond is De Staatsopera van Tatarstan met de show 'De Barbier van Sevilla' te zien in Schouwburg Hengelo!

Rossini schreef de komische opera 'Il Barbiere di Siviglia'. Tot op de dag van vandaag blijft het werk één van de meest ...

Photos from Schouwburg Hengelo's post Vanavond is Toneelgroep Oostpool met de hit voorstelling 'People, Places & Things' te zien in Schouwburg Hengelo.

'People, Places & Things' is een aangrijpende voorstelling over falen en weer opstaan in een wereld waarin de waarde van je leven wordt ...

Yes, eindelijk is het zover! Vanavond is de uitverkochte show Arjen Lubach 'Live' te zien in Schouwburg Hengelo!

Meer dan tien jaar speelde Arjen Lubach in wisselende formaties in kleine theaterzalen voor een kleiner publiek. 'Zondag met Lubach' bezorgde hem ...

Vanavond is de dansshow 'Footnotes' van de bekende choreografe Keren Levi te zien in Schouwburg Hengelo!
De Amerikaanse componist Morton Feldman schreef een uniek muziekstuk. Door de regels voor het samenspel achterwege te laten, schiep hij de voorwaarden voor een ...

HannavanHendrik Wil jij meedoen aan het theaterspektakel HannavanHendrik?
We zijn op zoek naar mensen die deel willen uitmaken van de muziektheaterbelevenis die deze zomer op Vliegveld Twenthe zal spelen. Je kunt je nu aanmelden voor de audities!
Hieronder meer informatie:
Audities!

...
Rabotheater Hengelo
Pros
A beautiful theater with very friendly service. Beautiful rooms with comfortable chairs and nice café.