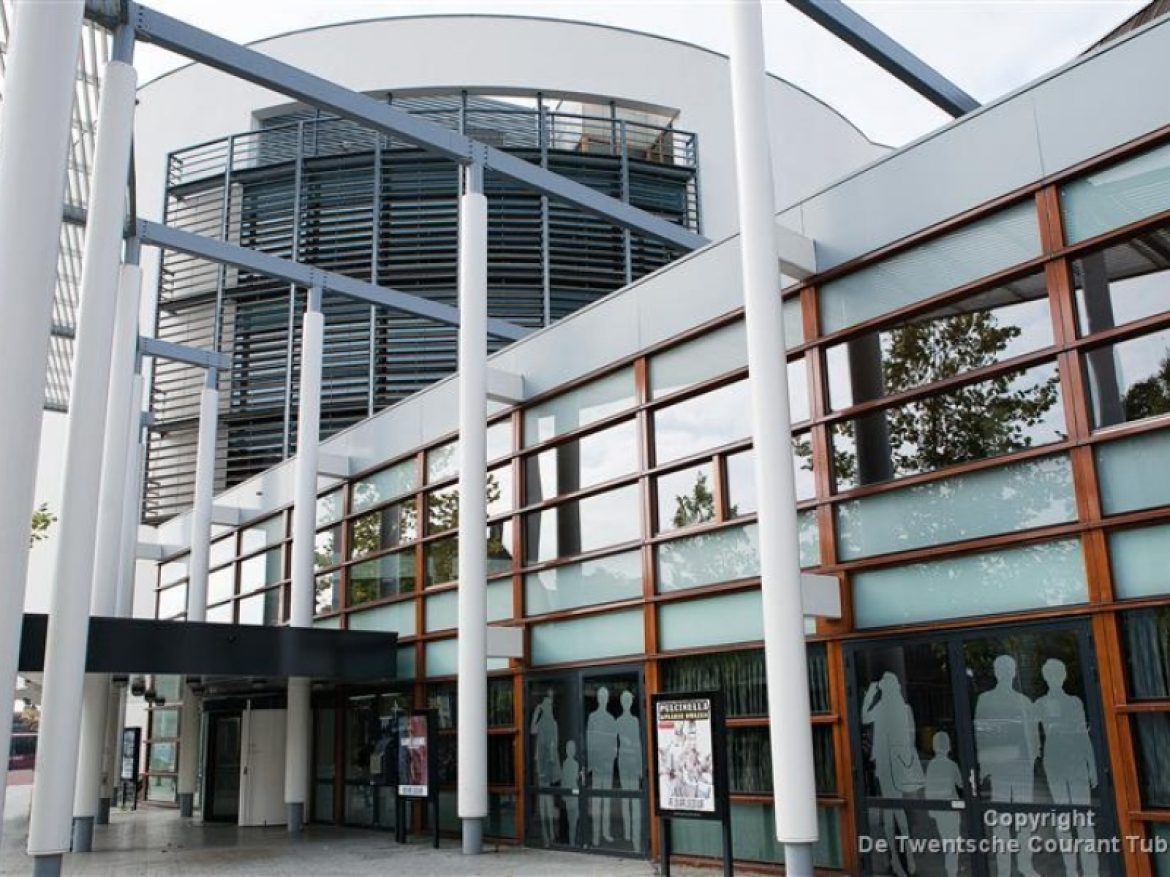 Rabotheater Hengelo
The Rabotheater Hengelo is a theater built in 2001 and located in the center of Hengelo, it has two beautifully designed and also extremely functional theaters (with 327 and 880 seats), a movie theater (with 90 seats), several meeting rooms and spacious foyers. The Rabotheater was designed by architect Jan Hoogstad. In 2009, an exhibition of Arent Weevers took place at the theater and in 2000 the comedian Wilfried Finkers worked in the Rabotheater as head of technical services. The opening was on April 21, 2001 with Creon, an opera by Huub Kerstens by the National Touring Opera. The building is designed on the basis of mathematical cylindrical and rectangular forms. In Rabotheater there is year-round wide variety of performances. So you can laugh at comedy shows, listen to great music in different styles, be impressed by dance or get drawn into a theater. There are plays for children, but many performances are fun for young and old.
This season the theater has presented 160 professional performances, 24 school performances, 45 amateur performances and 160 movie screenings. In addition, the building is often used for commercial activities such as conferences, product presentations and staff meetings. The halls and foyers can be divided very flexibly. In both theater halls, the seats can be removed. This allows the rooms to be used for trade shows, such as dining room or a big party. There is a suitable venue for any occasion!  The organization has 20 permanent employees, approximately 30 call employees and an additional 15 volunteers. The extensive program of the Rabotheater offers something for everyone. The theater offers an attractive program consisting of shows and concerts in the genres: comedy, dance, youth / family, classical, music, musical, opera, show and so on. There is a wide range of child / youth and family shows. Children from 2 years can visit performances in the Rabotheater. But also for the older kids it's super cool! In addition to the varied program of theater, the Rabotheater offers an inspiring and versatile decor for events from 10 to 2,000 people. Each season the Rabotheater has lots of nice children's performances in the program. It is a magical experience where fantasy meets reality. The education department of the Rabotheater wants to make this experience even more special by offering activities. By Sunday afternoon performances, it is possible to participate in a theater workshop, you also have an opportunity to sign up for a tour. This takes about 50 to 60 minutes and begins with a short presentation about the theater followed by a guided tour and behind the scenes. The tour is suitable for the groups up to 15 people.
Check out more here: www.rabotheater.nl
Photos from Schouwburg Hengelo's post Vanaf morgenavond drie voorstellingen in #Hengelo: de #musical VAMOS! Het komische verhaal van 3 vrouwen (Lenette van Dongen, Carolina Dijkhuizen en Cystine Carreon) die besluiten het avontuur aan te gaan door te investeren in een oud en afgebladderd hotel in ...

Schrijnende komedie Spijker (8+) morgenavond in Hengelo 'Spijker' van de Toneelmakerij is een schrijnende komedie over een binnenstebuiten gedraaide wereld, een hysterische moeder en een punctuele vader en over twee kinderen die recht door zee gaan waar volwassenen liever een omweg nemen. Voor iedereen van 8 jaar ...

Vandaag in de Tubantia op de 'Doe Mee met Dolf Ruesink pagina' het winnende 'Ik vertrek' verhaal van drie Twentse dames die stage gingen lopen in #Spanje. Dewi, Daphne en Linde hadden de tijd van hun leven in het Spaanse ...

Vamos de Musical TRAILER We kennen allemaal het programma Ik Vertrek. In de #musical comedy VAMOS! besluiten drie totaal verschillende vrouwen het avontuur aan te gaan door te investeren in een oud en afgebladderd hotel in het Zuiden van Spanje. Komende woensdag, donderdag en ...

Uit Bewondering Morgenavond in #Hengelo: Dana Winner met haar gloednieuwe voorstelling 'Uit Bewondering'. Vaak krijgt Dana de vraag: 'Wie of wat bewonder je?' Daarom heeft ze de muziek, de mensen en de momenten die ze het meest bewondert op een rijtje gezet ...

OG3NE - Three times a lady Vanavond in Schouwburg Hengelo de drie meest muzikale zussen van Nederland: Lisa, Amy en Shelley oftewel OG3NE. Wie is erbij?
Winnaar van The Voice en finalisten van het Eurovisiesongfestival 2017, dé vocale sensatie van het moment komt in februari 2018 ...

ft.Waggon & Katsmav - Saturday Night Live Met wie ga jij naar Saturday Night Live? 🎶🕺💃

Zaterdagavond kun je genieten van live muziek van de twee bands Waggon en KatZmaV in Schouwburg Hengelo. Ze spelen de beste muziek uit de jaren '60, '70, '80 en '90. Uiteraard ...

Joost & Martijn - Kwinkslag #Droog, #droger, #droogst!
Staat donderdag 29 maart al in uw agenda? Om 20:00 uur 🕗 in Schouwburg Hengelo: Cabaret uit het Oosten van Joost & Martijn die met hun show '#Kwinkslag' humor laten zien zoals we die alleen hier kennen; ...

VAMOS Ga naar de comedymusical #VAMOS! op 7, 8 en 9 maart in Schouwburg Hengelo en maak kans op een reisje naar #Benidorm aan de #Spaanse #Costa's. Lees hieronder wat je moet doen om kans te maken. Voor info en kaarten ...

Voorstelling Achter het Huis #TONEEL #HENGELO

Morgenavond 20.00 uur is de voorstelling 'Achter het Huis' bij ons in Schouwburg Hengelo te zien. De voorstelling is een nieuwe en eigentijdse bewerking van de dagboeken van Anne Frank. Voor kaarten en info > http://bit.ly/2Eyh0uw

ft.Waggon & Katsmav - Saturday Night Live Zaterdag 24 februari is het weer tijd voor Saturday Night Live! Een avond lang genieten van live muziek van maar liefst twee bands: Waggon en KatZmaV. Zij spelen de beste muziek uit de jaren '60, '70, '80 en '90. Uiteraard ...

Inschrijving Open Podium Twente 2018 Vandaag is het de laatste kans om je op te geven! Wil jij je talent laten zien op het grote podium van Schouwburg Hengelo ? Schrijf je dan in voor de voorrondes van de talentenjacht 'Open Podium Twente 2018' op ...

Woef Side Story: een voorstelling voor de hele familie Een voorstelling voor de hele familie (8+) 🐩🐕

Komende vrijdag om 19.00 uur speelt Theater Rotterdam (voorheen Ro Theater) bij ons in Schouwburg Hengelo 'Woef Side Story',een hilarische en ontroerende Romeo en Julia voor honden. Rashonden tegenover straathonden. Twee verliefde ...

10cc - Last Tickets - Hengelo (Ov.), NLD OP = OP 📣🎶

Zaterdag 10 maart 20.00 uur speelt 10ccworld bij ons in Schouwburg Hengelo. De huidige formatie bestaat uit Graham Gouldman, Rick Fenn, Paul Burgess, Iain Hornal en Keith Hayman en samen spelen ze voor uitverkochte zalen over ...

De Uitdaging: Sarah Jane meets Shishani Vranckx #MUZIEK #HENGELO

Next level: Sarah Jane meets Shishani Vranckx

Aankomende donderdag om 20.00 uur komt De Uitdaging weer naar Schouwburg Hengelo met het tweede concert uit zijn concertserie De Uitdaging waarin hij top zangers uit de meest uiteenlopende genres uitdaagt ...

Joris Linssen & Caramba - Serenade Het is alweer bijna #Valentijnsdag 💕🎶

Joris Linssen en zijn vrienden smeden verhalen en liedjes aaneen tot een hartverscheurende en hilarische voorstelling. Een ode aan het leven, de liefde en de muziek in de voorstelling 'Serenade'💃. Met Djem van Dijk ...

So You Think You Can Stoelendans - Introdans #DANS Schouwburg Hengelo
Morgen treedt Introdans bij ons op. De voorstelling So You Think You Can Stoelendans begint om 19.30 uur in de Rabozaal. De pers over So You Think You Can Stoelendans:
"So You Think You Can Stoelendans een ...
Rabotheater Hengelo
Pros
A beautiful theater with very friendly service. Beautiful rooms with comfortable chairs and nice café.