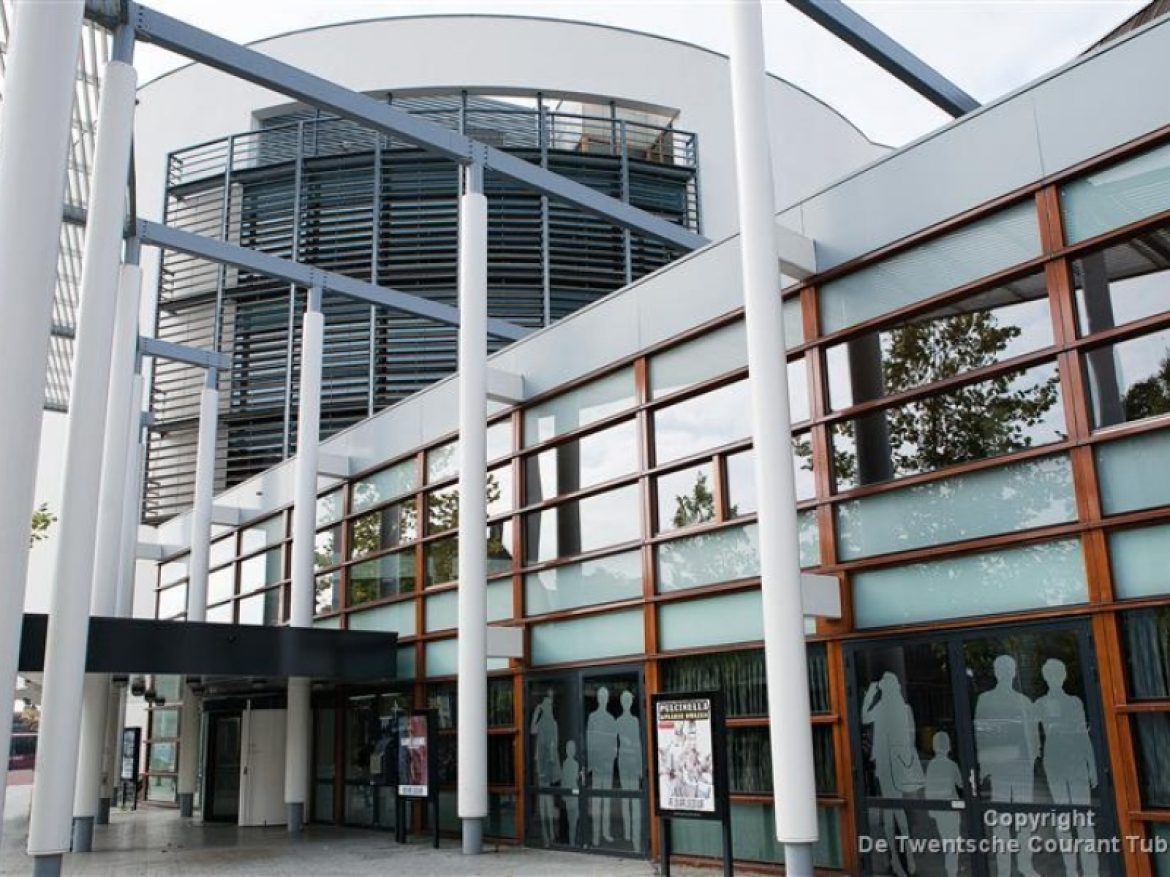 Rabotheater Hengelo
The Rabotheater Hengelo is a theater built in 2001 and located in the center of Hengelo, it has two beautifully designed and also extremely functional theaters (with 327 and 880 seats), a movie theater (with 90 seats), several meeting rooms and spacious foyers. The Rabotheater was designed by architect Jan Hoogstad. In 2009, an exhibition of Arent Weevers took place at the theater and in 2000 the comedian Wilfried Finkers worked in the Rabotheater as head of technical services. The opening was on April 21, 2001 with Creon, an opera by Huub Kerstens by the National Touring Opera. The building is designed on the basis of mathematical cylindrical and rectangular forms. In Rabotheater there is year-round wide variety of performances. So you can laugh at comedy shows, listen to great music in different styles, be impressed by dance or get drawn into a theater. There are plays for children, but many performances are fun for young and old.
This season the theater has presented 160 professional performances, 24 school performances, 45 amateur performances and 160 movie screenings. In addition, the building is often used for commercial activities such as conferences, product presentations and staff meetings. The halls and foyers can be divided very flexibly. In both theater halls, the seats can be removed. This allows the rooms to be used for trade shows, such as dining room or a big party. There is a suitable venue for any occasion!  The organization has 20 permanent employees, approximately 30 call employees and an additional 15 volunteers. The extensive program of the Rabotheater offers something for everyone. The theater offers an attractive program consisting of shows and concerts in the genres: comedy, dance, youth / family, classical, music, musical, opera, show and so on. There is a wide range of child / youth and family shows. Children from 2 years can visit performances in the Rabotheater. But also for the older kids it's super cool! In addition to the varied program of theater, the Rabotheater offers an inspiring and versatile decor for events from 10 to 2,000 people. Each season the Rabotheater has lots of nice children's performances in the program. It is a magical experience where fantasy meets reality. The education department of the Rabotheater wants to make this experience even more special by offering activities. By Sunday afternoon performances, it is possible to participate in a theater workshop, you also have an opportunity to sign up for a tour. This takes about 50 to 60 minutes and begins with a short presentation about the theater followed by a guided tour and behind the scenes. The tour is suitable for the groups up to 15 people.
Check out more here: www.rabotheater.nl
Preview Seizoen 2017-2018 Alvast een voorproefje krijgen van onze programmering van het komende theaterseizoen? Kom naar onze preview avond en krijg als eerste te horen welke voorstellingen en concerten er voor seizoen 2017-2018 gepland staan. Geniet van een aantal verrassingsoptredens en bestel alvast ...

Rabotheater Hengelo Alvast in de stemming komen voor morgenavond?
In de voorstelling WERELDWIJD neemt ras verhalenverteller Stef Bos je o.a. mee op zijn reizen van Albanië naar Mozambique van Ierland naar Zanzibar en van Berlijn naar Zuid-Afrika. Hij doet dit via uit ...

Timeline Photos Kaartverkoop voor My Fair Lady gaat nú van start! Beleef één van de beste musicals ooit gemaakt! Een excentrieke professor neemt de weddenschap aan om het eenvoudige bloemenmeisje Eliza om te toveren tot een lady in de Engelse society. Op ...

Photos from Rabotheater Hengelo's post Barribasje wil zich verzetten en de wereld verbeteren. Maar hoe doe je dat, als je nog klein bent? Als je beter zingt dan schreeuwt en liever leest dan vecht? Lukt het de kleine Barribas om de barbaren te slim af ...

Onze "quarter" backers van de tour.

Goed bezig mannen!👍
Bart van Kooten added a new photo to Rabotheater Hengelo's timeline — at Rabotheater Hengelo.

Timeline Photos De Staatsopera van Tatarstan komt al ruim twintig jaar naar Nederland met kwalitatief hoogstaande producties. Morgenmiddag in het Rabotheater Hengelo met groot orkest, koor en internationale top-solisten. #opera #orkest

🎭 Event: https://www.facebook.com/events/754070141423060/
Rabotheater Hengelo at Rabotheater Hengelo.

Stef Bos - Gelukkig Zanger en liedjesschrijver ೋ Stef Bos ೋ reisde de afgelopen tien jaar de wereld rond en bracht zijn indrukken muzikaal samen in de voorstelling Stef Bos - Wereldwijd . Wilt u kans maken op de nieuwe gelijknamige CD?
Like deze ...

Theatermakerij Enschede Kick of Traject Theatertalent, wat een supergroep! #theater #talent #jongeren #masterclass #shakespeare #lear
Rabotheater Hengelo shared Theatermakerij Enschede's post.

Politiek Café - Hengeloos Peil Vanavond is het weer tijd voor het Politiek Café Hengeloos Peil. Hengeloos Peil wordt elke tweede maandag van de maand opgenomen in Brasserie So Nice (in het Rabotheater). Wie de uitzending wil bijwonen is welkom vanaf 18.30 uur. De toegang ...

Hoi,

Ik weet niet of ik het hier mag delen, er is helaas geen evenement aangemaakt waar ik het kan delen. Ik heb voor a.s. vrijdag 17 maart nog 2 kaarten 1e rang voor Edwin Evers Band te koop (gekocht ...

Timeline Photos De legendarische Britse groep 10cc komt op 10 maart 2018 naar Rabotheater Hengelo! 'Dreadlock Holiday', 'I'm Not In Love', 'The Wall Street Shuffle', 'The Things We Do For Love', 'I'm Mandy Fly Me' en 'Donna'. Het is maar een kleine ...
Rabotheater Hengelo
Pros
A beautiful theater with very friendly service. Beautiful rooms with comfortable chairs and nice café.