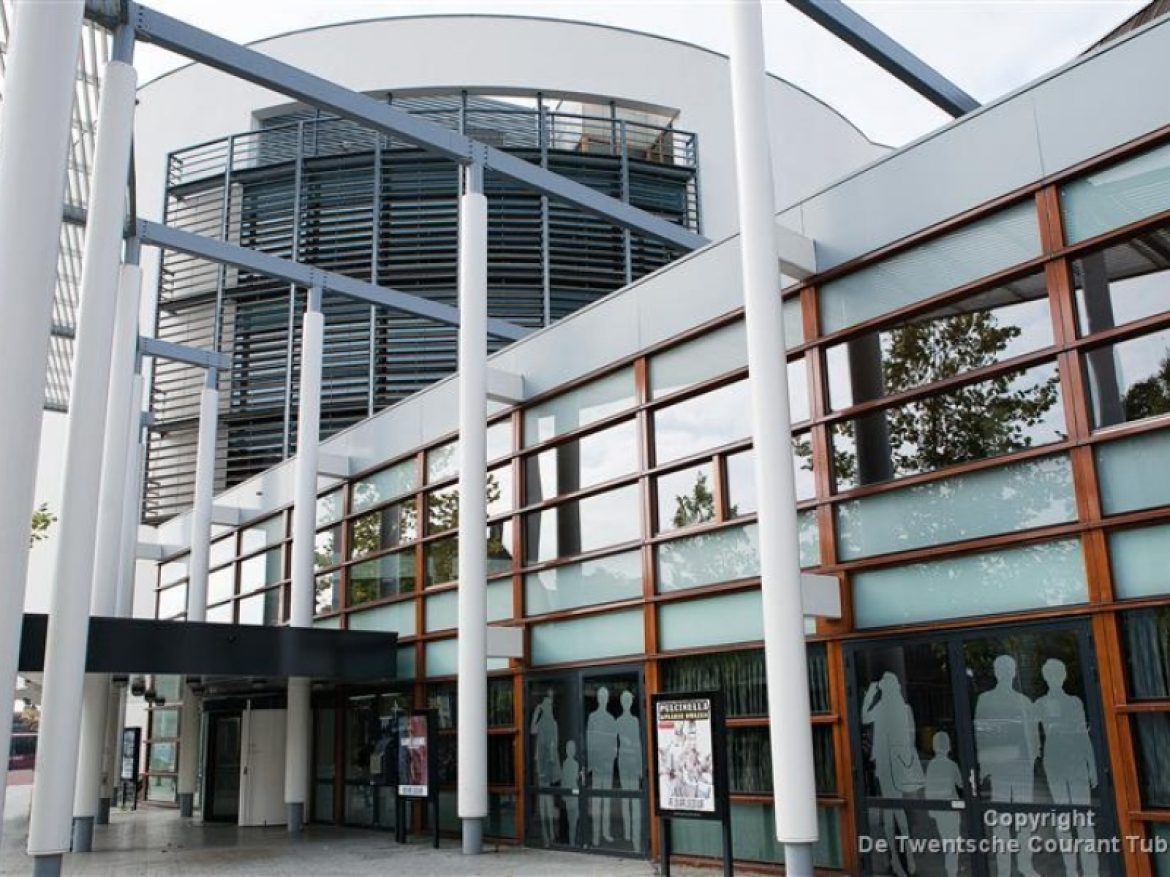 Rabotheater Hengelo
The Rabotheater Hengelo is a theater built in 2001 and located in the center of Hengelo, it has two beautifully designed and also extremely functional theaters (with 327 and 880 seats), a movie theater (with 90 seats), several meeting rooms and spacious foyers. The Rabotheater was designed by architect Jan Hoogstad. In 2009, an exhibition of Arent Weevers took place at the theater and in 2000 the comedian Wilfried Finkers worked in the Rabotheater as head of technical services. The opening was on April 21, 2001 with Creon, an opera by Huub Kerstens by the National Touring Opera. The building is designed on the basis of mathematical cylindrical and rectangular forms. In Rabotheater there is year-round wide variety of performances. So you can laugh at comedy shows, listen to great music in different styles, be impressed by dance or get drawn into a theater. There are plays for children, but many performances are fun for young and old.
This season the theater has presented 160 professional performances, 24 school performances, 45 amateur performances and 160 movie screenings. In addition, the building is often used for commercial activities such as conferences, product presentations and staff meetings. The halls and foyers can be divided very flexibly. In both theater halls, the seats can be removed. This allows the rooms to be used for trade shows, such as dining room or a big party. There is a suitable venue for any occasion!  The organization has 20 permanent employees, approximately 30 call employees and an additional 15 volunteers. The extensive program of the Rabotheater offers something for everyone. The theater offers an attractive program consisting of shows and concerts in the genres: comedy, dance, youth / family, classical, music, musical, opera, show and so on. There is a wide range of child / youth and family shows. Children from 2 years can visit performances in the Rabotheater. But also for the older kids it's super cool! In addition to the varied program of theater, the Rabotheater offers an inspiring and versatile decor for events from 10 to 2,000 people. Each season the Rabotheater has lots of nice children's performances in the program. It is a magical experience where fantasy meets reality. The education department of the Rabotheater wants to make this experience even more special by offering activities. By Sunday afternoon performances, it is possible to participate in a theater workshop, you also have an opportunity to sign up for a tour. This takes about 50 to 60 minutes and begins with a short presentation about the theater followed by a guided tour and behind the scenes. The tour is suitable for the groups up to 15 people.
Check out more here: www.rabotheater.nl
Nagenieten van een mooie finale van het #Rabotheater #Open #Podium Twente afgelopen zaterdag 20 mei in het Rabotheater met als winnaar de band Paper Wolfe. Alle winnaars: gefeliciteerd met jullie prijs!!

Untitled Album Finale Rabotheater Open Podium Twente 2017
Rabotheater Hengelo at Rabotheater Hengelo.

Jandino Asporaat - Keihard Wie kent hem niet van zijn De Dino Show, met zijn sketches over het fastfoodrestaurant FC Kip? Tegenwoordig zou je hem kunnen kennen van de TV-show Alles mag op zaterdag.

Zaterdag 3 juni staat hij in ons theater met typetjes, ...

Photos from Rabotheater Hengelo's post #Winnaar #Rabotheater Open Podium Twente 2017: Paper Wolfe! 2e prijs voor Double Bash, 3e prijs Slagwerkgroep HENGST. Winnaar van de Jong talentprijs: Kim Toemeungte van het duo DAIM. Winnaars van de publieksprijzen: 1e prijs Double Bash, 2e prijs Connect, 3e ...

Grote zaal @Rabotheater zit bomvol voor finale open podium Twente 2017. Dertien acts strijden om hoofdprijs. We gaan beginnen!

Sjors van der Panne - Isabel [Official Video] De meesten kennen hem van de The Voice, waarin hij in een grandioze finale een duet zong met zijn grote held Frank Boeijen (Official). Sjors van der Panne trakteert Hengelo volgende week samen met zijn vaste band op liedjes van ...

Er wordt hard gewerkt aan de spectaculaire show van vanavond. Wij hebben er zin in, u ook? Pink Project - Pink Floyd in concert 🤘#PinkFloyd

@FrankKrake Fijn dat u heeft genoten van Venice! Het gejuich had waarschijnlijk met de positieve resultaten van @AFCAjax of @OG3NE te maken ;-)
Rabotheater Hengelo
Pros
A beautiful theater with very friendly service. Beautiful rooms with comfortable chairs and nice café.