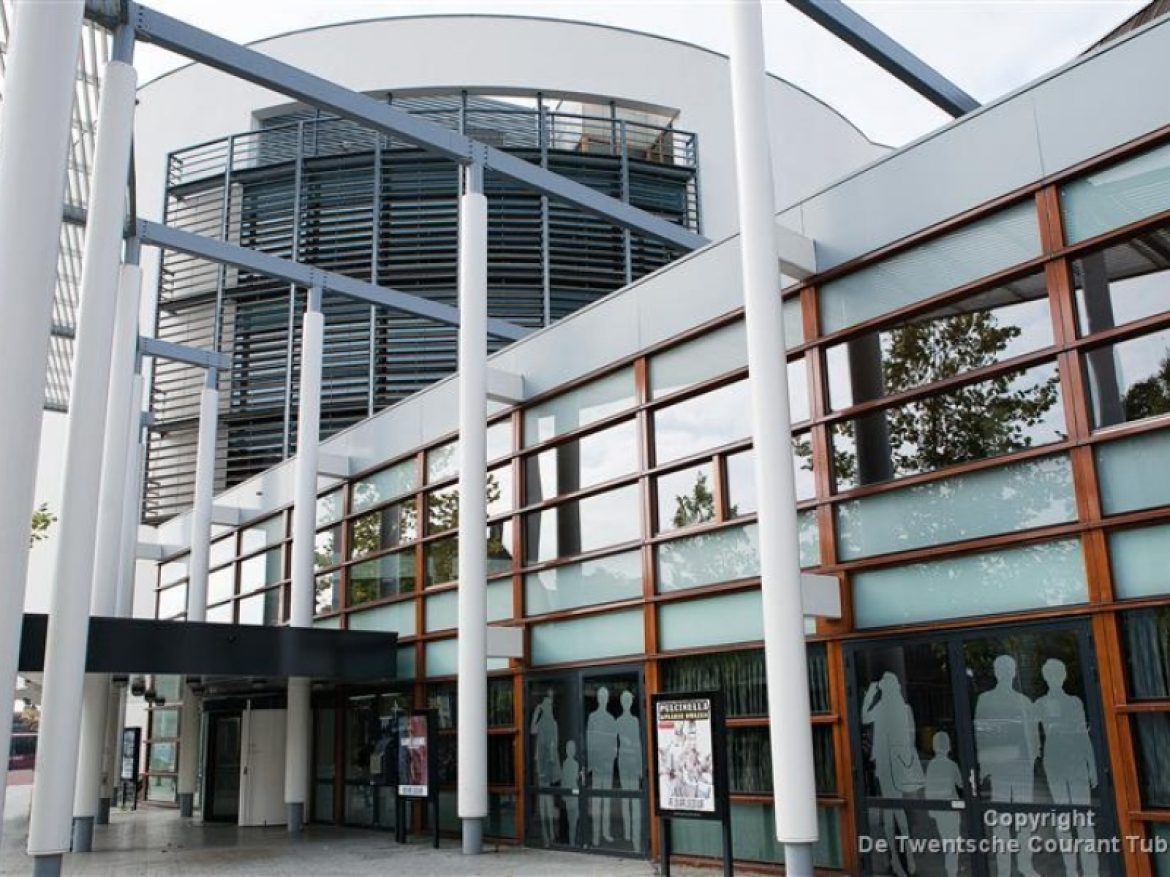 Rabotheater Hengelo
The Rabotheater Hengelo is a theater built in 2001 and located in the center of Hengelo, it has two beautifully designed and also extremely functional theaters (with 327 and 880 seats), a movie theater (with 90 seats), several meeting rooms and spacious foyers. The Rabotheater was designed by architect Jan Hoogstad. In 2009, an exhibition of Arent Weevers took place at the theater and in 2000 the comedian Wilfried Finkers worked in the Rabotheater as head of technical services. The opening was on April 21, 2001 with Creon, an opera by Huub Kerstens by the National Touring Opera. The building is designed on the basis of mathematical cylindrical and rectangular forms. In Rabotheater there is year-round wide variety of performances. So you can laugh at comedy shows, listen to great music in different styles, be impressed by dance or get drawn into a theater. There are plays for children, but many performances are fun for young and old.
This season the theater has presented 160 professional performances, 24 school performances, 45 amateur performances and 160 movie screenings. In addition, the building is often used for commercial activities such as conferences, product presentations and staff meetings. The halls and foyers can be divided very flexibly. In both theater halls, the seats can be removed. This allows the rooms to be used for trade shows, such as dining room or a big party. There is a suitable venue for any occasion!  The organization has 20 permanent employees, approximately 30 call employees and an additional 15 volunteers. The extensive program of the Rabotheater offers something for everyone. The theater offers an attractive program consisting of shows and concerts in the genres: comedy, dance, youth / family, classical, music, musical, opera, show and so on. There is a wide range of child / youth and family shows. Children from 2 years can visit performances in the Rabotheater. But also for the older kids it's super cool! In addition to the varied program of theater, the Rabotheater offers an inspiring and versatile decor for events from 10 to 2,000 people. Each season the Rabotheater has lots of nice children's performances in the program. It is a magical experience where fantasy meets reality. The education department of the Rabotheater wants to make this experience even more special by offering activities. By Sunday afternoon performances, it is possible to participate in a theater workshop, you also have an opportunity to sign up for a tour. This takes about 50 to 60 minutes and begins with a short presentation about the theater followed by a guided tour and behind the scenes. The tour is suitable for the groups up to 15 people.
Check out more here: www.rabotheater.nl
*** Open Workshop Introdans! ***
Onderdeel van het festival 'Schouwburg Hengelo on Tour: Hasselo' is het project van Introdans en Schouwburg Hengelo. We dagen sporters en iedereen die graag actief is uit mee te doen aan onze workshops! Geïnspireerd op ...

Schouwburg Hengelo on Tour: Hasselo Johanneke ter Stege opent op zaterdag 24 augustus om 19.30 uur het avondprogramma van 'Schouwburg Hengelo ON TOUR'. Deze singer-songwriter staat komend seizoen in de theaters met haar voorstelling 'Muntjes duiken tussen haaien'. Als die titel niet tot de verbeelding ...

Jazzalike promo video 2019 Jazzalike heeft al vaker bewezen dat ze een goed feestje kunnen bouwen!🎶 Ze speelden op de Zwarte Cross, in Metropool, diverse festivals & gala's, wonnen de jury- als publieksprijs van het Open Podium 2019 en zaterdag 24 augustus sluit Jazzalike ...

Schouwburg Hengelo on Tour: Hasselo Schouwburg Hengelo en Kulturhus Hasselo organiseren het festival 'Schouwburg Hengelo on Tour: Hasselo' van 23 t/m 25 augustus in Hengelo Noord.
Kom cultuur snuiven met workshops, informatiemarkt en dans- en muziekoptredens. Gratis entree. Check de website voor het volledige programma. ...

HannavanHendrik Er zijn nog drie extra voorstellingen van HannavanHendrik bijgekomen: op 31 juli, 1 & 2 augustus! Dit is je allerlaatste kans om de voorstelling te zien. 🤩
LAATSTE KANS

We hebben nog 3 extra voorstellingen kunnen toevoegen aan de speellijst. ...

Hanna van Hendrik - Groots en intiem theaterspektakel (try-out) Paar kaarten teruggekomen voor #uitverkochte voorstelling Hanna van Hendrik komende donderdagavond. Heb je nog geen kaarten? Bestel snel!
Hanna van Hendrik is een groots en tegelijkertijd intiem theaterspektakel: een unieke muzikale theaterbelevenis op Vliegbasis Twenthe. In drie aktes neemt de ...

We will rock you (try-out) Goed nieuws!! Wegens grote belangstelling komen er twee extra voorstellingen van de rockmusical 'We Will Rock You', met Anastacia als Killer Queen! 🤩

De extra voorstellingen zijn op zaterdag 30 november en zondag 1 december om 15:00 uur. De kaartverkoop ...

Photos from Schouwburg Hengelo's post De voorstelling 'Rotatie' van cabaretier Jan Beuving is genomineerd voor een Poelifinario 2019 in de categorie Engagement!

De jury over Jan: 'Als een wiskundige beweert dat intuïtie het wint van kennis, weet je dat hij een flinke draai heeft gemaakt. ...

Morgenavond wordt het politiek café Hengeloos Peil live uitgezonden vanuit Brasserie So Nice in Schouwburg Hengelo. Met gesprekken en discussie over het maatschappelijk, sociaal en cultureel leven in Hengelo.

Het programma begint om 19:00 uur en wordt uitgezonden op Radio ...

‼️GEZOCHT: KIDSREPORTER BACK TO OZ ‼️

Het Filiaal theatermakers en Schouwburg Hengelo zoeken een kidsreporter voor de familievoorstelling Back to Oz! 🧙‍♀️👠

Hou je van theater? Maak je graag stories op instagram? Heb je altijd al mee willen lopen achter ...

Photos from Schouwburg Hengelo's post Gisteren plaatste Tubantia een leuk interview met Stefano Conti en zijn vrouw Roberta Moroni, de organisatoren van het Festival de' Bardi!

Morgenavond is als onderdeel van het festival Rossini's komische opera 'L'Italiana in Algeri' te zien in Schouwburg Hengelo!

Vanavond staat Theo Maassen in een bomvolle Rabozaal met zijn voorstelling SITUATIE GEWIJZIGD! Wij hebben er zin in! Jij ook? 🤩

Actrice Hanne Arendzen is genomineerd voor een Theo d'Or voor haar hoofdrol in de voorstelling 'Van de koele meren des doods'!

Op 7 februari 2020 is Hanne Arendzen samen met Jeroen Spitzenberger in Schouwburg Hengelo te zien in de tragikomedie ...

Festival de' Bardi - L'italiana in Algeri Zaterdag is Rossini's komische opera L'Italiana in Algeri te zien in Schouwburg Hengelo! 🎭

Deze uitvoering van de uitbundige opera is een samenwerking tussen internationale professionele solisten en een gelegenheidskoor en -orkest onder leiding van Alexej Pevzner, en is onderdeel ...

Morgenmiddag wordt het Schouwburgplein omgetoverd tot een groot terras voor het Big Band Festival 2019! 🌞🍻

Kom genieten van maar liefst zeven big bands! Toegang is gratis.🎺
Het programma is als volgt:
13:00 Big Band Hengelo
14:00 Big Band Exposure
...

Trailer Maalkop De Peergroup heeft de bijzondere locatietheatervoorstelling Maalkop gemaakt.

Maalkop vertelt het verhaal van een jonge boer, gespeeld door Fabian Jansen, die noodgedwongen afstand moet doen van zijn bedrijf. De boer voelt zich vergroeid met de streek, de grond en zijn ...

Morgen is het Korenfestival Amusing Hengelo! Tussen 11:00 en 17:00 uur geven diverse koren optredens van +- 25 minuten in de binnenstad. Ook in de schouwburg en op het Schouwburgplein vinden optredens plaats.🎼

En vanaf 17.15 uur is op het ...
Rabotheater Hengelo
Pros
A beautiful theater with very friendly service. Beautiful rooms with comfortable chairs and nice café.