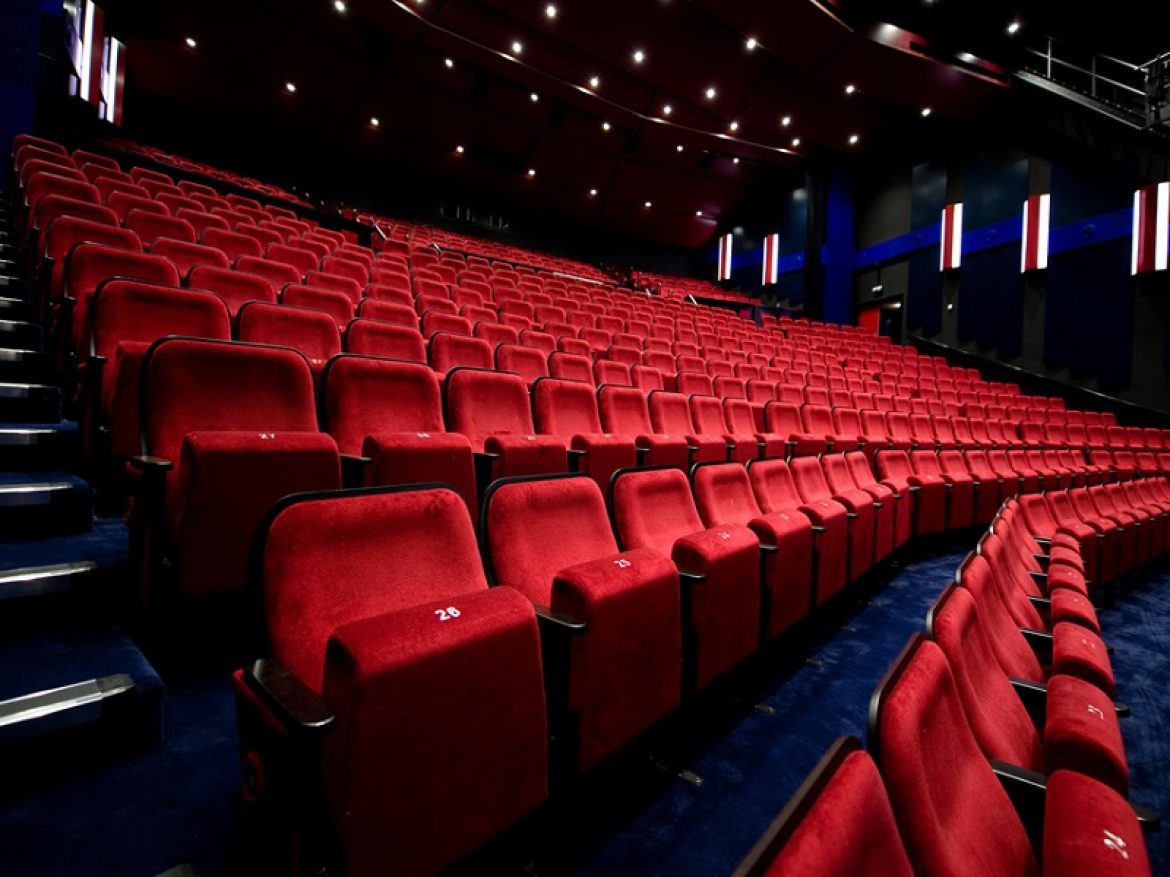 Theater De Lampegiet
The theater Lampegiet is a medium-sized theater in Veenendaal in the Dutch province of Utrecht. Located in the center of the country, it is the perfect location for a night out or for the organization of an event. The theater is located in the church district, next to the center of Veenendaal with many shops and several restaurants and eateries. So it is perfect to combine an evening or afternoon of shopping with a theater day, a delicious dinner before or a tasty drink in the city afterwards. The theater was opened on February 26, 1988. The theater has a hall that can accommodate up to 558 people, a lobby and a restaurant. In the first years the theater was primarily a cultural meeting and worked well as a movie theater. Theatre Lampegiet is a theater, where you can just relax from everyday life. You can enjoy a wide variety of performances. Cabaret, musicals and concerts, for everyone's tastes. In advance, you can dine before the show in foyer of the theater. At selected performances, enjoy a range of delicious dishes prior to the performance.
After an extensive renovation, the theater is adapted to today's demands and takes an important regional cultural function. The Lampegiet theater is a venue, where you can feel at home and can escape everyday life. Everyone is welcome. The theater Lampegiet in Veenendaal is a stage for various and diverse performances. Amateiur and experienced talents perform in many different genres on the stage of Theatre Lampegiet. Unique to the Theatre Lampegiet is the opportunity to dine in the foyer of the theater.The Theatre program The Lampegiet is known for its diversity. For each target there is something to experience, from family shows to classical performances, from opera to cabaret and from pop concerts to theater. The theater Lampegiet also can be rented for company parties, reception, conference and more. The theater Lampegiet is also a perfectl venue for corporate events, conferences, presentations and meetings. The theater Lampegiet Veenendaal is suitable for a business event and children's party. This activity is suitable for the whole family, children, adults and the elderly. The Lampegiet also offers several packages, including a pancake package. After several children's shows young visitors can continue to eat pancakes.  A beautiful, central location with a classic look will help you to receive your guests with pride. You have the possibility to rent the whole theater or just a part, everything is negotiable.
Check out this link: www.lampegiet.nl
Photos from Theater Lampegiet's post Op deze regenachtige Nationale Buitenspeeldag kun je lekker stampen in de plassen en dansen in de regen!

Inspiratie nodig voor een uitstapje met de kids bij een regenachtige (herfst)dag? Komend seizoen staat het theater BOL van gezellige familievoorstellingen. Check ze ...

Photos from Theater Lampegiet's post Met de prachtige voorstelling van Stef Bos gisteravond is een heerlijk theaterseizoen afgesloten. Ook in 2019/2020 hebben we een veelbelovend aanbod samengesteld. Laat je verleiden en kies dit weekend al je voorstellingen voor komend seizoen!

Programma: http://bit.ly/2QTYgs9

Photos from Theater Lampegiet's post Wat een mooie afsluiting: de laatste voorstelling van het seizoen. Het Nederlands ⚽️ elftal op TV, de lokale wandel4daagse... en tóch een volle zaal vanavond voor Stef Bos. Veens theaterpubliek, wij zijn trots op jullie! 👍🏽
Theater Lampegiet is attending ...

NPO Radio 2 Voor de échte Stef Bos liefhebbers... luister naar de ontstaansgeschiedenis van het nummer 'Papa' bij het interview op NPO/Radio 2.
Als je héél snel bent, kun je misschien nog een paar van de allerlaatste stoelen bemachtigen voor de voorstelling van ...

Photos from Theater Lampegiet's post Donderdag lekker vrij? Kom dan woensdagavond genieten van toneel met topacteurs Waldemar Torenstra, Frederik Brom en Thijs Römer. In ART zijn ze drie vrienden die elkaar testen: hoe diep zit de liefde voor elkaar nu echt?

Woensdag 29 mei | ...

Photos from Theater Lampegiet's post The Urban Experience van Biënnale Binnenstebuiten zit er op. Wat was het gezellig met het kunstminnende publiek, die zich volledig liet verrassen. Volg onze ontwikkelingen op social media voor bijzondere voorstellingen en evenementen..
Tot over twee jaar voor de volgende ...

NOG 1 DAG | Morgen start de tweede editie van Biënnale Binnenstebuiten. 'The Urban Experience' brengt deze keer zes verrassende optredens op een rauwe, industriële locatie. Jij kiest. Ga je naar de productiehal of werkplaats? Ga je naar links of ...

Theater Lampegiet Artikel in AD over de programmering van het nieuwe seizoen. Zoek nu alvast mooie voorstellingen uit. Dan zit je na de zomer gebeiteld. Zo verras je jezelf in het najaar! 😄👍🏽
Theater Lampegiet van start met voorverkoop nieuw seizoen

Timeline Photos NOG 2 DAGEN | Ontdek nieuwe theatermakers bij Biënnale Binnenstebuiten. Laat je verrassen en kom ook. De volgende editie is pas over 2 jaar! #ticketsvialinkinbio #linkinbio #biennale #binnenstebuiten #biennalebinnenstebuiten #theater #festival #theaterfestival

Photos from Theater Lampegiet's post KAARTVERKOOP SEIZOEN 19/20 GESTART | Geniaal cabaret, ontroerende muziek, spektakel voor het hele gezin en toneel waar je u tegen zegt. Dat, en meer, is het nieuwe theaterseizoen. Je kunt nu kaarten bestellen, zoek iets moois uit en kom genieten!

...

De verkoop voor seizoen 2019/2020 start morgen! Vanaf 10:00 uur kun je kaarten bestellen, door in te loggen op je account. Zit je er al klaar voor?

Tip: Je kunt nu alvast een wenslijstje maken door bij de voorstellingen van ...

Nog maar 4 dagen tot de tweede editie van Biënnale Binnenstebuiten! Laat je verrassen en kom er bij. De volgende editie is pas over 2 jaar!

Biënnale Binnenstebuiten | Zondag 26 mei | Info & tickets >>> http://bit.ly/2H13M83

Photos from Theater Lampegiet's post Het fabrieksterrein van Carbogen Amcis is zondag as het verrassende decor voor Biënnale Binnenstebuiten waar zes talenten o.a. dans, toneel, muziek en installatie uitvoeren. Theater buiten het theater. En om je alvast een kleine sneak peek te geven... deze acts ...

VACATURE
Word jij het nieuwe gezicht van onze receptie en heb je graag contact met mensen? Ontmoet ons fijne publiek! Je verkoopt tickets en verleent service aan de balie, via e-mail en telefoon. Theater Lampegiet zoekt een Medewerker Theaterkassa. Zien ...

16 Mei 2019 - Directeur Patrick Marcus licht aan 530 genodigden toe, wat de rol van de WijkJury is tijdens de Kick-Off van seizoen 2019-2020.
Theater Lampegiet added a new photo.

VeenendaalseKrant Nieuwe naam ✅
Nieuw logo ✅
Nieuw programma ✅
Lees hier meer ⬇️

Theater Lampegiet / Veenendaal / Gemeente Veenendaal / Je bent een Veenendaler als.
Theater Lampegiet shared a post.

🎭 Succesvolle opening van de voorverkoop voor theaterseizoen 2019-2020 met 530 relaties. Inclusief lancering nieuwe huisstijl.

WijkJury Theater Lampegiet beschikt sinds dit jaar over een WijkJury; een groep van elf Veense vrouwen uit verschillende wijken, die qua culturele achtergrond en leeftijd verschillen. Zij bezoeken dit seizoen acht voorstellingen en kiezen hieruit hun favoriet. Hierbij maken ze gebruik ...

MOTEL I Thomas Acda I Solo I VANAVOND I 20:00 uur
Je kunt er nog bij zijn!
Een avond vol verhalen en liedjes over avonturen, liefde, vriendschap en de dood. Koop je kaarten online of vanaf 19:30 uur aan de ...

TIPJE VAN DE SLUIER | Zangeres LAKSHMI maakte in korte tijd grote indruk met haar pop-noir muziek. De Nederlandse muziekscene draagt dit grote talent op handen. Zeker na de vele shows in poppodia en op festivals. Je boft: deze winter ...

De WijkJury poseert op het toneel.
Theater Lampegiet added a new photo.

Met Huub Stapel en Johanna ter Steege na afloop van 'De Waarheid'.
Theater Lampegiet added a new photo.
Theater De Lampegiet
Pros
Nice theater with good acoustics and friendly atmosphere.