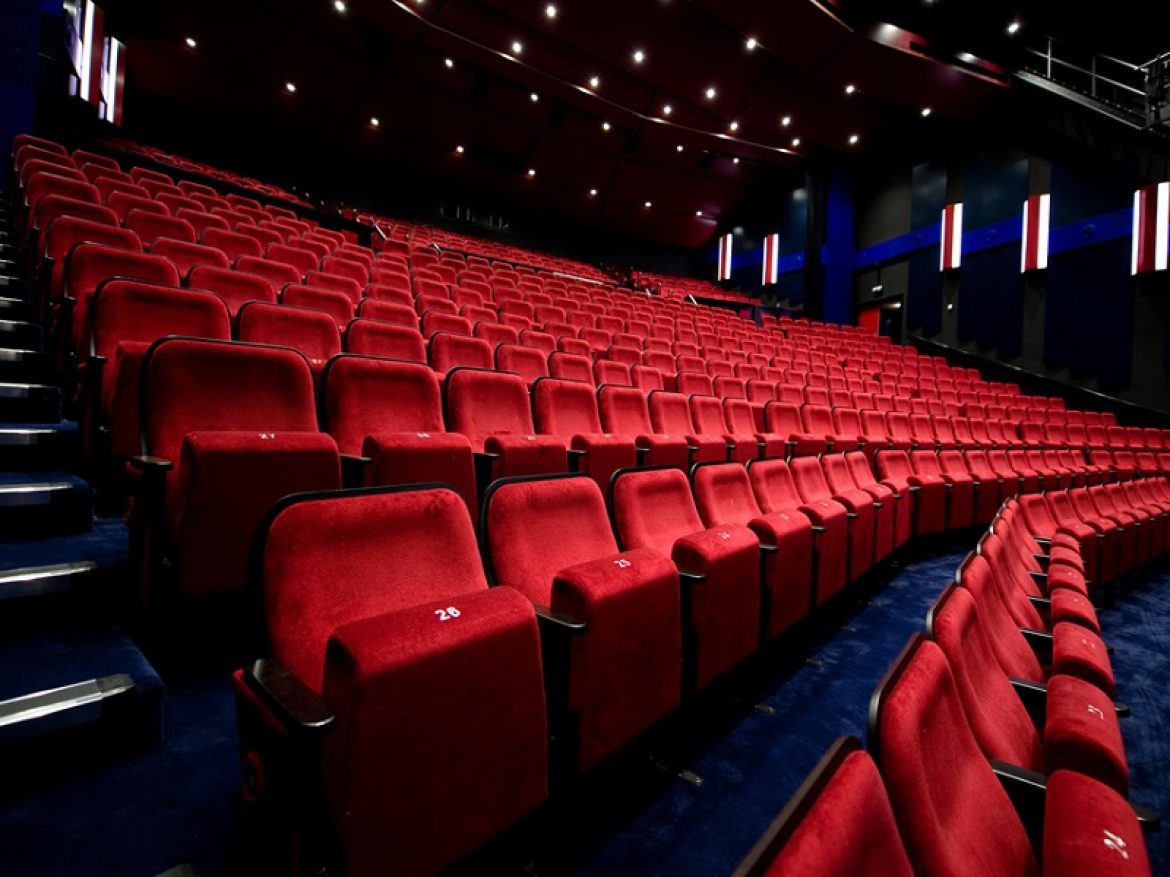 Theater De Lampegiet
The theater Lampegiet is a medium-sized theater in Veenendaal in the Dutch province of Utrecht. Located in the center of the country, it is the perfect location for a night out or for the organization of an event. The theater is located in the church district, next to the center of Veenendaal with many shops and several restaurants and eateries. So it is perfect to combine an evening or afternoon of shopping with a theater day, a delicious dinner before or a tasty drink in the city afterwards. The theater was opened on February 26, 1988. The theater has a hall that can accommodate up to 558 people, a lobby and a restaurant. In the first years the theater was primarily a cultural meeting and worked well as a movie theater. Theatre Lampegiet is a theater, where you can just relax from everyday life. You can enjoy a wide variety of performances. Cabaret, musicals and concerts, for everyone's tastes. In advance, you can dine before the show in foyer of the theater. At selected performances, enjoy a range of delicious dishes prior to the performance.
After an extensive renovation, the theater is adapted to today's demands and takes an important regional cultural function. The Lampegiet theater is a venue, where you can feel at home and can escape everyday life. Everyone is welcome. The theater Lampegiet in Veenendaal is a stage for various and diverse performances. Amateiur and experienced talents perform in many different genres on the stage of Theatre Lampegiet. Unique to the Theatre Lampegiet is the opportunity to dine in the foyer of the theater.The Theatre program The Lampegiet is known for its diversity. For each target there is something to experience, from family shows to classical performances, from opera to cabaret and from pop concerts to theater. The theater Lampegiet also can be rented for company parties, reception, conference and more. The theater Lampegiet is also a perfectl venue for corporate events, conferences, presentations and meetings. The theater Lampegiet Veenendaal is suitable for a business event and children's party. This activity is suitable for the whole family, children, adults and the elderly. The Lampegiet also offers several packages, including a pancake package. After several children's shows young visitors can continue to eat pancakes.  A beautiful, central location with a classic look will help you to receive your guests with pride. You have the possibility to rent the whole theater or just a part, everything is negotiable.
Check out this link: www.lampegiet.nl
Na het succes van Minis Plus vorig seizoen (was jij er ook bij?) komt alleskunner Hadewych Minis terug! Dit keer zoemt ze in op het hart en de smart van onze Nederlandse zangeressen en liedjesschrijfsters. Van Anouk tot Annie M.G. ...

De hilarische en ontroerende Broadwayhit Kinky Boots raakt je recht in je hart. Over nieuwe kansen en jezelf kunnen zijn. Met swingende choreografieën en muziek van wereldster Cyndi Lauper. In de hoofdrol Vajén van den Bosch, Jonathan Demoor en Naidjim ...

Martijn Fischer zingt hits van Hazes - 18 september Als er iemand Hazes kan vertolken, dan is dat theaterdier Martijn Fischer wel. Zo kroop hij voor de musical Hij Gelooft in Mij en de film Bloed, Zweet & tranen al in de huid van Nederlands' bekendste volkszanger.

Deze voorstelling ...

Vergeet Netflix en de sportschool. Kom lekker je buikspieren trainen bij Bazinga Comedy Night in onze foyer! Iedere editie brengt je andere comedians dus je kunt altijd terug komen. De setting is intiem en de kaartverkoop beperkt. Mis het niet.

...

Brugklas, de populaire serie van de Nederlandse TV, komt met een eigen musical! Alles wat er gebeurt in het eerste jaar van de middelbare school kun je nu van nóg dichterbij meemaken in 'Brugklas de Musical'.

Met in de hoofdrol ...

Arnout van de Bossche maakt de carrièreswitch van ingenieur naar Senior Executive Comedian. Zijn show Burn-Out voor Beginners is een succesverhaal geworden: al drie seizoenen van uitverkochte zalen in België en Nederland.

Hij legt feilloos bloot door welke schijnbaar kleine ...

In de Van Hoorne Entertainment Studio's zijn donderdagochtend de repetities begonnen van familiemusical 'Brandweerman Sam Live! - Het Grote Kampeeravontuur'.

Deze vrolijke voorstelling zie je op woensdag 13 november in dit theater! Tickets & info >>> http://bit.ly/2OAQIxa

KIJKTIP | Ga hier maar eens lekker voor zitten! Drankje erbij, zakje chips erbij: Showponies 1 zie je vanavond om 21:00 uur op NPO3.

Tickets Showponies 2 >>> http://bit.ly/2OzsCTp

LAKSHMI Wij kijken er ook naar uit, LAKSHMI 💜 #Veenendaal
ZIN IN❤️
Waar zie ik jou?

1 nov Evertshuis Bodegraven-Reeuwijk
2 nov Idea Theater Soest
7 nov Theater De Meenthe Steenwijk
15 nov Cool kunst en cultuur Heerhugowaard
28 nov Calypso ...

Nieuw dit seizoen zijn onze éxtra arrangementen bij een select aantal voorstellingen. Zo kun je na afloop van South African Roadtrip napraten onder het genot van de lekkerste Zuid Afrikaanse wijnen.

Wijntje erbij? >>> http://bit.ly/30NuYiT

Photos from Theater Lampegiet's post Genieten van klassieker Othello, onderdompelen in de Marokkaanse cultuur bij Melk & Dadels, op bezoek bij Hendrik Groen of Jeroen Spitzenberger bewonderen op het toneel.

Komend seizoen is er weer een prachtig aanbod waar de toneelliefhebber zijn of haar hart ...

KINKY BOOTS to Raise You Up at Theater Lampegiet Dutch version of Broadway hitmusical Kinky Boots will kick off at 'Theatre' Lampegiet in #Veenendaal!

Starring: Vajèn van den Bosch, Jonathan Demoor, Naidjim Severina and many more!

KINKY BOOTS: 29 + 30 oct. 2019
Info in Dutch & tickets >> ...

Tip: bekijk de show 'Even Goede Vrienden' van René van Meurs op Netflix. Gegarandeerd buikpijn van het lachen!

En daarna gelijk kaarten bestellen voor zijn splinternieuwe show Hunkert op zaterdag 7 maart 😉 >>> http://bit.ly/2xU5TGq

Pure improvisatie. Dat is De Vloer op van omroep HUMAN. Bekend van tv en in het theater tien keer intenser. Ga meer dan kopje onder in alle emoties die acteurs zoals Fabian Jansen, Eva van der Gucht, Thomas Cammaert en ...

Veenendaal omarmt de muziek van André Hazes.

Die leent zich namelijk perfect voor het theater, zeker als die wordt gebracht door theaterdier Martijn Fischer en zijn band. Martijn kroop al eerder in de huid van André Hazes met zijn rol ...

Photos from Theater Lampegiet's post Heb je 'm al gespot in de Tour de France... Kasper van Kooten? Iedere avond te zien als Emi van der Wiel in De avondetappe!

Komend seizoen speelt Van Kooten zijn tiende solo-voorstelling in de theaters en kiest dan niet ...

KEUZE VAN DE WIJKJURY VEENENDAAL 18-19 | DE WAARHEID | HUUB STAPEL, JOHANNA TER STEEGE | NANETTE EDENS, RUURT DE MAESSCHALCK

"Een hilarische voorstelling, met slimme, scherpe en pittige dialogen van Florian Zeller. Het thema 'ontrouw en overspel' was volgens ...

WijkJury Wat een fantastisch openingsjaar heeft onze WijkJury Veenendaal beleefd. Volgend seizoen zijn ze opnieuw van de partij voor een nieuwe, veelzijdige en inhoudelijke verkiezing van de beste voorstelling bij Theater Lampegiet. Je komt ze vast weer tegen!
KEUZE VAN DE ...

HERRIE IN DE KEUKEN Jon van Eerd's nieuwste komedie:

Harrie Vermeulen komt terug en dit keer wel op een heel bijzondere manier! In de spiksplinternieuwe, gierend absurde komedie HERRIE IN DE KEUKEN, geschreven door Jon van Eerd, vliegen de petten, snorren en pruiken door ...

We knijpen er éven tussenuit! De theaterkassa is in juli en augustus beperkt bereikbaar door onze zomerstop. Uiteraard kun je 24/7 online kaarten bestellen en kun je ons gerust mailen met je vraag of een terugbelverzoek indienen. Lees hier hoe ...

TV tip - Verliefd op Ibiza.

800.000 mensen zagen hem in de bioscoop; dé feelgood movie. Vanavond bij je thuis op de buis op NPO3 vanaf 20:25 uur. Liefde, familie, strand, cocktails.. Ibiza style! Nu nog even muziek toevoegen en ...

Hartverscheurende humor en ontroerende hilariteit. Plien & Bianca nemen je een avond mee met hun meesterlijke typetjes, scherpe dialogen en sublieme timing.

Een voorstelling die gegarandeerd uitverkocht raakt. Wees er dus snel bij! Tickets >>>http://bit.ly/2ZHQeWC
Theater De Lampegiet
Pros
Nice theater with good acoustics and friendly atmosphere.