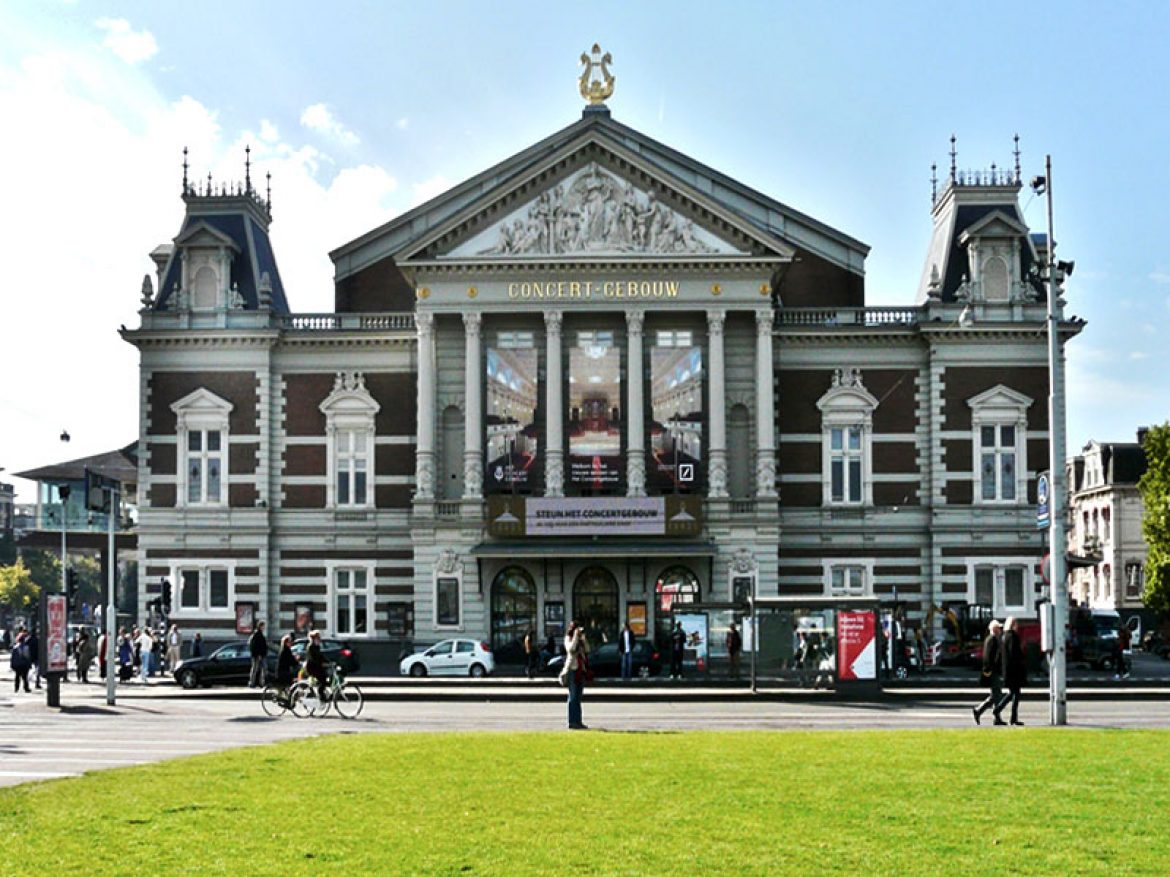 Concertgebouw
Concertgebouw is a building with several concert halls, located opposite the Museum Square in Amsterdam. It is the home for the Royal Concertgebouw Orchestra. It is one of the most famous concert halls in the world with unmatched acoustics. The Concertgebouw has four concert halls: the Main Hall, the Small Hall, the Choir Room and the Hall of Mirrors. Concertgebouw is well-known for its excellent acoustics and it is popular among music lovers. Here it is held annually more than 900 concerts and performances of different musical genres and its two halls take not less than 700 000 people.  In Concertgebouw many famous classical, jazz and rock musicians were performing. Among them were Gustav Mahler, Richard Strauss, Bernard Haitink, Yehudi Menuhin, Jessye Norman, Vladimir Horowitz, Cecilia Bartoli, Louis Armstrong, Sting and many others. Its home Orchestra, Royal Concertgebouw Orchestra, is considered to be the best in the world, and now it is at the edge of glory.
The Concertgebouw was opened on 11 April 1888. The architect Adolf Leonard van Gendt was inspired by the New Gewandhaus, opened in 1884,that is located in Leipzig. The two-story building Concertgebouw is built in the style of the Dutch Renaissance and decorated with 6 columns and a gilded lyre on the roof. The facade displays Neo-Renaissance features, and the building was decorated more than it was common in ancient times.The interior is in white and red colors what gives it a solemn and festive look. On the roof of the Great Hall there is a lyre, the instrument of Apollo, the symbol of the music. It is made of copper and gilded with gold leaf. The Concertgebouw has flowing lines and rounded corners and the halls are also surrounded by spacious corridors. With a major renovation from 1985 to 1988 the buildibg has a new main entrance with a modern glass foyer, designed by Pi de Bruijn.The main hall can accommodate up to 2,000 people, some places are set behind the stage next to the pipe organ. The small hall, built for chamber music performances, can accomodate up to for 470 people. The mystery of the extraordinary acoustic properties of the main hall remain unsolved, and it is attributed to the help of mystical powers.
The Concertgebouw provides a high-quality platform for meeting of representatives from business, politics and the cultural world. This venue also features an organ. The organ was built in 1890 by the organ builder Michael Maarschalkerweerd from Utrecht and was most recently restored in the years 1990-1993 by the organ builder Flentrop.
You can find more information on the official site: www.concertgebouw.nl
Persbericht: Wekelijkse gratis lunchconcerten terug in Het Concertgebouw

Bekijk het complete persbericht en de programma's van de lunchconcerten op: https://t.co/6Xvsobubbe

@SchrrsJ Hi Jeroen, dat zijn zeker veel errors. Vervelend dat je hier tegenaan loopt. Welke pagina probeerde je precies te bezoeken?

Vanavond in de Kleine Zaal maar eerder deze week al op de zolder (!) van die zaal: gitarist Sean Shibe in de Concertgebouw Sessions. https://t.co/DbkdfJ7jAE

@nonobody Beste Joost, dank voor je opmerking. Heb dit nagevraagd en het blijkt dat de definitieve line-up nog niet bekend was ten tijde van het schrijven van dit artikel. Deze zijn inmiddels aangekondigd door het @ConcertgbOrkest dat dit concert organiseert: ...

@Steph21nyc Thanks for your feedback. We will take this into account reviewing the new website.

In een 25-delige podcast nemen bariton Thomas Oliemans en presentator Gijs Groenteman Schuberts 'Winterreise' onder de loep. Oliemans zingt én speelt de cyclus volgende maand in het Concertgebouw (●●●●) https://t.co/Eb4vi9tErk

Het voelde voor mij als een trip toen @thomas_oliemans zes uur lang, nummer voor nummer, uitlegde hoe Winterreise in elkaar zit. Dat kan hij als geen ander. Doe jezelf een plezier en luister mee.

https://t.co/TY8R2PghRX

Het Concertgebouw en @DeGroene presenteren de interviewreeks 'Van exclusief naar inclusief?'. Hierin spreekt Stephan Sanders met prominenten uit de klassieke muziekwereld over inclusiviteit.

Lees het eerste interview met sopraan Claron McFadden https://t.co/NaCB4ZMTiA

@Jen_Hauser Feel free to use the video. For HQ version please DM.

De cultuursector ging voor het eerst, tegen de wil van de regering en burgemeesters, tóch open. Na een maand dicht te zijn geweest, opende het Concertgebouw eenmalig haar deuren. Directeur Simon Reinink (@ReininkS) vertelt wat er gedaan werd. #ditisM @kroncrv ...
Concertgebouw
Pros
It is one of the best concert halls in the world, which features talented musicians, perfect acoustic and great program.
Cons
Some seats have bad view to the podium.