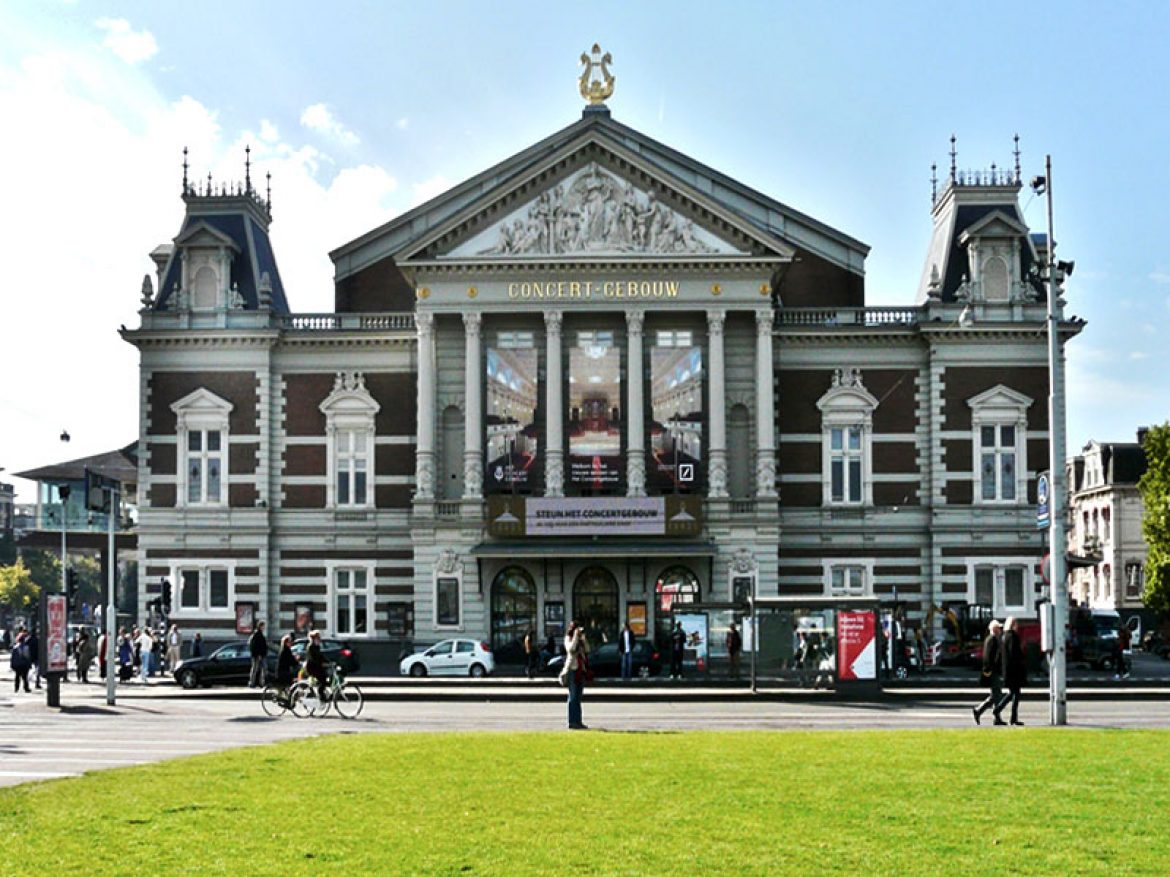 Concertgebouw
Concertgebouw is a building with several concert halls, located opposite the Museum Square in Amsterdam. It is the home for the Royal Concertgebouw Orchestra. It is one of the most famous concert halls in the world with unmatched acoustics. The Concertgebouw has four concert halls: the Main Hall, the Small Hall, the Choir Room and the Hall of Mirrors. Concertgebouw is well-known for its excellent acoustics and it is popular among music lovers. Here it is held annually more than 900 concerts and performances of different musical genres and its two halls take not less than 700 000 people.  In Concertgebouw many famous classical, jazz and rock musicians were performing. Among them were Gustav Mahler, Richard Strauss, Bernard Haitink, Yehudi Menuhin, Jessye Norman, Vladimir Horowitz, Cecilia Bartoli, Louis Armstrong, Sting and many others. Its home Orchestra, Royal Concertgebouw Orchestra, is considered to be the best in the world, and now it is at the edge of glory.
The Concertgebouw was opened on 11 April 1888. The architect Adolf Leonard van Gendt was inspired by the New Gewandhaus, opened in 1884,that is located in Leipzig. The two-story building Concertgebouw is built in the style of the Dutch Renaissance and decorated with 6 columns and a gilded lyre on the roof. The facade displays Neo-Renaissance features, and the building was decorated more than it was common in ancient times.The interior is in white and red colors what gives it a solemn and festive look. On the roof of the Great Hall there is a lyre, the instrument of Apollo, the symbol of the music. It is made of copper and gilded with gold leaf. The Concertgebouw has flowing lines and rounded corners and the halls are also surrounded by spacious corridors. With a major renovation from 1985 to 1988 the buildibg has a new main entrance with a modern glass foyer, designed by Pi de Bruijn.The main hall can accommodate up to 2,000 people, some places are set behind the stage next to the pipe organ. The small hall, built for chamber music performances, can accomodate up to for 470 people. The mystery of the extraordinary acoustic properties of the main hall remain unsolved, and it is attributed to the help of mystical powers.
The Concertgebouw provides a high-quality platform for meeting of representatives from business, politics and the cultural world. This venue also features an organ. The organ was built in 1890 by the organ builder Michael Maarschalkerweerd from Utrecht and was most recently restored in the years 1990-1993 by the organ builder Flentrop.
You can find more information on the official site: www.concertgebouw.nl
Luister naar een tipje van de sluier van 'De week van de Jonge Musicus', dat deze week in het Concertgebouw plaatsvindt: Alexander Warenberg speelt de eerste suite van Bach.🎵 https://t.co/oBQMkwCPaL

Directeur van het @Concertgebouw @ReininkS kijkt terug op een bewogen jaar. Ondanks het verdriet, waren er ook veel nieuwe initiatieven, waar hij erg trots op is. "Binnen de beperkingen doen we er alles aan om musici een podium te bieden." ...

Lorenzo Viotti dirigeert Tsjaikovski en Debussy in online concert!

Aankomend chef-dirigent Nederlands Philharmonisch Orkest voor het eerst in Het Concertgebouw sinds zijn benoeming.

Lees meer: https://t.co/AGDqJQN6db https://t.co/CPRt7wEujO

Peace family!! @taalitweets + I will be performing this #ValentinesDay at the legendary @Concertgebouw 🙌🏽🎹🌹 This will be a free concert from the main hall as part of the Empty Concertgebouw Sessions! You can watch the stream on YouTube, FB, ...

Op Valentijnsdag geeft het Amsterdamse echtpaar José James & Taali in het Concertgebouw een gratis te volgen intiem en persoonlijk concert over de liefde. "Trek iets moois aan en drink een glas champagne." https://t.co/zf8vpuiW4H

Een extra speciale Matinee deze week! @Orchestra18c en @CappellaAdam spelen de wereldpremière van Louis Andriessens nieuwste werk 'May', naast muziek van Mozart en Josquin. Luister zaterdag vanaf 14.00 u mee op NPO Radio 4 of bekijk de livestream via https://t.co/zUoeykZ4rN! ...

Onze deuren blijven nog even gesloten. Gisteren werd tijdens de persconferentie bekend gemaakt dat concertzalen weer open mogen voor 30 bezoekers. Helaas kan Het Concertgebouw met deze aantallen geen concerten organiseren en blijven we tot 16 dec dicht. https://t.co/wSkZ8NXOMj https://t.co/uvCXGmhxHj

Wat zijn we blij dat @radiofilhorkest toch nog kan optreden in de Matinee deze week! O.l.v. oud chef-dirigent Markus Stenz spelen zij muziek van Huang Ruo, Isang Yun en Unsuk Chin. Helaas zonder publiek in de zaal, maar wel vanaf ...
Concertgebouw
Pros
It is one of the best concert halls in the world, which features talented musicians, perfect acoustic and great program.
Cons
Some seats have bad view to the podium.