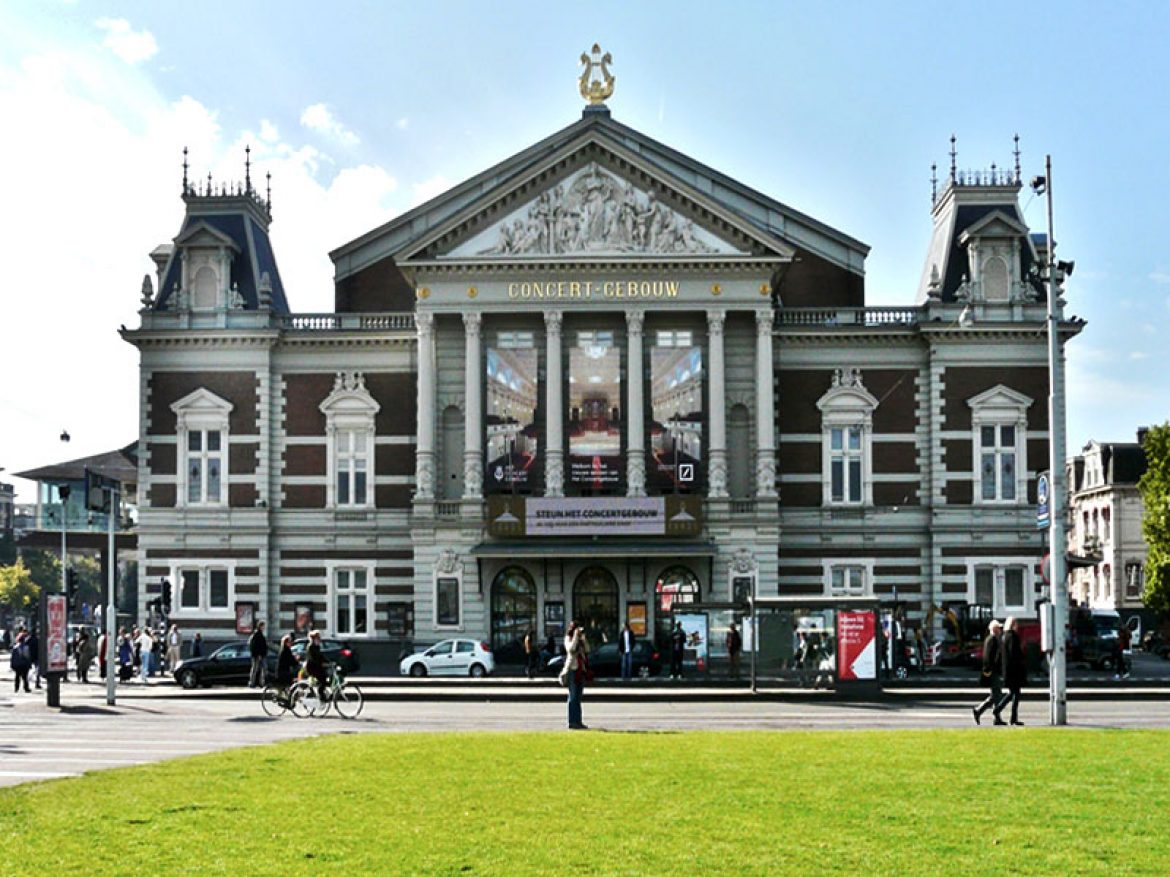 Concertgebouw
Concertgebouw is a building with several concert halls, located opposite the Museum Square in Amsterdam. It is the home for the Royal Concertgebouw Orchestra. It is one of the most famous concert halls in the world with unmatched acoustics. The Concertgebouw has four concert halls: the Main Hall, the Small Hall, the Choir Room and the Hall of Mirrors. Concertgebouw is well-known for its excellent acoustics and it is popular among music lovers. Here it is held annually more than 900 concerts and performances of different musical genres and its two halls take not less than 700 000 people.  In Concertgebouw many famous classical, jazz and rock musicians were performing. Among them were Gustav Mahler, Richard Strauss, Bernard Haitink, Yehudi Menuhin, Jessye Norman, Vladimir Horowitz, Cecilia Bartoli, Louis Armstrong, Sting and many others. Its home Orchestra, Royal Concertgebouw Orchestra, is considered to be the best in the world, and now it is at the edge of glory.
The Concertgebouw was opened on 11 April 1888. The architect Adolf Leonard van Gendt was inspired by the New Gewandhaus, opened in 1884,that is located in Leipzig. The two-story building Concertgebouw is built in the style of the Dutch Renaissance and decorated with 6 columns and a gilded lyre on the roof. The facade displays Neo-Renaissance features, and the building was decorated more than it was common in ancient times.The interior is in white and red colors what gives it a solemn and festive look. On the roof of the Great Hall there is a lyre, the instrument of Apollo, the symbol of the music. It is made of copper and gilded with gold leaf. The Concertgebouw has flowing lines and rounded corners and the halls are also surrounded by spacious corridors. With a major renovation from 1985 to 1988 the buildibg has a new main entrance with a modern glass foyer, designed by Pi de Bruijn.The main hall can accommodate up to 2,000 people, some places are set behind the stage next to the pipe organ. The small hall, built for chamber music performances, can accomodate up to for 470 people. The mystery of the extraordinary acoustic properties of the main hall remain unsolved, and it is attributed to the help of mystical powers.
The Concertgebouw provides a high-quality platform for meeting of representatives from business, politics and the cultural world. This venue also features an organ. The organ was built in 1890 by the organ builder Michael Maarschalkerweerd from Utrecht and was most recently restored in the years 1990-1993 by the organ builder Flentrop.
You can find more information on the official site: www.concertgebouw.nl
Vannacht was pianist, componist en schrijver Thomas Beijer te gast bij Nooit Meer Slapen. Hij is momenteel de spotlight-artiest van het Concertgebouw, waarvoor hij meerdere concerten speelt.

Luister het gesprek terug als podcast via: https://t.co/hKKzgFZxYF https://t.co/LPTS98U91W

@touriameliani Voor Het Concertgebouw en @DeGroene interviewde Stephan Sanders tien prominenten uit de klassieke muziekwereld over de vraag hoe deze inclusiever kan worden. De interviews zijn te lezen via De Groene Amsterdammer, Het Concertgebouw én in het boek.

Hoe kan de wereld van de klassieke muziek inclusiever worden? In deze laatste aflevering in de reeks: @ReininkS, algemeen directeur van het @Concertgebouw. 'Onze taak als Concertgebouw is om dat vooroordeel in alle opzichten te doorbreken.'
https://t.co/835fww9bVO

This Italian President Sergio Mattarella welcomed King Willem-Alexander and Queen Maxima at the Concertgebouw in Amsterdam. The Rana sisters played at the concert that was part of the official state visit. Photos by @EduardusLee https://t.co/jKeIbX7Wke

Lorenzo Viotti dirigeert Mahler en Poulenc!

Za 29 en zo 30 oktober @Concertgebouw: chef-dirigent Lorenzo Viotti met het Nederlands Philharmonisch Orkest én het Koor van De Nationale Opera met Poulencs Gloria en Mahlers Symfonie nr. 1!

Tickets & info: https://t.co/qSSN3CrhdB ...

@BeriShalmashi Beste Beri, Het Concertgebouw heeft gisteren vernomen van concertorganisator Tar Production dat de tour wordt verplaatst naar volgend jaar. We zoeken momenteel een nieuwe datum en hopen alle kaartkopers zo snel mogelijk te informeren. Mvg,

🎖️ Zojuist heeft Sieuwert Verster de Frans Banninck Cocqpenning ontvangen. Hij kreeg deze onderscheiding omdat hij decennialang een grote rol heeft vervuld in het culturele leven van onze stad.

📷 Eduardus Lee https://t.co/yQ8jiQGLG9

Budapest Festival Orkest speelde zaterdag Andriessens Workers Union én Mozarts
Concert voor twee piano's samen met Lucas en Arthur Jussen. En het slot van Beethovens Derde symfonie samen met leden van @ConcertgbOrkest. #BridgingEurope Foto's: Milagro Elstak https://t.co/Ba6jviFOr8

In memoriam Lars Vogt (1970-2022).

We will cherish the memories of the many unforgettable concerts at The Concertgebouw of this gifted pianist. https://t.co/Y22PIJihXc

We gaan vijf toekomstige straten en binnenpleinen vernoemen naar vrouwelijke componisten. Nieuwsgierig naar wie zij zijn en hoe hun muziek klinkt? Kom op donderdag 15 september naar het openluchtconcert. Reserveer nu je plek.

https://t.co/NDqxnB28go

@RipaVado @johanneke150 @atietwiet Wat fijn dat het is gelukt! Onze collega's zitten als het even niet lukt vijf dagen per week klaar bij de Concertgebouwlijn 020 - 671 83 45.

Het concert van het Ukrainian Freedom Orchestra, bestaand uit louter musici uit Oekraïne, gisteravond in Amsterdam maakte diepe indruk, schrijft recensent Peter van der Lint. ★★★★★ https://t.co/aH7p2ww5zG

Conductor Jukka-Pekka Saraste takes over the concert of the Gustav Mahler Jugendorchester @Concertgebouw August 30. Herbert Blomstedt had to withdraw at short notice due to his continued recovery from a fall in June. https://t.co/MWI7uFK5Ta

75 Oekraïense vluchtelingen die zich hebben verzameld in het Ukrainian Freedom Orchestra treden donderdagavond op in het Concertgebouw. 'We zullen strijden als soldaten van de muziek.'
https://t.co/XnvxmVYkLl

De Oekraïense pianist Anna Fedorova (32), die in Amsterdam woont, soleert bij het Ukrainian Freedom Orchestra. Donderdag speelt het gezelschap in het Concertgebouw. We kijken mee met de repetities. 'Muziek biedt naast schoonheid ook hoop en vrede'
https://t.co/BL1Wn99Erk

@Warmerdamned Vervelend. Zou je het automatisch antwoord heel even uit kunnen zetten? Dan stopt de loop. Bij andere autoreplies speelt dit probleem niet.
Concertgebouw
Pros
It is one of the best concert halls in the world, which features talented musicians, perfect acoustic and great program.
Cons
Some seats have bad view to the podium.