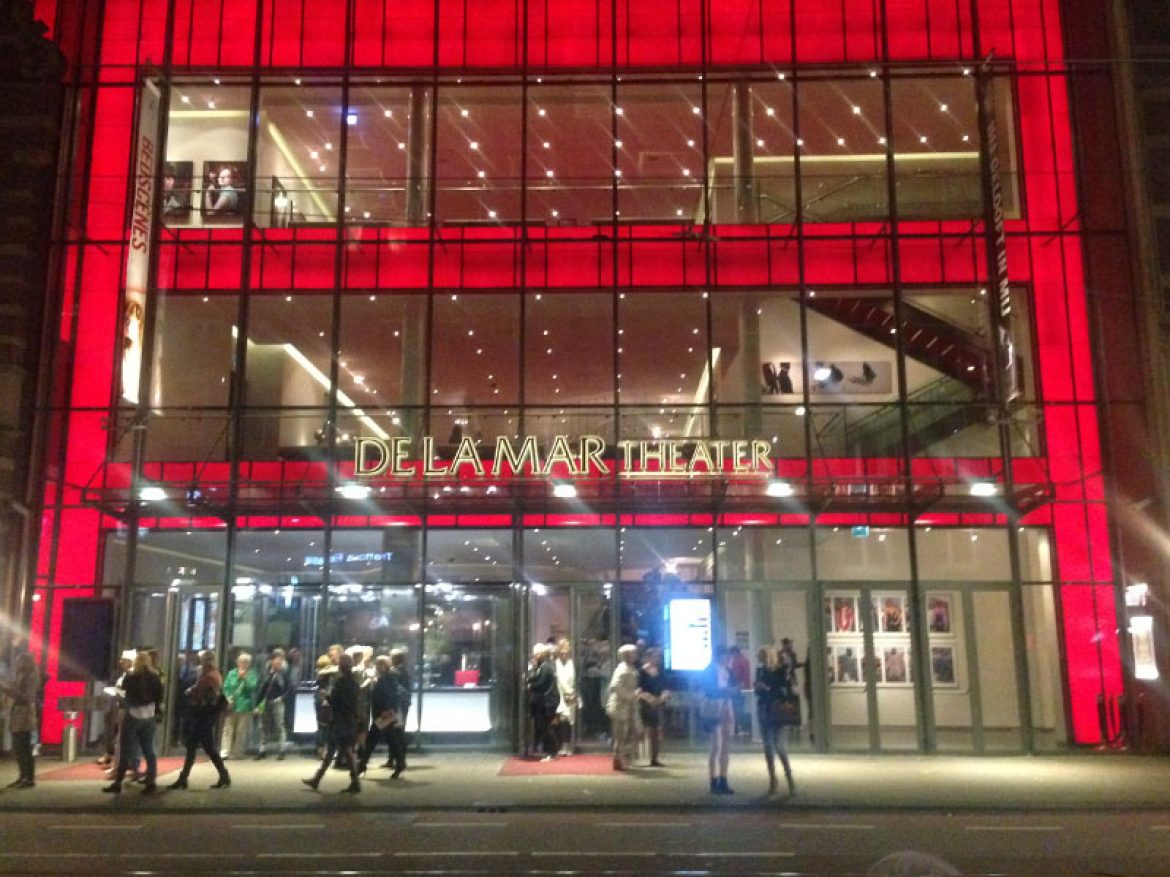 DeLaMar
Theater DeLaMar, which is located in Amsterdam, has a rich concert and tour program that it is often considered to be an entertainment complex, not a theater. But officially it is a theater. The building in which DeLaMar is housed, was built in 1887 and were used as a school. Since the Germans kept their data in this building, the Dutch resistance bombed the building on 7 January 1944. As a result, part of the building was burnt down. The old school building was rebuilt into the theater and the architect who built it was the husband of the famous comedienne, whose name was Fien de la Mar. He bought the building, remade it for his own project and created a small theater company and named it after his wife and her father, a famous theater director. The theater was closed for renovation from 2005 to 2010 and was officially opened by Queen Beatrix.
The theater is located near the Leidseplein. DeLaMar is a unique and popular location for all kinds of business arrangements. The two beautiful theaters and various atmospheric foyers of the DeLaMar Theater are ideal for any business event! DeLaMar Theater offers two beautiful halls, several tastefully decorated multifunctional foyers, studios, boardrooms and VIP areas, additional conference services such as hotel stays, transportation, decoration and technical support, delicious catering and high quality audiovisual facilities and services. The theater provides a stage for great musicals, comedies, classical performances, festivals and youth performances. It is a venue where creativity, hospitality and professionalism go hand in hand.
The theater has changed the owners and the specialization several times, it was closed a few times, but it still works. In 2010, the renovation, that turned the old building into a modern complex with two halls, was over. The theater has two halls: the main hall on the ground floor which utilizes the full height of the building and a more intimate hall on the first floor, totaling they can accommodate up to 1,500 people. This theater is one of the main tour platform of the city. The theater program includes concerts, performances and various shows. Also there are many festivals (usually a theatrical or musical), musicals and dance programs. There are events for children. It is worth to see the program of this theater if you want to see a good concert, but you have not yet decided what kind of performance you want to see. Here is the wide range of performance. Don't miss it!
For more information click here: delamar.nl
Vandaag begint het online rechtszaakspel Schuld of onschuld: Midwinternachtsmoord! Allerlei bekende acteurs werken mee aan deze theatrale rechtszaak, waarbij jij bepaalt of de verdachte schuldig of onschuldig is...
Info en kaarten: https://t.co/mFdK9nTwOp https://t.co/IOeZK2Hkrc

Ze zijn binnen hoor! Alex Klaasen en zijn Snowponies staan te trappelen om vanaf vandaag t/m 9 januari matineevoorstellingen te spelen van hun heerlijke kerstrevue vol hilarische sketches en muzikale hoogtepunten. Laatste kaarten voor volgende week:
https://t.co/ePiSkvSbQw https://t.co/aQk5SC2sFm

Op veler verzoek is besloten om de speelperiode van de Alex Klaasen revue Snowponies uit te breiden met extra matineevoorstellingen. Van 10 december t/m 9 januari kan iedereen alsnog (veilig) genieten van het leukste kerstfeestje van het jaar! https://t.co/eRyWFOuScI https://t.co/XN345BeuEm

Vanaf 27 december is het tijd voor een nieuwe editie van 'Schuld of onschuld': een theatraal online rechtszaakspel waarvan jij de uitkomst bepaalt! Met Jan Kooijman, Louise Korthals, André van Duin, Gijs Scholten van Aschat e.v.a. Meer info: https://t.co/u257hgIRZ2 https://t.co/b92SexPLKZ

@Twitcilian Duidelijk, we gaan uitzoeken of we het tekstje over de Engelse shows ook hier kunnen plaatsen. Dank voor het doorgeven!

@Twitcilian Hi Wilbert, bedankt voor je feedback. We tonen op de Engelse site inderdaad alleen de voorstellingen die geschikt zijn voor anderstaligen. Dit wordt hier ook aangegeven: https://t.co/ybz7hc7Jas Vond je deze pagina niet duidelijk of keek je ergens anders?

Het verbaast veel van onze bezoekers, maar 'Het wonderbaarlijke voorval met de hond in de nacht' wordt echt maar door acht acteurs gespeeld! Claire Bender en Astrid van Eck lichten een paar van hun favo dubbelrollen voor je uit.

T/m ...

@JacqAT Hi Jacqueline, net als iedereen wachten we in spanning de persconferentie van vanavond af. Hierna sturen we onze bezoekers van de komende weken een mail met een update. Je krijgt vanavond dus nog bericht van ons!

Tadaaa: de cast en crew van Held; is compleet! Deze gloednieuwe musical over het spelen van de hoofdrol in je eigen leven wordt momenteel ontwikkeld in DeLaMar West. En van 1 t/m 12 december kun jij bij de werkplaatsvoorstellingen zijn! ...

NIEUWS | Het bekroonde Britse liefdesdrama Old Bridge komt begin volgend jaar naar DeLaMar, mét de originele cast! Deze indrukwekkende voorstelling over de impact van de oorlogen in voormalig Joegoslavië zal exclusief in ons theater te zien zijn. 👉https://t.co/fq8QDSRGIr https://t.co/mz7mF6dfkC

NIEUW IN VERKOOP | Ricky Koole, Tina de Bruin, Rop Verheijen en Daniel Cornelissen komen samen voor een frisgroene muzikale komedie met een modderig randje. Vol hilarische intriges, schrijnend menselijk ongemak en heerlijke liedjes! 👉https://t.co/MWdCjJIPN4 https://t.co/j2VGo7Y9r3

@AnneKAtje Ach wat vervelend, maar goed om te horen dat je snel bent geholpen! Hopelijk heb je toch een fijn theaterbezoek gehad.

Terug van @PannekoekPeter in @delamartheater en ik heb serieus pijn in mijn kaken van het lachen. Ik heb lang niet zo veel en hard gelachen. Zo raak en soms zo hard. Enne te laat komen op de eerste rij is ...

Genoten van #DianaEnZonen in @delamartheater mooie voorstelling! Sterke cast en prachtig gezongen! Heerlijk om weer in de theatersfeer te komen! Missed it!❤👑

Afgelopen zondag mocht ons publiek meekijken bij de openbare repetities van Come from away. Luister naar wat ze van dit voorproefje van de internationale hitmusical vonden, en geniet lekker mee! 🎵
Meer over Come from away: https://t.co/p6L0bszs5H https://t.co/jkDlKideD4

🔥 DELAMAR MERCH 🔥Wist je al dat je bij ons exclusieve DeLaMar-sportsokken kunt scoren? Zo kun jij helemaal in stijl gaan sporten, hangen op de bank of naar het theater. €7,50 per paar bij onze merchandise balie! https://t.co/RjTz6oyU2a

Yesss Annie komt terug! In deze hartverwarmende musical beleef je het levensverhaal van je favoriete roodharige heldin als stoer meisje van nu. De musical zal exclusief in DeLaMar te zien zijn en de kaartverkoop is zojuist gestart. 👉https://t.co/bdfekuZs5V https://t.co/mIzTgzYabI

Mooi interview met Simone Kleinsma, die a.s. maandag met haar nieuwe voorstelling 'Verder' bij ons in première gaat. https://t.co/QaoT4UyKVK

Vandaag is onze Koos Breukel-portretgalerij uitgebreid met foto's van Marlijn Weerdenburg, Brigitte Heitzer, Danique Graanoogst, Freek Bartels, Jonathan Demoor, Willemijn Verkaik, Frank van Laecke, Jeroen Sleijfer, Yan Tax, Jakop Ahlbom, Igoné de Jongh en Ellen ten Damme! https://t.co/FPnpGo3ro4
DeLaMar
Pros
Modern theater with fantastic atmospere.