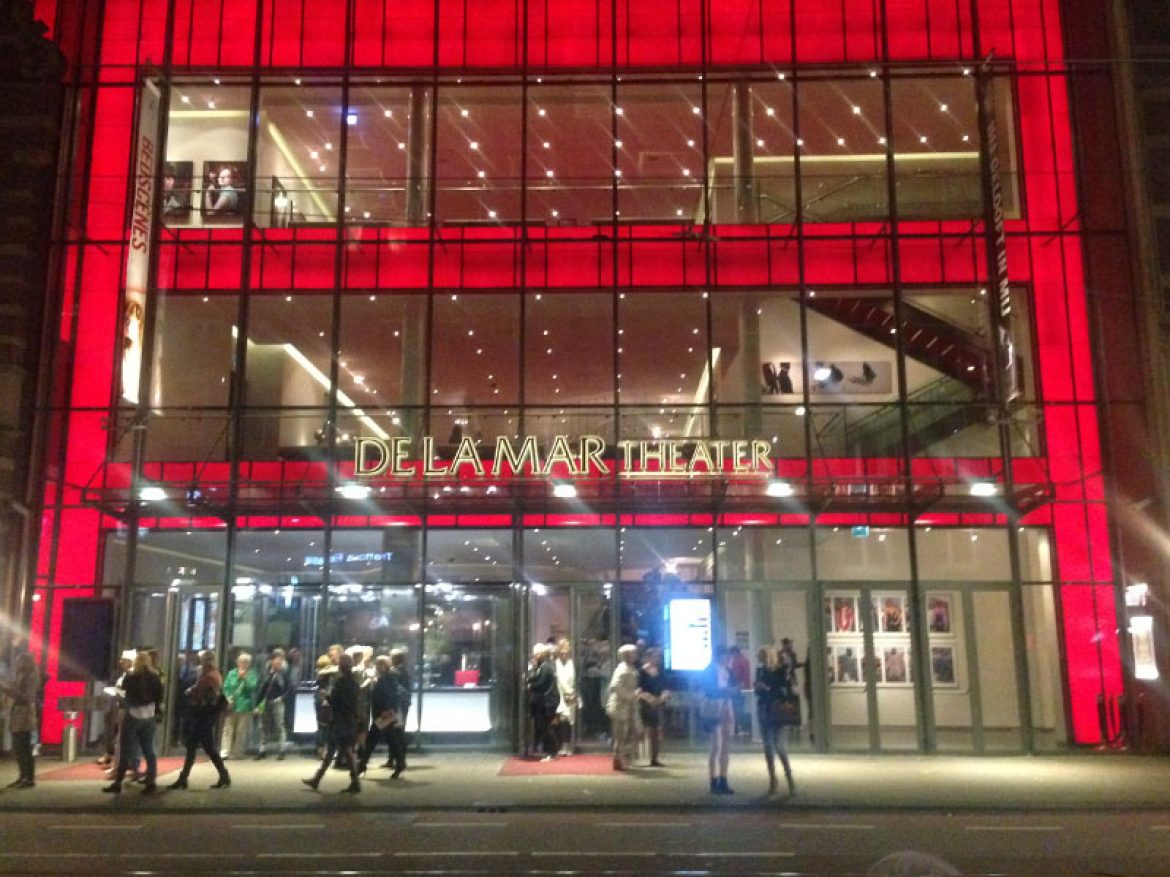 DeLaMar
Theater DeLaMar, which is located in Amsterdam, has a rich concert and tour program that it is often considered to be an entertainment complex, not a theater. But officially it is a theater. The building in which DeLaMar is housed, was built in 1887 and were used as a school. Since the Germans kept their data in this building, the Dutch resistance bombed the building on 7 January 1944. As a result, part of the building was burnt down. The old school building was rebuilt into the theater and the architect who built it was the husband of the famous comedienne, whose name was Fien de la Mar. He bought the building, remade it for his own project and created a small theater company and named it after his wife and her father, a famous theater director. The theater was closed for renovation from 2005 to 2010 and was officially opened by Queen Beatrix.
The theater is located near the Leidseplein. DeLaMar is a unique and popular location for all kinds of business arrangements. The two beautiful theaters and various atmospheric foyers of the DeLaMar Theater are ideal for any business event! DeLaMar Theater offers two beautiful halls, several tastefully decorated multifunctional foyers, studios, boardrooms and VIP areas, additional conference services such as hotel stays, transportation, decoration and technical support, delicious catering and high quality audiovisual facilities and services. The theater provides a stage for great musicals, comedies, classical performances, festivals and youth performances. It is a venue where creativity, hospitality and professionalism go hand in hand.
The theater has changed the owners and the specialization several times, it was closed a few times, but it still works. In 2010, the renovation, that turned the old building into a modern complex with two halls, was over. The theater has two halls: the main hall on the ground floor which utilizes the full height of the building and a more intimate hall on the first floor, totaling they can accommodate up to 1,500 people. This theater is one of the main tour platform of the city. The theater program includes concerts, performances and various shows. Also there are many festivals (usually a theatrical or musical), musicals and dance programs. There are events for children. It is worth to see the program of this theater if you want to see a good concert, but you have not yet decided what kind of performance you want to see. Here is the wide range of performance. Don't miss it!
For more information click here: delamar.nl
@Hans_ten_Wolde Conform de voorschriften van de overheid doen we een gezondheidscheck bij de ingang van het theater, en wordt bij mensen met gezondheidsklachten (zoals niezen) de toegang geweigerd. Hier kun je meer lezen over de door ons genomen coronamaatregelen: https://t.co/8LM3WugLAn

@CarnitaSchurman Ja heel vervelend, helaas is deze mail door een technische fout alsnog verstuurd. Onze excuses hiervoor! Deze mail kun je als niet verzonden beschouwen, je krijgt vandaag nog een rectificatiemail van ons.

Het @delamartheater gaat weer open! Op 31 juli mag ik met mijn band een preview geven van mijn nieuwe solo programma "Renée Doet De Dames". Corona proof, met 100 man in de zaal. Een unieke ervaring! Check voor kaarten: https://t.co/v0grjTJlz8 ...

@HaykeKookt (3/3) Maar zoals gezegd kan dit bij de vouchers wél. Het kan dus handiger zijn om een kaartje voor 'Klein publiek, groot gebaar' los te kopen en te wachten op je voucher, zodat je geen geld 'kwijtraakt'. We snappen ...

@HaykeKookt (2/3) kunnen hervatten en de techniek achter de vouchers helemaal rond is. Mocht je hier niet op willen wachten en nu je ticket in willen zetten om kaarten voor dit aangepaste programma kopen, dan is het inderdaad technisch niet ...

@HaykeKookt (1/3) Wanneer je je voucher inzet voor onze reguliere programmering en een goedkoper kaartje koopt, blijft het openstaande tegoed gewoon geldig. Deze vouchers zijn echter nog niet in omloop, dit gebeurt pas zodra we meer weten over wanneer we ...

@andre_sieverts Natuurlijk gaan we in juni maar open voor maximaal 30 mensen, en hebben we het theater zo aangepast dat iedereen heel gemakkelijk 1,5 meter afstand kan houden. Alle coronamaatregelen die we hebben genomen vind je hier: https://t.co/8LM3WugLAn

WE GAAN WEER OPEN! Vanaf 6 juni openen we onze deuren voor publiek, met een aangepast programma genaamd 'Klein publiek, groot gebaar'. De volledige opbrengst van de kaartverkoop gaat namelijk naar de optredende artiesten. Boek snel, want de beschikbaarheid is ...

In WWII werd ons gebouw door de Duitsers gebruikt als registratiebureau voor de Arbeitseinsatz. Het verzet pleegde hier een bomaanslag op, waarna er 5 verzetsstrijders voor het pand werden gefusilleerd. Vandaag herdenken wij hen en alle andere Nederlandse oorlogsslachtoffers. ❤ ...

Jaaaa 'Gewoon opnieuw' uit Showponies 2 heeft de Annie M.G. Schmidt prijs voor het beste theaterlied van dit seizoen gewonnen! Van harte gefeliciteerd Alex Klaasen, Peter van de Witte en Jurrian van Dongen! 🎉 https://t.co/t6fEutgUcc

@AladindaA Hi Adinda, als het goed is heb je de afgelopen weken mails van ons gehad met informatie over de gang van zaken rondom de afgelaste voorstellingen. Mocht dit niet het geval zijn, wil je ons dan een privéberichtje sturen ...

Speciaal voor theaterliefhebbers hebben wij allerlei kijk- en luistertips opgesteld; van series en podcasts tot aan volledige toneel- en musicalregistraties. Zo kom je thuis op de bank ook aan je portie theater!
#theatertips #theatertipsvoorthuis

⚠️Op instructie van de overheid om evenementen met meer dan 100 personen i.v.m. het coronavirus niet door te laten gaan, zijn alle voorstellingen t/m 5 april helaas afgelast. Met de boekers van deze voorstellingen wordt contact opgenomen. Meer info via ...

Na @Ratzkelive en @esmee_dekker zijn nu ook Ellen Pieters, @yorandebont en Samir Hassan aan de cast van The Rocky horror show toegevoegd. Are you shivering with anticipation? 😉 Er zijn nog een paar kaarten voor de première!

➡️ Songfestivalfans! Op ma. 13 april (2e Paasdag) vindt om 16.00 u in DeLaMar Theater een exclusieve voorvertoning plaats van 'De weg naar de winst', de Songfestival-documentaire van @cornaldm. (Een maand later pas op tv te zien!) Meer info via: ...
DeLaMar
Pros
Modern theater with fantastic atmospere.