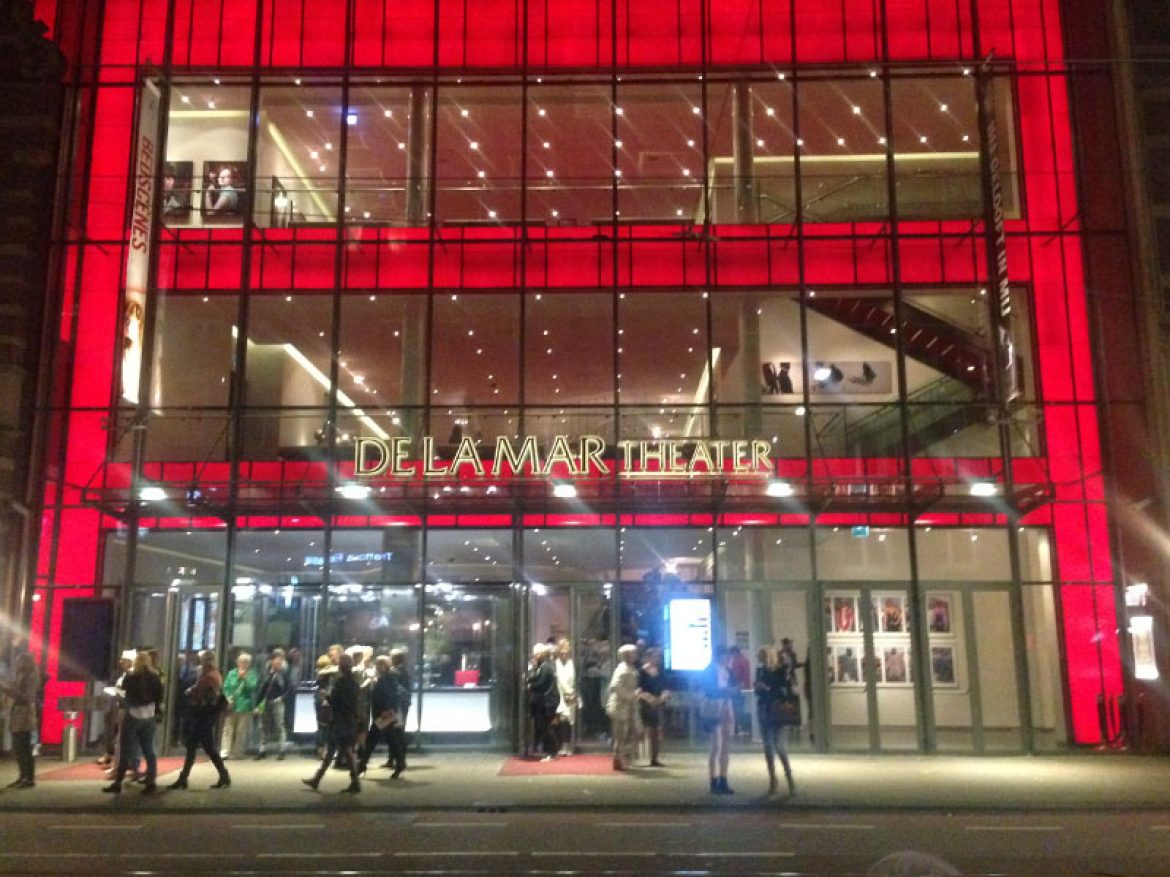 DeLaMar
Theater DeLaMar, which is located in Amsterdam, has a rich concert and tour program that it is often considered to be an entertainment complex, not a theater. But officially it is a theater. The building in which DeLaMar is housed, was built in 1887 and were used as a school. Since the Germans kept their data in this building, the Dutch resistance bombed the building on 7 January 1944. As a result, part of the building was burnt down. The old school building was rebuilt into the theater and the architect who built it was the husband of the famous comedienne, whose name was Fien de la Mar. He bought the building, remade it for his own project and created a small theater company and named it after his wife and her father, a famous theater director. The theater was closed for renovation from 2005 to 2010 and was officially opened by Queen Beatrix.
The theater is located near the Leidseplein. DeLaMar is a unique and popular location for all kinds of business arrangements. The two beautiful theaters and various atmospheric foyers of the DeLaMar Theater are ideal for any business event! DeLaMar Theater offers two beautiful halls, several tastefully decorated multifunctional foyers, studios, boardrooms and VIP areas, additional conference services such as hotel stays, transportation, decoration and technical support, delicious catering and high quality audiovisual facilities and services. The theater provides a stage for great musicals, comedies, classical performances, festivals and youth performances. It is a venue where creativity, hospitality and professionalism go hand in hand.
The theater has changed the owners and the specialization several times, it was closed a few times, but it still works. In 2010, the renovation, that turned the old building into a modern complex with two halls, was over. The theater has two halls: the main hall on the ground floor which utilizes the full height of the building and a more intimate hall on the first floor, totaling they can accommodate up to 1,500 people. This theater is one of the main tour platform of the city. The theater program includes concerts, performances and various shows. Also there are many festivals (usually a theatrical or musical), musicals and dance programs. There are events for children. It is worth to see the program of this theater if you want to see a good concert, but you have not yet decided what kind of performance you want to see. Here is the wide range of performance. Don't miss it!
For more information click here: delamar.nl
We doen mee aan het Amsterdam Fringe Festival! Van 5 t/m 12 september kun je in DeLaMar West genieten van nieuw, jong en ongekend talent. Theater, dans, performance, storytelling en muziek: Fringe heeft 't allemaal. Check de line-up via https://t.co/K0VeSaP9H7 ...

Zo veel mogelijk door ons geïnstrueerde poses maken in één minuut. Lukt het de cast van Knock-out om deze instructies op te volgen?

Deze turboslapstickvoorstelling is van 24 augustus t/m 26 september exclusief te zien in DeLaMar Theater, kaarten via ...

Vacature | Wij zijn op zoek naar een dutymanager! Als dutymanager ben je tijdens theateravonden hét aanspreekpunt voor collega's, gasten en artiesten en geef je leiding aan het team van supervisors en theatermedewerkers. Solliciteren: https://t.co/SMNLGe9lL8 https://t.co/fHoftBQ9Ww

Een kijkje achter de schermen bij de eerste repetitiedag van Diana & Zonen! Met zelfs een kleine preview van de kostuums en het decor...
🎥 Miranda Koning https://t.co/B1vkBlO6ht

De repetities van Diana & Zonen zijn begonnen! Wat een fijne eerste dag. 💙👑

📸 Polle Willemsen https://t.co/9wXMjc2AX5

De mannen van 'Trapeze' hangen nu al dagen in de nok van onze zaal te wachten totdat je naar hun voorstelling komt kijken... 🙃⁠Deze een gloednieuwe komedie over twee trapezewerkers die elkaar toch niet helemaal vertrouwen is t/m zondag te ...

@Sterkemeid Jazeker! Op 7 augustus is er een tv-registratie van Showponies 2 te zien bij de NPO.

Showponies 2 is genomineerd voor de cabaretprijs Poelifinario! Zó verdiend; hoe leuk was deze show?! 🦄 https://t.co/E1ny1WkJyG

Omdat één van de medewerkers van Spring awakening onlangs positief op corona is getest, zijn we helaas genoodzaakt om de voorstellingen van aanstaande woensdag en donderdag af te lassen. Met de boekers van deze voorstellingen is inmiddels contact opgenomen. https://t.co/uCHCuwuPIJ

Nog even repeteren, want morgen is het tijd voor de eerste try-out van 'Het wonderbaarlijke voorval met de hond in de nacht!' Een bijzondere en veelgeprezen voorstelling, over de avonturen van een 15-jarige jongen met een vorm van autisme. 👉https://t.co/nVpI2BdmbX
...

Zin om morgen een avondje keihard te lachen? De shows die cabaretier Roué Verveer zaterdag om 19:00 en 21:00 uur speelt zijn bijna uitverkocht, daarom is er een extra latenightshow om 23:00 uur! Als dat geen goed weekendplan is... Kaarten: ...

Spring awakening komt terug! Na een volledig uitverkochte speelperiode, enthousiaste publieksreacties en lovende recensies moesten er natuurlijk wel extra voorstellingen komen. Spring awakening zal daarom ook van 24 dec t/m 16 jan te zien zijn. https://t.co/SVnU8mSlXy https://t.co/C7QALIXLpo

Tijdens de fotoshoot voor 'Trapeze' vroegen we acteurs Peter Blok en Bas Hoeflaak om jou wat over deze gloednieuwe en inventieve komedie te vertellen. En om hun spierballen te laten zien natuurlijk.⁠
👉 https://t.co/6YaxF5GVzw https://t.co/4N8HiqP8WK

Wil je meer weten over ons nieuwe theater DeLaMar West? Lees dan dit mooie Volkskrant-interview met onze directeur Andreas Fleischmann. https://t.co/aaNmLWGamN

We feliciteren Chiara Re (midden) met haar Charlotte Köhler Prijs! Chiara maakte onder andere de choreografie voor Evita en Chez Brood, en wij kunnen niet wachten om in het nieuwe theaterseizoen haar versie van de 'Time Warp' bij de Rocky ...

Nu in verkoop | De romantische en fantasievolle film Le Fabuleux Destin d'Amélie Poulain is voor het eerst in Nederland te zien als musical! En ja, de prachtige filmmuziek van Yann Tiersen komt hier ook in voor. 🎶
https://t.co/GbHbXnNZzx https://t.co/bqnRuWM9uP

TIP | Nog op zoek naar een origineel vaderdagcadeau? Verras hem met theaterkaarten! Voor Knock-out bijvoorbeeld: een spectaculaire ode aan de actiefilm, vol acrobatische trucs, komische scènes en visuele effecten. Kaarten via https://t.co/KNze9yn1x6 https://t.co/frrgAgT9Hv

Vacature | Komend theaterseizoen staan ons weer een heleboel mooie voorstellingen te wachten. Wil jij meehelpen om hier zo veel mogelijk mensen van te laten genieten? Solliciteer dan naar de functie van junior marketing- en communicatiemedewerker! https://t.co/6PfXv83qQd https://t.co/JQQN5mAcbC

Eén van deze twee was onze baas vandaag, en het was niet die op rechts! Namens het @JINC-project 'Baas van Morgen' keek scholier Ramy vandaag mee in het theater, woonde hij een repetitie van Spring awakening bij en werd hij ...

Het toneelstuk 'Een man een man' was eerder al een grote favoriet onder onze bezoekers, en nu komen de bedenkers hiervan met een opvolger: Trapeze! Hierin volgen we twee trapezewerkers (Peter Blok en Bas Hoeflaak) die elkaar toch niet helemaal ...

Vacature | Ons mooie Grand Café zou jouw werkplek kunnen zijn! We zijn namelijk op zoek naar een assistent restaurant manager, die verantwoordelijk is voor de dagelijkse leiding in onze 'huiskamer' en bijdraagt aan een onvergetelijke avond voor de gasten.👉https://t.co/2sj4jdYLE1 ...

Nu in verkoop: de onweerstaanbare cultmusical Rocky horror show! Een met 5 Tony Awards bekroonde wereldhit, die bekendstaat om de waanzinnige rock-'n-roll muziek en de hoge mate van interactie met publiek. Kaarten: https://t.co/LDr3uvBVXx https://t.co/fSOKF3ULXz

Vanaf 25 juni kun je genieten van Spring awakening; een indringende musical over jongeren die hun identiteit en seksualiteit proberen te ontdekken. Het is de eerste voorstelling in onze nieuwe locatie DeLaMar West en de beschikbaarheid is beperkt! Kaarten: https://t.co/0eD70uRTYQ ...

Vanaf 23 juni openen we onze deuren weer! We trappen af met de prachtige voorstelling van Sinan Eroglu, waarin hij Jacques Brel in het Nederlands én het Turks vertolkt. En geloof ons, dan ontstaat er iets heel bijzonders. ❤
Boek ...
DeLaMar
Pros
Modern theater with fantastic atmospere.