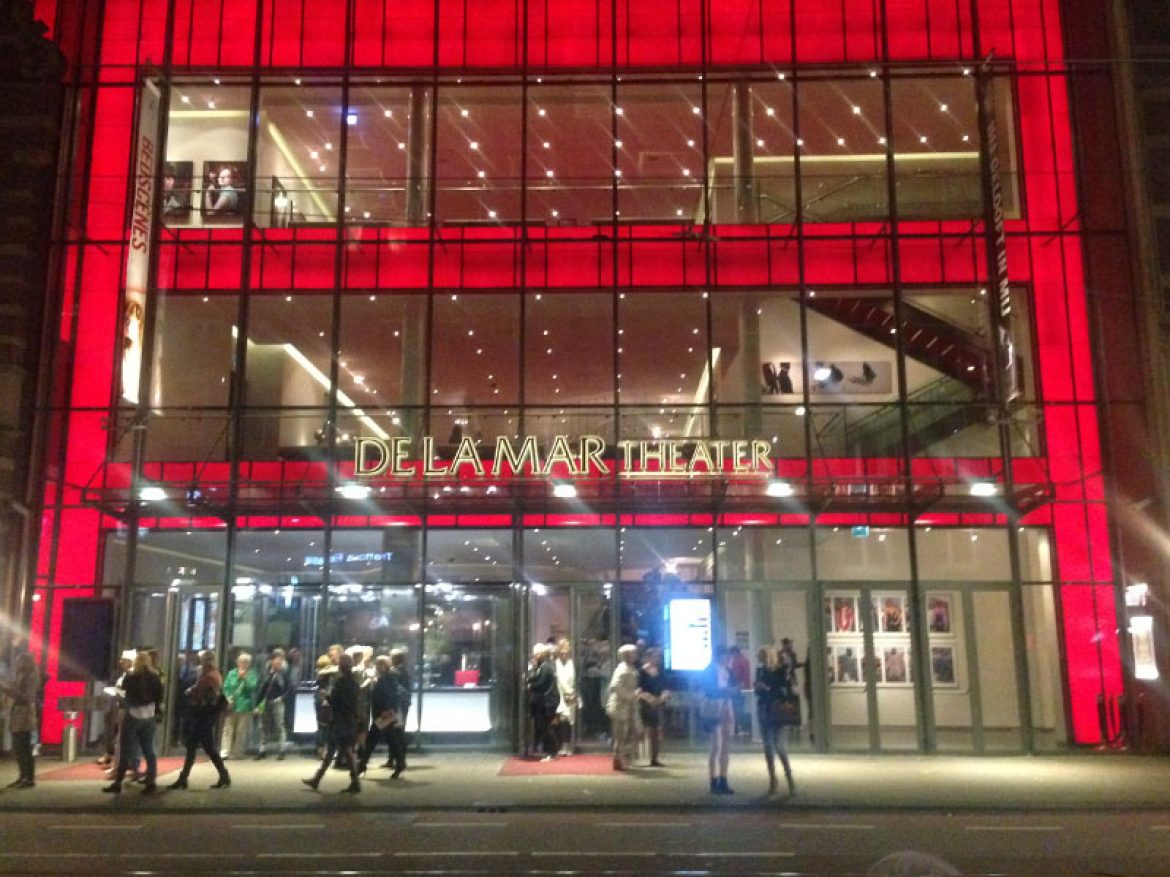 DeLaMar
Theater DeLaMar, which is located in Amsterdam, has a rich concert and tour program that it is often considered to be an entertainment complex, not a theater. But officially it is a theater. The building in which DeLaMar is housed, was built in 1887 and were used as a school. Since the Germans kept their data in this building, the Dutch resistance bombed the building on 7 January 1944. As a result, part of the building was burnt down. The old school building was rebuilt into the theater and the architect who built it was the husband of the famous comedienne, whose name was Fien de la Mar. He bought the building, remade it for his own project and created a small theater company and named it after his wife and her father, a famous theater director. The theater was closed for renovation from 2005 to 2010 and was officially opened by Queen Beatrix.
The theater is located near the Leidseplein. DeLaMar is a unique and popular location for all kinds of business arrangements. The two beautiful theaters and various atmospheric foyers of the DeLaMar Theater are ideal for any business event! DeLaMar Theater offers two beautiful halls, several tastefully decorated multifunctional foyers, studios, boardrooms and VIP areas, additional conference services such as hotel stays, transportation, decoration and technical support, delicious catering and high quality audiovisual facilities and services. The theater provides a stage for great musicals, comedies, classical performances, festivals and youth performances. It is a venue where creativity, hospitality and professionalism go hand in hand.
The theater has changed the owners and the specialization several times, it was closed a few times, but it still works. In 2010, the renovation, that turned the old building into a modern complex with two halls, was over. The theater has two halls: the main hall on the ground floor which utilizes the full height of the building and a more intimate hall on the first floor, totaling they can accommodate up to 1,500 people. This theater is one of the main tour platform of the city. The theater program includes concerts, performances and various shows. Also there are many festivals (usually a theatrical or musical), musicals and dance programs. There are events for children. It is worth to see the program of this theater if you want to see a good concert, but you have not yet decided what kind of performance you want to see. Here is the wide range of performance. Don't miss it!
For more information click here: delamar.nl
Morgen en overmorgen in ons theater: Janis! Een meeslepend en indrukwekkend theaterconcert, gebaseerd op de levensverhalen van Beaudil Elzenga en haar grootste idool: Janis Joplin. 🎵
Kaarten: https://t.co/xocTQXDqaU https://t.co/OQwaYNIiUx

De line-up van het George & Eran zomerfestival is compleet! Geniet in de maand augustus van de mooiste zomerse voorstellingen van onder andere Paul de Munnik, Meral Polat en Lebbis. Check het volledige programma via https://t.co/5eGw5TAYCB https://t.co/AU6W4HZf5f

@SandraGonlag Oh dit ging over Lazarus! Maar voor Rocky Horror geldt in principe hetzelfde: zodra deze definitief wordt verplaatst, krijg je een mail en kun je je kaarten omboeken.

@SandraGonlag Binnenkort maakt producent Stage Entertainment de definitieve nieuwe data bekend en kun je gaan boeken. Groetjes van Mark! 😅

Theater! Voor het eerst in maanden en man, wat heb ik het gemist. In het fijne @delamartheater bij Shakespeare by Heart met Gijs Scholten van Asschat en Pierre Bokma. Mooi begin van hopelijk heel veel voorstellingen 🎭👏🏼 https://t.co/FCL9TT19MD

Nog geen plannen vanavond? Kom naar Shakespeare by heart, met Pierre Bokma en Gijs Scholten van Aschat! Aan de hand van feitjes, humor en scènes laten deze toneeliconen zien hoe je Shakespeares prachtige teksten speelt.
Vanavond om 19:00 en 21:00 ...

Heel goed nieuws: Lazarus komt terug! In het voorjaar van 2021 wordt de speelperiode van deze hitvoorstelling met David Bowies klassiekers in ons theater hervat. De nieuwe data van Lazarus en de start van de kaartverkoop worden binnenkort bekendgemaakt. https://t.co/RFcMP1SPlU

Vanavond speelt internationale musicalster @WVerkaik voor de eerste keer haar concert 'And now...' in ons theater! Check hier een sneak peak van de repetities, waarin ze 'Here right now' uit de musical Ghost zingt.
T/m 25 juli te zien: https://t.co/W7zls5iFUF
...

De veelbekroonde Broadwaymusical #Falsettos komt naar Nederland! Een komisch en ontroerend verhaal over een Joodse 'modern family' waarin vader Marvin, zijn ex-vrouw, zijn zoon én zijn nieuwe vriend allemaal onder één dak leven. Kaarten: https://t.co/hqTSVb3Xyc https://t.co/S7UnJggloP

Nu in verkoop: de nieuwe voorstelling Adem van Nasrdin Dchar. Na de succesvoorstellingen Dad en Ja blikt Nasrdin in Adem terug op het afgelopen jaar. Hij stelt zich de vraag 'Hoe zullen wij ons deze tijd herinneren?'.
27 t/m 31 ...

Eric Corton kwam even voorproeven voor een lang weekend 'Ma': een indrukwekkend stuk over een moeder met Alzheimer, in de woorden van haar zoon. En door de capaciteitsverhoging zijn er weer kaarten beschikbaar voor deze eerder uitverkochte voorstelling!
👉 https://t.co/w01TgBGT1D ...

Zin om deze druilerige week naar een indrukwekkende, rauwe ode aan de liefde te komen kijken? De nieuwe Nederlandse musical 'Palermo' met Fabian Jansen en @MelodyKlaver is van woensdag t/m zondag in ons theater te zien! #palermo #musical
👉 https://t.co/gVR5lyHRoJ ...

(2/2) ...Goedemondt, Ma (met Eric Corton), Ellen ten Damme, Willemijn Verkaik en Renée van Wegberg. De komende dagen passen we de capaciteit van alle andere voorstellingen na 1 juli aan. Check https://t.co/6rdm005zis

(1/2) Heel fijn nieuws: zojuist is bekend geworden we vanaf 1 juli toch meer dan 100 mensen in ons theater mogen ontvangen! Dit betekent dat er voor alle voorstellingen vanaf 1 juli extra plaatsen vrijkomen. Je kunt nu al kaarten ...
DeLaMar
Pros
Modern theater with fantastic atmospere.