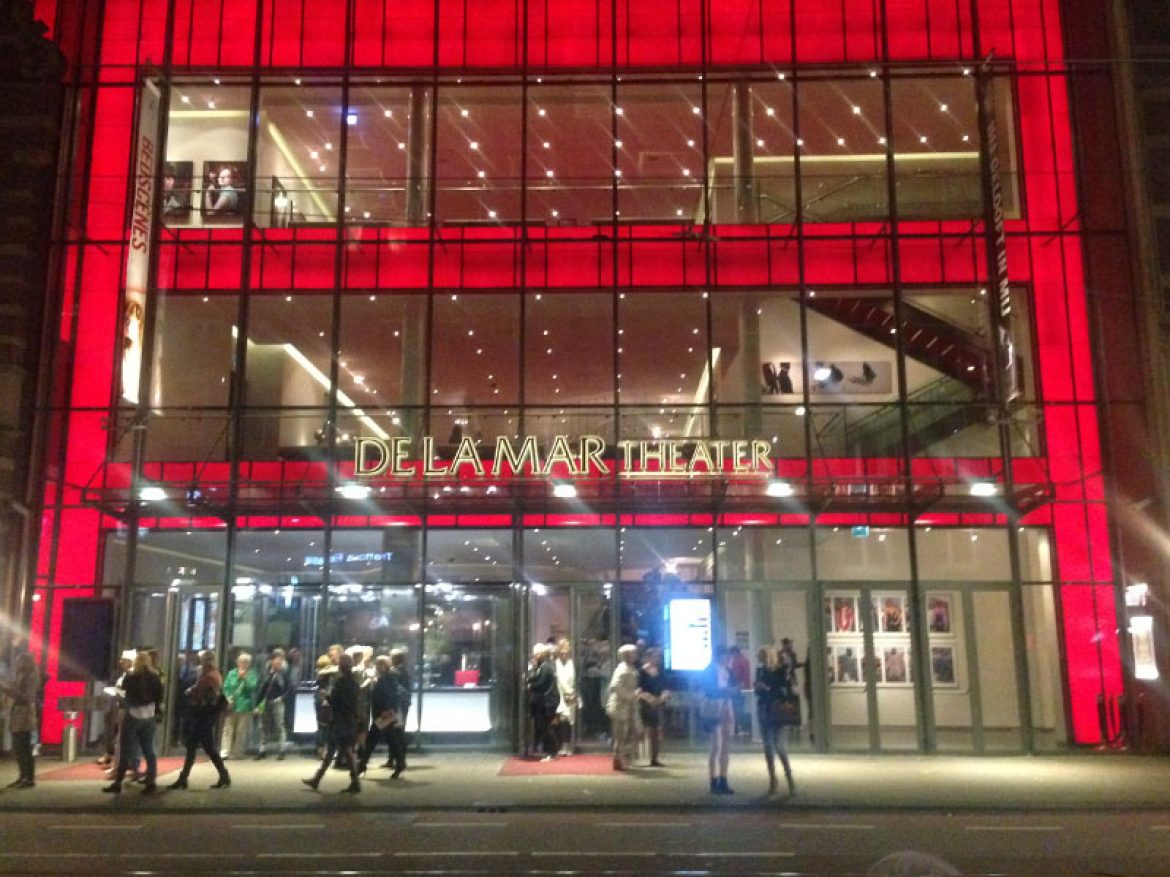 DeLaMar
Theater DeLaMar, which is located in Amsterdam, has a rich concert and tour program that it is often considered to be an entertainment complex, not a theater. But officially it is a theater. The building in which DeLaMar is housed, was built in 1887 and were used as a school. Since the Germans kept their data in this building, the Dutch resistance bombed the building on 7 January 1944. As a result, part of the building was burnt down. The old school building was rebuilt into the theater and the architect who built it was the husband of the famous comedienne, whose name was Fien de la Mar. He bought the building, remade it for his own project and created a small theater company and named it after his wife and her father, a famous theater director. The theater was closed for renovation from 2005 to 2010 and was officially opened by Queen Beatrix.
The theater is located near the Leidseplein. DeLaMar is a unique and popular location for all kinds of business arrangements. The two beautiful theaters and various atmospheric foyers of the DeLaMar Theater are ideal for any business event! DeLaMar Theater offers two beautiful halls, several tastefully decorated multifunctional foyers, studios, boardrooms and VIP areas, additional conference services such as hotel stays, transportation, decoration and technical support, delicious catering and high quality audiovisual facilities and services. The theater provides a stage for great musicals, comedies, classical performances, festivals and youth performances. It is a venue where creativity, hospitality and professionalism go hand in hand.
The theater has changed the owners and the specialization several times, it was closed a few times, but it still works. In 2010, the renovation, that turned the old building into a modern complex with two halls, was over. The theater has two halls: the main hall on the ground floor which utilizes the full height of the building and a more intimate hall on the first floor, totaling they can accommodate up to 1,500 people. This theater is one of the main tour platform of the city. The theater program includes concerts, performances and various shows. Also there are many festivals (usually a theatrical or musical), musicals and dance programs. There are events for children. It is worth to see the program of this theater if you want to see a good concert, but you have not yet decided what kind of performance you want to see. Here is the wide range of performance. Don't miss it!
For more information click here: delamar.nl
Je hoort het van Pia en Johnny, kom nog snel naar The Addams family! Deze macabere hitmusical stopt na 31 maart, dus wees er snel bij...
Kaarten: https://bit.ly/2FtF2Em

We mogen het dan eindelijk zeggen: de rol van Miss Hannigan in de musical Annie wordt vertolkt door niemand minder dan Willemijn Verkaik! In mei 2020 kun je bij ons genieten van deze wereldberoemde musical. @Wverkaik

Vanavond beleven @ernstdaniel en @CoosjeSmid bij ons de première van hun vader-dochterconcert vol mooie, lieve liedjes. Toitoitoi aan deze toppers!

@HARNNS Dank voor je bericht. We geven het door aan de producent.

DeLaMar Theater - Een man een man Woensdagmiddag vrij? Op de woensdagmiddagen in maart kun je bij ons genieten van de veelgeprezen komedie Een man een man! Met Kees Prins, Pierre Bokma en Randy Fokke.
De komedie Een man een man over twee mannen, een tafel, een ...

De première van Single Camping zit erop, check onze Instagram stories voor een uitgebreid sfeerverslag. Zonnige groetjes vanaf camping De Groene Bosnimf!
📷 Roy Beusker

DeLaMar Theater - Hello, Dolly! Gloednieuw in verkoop: Hello Dolly! De komische Broadway hitmusical met in de hoofdrollen Freek Bartels, Marjolijn Touw en natuurlijk: Simone Kleinsma!
Een van de populairste Broadway musicals ooit komt naar DeLaMar Theater: Hello, Dolly! Simone Kleinsma, Freek Bartels, Marjolijn Touw ...

DeLaMar Theater - Hommage aan Simone Kleinsma De eerste namen zijn bekend: o.a. Paul de Leeuw, Freek Bartels, Stanley Burleson, Doris Baaten en Tony Neef brengen een ode aan Simone Kleinsma!
Jaarlijks brengt het Amsterdams Kleinkunst Festival (AKF) een hommage aan een persoon die van grote betekenis ...
DeLaMar
Pros
Modern theater with fantastic atmospere.