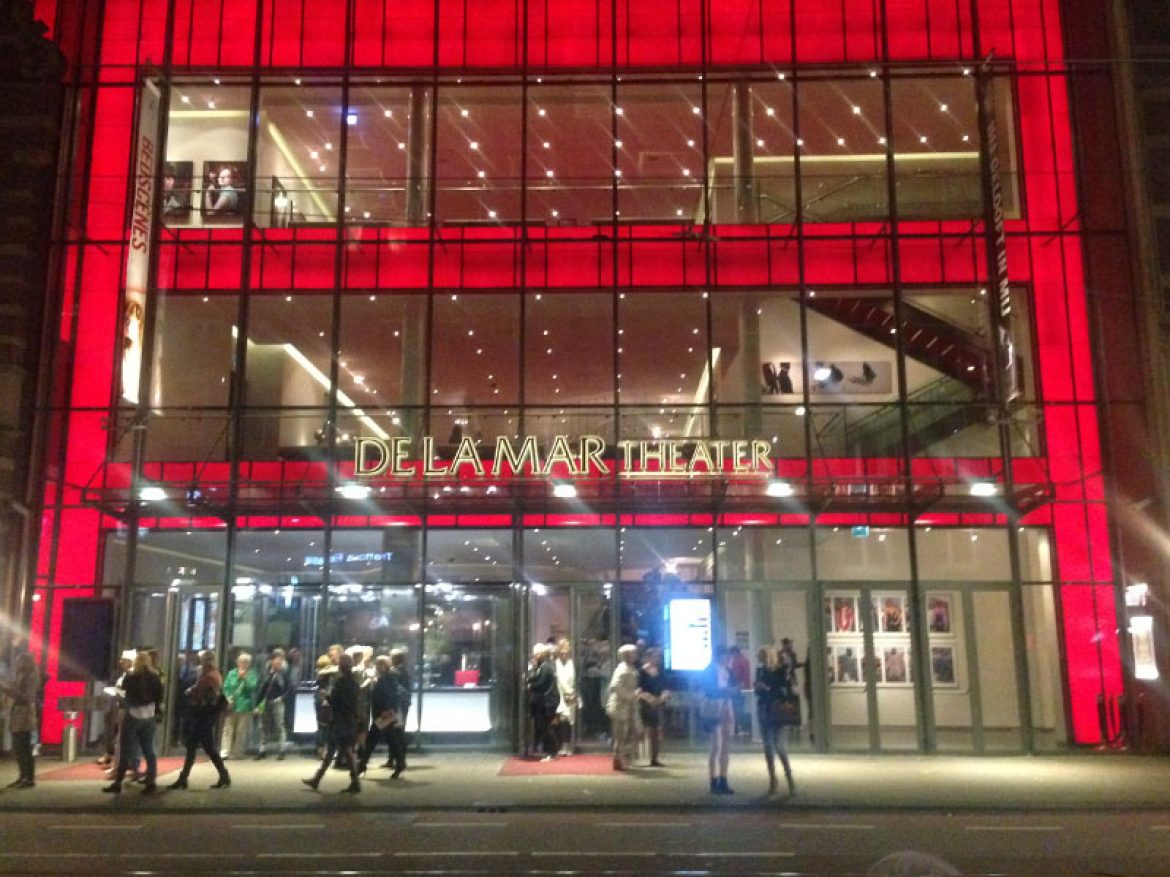 DeLaMar
Theater DeLaMar, which is located in Amsterdam, has a rich concert and tour program that it is often considered to be an entertainment complex, not a theater. But officially it is a theater. The building in which DeLaMar is housed, was built in 1887 and were used as a school. Since the Germans kept their data in this building, the Dutch resistance bombed the building on 7 January 1944. As a result, part of the building was burnt down. The old school building was rebuilt into the theater and the architect who built it was the husband of the famous comedienne, whose name was Fien de la Mar. He bought the building, remade it for his own project and created a small theater company and named it after his wife and her father, a famous theater director. The theater was closed for renovation from 2005 to 2010 and was officially opened by Queen Beatrix.
The theater is located near the Leidseplein. DeLaMar is a unique and popular location for all kinds of business arrangements. The two beautiful theaters and various atmospheric foyers of the DeLaMar Theater are ideal for any business event! DeLaMar Theater offers two beautiful halls, several tastefully decorated multifunctional foyers, studios, boardrooms and VIP areas, additional conference services such as hotel stays, transportation, decoration and technical support, delicious catering and high quality audiovisual facilities and services. The theater provides a stage for great musicals, comedies, classical performances, festivals and youth performances. It is a venue where creativity, hospitality and professionalism go hand in hand.
The theater has changed the owners and the specialization several times, it was closed a few times, but it still works. In 2010, the renovation, that turned the old building into a modern complex with two halls, was over. The theater has two halls: the main hall on the ground floor which utilizes the full height of the building and a more intimate hall on the first floor, totaling they can accommodate up to 1,500 people. This theater is one of the main tour platform of the city. The theater program includes concerts, performances and various shows. Also there are many festivals (usually a theatrical or musical), musicals and dance programs. There are events for children. It is worth to see the program of this theater if you want to see a good concert, but you have not yet decided what kind of performance you want to see. Here is the wide range of performance. Don't miss it!
For more information click here: delamar.nl
Speciaal voor theaterliefhebbers hebben wij allerlei kijk- en luistertips opgesteld; van series en podcasts tot aan volledige toneel- en musicalregistraties. Zo kom je thuis op de bank ook aan je portie theater!
#theatertips #theatertipsvoorthuis

⚠️Op instructie van de overheid om evenementen met meer dan 100 personen i.v.m. het coronavirus niet door te laten gaan, zijn alle voorstellingen t/m 5 april helaas afgelast. Met de boekers van deze voorstellingen wordt contact opgenomen. Meer info via ...

Na @Ratzkelive en @esmee_dekker zijn nu ook Ellen Pieters, @yorandebont en Samir Hassan aan de cast van The Rocky horror show toegevoegd. Are you shivering with anticipation? 😉 Er zijn nog een paar kaarten voor de première!

➡️ Songfestivalfans! Op ma. 13 april (2e Paasdag) vindt om 16.00 u in DeLaMar Theater een exclusieve voorvertoning plaats van 'De weg naar de winst', de Songfestival-documentaire van @cornaldm. (Een maand later pas op tv te zien!) Meer info via: ...

@ricksm077 Hi Rick, als je kiest voor bezorging per post heb je de kaartjes binnen 1 week in huis.

NIEUW IN VERKOOP | Het succesvolle West End- en Broadwaytoneelstuk 'Het wonderbaarlijke voorval met de hond in de nacht' zal voor het eerst in een Nederlandse versie te zien zijn! Over de bijzondere belevenissen van een 15-jarige jongen met een ...

Gisteren voor de tweede keer bij #Lazarus @delamartheater geweest. Opnieuw een prachtige voorstelling, waarbij er deze keer weer andere dingen opvielen en andere dingen me raakten. En volledig huilen bij #Heroes @draganbakema. natuurlijk.

@JolandaDaThesta @richardmarx From what we've heared from the production company tickets already purchased will be honored at the rescheduled show. @Ticketmaster_NL is in charge of ticketing, so they might be able to answer further questions about your seats.

@jokestmdijk @DraganBakema @noortjeherlaar Fijn dat je zo genoten hebt Joke! We horen dit inderdaad van veel bezoekers; hoe vaak je Lazarus ook ziet, elke keer haal je weer nieuwe/andere dingen uit het verhaal. ❤️

Het prachtige lied 'Gewoon opnieuw' uit Showponies 2 is genomineerd voor de Annie M.G. Schmidtprijs; de prijs voor het beste theaterlied van het afgelopen seizoen!⁠
Geniet vanaf 8 april van deze hilarische show vol ontroerende momenten. https://t.co/GrAiWdKrSq

Na acht mooie jaren als hét technocabaretduo van Nederland hebben wij besloten om het komende seizoen nieuwe avonturen aan te gaan. Wij zijn voor het laatst te zien met BRAINWASH op 20 maart 2020 in @delamartheater!

Lees hier het volledige ...

@dvdwinden Hi Daniel, de voorstelling wordt volledig in het Nederlands gesproken, maar alle nummers zijn (net zoals het origineel) in het Engels.

@delamartheater zaterdag perfect optreden gezien bij dangerous liaisons. Prima cast. Ik ken de film maar dit is een creatieve en intelligente bewerking van het script. De cast kan trots zijn op het optreden en dit is slechts de start van ...

Ademloos zitten kijken naar Lazarus! Soms voor mijn gevoel heel duidelijk waar het over ging. Soms totaal op het verkeerde been gezet! Wat een intense voorstelling. En door iedereen zo goed gezongen en gespeeld. 👏🏻 @delamartheater https://t.co/WUPF8KFt5E
DeLaMar
Pros
Modern theater with fantastic atmospere.