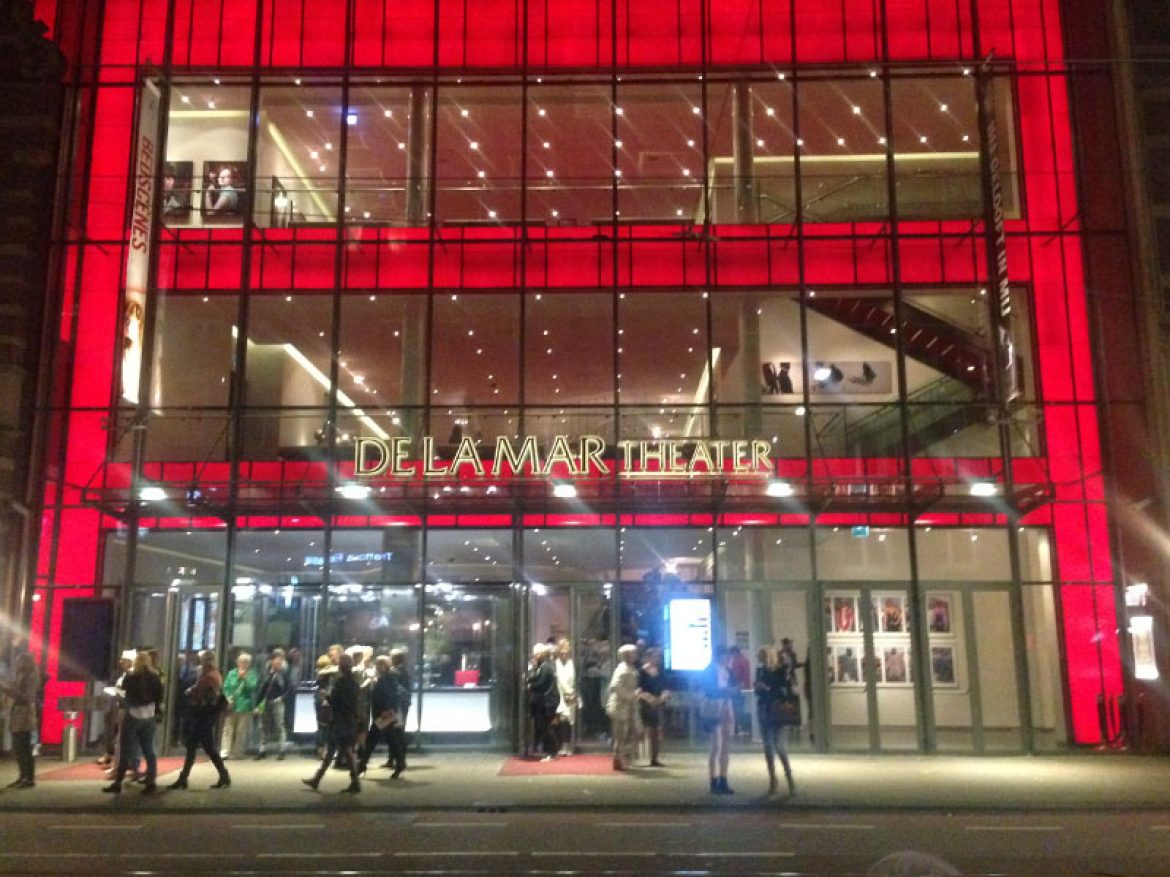 DeLaMar
Theater DeLaMar, which is located in Amsterdam, has a rich concert and tour program that it is often considered to be an entertainment complex, not a theater. But officially it is a theater. The building in which DeLaMar is housed, was built in 1887 and were used as a school. Since the Germans kept their data in this building, the Dutch resistance bombed the building on 7 January 1944. As a result, part of the building was burnt down. The old school building was rebuilt into the theater and the architect who built it was the husband of the famous comedienne, whose name was Fien de la Mar. He bought the building, remade it for his own project and created a small theater company and named it after his wife and her father, a famous theater director. The theater was closed for renovation from 2005 to 2010 and was officially opened by Queen Beatrix.
The theater is located near the Leidseplein. DeLaMar is a unique and popular location for all kinds of business arrangements. The two beautiful theaters and various atmospheric foyers of the DeLaMar Theater are ideal for any business event! DeLaMar Theater offers two beautiful halls, several tastefully decorated multifunctional foyers, studios, boardrooms and VIP areas, additional conference services such as hotel stays, transportation, decoration and technical support, delicious catering and high quality audiovisual facilities and services. The theater provides a stage for great musicals, comedies, classical performances, festivals and youth performances. It is a venue where creativity, hospitality and professionalism go hand in hand.
The theater has changed the owners and the specialization several times, it was closed a few times, but it still works. In 2010, the renovation, that turned the old building into a modern complex with two halls, was over. The theater has two halls: the main hall on the ground floor which utilizes the full height of the building and a more intimate hall on the first floor, totaling they can accommodate up to 1,500 people. This theater is one of the main tour platform of the city. The theater program includes concerts, performances and various shows. Also there are many festivals (usually a theatrical or musical), musicals and dance programs. There are events for children. It is worth to see the program of this theater if you want to see a good concert, but you have not yet decided what kind of performance you want to see. Here is the wide range of performance. Don't miss it!
For more information click here: delamar.nl
Freek Bartels en Jonathan Demoor gaan de rollen van Harry en William spelen in de musical Diana & Zonen! Zij staan vanaf 28 augustus prinsheerlijk op het podium naast Marlijn Weerdenburg, Brigitte Heitzer en Gerrie van der Kleij. Kaarten: https://t.co/eZrc2HHhXs ...

@Patient2punt0 Hi Frieda, dat kan hoor. We willen mensen natuurlijk graag een andere voorstelling aanbieden d.m.v. een voucher, maar mocht er niets voor je bij zitten dan kun je bij onze klantenservice (tel nr. 0900-1010202) restitutie aanvragen. Hopelijk ben je ...

Ook Brigitte Heitzer is Diana in de musical Diana & Zonen! Brigitte wisselt deze rol af met Marlijn Weerdenburg en neemt twee voorstellingen in de week voor haar rekening. ⁠Hoe leuk is dat!👑Kaarten voor Diana & Zonen via https://t.co/XQXBLDyKcr https://t.co/cdkgROddhh

Nu in verkoop: Knock-out! Acrobatische trucs, komische scènes en visuele effecten buitelen over elkaar heen in deze spectaculaire ode aan de actiefilm. Vanaf 24 augustus exclusief in DeLaMar Theater te zien! Kaarten: https://t.co/XanWieZohR https://t.co/Pd2HwhSsRH

Vandaag precies een jaar geleden moesten we voor het eerst onze deuren sluiten. In een jaar is er zoveel veranderd, dat het gek is om deze foto van een volle zaal te zien. Gelukkig starten er weer nieuwe theaterprojecten op ...

Grande dame Gerrie van der Klei is Camilla in de musical Diana & Zonen! Ze staat samen op het toneel met o.a. Marlijn Weerdenburg, die de rol van Diana op zich neemt. Diana & Zonen is vanaf 28 augustus te ...

Marlijn van Weerdenburg is Diana! Deze actrice, zangeres en presentatrice (bekend van o.a. MolTalk en Danni Lowinski) vertolkt de rol van prinses Diana in de musical Diana & Zonen. Vanaf 28 aug. in ons theater, kaarten via https://t.co/DaMuAZYTSY https://t.co/urcuFnaAdw

Wie wordt Diana? Om 13:00 uur maken we bekend wie deze hoofdrol in de musical Diana & Zonen gaat spelen! Zie jij het al?🧐 https://t.co/iaOFVN4NPL

COMING SOON: Diana & Zonen! Een gloednieuwe en meeslepende musical over prinses Diana: naast prinses vooral ook moeder, vechtend voor het geluk van haar zonen. Morgen meer... 👑 https://t.co/Bl6VGYGk7M

Even iets om naar uit te kijken: Spring Awakening komt naar DeLaMar West! Het wordt de allereerste musical in deze gloednieuwe culturele hotspot, naar verwachting zal de voorstelling hier komend voorjaar 20 keer worden opgevoerd. Who's excited? 🙌 https://t.co/wMYjIPY5jI

Volle zalen... wat kijken we daar toch naar uit! Met behulp van een prachtige column van Jan Beuving dromen wij onze zalen weer vol. Wil je weten hoe dat precies werkt? Check https://t.co/SoeGhN6fsg voor een cadeau aan iedereen die van ...

Opgenomen in een leeg DeLaMar Theater en vanavond om 21:05 op NPO 2: 'Adem' van Nasrdin Dchar. In deze show probeert hij grip te krijgen op de chaos van het afgelopen jaar. Moeten we 2020 heel snel vergeten, of juist ...

Willy Wonka is voor zijn landelijke musicaltournee op zoek naar muzikale kinderen tussen de 9 en 13 jaar oud met een goede zangstem én acteertalent. Ben of ken jij iemand die mee MOET doen aan deze kinderaudities? Meld je dan ...

Vanaf januari zijn we weer op zoek naar een nieuwe marketingstagiair! Onze huidige superstagiairs Chantal en Yannick leggen uit wat voor leuke dingen je in deze functie allemaal mag doen.
👉 https://t.co/1YPCw5sXxX https://t.co/56WRH5amcg

@jufwies Bedankt voor je lieve berichtje Wies, dat doet ons goed! 😊

Precies 10 jaar geleden openden wij voor het eerst onze deuren. We kunnen dit jubileum vandaag natuurlijk niet zo groots vieren als we hadden gehoopt, maar willen toch stilstaan bij alle mooie theatermomenten die we samen met jullie hebben beleefd. ...

Vanaf het najaar van 2021 kun je genieten van de gloednieuwe musical Diana & Zonen, over de meest besproken familie ter wereld: de Windsors. Laat je e-mailadres achter via https://t.co/56RZqObadA om als eerste op de hoogte te zijn van dit ...

@DollyBellefleur Dankjewel lieve Dolly, gelukkig zien we je volgend jaar weer terug bij ons op het podium!
DeLaMar
Pros
Modern theater with fantastic atmospere.