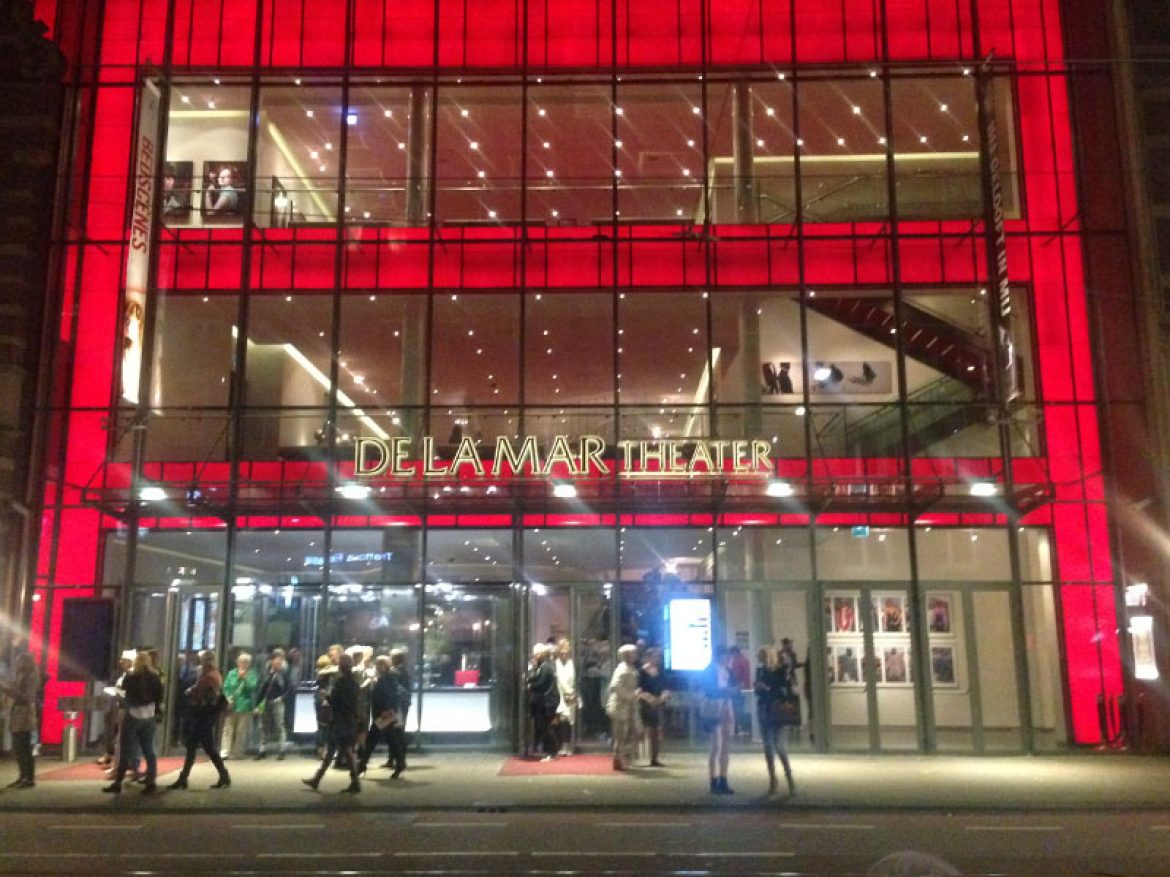 DeLaMar
Theater DeLaMar, which is located in Amsterdam, has a rich concert and tour program that it is often considered to be an entertainment complex, not a theater. But officially it is a theater. The building in which DeLaMar is housed, was built in 1887 and were used as a school. Since the Germans kept their data in this building, the Dutch resistance bombed the building on 7 January 1944. As a result, part of the building was burnt down. The old school building was rebuilt into the theater and the architect who built it was the husband of the famous comedienne, whose name was Fien de la Mar. He bought the building, remade it for his own project and created a small theater company and named it after his wife and her father, a famous theater director. The theater was closed for renovation from 2005 to 2010 and was officially opened by Queen Beatrix.
The theater is located near the Leidseplein. DeLaMar is a unique and popular location for all kinds of business arrangements. The two beautiful theaters and various atmospheric foyers of the DeLaMar Theater are ideal for any business event! DeLaMar Theater offers two beautiful halls, several tastefully decorated multifunctional foyers, studios, boardrooms and VIP areas, additional conference services such as hotel stays, transportation, decoration and technical support, delicious catering and high quality audiovisual facilities and services. The theater provides a stage for great musicals, comedies, classical performances, festivals and youth performances. It is a venue where creativity, hospitality and professionalism go hand in hand.
The theater has changed the owners and the specialization several times, it was closed a few times, but it still works. In 2010, the renovation, that turned the old building into a modern complex with two halls, was over. The theater has two halls: the main hall on the ground floor which utilizes the full height of the building and a more intimate hall on the first floor, totaling they can accommodate up to 1,500 people. This theater is one of the main tour platform of the city. The theater program includes concerts, performances and various shows. Also there are many festivals (usually a theatrical or musical), musicals and dance programs. There are events for children. It is worth to see the program of this theater if you want to see a good concert, but you have not yet decided what kind of performance you want to see. Here is the wide range of performance. Don't miss it!
For more information click here: delamar.nl
Of we nu genieten van grote gebaren in volle zalen of thuis een feestje maken van alledaagse dingen: theater maakt het leven nét wat mooier! Kom jij ook zo thuis na een bezoekje aan ons theater? 😅 https://t.co/shfHb22iPj

De cover van onze gloednieuwe brochure, met onze geweldige covermodellen Simone Kleinsma, Edwin Jonker en Tjitske Reidinga! Hoe vinden jullie hem geworden? https://t.co/9o4jsYaH71

Remko Vrijdag en @msandifort zouden het natuurlijk hartstikke leuk vinden als je naar hun veelgeprezen voorstelling 'Voorlopig voor altijd' komt kijken. Daarom laten ze even zien wat een leuke, spontante cabaretiers ze zijn! 😁
30 januari in ons theater: https://t.co/yfeXGVQcjj ...

Op 12 februari speelt Nasrdin Dchar voor de állerlaatste keer zijn voorstelling 'Ja'. Een voorstelling over de liefde, over het overbruggen van verschillen en over hoe Nasrdin en zijn vrouw Amy uiteindelijk 'Ja' tegen elkaar konden zeggen.
Kaarten: https://t.co/KMu8OJTj4A https://t.co/XXb9vRAI47

In november speelden De verleiders female dagenlang ons theater plat. De voorstelling was zo'n succes, dat de vrouwen van 3 t/m 5 maart terugkomen om hun tournee bij ons af te sluiten!⁠
Kaarten: https://t.co/EYAZ6sp9AC https://t.co/hHAB8X2KAc

William Spaaij sluit zich aan bij de cast van Lazarus! Hij gaat de rol van Valentine delen met Pieter Embrechts en zal vanaf eind januari een aantal keer per week te zien zijn. https://t.co/w9dDjrar79

BOWIE WEEK | Als een van de vele activiteiten tijdens Bowie Week (8-12 januari) kunnen Lazarus-bezoekers luisteren naar de verhalen van Bernard Rübsamen, de fotograaf achter de Bowie-expositie in ons theater.
Meer over de Bowie Week: https://t.co/avQeQAeJ9e https://t.co/ipkPSwo8G5

Sophie kan niet dansen, zeggen ze...maar wat maakt het uit?! Ze doet het lekker toch!! Komen jullie een dansje maken op de prachtige muziek van Mozart? Vandaag en morgen spelen we nog in @delamartheater en zondag de laatste in @ChasseTheater! ...

@apencandescribe Dat zou heel jammer zijn! We zetten het inderdaad in de mail die je voorafgaand aan de voorstelling krijgt en op verschillende borden in het theater, maar het is dan blijkbaar toch niet duidelijk genoeg. Bedankt voor je feedback, ...

Songfestivalliefhebbers opgelet: 13 april kun je bij ons [in het bijzijn van verschillende Songfestival-deelnemers] genieten van een exclusieve voorvertoning van de Songfestivaldocumentaire De weg naar de winst, gemaakt door Cornald Maas. Kaarten: https://t.co/EHSRyXBM9F https://t.co/uWNn6Eljlv

As time goes by...wederom genieten van Ellen @tendamme Nu met Casablanca. Sprankelende rasartiest, indrukwekkende zangeres. Verrassende mix van Aznavour, ABBA, Rammstein, Whitney Houston, Humphry Bogart, Les Poppys, tap, jazz, chanson, rock, buikdansen, circus...@delamartheater https://t.co/ZUHC9VZJK9

Wie zullen er deze kerst allemaal zo'n mooi cadeau onder de boom vinden? T/m morgen kun je nog gebruikmaken van onze kerstcadeau-actie: wanneer je theaterkaarten bestelt, pakken wij ze gratis in en sturen we ze op!
Meer info via https://t.co/2hVGLWRtAg ...
DeLaMar
Pros
Modern theater with fantastic atmospere.