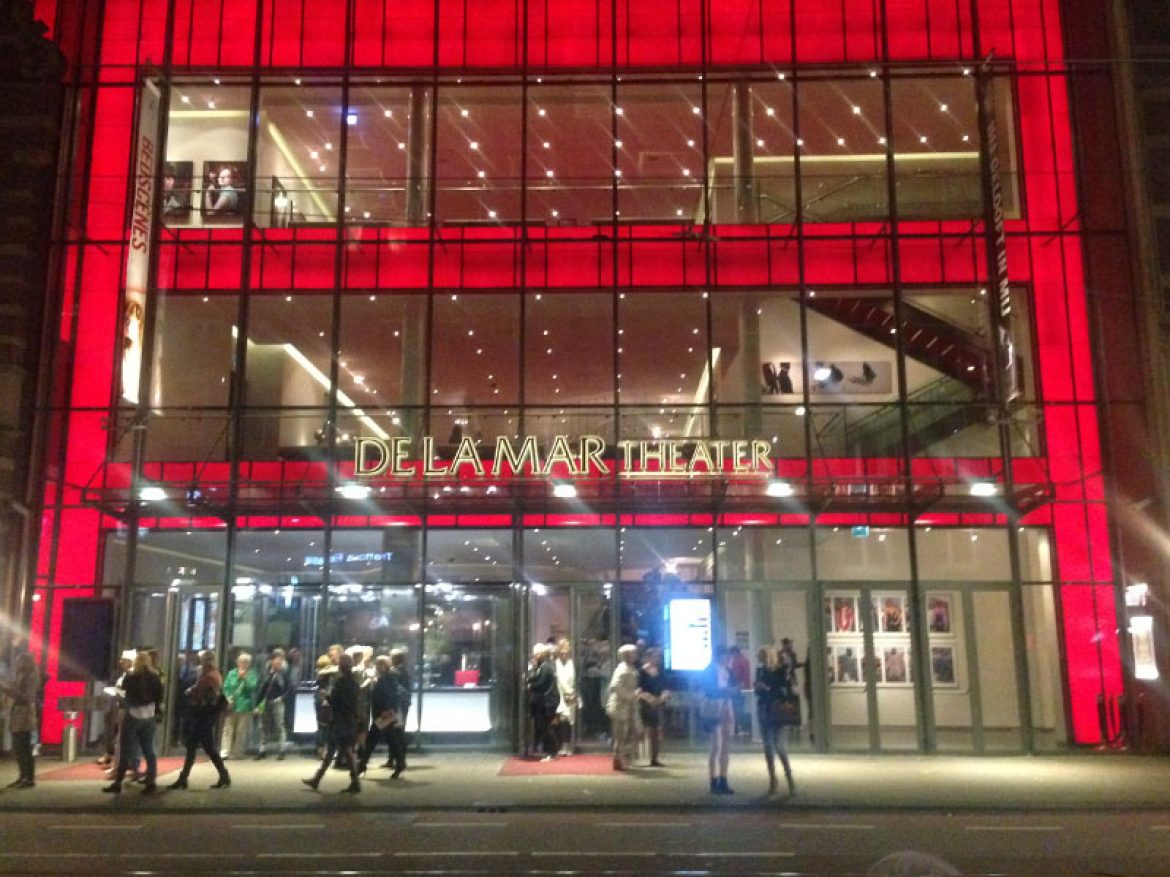 DeLaMar
Theater DeLaMar, which is located in Amsterdam, has a rich concert and tour program that it is often considered to be an entertainment complex, not a theater. But officially it is a theater. The building in which DeLaMar is housed, was built in 1887 and were used as a school. Since the Germans kept their data in this building, the Dutch resistance bombed the building on 7 January 1944. As a result, part of the building was burnt down. The old school building was rebuilt into the theater and the architect who built it was the husband of the famous comedienne, whose name was Fien de la Mar. He bought the building, remade it for his own project and created a small theater company and named it after his wife and her father, a famous theater director. The theater was closed for renovation from 2005 to 2010 and was officially opened by Queen Beatrix.
The theater is located near the Leidseplein. DeLaMar is a unique and popular location for all kinds of business arrangements. The two beautiful theaters and various atmospheric foyers of the DeLaMar Theater are ideal for any business event! DeLaMar Theater offers two beautiful halls, several tastefully decorated multifunctional foyers, studios, boardrooms and VIP areas, additional conference services such as hotel stays, transportation, decoration and technical support, delicious catering and high quality audiovisual facilities and services. The theater provides a stage for great musicals, comedies, classical performances, festivals and youth performances. It is a venue where creativity, hospitality and professionalism go hand in hand.
The theater has changed the owners and the specialization several times, it was closed a few times, but it still works. In 2010, the renovation, that turned the old building into a modern complex with two halls, was over. The theater has two halls: the main hall on the ground floor which utilizes the full height of the building and a more intimate hall on the first floor, totaling they can accommodate up to 1,500 people. This theater is one of the main tour platform of the city. The theater program includes concerts, performances and various shows. Also there are many festivals (usually a theatrical or musical), musicals and dance programs. There are events for children. It is worth to see the program of this theater if you want to see a good concert, but you have not yet decided what kind of performance you want to see. Here is the wide range of performance. Don't miss it!
For more information click here: delamar.nl
Dit theaterdilemma was nét iets te pittig voor Rop Verheijen en Rian Gerritsen… 🙊
Luister onze podcast 'De Artiestenfoyer' in je favoriete podcast app en laat een mooi theaterdilemma achter in de comments hieronder! 👇 https://t.co/p6IX9FozV8

De laatste repetities voor Hello again zijn in volle gang, want vanaf donderdag is deze musical over liefde, lust en macht te zien in DeLaMar West! Met Brigitte Heitzer, Cystine Carreon e.v.a.
👉 https://t.co/rP1HFnHVrS https://t.co/lQiXS9S0Kn

De cast van Volkstuin complex is weer terug in ons theater❤️. Zoals je aan de plaatsing van de hand van Tina de Bruin kunt zien hebben ze het erg gezellig met elkaar, en dat is ook zeker terug te zien ...

🎉 We hebben een podcast! 🎉 In de eerste aflevering van 'De artiestenfoyer' zijn Rop Verheijen en Rian Gerritsen te gast om de vraag 'Is theater grappig?' te beantwoorden. En dat werd... ja, grappig!

Abonneer je op 'De Artiestenfoyer' in ...

Nu in verkoop: 'Wolfgang, het wonderjong' van regisseur Pieter Kramer! In deze grootse muziektheatervoorstelling volgen we Wolfgang 'Wolfie' Amadeus Mozart in zijn leven als kindster én recalcitrante puber.
Kaarten: https://t.co/y2zFy4SFc1 https://t.co/9j8V463UJ9

De cast van Falsettos is compleet! 🤩 In deze met Tony Awards bekroonde musical volgen we een joodse 'modern family', o.a. bestaande uit vader Marvin, zijn ex-vrouw, zijn zoon én zijn nieuwe vriend.

Kaarten: https://t.co/i2nxSvsWhl https://t.co/o4BD2caIYe

Voordat Nasrdin Dchar zijn theaterpauze inlast, kun je hem volgend weekend voor de laatste keer op het toneel zien schitteren! Vrijdag en zondag speelt Nasrdin alle drie zijn solovoorstellingen op één avond en krijg je tussendoor heerlijke hapjes.
https://t.co/v3SN99hvwz https://t.co/ZP3cxVRT7F

Nog één weekendje feesten, lachen en huilen en dan zit Festen er helaas alweer op! Als je deze zwartkomische bewerking van de legendarische filmklassieker nog niet hebt gezien, grijp dan nog snel je kans...⁠
⁠
Laatste kaarten via https://t.co/qmyT79377v https://t.co/vChgnng1yG

Na alle mooie recensies is 'Het wonderbaarlijke voorval met de hond in de nacht' nu ook geselecteerd voor het Nederlands Theater Festival als één van de 12 meest indrukwekkende producties van dit moment!

Vanaf 19 augustus terug in DeLaMar: https://t.co/pqq4c3nOg1 ...

Het is tijd voor de eerste voorstelling van Festen in DeLaMar! En een topcast als deze verdient natuurlijk wel een taartje om dat te vieren…

Festen, de zwartkomische toneelbewerking van de filmklassieker, is t/m 19 juni bij ons te zien. ...

De afgelopen weken zijn er een heleboel voorstellingen van theaterseizoen 22/23 in verkoop gegaan, en wat zit daar toch veel moois bij. Van grootse musicals tot intieme concerten en van hilarisch cabaret tot indrukwekkend toneel: bij ons zit je goed! ...

Amélie de musical dompelt je onder in de straten van Parijs, maar ook in Amélies eigen fantasiewereld! En dat allemaal dankzij dit prachtige decor 😍
T/m 5 juni in DeLaMar, laatste kaarten via https://t.co/21FLhHJuiF https://t.co/JyObqCaazV

Fred van Leer komt terug met zijn gloednieuwe show En route! Een show waarin hij op eigen wijze vertelt over alles wat op zijn pad komt. De kaartverkoop is zojuist gestart, dus wees er snel bij via https://t.co/MkMTnof8hS https://t.co/JjiOz6h2Eu

Here we go again; de musical Mamma Mia! komt terug in een heerlijke hedendaagse uitvoering! En ja hoor, alle bekende ABBA-nummers worden deze keer in de oorspronkelijke Engelse versies gezongen. Dat wordt lekker meezingen!🎵
De kaartverkoop is gestart via https://t.co/dDGZmbneEM ...

Gisterenavond was @soykroon bij @HumbertoRTL om te praten over zijn rol in het toneelstuk 'Nu ik je zie'; gebaseerd op het boek van Merlijn Kamerling over zijn vader Antonie. Soy werd gevraagd om het nummer 'Toen ik je zag' te ...

Laatste kans! De Speld Theater staat van 25 tot 30 mei in de @delamartheater te Amsterdam

@soykroon is volgend theaterseizoen te zien in de solovoorstelling 'Nu ik je zie'! Het stuk is gebaseerd op het gelijknamige boek van Merlijn Kamerling, waarin hij tien jaar na de dood van zijn vader Antonie op zoek gaat naar een ...

Niemand minder dan Brigitte Heitzer heeft zich bij de cast van Hello again gevoegd! In deze musical maken we kennis met 20 personages uit de 20ste eeuw, en net als o.a. Cystine Carreon en Desi van Doeveren mag Brigitte daar ...

De laatste voorstelling van de musical Annie zit er alweer op... Bedankt lieve cast & crew (hier te zien in de DeLaMar-sportsokken😍) voor de 3 fijne weken, we gaan jullie missen! https://t.co/mlpwr3ltEh

Zin in een indrukwekkende dansvoorstelling? Vanavond staat (Y)our eyes only in DeLaMar West! In deze meeslepende show tonen de dansers de realiteit van jonge zwarte mannen in een westerse maatschappij. Kaarten (50% korting voor studenten en CJP'ers): https://t.co/7OLtLtISMh https://t.co/gey1yUBYsH

Wegens groot succes komt het veelgeprezen toneelstuk 'Het wonderbaarlijke voorval met de hond in de nacht' terug naar DeLaMar!⁠ 19 aug t/m 1 sep te zien, meer info (en enthousiaste publieksreacties ❤) via https://t.co/pqq4c3FpEB ⁠
'Een onweerstaanbare productie' ⭐⭐⭐⭐⭐ NRC ...
DeLaMar
Pros
Modern theater with fantastic atmospere.