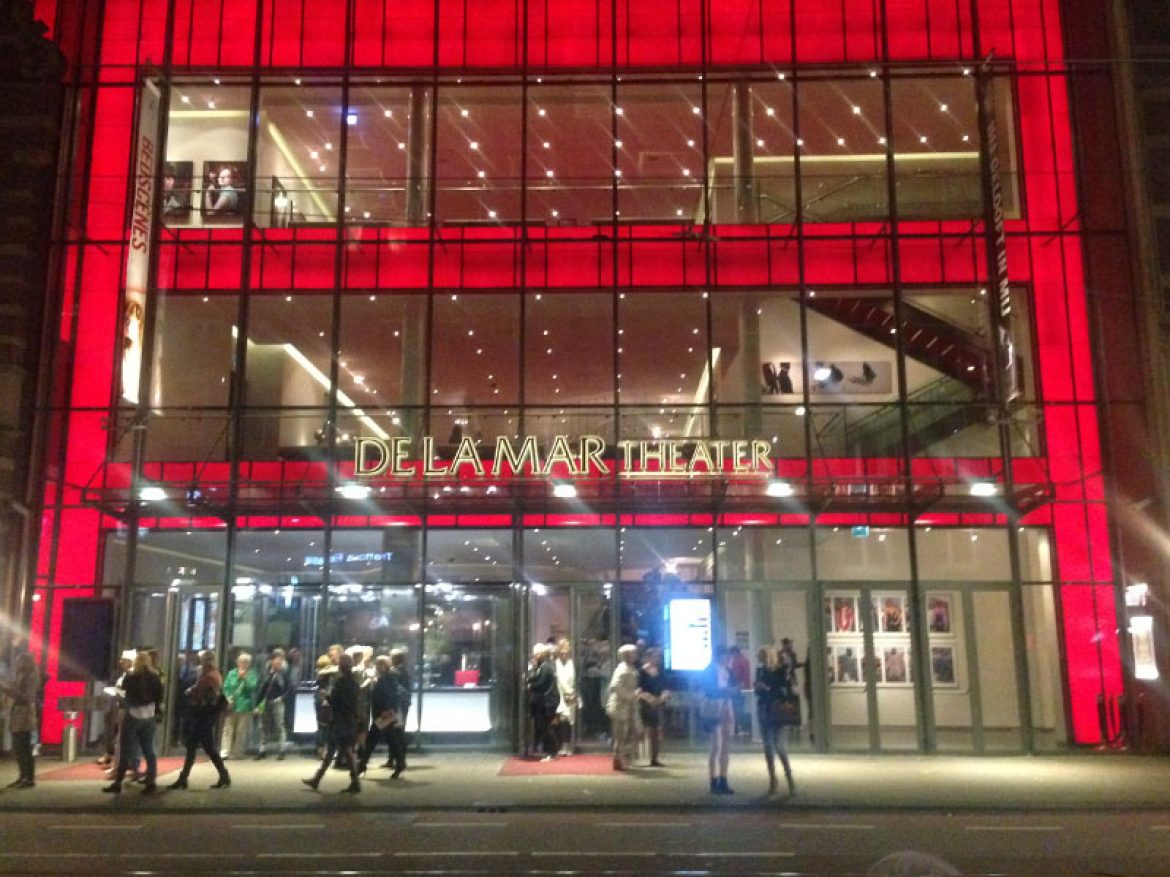 DeLaMar
Theater DeLaMar, which is located in Amsterdam, has a rich concert and tour program that it is often considered to be an entertainment complex, not a theater. But officially it is a theater. The building in which DeLaMar is housed, was built in 1887 and were used as a school. Since the Germans kept their data in this building, the Dutch resistance bombed the building on 7 January 1944. As a result, part of the building was burnt down. The old school building was rebuilt into the theater and the architect who built it was the husband of the famous comedienne, whose name was Fien de la Mar. He bought the building, remade it for his own project and created a small theater company and named it after his wife and her father, a famous theater director. The theater was closed for renovation from 2005 to 2010 and was officially opened by Queen Beatrix.
The theater is located near the Leidseplein. DeLaMar is a unique and popular location for all kinds of business arrangements. The two beautiful theaters and various atmospheric foyers of the DeLaMar Theater are ideal for any business event! DeLaMar Theater offers two beautiful halls, several tastefully decorated multifunctional foyers, studios, boardrooms and VIP areas, additional conference services such as hotel stays, transportation, decoration and technical support, delicious catering and high quality audiovisual facilities and services. The theater provides a stage for great musicals, comedies, classical performances, festivals and youth performances. It is a venue where creativity, hospitality and professionalism go hand in hand.
The theater has changed the owners and the specialization several times, it was closed a few times, but it still works. In 2010, the renovation, that turned the old building into a modern complex with two halls, was over. The theater has two halls: the main hall on the ground floor which utilizes the full height of the building and a more intimate hall on the first floor, totaling they can accommodate up to 1,500 people. This theater is one of the main tour platform of the city. The theater program includes concerts, performances and various shows. Also there are many festivals (usually a theatrical or musical), musicals and dance programs. There are events for children. It is worth to see the program of this theater if you want to see a good concert, but you have not yet decided what kind of performance you want to see. Here is the wide range of performance. Don't miss it!
For more information click here: delamar.nl
Nadat ons theater 2,5 maand lang fungeerde als bruine kroeg, zit de allerlaatste voorstelling van 't Schaep met de 5 Pooten in Amsterdam er nu toch echt op. Bedankt lieve cast en crew voor alle gezelligheid, we gaan jullie missen! ...

De nieuwe kleren van Amadeus Voor het muzikale spektakel Amadeus ontwierp couturier Mattijs van Bergen maar liefst 200 outfits in een half jaar. In dit artikel lees je meer over zijn inspiratiebronnen en kun je dankzij Augmented Reality een aantal kostuums van alle kanten bekijken!
...

Hendrik Groen zoekt ouderenkoren Komend theaterseizoen is Hendrik Groen terug met een nieuwe voorstelling! Extra leuk: tijdens elke voorstelling mag een ouderenkoor uit de regio een aantal bekende nummers zingen. Wil jij jouw koor hiervoor aanmelden? Mail dan naar [email protected]
De knuffelbejaarde van Nederland ...

Summer dance forever | Official trailer Vergeet niet om Summer Dance Forever aan je festivallijstje van deze zomer toe te voegen! Dit grootste urban dancefestival ter wereld heeft locaties door heel Amsterdam, maar bij ons kun je twee dagen lang genieten van het allerbeste uit de ...

Amadeus | De kostuums Het muzikale spektakelstuk Amadeus zit vol prachtige kostuums! Ontwerper Mattijs van Bergen toont een aantal outfits van Mozart, Salieri en gasten van het gemaskerde bal, inclusief een behoorlijk 'uitgesproken' broek.😅
Kaarten: https://bit.ly/2ZkuWhJ

't Schaep met de 5 Pooten | Quiz met de 4 Pooten In de Quiz met de 4 Pooten beantwoordt de cast van 't Schaep met de 5 Pooten allerlei persoonlijke vragen... Wie is er bijvoorbeeld het grappigst? En wie kan de meeste biertjes wegtikken?
Nog t/m volgende week zondag in DeLaMar ...

TRAKTEER EEN STADSGENOOT | Kom op vrijdag 14 juni naar 't Schaep met de 5 Pooten en doe een goede daad! Als je via onderstaande link kaarten bestelt, betaal je voor jouw kaartje maar 25 euro én geef je automatisch ...

Holly Mae Brood in Lazarus Ook Holly Mae Brood gaat de cast van Lazarus versterken! Gisteren werd al bekend dat o.a. Noortje Herlaar en Pieter Embrechts rollen gaan vertolken in dit laatste meesterwerk van David Bowie, en morgen komen er weer nieuwe namen bij...
David ...

@MarionHeijman @StanRams Was, ja 😉 In deze voorstelling is ze een stoer meisje van nu, en daarom zijn ook gewoon de vijf mest geschikte meiden gecast (ongeacht hun haarkleur)!

Noortje Herlaar en Pieter Embrechts in Lazarus The word is out: Naast Gijs Naber gaan Noortje Herlaar en Pieter Embrechts hoofdrollen vertolken in David Bowies laatste meesterwerk Lazarus!
David Bowies meesterwerk Lazarus met Gijs Naber is vanaf oktober exclusief te zien in DeLaMar Theater in Amsterdam. Bestel ...

Time flies, alweer de laatste week van onze vijfsterren muziektheatervoorstelling Casablanca. Laatste kans. Zaterdag en zondag 8 & 9 juni te zien in Theater DeLaMar in Amsterdam. Hopelijk treffen we elkaar! https://t.co/xZH9umPWGW https://t.co/USFvIsKBSj

BREAKING NEWS | Wegens de grote vraag naar kaarten voor Lazarus zijn er nu 50.000 extra tickets in verkoop! Beleef David Bowie's laatste meesterwerk t/m 5 april in DeLaMar Theater.
Kaarten: https://t.co/gpvlBS9pGj https://t.co/IWIvjpLNgs

Lazarus | 50.000 extra kaarten BREAKING NEWS | Wegens de grote vraag naar kaarten is de speelperiode van Lazarus verlengd t/m 5 april! Dit betekent dat er nu 50.000 extra tickets in verkoop zijn voor David Bowies laatste meesterwerk.
Kaarten: https://bit.ly/2QHhlxz

Amadeus | Mozarts muziekquiz Om zich voor te bereiden op hun rollen in Amadeus proberen Sander Plukaard en Mark Rietman de titels van Mozarts muziekstukken te raden. En dat verloopt niet altijd even soepeltjes... 😂

Amadeus | De repetities Wil je meer weten over Amadeus? In deze video vertelt regisseur Theu Boermans (ook bekend van Soldaat van Oranje) het verhaal van dit muzikale spektakelstuk en krijg je een kijkje achter de schermen bij de repetities.
Vanaf 26 juni in ...

Het Zwanenkoor bij 't Schaep met de 5 Pooten Ben jij nog niet naar 't Schaep met de 5 Pooten geweest, of wil je nog een keer? Dan is 8 juni de perfecte dag! Voor de voorstelling trakteert het Amsterdamse Zwanenkoor de bezoekers namelijk op een optreden vol heerlijke ...

Rob Scheepers had wat vrienden uitgenodigd voor zijn állerlaatste voorstelling van 'Kom maar op' op 14 juni in DeLaMar Theater, maar zoals je ziet zijn er een paar afzeggingen.😅 Het goede nieuws: er zijn nu nog wel genoeg kaartjes voor ...

Rob Scheepers | Een paar afzeggingen... Rob Scheepers had wat vrienden uitgenodigd voor zijn állerlaatste voorstelling van 'Kom maar op' op 14 juni in DeLaMar Theater, maar zoals je ziet zijn er een paar afzeggingen.😅 Het goede nieuws: er zijn nu nog wel genoeg kaartjes voor ...
DeLaMar
Pros
Modern theater with fantastic atmospere.