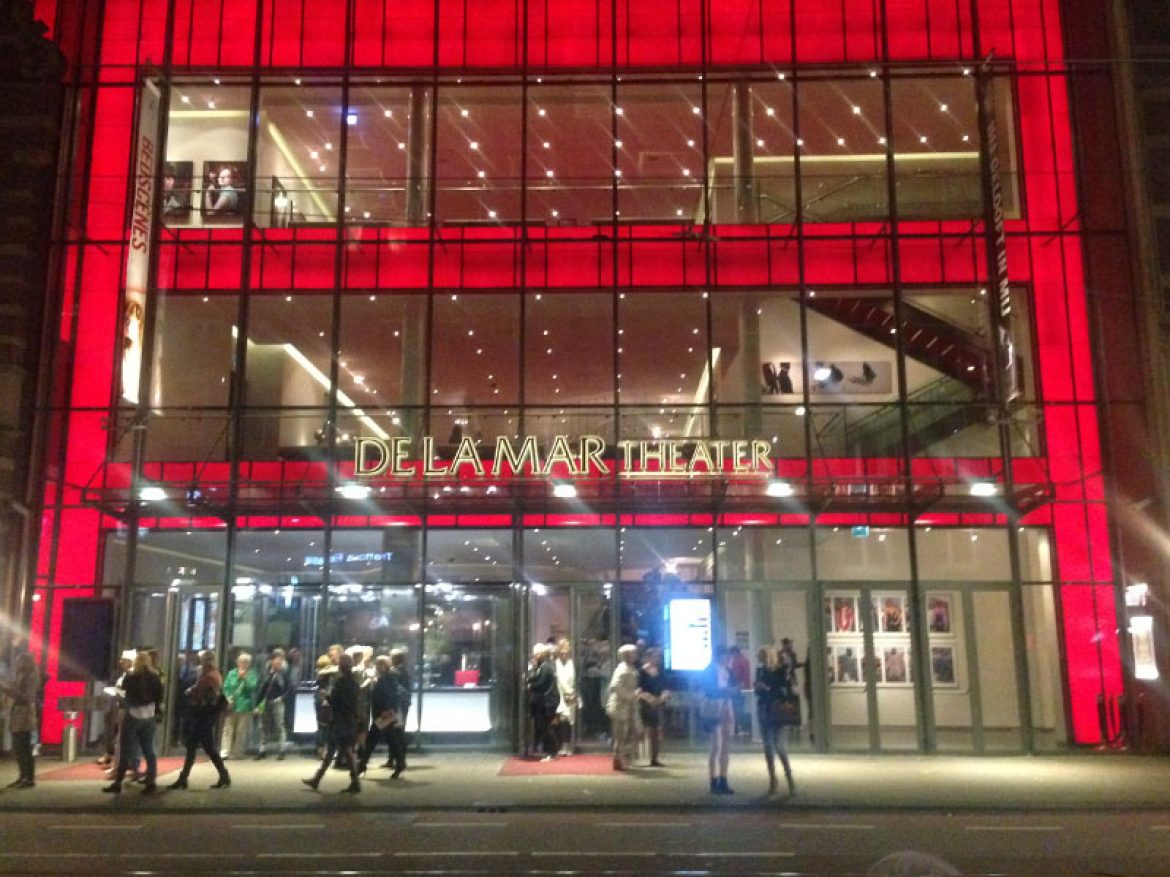 DeLaMar
Theater DeLaMar, which is located in Amsterdam, has a rich concert and tour program that it is often considered to be an entertainment complex, not a theater. But officially it is a theater. The building in which DeLaMar is housed, was built in 1887 and were used as a school. Since the Germans kept their data in this building, the Dutch resistance bombed the building on 7 January 1944. As a result, part of the building was burnt down. The old school building was rebuilt into the theater and the architect who built it was the husband of the famous comedienne, whose name was Fien de la Mar. He bought the building, remade it for his own project and created a small theater company and named it after his wife and her father, a famous theater director. The theater was closed for renovation from 2005 to 2010 and was officially opened by Queen Beatrix.
The theater is located near the Leidseplein. DeLaMar is a unique and popular location for all kinds of business arrangements. The two beautiful theaters and various atmospheric foyers of the DeLaMar Theater are ideal for any business event! DeLaMar Theater offers two beautiful halls, several tastefully decorated multifunctional foyers, studios, boardrooms and VIP areas, additional conference services such as hotel stays, transportation, decoration and technical support, delicious catering and high quality audiovisual facilities and services. The theater provides a stage for great musicals, comedies, classical performances, festivals and youth performances. It is a venue where creativity, hospitality and professionalism go hand in hand.
The theater has changed the owners and the specialization several times, it was closed a few times, but it still works. In 2010, the renovation, that turned the old building into a modern complex with two halls, was over. The theater has two halls: the main hall on the ground floor which utilizes the full height of the building and a more intimate hall on the first floor, totaling they can accommodate up to 1,500 people. This theater is one of the main tour platform of the city. The theater program includes concerts, performances and various shows. Also there are many festivals (usually a theatrical or musical), musicals and dance programs. There are events for children. It is worth to see the program of this theater if you want to see a good concert, but you have not yet decided what kind of performance you want to see. Here is the wide range of performance. Don't miss it!
For more information click here: delamar.nl
Maak jij het met wat wijn op ook weleens iets te bont? In de thrillerkomedie WIJN loopt een gezellig wijnavondje tussen vrienden compleet uit de hand, maar of dat nou door de drank komt…
Meer info: http://bit.ly/2oRtpPg

@TrudyBieleman @jonvaneerd Hi Trudy! Er staan bij ons tientallen voorstellingen in het theater, waarvan we er maar een paar kunnen uitlichten op onze website. De andere shows vind je onder het menu 'overige voorstellingen'. Maar goed nieuws: we hebben @jonvaneerd ...

Geweldig concert in een prachtig theater; @YannisKotsiras in het @delamartheater! Oude en nieuwe nummers, maar ook gouwe ouwe krakers van Míkis Theodorákis. Sfeerlichtjes met de smartphone... En een gezellige Pílion-reünie... Griekse muziek en fijne mensen geven energie!!! 🇬🇷 https://t.co/65kkX5D6zQ

Photos from DeLaMar Theater's post OM NAAR UIT TE KIJKEN | Deze week kun je in het DeLaMar Theater genieten van La Superba (met Angela Schijf), de Ashton Brothers, The Simon and Garfunkel Story, Harrie & Eva, Mathilde Santing, Vuile Huichelaar, Hopper en het theatercollege ...

Een heerlijke avond gisteren in @delamartheater bij @PDouwesOfficial. Fantastische band o.l.v. @berndvandenbos die ook prachtige nummers heeft geschreven. Lieve Pia, wat ben je toch steengoed! We hebben genoten van je songs en je grappige verhalen. Liefs van ons. Tot gauw! ...

Over maar liefst twee weken is de musical 'Was Getekend, Annie M.G. Schmidt' te bewonderen in het @delamartheater Ben jij er ook bij?

Suzan & Freek - Altijd wel iemand Hebben jullie de prachtige Suzan & Freek-cover van 'Altijd wel iemand' al gehoord, die MAAN inspireerde om dit nummer gisterenavond bij DWDD te zingen?

Live genieten van Suzan & Freeks fantastisch vertolkte liedjes kan tijdens hun concert in het DeLaMar ...

Wegens de grote vraag naar kaarten voor Queen - A Night at the Theatre (met @LeoBlokhuis en @VanVelzenMusic ) zijn er extra stoelen in de verkoop gegaan!
De vorige lading extra tickets was binnen een uur verkocht, dus wees er ...

Wegens de grote vraag naar kaarten voor Queen - A Night at the Theatre (met Leo Blokhuis en VanVelzen) zijn er extra stoelen in de verkoop gegaan!
De vorige lading extra tickets was binnen een uur verkocht, dus wees er ...

Je zou het bijna vergeten door al die pracht en praal binnen, maar het DeLaMar Theater heeft ook een prachtig uitzicht!
DeLaMar
Pros
Modern theater with fantastic atmospere.