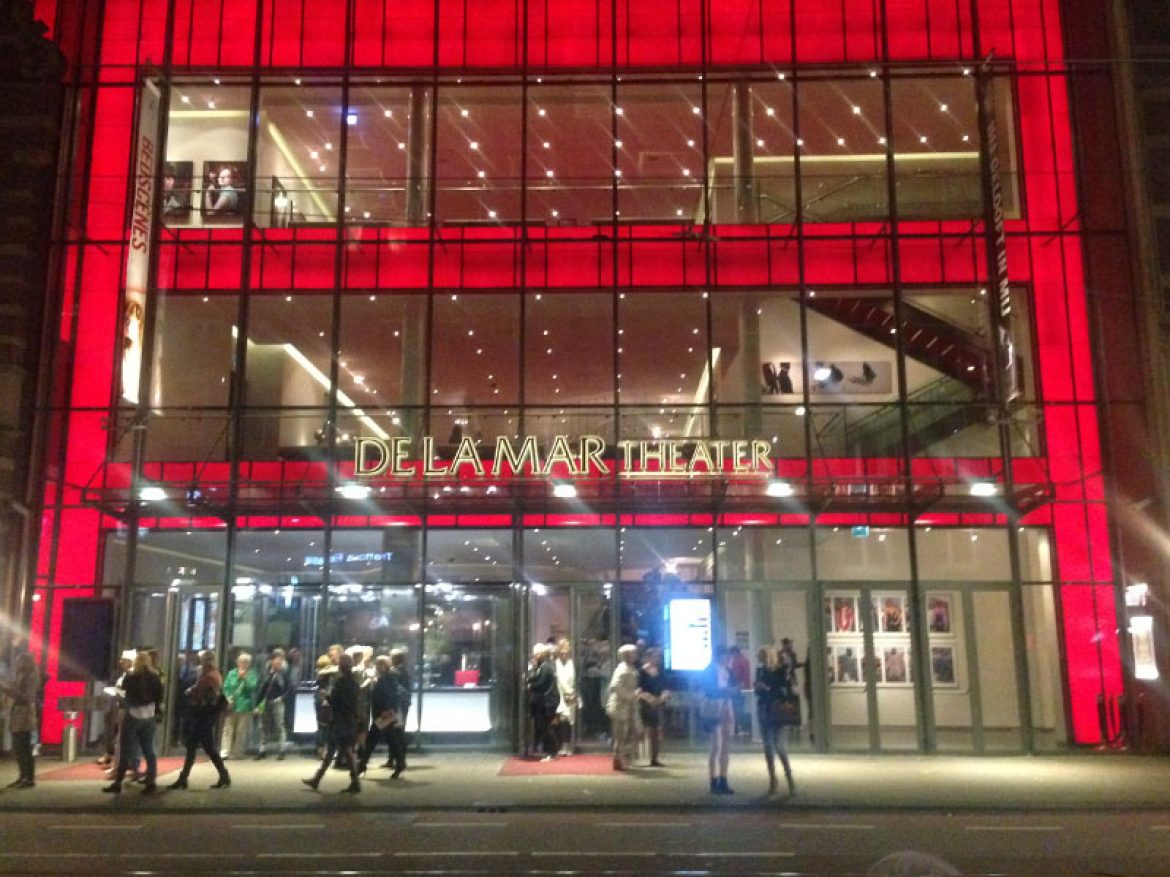 DeLaMar
Theater DeLaMar, which is located in Amsterdam, has a rich concert and tour program that it is often considered to be an entertainment complex, not a theater. But officially it is a theater. The building in which DeLaMar is housed, was built in 1887 and were used as a school. Since the Germans kept their data in this building, the Dutch resistance bombed the building on 7 January 1944. As a result, part of the building was burnt down. The old school building was rebuilt into the theater and the architect who built it was the husband of the famous comedienne, whose name was Fien de la Mar. He bought the building, remade it for his own project and created a small theater company and named it after his wife and her father, a famous theater director. The theater was closed for renovation from 2005 to 2010 and was officially opened by Queen Beatrix.
The theater is located near the Leidseplein. DeLaMar is a unique and popular location for all kinds of business arrangements. The two beautiful theaters and various atmospheric foyers of the DeLaMar Theater are ideal for any business event! DeLaMar Theater offers two beautiful halls, several tastefully decorated multifunctional foyers, studios, boardrooms and VIP areas, additional conference services such as hotel stays, transportation, decoration and technical support, delicious catering and high quality audiovisual facilities and services. The theater provides a stage for great musicals, comedies, classical performances, festivals and youth performances. It is a venue where creativity, hospitality and professionalism go hand in hand.
The theater has changed the owners and the specialization several times, it was closed a few times, but it still works. In 2010, the renovation, that turned the old building into a modern complex with two halls, was over. The theater has two halls: the main hall on the ground floor which utilizes the full height of the building and a more intimate hall on the first floor, totaling they can accommodate up to 1,500 people. This theater is one of the main tour platform of the city. The theater program includes concerts, performances and various shows. Also there are many festivals (usually a theatrical or musical), musicals and dance programs. There are events for children. It is worth to see the program of this theater if you want to see a good concert, but you have not yet decided what kind of performance you want to see. Here is the wide range of performance. Don't miss it!
For more information click here: delamar.nl
Het mooiste kerstcadeau koop je bij ons: verras je vrienden of familie met theaterkaartjes in een luxe kerstverpakking! We pakken het gratis in en doen daar heel erg ons best op…
Ook online te bestellen via https://t.co/HlkNwYXr2w https://t.co/Gil7TEGhPl

Vooruit, doen wij ook een Black Friday actie! Vanaf vandaag t/m maandag (Cyber Monday) krijg je €10,- korting op Lazarus en maar liefst 50% korting op Verliefd op Ibiza en Haal het doek maar op. Boek snel via https://t.co/bob14lhrGq
#blackfriday ...

Omdat we vandaag alweer 9 jaar bestaan, trakteerden Joop en Janine van den Ende ons op heerlijke gebakjes 😋 Op naar de 10 jaar! https://t.co/DYKNdxGlUB

KERSTVAKANTIE-TIP | Op 2 en 3 januari zijn er de Lazarus New Year Specials! Beleef David Bowies bejubelde meesterwerk Lazarus, met voorafgaand een speciale inleiding van oud Toppop-presentator Ad Visser.
Er zijn nog kaarten: https://t.co/ADti6mA1p5 https://t.co/UpDx70bDgh

🎄 Geef je vrienden of familie een heerlijke theateravond cadeau en verras ze met voorstellingskaarten in een luxe kerstverpakking! T/m 18 december pakken wij je kaarten feestelijk in en laten ze we thuisbezorgen: helemaal gratis. Meer info via https://t.co/2hVGLWRtAg🎄 https://t.co/mNpnkUyImN

@T0Pj0 Fijn dat het goed is gegaan met het geluid, leuk dat je erbij was!

Veel complimenten voor @delamartheater vanavond met moeder in rolstoel Lazarus meegemaakt. Prachtige omgeving, goede liften, maar of je nu wel of niet rolt: aardige en behulpzame mensen daar. Een 10+ ervaring.

@emmedem Dankjewel Emme, goed om te horen dat jullie zo'n fijne ervaring hebben gehad. Daar worden we blij van! 😊

Net zoals zovelen van jullie waren Joop en Janine van den Ende zwaar onder de indruk van Melk & dadels. Na de allerlaatste show gisterenavond werd er dan ook nog lang nagepraat op het podium. Aan het hele Melk & ...

KIJKTIP | "Het is eigenlijk heel egocentrisch, je wilt gewoon dat mensen je goed vinden." Bekijk vanavond de bijzondere reportage over Lazarus-regisseur Ivo van Hove in tv-programma Volle Zalen, 20:25 uur op NPO2.
#vollezalen #ivovanhove https://t.co/PXyiYzaJak

@matthuschka Fijn om te horen, echt een stuk dat in je hoofd blijft zitten hè?

Terug van Bowie's #Lazarus @delamartheater. Inderdaad een meesterwerk, en 'must-see'. Wat loopt er toch een talent rond in Nederland.

Dit zijn onze topstagiaires Lotte, Julia en Lisa. Helaas gaan ze ons bijna verlaten, daarom zijn we vanaf januari weer op zoek naar stagiair(e)s online marketing en sales & eventmanagement. Borrels, voorstellingen en foto's op het podium inbegrepen!
👉 https://t.co/1yqcRqxmSq ...

NIEUWS | Al vier seizoenen lang is Waitress een doorslaand succes op Broadway, en vanaf 3 oktober 2020 is deze overheerlijke musical in ons theater te zien! Ingrediënten zijn catchy liedjes, prachtige taarten en… Willemijn Verkaik! Voorinschrijving: https://t.co/XXsOUaBdD5

"Ja ja, ik ben het echt!" Altijd leuk als @remcoveldhuis langskomt, en gelukkig is hij hier 2 & 3 december weer! Dan speelt hij de allerlaatste voorstellingen van 'Lang verhaal kort': zijn eigen, ongeautoriseerde samenvatting van de Bijbel. Kaarten: https://t.co/hOkKa76YWi ...

@delamartheater gisteren genoten van Lazarus. Wat een kunstenaar is Bowie. Wat een geweldige regie. En kers op de taart @DraganBakema. Wat een talent. Zang, dans alles. En wat een mooi theater. Smaakt naar meer 🤩🤩
DeLaMar
Pros
Modern theater with fantastic atmospere.