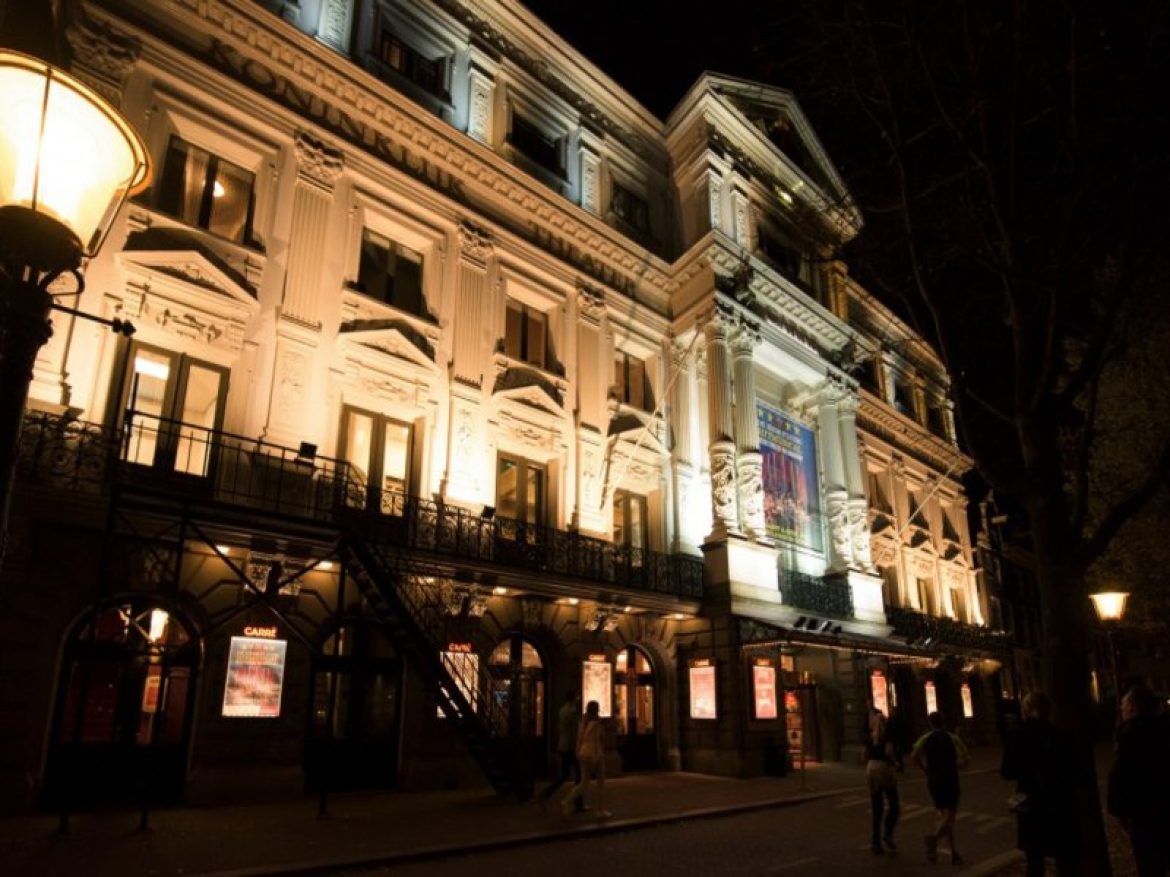 Carré Theatre
Royal Carré Theatre is a theater in Amsterdam which is located on the Amstel. It was originally called Circus Carré and is built in the classicist style. It is undoubtedly one of the most popular and well-known theaters in the Netherlands. Royal Theatre Carré features a wide range of different shows. The repertoire is diverse, from operas to sitcoms, from ballet to musicals, from children's plays to the greatest theater festivals. Royal theaters rarely can boast such a wide range of genres: the "royal"status in the country with a monarchy is very serious. And originally the theater was built as a circus. Do not be surprised, in that time it was just the usual. A director of the circus built it in 1887 for his own company, but then, in addition to the circus, they begin to show operetta and cabaret, since they have become more popular – so the circus become a theater.
Theater Carré specializes in the tour performances, but it has its own troupe and a very good orchestra. Their performances are also diverse – there are modern pieces, there are classical ones, there are operas. Touring performances usually predominate.
Here you can see classic performances. Usually they are large, complex performances with magnificent  design. There are concerts – opera, jazz or soul. Famous celebrities of classical music or jazz often perform here. Pop concerts are present too, but there are not so many of them. Also, there are many youth competitions and programs for children.
Another interesting point are the festivals. For example, Flamenco Biennial, an international festival of experimental theater or European guitarists competition  – you can find any festival depending on your preferences.
You should pay attention to the program of this theater if you want to see something good and qualitative enough, but not too serious. Here you can choose a cultural program for elderly parents or find the show on which you can come with your children.
For more information go here: carre.nl
Het aftellen kan beginnen! Over 2 weken strijkt de crème de la crème uit de internationale circuswereld weer neer in de piste van Carré voor het jaarlijkse Wereldkerstcircus. Zien we jou bij deze grootse en feestelijke jubileumeditie? https://t.co/FcQCKnWgIy https://t.co/ofbzuhgmJS

Brigitte Kaandorp, ook wel de 'absolute koningin van het Nederlands cabaret' genoemd door haar cabaretcollega's, speelt van 13 t/m 15 april drie extra voorstellingen in Carré.
De kaartverkoop start vrijdagochtend 6 december om 9:00 uur. https://t.co/b3to8Mvgcl

De Britse zangeres @FKAtwigs zorgde in @theatercarre voor steeds nieuwe verrassingen met dansers en verborgen muzikanten. Maar vooral haar bijzondere zangexpressie tilt het niveau van de live-act een stapje hoger. (●●●●●) https://t.co/Dc4MB3xE9S

De betoverende zangeres FKA twigs staat vanavond in een uitverkocht Carré met haar 'Magdalene Tour'. Geniet alvast van haar optreden bij BBC Radio 1 als voorproefje: https://t.co/1IlTKbO8ZR. We wensen iedereen die bij het prachtige concert is heel veel plezier! https://t.co/4XnyMecN9f

@eef_hekman Dag Eva, excuses voor de late reactie. Met een toneelplaats zit je letterlijk op het toneel/podium. Deze plaatsen worden niet toegewezen. Als je een toneelplaats bestelt, kun je op de avond zelf een stoel uitkiezen. Hopelijk zien we je ...

De absolute koningin van het Nederlands Cabaret. Wat. Was. Dat. Briljant. Ga er heen als het nog kan. Dit moet elke cabaretliefhebber gezien hebben. Diepe buiging voor hare majesteit. https://t.co/RzbAACtePR

Laat je meeslepen door het tragische verhaal van 'Rodin' door het gezelschap van het Boris Eifman Ballet. Op 6 & 7 december 2019 is deze voorstelling exclusief te zien in Carré. Boek nu tickets via: https://t.co/w8i3Sog7D3 https://t.co/EtTtyjm14t

@ingevanwolferen @jochemmyjer Hallo Inge, wat leuk dat je zaterdag naar Jochem Myjer gaat! Wist je dat je ook bij Carré kunt eten? Je kunt kiezen uit drie verschillende restaurants. Zo ben je ook altijd op tijd in de zaal. Kijk ...

De 32ste editie van @idfa is gisteravond officieel geopend in Carré met de première van de film 'Sunless Shadows'. Deze zondag zijn vier van de meest spraakmakende documentaires van het komende jaar te zien; 'Push, The Apollo, The Forum en ...

.@wendesnijders en @Ams_Sinfonietta vieren de liefde op 14,15 en 17 juni 2020. Deze drie concerten zijn een reprise van hun serie in 2016. Een zinderende mix van klassieke stukken, iconische nummers en Wende's eigen werk in intieme setting.
Boek nu ...

Na zijn debuut in Carré op 4 november 2018 keert de koning van het Turkse levenslied, Koray Avci, op 26 februari 2020 terug naar Amsterdam. Dit is tevens de aftrap van zijn nieuwe Europese tour. De kaartverkoop start woensdag 13 ...

@sybsybsob Hi! The theatre doors will open at 19:15 and the hall doors will open at 19:30. We are looking forward to welcoming you inour theatre.

@evertenmartine Goedemorgen! Het is geen probleem als jullie wat later komen. Onze medewerkers zullen jullie begeleiden naar jullie plek. Alvast veel plezier bij de voorstelling!
Carré Theatre
Pros
Beautiful theater, it is great for circus shows.
Cons
There is too noisy in the theater.