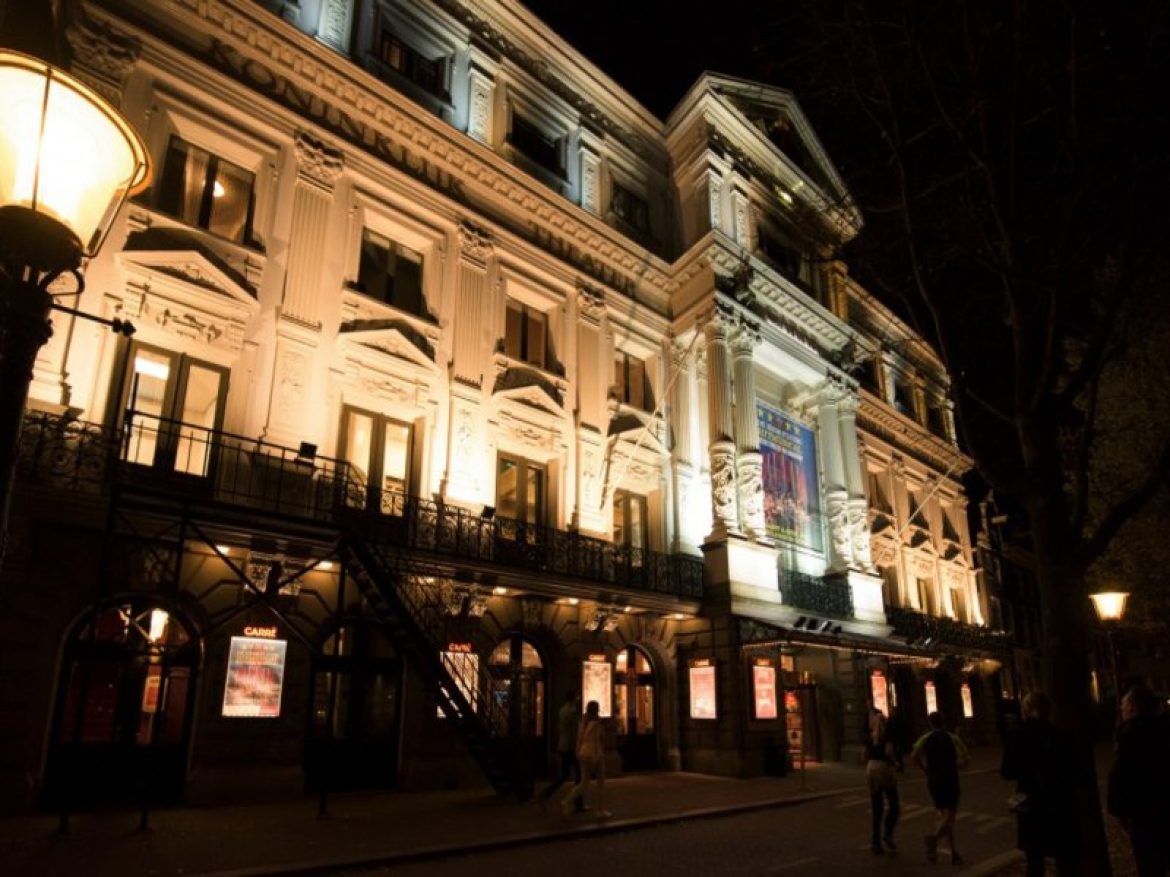 Carré Theatre
Royal Carré Theatre is a theater in Amsterdam which is located on the Amstel. It was originally called Circus Carré and is built in the classicist style. It is undoubtedly one of the most popular and well-known theaters in the Netherlands. Royal Theatre Carré features a wide range of different shows. The repertoire is diverse, from operas to sitcoms, from ballet to musicals, from children's plays to the greatest theater festivals. Royal theaters rarely can boast such a wide range of genres: the "royal"status in the country with a monarchy is very serious. And originally the theater was built as a circus. Do not be surprised, in that time it was just the usual. A director of the circus built it in 1887 for his own company, but then, in addition to the circus, they begin to show operetta and cabaret, since they have become more popular – so the circus become a theater.
Theater Carré specializes in the tour performances, but it has its own troupe and a very good orchestra. Their performances are also diverse – there are modern pieces, there are classical ones, there are operas. Touring performances usually predominate.
Here you can see classic performances. Usually they are large, complex performances with magnificent  design. There are concerts – opera, jazz or soul. Famous celebrities of classical music or jazz often perform here. Pop concerts are present too, but there are not so many of them. Also, there are many youth competitions and programs for children.
Another interesting point are the festivals. For example, Flamenco Biennial, an international festival of experimental theater or European guitarists competition  – you can find any festival depending on your preferences.
You should pay attention to the program of this theater if you want to see something good and qualitative enough, but not too serious. Here you can choose a cultural program for elderly parents or find the show on which you can come with your children.
For more information go here: carre.nl
@angelavanbussel Onze excuses voor de verwarring! Dit is inderdaad een foutieve mail.

@angelavanbussel Everybody's Talking About Jamie zal volgende week niet plaatsvinden, maar wordt verplaatst naar een nader te bepalen datum. Bezoekers worden hierover per e-mail geïnformeerd.

@mark11561108 The show of Roger Hodgson on 5th of September is postponed until 7 september 2021. Hope to see you then!

@Fubaroque Onze excuses dat een reactie op uw vraag tot nu toe is uitgebleven. Zou u uw vraag in een privébericht aan ons kunnen sturen? Dan zorgen we dat dit zo snel mogelijk wordt opgepakt.

@SqyD Hoi! Wat vervelend dat je problemen ervaart met het invullen van het online formulier. Zou je je keuze per e-mail aan ons kunnen doorgeven? Dat mag naar service@carre.nl.

@Fubaroque Gezien het grote aantal verplaatsingen en reacties, kan een reactie langer duren dan u van ons gewend bent. Onze excuses hiervoor.

Vanaf 16 juli stellen we iedere twee weken van do t/m zo een deel van ons terras beschikbaar als pop-up voor Amsterdamse restaurants die zelf geen of een beperkt terras hebben. De eerste twee weken opent Café Rijsel een pop-up. ...

@hetty32 We zijn achter de schermen nog druk bezig en in gesprek met de producent. We hopen binnenkort meer informatie te hebben over deze voorstelling en zullen dan per e-mail contact met u opnemen. (2/2)

@hetty32 Voor 'Everybody's Talking about Jamie' wordt nog naar een vervangende datum gezocht. Deze voorstelling is niet geannuleerd, maar wordt verplaatst.
Helaas is het nieuwe speelschema van 'Everybody's Talking about Jamie' op dit moment nog niet bekend. (1/2)

@aandewand @toezicht_AP De gezondheidscheck kunt u uiteraard ook telefonisch doorgeven of aan de deur voor uw bezoek. Na verzending worden de antwoorden gewist, deze houden wij dus verder niet in ons bestand.

@IlonAjax @pauldemunnik Heel veel plezier bij @pauldemunnik straks! We begrijpen dat het best spannend is. We doen er alles aan om te zorgen dat je zorgeloos kunt genieten van de voorstelling.

@finndaniil Wat vervelend dat je vast staat onderweg naar Carré. Hopelijk red je het op tijd. Mocht je toch later arriveren, dan kun je alsnog de zaal in dus geen zorgen! Tot straks en alvast heel veel plezier gewenst!

@aandewand @toezicht_AP De gezondheidscheck vooraf is een vereiste vanuit de overheid en het RIVM om uw veiligheid, en die van onze medewerkers en bezoekers te waarborgen. Kijk hier voor meer informatie: https://t.co/q3hS4dPKpp

@biancadenouter We verheugen ons op je komst morgenavond! We begrijpen dat het best spannend is. We doen er alles aan om te zorgen dat je zorgeloos kunt genieten van de voorstelling.

@YilmazIkky Bedankt! Kom je ook langs om het van dichtbij te bekijken?

🎥 Carré gaat weer open en dat is reden voor een klein feestje, al zetten 100 bezoekers geen zoden aan de dijk. 'Het kan eigenlijk niet, maar we doen het wel'
https://t.co/hv6A4mw4za
Carré Theatre
Pros
Beautiful theater, it is great for circus shows.
Cons
There is too noisy in the theater.