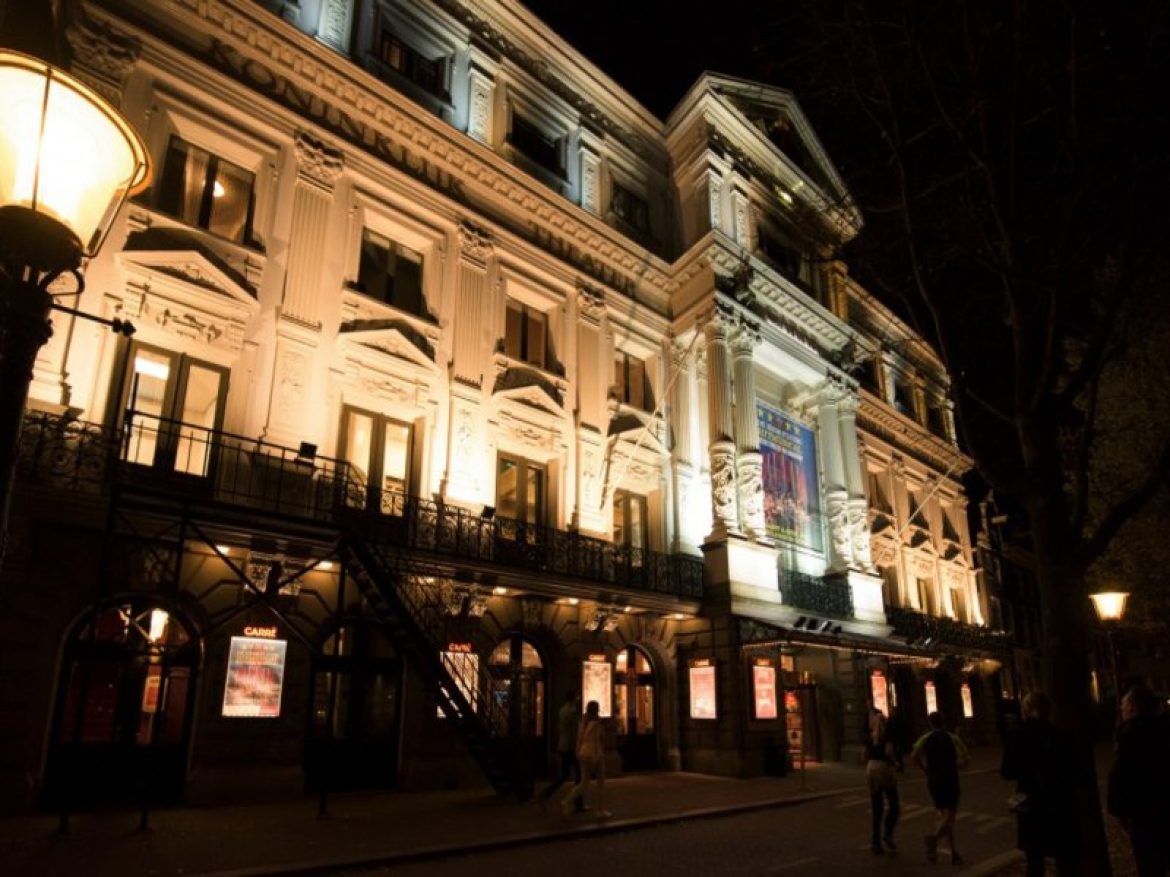 Carré Theatre
Royal Carré Theatre is a theater in Amsterdam which is located on the Amstel. It was originally called Circus Carré and is built in the classicist style. It is undoubtedly one of the most popular and well-known theaters in the Netherlands. Royal Theatre Carré features a wide range of different shows. The repertoire is diverse, from operas to sitcoms, from ballet to musicals, from children's plays to the greatest theater festivals. Royal theaters rarely can boast such a wide range of genres: the "royal"status in the country with a monarchy is very serious. And originally the theater was built as a circus. Do not be surprised, in that time it was just the usual. A director of the circus built it in 1887 for his own company, but then, in addition to the circus, they begin to show operetta and cabaret, since they have become more popular – so the circus become a theater.
Theater Carré specializes in the tour performances, but it has its own troupe and a very good orchestra. Their performances are also diverse – there are modern pieces, there are classical ones, there are operas. Touring performances usually predominate.
Here you can see classic performances. Usually they are large, complex performances with magnificent  design. There are concerts – opera, jazz or soul. Famous celebrities of classical music or jazz often perform here. Pop concerts are present too, but there are not so many of them. Also, there are many youth competitions and programs for children.
Another interesting point are the festivals. For example, Flamenco Biennial, an international festival of experimental theater or European guitarists competition  – you can find any festival depending on your preferences.
You should pay attention to the program of this theater if you want to see something good and qualitative enough, but not too serious. Here you can choose a cultural program for elderly parents or find the show on which you can come with your children.
For more information go here: carre.nl
Wad te doen na de zomer? Geniet op 5 september van een uniek filmconcert met nooit eerder vertoonde beelden uit de film Wad onder live begeleiding van het 42-koppige Noordpool Orkest.
Kaarten en info via: http://bit.ly/2MGSTwu

Verlang je ook zo naar een witte kerst op de heetste dag van het jaar? Laat het Wereldkerstcircus maar komen! Van 19 dec. 2019 t/m 5 jan. 2020 in Carré. http://bit.ly/2GtaofQ

Precies twee weken geleden barstte het 10-daagse spektakel Carré Cirque los. We blikken terug op een succesvolle eerste editie met verrassende voorstellingen en verbluffende acrobatiek op hoog niveau. https://t.co/VBpSJOKusJ

@marievandries Zoals besproken per e-mail kijken we graag samen naar de mogelijkheden. Onze ambitie is om zoveel mogelijk maatwerk te kunnen leveren en individuele wensen te kunnen vervullen. Dit gaat wel altijd in overleg met de producent.

Nieuwe namen Wende's Kaleidoscoop Nieuwe namen! Het verrassende en veelzijdige programma van Wende's Kaleidoscoop is bijna compleet! Op 11 en 12 september strijken o.a. Michelle David & The Gospel Sessions, BINKBEATSmusic, 45ACIDBABIES, Steef de Jong en Juicy neer in de piste van Carré. Meer ...

Bistro De Carrékelder Kom naar de proefweek (16 t/m 20 juli) van de Carrékelder en laat ons weten welk gerecht je terug wil zien op onze nieuwe menukaart!
Reserveer nu voor de saté-, entrecote- of vegetarische burgerproeverij (10 euro incl. dessert, excl. drank): ...

Zoek je verkoeling? Kom van 5 t/m 7 juli naar de voorstelling 'Blizzard' van FLIP Fabrique! Ondanks de tropische temperaturen sneeuwt het op het toneel van Carré. Boek nu de laatste kaarten via: http://bit.ly/2ZLMELa

Timeline Photos Comedysensatie Hannah Gadsby komt 13 november 2019 naar Carré met haar nieuwe voorstelling 'Douglas'. De Australische comédienne brak vorig jaar door bij het grote publiek met haar veelgeprezen voorstelling 'Nanette'. Ze heeft miljoenen mensen weten te raken met haar onverbloemde, ...

Dampende nederhop, intieme folk, gloeiend roodkoperen jazz, dans, mode, poëzie en nog veel meer verrassingen in de komende editie van 'Wende's Kaleidoscoop. Pitou, Gallowstreeteet, Typhoon, Willeke Alberti, Nederlands Kamerkoor,S10, Marieke Lucas Rijneveld en ORBI zijn op woensdag 11 en donderdag ...

Timeline Photos Woensdag 26 juni viert Van Dik Hout hun 25-jarig bestaan met een speciaal optreden in Carré. Voor deze speciale aangelegenheid zullen er drie muzikale gasten komen optreden op het toneel: namelijk Paul de Munnik, Daniël Lohues Elske DeWall. Mis deze ...

Final week 'The Book of Mormon' now on sale!

Bestel nu kaarten voor de laatste week dat de met Tony®, Olivier® en Grammy® Awards bekroonde show in Carré te zien is.
http://bit.ly/2Qp2lEG

De special guests van Bureau Sport XXL werden gisteravond bekendgemaakt bij het programma M met Margriet van der Linden. Frank Evenblij en Erik Dijkstra ontvangen op 29 mei aanstaande niemand minder dan: voormalig profvoetballer Wim Kieft en thaibokser Remy Bonjasky. ...

Timeline Photos Het Wereldkerstcircus viert dit jaar op grootse en feestelijke wijze zijn 35-jarig jubileum! De crème de la crème uit de internationale circuswereld schittert van 19 december 2019 t/m 5 januari 2020 in Carré. Winnaars van de grootste circusfestivals ter wereld ...

Timeline Photos De cast van 'The Book of Mormon', de Broadwayhit van Trey Parker, Matt Stone en Robert Lopez, in Carré is bekend! De hoofdrollen worden vertolkt door Kevin Clay als Elder Price en Conner Peirson als Elder Cunningham. Daarbij is de ...

Zaterdag 1 juni staat Miss Montreal in Carré. Speciaal voor deze avond gaat ze iets bijzonders doen. In dit filmpje vertelt Sanne hier meer over. Strijkers, Blues, Jazz, Nederlandstalig, tranentrekkers, vrolijke liedjes, alles komt voorbij!

Mis het niet, boek kaarten ...

Glen Hansard staat volgende week maandag 29 en dinsdag 30 april in Carré. De Ierse zanger speelde vorige maand ook al voor een uitverkochte zaal. Voor deze voorstellingen zijn nog enkele kaarten verkrijgbaar via http://bit.ly/2DxKiXo

Gewapend met een gitaar en ...

Timeline Photos Volgend jaar komt 'Het Zwanenmeer' terug naar Carré! Het hoogtepunt van het romantische ballet betovert en verleidt al jaren generaties van toeschouwers. Vanavond staat de wereldberoemde voorstelling, vertolkt door het Ballet en Symfonieorkest van de Nationale Russische Opera, bij ons ...
Carré Theatre
Pros
Beautiful theater, it is great for circus shows.
Cons
There is too noisy in the theater.