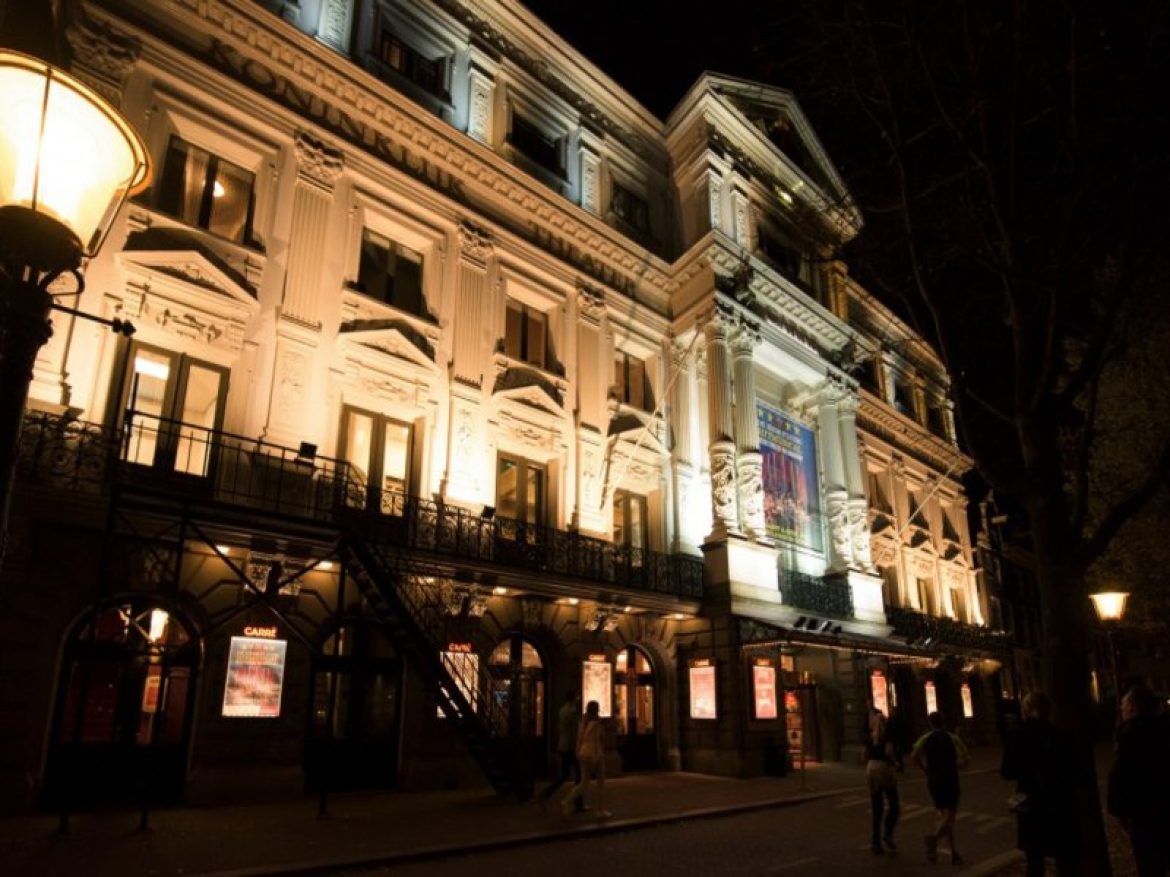 Carré Theatre
Royal Carré Theatre is a theater in Amsterdam which is located on the Amstel. It was originally called Circus Carré and is built in the classicist style. It is undoubtedly one of the most popular and well-known theaters in the Netherlands. Royal Theatre Carré features a wide range of different shows. The repertoire is diverse, from operas to sitcoms, from ballet to musicals, from children's plays to the greatest theater festivals. Royal theaters rarely can boast such a wide range of genres: the "royal"status in the country with a monarchy is very serious. And originally the theater was built as a circus. Do not be surprised, in that time it was just the usual. A director of the circus built it in 1887 for his own company, but then, in addition to the circus, they begin to show operetta and cabaret, since they have become more popular – so the circus become a theater.
Theater Carré specializes in the tour performances, but it has its own troupe and a very good orchestra. Their performances are also diverse – there are modern pieces, there are classical ones, there are operas. Touring performances usually predominate.
Here you can see classic performances. Usually they are large, complex performances with magnificent  design. There are concerts – opera, jazz or soul. Famous celebrities of classical music or jazz often perform here. Pop concerts are present too, but there are not so many of them. Also, there are many youth competitions and programs for children.
Another interesting point are the festivals. For example, Flamenco Biennial, an international festival of experimental theater or European guitarists competition  – you can find any festival depending on your preferences.
You should pay attention to the program of this theater if you want to see something good and qualitative enough, but not too serious. Here you can choose a cultural program for elderly parents or find the show on which you can come with your children.
For more information go here: carre.nl
De eerste voorstelling van 'Henk Poort en de Helden', met exclusief gastoptreden van @FloorJansen_, was binnen een half uur uitverkocht. Greep je toen mis? Goed nieuws: wegens grote vraag geeft @henkpoort een extra optreden om 16.00 uur op 16 juni ...

EGO In L'Orfeo speelt installatie 'Ego' een van de hoofdrollen. Ego is een kunstwerk van Lonneke Gordijn @StudioDrift. Een levende, bewegende, ademende sculptuur die de emoties en gedachten van Orfeo verbeeldt. Vanaf 25/1 in de theaters! #LOrfeoNL https://t.co/Cv0KYYEIBY

@ceesvanduuren We kijken er naar uit je te mogen verwelkomen bij Roger Hodgson in Carré! Wanneer je kaarten wil bestellen, let op want Top Ticket Shop is geen officieel verkoopkanaal. Bestel je kaarten via https://t.co/q7Sumu73MN.

Gisteravond zijn er bij een luchtact van het Wereldkerstcircus twee artiesten ten val gekomen. Beide artiesten verkeren buiten levensgevaar. Een van de artiesten heeft een operatie ondergaan waarvan we geïnformeerd zijn dat deze goed is verlopen. (1/2)

De voorstellingen van vandaag en morgen gaan door zoals gepland. Er wordt contact opgenomen met de bezoekers van de afgezegde voorstelling van gisteravond. (2/2)

@aprilallen_ The shows today and tomorrow will take place as originally scheduled.

Zit je met oliebollen en champagne in de aanslag om de oudejaarsconference van @claudiadebreij op @NPO1 te kijken? Kun je geen genoeg krijgen van haar scherpe grappen en prachtige liedjes? Begin het nieuwe jaar goed en kom naar #NU in ...

Woensdag 1 januari om 20.30
op SBS6 ! De registratie van Adem in Adem uit vanuit Carré! Zegt het voort, zegt het voort! Retweet en like! :) https://t.co/o5TadxTjVR

De Top 2000 van @nporadio2 is in volle gang!
@RogerHodgson staat er met Supertramp maar liefst 11 keer in.
Is jouw favoriete nummer al voorbij gekomen?
4 t/m 6 september hoor je ze allemaal live in Carré!
📸 Ima Rhebok ...

@MikelS1986 Beste Mikel,
Zou je hierover een mailtje kunnen sturen naar service@carre.nl, zodat we je vraag daar op kunnen pakken?

Sinds 1984 heeft de familie van der Meijden nog geen dag vrij gehad met kerst. Ze staan al 35 jaar aan het roer van het Wereldkerstcircus. Ook nu vieren ze de feestdagen in theater Carré, maar voor ons maken ze ...

@Loulou__007 Beste Loulou,
Zou je een mailtje kunnen sturen naar service@carre.nl? Dan pakken we je vraag daar verder op.

Wild uitgedost, spectaculair, theatraal en imponerend: tijdens het Wereldkerstcircus lijkt het inderdaad even alsof het circus nergens mooier is dan in Carré - ★★★★☆ - https://t.co/4DsMYlCvk2

@PetervanVleuten Wat een prachtige traditie! We kijken er naar uit jullie weer te mogen verwelkomen dit jaar!

@spvanderkwaak @parool Wat leuk dat je naar het Wereldkerstcircus in Carré wil komen. Vervelend dat het niet lukte om kaarten te bestellen. Hopelijk is het alsnog gelukt. Anders helpen we je natuurlijk graag. Zou je een mail kunnen sturen naar ...
Carré Theatre
Pros
Beautiful theater, it is great for circus shows.
Cons
There is too noisy in the theater.