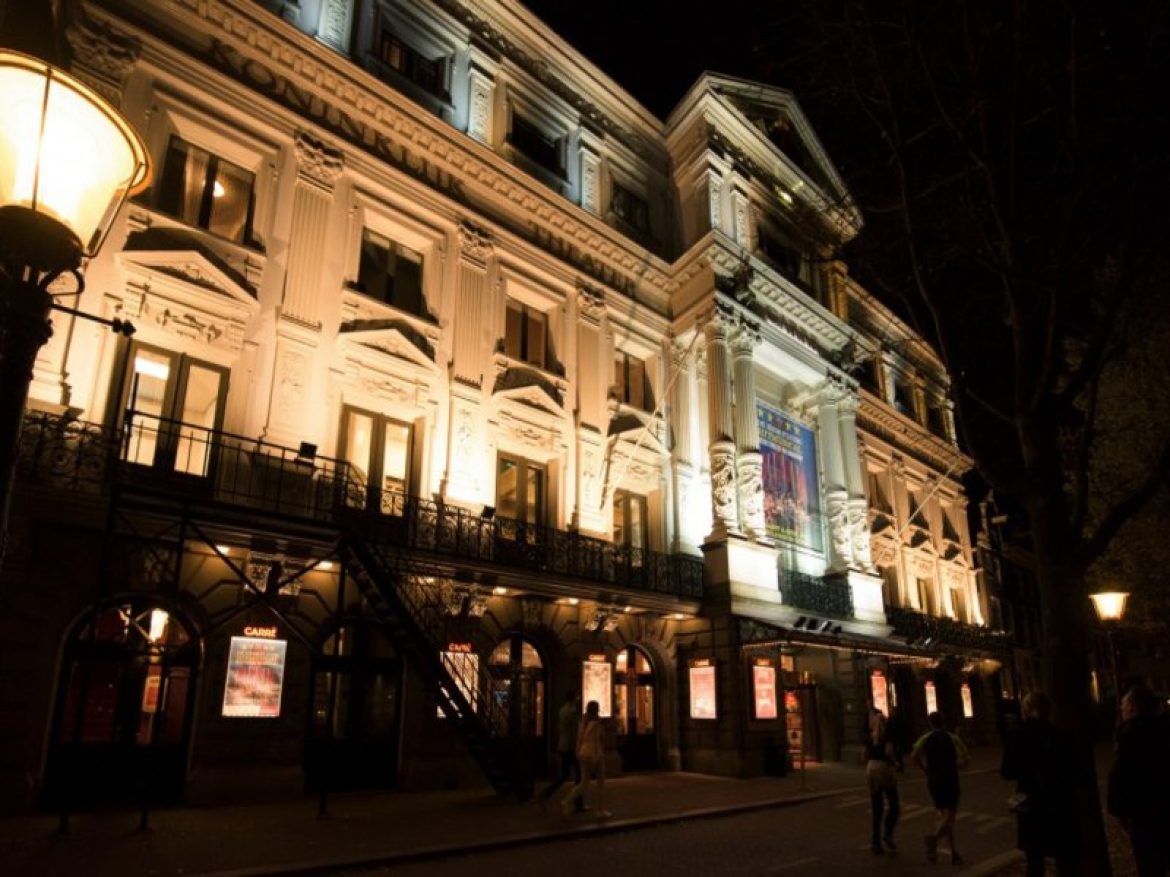 Carré Theatre
Royal Carré Theatre is a theater in Amsterdam which is located on the Amstel. It was originally called Circus Carré and is built in the classicist style. It is undoubtedly one of the most popular and well-known theaters in the Netherlands. Royal Theatre Carré features a wide range of different shows. The repertoire is diverse, from operas to sitcoms, from ballet to musicals, from children's plays to the greatest theater festivals. Royal theaters rarely can boast such a wide range of genres: the "royal"status in the country with a monarchy is very serious. And originally the theater was built as a circus. Do not be surprised, in that time it was just the usual. A director of the circus built it in 1887 for his own company, but then, in addition to the circus, they begin to show operetta and cabaret, since they have become more popular – so the circus become a theater.
Theater Carré specializes in the tour performances, but it has its own troupe and a very good orchestra. Their performances are also diverse – there are modern pieces, there are classical ones, there are operas. Touring performances usually predominate.
Here you can see classic performances. Usually they are large, complex performances with magnificent  design. There are concerts – opera, jazz or soul. Famous celebrities of classical music or jazz often perform here. Pop concerts are present too, but there are not so many of them. Also, there are many youth competitions and programs for children.
Another interesting point are the festivals. For example, Flamenco Biennial, an international festival of experimental theater or European guitarists competition  – you can find any festival depending on your preferences.
You should pay attention to the program of this theater if you want to see something good and qualitative enough, but not too serious. Here you can choose a cultural program for elderly parents or find the show on which you can come with your children.
For more information go here: carre.nl
Timeline Photos Met trots presenteren wij: 'Carré Cirque', een reeks spectaculaire en grensverleggende shows. De shows kenmerken zich door een eigenzinnige, energieke stijl met duizelingwekkende acrobatiek die de grenzen van het menselijk lichaam opzoekt.
De kaartverkoop start vrijdag 29 maart om 9:00 ...

AAH! De laatste kaarten voor #MENS in @theatercarre zijn zojuist gekocht 💛 De voorstelling op 21 april is dus UITVERKOCHT! Laatste mogelijkheid om #MENS nog te zien: op 12 april in @livepul 🇳🇱 op 13 april in @DeRomaVzw 🇧🇪 & ...

Timeline Photos Na een uitverkocht jubileumconcert in de zomer van 2018, komt Ilse DeLange dit najaar terug naar Carré. Haar onlangs aangekondigde nieuwe album 'New Amsterdam' komt dit najaar uit en wordt gevolgd door een nieuwe theatertournee. 'New Amsterdam' is opgenomen in ...

Timeline Photos Afgelopen zaterdag was de première van Stephen Sondheim's 'A Little Night Music'. Het publiek en de pers reageerde enorm enthousiast op deze uitvoering van de Nederlandse Reisopera.

★★★★★ - Trouw
"En dan is er Sondheims hitsong' Send in the Clowns' ...

@EllieEvergreen Hoi Ellen, Ik zie dat je ondertussen twee mooie kaarten naast elkaar hebt weten te bemachtigen, tot in september!

Aanstaande donderdag, 14 maart, staat René Froger in Carré. Om dit ultieme feest der herkenning compleet te maken nodigt hij Samantha Steenwijk en Side 2 Side (de boyband van Streetlab) uit om hem voor een uniek optreden op het toneel ...

Het cabaretduo Niels van der Laan en Jeroen Woe keert terug op tv met het nieuwe programma 'Even Tot Hier'. Vanavond schuiven ze aan bij @dwdd om hierover te vertellen. 10 & 11 mei staan ze in Carré met hun ...

Photos from Koninklijk Theater Carré's post Komend weekend gaat de musical van de Nederlandse Reisopera 'A Little Night Music' in première. Deze eerste scenefoto's geven alvast een sfeerimpressie.

'A Little Night Music' is een geestige en gelaagde muzikale zedenkomedie over de seksuele stoelendans van vier koppels ...

@Valroths @jochemmyjer our auditorium is cosy and intimate, indeed! Hopefully you liked the experience of a smaller venue like ours?

@MarkZijdemans Hoi Mark, wij hebben je klacht in behandeling genomen en dit met de producent besproken. Vanmiddag is hierover een mail naar je verzonden. Groet, Joyce

Dank je wel @Karin van #Carré. Je bent een topper om het probleem van #Guts op te lossen. Guts geeft niet thuis maar dankzij jou komt onze dag toch nog goed. Dank je wel voor de hulp!
Carré Theatre
Pros
Beautiful theater, it is great for circus shows.
Cons
There is too noisy in the theater.