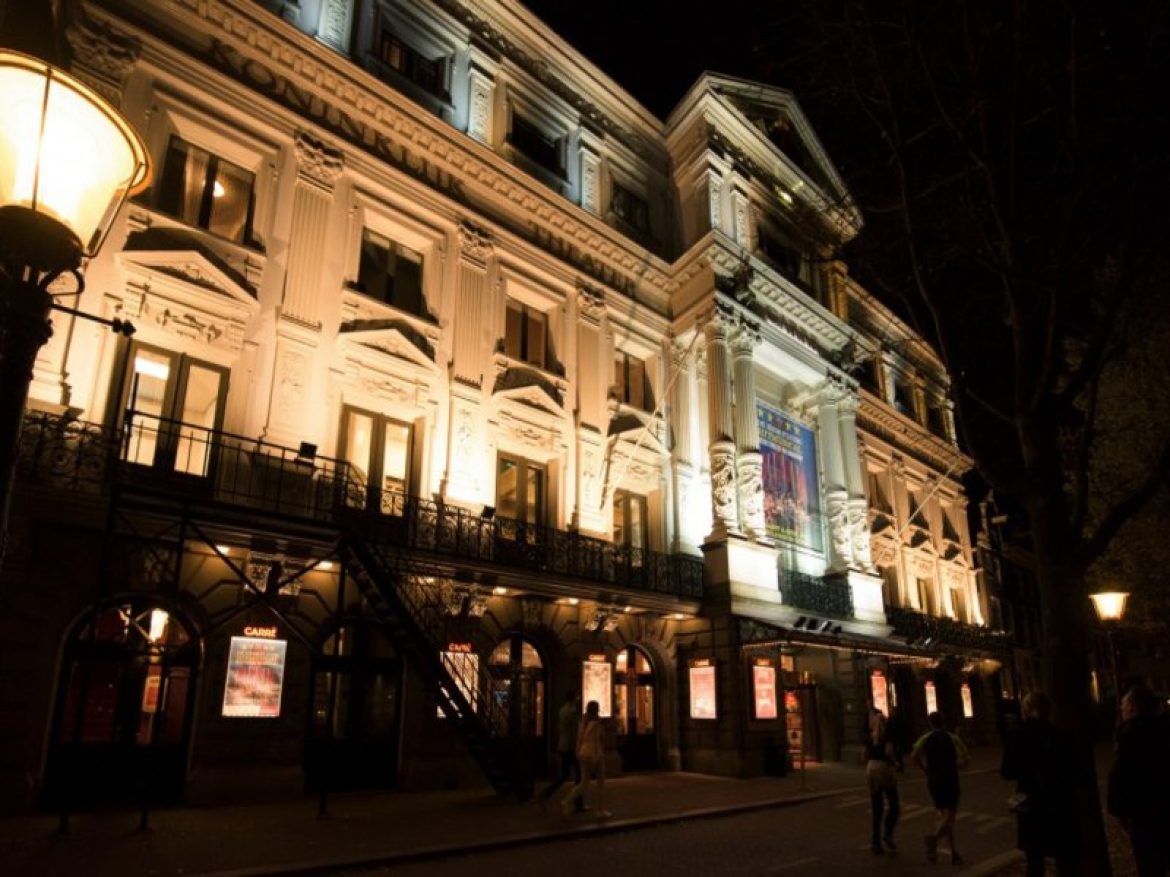 Carré Theatre
Royal Carré Theatre is a theater in Amsterdam which is located on the Amstel. It was originally called Circus Carré and is built in the classicist style. It is undoubtedly one of the most popular and well-known theaters in the Netherlands. Royal Theatre Carré features a wide range of different shows. The repertoire is diverse, from operas to sitcoms, from ballet to musicals, from children's plays to the greatest theater festivals. Royal theaters rarely can boast such a wide range of genres: the "royal"status in the country with a monarchy is very serious. And originally the theater was built as a circus. Do not be surprised, in that time it was just the usual. A director of the circus built it in 1887 for his own company, but then, in addition to the circus, they begin to show operetta and cabaret, since they have become more popular – so the circus become a theater.
Theater Carré specializes in the tour performances, but it has its own troupe and a very good orchestra. Their performances are also diverse – there are modern pieces, there are classical ones, there are operas. Touring performances usually predominate.
Here you can see classic performances. Usually they are large, complex performances with magnificent  design. There are concerts – opera, jazz or soul. Famous celebrities of classical music or jazz often perform here. Pop concerts are present too, but there are not so many of them. Also, there are many youth competitions and programs for children.
Another interesting point are the festivals. For example, Flamenco Biennial, an international festival of experimental theater or European guitarists competition  – you can find any festival depending on your preferences.
You should pay attention to the program of this theater if you want to see something good and qualitative enough, but not too serious. Here you can choose a cultural program for elderly parents or find the show on which you can come with your children.
For more information go here: carre.nl
Kerstvakantie tip: 'De Waanzinnige Boomhut van 52 Verdiepingen' (7+) van Meneer Monster is op vrijdag 7 januari maar liefst tweemaal te zien in Carré. Andy en Terry zijn terug met zo mogelijk nog meer fantastische uitvindingen! Kaarten zijn nu te ...

Extra 'Matinee in Carré' voorstelling op zaterdag 8 januari! Na haar bejubelde voorstelling 'Mens' ontwikkelt WENDE op dit moment haar volledig nieuw Nederlandstalige show 'De Wildernis'. Kaarten zijn nu te koop via https://t.co/EK1aGzxuom.

📷 Sanne de Wilde https://t.co/u1lNoIxP2t

Aanstaande zondag toveren Michelle David & The True-tones Carré om tot een ware kerstbeleving. Of, zoals Michelle het zegt: "Het is een show vol muziek die je met veel soul door de kersttijd en verder voert." Er zijn nog enkele ...

Na o.a. Peter Pannekoek, Rundfunk en Van der Laan & Woe won Nina de la Parra in 2021 de cabaretprijs Neerlands Hoop voor haar voorstelling 'Gods wegen'. Op vrijdagmiddag 24 december staat zij samen met Sanne Landvreugd (saxofoon) op het ...

Singer-songwriter Chris de Burgh komt 15 november 2022 voor een concert naar Amsterdam. De avond staat in het teken van zijn 27e studioalbum "The Legend of Robin Hood" en zijn classic hits. De kaartverkoop start vrijdag 17 december om 10.00 ...

Wat Youp zegt! Zoutmus neemt je mee in een middagvullende show vol spektakel, live muziek, verwarring en laat je lachen tot je tanden in de fik vliegen. Op 30 en 31 december om 13:30 uur in Carré, kaarten: https://t.co/8LFRLv8kGd. https://t.co/nRNvxIcm2o

Extra matinee voorstellingen op 27 t/m 29 december!

Peter Pannekoek behoort tot de top van het Nederlandse cabaret. Nu waagt hij zich voor het eerst aan de prestigieuze Oudejaarsconference. De messen zijn geslepen. Komt dat zien.
Kaarten zijn te koop: ...

We werken graag samen met @theaterbellevue om onze makers de kans te bieden te blijven spelen en gezamenlijk zoveel mogelijk bezoekers te kunnen verwelkomen. Met veel plezier presenteren we de matinees van Nina de la Parra en Zoutmus. Meer informatie ...

🎄 December is aangebroken en dat betekent dat de Kerstboom weer wordt opgetuigd. Met deze @theatercarre kerstbal wordt je kerstboom nog leuker! En de opbrengst van de verkoop gaat ook nog eens naar het goede doel. Koop hem hier 👉https://t.co/14Ll0ptMQ5 ...

De Amsterdam Klezmer Band heeft zin in nóg een feestje! Op 24 september stonden ze al in een uitverkocht Carré. Dat smaakt naar meer dus zijn ze, als onderdeel van de 'Matinee in Carré' voorstellingen, opnieuw te zien op zondagmiddag ...

Op zondag 8 mei 2022 is het tijd om een van 's werelds grootste jazzmuzikanten, Toots Thielemans, in de spotlights te zetten. @MetropoleOrkest verzorgt samen met Kenny Werner, Grégoir Maret en Philip Catherine een bijzonder concert in Carré. Kaartverkoop: https://t.co/0GLzHOJ7L2 ...

Spinvis komt terug! In 2022 viert de singer-songwriter zijn vierde lustrum en rondt zijn jubeljaar af met een concert op 10 december. In Carré presenteert hij een bloemlezing uit zijn oeuvre. Kaarten zijn nu te koop via https://t.co/AbnXDxm46V https://t.co/6qSOuLGCZw

Als onderdeel van de 'matinee in Carré' reeks speelt Froukje haar eerste concert in Carré op zaterdagmiddag 18 december. Met de release van haar EP 'Licht en Donker' eerder dit jaar bezegelt ze haar definitieve doorbraak. Kaarten zijn nu te ...

De Franse zangeres Zaz komt op 14 april 2022 naar Carré, als onderdeel van haar 'Organique' tour. Ze speelt nummers van haar laatste album 'Isa' én haar bekendste hits zoals 'Je Veux'. De kaartverkoop start aanstaande donderdag om 10 uur ...

Hoe hield Najib zich tijdens de lockdown? Hoe ploeterde hij zich door het thuisonderwijs heen, hoe dreef hij pakketbezorgers tot wanhoop of omzeilde de Avondklok? U ziet het in zijn nieuwe voorstelling 'Wie het weet mag het zeggen!'. Op 11 ...

Michelle David & The True-tones komen op zondag 19 december het toneel van Carré verlichten met een feestelijke kerstset. Dat gebeurt met soul, gospel en pop in diverse tinten. Kaarten voor de late ochtend- en matineevoorstelling zijn te koop via ...

Carré blijft open met lunchvoorstellingen en matinees.

De komende weken staan onder andere Najib Amhali, Peter Pannekoek, Amsterdam Sinfonietta, S10 en Michelle David & The True-tones op het toneel.

Kijk op de website voor meer informatie: https://t.co/qPAlEq6UOe https://t.co/YAjeYcKIGP

De 'Mini-Carré' voor in de kerstboom is ook dit jaar beschikbaar dankzij onze sponsor! U kunt zo een fantastisch cadeau voor uzelf, Sint of de kerstdagen aanschaffen en ondersteunt met uw aankoop het Carré Fonds.

Koop uw exemplaar via onze ...

Birdy is terug van weggeweest! Na vijf jaar komt de singer-songwriter eindelijk weer naar Nederland. De Britse zangeres, bekend van de hitsingles 'Skinny Love' en 'Not About Angels', speelt op 16 mei in Carré. De kaartverkoop start vrijdag om 11:00 ...

Vanavond wordt 'De Johnny oeuvreprijs voor podiumpoëzie' uitgereikt. Edith en Yvonne, weduwen van dichters Van Doorn en Vinkenoog, halen herinneringen op aan die eerste avond dat dichters een podium betraden: 'Poëzie in Carré'. Kijk de reportage terug via https://t.co/P4aJTXriMG. https://t.co/BJnzJ7nS5W

In het IDFA Hits programma ziet u spraakmakende festivalfilms die door IDFA als 'absoluut niet te missen' bestempeld zijn. Bij een aantal films uit het programma zit ook een verdiepend nagesprek. Meer informatie over de films & kaarten via: https://t.co/gMxt6xYqu5. ...

Op 21 januari betreedt cabaretier René van Meurs voor het eerst het toneel van Carré. 'Hunkert', zijn succesvoorstelling over de liefde, werd lovend ontvangen door pers en publiek. "Troost in optima forma", aldus Dagblad Trouw. Kaarten zijn te koop via ...
Carré Theatre
Pros
Beautiful theater, it is great for circus shows.
Cons
There is too noisy in the theater.