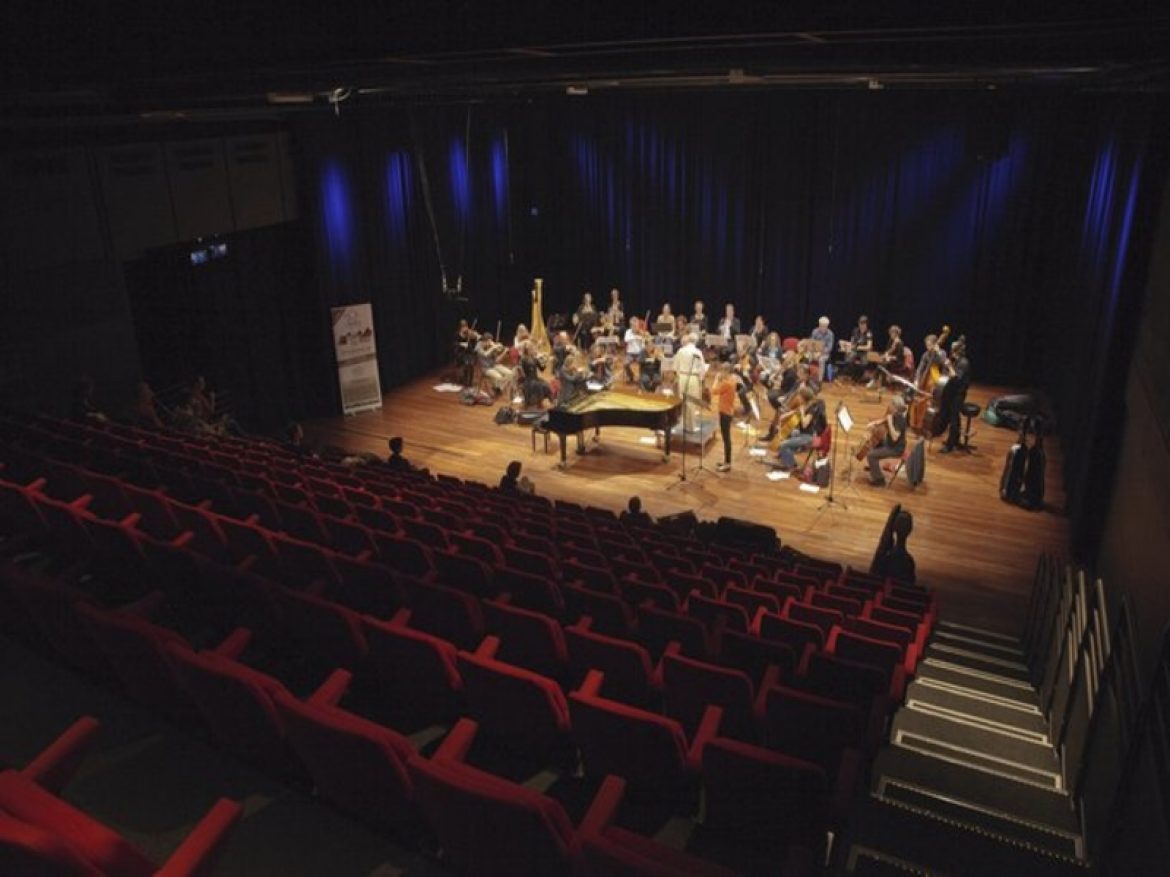 Theater Bellevue
Theater Bellevue in Amsterdam is a theater with three halls: Main Hall, Small Bellevue, Paloni Hall. The Main Hall offers mostly theater, music, dance, mime, children's theater and puppet performances. Small Bellevue is the place for cabaret. Theater Bellevue has been producing the unique Bellevue Lunch Theater for more than 25 years. It is lunchtime productions, which last as long as an average lunch break and they attract lots of local professionals. Apart from their own productions here there are also regularly performances of existing companies and producers. Theater Bellevue stages productions by both talented young performers and professionals. Theater Bellevue also organizes the annual Pop Arts Festival, a festival with a program of puppetry and objecttheater. Theater Bellevue also offers space for leading festivals such as the Holland Festival, Julidans, Dutch Theater Festival, Amsterdam Fringe Festival and the International Pop Arts Festival. Theater Bellevue in Amsterdam is known for its cabaret programs for almost 80 years. It is considered to be one of the best theaters in the country. Theater was named "Bellevue" after the Women's Club, which was located in this building before. This building was built in 1840, it turned into a theater in the 1930s and was rebuilt several times, but still works.
A crowd of people is always at the entrance to the popular theater in the evening. In the three local halls you can watch interesting avant-garde, dancing and drama performances. The unique combination of the three different halls and Theatercafé and Restaurant De Smoeshaan creates appropriate atmosphere. In the theater Bellevue there are only entertainment programmes. But sometimes you can see stunning musicals. On the official website of the theater there is a button «Language no problem», which allows you to choose performances that you can watch without knowing a language. But it is difficult to find a programme for children. As we know, cabaret is a place for adults only. When planning a visit you should know that the Dutch have peculiar sense of humor.
History
The original building on Leidsekade dates from circa 1840 and it housed two societies: Concordia (only for men) and Bellevue (including women and children). The first president of Society Bellevue was the author Jacob van Lennep.
In 1883 the building was owned by Mr. Stroucken and was renamed Maison Stroucken. At that time the building had especially great fame as a conference center. In 1938 the theater had a major renovation. Bellevue was one of the most modern entertainment palaces of Western Europe with five halls and the restaurant Paloni. The theater was substantially rebuilt in 1997, the Main Hall was expanded and engineering cabins were renovated. The entrance hall, cloakroom and Small Hall (later to be named Small Bellevue) were refurbished.
It is easy to reach Theater Bellevue by public transport. For guests with a car the parking is available.
Visit the official site: www.theaterbellevue.nl
In april kon (S)EXPERIMENT niet doorgaan, maar de voorstelling komt eind de maand terug! In een intieme avond onderzoek Kirsten van Teijn nieuwe vormen in de liefde.

Vr 28 en za 29 augustus, 19:00 en 21:00 in Theater Bellevue. Meer ...

Theater Bellevue stuurt stand-up filosofe @LauravanDolron op vijf blinddates met mensen die op een bijzondere manier door de huidige crisis getroffen zijn.

Ze maakt in één dag een voorstelling over die ontmoeting op 25 t/m 29 aug.

Meer info: https://t.co/UhRcYmWbcn ...

Gisteren was onze voorlopig laatste voorstelling. We hopen iedereen in augustus in goede gezondheid terug te zien! Tot die tijd kun je op het strand/in de tuin/op je bank genieten van de Bellevue-productie De Verschrikkelijke Wittgenstein als hoorspel via je ...

LAATSTE KANS! Komende week staat @goossensjohan in Theater Bellevue met een try-out van zijn nieuwe voorstelling 'In het beste geval'. Er zijn nog maar een paar kaartjes voor deze laatste voorstelling van dit seizoen! Wie maakt ons los?

Ga naar: ...

NU IN DE VERKOOP! Het programma voor augustus met o.a. Laura van Dolron, Wart Kamps en Stephanie Louwrier, Kirsten van Teijn én de eerste drie Bellevue Lunchtheatervoorstellingen van seizoen 20/21!

Kijk voor informatie en kaarten op: https://t.co/DhjjpMoVM5

Deze week in een uitverkocht Theater Bellevue, maar volgende week in Carré: SISI BOY door Steef de Jong / @meeslepend! Te zien tijdens S A M E N, een speciale reeks voorstellingen door @dekleinekomedie @theatercarre en Bellevue. Er zijn nog ...

Vanavond in Theater Bellevue: 'Alles is wel' van HUN. Voor de voorstelling van 19 uur zijn weer een paar kaarten beschikbaar, je kunt hier dus nog naartoe!

Voor de allerlaatste kaarten en meer info ga je naar:
https://t.co/ootIjlUVqQ https://t.co/yh5lrvj1fY

Net als je een nieuwe show wil maken, komt er een pandemie. Heb jij weer…
@goossensjohan, een paar quarantainekilo's verder, is maar wat blij dat we weer mogen. Op 8 t/m 11 juli try-out hij in Klein Bellevue zijn nieuwste ...

2020 lijkt een Mondiale Memento Mori te zijn geworden. Daarom opent theatercollectief Nineties Productions in samenwerking met @overhetij een Online Rouw Resort. Van 15 t/m 19 juli te bezoeken via ZOOM of in het NDSM Theater.

Meer info en kaarten: ...

Nieuw in juni: 'De Wonderbaarlijke Wereld van Boudewijn Büch' door Dick van den Toorn in regie van Gerardjan Rijnders. Over een gekwelde kunstenaar, die uit angst voor 'het echte leven' verstrikt raakt in zijn eigen verzinsels.

25 & 26 juni ...

In dit debuutprogramma benoemt Vlamousse totdat er niks meer te benoemen valt. Er moet gewoon het één en ander opgehelderd worden, kunnen we daarna Saampies verder...

19 & 20 juni te zien in Klein Bellevue
Meer info en kaarten: https://t.co/ik0XxguZqf ...

"Een alternatief voor Herman Finkers en Kees Torn", zei NRC over Pieter Jouke. Zijn voorstelling 'Gloeiende Plaat' is op wo 24 juni te zien in Klein Bellevue. Laat je verbazen over wat er omgaat in het hoofd van deze wereldbestormer.

...

Helaas kon de feestelijke middag in Theater Bellevue niet doorgaan, maar de komende weken zijn de vier geselecteerde theaterteksten voor Verse Tekst 2020* te beluisteren in je favoriete Podcast App via 'Tekst uit de la - de podcast'
(o.a. via: ...

Wat was het bijzonder om het anderhalvemetertheaterseizoen te openen in @theaterbellevue deze week 4x voor 30 man publiek 📏
Tere try-outs van een nieuw programma vol gulzige liedjes 🎶
Fotografe Annemieke van der Togt was erbij en schoot deze kiek ...

Elk jaar maken NRC-critici de balans op van de beste theatervoorstellingen van het seizoen. Dit jaar kreeg de Bellevue-productie 'Een leven lang seks' van Sanne Schuhmacher en Wieke Ten Cate een plaats in de top 10! Gefeliciteerd!

Lees het artikel ...

De Sekszusjes delen op goudeerlijke wijze hun onzekerheden en ervaringen op het gebied van seks.

Deze week waren ze te gast bij M, op 11, 12 én 13 juni zijn ze te zien in Theater Bellevue met de leesvoorstelling 'Ongelikt'.

...

@BarKlomp @mgmtdgdntnd Beste Barbara, excuus voor onze late reactie. Ja dat kan zeker! Je kunt het bedrag doneren, zodat het ook bij @mgmtdgdntnd terecht komt! Het handigste is om even je informatie te mailen naar kassa@theaterbellevue.nl dan komt het helemaal ...
Theater Bellevue
Pros
Comfortable theatre at a relatively cheap price
Cons
You should know Dutch language to watch most of the performances.