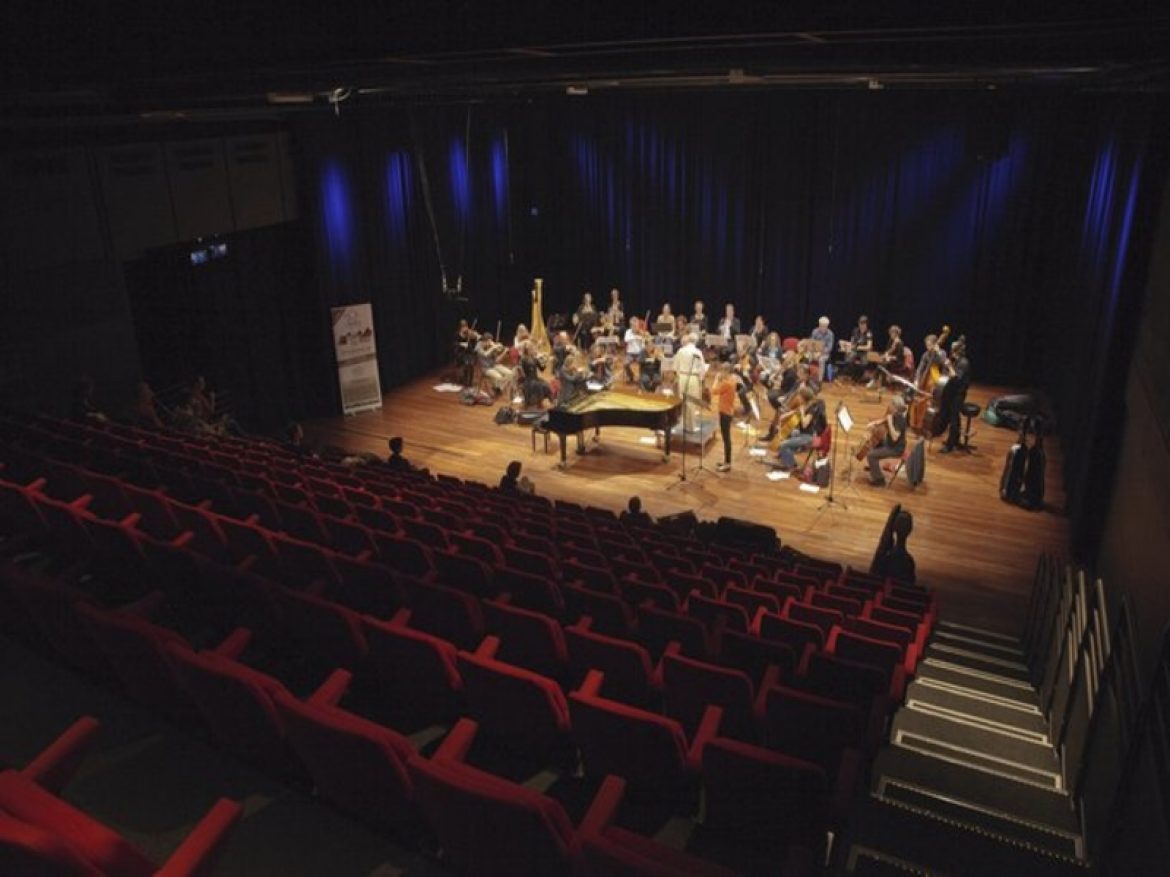 Theater Bellevue
Theater Bellevue in Amsterdam is a theater with three halls: Main Hall, Small Bellevue, Paloni Hall. The Main Hall offers mostly theater, music, dance, mime, children's theater and puppet performances. Small Bellevue is the place for cabaret. Theater Bellevue has been producing the unique Bellevue Lunch Theater for more than 25 years. It is lunchtime productions, which last as long as an average lunch break and they attract lots of local professionals. Apart from their own productions here there are also regularly performances of existing companies and producers. Theater Bellevue stages productions by both talented young performers and professionals. Theater Bellevue also organizes the annual Pop Arts Festival, a festival with a program of puppetry and objecttheater. Theater Bellevue also offers space for leading festivals such as the Holland Festival, Julidans, Dutch Theater Festival, Amsterdam Fringe Festival and the International Pop Arts Festival. Theater Bellevue in Amsterdam is known for its cabaret programs for almost 80 years. It is considered to be one of the best theaters in the country. Theater was named "Bellevue" after the Women's Club, which was located in this building before. This building was built in 1840, it turned into a theater in the 1930s and was rebuilt several times, but still works.
A crowd of people is always at the entrance to the popular theater in the evening. In the three local halls you can watch interesting avant-garde, dancing and drama performances. The unique combination of the three different halls and Theatercafé and Restaurant De Smoeshaan creates appropriate atmosphere. In the theater Bellevue there are only entertainment programmes. But sometimes you can see stunning musicals. On the official website of the theater there is a button «Language no problem», which allows you to choose performances that you can watch without knowing a language. But it is difficult to find a programme for children. As we know, cabaret is a place for adults only. When planning a visit you should know that the Dutch have peculiar sense of humor.
History
The original building on Leidsekade dates from circa 1840 and it housed two societies: Concordia (only for men) and Bellevue (including women and children). The first president of Society Bellevue was the author Jacob van Lennep.
In 1883 the building was owned by Mr. Stroucken and was renamed Maison Stroucken. At that time the building had especially great fame as a conference center. In 1938 the theater had a major renovation. Bellevue was one of the most modern entertainment palaces of Western Europe with five halls and the restaurant Paloni. The theater was substantially rebuilt in 1997, the Main Hall was expanded and engineering cabins were renovated. The entrance hall, cloakroom and Small Hall (later to be named Small Bellevue) were refurbished.
It is easy to reach Theater Bellevue by public transport. For guests with a car the parking is available.
Visit the official site: www.theaterbellevue.nl
💎 in de Theaterkrant voor Nieuwkomers Simme & Jasper bij @OrkaterMexHond !
"De kolderieke, surrealistische zoektocht transformeert tot een gebruiksaanwijzing om te leven."
Hun debuutvoorstelling is volgende week te zien in Theater Bellevue!
https://t.co/toLScarJSc

Daniëlle Schel wint het Stijgend Applaus Stipendium 🏆 De uitreiking is op do 4 nov in Klein Bellevue.

"De tragiek van de mens tussen behoefte aan contact en de voortschrijdende technologie" - VSCD Jury

4 t/m 6 nov > https://t.co/xqVgSbQeqm
...

HET SLOPEN IS BEGONNEN! 🪴

Na een ongelofelijk fijne première is Sloopkogel van Don Duyns nog drie weken te zien in het Lunchtheater. De Smoeshaan heeft geheel in stijl 'Broodje Sloopkogel' op de lunchkaart gezet! https://t.co/ikOb9IVW00 https://t.co/83iE4E6b7N

🎧 PODCAST ⁠
Karlijn Kistemaker over het einde van een tijdperk: de laatste drie delen van haar 12delige theaterserie Missie Márquez, die zij 2 nov in Bellevue afsluit. En over magisch realisme, kamperende architecten en opgroeien tussen twee kerkhoven >https://t.co/dYj6Fe94ot ...

Morgen in première: SLOOPKOGEL van Don Duyns!

Twee late veertigers. Hopeloos verdwaald in de wereld van alledag. Ze wikkelen zich verbaal in en om elkaar heen, op zoek naar zichzelf. Vanaf vandaag te zien in het Bellevue Lunchtheater t/m 20 ...

Afgelopen jaren maakte Kompagnie Kistemaker een 12delige theatervertaling van Honderd Jaar Eenzaamheid van Gabriel Garcia Márquez.

2 nov kijken we samen met de makers de longtakefilm van de laatste drie delen; inclusief popcorn, drankjes, bingo en feest! https://t.co/a3K06HSTqt https://t.co/5sAZLNMDy9

Een vrouw blijft thuis komt éindelijk thuis! Op 29 & 30 okt doet de voorstelling op tournee de thuisbasis aan. We kunnen niet wachten om Ariane Schluter en Sophie van Winden in ons eigen theater te zien knallen in dit ...

THE BOYS ARE BACK IN TOWN!

26 t/m 28 oktober in de Grote Zaal: Boys won't be Boys XL. Ze zingen, dichten, dansen, grappen, rappen en vertellen over hun persoonlijke levens. DE theaterhappening vol testosteron (of juist niet) > https://t.co/s4VTBjwsNj ...

🎧 PODCAST Voor het Applaus ⁠
Don Duyns schreef zijn allereerste voorstelling op zijn 24ste voor het Bellevue Lunchtheater. Nu is hij voor de zevende (!) keer terug met een nieuwe tekst: Sloopkogel. Hij vertelt er over in deze nieuwe ...

Je kan haast niet om haar heen... Comedian. Actrice. Covergirl. Tafeldame. Roastkoningin. De eerste Nederlandse vrouw met een Netflix Special. Debuteerde onlangs als filmmaker in de bioscoop. Nu terug in het theater: Comeback Kid Soundos 27-28 okt > https://t.co/2KlnRPBvio https://t.co/sMW4hYmcJm

Dit weekend in Vanishing Point door Panama Pictures ontrafelt een cast van dansers en acrobaten, variërend van begin dertig tot eind zestig, wat het betekent om ouder te worden. In deze video vertelt artistiek leider Pia Meuthen over haar inspiratiebron ...

"Wie eens echt verrast wil worden: waag de gok en stap het universum van Zoutmus binnen" schreef de Volkskrant over hun debuut. Nu zijn ze terug met méér spetterende livemuziek, méér spektakel en méér verwarring. De trailer is een heerlijk ...

NIEUW op het Lunchtheatermenu: SLOOPKOGEL

Don Duyns schreef ooit zijn állereerste voorstelling, op zijn 24ste, voor het Bellevue Lunchtheater (De ziekte die Muzak heet, 1990). Eind deze maand speelt zijn zevende Lunchtheatertekst van 26 okt t/m 20 nov > https://t.co/ikOb9IVW00 ...

🎧 PODCAST Voor het Applaus ⁠
Deze week een rauwe aflevering met de mannen van Zoutmus. Zij vertellen onder hun eigen muzikale begeleiding de origin-story van Zoutmus en over hun voorstelling Jungleprinter die deze week in première gaat in Bellevue: ...

Nineties Productions veroorzaakt onverwachte avonden op onverwachte plekken voor een onverwacht publiek. Nu met Bring Back The Happening: een collectief ritueel naar het nieuwe normaal. De kaartverkoop voor deze locatievoorstelling is NU gestart: https://t.co/opzEkafWmt https://t.co/aBaNlgcgd1

📍Het Krakeling Festival bij @theaterbellevue ! Vr 15 okt kun je naar het dansconcert Hold Your Horses🐎 van De Dansers. Op za 16 en zo 17 okt kun je naar Zilveren Krekel winnaar voor IK...eh ik (6+) van Het Houten ...

Afgelopen zondag vond in Bellevue de uitreiking plaats van het TheaterTekstTalent Stipendium 2020 aan toneelschrijvers Marc Wortel en Tjeerd Posthuma (auteur van onze Lunchvoorstelling Vreemdgangers). De juryrapporten én foto's van deze feestelijke middag: https://t.co/DoBLs6d2AZ

Nog maar één week is het "prachtige sprookje" (Parool) Vrouw of Vos van Ulrike Quade Company te zien in het Bellevue Lunchtheater.
De laatste kaarten zijn nu in de verkoop: https://t.co/RAxYxfzrxk

Ps. Loop ook gezellig even naar De Smoeshaan, want ...

Regisseur Jessie l'Herminez - "een eigenzinnige maker met lef" - aldus de Volkskrant staat deze week in onze Grote Zaal met haar nieuwste voorstelling De Stoelen van de Eugène Ionesco.
12 t/m 14 okt
https://t.co/aQRZvPUP8i https://t.co/dbuXC7b3Uz

🎧 PODCAST Voor het Applaus ⁠
Deze week vertelt Patrick Nederkoorn over zijn constante, creatieve werkproces, voet aan de grond krijgen in Duitsland, alzheimercafeetjes en jezelf in gebrekkig Duits op het podium van een festival in Bremen bluffen: https://t.co/x9FWZq69XJ https://t.co/zRCPTPAUwn

Amsterdam is een nieuw festival rijker: This is not a circus. 26 t/m 28 nov staat Theater Bellevue bol van de jonge circusmakers, in opperste concentratie, zoekend naar een evenwicht tussen lichaam en object en niet bang voor een beetje ...

Na een lange carrière over de hele wereld hebben choreografen Uri Ivgi en Johan Greben nu hun eigen dansgezelschap. Met hun debuutvoorstelling 'Nice to meet you' stellen ze zichzelf en de dansers voor.

Kom kennismaken op 4 en 5 november ...
Theater Bellevue
Pros
Comfortable theatre at a relatively cheap price
Cons
You should know Dutch language to watch most of the performances.