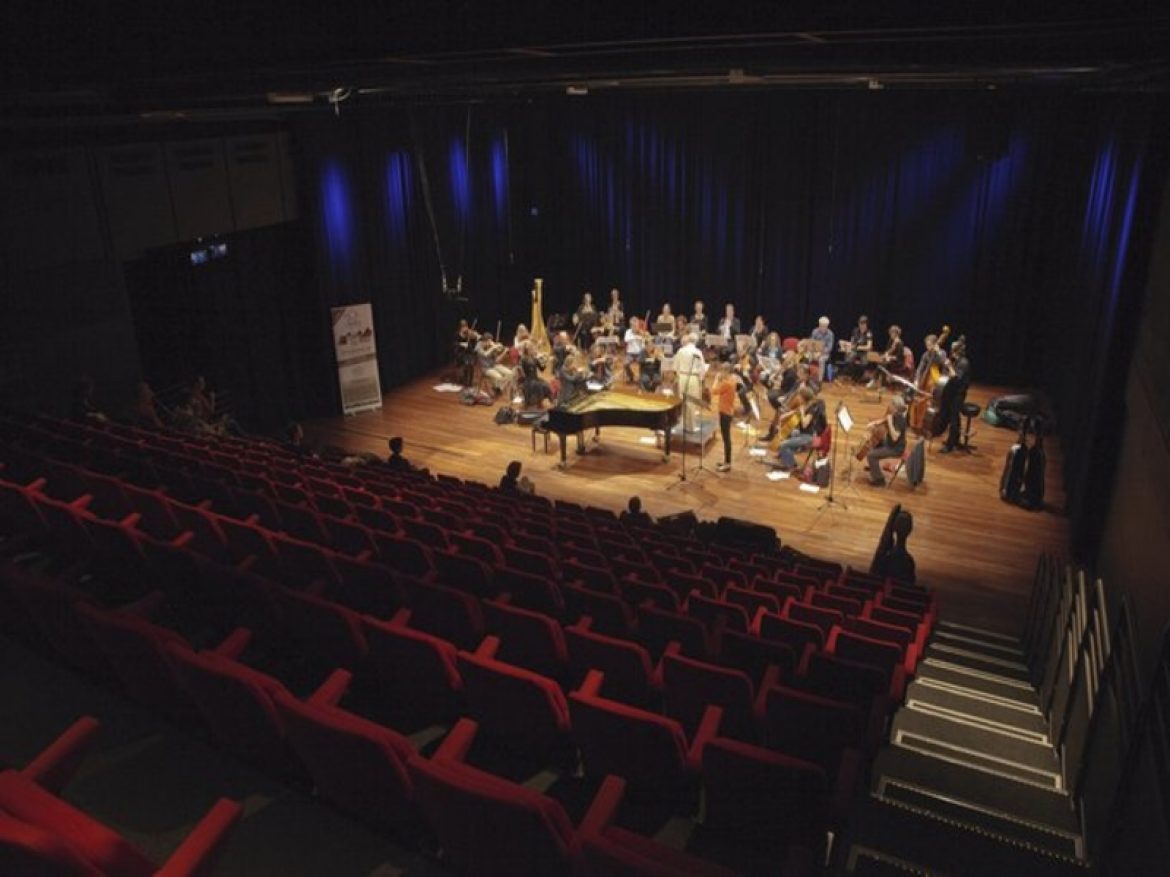 Theater Bellevue
Theater Bellevue in Amsterdam is a theater with three halls: Main Hall, Small Bellevue, Paloni Hall. The Main Hall offers mostly theater, music, dance, mime, children's theater and puppet performances. Small Bellevue is the place for cabaret. Theater Bellevue has been producing the unique Bellevue Lunch Theater for more than 25 years. It is lunchtime productions, which last as long as an average lunch break and they attract lots of local professionals. Apart from their own productions here there are also regularly performances of existing companies and producers. Theater Bellevue stages productions by both talented young performers and professionals. Theater Bellevue also organizes the annual Pop Arts Festival, a festival with a program of puppetry and objecttheater. Theater Bellevue also offers space for leading festivals such as the Holland Festival, Julidans, Dutch Theater Festival, Amsterdam Fringe Festival and the International Pop Arts Festival. Theater Bellevue in Amsterdam is known for its cabaret programs for almost 80 years. It is considered to be one of the best theaters in the country. Theater was named "Bellevue" after the Women's Club, which was located in this building before. This building was built in 1840, it turned into a theater in the 1930s and was rebuilt several times, but still works.
A crowd of people is always at the entrance to the popular theater in the evening. In the three local halls you can watch interesting avant-garde, dancing and drama performances. The unique combination of the three different halls and Theatercafé and Restaurant De Smoeshaan creates appropriate atmosphere. In the theater Bellevue there are only entertainment programmes. But sometimes you can see stunning musicals. On the official website of the theater there is a button «Language no problem», which allows you to choose performances that you can watch without knowing a language. But it is difficult to find a programme for children. As we know, cabaret is a place for adults only. When planning a visit you should know that the Dutch have peculiar sense of humor.
History
The original building on Leidsekade dates from circa 1840 and it housed two societies: Concordia (only for men) and Bellevue (including women and children). The first president of Society Bellevue was the author Jacob van Lennep.
In 1883 the building was owned by Mr. Stroucken and was renamed Maison Stroucken. At that time the building had especially great fame as a conference center. In 1938 the theater had a major renovation. Bellevue was one of the most modern entertainment palaces of Western Europe with five halls and the restaurant Paloni. The theater was substantially rebuilt in 1997, the Main Hall was expanded and engineering cabins were renovated. The entrance hall, cloakroom and Small Hall (later to be named Small Bellevue) were refurbished.
It is easy to reach Theater Bellevue by public transport. For guests with a car the parking is available.
Visit the official site: www.theaterbellevue.nl
In de intieme dansvoorstelling 'The Lost Art of Grief' van de Amsterdamse choreograaf Marie Goeminne ben je getuige én onderdeel van het pijnlijke onvermogen, maar ook van de immense verbinding die verdriet met zich mee kan brengen.

Maandag 9 nov ...

In deze interdisciplinaire voorstelling laten Hendrik Aerts en violiste Diamanda Dramm zowel de stem van de doden als de nabestaanden spreken.

Blackbird - Rebirth door moON productions / Hendrik Aerts / @Grand Theatre is op 4 & 5 november te ...

Het hypermuzikaal cabaretspektakel over je angsten overwinnen. Gewapend remixt @laloeb stand-up comedy met persoonlijke verhalen, stampende elektropop met zang en levensinzichten met een Disneylied. Op 21 & 22 oktober in Theater Bellevue. Kaartjes via: https://t.co/VCj9fvSKKy https://t.co/pPWqTo01gl

Sneak peak | Ik voel Amor 🎵

Drie personages met een eigen visie op authenticiteit en smaak gaan op zoek naar de beste vorm voor deze potentiële Nederhop-hit.
Nog t/m 17 oktober te zien in het Bellevue Lunchtheater.

Ga voor ...

Op deze laatste dag van de Week tegen eenzaamheid biedt Via Berlin troost. Zij leiden je in Instant Loneliness door een landschap vol dromen naar een intiem muzikaal levensconcert. Met @cello8ctet en @Korzotheater van wo 20 t/m zo 24 jan
...

Ze won de publieksprijs op het Amsterdams Kleinkunst Festival, speelde in zo'n beetje ieder theater in Nederland en nú gaat ze solo! @laloeb komt met haar hypermuzikale cabaretspektakel op 21 & 22 oktober naar Theater Bellevue. Kaartjes via: https://t.co/uHsfElxYPA https://t.co/ggOApvijDu

Hoe begrijpen we dans? Dat is de centrale vraag in het werk van choreograaf @Ingridbergermyh. In Stating the Obvious (@dansateliers) zie je drie danskunstenaars taal vertalen naar dans - en weer terug.

Te zien tijdens Dans op Dinsdag op 13 ...

Gister naar try-out Martijn Koning geweest met 30 man in Bellevue, topavond, en intiemer en relaxter dan 'normaal'. Allemaal luisteren naar Peter dus. https://t.co/9Bhla6sYwQ

★★★★ in het @nrc voor Ik voel Amor!
"Het slot is meesterlijk: door in de uiteindelijke videoclip alle spanningen te laten terugkomen houden de makers een overtuigend pleidooi voor openheid en kwetsbaarheid als middel tegen polarisatie."
https://t.co/S0Yfz6ktR2

TOI TOI TOI lieve cast en crew van Ik voel Amor met de première vanmiddag in het Bellevue Lunchtheater.
En dank Bas de Brouwer voor deze heerlijke scènefoto's.

Nog t/m 17 oktober te zien! Meer info en kaarten https://t.co/thgdud8dR7 https://t.co/CUkE2V6I0H

Op 2, 3, 16 en 17 oktober construeert Nineties Productions het immersive ritueel Memento Mori live in het theater voor een online publiek via Zoom. Kom naar Bellevue voor de performance en making-of in één, of zit digitaal op de ...

Luister jij al naar onze podcasts?
Inspirerende theatermakers nemen je mee in het maakproces en de actuele thema's van voorstellingen als Ik voel Amor, Ode aan de Minnares, Je Moeder en Sons of Abraham die deze week in Theater Bellevue ...

Vanaf a.s. woensdag speelt Collectief Het Paradijs de voorstelling Paradijsvertraging op locatie: een spraakmakend schouwspel over persoonlijke en maatschappelijke ideologieën.

Kijk voor de allerlaatste kaarten op https://t.co/sPHheaoIfu https://t.co/5mIwI9eEn0

Over precies een week gaat de nieuwe Theater Bellevue-productie Ik voel Amor in première! Beluister de inleidende podcast, waarin Luc de Groen praat met @EllyScheele, Eva Line de Boer en Amir Vahidi over o.a. het maken van de zomerhit 'Ik ...
Theater Bellevue
Pros
Comfortable theatre at a relatively cheap price
Cons
You should know Dutch language to watch most of the performances.