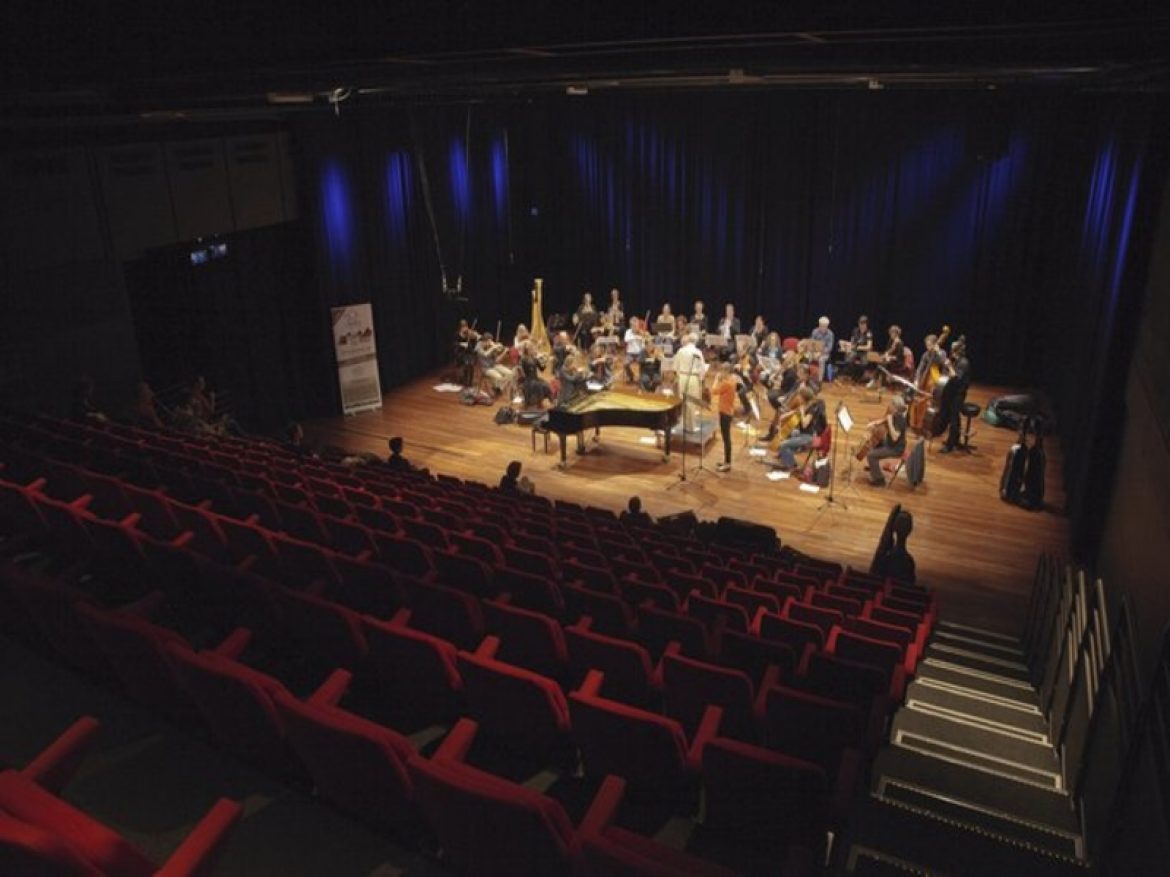 Theater Bellevue
Theater Bellevue in Amsterdam is a theater with three halls: Main Hall, Small Bellevue, Paloni Hall. The Main Hall offers mostly theater, music, dance, mime, children's theater and puppet performances. Small Bellevue is the place for cabaret. Theater Bellevue has been producing the unique Bellevue Lunch Theater for more than 25 years. It is lunchtime productions, which last as long as an average lunch break and they attract lots of local professionals. Apart from their own productions here there are also regularly performances of existing companies and producers. Theater Bellevue stages productions by both talented young performers and professionals. Theater Bellevue also organizes the annual Pop Arts Festival, a festival with a program of puppetry and objecttheater. Theater Bellevue also offers space for leading festivals such as the Holland Festival, Julidans, Dutch Theater Festival, Amsterdam Fringe Festival and the International Pop Arts Festival. Theater Bellevue in Amsterdam is known for its cabaret programs for almost 80 years. It is considered to be one of the best theaters in the country. Theater was named "Bellevue" after the Women's Club, which was located in this building before. This building was built in 1840, it turned into a theater in the 1930s and was rebuilt several times, but still works.
A crowd of people is always at the entrance to the popular theater in the evening. In the three local halls you can watch interesting avant-garde, dancing and drama performances. The unique combination of the three different halls and Theatercafé and Restaurant De Smoeshaan creates appropriate atmosphere. In the theater Bellevue there are only entertainment programmes. But sometimes you can see stunning musicals. On the official website of the theater there is a button «Language no problem», which allows you to choose performances that you can watch without knowing a language. But it is difficult to find a programme for children. As we know, cabaret is a place for adults only. When planning a visit you should know that the Dutch have peculiar sense of humor.
History
The original building on Leidsekade dates from circa 1840 and it housed two societies: Concordia (only for men) and Bellevue (including women and children). The first president of Society Bellevue was the author Jacob van Lennep.
In 1883 the building was owned by Mr. Stroucken and was renamed Maison Stroucken. At that time the building had especially great fame as a conference center. In 1938 the theater had a major renovation. Bellevue was one of the most modern entertainment palaces of Western Europe with five halls and the restaurant Paloni. The theater was substantially rebuilt in 1997, the Main Hall was expanded and engineering cabins were renovated. The entrance hall, cloakroom and Small Hall (later to be named Small Bellevue) were refurbished.
It is easy to reach Theater Bellevue by public transport. For guests with a car the parking is available.
Visit the official site: www.theaterbellevue.nl
★ Christine van Stralen, de Musical ★
Na 'ROMP' (waar Karina Holla de Theo d'Or 2018 voor won) maakt De Gemeenschap een therapeutisch portret van een gevallen ster...

12 t/m 14 dec | info & kaarten: https://t.co/Pcwlvmcs4G https://t.co/yi6Nz1rLLK

Het is weer hoog tijd voor @hetnieuwelied! Zo 8 dec | 16:00 uur | info: https://t.co/7j75sCyHY1

Het Nieuwe Lied blaast een frisse wind door de Nederlandstalige muziek, theater en kleinkunstscene. Deze editie met: Flip Noorman, @Maarten_Ebbers, Mattijs Verhallen, Tjeerd Gerritsen ...

"Deze voorstelling kruipt onder je huid" ★★★★★ Trouw
"Keja Klaasje Kwestro en Jacqueline Blom zijn hilarisch" ★★★★ Volkskrant

Het lovend ontvangen 'The beauty queen of Leenane' door Toneelschuur Producties staat 17 t/m 21 dec in Bellevue | info: https://t.co/9fkmJEaQc3 https://t.co/b62Zu8EZCj

'Aardappelbloed', de reis van een Surinaamse vrouw naar haar moederland. Ze komt in Suriname en leert veel over de slavernij, waar ze nog maar weinig van af wist.. Je gaat mee op reis in de gedachten van de vrouw in ...

Vandaag is de eerste voorstelling van Emma Lesuis. Ze neemt je mee naar de plantage Mon Souci waar haar bet-bet-overgrootmoeder Zaire, tot slaaf werd gemaakt. In een poging te onderzoeken hoe Surinaams ze zelf eigenlijk (nog) is.
3 t/m14 dec ...

A.s. do 5 - za 7 dec tonen we voor de voorstelling 'Decemberdagen' de documentaire 'Je kan toch lezen' van Ananta Khemradj. Hierin onderzoekt ze waarom de jeugd van Suriname niet weet wat er in de jaren 80 is gebeurd. ...

Op dinsdag 3 december is De Tekstsmederij weer in huis! Je wordt meegenomen in ontwikkelingen van smeder Mohamed Aadroun en actrice Julia Akkermans zet haar eerste stappen in het schrijven voor toneel.

Meer info en kaarten: https://t.co/Czu5MXbdkG https://t.co/cNVXW5wTAa

Marjolijn van Kooten is terug met nieuw psychiatrisch cabaret! 'Ongestoord' staat 5 t/m 7 dec in Bellevue en belooft 100% anti-depressief te zijn! Nu vast een oppepper nodig? Bekijk dit fragment uit haar vorige voorstelling!

(ps. kaartjes koop je via ...

Met een kinderlijke verwondering kan Fuad Hassen zijn gedachten uren loslaten op futiliteiten. 'Remmende Voorsprong' zit barstensvol deze typische Fuad-hersenspinsels!

3 & 4 december te zien in Theater Bellevue. Meer info en kaarten: https://t.co/45Bk8ot5R6 https://t.co/FnaPiZ7cwa

. @Circustreurdier is terug in het theater met een spiksplinternieuwe, maar oerconservatieve voorstelling.

Het Verhaal van Erica Speen (een remake) met o.a. Jan-Paul Buijs, Ellen Parren, Peter van Rooijen. 4 t/m 15 dec | op locatie: Dansmakers Amsterdam | https://t.co/jdEMH2xU3m ...

Rosa da Silva​ won dit seizoen de jury- en publieksprijs van het @Adam_kleinkunst​. Vanaf vandaag staat ze samen met haar mede-finalisten in Klein Bellevue én 16 t/m 18 juni is ze terug met de try-outs van haar avondvullende voorstelling DAAR ...

INSTA-TAKE OVER
Volg de opbouw van het bijzondere audio-visuele landschap van TOURIST in Theater Bellevue. Theatermaker Marte Boneschansker neemt onze Instagram over en geeft je een uniek kijkje achter de schermen!

Volg het op https://t.co/G55tv2lFQ9 https://t.co/yaqkfgmccE

Donderdag won Emma Lesuis​ op het IDFA​ de Karen de Bok Talent Prijs 2019 voor haar nieuwe filmplan, waarin ze haar positie in de discussie rondom identiteit en kolonialisme onderzoekt.

Haar live-documentaire Aardappelbloed speelt 3 t/m 14 dec in Bellevue ...

Marte Boneschansker reisde naar Egypte en Soedan en kwam onderweg kwetsbare, strijdbare verhalen van vrouwen tegen. Je hoort ze in TOURIST.

Op blote voeten en met koptelefoon op ga je een landschap in, op zoek naar deze verhalen. 27 t/m ...

Vanavond staan de Hehobros in een uitverkocht Theater Bellevue! In de maand december zijn ze terug met een speciale kerstvoorstelling: De Hehohoho Christmas Show. Haal je kaartjes hier: https://t.co/XqCLslWuwt https://t.co/aWo8C0CTsD

In Decemberdagen treffen een moeder en haar volwassen dochters elkaar om nog één keer samen kerst te vieren in het ouderlijk huis. Als vanouds is er kerstbrood uit Suriname en is het huis feestelijk verlicht. Toch is alles anders...

5 ...

"Waar kom je vandaan, maar dan echt?" Het is een vraag die Emma Lesuis constant gesteld wordt. Op zoek naar haar roots reist ze naar Suriname en wordt ze geconfronteerd met een slavernijverleden waar ze tot dusver weinig vanaf wist.

...

In haar eerste programma Na de lieve vrede pleit Lonneke voor het sneuvelen van die lieve vrede. Over confrontaties vermijden uit angst, terwijl we ons er juist vol overgave in zouden moeten storten. Kom naar haar kijken in @theaterbellevue. https://t.co/ONZszvYK5a ...

Na successen als ROMP (waar Karina Holla de Theo d'Or 2018 voor won) en De Shakespeare Club de nieuwe voortelling van De Gemeenschap!

★ Christine van Stralen, de musical ★
Een therapeutisch portret van een gevallen ster... 12 t/m 14 ...

TOURIST is een theatrale ontdekkingstocht door Marte Boneschansker (genomineerde BNG Bank Theaterprijs 2019)
Op blote voeten en met een koptelefoon op gaat het publiek op zoek naar verstopte scènes.

Met wie ga jij het landschap in? Kaartjes via https://t.co/pcRkxR3fuR https://t.co/IifeVSONnp

Golden Palace presenteert een theatrale rollercoaster over de kunst van het baren, want: "dat kunnen mannen ook - maar dan beter" toch?

"Het is bij De Oerclub alsof je even in een compleet ander universum stapt," aldus Theaterkrant

2 t/m ...
Theater Bellevue
Pros
Comfortable theatre at a relatively cheap price
Cons
You should know Dutch language to watch most of the performances.