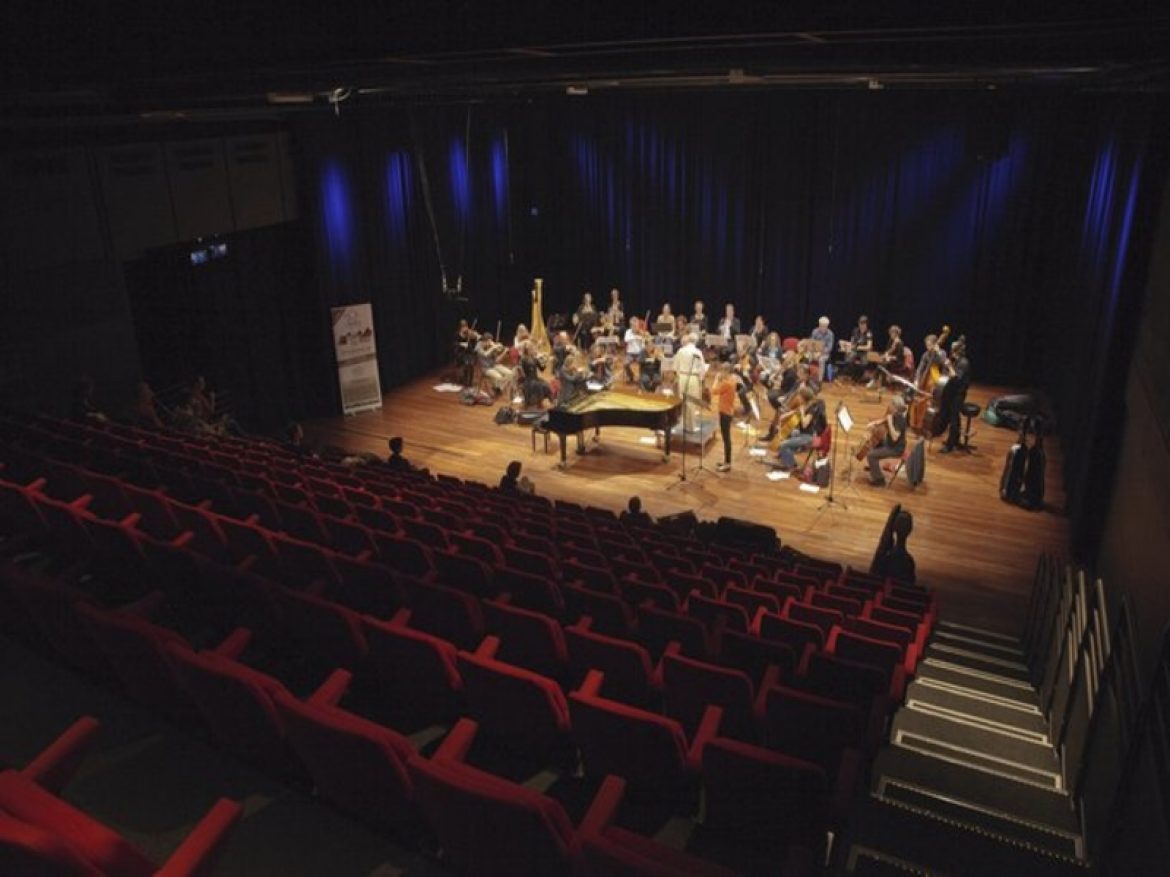 Theater Bellevue
Theater Bellevue in Amsterdam is a theater with three halls: Main Hall, Small Bellevue, Paloni Hall. The Main Hall offers mostly theater, music, dance, mime, children's theater and puppet performances. Small Bellevue is the place for cabaret. Theater Bellevue has been producing the unique Bellevue Lunch Theater for more than 25 years. It is lunchtime productions, which last as long as an average lunch break and they attract lots of local professionals. Apart from their own productions here there are also regularly performances of existing companies and producers. Theater Bellevue stages productions by both talented young performers and professionals. Theater Bellevue also organizes the annual Pop Arts Festival, a festival with a program of puppetry and objecttheater. Theater Bellevue also offers space for leading festivals such as the Holland Festival, Julidans, Dutch Theater Festival, Amsterdam Fringe Festival and the International Pop Arts Festival. Theater Bellevue in Amsterdam is known for its cabaret programs for almost 80 years. It is considered to be one of the best theaters in the country. Theater was named "Bellevue" after the Women's Club, which was located in this building before. This building was built in 1840, it turned into a theater in the 1930s and was rebuilt several times, but still works.
A crowd of people is always at the entrance to the popular theater in the evening. In the three local halls you can watch interesting avant-garde, dancing and drama performances. The unique combination of the three different halls and Theatercafé and Restaurant De Smoeshaan creates appropriate atmosphere. In the theater Bellevue there are only entertainment programmes. But sometimes you can see stunning musicals. On the official website of the theater there is a button «Language no problem», which allows you to choose performances that you can watch without knowing a language. But it is difficult to find a programme for children. As we know, cabaret is a place for adults only. When planning a visit you should know that the Dutch have peculiar sense of humor.
History
The original building on Leidsekade dates from circa 1840 and it housed two societies: Concordia (only for men) and Bellevue (including women and children). The first president of Society Bellevue was the author Jacob van Lennep.
In 1883 the building was owned by Mr. Stroucken and was renamed Maison Stroucken. At that time the building had especially great fame as a conference center. In 1938 the theater had a major renovation. Bellevue was one of the most modern entertainment palaces of Western Europe with five halls and the restaurant Paloni. The theater was substantially rebuilt in 1997, the Main Hall was expanded and engineering cabins were renovated. The entrance hall, cloakroom and Small Hall (later to be named Small Bellevue) were refurbished.
It is easy to reach Theater Bellevue by public transport. For guests with a car the parking is available.
Visit the official site: www.theaterbellevue.nl
Jan Hulst & Kasper Tarenskeen winnen de Erik Vos Prijs 2020! Een prijs voor bijzondere theatermakers die uitblinken door hun eigenheid.

➡️ Momenteel regisseren ze de voorstelling 'Geld voor Goud' voor Theater Bellevue. Voor kaarten en info: https://t.co/LTWRC63TYR https://t.co/rOIzaWeijY

'Memento Mori' door Nineties Productions is een virtuele ontmoetingsplek vol performance, dans, muziek, poëzie en web-art. Live geconstrueerd voor een online publiek op 9 en 10 februari vanuit een leeg Theater Bellevue!

Ga voor meer info en kaarten naar https://t.co/cxmtVODglJ ...

Doen doen doen! Via Berlin organiseert drie Spoken Word workshops olv Najiba Abdellaoui, voormalig NL kampioen Poetry Slam, in het kader van de Instant Loneliness, de voorstelling die zij deze week 8 keer in Bellevue zouden spelen. Info: https://t.co/XKtfyrzoN2 https://t.co/CUcWOC80hH

Op dit moment wordt er hard gewerkt door Tarik Moree, Laura de Geest en Daniel 't Hoen aan La Tendre Guerre, een co-productie van @viarudolphi en Bellevue.

Wij spraken hen o.a. over waarom ze juist nú een voorstelling over de ...

Dit is het leven zelf dat door onze handen glipt en verspild raakt.
Het verdriet hierover komt nog, als het te laat is. https://t.co/CfFIxWo75n

Dankzij de televisie-serie 'Theater 2020' van de NTR / NPO 2 hoeven wij Nina De La Parra (met wie wij graag de kerst hadden doorgebracht) niet helemaal te missen...

Bekijk de aflevering inclusief fragmenten uit GODS WEGEN hier:
https://t.co/NFWKBmO6Zq https://t.co/XwTwwNoIFW

Vandaag in De Volkskrant: Hein Janssen interviewt Carel Alphenaar over zijn rigoureuze bewerking van Vondel's klassieker voor Dood Paard en 'Gijsbreght van Amstel - voorlopig de podcast'. Lees het artikel hieronder of beluister de podcast via je app!
https://t.co/IhN5j0X3RX

Geheel in traditie zou Gijsbreght van Amstel rond de jaarwisseling te zien zijn in Bellevue in een bewerking door Dood Paard.
Het theatercollectief dook de keuken van Bellevue in en maakte 'Gijsbreght van Amstel, voorlopig de podcast.'

Beluister het hier ...

Een voorstelling in het theater zit er deze kerst helaas niet in, MAAR daar laten Tim & Wart Kamps, Peter van Rooijen en Stephanie Louwrier het niet bij zitten. Ze herschreven in no-time hun kerstshow tot videovoorstelling.

Kaartjes via @dekleinekomedie: ...

Theater Bellevue en @viarudolphi presenteren: La Tendre Guerre

Tarik Moree, Laura de Geest en Daniël 't Hoen kijken om zich heen en zien een liefde die faalt. Op die puinhopen romantiseren en relativeren ze de liefde opnieuw en opnieuw.

7 ...

Gefeliciteerd Marc Wortel en Tjeerd Posthuma, voormalig en toekomstig Lunchtheater-schrijvers, met het winnen van de TheaterTekstTalent Stipendium!

We kijken uit naar de feestelijke ceremonie op 31 januari in onze Grote Zaal.

https://t.co/sE54RRfFHj

Deze week zou Happy Hour door @mgmtdgdntnd te zien zijn in Bellevue. Dat gaat helaas niet door, MAAR 12 t/m 27 februari spelen ze in het Lunchtheater!

Nu niet gaan vechten om die kaarten... Al is het aantal wel beperkt, ...

🎧 BELLEVUE PODCAST
Joachim Fleury haalt Britse niet-commerciële voorstellingen uit Londen naar Amsterdam met @SismoStories, vanwege Covid-19 nu in de vorm van een videoplatform! Aan huisdramaturg Tom Helmer legt hij uit hoe en waarom dit idee geboren is.
https://t.co/WaT4LxqY51 https://t.co/LcXfKVx1jp

'Een theaterauteursding waar je bij moet zijn' is een middag met tijd, inspiratie en aandacht voor toneelschrijvers en schrijf-initiatieven met o.a. de Boyerlezing door Jetse Batelaan.

Georganiseerd door @auteursbond op 14 dec, bijwonen via livestream!
https://t.co/Ij8PUTLB28 https://t.co/Na8Es9wkDb

"De drie acteurs geven met verve, vaart en humor elk cliché en moralisme een theatraal smeuïge context" Trouw

Wat worden we blij van de reacties op De Hokje. De voorstellingen bij ons huis zijn uitverkocht, maar vanaf 7 jan op ...

Samir Fighil (@Samirfighil) is een geboren entertainer én de kersverse winnaar Persoonlijkheidsprijs van Cameretten 2019! Hij slaat een brug tussen de theaterwereld en mensen die van lachen houden, maar zelden naar het theater gaan.

vr 4 dec & za 5 ...

Meer dan een maand na de laatste voorstelling krijgen wij dit nummer nog steeds niet uit ons hoofd... Gelukkig is hij nu te vinden op Spotify en YouTube: Ik voel Amor ❤️

https://t.co/qYf3vTH9C4

Vandaag is De Hokje, de Bellevue Lunchtheatervoorstelling van Dunya Khayame in première gegaan!
Met Maryam Hassouni, Olaf Ait Tami en Randy Fokke, regie van Tim Kamps. Nog t/m 19 dec te zien in de Paloni Zaal en daarna op tournee! ...

Hokjes, hokjes, hokjes. Iedereen past wel ergens in. Alleen: je kiest er nooit voor, iemand anders stopt je erin. In de voorstelling 'De Hokje' gaat het over die onverminderde focus op afkomst en etniciteit. https://t.co/k6qF2Ck36C https://t.co/nOiBuH318c

Vandaag #recensie over DANSLOKAAL 8 in @parool met WARPING SOUL van Andreas Hannes als highlight:
"Het is vervreemdend en van een buitenaardse schoonheid"
Met deze mooie woorden sluiten we vandaag & morgen graag de tour af in @theaterbellevue!
/>Lees verder: ...

Het kan weer én het kan nog: DANSLOKAAL 8 live zien! Maar je moet snel zijn: er zijn nog enkele kaarten beschikbaar in @theaterbellevue Amsterdam a.s. woensdag 25/11 om 18.30 uur.
Tickets via: https://t.co/BS8CFrEyyI
De rest = uitverkocht...
📸 Salih ...

Spoken word en opwindende muziek in een programma van twee powerhouses; stand up comedian en zangeres Nina de la Parra en saxofoniste Sanne Landvreugd. Laaiende kritieken en volgens NRC 1 vd beste cabaretvoorstellingen van 2019!

15 t/m 27 december
https://t.co/DfBZKuoo8o ...
Theater Bellevue
Pros
Comfortable theatre at a relatively cheap price
Cons
You should know Dutch language to watch most of the performances.