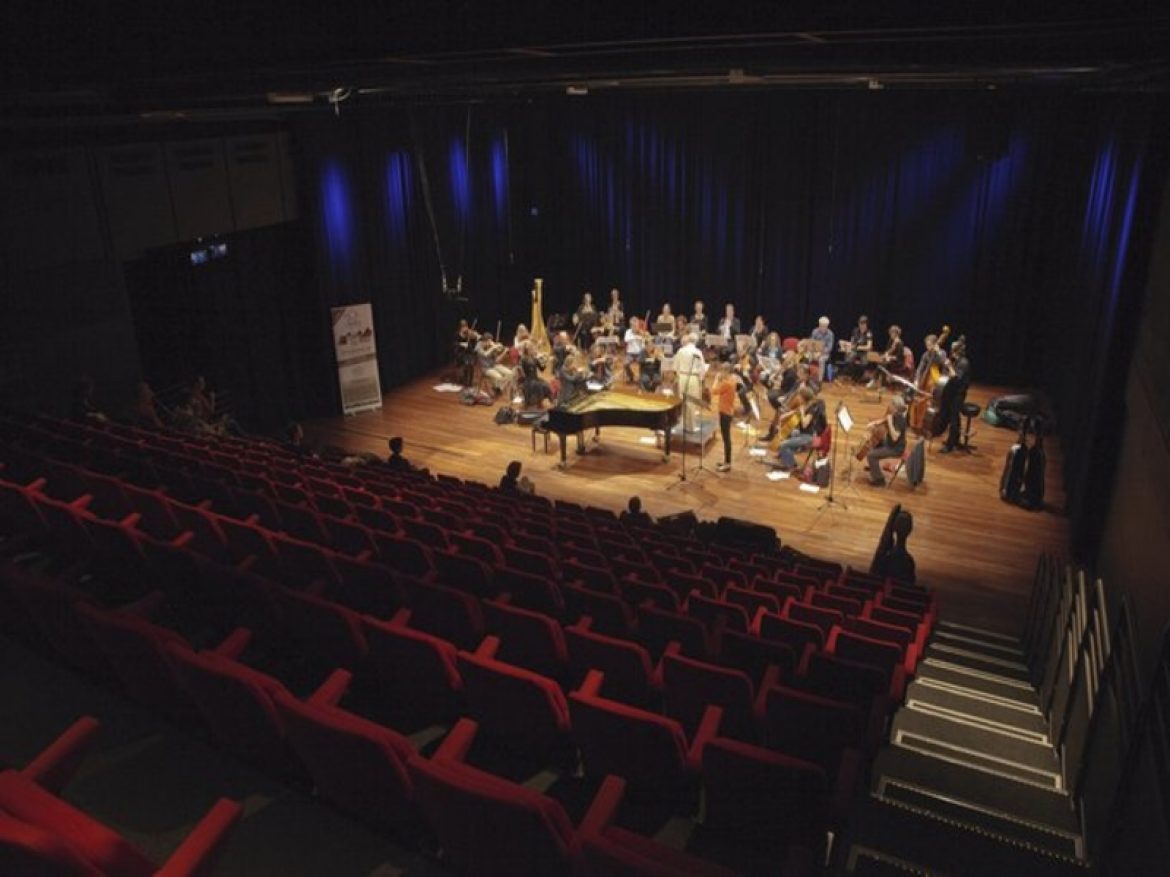 Theater Bellevue
Theater Bellevue in Amsterdam is a theater with three halls: Main Hall, Small Bellevue, Paloni Hall. The Main Hall offers mostly theater, music, dance, mime, children's theater and puppet performances. Small Bellevue is the place for cabaret. Theater Bellevue has been producing the unique Bellevue Lunch Theater for more than 25 years. It is lunchtime productions, which last as long as an average lunch break and they attract lots of local professionals. Apart from their own productions here there are also regularly performances of existing companies and producers. Theater Bellevue stages productions by both talented young performers and professionals. Theater Bellevue also organizes the annual Pop Arts Festival, a festival with a program of puppetry and objecttheater. Theater Bellevue also offers space for leading festivals such as the Holland Festival, Julidans, Dutch Theater Festival, Amsterdam Fringe Festival and the International Pop Arts Festival. Theater Bellevue in Amsterdam is known for its cabaret programs for almost 80 years. It is considered to be one of the best theaters in the country. Theater was named "Bellevue" after the Women's Club, which was located in this building before. This building was built in 1840, it turned into a theater in the 1930s and was rebuilt several times, but still works.
A crowd of people is always at the entrance to the popular theater in the evening. In the three local halls you can watch interesting avant-garde, dancing and drama performances. The unique combination of the three different halls and Theatercafé and Restaurant De Smoeshaan creates appropriate atmosphere. In the theater Bellevue there are only entertainment programmes. But sometimes you can see stunning musicals. On the official website of the theater there is a button «Language no problem», which allows you to choose performances that you can watch without knowing a language. But it is difficult to find a programme for children. As we know, cabaret is a place for adults only. When planning a visit you should know that the Dutch have peculiar sense of humor.
History
The original building on Leidsekade dates from circa 1840 and it housed two societies: Concordia (only for men) and Bellevue (including women and children). The first president of Society Bellevue was the author Jacob van Lennep.
In 1883 the building was owned by Mr. Stroucken and was renamed Maison Stroucken. At that time the building had especially great fame as a conference center. In 1938 the theater had a major renovation. Bellevue was one of the most modern entertainment palaces of Western Europe with five halls and the restaurant Paloni. The theater was substantially rebuilt in 1997, the Main Hall was expanded and engineering cabins were renovated. The entrance hall, cloakroom and Small Hall (later to be named Small Bellevue) were refurbished.
It is easy to reach Theater Bellevue by public transport. For guests with a car the parking is available.
Visit the official site: www.theaterbellevue.nl
'Dronken mensen is een natte acteursdroom' ★★★★ Volkskrant

TERUG UIT DE IJSKAST: de ladderzatte komedie Dronken Mensen! Een natte droomcast met o.a Hajo Bruins, Justus van Dillen, Ellen Parren en Valentijn Benard. 26 aug t/m 26 sep > https://t.co/65f8L4nNwm
⁠ ...

'Bellevue Alle Zalen: @OrkaterMexHond' hebben wij heel letterlijk genomen. In het hele theater hangen prachtige posters (2001 tot heden), ontworpen door directeur Marc van Warmerdam. Ter ere van zijn afscheid in september blijft de expo t/m 1 okt te zien. ...

De mooiste 1 uur 20 korte theaterervaring gehad sinds jaren.
Nu nog in @theaterbellevue, volgend seizoen het land in: De Meester en Margarita,van De Nieuwkomers, @OrkaterMexHond
Zelfde openbaring als destijds Neerlands Hoop. Werktheater. Hans Teeuwen. Ineens weer Licht en Lucht

'De Meester en Margarita' uitgevoerd door Konvooi, Orkater/De Nieuwkomers in @theaterbellevue is spannend, angstaanjagend en wonderschoon. Onze recensent geeft de maximale waardering (dus 5 ballen) in @nrc https://t.co/qP8lrpuxeW

Gisteren in @theaterbellevue "de Meester en Margarita" van #Orkater #deNieuwkomers gezien. Wat een meeslepende voorstelling!
Door het goede spel, de prachtige zang en het vindingrijke decor werd je steeds meer in het verhaal gezogen. Wat heerlijk om weer in het ...

Deze week was een feest! @OrkaterMexHond nam Bellevue over met CASH & De meester en Margarita. Margaritacocktails bij De Smoeshaan maakten de zonnige avonden compleet. Dankzij fotograaf Nichon Glerum kunnen we nagenieten, gelukkig mogen we ook nog een week https://t.co/5gjjeIWPdj ...

🎧 PODCAST Voor het Applaus ⁠
Iedere vijf jaar herneemt de klas van 2005 van de Acteursopleiding Maastricht hun afstudeervoorstelling Priemgeval. Tot hun dood, is het plan. We luisteren naar spraakberichten van de acteurs over wat dit voor hen betekent: ...

Zo direct gaat dan eindelijk CASH van @OrkaterMexHond-maker Viktor Griffioen in première! Fotograaf Nichon Glerum legde zijn laatste stappen richting het podium vast. TOI TOI TOI!
Ps. er zijn nog maar een paar kaartjes voor de voorstellingen t/m 31 juli ...

🎧 PODCAST Voor het Applaus ⁠
Deze week een speciale aflevering! Schrijversduo Tom Dello en Maarten van der Graaff presenteren hun hoorspel Alleen de vissen gaven licht. Vooraf praten we over hun collectieve schrijfproces en het schrijven van audiofictie: https://t.co/WaT4LxIyWz ...

🎧 PODCAST
Je kunt bewonderaar, fan of idolaat zijn van een artiest. De volgende stap is aanbidding. Op dát punt staat Viktor Griffioen als het gaat om Johnny Cash. Hij maakt er de voorstelling CASH over, die eind juli te ...

"Bellevue Alle Zalen!" werd in de jaren '30 geroepen als er een kolossaal feest op komst was; een avond waar men grote verwachtingen van had. We kunnen dan wel nog niet zó kolossaal uitpakken, maar een feest wordt het wel ...

🎧 PODCAST Voor het Applaus ⁠
Zeventien jaar en vele omzwervingen later, zijn de @AshtonBrothers terug in Bellevue. We praten bij met Pim Muda, Friso van Vemde en Joost Spijkers, o.a. over hun carrière en waarom ze juist nu A ...

Theatermaker Amro Kasr speelt vandaag en morgen zijn monoloog over operazanger Roland Hayes in Bellevue i.h.k.v. Theater voor Keti Koti. Over dit bijzondere project vertelde hij op Radio 1 in het programma Met het Oog op Morgen. Beluister het fragment: ...

We dansen de zomer tegemoet! De 30e editie van Julidans staat voor de deur van de Amsterdamse theaters, ook die van Theater Bellevue. 1 t/m 16 juli. Zien we je volgende week?

→ Bekijk ons programma: https://t.co/vBzoJFCu6R https://t.co/MIvwz8uC13

1 juli is de jaarlijkse viering van Keti Koti. Samen met Stichting Likeminds presenteren wij in dat kader een korte, muzikale vertelling van Amro Kasr over operazanger Roland Hayes, de grootste operazanger die nooit in een opera te zien was. ...

✨EXTRA KAARTEN IN DE VERKOOP! ✨
Vanaf 26 juni mogen wij meer bezoekers ontvangen en dat is goed nieuws, o.a. voor wie eerder achter het net viste bij Rijsen&Rooxman, DeDikkeMuiz&Sjors. 26, 29 en 30 juni zijn er extra kaarten en ...

🎧PODCAST
In deze aflevering spreekt choreografe Liat Waysbort met Julie Vegter, dansprogrammeur Bellevue, over meerstemmig maken, danstaal en haar bijzondere band met Gioia, wiens leven de inspiratie vormt voor Gioia Live (te zien @Julidans) https://t.co/WaT4LxqY51 https://t.co/OuM88QQdcE

"Als toeschouwer wordt je lichtjes duizelig van de psychologische tournures en verbale pirouettes, maar ook heel gelukkig" @theaterkrant
Van deze mooie woorden over Hendrik IV worden wij ook "lichtjes duizelig, maar heel gelukkig" https://t.co/DvhOHWjYwv

Deze vier jonge cabarettalenten staan de komende weken in Klein Bellevue. Zoals de naam al doet vermoeden: de zaal is niet al te groot, dus wacht niet te lang met het boeken van kaarten! → https://t.co/MSts8mOKEX https://t.co/1cbeGhKBiP

Een week geleden gooiden we de deuren weer open. In alle zalen gingen de lichten weer aan. Werd er gespeeld en geapplaudisseerd. Vulde het terras van de Smoeshaan zich met gesprekken en weerzien. En proostten we op premières.
Dat was ...

De eerste voorstellingen zitten er al weer op en Teun Donders is klaar voor de première aanstaande donderdag van 'zijn' Hendrik IV! De kaarten gaan hard, máár we hebben twee extra speeldata toegevoegd. Geen excuus dus om dit te missen ...

22 t/m 30 juni wervelen Lineke Rijxman, Adelheid Roosen, Titus Muizelaar en George Groot nog één keer over het toneel, terwijl zij hun verweven leven en liefdes onderzoeken.

"Een verpletterende daad van liefde" aldus NRC (★★★★★) -> https://t.co/jW9aIz6iOT https://t.co/28veDbH2ST
Theater Bellevue
Pros
Comfortable theatre at a relatively cheap price
Cons
You should know Dutch language to watch most of the performances.