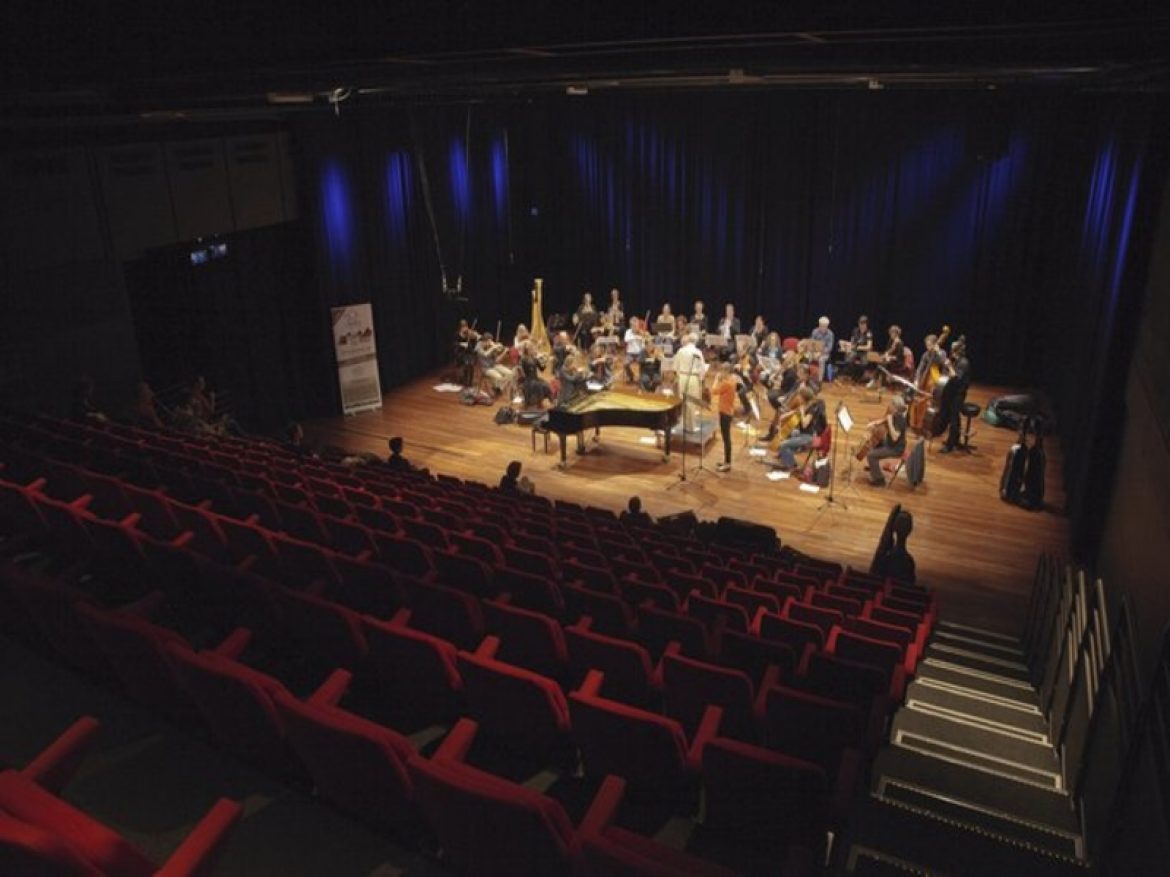 Theater Bellevue
Theater Bellevue in Amsterdam is a theater with three halls: Main Hall, Small Bellevue, Paloni Hall. The Main Hall offers mostly theater, music, dance, mime, children's theater and puppet performances. Small Bellevue is the place for cabaret. Theater Bellevue has been producing the unique Bellevue Lunch Theater for more than 25 years. It is lunchtime productions, which last as long as an average lunch break and they attract lots of local professionals. Apart from their own productions here there are also regularly performances of existing companies and producers. Theater Bellevue stages productions by both talented young performers and professionals. Theater Bellevue also organizes the annual Pop Arts Festival, a festival with a program of puppetry and objecttheater. Theater Bellevue also offers space for leading festivals such as the Holland Festival, Julidans, Dutch Theater Festival, Amsterdam Fringe Festival and the International Pop Arts Festival. Theater Bellevue in Amsterdam is known for its cabaret programs for almost 80 years. It is considered to be one of the best theaters in the country. Theater was named "Bellevue" after the Women's Club, which was located in this building before. This building was built in 1840, it turned into a theater in the 1930s and was rebuilt several times, but still works.
A crowd of people is always at the entrance to the popular theater in the evening. In the three local halls you can watch interesting avant-garde, dancing and drama performances. The unique combination of the three different halls and Theatercafé and Restaurant De Smoeshaan creates appropriate atmosphere. In the theater Bellevue there are only entertainment programmes. But sometimes you can see stunning musicals. On the official website of the theater there is a button «Language no problem», which allows you to choose performances that you can watch without knowing a language. But it is difficult to find a programme for children. As we know, cabaret is a place for adults only. When planning a visit you should know that the Dutch have peculiar sense of humor.
History
The original building on Leidsekade dates from circa 1840 and it housed two societies: Concordia (only for men) and Bellevue (including women and children). The first president of Society Bellevue was the author Jacob van Lennep.
In 1883 the building was owned by Mr. Stroucken and was renamed Maison Stroucken. At that time the building had especially great fame as a conference center. In 1938 the theater had a major renovation. Bellevue was one of the most modern entertainment palaces of Western Europe with five halls and the restaurant Paloni. The theater was substantially rebuilt in 1997, the Main Hall was expanded and engineering cabins were renovated. The entrance hall, cloakroom and Small Hall (later to be named Small Bellevue) were refurbished.
It is easy to reach Theater Bellevue by public transport. For guests with a car the parking is available.
Visit the official site: www.theaterbellevue.nl
Het Parool ging langs op Het Stenen Hoofd voor een doorloop van Recht op de Hemel door Collectief Blauwdruk "een van de leukste, jonge theatergroepen van dit moment".
Lees meer → https://t.co/I60v14jOBA

Nog t/m 17 juli is deze 'Vondel in ...

Jeannette Smit (66) is net met pensioen, na 22 jaar directeur te zijn geweest van Theater Bellevue in Amsterdam. Ze wil de eerste drie maanden niks plannen. https://t.co/LuZbK6B86w

🎧 PODCAST
Keti Koti is een dag waarop we het slavernijverleden herdenken en de afschaffing ervan vieren. I.s.m. Likeminds, Pompadó Z.R. Martha en KIP Republic hebben we een programma ihkv Keti Koti: voorstellingen, Free Heri Heri For All & deze ...

Oerol gemist? Dat is natuurlijk erg jammer, maar gelukkig kun je maar liefst 11 voorstellingen toch nog zien in Amsterdam.
De eerste komen al snel: Spuug van God op het Museumplein of de concertversie van Anne Fea's Reaspora in het ...

Niet te doen: ook Jan gaat met pensioen! Dus we gaan op zoek naar een fijne opvolger. Vanaf vandaag staat de vacature open voor Hoofd Techniek. Per 1 september, voor 32 uur in de week. Zegt het voort, zegt het ...

De berg aarde wordt al neergestort en een vrolijke tribune van campingstoeltjes opgebouwd. Vanaf volgende week speelt Collectief Blauwdruk een maand lang bij zonsondergang hun rauwe en radicale bewerking van Joost van den Vondel's Lucifer. → https://t.co/PsDeb9yc94 https://t.co/WNnfvrmpU6

In oktober gingen ze in première in een bomvol Bellevue en sindsdien kijken we hier al naar uit: Zoutmus is terug met Jungleprinter! Maar liefst twee weken raast deze wervelstorm door ons theater heen. Daarna zijn we ook wel toe ...

🎧 PODCAST
TRIGGER WARNING: angst- en paniekaanvallen

In HERT neemt actrice Teunie De Brouwer haar publiek mee in de Wondere Wereld van Angst. Huisdramaturg Tom Helmer praat met haar over exposure therapie, schijnveiligheid en behulpzame NS-conducteurs → https://t.co/LJrxAad1N5 https://t.co/OH1t4rvC4R

Vandaag in het Parool en vanaf vanavond 8 juni t/m 11 juni weer terug 'thuis' in Theater Bellevue.

Na afloop van elke voorstelling praten we na met de acteurs en/of diverse therapeuten.

→ https://t.co/BMJKvH7zpT https://t.co/UrNtSDajpt

Morgen is alweer de laatste Dans op Dinsdag van dit seizoen met Chasing the [Blank] door nieuwe pioniers uit de urban danswereld: Fractal dance collective, in coproductie met Korzo. Choreograaf Zino Schat combineert breakdance en moderne dans.
→ https://t.co/kxLrZ0wucG https://t.co/IzCcvGAL4p

🎧 PODCAST
In Moeder mag niet dood vierde Minou Bosua de vitaliteit van haar 89-jarige moeder. Nu, twee jaar en een diagnose dementie verder, onderzoekt Minou hoe we omgaan met onze ouderen wanneer de zorgtaken zich omdraaien in POW WOW.
...

De razendsnelle duizendpoot Pieter Jouke - de man waarover Dolf Janssen zei "Ga die man zien" - staat komend weekend met zijn programma Laars Lappen in Klein Bellevue.
vr 3 en za 4 juni 20:00
https://t.co/S1rn4dxzhn https://t.co/dZfbh3GLDQ

Deze week is de laatste kans om Twee geliefden op zoek naar een droomhuis door Theatergroep ECHO te zien! Met twee avonden Bellevue wordt de landelijke tournee afgesloten.
Dit keer laten ze zich inspireren door het Japanse Noh-theater.
→ https://t.co/oMNavspScf ...

🎧 PODCAST
In de nieuwste Bellevue lunchproductie Death Row wordt het publiek deel van de dynamiek binnen de woongroep. Huisdramaturg Tom Helmer gaat met Annemarie Prins, Gerardjan Rijnders en Erik Besseling in gesprek over strenge ballotagecommissies, →
https://t.co/XUrwoK9zzs https://t.co/0chGHlWGSU

TOITOITOI Blauwdruk vanavond met de première van Een Ingebeelde Ziekte op Karavaan!
Deze zomer kan je niet om BLAUWDRUK heen: tussen deze voorstellingen in mei, jun en aug door hernemen ze ook een maand lang Recht op de Hemel!
Ga ...

Volgende week Nacht in… Amsterdam van Liliane Brakema.
Voor deze voorstelling ging zij de wijken in om mensen te ontmoeten. Nacht in… is een theatrale reconstructie van die ontmoetingen, met iedere avond ontmoetingen met inwoners uit Amsterdam.
→ https://t.co/kgVEXCvtxr https://t.co/KJNyLVGxqZ

De afdeling marketing & communicatie van Theater Bellevue zoekt een nieuwe stagiair voor komend najaar. Benieuwd hoe het er in een theater aan toe gaat? En ben je thuis in de wereld van (online) media? Dan zijn we op zoek ...

De worstelende, hijgende, eerzuchtige mens in al zijn glorie: De Gestampte Meisjes laten hem alle hoeken van het podium zien. In "raps, klassieke koorzang, beukende beats, dans, ballet, een bitchfight in de worstelring, spoken word en teksttoneel " – Theaterkrant. ...

🎧 PODCAST Voor het Applaus
Wie of wat ben je nog zonder buitenwereld en zonder idee van wat komen gaat? In haar voorstelling Apocalyps (@tsproducties) zoekt regisseur Nita Kersten antwoord op deze vraag. Ze praat erover met huisdramaturg Tom Helmer
...

Voor Nacht in Amsterdam trok maker Liliane Brakema de stad in om mensen buiten haar eigen bubbel te ontmoeten: Han, Sarah, Katja en Rosanda. Samen met acteurs van Het Zuidelijk Toneel staan zij 1 t/m 3 juni op ons toneel.

...

Nog maar één week te zien in het Bellevue Lunchtheater: het beklemmende Menú del día door De Gemeenschap.

Naast Trouw (★★★★★) en Theaterkrant (Keuze van de criticus) verscheen deze week ook een mooie recensie in De Groene Amsterdammer:
→ https://t.co/32zAkigWWY ...

a.s. zondag, 16:00: eerste publieke lezing van de nieuwe toneeltekst "Lieve Vrienden, Familie en Genodigden", een fijne samenwerking van regisseur Jan Hulst en auteur Daan Heerma van Voss en van Toneelgroep Oostpool en Theater Bellevue.

info & tickets: https://t.co/RlwwF4p29a https://t.co/Id9yVxNR3N

Martijn Crins trad in april al op tijdens BIES. Na 10 minuten ijsberen van de zenuwen, omdat de act voor hem uitliep, maakte hij meteen indruk met zijn korte optreden. Vr 20 en za 21 mei is hij terug met ...

🎧 PODCAST
De samenwerking tussen het vaste duo Andrea Leine, Harijono Roebana en voormalig Componist des Vaderlands Calliope Tsoupaki blijkt een gouden te zijn. In hun studio aan het WG-plein in Amsterdam schuift dansprogrammeur Julie Vegter aan → https://t.co/dc3W76QmBb https://t.co/E4OY587TMh

Vandaag komt Buitenleven, de nieuwe roman van Nina Polak, uit bij Uitgeverij Prometheus. Nina schreef vorig seizoen haar eerste toneeltekst Een vrouw blijft thuis voor actrices Sophie van Winden en Ariane Schluter. 8-11 jun nog te zien in onze Grote ...

Afgelopen maandag namen we afscheid van onze 'koningin van de Leidsekade': directeur Jeannette Smit. Op deze bijzondere, bonte avond vlogen we door haar carrière met dierbare voorstellingen in die 21 jaar. En rijkte Touria Meliani haar de Frans Bannick Cocqpenning ...

🎖 Na 21 jaar leiding te hebben gegeven aan @theaterbellevue gaat Jeannette Smit vandaag met pensioen. Voor haar bijdrage aan het theater en de werkzaamheden voor onze stad, maar ook ver daarbuiten ontving zij zojuist de Frans Banninck Cocqpenning. https://t.co/KMesQ5gbwk
Theater Bellevue
Pros
Comfortable theatre at a relatively cheap price
Cons
You should know Dutch language to watch most of the performances.