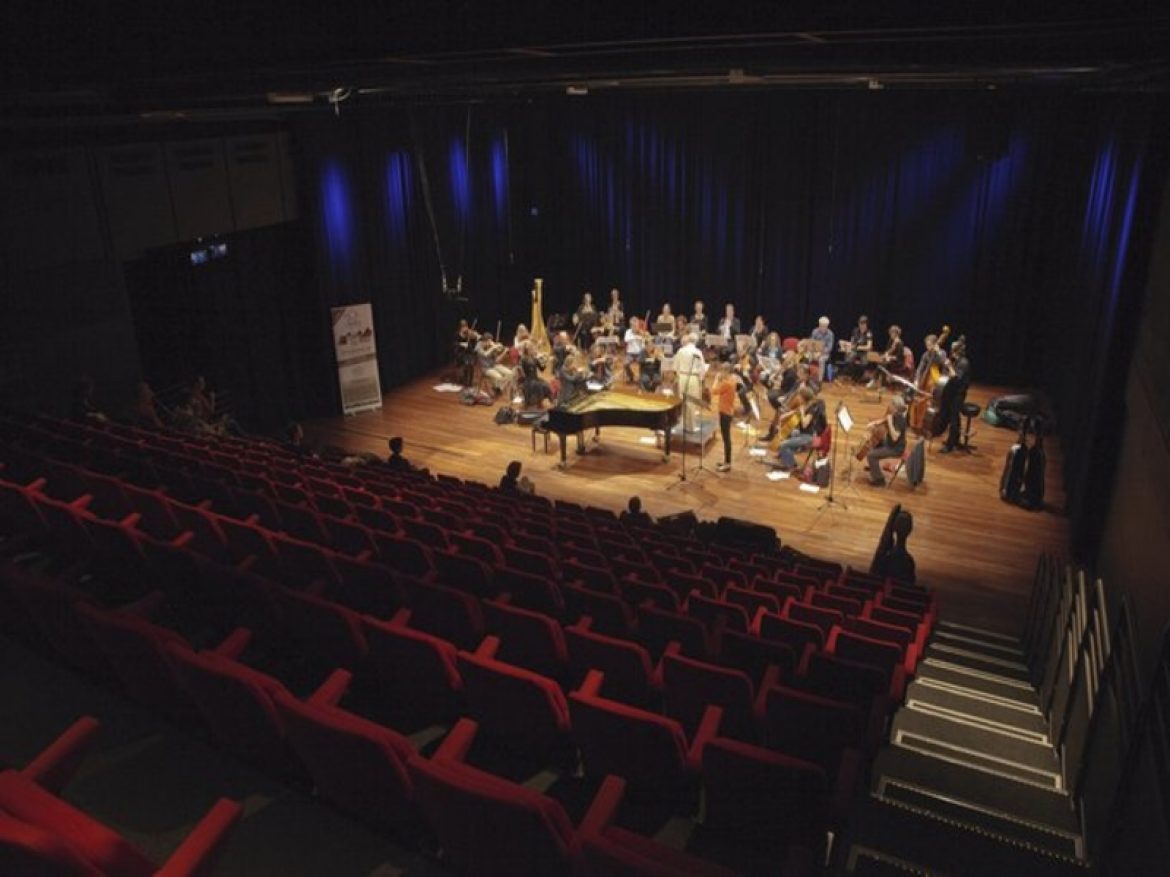 Theater Bellevue
Theater Bellevue in Amsterdam is a theater with three halls: Main Hall, Small Bellevue, Paloni Hall. The Main Hall offers mostly theater, music, dance, mime, children's theater and puppet performances. Small Bellevue is the place for cabaret. Theater Bellevue has been producing the unique Bellevue Lunch Theater for more than 25 years. It is lunchtime productions, which last as long as an average lunch break and they attract lots of local professionals. Apart from their own productions here there are also regularly performances of existing companies and producers. Theater Bellevue stages productions by both talented young performers and professionals. Theater Bellevue also organizes the annual Pop Arts Festival, a festival with a program of puppetry and objecttheater. Theater Bellevue also offers space for leading festivals such as the Holland Festival, Julidans, Dutch Theater Festival, Amsterdam Fringe Festival and the International Pop Arts Festival. Theater Bellevue in Amsterdam is known for its cabaret programs for almost 80 years. It is considered to be one of the best theaters in the country. Theater was named "Bellevue" after the Women's Club, which was located in this building before. This building was built in 1840, it turned into a theater in the 1930s and was rebuilt several times, but still works.
A crowd of people is always at the entrance to the popular theater in the evening. In the three local halls you can watch interesting avant-garde, dancing and drama performances. The unique combination of the three different halls and Theatercafé and Restaurant De Smoeshaan creates appropriate atmosphere. In the theater Bellevue there are only entertainment programmes. But sometimes you can see stunning musicals. On the official website of the theater there is a button «Language no problem», which allows you to choose performances that you can watch without knowing a language. But it is difficult to find a programme for children. As we know, cabaret is a place for adults only. When planning a visit you should know that the Dutch have peculiar sense of humor.
History
The original building on Leidsekade dates from circa 1840 and it housed two societies: Concordia (only for men) and Bellevue (including women and children). The first president of Society Bellevue was the author Jacob van Lennep.
In 1883 the building was owned by Mr. Stroucken and was renamed Maison Stroucken. At that time the building had especially great fame as a conference center. In 1938 the theater had a major renovation. Bellevue was one of the most modern entertainment palaces of Western Europe with five halls and the restaurant Paloni. The theater was substantially rebuilt in 1997, the Main Hall was expanded and engineering cabins were renovated. The entrance hall, cloakroom and Small Hall (later to be named Small Bellevue) were refurbished.
It is easy to reach Theater Bellevue by public transport. For guests with a car the parking is available.
Visit the official site: www.theaterbellevue.nl
🎧 PODCAST Voor het Applaus
Jakop Ahlbom over het internationale succes van de Jakop Ahlbom Company en zijn onzekerheden nu hij zijn nieuwe voorstelling UNSEEN niet alleen regisseert, maar ook zelf weer op de planken staat > https://t.co/AOBnAROcLZ https://t.co/2k7e2sSXJT

Amai, onze dramaturg Tom Helmer is in Leuven vandaag. Theater Bellevue host een avond in het gloednieuwe festival voor toneelschrijfkunst Shakespare is dead. Als partner van dit festival reisde hij vandaag naar deze stad voor Scratchnight Theater Bellevue.>https://t.co/n4JtmuO0D2 https://t.co/gU3YkjQpmK

Komende zondagmiddag lezen actrices Meral Polat, Sylvia Poorta, Kirsten Mulder en Kim Karssen de nieuwe tekst van Janneke Jansen, Klaagzang. Een middag muzikaal gemopper met fadomzueik, door gitarist Fransisco Chaves en Meral Polat.
Info & kaartjes: https://t.co/UQnlqOjnC5 https://t.co/vAxm2PFKB2

Tijdens de finalistentournee van het Cameretten Festival trekt winnaar Thjum Arts samen met zijn medefinalisten Teun Wolters en Blauwe Vinkjes langs theaters om hun voorstellingen met het grote publiek te delen.

Deze week in Theater Bellevue!
>https://t.co/Z4pxMyDOBC https://t.co/B92Uk5FCtf

De Company doet het weer! "Na Lebensraum toont @JakopAhlbom ons met dit kleine meesterwerk opnieuw hoe een tekstloze voorstelling een diepe betekenis krijgt." ★★★★ Volkskrant

UNSEEN over twee weken is een weerzien waar we ons heel erg op verheugen > ...

🎧 PODCAST
Breken uit kaders en spelen met hokjes: het duo Beth & Flo combineert klassieke muziek met kleinkunst en is daarmee vrijwel uniek in zijn soort. In deze aflevering vertellen Elsbet en Claudette, zoals Beth & Flo eigenlijk heten ...

Open zoals we open willen zijn (bijna)
We spelen weer voor goed gevulde zalen en er zijn extra kaarten in de verkoop voor alle voorstellingen. En geen haast meer na afloop: we hoeven niet eerder dicht en ook café-restaurant De ...

Ons enthousiaste kassateam zoekt per direct een nieuwe collega. Voor 8 tot 16 uur per week, zowel overdag als in de avond. Help jij graag mensen , met geduld en belangstelling? Geniet je van reuring en houd je het hoofd ...

Dichter Charlotte Van den Broeck en auteur Arnon Grunberg zijn te zien in Nicole Beutlers creatie microcosm, dansend ... In aanloop naar de première schreven de auteurs columns over hun schaamte en hun dansdebuut: https://t.co/K5hjGprQHj https://t.co/baJFokKC3c

Theatermaker Ayşegül Karaca was gisteravond te gast in het VPROprogramma Nooit meer slapen. Zij sprak over haar voorstelling Oogentroost, bij ons
zien op 7 en 8 apr. 8 apr geeft Ayşegül een rondleiding voor mensen die, net als zij, visueel ...

Buitenkansje! Zondag a.s. kun je bij de eerste lezing zijn van de nieuwe tekst van Nic Bruckman (Kogelvis en Bleeding Love). Deze nieuwe creatie gaat als Lunchtheatervoorstelling Vader en moedertje in première op 2 april. Lezing: zo 13 feb 16:00 ...

La Gakes is in aantocht! Deze week speelt zij bij ons nog twee try-outs en de première van haar programma Ik, Daphne Gakes. Reden voor een feestje, een kleintje dan. Geen kaartje kunnen bemachtigen? Beluister dan de podcast met Daphne ...

ONTMOET ONZE MAKERS
Vera Morina schreef Volim te. In maart komt deze magisch-realistische voorstelling tegen de achtergrond van de Joegoslavië-oorlog terug naar Bellevue Lunchtheater! Kaarten zijn nu in de verkoop -> https://t.co/7cpJJDfRxD
https://t.co/2BKIoXDRHi

Goed nieuws voor wie nog niet was toegekomen aan het plannen van een avondje theater dit weekend en net achter het net viste: Jack Wouterse en TOEAC komen ook op zondag naar Bellevue voor een extra Bloedkoraal. De verkoop is ...

Wat een hartverwarmende reacties hebben we mogen ontvangen op de Lunchvoorstelling Volim te. Vanuit de zaal, maar ook o.a. van Het Parool:
https://t.co/a96UgpfvYs

Vandaag is het dan eindelijk zo ver: de Lunchvoorstelling Volim te gaat in première! Sander Janssens sprak in de lange aanloop hier naartoe met schrijver Vera Morina, o.a. over haar persoonlijke én artistieke missie met deze bijzondere Lunchvoorstelling https://t.co/NvOn6PCVfV https://t.co/jyz3AFRFRh

BAM! Vanaf half één vandaag beginnen we met ons goed gevulde programma in alle drie de zalen en morgen vieren we al direct de eerste première met Volim te. We staan met een dikke glimlach voor u klaar.
Bekijk ons ...

🎧 PODCAST
De theaters openen hun deuren en dat vieren wij met @CLUBGEWALT! Op de vooravond van hun première spreken we drie clubleden over hun entree in de theaterwereld, werken in een collectief en Antropoceen, de musical. Beluister de aflevering ...

Hoe bereid je je voor op het moment dat je vanuit rust weer in beweging komt? We vroegen het choreograaf Guilherme Miotto.
"Mijn favoriete voorbereiding is altijd en overal zo goed mogelijk niet voorbereid te zijn, zodat je kunt incasseren, ...

🎧PODCAST
40 jaar theatermaken: Bert Bunschoten en Wigbolt Kruyver zijn met hun toneelgroep Het Volk niet meer weg te denken uit het theaterveld. Toch komt het avontuur langzaam op zijn eind. We reisden af naar Haarlem, waar Bert en Wigbolt ...

HUP KUNST*
Wat is er vandaag veel teweeg gebracht in onze sector. We maken ons op voor volgende week woensdag. De dag dat we, op een veilige manier, weer opengaan.

*werkmotto uit de directiekamer https://t.co/xPwM9eyfmW

Theatermaker Marte Boneschansker honderd uiteenlopende mensen uit voor haar project Het Jaar van Rouw. Wekelijks komen zij samen voor een programma, diner en gesprek rondom rouw en verlies. Deze week was Marte te gast bij @vpronms over dit project: https://t.co/GTRGHqRBJK ...
Theater Bellevue
Pros
Comfortable theatre at a relatively cheap price
Cons
You should know Dutch language to watch most of the performances.