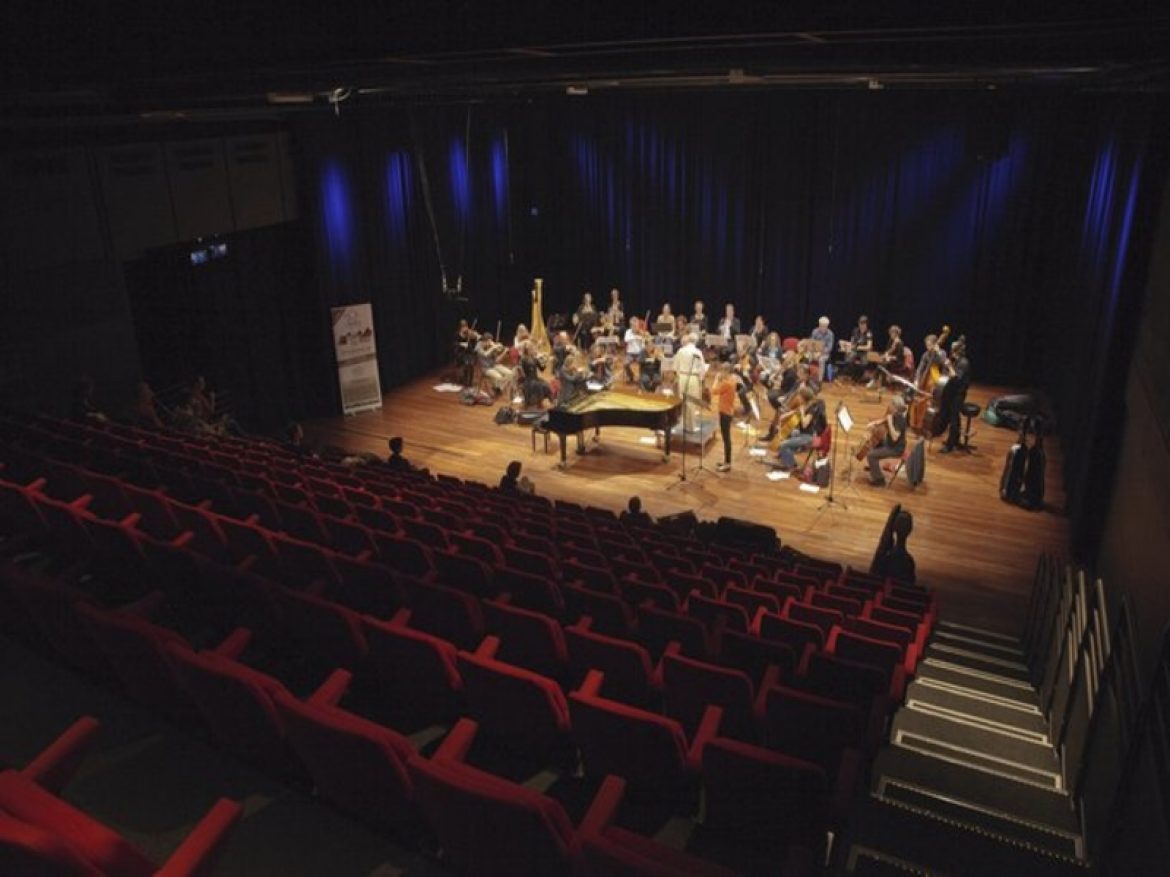 Theater Bellevue
Theater Bellevue in Amsterdam is a theater with three halls: Main Hall, Small Bellevue, Paloni Hall. The Main Hall offers mostly theater, music, dance, mime, children's theater and puppet performances. Small Bellevue is the place for cabaret. Theater Bellevue has been producing the unique Bellevue Lunch Theater for more than 25 years. It is lunchtime productions, which last as long as an average lunch break and they attract lots of local professionals. Apart from their own productions here there are also regularly performances of existing companies and producers. Theater Bellevue stages productions by both talented young performers and professionals. Theater Bellevue also organizes the annual Pop Arts Festival, a festival with a program of puppetry and objecttheater. Theater Bellevue also offers space for leading festivals such as the Holland Festival, Julidans, Dutch Theater Festival, Amsterdam Fringe Festival and the International Pop Arts Festival. Theater Bellevue in Amsterdam is known for its cabaret programs for almost 80 years. It is considered to be one of the best theaters in the country. Theater was named "Bellevue" after the Women's Club, which was located in this building before. This building was built in 1840, it turned into a theater in the 1930s and was rebuilt several times, but still works.
A crowd of people is always at the entrance to the popular theater in the evening. In the three local halls you can watch interesting avant-garde, dancing and drama performances. The unique combination of the three different halls and Theatercafé and Restaurant De Smoeshaan creates appropriate atmosphere. In the theater Bellevue there are only entertainment programmes. But sometimes you can see stunning musicals. On the official website of the theater there is a button «Language no problem», which allows you to choose performances that you can watch without knowing a language. But it is difficult to find a programme for children. As we know, cabaret is a place for adults only. When planning a visit you should know that the Dutch have peculiar sense of humor.
History
The original building on Leidsekade dates from circa 1840 and it housed two societies: Concordia (only for men) and Bellevue (including women and children). The first president of Society Bellevue was the author Jacob van Lennep.
In 1883 the building was owned by Mr. Stroucken and was renamed Maison Stroucken. At that time the building had especially great fame as a conference center. In 1938 the theater had a major renovation. Bellevue was one of the most modern entertainment palaces of Western Europe with five halls and the restaurant Paloni. The theater was substantially rebuilt in 1997, the Main Hall was expanded and engineering cabins were renovated. The entrance hall, cloakroom and Small Hall (later to be named Small Bellevue) were refurbished.
It is easy to reach Theater Bellevue by public transport. For guests with a car the parking is available.
Visit the official site: www.theaterbellevue.nl
🎧 PODCAST Voor het Applaus
Chris Verlaan neemt ons mee vanaf de start van zijn carrière met Cameretten waar hij de jury -en publieksprijs won. Hij praat met Marco over zijn ongemakkelijkheden op het toneel en zijn fascinatie voor kringloopwinkels.
...

🎧 PODCAST Voor het Applaus
In deze aflevering gaat Julie Vegter in gesprek met Sarah Ringoet over haar veelzijdigheid als maker, mimespeler, schrijver en regisseur. Een gesprek over haar rollen en inspiratiebronnen. https://t.co/RHV58ED7Xq https://t.co/v2opmfFZtV

Een fijn team zoekt versterking. Ook wel: ons marketingteam zoekt versterking. Ben of ken jij iemand met energie, social skills en enige ervaring in marketingcommunicatie? Laat het ons weten. Kijk op https://t.co/RGu5VeMpYc https://t.co/lzyfVqzE8b

🎧 PODCAST Voor het Applaus
Bellevue opent al jaren de deuren voor Theater Na de Dam, voor ons de reden om in gesprek te gaan met de twee initiatiefnemers, Jaïr Stranders en Bo Tarenskeen.
→ https://t.co/mQ283fQjnj https://t.co/NX2hKxCCio

We bleven weer een nachtje op want Nic Bruckman was te gast bij het radioprogramma Nooit meer slapen. Hij vertelt over zijn voorstelling De Tempel in samenwerking met Firma Mes die op 2 & 3 mei in Bellevue te zien ...

NU IN DE VERKOOP IV
Julidans 2023
zo 2 - zo 16 juli

Grensverleggend, gedurfd en eigenzinnig. Julidans presenteert de actuele stand van zaken van de internationale hedendaagse dans.

Het festivalprogramma in Theater Bellevue staat nu online!
> https://t.co/GPuYm2Peoe https://t.co/2xSEtOBq0n

A night of inspiration: een serie inspiratieavonden samengesteld en gehost door theatermaker Nick Deroo. Laat je deze 2e editie inspireren over The Modified Body met sprekers als @wpjoosten, Arne Hendriks en Rhiannon Zivkovic. 3 mei, 17:30 English Spoken en incl ...

@Mugmetdegoudentand is nog volop aan het spelen met haar allerlaatste productie The Making of Soros the Musical, maar het Parool heeft alvast enkele hoogtepunten uit de glansrijke carrière van het Amsterdamse cultureel collectief op een rijtje gezet.
https://t.co/CX5ADsQ29g

De één-na-laatste editie van BIES is er weer een vol variatie. Van De vriendelijke Stiefvaders, tot David Linszen. Van Marie Koet, tot Lonneke Dort. ⁠
Niemand minder dan Ronald Snijders praat de boel aan elkaar, of los van elkaar.⁠
https://t.co/Gaq2RXbxb2 ...

VERS VAN DE PERS! Lebbis en Jansen zaten zojuist tafel bij Beau om aan te kondigden dat ze samen weer een Oudejaarsvoorstelling gaan maken. Voor het duo is dit hun 20ste inmiddels. Deze juni al in Bellevue!
https://t.co/HfgZj4t4UA
#lebbisenjansen #BEAU ...

Ulrike Quade Company en Simone van Saarloos snijden in De Foetushemel onderwerpen aan als abortus, zelfmoord, gender, seksualiteit en geweld. Ze dagen uit om een nieuw perspectief te verkennen om de dialoog aan te gaan over deze complexe onderwerpen.
→ ...

Binnenkort komt @mgmtdgdntnd met hun allerlaatste productie: The Making of Soros the Musical naar Bellevue. Er zijn nog maar een paar kaartjes, maar we mogen alvast bekend maken dat 10 & 11 juni (het afscheidsweekend) de voorstelling nog één keer ...

Vandaag gaat Second Life van SHIFFT in première (Toi Toi Toi!) en dinsdag komt deze nieuwe dansvoorstelling al naar ons! Hierin spelen video en camera's een belangrijke rol, dus daar hoort natuurlijk ook een prachtig filmische trailer bij!⁠
https://t.co/BYpUbiYcZ9 https://t.co/IXLsD6SIs6

Het AKF Spoken Word Festival is begonnen. Nog 4 avonden met o.m. Veronique Efomi, Houda Bibouda, Samir Fighil, Sydney Lowell, Flip Noorman & Vera van der Bie, Gershwin Bonevacia. En wellicht een free-stylende Luan Buleshkaj. Je weet niet wat je ...

Vanavond en morgen: Op de Barricade van het Hart van Elfie Tromp & band. Met nieuwe protestliederen voor deze tijd, met een lach, een vuist en een warm hart. "Een one-woman show waarin ze heel openhartig vertelt over pijn." De ...

Muziekensemble SeaSession en theatermaker Servaes Nelissen maken zich op voor de première van muziektheatervoorstelling De zus van Frida Kahlo, vanavond in de Schuur. Toi toi toi daar in Haarlem!
Deze kleurrijke voorstelling komt eind mei naar Bellevue. https://t.co/D2oMfvOA8d https://t.co/5t0uHXsJyr

"Het ijzersterke spel, de melancholische muziek als de beeldende teksten zorgen voor rillingen én tranen." ⁠
⁠
Dat schrijft het Parool over Zus van mijn zus en mogen we ook iedere dag weer ervaren in de zaal: rillingen en tranen, ...

Het NRC heeft weer een fijn lijstje opgesteld met 'de beste voorstellingen die je nu in het theater kunt zien'. Drie daarvan spelen binnenkort in Bellevue!

Lees het oordeel van het NRC (via https://t.co/KV226vGJ2q), maar kom het natuurlijk vooral zelf ...

Marisa van Eyle en Ariane Schluter zijn helemaal klaar voor de première van Zus van mijn zus morgen in het Lunchtheater. In een dubbelinterview in Trouw praten zij over vrouwenrollen, de wens om samen te spelen en de vierjarige aanloop ...

De dappere soldaat door Toneelschuur Producties kan sinds de première op veel lof rekenen. Maar dat hadden wij stiekem ook niet anders verwacht… Deze voorstelling komt namelijk uit de koker van theatermaker Steef de Jong, kind aan huis bij Bellevue. ...

Zojuist speelde Ariane Schluter samen met Marisa van Eyle de allereerste voorstelling van Zus van mijn zus. Met deze voorstelling gaat een langgekoesterde wens in vervulling: samen op het toneel. Gisterenavond vertelde Ariane erover in Tijd voor MAX https://t.co/nNHUtPJxgk https://t.co/5LSkSJ2JMv

Vandaag is het Wereld Poëziedag! Gelukkig vieren wij het hele jaar door poëzie. Zoals aankomend weekend met Stop de Tijd, poëtische muziektheater. Gedichten van Vrouwkje Tuinman verklankt door Margriet Sjoerdsma, Martin Fondse en het Matangi Quartet.
→ https://t.co/Qzx4wagXtp https://t.co/gLS5sx0LEz

Vandaag in het Parool en deze week in huis: Booi Kluiving. Net als in De memers en Let's Play onderzoekt hij met zijn voorstelling SatisFactory een uithoek van het wereldwijde web. Dit keer: ASMR. Wat dit precies is en hoe ...

Met de nieuwe Lunchvoorstelling Zus van mijn zus gaat een langgekoesterde wens van Marisa van Eyle en Ariane Schluter in vervulling: samen op het toneel staan. We spraken met hen over dit bijzondere project dat nu bijna in première gaat.
...

🎧 PODCAST
Afgelopen woensdag stond in het teken van Internationale Vrouwendag. Onder leiding van moderator Mara van Nes bespraken schrijver Aminata Caïro en theatermaker Sheralynn Adriaansz over wat vrouwen verbind en hoe we daar kracht uit kunnen halen
→https://t.co/77Ax72CP7e https://t.co/TdXAXDchTy

Vandaag is het Internationale Vrouwendag en vieren we wereldwijd de maatschappelijke prestaties van vrouwen en vragen we om actie voor gendergelijkheid en vrouwenrechten. Lees meer over hoe wij dit vieren
→ https://t.co/qYeYt5T8W6 https://t.co/FPpZvvZrAw
Theater Bellevue
Pros
Comfortable theatre at a relatively cheap price
Cons
You should know Dutch language to watch most of the performances.