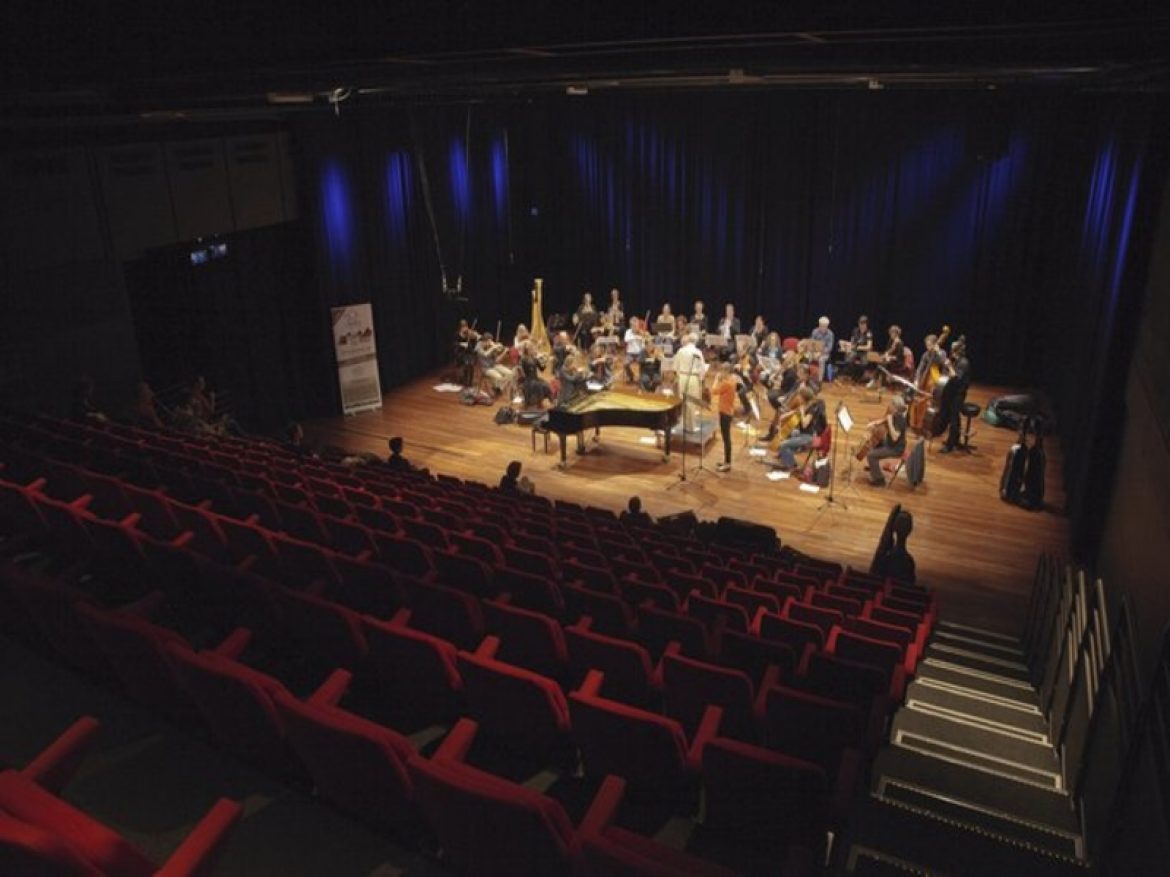 Theater Bellevue
Theater Bellevue in Amsterdam is a theater with three halls: Main Hall, Small Bellevue, Paloni Hall. The Main Hall offers mostly theater, music, dance, mime, children's theater and puppet performances. Small Bellevue is the place for cabaret. Theater Bellevue has been producing the unique Bellevue Lunch Theater for more than 25 years. It is lunchtime productions, which last as long as an average lunch break and they attract lots of local professionals. Apart from their own productions here there are also regularly performances of existing companies and producers. Theater Bellevue stages productions by both talented young performers and professionals. Theater Bellevue also organizes the annual Pop Arts Festival, a festival with a program of puppetry and objecttheater. Theater Bellevue also offers space for leading festivals such as the Holland Festival, Julidans, Dutch Theater Festival, Amsterdam Fringe Festival and the International Pop Arts Festival. Theater Bellevue in Amsterdam is known for its cabaret programs for almost 80 years. It is considered to be one of the best theaters in the country. Theater was named "Bellevue" after the Women's Club, which was located in this building before. This building was built in 1840, it turned into a theater in the 1930s and was rebuilt several times, but still works.
A crowd of people is always at the entrance to the popular theater in the evening. In the three local halls you can watch interesting avant-garde, dancing and drama performances. The unique combination of the three different halls and Theatercafé and Restaurant De Smoeshaan creates appropriate atmosphere. In the theater Bellevue there are only entertainment programmes. But sometimes you can see stunning musicals. On the official website of the theater there is a button «Language no problem», which allows you to choose performances that you can watch without knowing a language. But it is difficult to find a programme for children. As we know, cabaret is a place for adults only. When planning a visit you should know that the Dutch have peculiar sense of humor.
History
The original building on Leidsekade dates from circa 1840 and it housed two societies: Concordia (only for men) and Bellevue (including women and children). The first president of Society Bellevue was the author Jacob van Lennep.
In 1883 the building was owned by Mr. Stroucken and was renamed Maison Stroucken. At that time the building had especially great fame as a conference center. In 1938 the theater had a major renovation. Bellevue was one of the most modern entertainment palaces of Western Europe with five halls and the restaurant Paloni. The theater was substantially rebuilt in 1997, the Main Hall was expanded and engineering cabins were renovated. The entrance hall, cloakroom and Small Hall (later to be named Small Bellevue) were refurbished.
It is easy to reach Theater Bellevue by public transport. For guests with a car the parking is available.
Visit the official site: www.theaterbellevue.nl
Gisteravond werd tijdens de persconferentie duidelijk dat alle bijeenkomsten tot 1 juni worden verboden. Tot onze grote spijt moeten wij daarom alle voorstellingen tot 1 juni annuleren. Kaartkopers ontvangen van ons bericht. Wij wensen iedereen veel sterkte en gezondheid toe. ...

de Volkskrant nam een kijkje in de Bunker van Collectief Het Paradijs in Theater Bellevue.

Lees het verslag hier: https://t.co/a7TkxntFb4

I.v.m. de uitbraak van het coronavirus hebben de autoriteiten per direct een verbod op evenementen met meer dan 100 bezoekers afgekondigd. Om deze reden kunnen de voorstellingen in Theater Bellevue tot en met 31 maart helaas geen doorgang vinden. Kaartkopers ...

Een zwangere vrouw krijgt te horen dat haar kindje een onoverkomelijke afwijking heeft. Ze zakt door de roze wolk en belandt in een magische tussenwereld, bij de hemel. In welke wereld is haar kindje beter af?
Alles naar de hemel ...

A.s. zondag is de feestelijke bundelpresentatie van 'Schrijvers op de Vloer', drie nieuwe Nederlandse toneelteksten door Sara van Gennip / Lykele Muus / Maarten van der Graaff en Tom Dello.

Gratis toegang!
Meer info: https://t.co/wOGeDtwsEY https://t.co/ELn5saJTq2

Voor hen die er op hebben gezeten, hadden willen zitten of er de kriebels van krijgen. Een reünie-erlebnis voor ex-vrije scholieren of een unieke Vrije School-voor-dummies!

De Vrije School De Voorstelling | 27 & 28 mrt in Bellevue!
Info en ...

De succesvoorstelling Mahler & Kokoschka door @UlrikeQuadeComp / Theater Bellevue gaat op tournee!

We trappen af op 17 & 18 mrt in thuisbasis Bellevue. Met op 18 mrt een extra bijzondere voorstelling, waarbij twee gebarentolken aanwezig zijn.

Meer info: https://t.co/OwqvEYKWS1 ...

Bekijk hoe de zes Halve Finalisten van de AKF Sonneveldprijs onder toeziend oog van Vera Mann aan het werk gaan met interpretatie.

Ma 2 mrt: Masterclass met Vera Mann - Keep an Eye / AKF (onderdeel van het Amsterdams Kleinkunst ...

Onlangs stond hij in Theater Bellevue tijdens Bies Try-out Podium: Musa. De sfeer zat er toen al lekker in!

Op 12, 13 én 14 mrt is hij terug met 'Waterkonijnen'. Een grappige, intieme, herkenbare, cultuuroverstijgende en soms opzienbarende voorstelling.

https://t.co/z69ClFjfNu ...

Met hyper actuele thema's als privacy en cybersecurity belicht @stokerijSDAM de wereld in Harry in Wonderland

Dit is deel 2 van de theaterserie Human Inc. over hoe grote multinationals en overheden de verbinding met het individu verliezen.

3 t/m 5 ...

Laat je meevoeren door de prachtige poëzie, dans en muziek in 'Verhaal van mijn droevig leeven' door Marlies Heuer en Rudolphi Producties.

Wo 11 & do 12 mrt in Theater Bellevue!

Meer info en kaartjes: https://t.co/Q87p4MeEb0 https://t.co/ogKrcaZhUt

MERKEL IST ZURÜCK!

Nineties Productions en Orkater kruipen in de huid van de underdog uit de DDR die uitgroeide tot de machtigste vrouw ter wereld.

Dit is de laatste kans om deze succesvolle electro-opera te zien, 6 & 7 mrt ...

Vanaf woensdag in Bellevue Backstage: de nieuwe voorstelling van Linda Lugtenborg: ODE AAN DE MINNARES.

Een monoloog over kokende lava, ware liefde en onbedwingbare aantrekkingskracht.

Wo 19, do 20 feb & do 21, za 23 mei in Bellevue
Meer info ...

We tonen rouw steeds vaker openlijk online: een gedicht op Facebook, kinderen die het afscheid van hun kat live streamen, een begrafenis-selfie... 'Rust zacht Billy' @zuidelijktoneel zoekt de grenzen op tussen privé en publiek.

3 t/m 5 mrt | https://t.co/g3gk4Z2KNe ...
Theater Bellevue
Pros
Comfortable theatre at a relatively cheap price
Cons
You should know Dutch language to watch most of the performances.