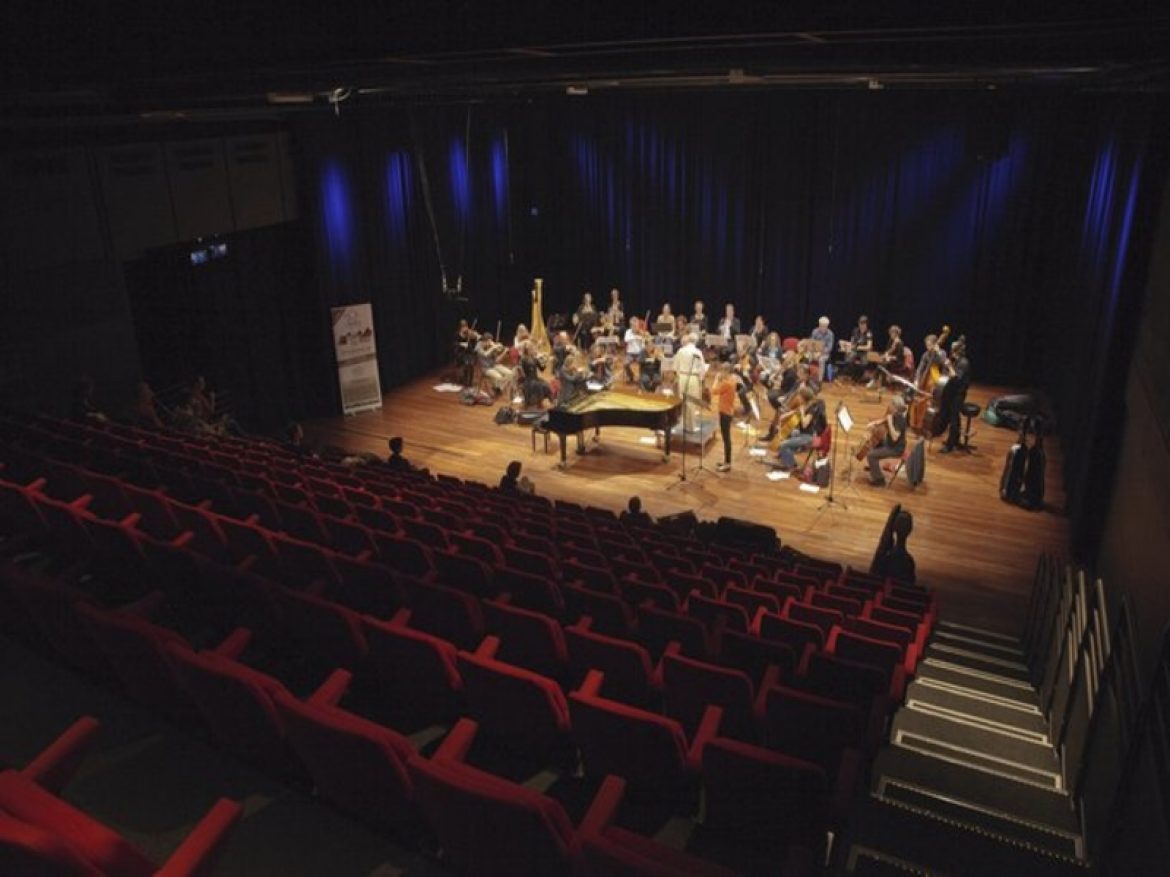 Theater Bellevue
Theater Bellevue in Amsterdam is a theater with three halls: Main Hall, Small Bellevue, Paloni Hall. The Main Hall offers mostly theater, music, dance, mime, children's theater and puppet performances. Small Bellevue is the place for cabaret. Theater Bellevue has been producing the unique Bellevue Lunch Theater for more than 25 years. It is lunchtime productions, which last as long as an average lunch break and they attract lots of local professionals. Apart from their own productions here there are also regularly performances of existing companies and producers. Theater Bellevue stages productions by both talented young performers and professionals. Theater Bellevue also organizes the annual Pop Arts Festival, a festival with a program of puppetry and objecttheater. Theater Bellevue also offers space for leading festivals such as the Holland Festival, Julidans, Dutch Theater Festival, Amsterdam Fringe Festival and the International Pop Arts Festival. Theater Bellevue in Amsterdam is known for its cabaret programs for almost 80 years. It is considered to be one of the best theaters in the country. Theater was named "Bellevue" after the Women's Club, which was located in this building before. This building was built in 1840, it turned into a theater in the 1930s and was rebuilt several times, but still works.
A crowd of people is always at the entrance to the popular theater in the evening. In the three local halls you can watch interesting avant-garde, dancing and drama performances. The unique combination of the three different halls and Theatercafé and Restaurant De Smoeshaan creates appropriate atmosphere. In the theater Bellevue there are only entertainment programmes. But sometimes you can see stunning musicals. On the official website of the theater there is a button «Language no problem», which allows you to choose performances that you can watch without knowing a language. But it is difficult to find a programme for children. As we know, cabaret is a place for adults only. When planning a visit you should know that the Dutch have peculiar sense of humor.
History
The original building on Leidsekade dates from circa 1840 and it housed two societies: Concordia (only for men) and Bellevue (including women and children). The first president of Society Bellevue was the author Jacob van Lennep.
In 1883 the building was owned by Mr. Stroucken and was renamed Maison Stroucken. At that time the building had especially great fame as a conference center. In 1938 the theater had a major renovation. Bellevue was one of the most modern entertainment palaces of Western Europe with five halls and the restaurant Paloni. The theater was substantially rebuilt in 1997, the Main Hall was expanded and engineering cabins were renovated. The entrance hall, cloakroom and Small Hall (later to be named Small Bellevue) were refurbished.
It is easy to reach Theater Bellevue by public transport. For guests with a car the parking is available.
Visit the official site: www.theaterbellevue.nl
We sluiten het jaar af zoals we het begonnen, namelijk met een hoorspel van Collectief BLAUWDRUK. Zij hebben hun radicale bewerking van Vondel's Lucifer opgenomen: Recht op de Hemel. De succesvoorstelling van afgelopen zomer is nu overal te beluisteren.
→ ...

Is de verdwijntruc aan het kerstdiner niet gelukt dit jaar? Kom inspiratie op doen bij een voorstelling van Jakop Ahlbom: altijd goed voor een dosis magie en slapstick. Hij luidt het nieuwe jaar in met Lebensraum en keert terug met ...

Dankzij Boys Won't Be Boys gaan wij met een verwarmd hart de kerstdagen in. Wij wensen dat iedereen toe! Wees nog welkom bij de laatste twee avonden met de The Chosen Family Show-ho-ho en kijk even dereportage die we met ...

Wat een liefde stroomde er door het pand op de openingsavond van ons decemberprogramma met BOYS WONT BE BOYS. Dank Bas de Brouwer voor het vastleggen van dit feestje. ⁠Doe ons nog maar een paar van dit soort avonden. En ...

Het Nationale Theater en Theater Bellevue op zoek naar de schrijver van een nieuwe Lunchtheatervoorstelling (begin '24) gespeeld door Soumaya Ahouaoui, Tamar van den Dop, Yela de Koning en Rick Paul van Mulligen en geregisseerd door Belle van Heerikhuizen.
https://t.co/zbbn4oRnK8 ...

Deze zomer hadden Eve Hopkins (artistiek directeur Bellevue) en Rikkert van Huisstede (Boys Won't Be Boys) maar heel even nodig om tot het plan te komen voor een programma in de decembermaand.
Lees in dit interview waar Eve en Rikkert ...

En dan sta je zomaar ineens heel groot in het NRC Handelsblad. Terecht natuurlijk, want het is een prachtig verhaal dat Rikkert van Huisstede te vertellen heeft. Lees alles over The Chosen Family Show-ho-ho, BOYS WON'T BE BOYS, kerst en ...

Voorafgaand aan The Chosen Family Show-ho-ho organiseren Boys Won't Be Boys en Bellevue een programma met 26 Amsterdamse jongeren, die hun perspectieven op mannelijkheid delen.

We lieten hen in beeld brengen door fotografe Tengbeh Kamara. → https://t.co/wtbySlWTzx https://t.co/Ad1TZD8hxV

Olivier Diepenhorst was vannacht te gast bij Nooit Meer Slapen om te vertellen over zijn bijzondere jaar als regisseur, het succes van De wanen én hij vertelde dat De wanen nog 4x te zien is begin volgend jaar. In de ...

26 jongeren volgen onder de vleugels van BOYS WON'T BE BOYS van Rikkert van Huisstede workshops over gender en identiteit. Hun persoonlijk verhalen zie je in performances in BOYS WON'T BE BOYS The Next Generation 20 t/m 24 dec
→ ...

We begonnen de dag vandaag met een lekker bakkie met Boys Won't Be Boys. Dank Koffietijd voor het fijne gesprek en dat we het lied Ma Famille uit The Family Show-ho-ho voor het eerst met publiek konden delen. Het fragment ...

Première! Victor Luis van Es gaat na de try-outs van zijn derde show De Lachende Derde bij ons officieel in première! Na zijn 2 eerdere voorstelling van Stille Strijd waar het fragment uit komt en Plan B is hij terug ...

🎧 PODCAST
Een dag na de première en jubelende recensies werd Simon Heijmans' De Zachte Kracht abrupt afgebroken twee jaar geleden, maar volgende week is hij terug! We bellen met hem en luisteren naar ons gesprek van toen.
→ https://t.co/8Uj22YEHZR ...

Nog maar een paar uurtjes en dan is het zover voor Brakema Producties: de première van Isotopia. TOI TOI TOI Anna Raadsveld, Ali Ben Horsting en natuurlijk de gehele crew onder de bevlogen leiding van regisseur Liliane Brakema.
→ https://t.co/MViODsuMNS ...

Ayşegül Karaca weet als geen ander wat je ervaart als je naar het theater wil gaan en een visuele beperking hebt. Daarom organiseert zij een aantal Meet & Feels bij onze Lunchtheatervoorstellingen. De eerste vinden plaats op 10 & 11 ...

BIES gaat als een trein. Vorige editie was stijf uitverkocht en de komende loopt ook al lekker vol. Wederom een afwisselende line-up met Rikkert van Huisstede, Farida Laan, Luca Warmer en Stefan Hendrikx.
Boek de laatste tickets > https://t.co/eBBrMI9SAW https://t.co/d1IE3qAEQ7

Wij gunnen iedereen een bezoek aan The Chosen Family Show-ho-ho, alleen is dit niet altijd haalbaar in deze dure tijden. Een ieder die wat kan missen vragen we wat meer te betalen zodat wij ook een tarief kunnen aanbieden naar ...

🎧 PODCAST
In Isotopia kiezen de personages voor een, op het oog, ideale wereld. Ze moeten zich alleen wel verhouden tot een systeem waarin alles wordt gemonitord. Wat doet dit met je? We bespreken het met Liliane Brakema en kunstenaar ...

In deze persoonlijke column voor ons maandprogramma december vertelt regisseur Abdel Daoudi hoe een scooterongeluk van invloed was op zijn bewerking van de roman Geschiedenis van Geweld voor @tsproducties. Vandaag in première in de Schuur: Toi Toi Toi!
→ https://t.co/o6DV470OpM ...

Komende zaterdag: Bellevue Late Night in Klein Bellevue. Dein mee en wordt geraakt door Spoken Word geselecteerd door Mensen Zeggen Dingen en Poetry Circle. Line-up: Mr 48 barz, Lieke Gorter, BenzoKarim, Bahghi, Geoffrey van der Ven, Sydney Lowell, Nour Jordan ...

Vanaf januari 2023 start de tweede editie van Bellevue Junior Schrijvers. Een werkplaats voor iedereen tussen de 16 en 23 jaar oud die zich wil ontwikkelen als schrijver voor theater.

Meer informatie over data, aanmelden en selectie vind je op ...

Volgende week gaat Isotopia in première. Dankzij de teaser krijgen we alvast een fijne sneak peak vanuit het repetitielokaal. Regisseur Liliane Brakema en acteurs Anna Raadsveld en Ali-Ben Horsting vertellen over deze Black Mirror-achtige voorstelling → https://t.co/MViODsdbWk https://t.co/pOyiYIkE9h

We hebben weer een première in huis: Ramon Chatrer combineert in Opperhond weer rauwe kleinkunst en zang vanuit zijn tenen. Dit keer neemt hij het op voor jou en alle andere mensen die er nét niet bij horen.
info & ...

🎧 PODCAST Voor het Applaus
Het collectief UMA (De Nieuwskomers Orkater), bestaande uit acteurs Carmen van Mulier, Jamie Grant, Cripta Scheepers en componist Jimmi Hueting, geven in hun gelijknamige voorstelling een eigen draai aan het boek Oroonoko.
→ https://t.co/dx3TPfTMcL https://t.co/lupDoIWQyY

Ons programma in drie zalen, soms nog op locatie, op vier verschillende tijdstippen van de dag. Zie dit allemaal maar mede in te richten en in goede banen te leiden. Wij zoeken daarom versterking van ons programmeringsteam. Bekijk de vacature:
...

Meegekregen dat Lunchvoorstelling Love Song ook om 17:30 uur te zien was?
De pilot met dit tijdstip zetten we voort bij De wanen, de monoloog van dichter Ingmar Heytze gespeeld door Alwin Pulinckx die van 30 nov t/m 17 dec ...

Vanmiddag speelde Love Song voor een fijne en uitverkochte zaal en daarmee is de laatste speelweek gestart. De "zorgvuldig gecomponeerde, muzikale tekst van Roel Pronk, die ontroert, poëtisch is en bij vlagen geestig" (★★★★ Trouw) speelt nog maar 4x → ...

Vanavond een uitverkochte én all female editie van het BIES try-out podium. Een editie met optredens van niet zo maar namen: Sanne Wallis de Vries, YENTL EN DE BOER en niemand minder dan Lenny Kuhr. Host van de avond is ...
Theater Bellevue
Pros
Comfortable theatre at a relatively cheap price
Cons
You should know Dutch language to watch most of the performances.