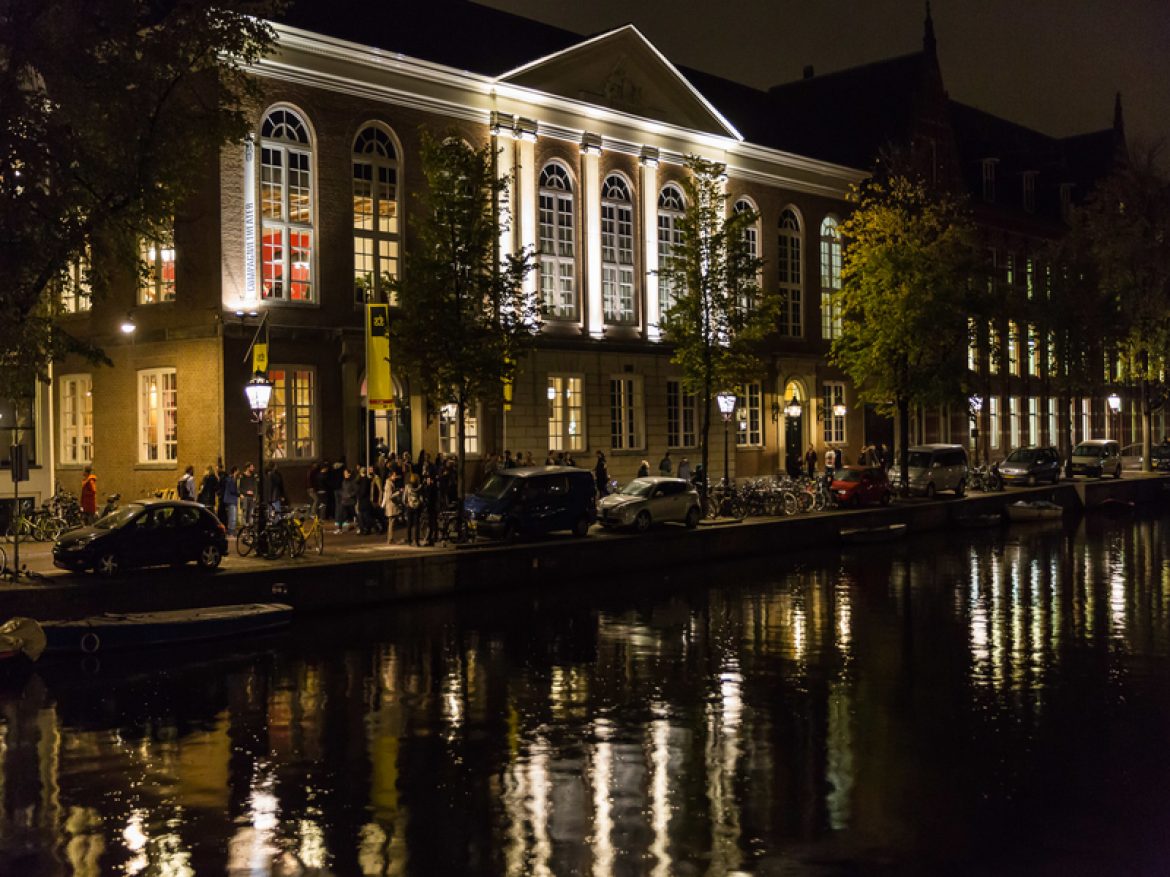 Compagnietheater
Compagnietheater in Amsterdam is well known to fans of European festivals. The reason is simple: a lot of festivals take place here. They are different, but always interesting. The theater was named after the first theater company, that rebuilt this building for itself and turn it into a theater.
Some words about the building. It is a former Lutheran church, that was rebuilt to the theater hall. Do not be surprised, in Protestant countries (such as the Netherlands or, for example, United Kingdom) – it is a common thing. The building was designed by the Amsterdam city architect Abraham van der Hart and it was built in 1792-1793. It was rebuilt only about 20 years ago, after the church moved to another building. Traditional elements were preserved here. The statue on the facade is created by Anthonie Ziesenis and represents the steadfastness of faith. In 1970 the former church has been named a national monument. In 1995-1996, the building has been reconstructed in theater by Francine Houben. The Compagnietheater has been renovated in the summer of 2014. The facade has been re-attached, the sculpture has been restored and the roof has been renovated too. Moreover, the entrance has been updated and there have been additional facilities (daylight system in the Main Hall). The Compagnietheater has developed into a cultural institution that is suitable for different uses, including cultural activities, television recordings, performances and conferences. The theater has a Great Hall, a Small Hall, the Hall of Columns, a lobby and a café.
This theater features a variety of different events. The main part of them are festivals. Almost every month something interesting takes place: Theatre Festival, festival of contemporary art, innovative movie or something else. They are usually of high-quality and tourist like them because the invited guest star perform at the most of these events. The program of the Compagnietheater is always in motion. From music to theater exhibitions and cultural events to youth performances. The program can include a lot of unexpected things, but it is always interesting and usually not very expensive.
The programming of the Compagnietheater is always in motion. From music to theater exhibitions and cultural events for youth performances. As well as it is a home for several festivals – the Compagnietheater itself as a place full of talent. Moreover the Compagnietheater is the ideal venue for presentations, seminars, conferences and radio / television recordings.
Check out this link: www.compagnietheater.nl
Het is tijd dat we de erotische verhalen en wild fantasies terug opzoeken. Stichting Nieuwe Helden en Lucas De Man dagen je uit tijdens de voorstelling Yes, Please! Op 7 december in het @Compagnietheate Amsterdam!
Wij mogen 3 x 2 ...

Deze zondag nog niets te doen? Kom naar Yes, Please! Live, een Ode aan de Erotiek, met o.a. Dorien van Linge. Ze is journalist, dj én feminist. Ze gaf onlangs 'Feminist fataal' uit bij @dasmag Checccckk & koop hier! 💞💥 ...

'Queer in Transition' van Vertoon toont de geschiedenis en evolutie van de queer scene. In deze avond vol onorthodoxe acts – muziek, performance, beeldende kunst en dans – worden creatieve expressie en excentriciteit gevierd.

Kaartjes en meer info via 👇
...

Bekende kunstenaars en denkers gaan in gesprek over de thema's van het boek #VelvetRage en laten zien hoe zij in hun werk dealen met deze gay-issues. Met o.a. Nicolaas Veul, Iebele van der Meulen en Tofik Dibi.

Kaartjes en meer ...

'Queer in Transition' van #Vertoon toont de geschiedenis en evolutie van de queer scene. Hoe ver zijn we gekomen? In deze avond vol onorthodoxe acts – muziek, performance, beeldende kunst en dans – worden creatieve expressie en excentriciteit gevierd.

https://t.co/h1fkXKrQkL ...

Extra leuk: met je Cinevillepas voor €5,- naar Parels uit de Caribische cinema in @Compagnietheate. Op maandag 7/10 om 20u zie je daar 3 films waarin de verhalen van Caribische filmmakers centraal staan. Incl Q&A en live muziek. Meer info: ...

Een mooie programma en mooie gedachte, waar ze een extra dimensie aan het programma geven door een extra taal toe te voegen, om zo inclusief mogelijk te zijn voor iedereen met 2 GEBARENTOLKEN!
https://t.co/okfLe6AQU4

OP DINSDAG 3 SEPT VAN 20:00 ...

Twitterverslag van gemeentelijke consultatie over de Wallen gisteravond in het @Compagnietheate. Buurtbewoners, sekswerkers, ondernemers in gesprek met burgemeester Halsema over wonen, werken, toerisme, overlast, criminaliteit, mensenhandel en toekomstscenario's. https://t.co/RWxbVF3ygk

Denk jij in beelden en droom je in gifjes, vreet je social media en maak je graag video's of podcasts? Dan hebben wij de allerleukste vacature voor jou, namelijk Stagiaire Creatieve Communicatie! https://t.co/mYzSvyrBdw https://t.co/98xy5GEAmw

DI 18 & WOE 19 JUN 20:30 UUR

PETER R. DE WOLF

Humoristische muziektheater met een scherp randje, gebaseerd op Peter & de Wolf van Prokofjev, verteld door Frans van Deursen en gespeeld door het @NedPhO_NKO o.l.v. @stefgcollignon. Sprookje wordt ...

MA 17 JUN. / 20:00

Cry-Baby: The Birth of Camp

A one-time-only CT Cinematic re-run of the cult-classic Cry-Baby (1990, John Waters). With an intro by camp connoisseur Rijk Kistemaker & afterwards jive dancing facilitated by Rock 'n' Roll-vereniging Gel!

...

Het sprookje van Peter en de Wolf wordt een heuse thriller! Tijdens deze muzikale theatervoorstelling worden ook je speurneus-zintuigen geprikkeld, terwijl je op zoek gaat naar de dader in deze speelse whodunit.

Voor kaarten en meer info klik 👇https://t.co/1b7016pmpV https://t.co/Znt0BIkesO

Morgen in CT: Joya Mooi (live) meets Brian Elstak

Een preview van een soul talent! Joya Mooi, zangeres met voorliefde voor moderne jazz, R&B en hiphop, speelt een exclusieve preview van haar vierde album, bijgestaan door kunstenaar Brian Elstak. https://t.co/AWIGgBBu8J

Dit weekend in CT Pop-up Museum: Verdronken Land

LUDWIG's imaginaire onderwaterwereld laat je zien, horen, voelen en proeven wat de kracht, dreiging en schoonheid van water is.

Voor kaartjes en meer info klik 👇

https://t.co/RMWslO11hi https://t.co/e2rv0eF9xG

https://t.co/O2Qg5aMBAR
Wat als het water ons aan de lippen komt te staan? Over wat de gevolgen zijn van de stijging van de zeespiegel laten verschillende kunstenaars hun licht schijnen op 25 en 26 mei in het Verdronken Land in @Compagnietheate ...

Tomorrow we will host an exclusive movie night of the documentary Queercore: how to punk a revolution? Followed by an after talk with a panel of queer guests coming from fashion, performing arts, science and politics.

For tickets & more ...
Compagnietheater
Pros
Fantastically versatile theater with a blend of old and new design.
Cons
Parking is pretty bad.