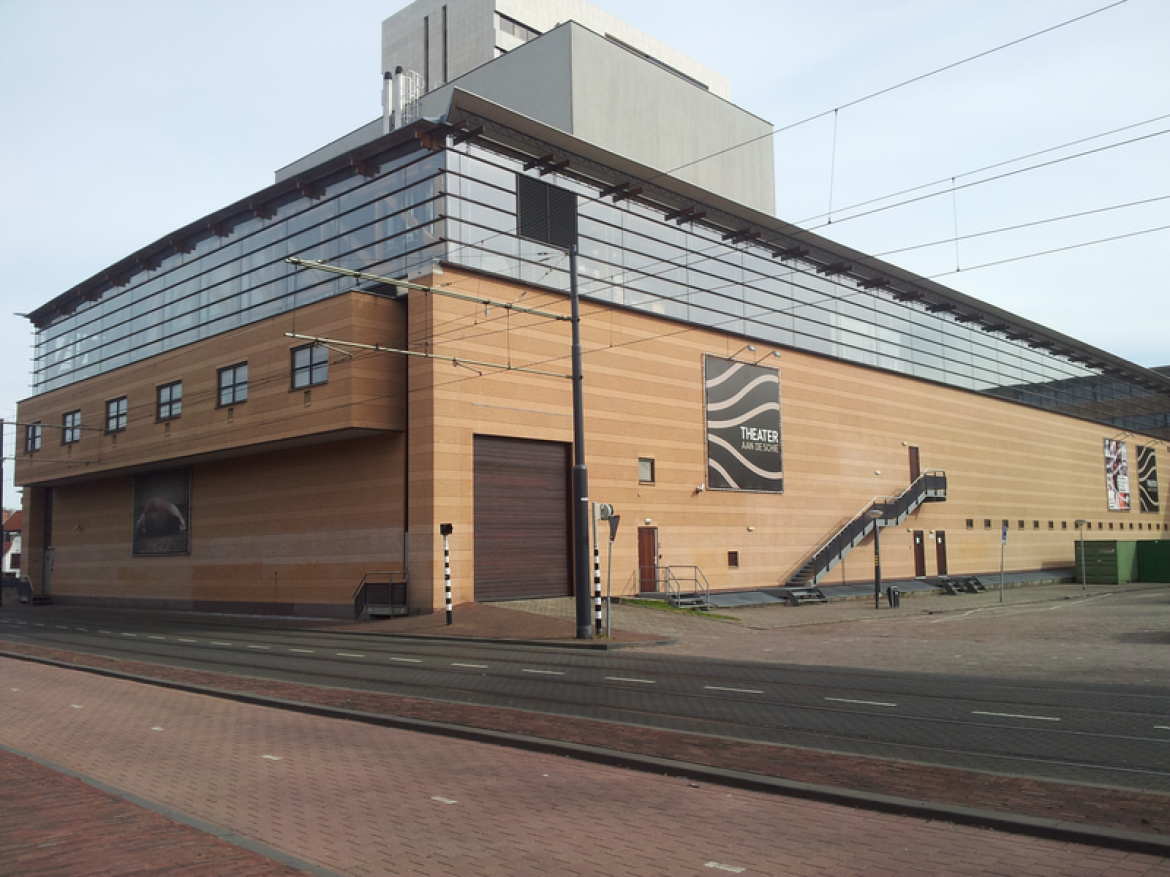 Theater aan de Schie
Theater aan de Schie is a theater in Schiedam which is in the same building as the city hall of Schiedam and the municipal library. The theater was opened on April 15, 1998 as Fortis Theater aan de Schie and replaced the Passage Theatre, which was demolished in 1994.
Image from theateraandeschie.nl
Image from theateraandeschie.nl
History
The history of the theater mainly built of wood actually begins with the former Passage Theatre. This movie theater was built in 1933 near the Koemarkt commissioned by the Amsterdam Tuschinski group.
In the seventies, the Passage Theatre was substantially renovated and it unfortunately lost Art Nouveau elements. Eventually, the theater was demolished in 1994 to make way for the shopping center New Passage. Plans to build a new theater, were already at an advanced stage in a more suitable location in the city center.
On April 15, 1998 the current theater opened its doors with some performances, after which the official opening took place in September 1998.
Theater aan de Schie is a design by architect Hans Ruijssenaars. Before he was commissioned to design a new theater for the city of Schiedam in 1992, he had already made his name as the architect of the Casino Lido in Amsterdam and the special Apeldoorn city hall. For the design of Theater aan de Schie Ruijssenaars was inspired by the world-famous Teatro Farnese, built entirely of wood, which was built in the 17th century in Parma, Italy. Soft fragrant wood and a sophisticated light are thus the main architectural features of theater to become the Schie.
Theater aan de Schie is a unique theater with extraordinary architecture. The special architecture and the wooden interior create a light, bright, warm and homely atmosphere. Many celebrities have been visited this theater. Every artist and every event brings its own atmosphere with which the theater is always different. Theater foyer can be used for concerts, conferences, seminars, (product) presentations, and also for receptions and corporate events. Its spacious main hall can accommodate up to 702 people and offers spacious, comfortable seats. The small hall can accommodate up to 204 people. The theater, and also the stage, are ideal for various forms of performing arts, but they are also ideal for conferences, seminars and presentations. The hall is equipped with orchestra pit. The theater program is very diverse for all ages, you can choose any performance depending on your preferences.
Theater aan de Schie is also an official wedding location of the municipality of Schiedam. It offers many options and has the right knowledge of how to make your wedding day a true experience.
Check out more here: theateraandeschie.nl
Nog 1 week te gaan totdat de kaartverkoop van Kinky Boots van start gaat! #countdown #kinkyboots #schiedamgetskinky

Photos from Theater aan de Schie's post De Avond van het Cabaret, wat was het een heerlijk hi-la-rische avond. Mark Waumans (de Amsterdammer die naar Schiedam durfde te komen), Pieter Jouke (die vanuit Delft naar het theater kwam rennen), Katinka Polderman (samen met haar gitaar) en René ...

Als je je afvroeg waar de paspoppen gebleven zijn... die zijn het toneel opgewandeld en onderdeel van het decor van de Avond van het Cabaret!

DE VERLEIDERS 🙌 volgende week komen De Verleiders naar Schiedam! Wil je erbij zijn? Wees dan snel, want er is nog een beperkt aantal kaarten beschikbaar.
Spiegeltje, spiegeltje aan de wand. LIKE MIJ...

#niksteverbergen is de komende dagen in AgoraTheater Lelystad, Stadsschouwburg ...

Wat een mooie recensies voor Casablanca, met o.a. Stefan Rokebrand en Jamie Grand!

"Casablanca is een aantrekkelijke voorstelling." "Het lukt Matzer de vluchtelingenproblematiek van nu te combineren met die van toen: er was een tijd dat wij moesten vluchten." - ...

Een hele vreemde de gang van zaken hier in Theater aan de Schie 😉 Wat doen al deze paspoppen op de gang?

Photos from Theater aan de Schie's post Pierre Bokma, George van Houts, Tom de Ket, Victor Löw en Leopold Witte/Peter Drost, oftewel De Verleiders, tonen aan dat iedereen geheimen heeft die niet onthuld mogen worden. Sterker nog: ze tonen aan dat ook jij geheimen hebt waarvan je ...

Onlangs ging Lenette van Dongen met haar nieuwe voorstelling Paradijskleier in première. Volgend seizoen, vrijdag 24 januari 2020, komt ze naar Theater aan de Schie! De kaartverkoop is per direct via onze website gestart!

Morgenmiddag om 12.15 uur is het weer tijd voor de meest muzikale lunch van Schiedam! Trio MBM, pianist Jean-Baptiste Milon, klarinettist Daniel Broncano en cellist Wouters Mijnders, zorgt voor heerlijke klanken tijdens het lunchconcert. Ze hebben speciaal voor dit concert ...

Photos from Theater aan de Schie's post Morgenavond gaat het toneelstuk Onze Straat in première! Alvast een dikke toi toi toi. Wij kijken uit naar dinsdag, want dan komt Het Nationale Theater, met o.a. acteurs Stefan de Walle en Romana Vrede, naar Schiedam!

Even een speciaal kijkje achter de schermen. Vandaag ging onze directeur op de foto. Enig idee waarom? 😉

Wulf & Miss Montreal - Scared Of Love (Official audio) Heb jij het nieuwe nummer van Miss Montreal al gehoord? Ze is de samenwerking aangegaan met Wulf! Het resultaat: Scared of love.
Watch the official audio video for Wulf & Miss Montreal 'Scared Of Love'. Out now on 8ball Music! ...

Vanavond speelt Nasrdin Dchar in een nagenoeg uitverkocht Wennkerpand. Nagenoeg uitverkocht, want wij hebben zojuist 4 kaarten terug gekregen. Wil je er bij zijn? Ga dan snel naar onze website en wie weet tot vanavond!
Theater aan de Schie
Pros
Magnificent theater with good acoustics and good service.