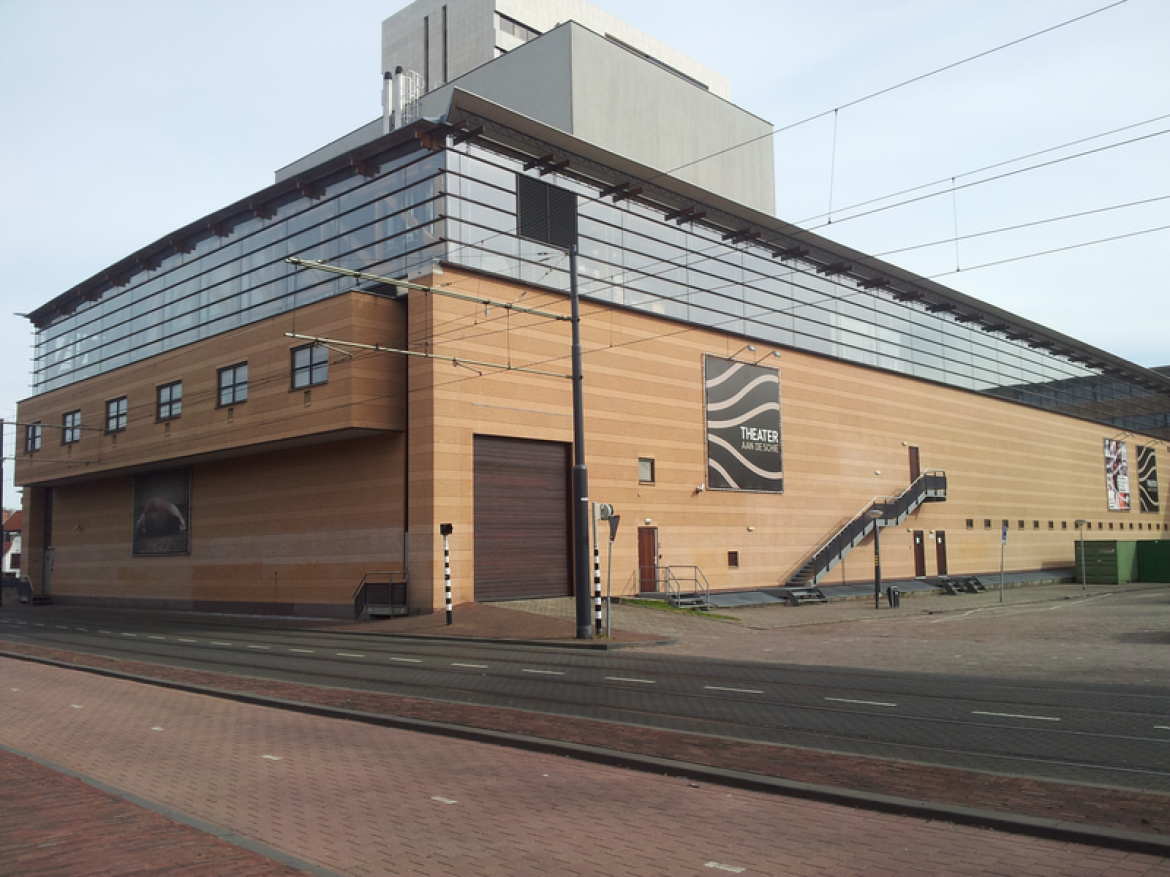 Theater aan de Schie
Theater aan de Schie is a theater in Schiedam which is in the same building as the city hall of Schiedam and the municipal library. The theater was opened on April 15, 1998 as Fortis Theater aan de Schie and replaced the Passage Theatre, which was demolished in 1994.
Image from theateraandeschie.nl
Image from theateraandeschie.nl
History
The history of the theater mainly built of wood actually begins with the former Passage Theatre. This movie theater was built in 1933 near the Koemarkt commissioned by the Amsterdam Tuschinski group.
In the seventies, the Passage Theatre was substantially renovated and it unfortunately lost Art Nouveau elements. Eventually, the theater was demolished in 1994 to make way for the shopping center New Passage. Plans to build a new theater, were already at an advanced stage in a more suitable location in the city center.
On April 15, 1998 the current theater opened its doors with some performances, after which the official opening took place in September 1998.
Theater aan de Schie is a design by architect Hans Ruijssenaars. Before he was commissioned to design a new theater for the city of Schiedam in 1992, he had already made his name as the architect of the Casino Lido in Amsterdam and the special Apeldoorn city hall. For the design of Theater aan de Schie Ruijssenaars was inspired by the world-famous Teatro Farnese, built entirely of wood, which was built in the 17th century in Parma, Italy. Soft fragrant wood and a sophisticated light are thus the main architectural features of theater to become the Schie.
Theater aan de Schie is a unique theater with extraordinary architecture. The special architecture and the wooden interior create a light, bright, warm and homely atmosphere. Many celebrities have been visited this theater. Every artist and every event brings its own atmosphere with which the theater is always different. Theater foyer can be used for concerts, conferences, seminars, (product) presentations, and also for receptions and corporate events. Its spacious main hall can accommodate up to 702 people and offers spacious, comfortable seats. The small hall can accommodate up to 204 people. The theater, and also the stage, are ideal for various forms of performing arts, but they are also ideal for conferences, seminars and presentations. The hall is equipped with orchestra pit. The theater program is very diverse for all ages, you can choose any performance depending on your preferences.
Theater aan de Schie is also an official wedding location of the municipality of Schiedam. It offers many options and has the right knowledge of how to make your wedding day a true experience.
Check out more here: theateraandeschie.nl
☀️ Het is alweer week nummer vier van onze zomeractie! Wat gaat het toch snel. Vergeet niet mee te doen, want je maakt maak kans op een theater cadeaubon! Je hebt tot uiterlijk vrijdag 30 augustus 2019 de tijd om ...

Voor de echte liefhebber zijn er dit seizoen meer dan genoeg dansvoorstellingen in om van te genieten. In de maand februari organiseren wij zelfs een speciale dansweek met daarin onder andere het dansfeest van de eeuw, Le Bal Jakop Ahlbom ...

☀️Wat gaat het toch snel, we zijn alweer op de helft van de zomeractie! Doe mee en maak kans op een theater cadeaubon. Je hebt tot uiterlijk vrijdag 30 augustus 2019 de tijd om de antwoorden te mailen naar [email protected] ...

Wij bereiden ons alvast voor op een nieuwe seizoen vol grappenmakers die ons buikpijn gaan geven van het lachen. Zo opent theaterveteraan Freek de Jonge ons theaterseizoen op woensdag 11 september en speelt bert visscher opnieuw (en wel twee keer) ...

Photos from Theater aan de Schie's post 🎪 Een zweefmolen in de foyer en een spiegeltent op het toneel? Dat zie je goed, dat en nog veel meer zie je in het weekend van 14 en 15 september tijdens Parade aan de Schie in ons theater!

Het ...

Hier is rebus nummer twee! Doe je al mee aan onze zomeractie? Los alle de zes rebussen op, stuur de antwoorden uiterlijk vrijdag 30 augustus naar [email protected] o.v.v. Theater zomeractie en maak kans op een theater cadeaubon.

P.S. Niet op ...

Op het gebied van Show&Entertainment voorstellingen hebben wij veel spectaculairs op de planning staan. Pepijn Gunneweg komt solo zonder zijn Ashton Brothers naar Schiedam met The Great Wonder. En helaas neemt Het Groot Niet Te Vermijden afscheid van het theater ...

Onze zomeractie is begonnen! Vanaf vandaag tot en met woensdag 28 augustus verschijnt er iedere week een nieuwe rebus in het Nieuwe Stadsblad, op onze website en hier op Facebook.

Los de rebussen op, verzamel de antwoorden en stuur ze ...

De Stokerij Schiedam Hoe zit het nu ook alweer met de busroutes en de verhalen in de zaal bij Dusty Mixedfeelings? 😉
Nou, zo zit dat:

Dinsdag 10 & woensdag 11 september:
- Frédérique Spigt, Ayla van Summeren & Dusty Ciggaar in Theater ...

Volgens seizoen hebben wij weer de leukste jeugdvoorstellingen op het programma staan. Zo is voor de allerkleinsten het Peuterfestival, met onder andere Dikkie Dik, in het Wennekerpand te zien. Voor de oudere kinderen is Checkpoint theater weer terug in Theater ...

Aanstaande woensdag gaat onze zomeractie van start! Zes weken lang komt er iedere week een rebus in het Nieuwe Stadsblad, op onze website én hier op Facebook. Los alle rebussen op en maak kans op een theater cadeaubon. 🤩

Juf Roos gaat op vakantie Yes, de vakantie is nu echt begonnen. En vanaf morgen is de gloednieuwe film Juf Roos is jarig te zien in de bioscoop. Ben jij een echte fan? Wist je dat je Juf Roos ook kunt ontmoeten in ons theater ...

Bos Theaterproducties Gefeliciteerd dames! 🤰🤰
De tournee van Yentl en De Boer verschuift een theaterseizoen. Heeft u kaartjes? Die blijven gewoon geldig voor seizoen 2020-2021. U wordt begin september geïnformeerd over de nieuwe speeldatum.
Yentl Schieman en Christine de Boer, bekend als ...

Help De Stokerij Schiedam op weg naar twee rijdende bussen voor de theatrale roadtrip Dusty Mixedfeelings! Ze zijn al goed op weg, maar jouw donatie is meer dan welkom. Draag jij bij aan de bussen voor Dusty Mixedfeelings?

👉 http://bit.ly/DustyMixedFeelingsDeBusIn

Vandaag gaat het nieuwe seizoen van De slimste mens NL van start. Cabaretier Kees van Amstel is één van de deelnemers. Hij is zeker grappig, maar is hij ook slim?

Komend seizoen is hij met zijn voorstelling Een bang jongetje ...

Ariane Schluter, Mark Kraan en Bram Suijker zijn dit jaar genomineerd voor de Toneelprijzen 2019. Én ze spelen ook nog eens alle drie een rol in Sexual Healing van Het Nationale Theater. Dat belooft veel goeds voor dit toneelstuk van ...

Beleef een theatrale roadtrip met niemand minder dan Frédérique Spigt, De Stokerij Schiedam, Ocobar én Dusty Ciggaar! De muzikale theatervoorstelling Dusty Mixedfeelings, die met country, blues en rock-'n-roll doordrenkt is, bestaat uit 3 verhaallijnen van 3 personages. Je hoort one ...
Theater aan de Schie
Pros
Magnificent theater with good acoustics and good service.