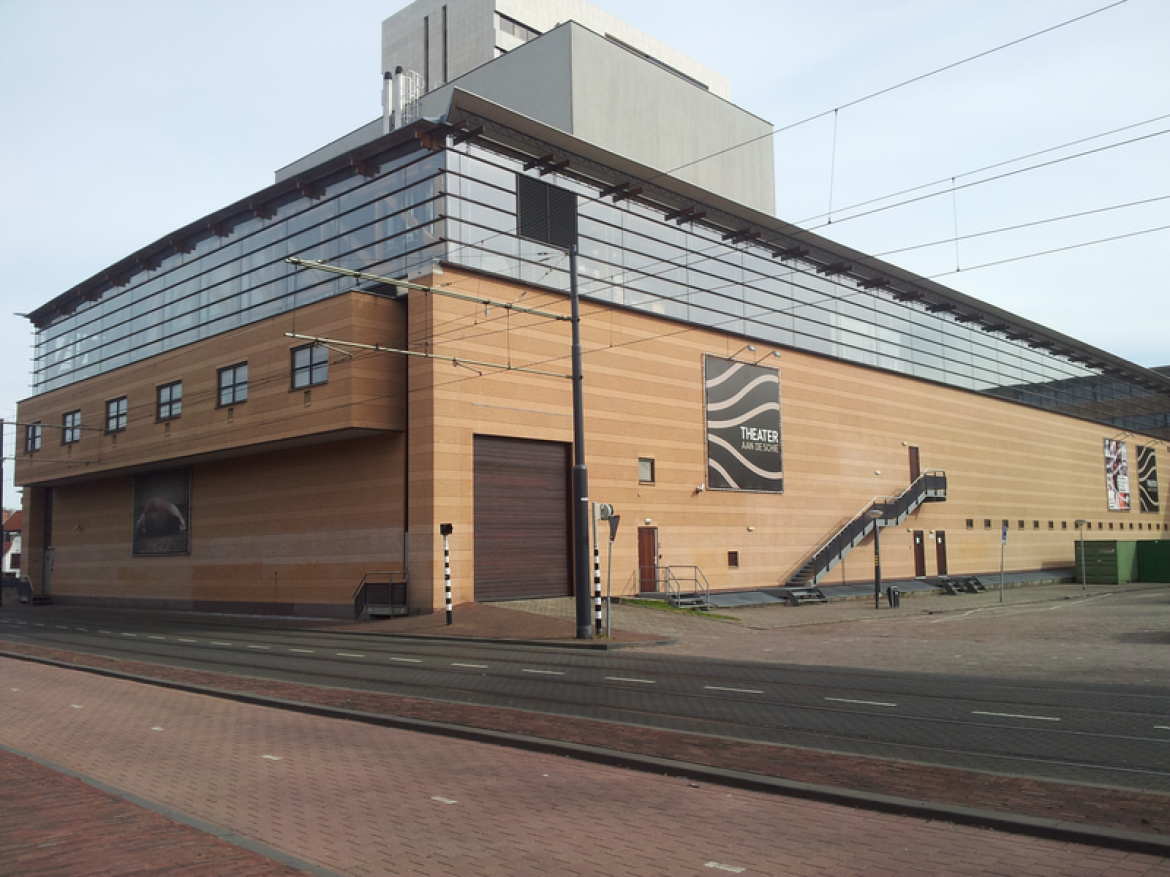 Theater aan de Schie
Theater aan de Schie is a theater in Schiedam which is in the same building as the city hall of Schiedam and the municipal library. The theater was opened on April 15, 1998 as Fortis Theater aan de Schie and replaced the Passage Theatre, which was demolished in 1994.
Image from theateraandeschie.nl
Image from theateraandeschie.nl
History
The history of the theater mainly built of wood actually begins with the former Passage Theatre. This movie theater was built in 1933 near the Koemarkt commissioned by the Amsterdam Tuschinski group.
In the seventies, the Passage Theatre was substantially renovated and it unfortunately lost Art Nouveau elements. Eventually, the theater was demolished in 1994 to make way for the shopping center New Passage. Plans to build a new theater, were already at an advanced stage in a more suitable location in the city center.
On April 15, 1998 the current theater opened its doors with some performances, after which the official opening took place in September 1998.
Theater aan de Schie is a design by architect Hans Ruijssenaars. Before he was commissioned to design a new theater for the city of Schiedam in 1992, he had already made his name as the architect of the Casino Lido in Amsterdam and the special Apeldoorn city hall. For the design of Theater aan de Schie Ruijssenaars was inspired by the world-famous Teatro Farnese, built entirely of wood, which was built in the 17th century in Parma, Italy. Soft fragrant wood and a sophisticated light are thus the main architectural features of theater to become the Schie.
Theater aan de Schie is a unique theater with extraordinary architecture. The special architecture and the wooden interior create a light, bright, warm and homely atmosphere. Many celebrities have been visited this theater. Every artist and every event brings its own atmosphere with which the theater is always different. Theater foyer can be used for concerts, conferences, seminars, (product) presentations, and also for receptions and corporate events. Its spacious main hall can accommodate up to 702 people and offers spacious, comfortable seats. The small hall can accommodate up to 204 people. The theater, and also the stage, are ideal for various forms of performing arts, but they are also ideal for conferences, seminars and presentations. The hall is equipped with orchestra pit. The theater program is very diverse for all ages, you can choose any performance depending on your preferences.
Theater aan de Schie is also an official wedding location of the municipality of Schiedam. It offers many options and has the right knowledge of how to make your wedding day a true experience.
Check out more here: theateraandeschie.nl
Theater aan de Schie
Pros
Magnificent theater with good acoustics and good service.