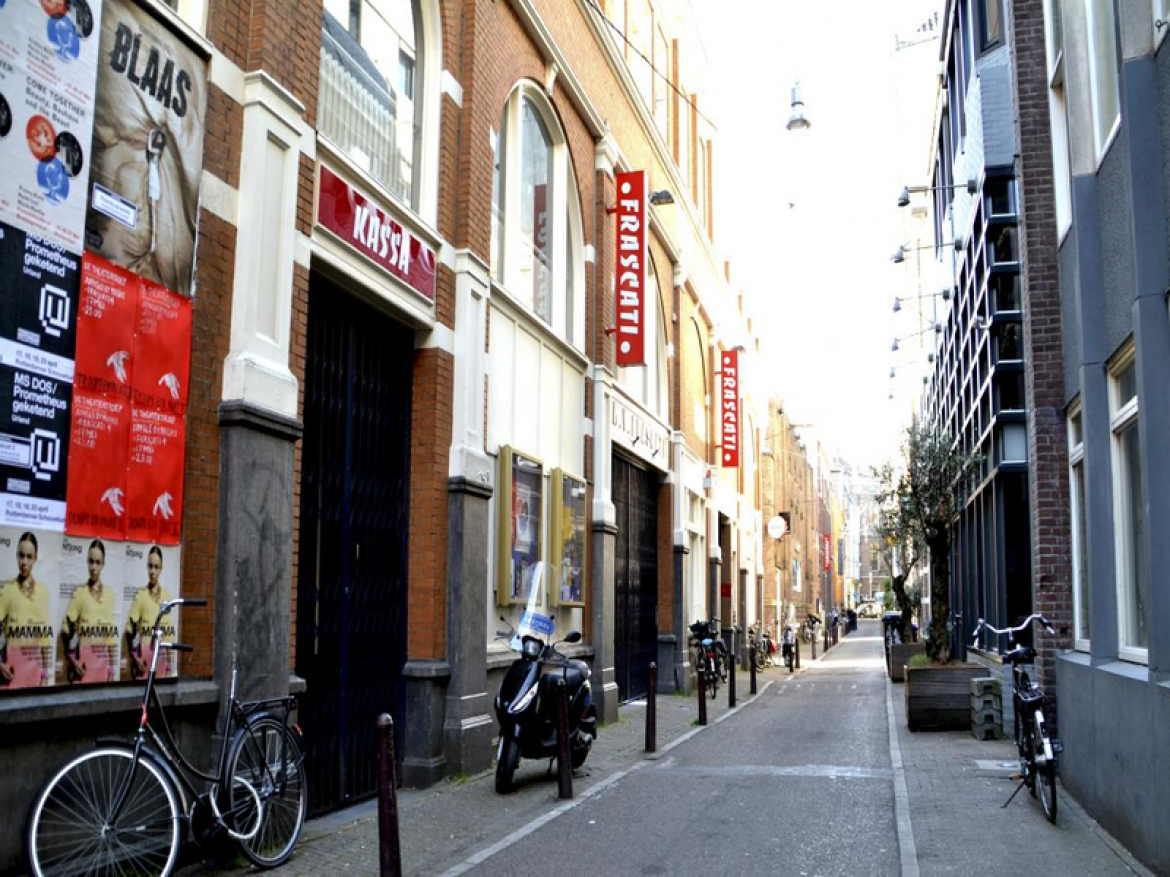 Frascati
Frascati is an innovative theater located in Amsterdam that presents annually around 450 national and international performances. Some words about history of the of theater. Frascati has a long history, but that does not mean that this theater is old-fashioned. During the 19th century the nightlife in the Nes street was flourishing. In 1810, the Italian coffee house Frascati was opened. Fourteen years later this it was expanded by an impressive and elegant ballroom with a capacity of 1,500 people, where song and dance performances were regularly given. Frascati has four theatre spaces on the Nes, namely Frascati 1, 2 & 3 located on Nes 63 and Frascati 4 located on Nes 71, where leading works from the Netherlands and abroad are performed.
Frascati theater is unusual for several reasons. The first is the fact that it has several stages. The second – one of these stages is entirely given to beginning performers. The third – in its program there are very few classical works – almost all of them are contemporary. Fourth – the part of the works is not just modern -they are ultramodern, some of the plays still are not available in all countries in the form of the book at the time of the local premiere .
The main and oldest stage of the Frascati theater is Frascati Nes. There are 3 halls, a building was built in 1824, and as an extension to the much older "coffee house". In Britain such "coffee houses" were rebuilt to gentleman's clubs, but in this case to the theater. This theater has its regularly performing troup, but in the program there are both its own productions as well as from abroad. There are performances, ballet, show, sometimes – a classic, but modern drama and modern dance prevail. The second stage is so-called Frascati WG (Wilhelmina Gasthuisterrein), there are a hall and several studios, the whole stage is given to young talented, but as yet not well-known performers. Beginning directors, actors, dancers and choreographers – all they perform here. The third stage is located in the Flemish cultural centre (Vlaams Cultuurhuis deBrakke Grond). It's not a big studio, here mostly small concerts take place. Also, this area welcomes all forms of theatrical experiment – it is one of the most eccentric stages in the city. Frascati 4 (formerly the Engelenbak) located at Nes 71 includes a theater hall and several smaller studios. The role of the Engelenbak as a theater laboratory was acquired by Frascati 4. Students from the Amsterdam Theaterschool use this hall. Also there are shown works of young talent performers and there are research and debate evenings place.
At this theater you can see great plays established by theater makers and at the same time this theater is a home to young and upcoming performers. Frascati is the place where young people are challenged to meet contemporary and multidisciplinary theater offerings. The performances, that are shown in Frascati, fit well with the experiences of young people by form and content. The theater of Frascati are rooted in the city and constantly relate to the world and the society in which we live. The theater makers use recognizable themes and fresh styles in theater, dance, mime and performances that are accessible and instructive inspiring.
See more at: www.frascatitheater.nl
Frascati Issues: To Voice biedt podium aan kunstenaars die zich via de macht van het gesproken woord uitspreken over de wereld om hen heen. Theatermakers die hun stem verheffen, oproepen tot verandering of een liefdevol pleidooi houden. di 5 t/m ...

Mooie voorstelling bij stadslab Frascati, samenwerkingsproject tussen @Rochdale_NL en @FrascatiTheater. Journalist Zola Can trok de afgelopen periode de wijk Poelenburg (Zaanstad) in op zoek naar de verhalen van de bewoners. Met onze zeer actieve bewoonsters Fatima en Fatima. https://t.co/xxcTUZeG8E

'Shell knew, ja. Maar we waren echt niet de enigen die dit wisten. We all knew.' Aldus een personage uit het stuk De zaak Shell van theatermakers Anoek Nuyens en Rebekka de Wit. #tegenlicht Wat is de rol van theater ...

In een serie pre-enactments worden de perspectieven/stemmen rondom de rechtszaak onderzocht. Vanav worden in uitverkocht Frascati de pleidooien vd burger en de overheid geënsceneerd, gespeeld door Gijs Scholten van Aschat en Ariane Schluter. https://t.co/J5D917Piex (2/2)

@Milieudefensie besloot een rechtszaak aan te spannen tegen Shell en eist dat de oliegigant stopt met zijn vervuilende activiteiten en de bedrijfsvoering radicaal aanpast. Theatermakers Anoek Nuyens en Rebekka de Wit lieten zich door deze lopende rechtszaak inspireren. (1/2) https://t.co/2MXFoxseDt

Afgelopen mei in Frascati, deze week op het Binnenhof! In het kader van het Prinsjesfestival in De Haag hernemen we de theaterdebatvoorstelling 'Doe open de poort, de vrouwen staan ervoor: 100 jaar vrouwenkiesrecht' die we samen met @NRC maakten.

https://t.co/Mm2ZIsOXJY

Daar gaan we weer! Theaterfanaten en barmhartige Samaritanen opgelet! Per direct zoeken wij gemotiveerde en klantvriendelijke VRIJWILLIGE ZAALDIENSTMEDEWERKERS. Bekijk de vacature op de website voor meer informatie rondom de vacature. https://t.co/zjItSzO5nH https://t.co/1SJDHViRbc

Ben jij communicatief vaardig, praktisch ingesteld en heb jij affiniteit met sociaal-artistiek werk? Per 1 oktober 2019 zijn we voor Pop-Up Theater van Deyssel in Nieuw-West op zoek naar een Coördinator! Voor meer informatie: https://t.co/zjItSzO5nH

Solliciteren kan t/m 19 aug!

door kunnen gaan. Wij houden jullie z.s.m. op de hoogte. Mail voor meer informatie naar kassa@frascatitheater.nl

Opgelet: Vanwege een blessure bij een van de spelers kan de 'Who's afraid of Charlie Stevens?' voorstelling van vanavond 27 juni helaas niet gespeeld worden. Er wordt naar gestreefd om de voorstelling enigszins aan te passen waardoor de speelbeurten vrijdag ...

Hoera! De Nederlandse Toneeljury heeft Julian Hetzel's All Inclusive geselecteerd voor het Nederlands Theater Festival in september! https://t.co/7mtWDC6WLl

La Isla Bonita komt terug naar #OHIJ19 met De Managers: een voorstelling over vergaderen, macht en... hobby horsing. Kom alvast in de stemming met deze making-of movie en koop je tickets via https://t.co/7UfbTzIbeJ. Productie: @FrascatiTheater i.s.m. Over het IJ Festival. ...

Lees hier het interview van Joy Delima waarin zij praat over haar nominatie en de twee voorstellingen die deze week op het ITS Festival staan in Frascati! https://t.co/A6bRj7a5Qj via @parool
Frascati
Pros
Great little theater.