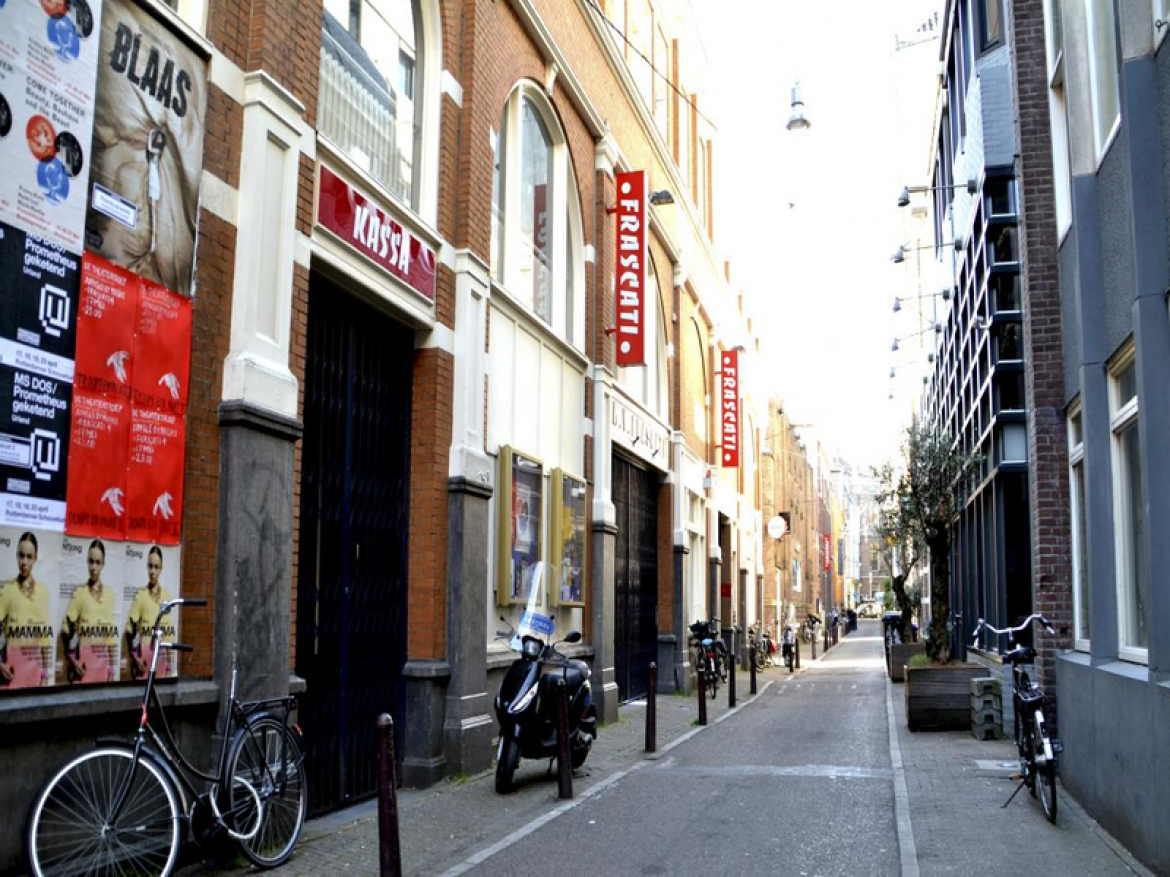 Frascati
Frascati is an innovative theater located in Amsterdam that presents annually around 450 national and international performances. Some words about history of the of theater. Frascati has a long history, but that does not mean that this theater is old-fashioned. During the 19th century the nightlife in the Nes street was flourishing. In 1810, the Italian coffee house Frascati was opened. Fourteen years later this it was expanded by an impressive and elegant ballroom with a capacity of 1,500 people, where song and dance performances were regularly given. Frascati has four theatre spaces on the Nes, namely Frascati 1, 2 & 3 located on Nes 63 and Frascati 4 located on Nes 71, where leading works from the Netherlands and abroad are performed.
Frascati theater is unusual for several reasons. The first is the fact that it has several stages. The second – one of these stages is entirely given to beginning performers. The third – in its program there are very few classical works – almost all of them are contemporary. Fourth – the part of the works is not just modern -they are ultramodern, some of the plays still are not available in all countries in the form of the book at the time of the local premiere .
The main and oldest stage of the Frascati theater is Frascati Nes. There are 3 halls, a building was built in 1824, and as an extension to the much older "coffee house". In Britain such "coffee houses" were rebuilt to gentleman's clubs, but in this case to the theater. This theater has its regularly performing troup, but in the program there are both its own productions as well as from abroad. There are performances, ballet, show, sometimes – a classic, but modern drama and modern dance prevail. The second stage is so-called Frascati WG (Wilhelmina Gasthuisterrein), there are a hall and several studios, the whole stage is given to young talented, but as yet not well-known performers. Beginning directors, actors, dancers and choreographers – all they perform here. The third stage is located in the Flemish cultural centre (Vlaams Cultuurhuis deBrakke Grond). It's not a big studio, here mostly small concerts take place. Also, this area welcomes all forms of theatrical experiment – it is one of the most eccentric stages in the city. Frascati 4 (formerly the Engelenbak) located at Nes 71 includes a theater hall and several smaller studios. The role of the Engelenbak as a theater laboratory was acquired by Frascati 4. Students from the Amsterdam Theaterschool use this hall. Also there are shown works of young talent performers and there are research and debate evenings place.
At this theater you can see great plays established by theater makers and at the same time this theater is a home to young and upcoming performers. Frascati is the place where young people are challenged to meet contemporary and multidisciplinary theater offerings. The performances, that are shown in Frascati, fit well with the experiences of young people by form and content. The theater of Frascati are rooted in the city and constantly relate to the world and the society in which we live. The theater makers use recognizable themes and fresh styles in theater, dance, mime and performances that are accessible and instructive inspiring.
See more at: www.frascatitheater.nl
We hebben theatertalent nodig om verhalen te ontwikkelen. We kunnen dit talent nu niet laten zitten.

Denk aan de toekomst, want talent verdient een kans. https://t.co/FAsemEPgcE

In 'Istanbul - bericht van de andere kant' zoekt Michaël Bloos in een nieuwe tekst van Freek Vielen naar de grens van de werkelijkheid in relatie tot de psychoses en de vermissing van zijn vader. Te zien @FrascatiTheater. Ga verstandig ...

Voor een bloeiende theaterwereld is een plek voor talenten om zich te ontwikkelen van groot belang.

Want talent verdient een kans. https://t.co/qoDNe8X5u0

Het wegvallen van het Frascati Producties is een grote klap voor jonge makers die van kunstvakopleidingen komen. En juist nú is perspectief van onschatbare waarde. We hebben theatermakers nodig. Om ons verhalen te vertellen en ons aan het denken te ...

We hebben theatermakers nodig. Om ons verhalen te vertellen en ons aan het denken te zetten. Zij verdienen een plek om zich te ontwikkelen. https://t.co/kvbnwUnJhY

Frascati Producties biedt jong theatertalent een plek om zich te ontwikkelen. Als we hen deze plek ontnemen, schaadt dit de theaterwereld. https://t.co/3yQn3Li0ZM

We mogen jong talent niet de kans ontnemen zich te ontwikkelen.
Dan schaden we de toekomst van de theaterwereld.

Denk aan de toekomst, want talent verdient een kans. https://t.co/2dpC2OSsem

Anoek is samen met Rebekka de Wit di 27 okt t/m vr 06 nov te zien in Frascati met De zaak Shell!

Collectief Walden staat vanavond met hun voorstelling Warmte op het Warming Up Festival in de Tolhuistuin. En onze Frascati Producties-maker Anoek Nuyens is gastspreker bij deze voorstelling. Dus ga dat zien! https://t.co/Kn8RY09xuR

Jarenlang geweldig samengewerkt met @FrascatiTheater vanuit @de_Appel. Niet alleen brede basis voor jonge makers in podiumkunsten maar ook platform voor kruisbestuiving beeldende kunst, dans en theater. Sommige plekken mag je niet laten gaan omdat dat veel te grote gaten slaat ...

Help mee en deel deze korte film die voormalig Frascati Producties-makers Jan Hulst en Kasper Tarenskeen regisseerden. In de hoofdrol een groot aantal makers van Frascati Producties en Halina Reijn. #redfrascatiproducties
/>
https://t.co/iDG1ucJ9n7

Geen rijkssubsidie voor Frascati Producties betekent onherstelbare schade voor de keten van talentontwikkeling. Red de toekomstige generatie theatermakers. Red Frascati Producties. https://t.co/PWGPCciAjQ

Wat was het toch een geweldige tweede editie van Town Tales. Mooi dat we (met Bijlmer Parktheater, Tolhuistuin, Meervaart en Podium Mozaïek) werk van een nieuwe generatie talentvolle theatermakers een breder platform kunnen geven! #frascatiproducties
/>https://t.co/JYQGj4eN1w

I love @FrascatiTheater their use of Roger Excoffon's Banco. Designed in 1951, I would like to argue it's the Citroen DS of typefaces: still modern, innovative, quirky and bold (pun intended) after almost 70 years. https://t.co/14lU4nDoHC

We zijn weer los! Met alweer de 12e afl van onze live radioshow. Vanavond een speciale Radio Futura x Town Tales, over Theater Als Ritueel. Kijk mee: https://t.co/DLUieewiu8
Frascati
Pros
Great little theater.