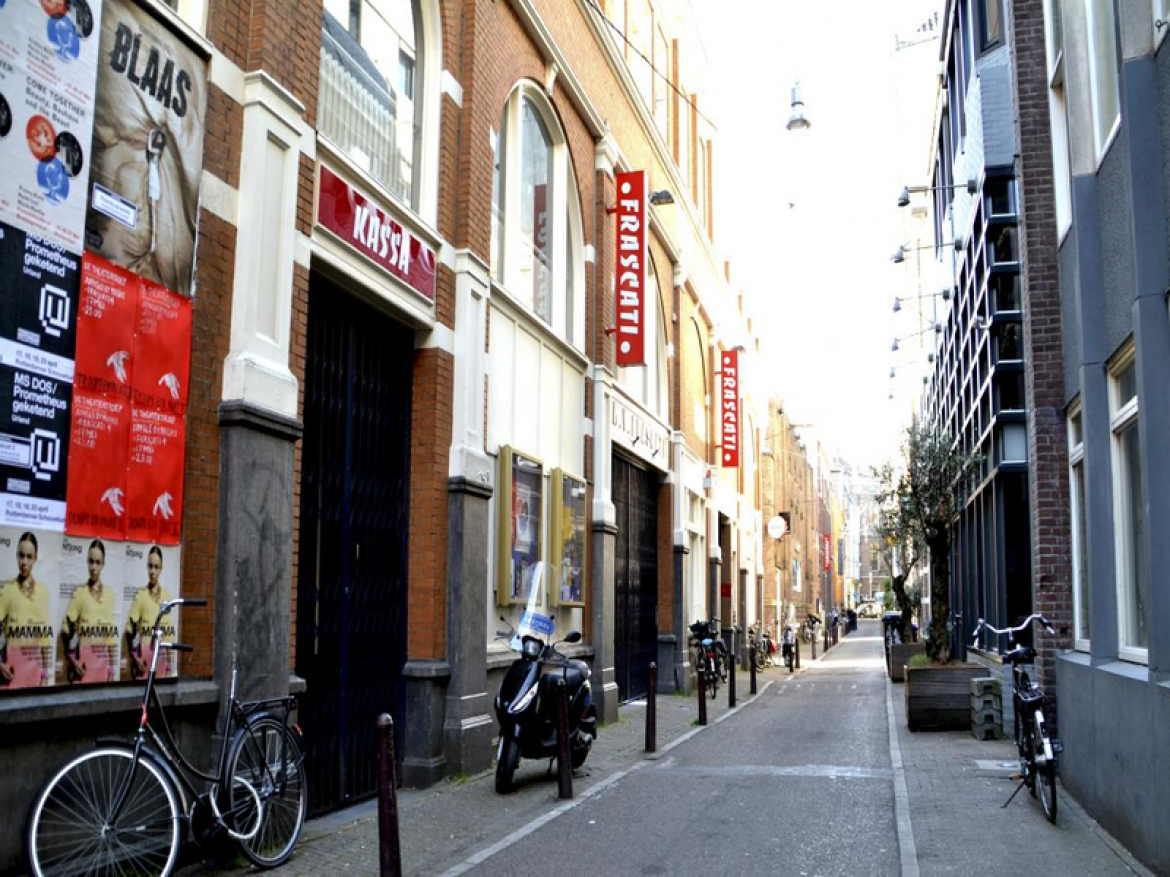 Frascati
Frascati is an innovative theater located in Amsterdam that presents annually around 450 national and international performances. Some words about history of the of theater. Frascati has a long history, but that does not mean that this theater is old-fashioned. During the 19th century the nightlife in the Nes street was flourishing. In 1810, the Italian coffee house Frascati was opened. Fourteen years later this it was expanded by an impressive and elegant ballroom with a capacity of 1,500 people, where song and dance performances were regularly given. Frascati has four theatre spaces on the Nes, namely Frascati 1, 2 & 3 located on Nes 63 and Frascati 4 located on Nes 71, where leading works from the Netherlands and abroad are performed.
Frascati theater is unusual for several reasons. The first is the fact that it has several stages. The second – one of these stages is entirely given to beginning performers. The third – in its program there are very few classical works – almost all of them are contemporary. Fourth – the part of the works is not just modern -they are ultramodern, some of the plays still are not available in all countries in the form of the book at the time of the local premiere .
The main and oldest stage of the Frascati theater is Frascati Nes. There are 3 halls, a building was built in 1824, and as an extension to the much older "coffee house". In Britain such "coffee houses" were rebuilt to gentleman's clubs, but in this case to the theater. This theater has its regularly performing troup, but in the program there are both its own productions as well as from abroad. There are performances, ballet, show, sometimes – a classic, but modern drama and modern dance prevail. The second stage is so-called Frascati WG (Wilhelmina Gasthuisterrein), there are a hall and several studios, the whole stage is given to young talented, but as yet not well-known performers. Beginning directors, actors, dancers and choreographers – all they perform here. The third stage is located in the Flemish cultural centre (Vlaams Cultuurhuis deBrakke Grond). It's not a big studio, here mostly small concerts take place. Also, this area welcomes all forms of theatrical experiment – it is one of the most eccentric stages in the city. Frascati 4 (formerly the Engelenbak) located at Nes 71 includes a theater hall and several smaller studios. The role of the Engelenbak as a theater laboratory was acquired by Frascati 4. Students from the Amsterdam Theaterschool use this hall. Also there are shown works of young talent performers and there are research and debate evenings place.
At this theater you can see great plays established by theater makers and at the same time this theater is a home to young and upcoming performers. Frascati is the place where young people are challenged to meet contemporary and multidisciplinary theater offerings. The performances, that are shown in Frascati, fit well with the experiences of young people by form and content. The theater of Frascati are rooted in the city and constantly relate to the world and the society in which we live. The theater makers use recognizable themes and fresh styles in theater, dance, mime and performances that are accessible and instructive inspiring.
See more at: www.frascatitheater.nl
💡 STET Tip! FRASCATI INTERNATIONAL: 12-16 OCT
For 5 days, Amsterdams @FrascatiTheater is taken over by up and coming makers in the international performing arts scene, from Iran, India, England, Sweden and South Korea: https://t.co/oz58uXaWSV
Image from Mowgli by Sorour ...

One Man Show krijgt ★★★★ in de Volkskrant, ★★★★ van Scenes en is Keuze van de criticus in de Theaterkrant.

One Man Show staat t/m 18 sep in Frascati en gaat daarna op tour! "Houwink ten Cate weet, mede dankzij het sterke, fysieke spel van Moen, de zwaarte licht te maken, en het lichte zwaar." https://t.co/UBYA6hJtM1

@Veermus Hi Vera! Wat leuk en onhandig tegelijkertijd! Ik weet niet eens van het bestaan af. De link leidt naar een oude url (het is bv inmiddels https://t.co/MTTZ0Bca1s). We gaan uitzoeken waar dit naar moet leiden. Ik kom er op ...

Vervreemding, hiphopdanseressen uit de '90, dikke beats en schitterende sooundscapes. Choreograaf en performer Cherish Menzo maakt je bewust van het 'kijken naar de ander'.

Bekijk onze shortdoc nu via https://t.co/vXEvGvTvaJ
🎥 - Linus Kropp https://t.co/RAAt3OE604

Retorisch vuurwerk!! Dat vertelt Anoek Nuyens, die zich jarenlang in de zaak verdiepte en er de voorstelling 'De zaak Shell' over maakte. https://t.co/hd6cxAziBu

Vanavond is de verfilming van 'De zaak Shell' te zien bij BNNVARA op NPO3 om 22u45! De film is gebaseerd op de gelijknamige theatervoorstelling van Anoek Nuyens en Rebekka de Wit / Frascati Producties / De Nwe Tijd. #dezaakshell https://t.co/isFzw3IRXL

Wij zijn op zoek naar een creatieve en gedreven online marketing en communicatiemedewerker! Lees meer via: https://t.co/Ah72PclQum

Luister hier nu de 3e aflevering van Radio Futura Leest Voor: Een vrouw met een hoofddoek. Tekst van @Hassnae Bouazza, voorgelezen door Khadija el Kharraz Alami. Elke uitzending wordt een andere toneeltekst aan tafel voorgelezen.
https://t.co/0MtmlfewcS

Door technische problemen verplaatsen we de uitzending van 📓 Radio Futura Leest Voor 📓 van vanav naar morgenav 22:00. Dan via de Frascati-site te beluisteren: 'Een vrouw met een hoofddoek' van @Hassnae Bouazza. Ingesproken door Khadija el Kharraz Alami. https://t.co/XRXxkr1XaX

Door technische problemen verplaatsen we de uitzending van 📓 Radio Futura Leest Voor 📓 van vanav naar morgenav 22:00. Dan via de Frascati-site te beluisteren: 'Een vrouw met een hoofddoek' van Hassnae Bouazza. Ingesproken door Khadija el Kharraz Alami. https://t.co/XRXxkr1XaX

Tip! Vanav 22:00 gratis online stream via de site: Radio Futura Leest Voor. Khadija el Kharraz Alami leest 'Een vrouw met een hoofddoek' van @Hassnae Bouazza.
https://t.co/3V2KNhsLiw

In een tijd waarin je op jezelf bent teruggeworpen, heeft iedereen een eigen verhaal.

Radio van Deyssel is een project van Hanna Timmers / Frascati Producties i.s.m. @Rochdale_NL

https://t.co/8gHUfCmtQO

@lhoBas @DeNweTijd @decorrespondent Dank voor de complimenten en interesse! De voorstelling moet de tour nog hernemen, dus hopelijk (eerst) later dit jaar weer in de theaters te zien. Mochten er tzt tóch ook nog streamopties komen, dan communiceren we dat ...
Frascati
Pros
Great little theater.