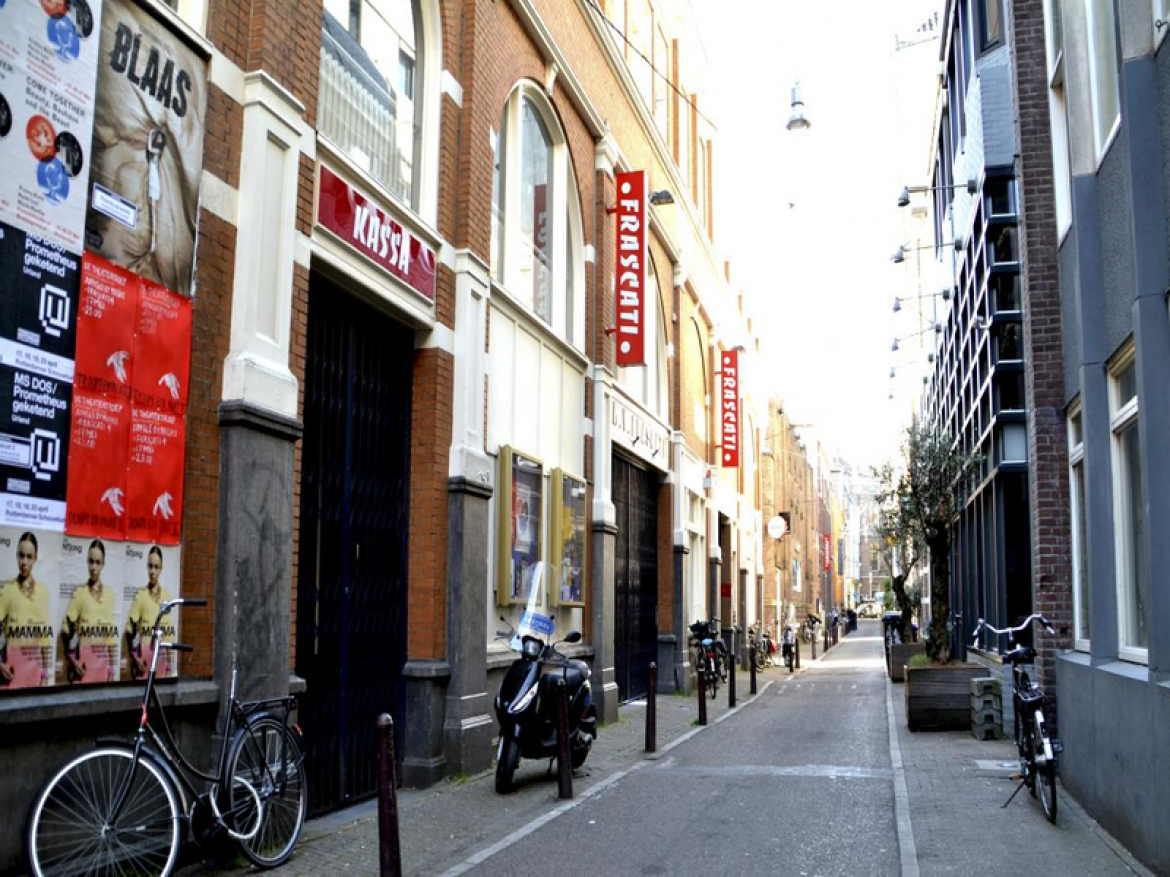 Frascati
Frascati is an innovative theater located in Amsterdam that presents annually around 450 national and international performances. Some words about history of the of theater. Frascati has a long history, but that does not mean that this theater is old-fashioned. During the 19th century the nightlife in the Nes street was flourishing. In 1810, the Italian coffee house Frascati was opened. Fourteen years later this it was expanded by an impressive and elegant ballroom with a capacity of 1,500 people, where song and dance performances were regularly given. Frascati has four theatre spaces on the Nes, namely Frascati 1, 2 & 3 located on Nes 63 and Frascati 4 located on Nes 71, where leading works from the Netherlands and abroad are performed.
Frascati theater is unusual for several reasons. The first is the fact that it has several stages. The second – one of these stages is entirely given to beginning performers. The third – in its program there are very few classical works – almost all of them are contemporary. Fourth – the part of the works is not just modern -they are ultramodern, some of the plays still are not available in all countries in the form of the book at the time of the local premiere .
The main and oldest stage of the Frascati theater is Frascati Nes. There are 3 halls, a building was built in 1824, and as an extension to the much older "coffee house". In Britain such "coffee houses" were rebuilt to gentleman's clubs, but in this case to the theater. This theater has its regularly performing troup, but in the program there are both its own productions as well as from abroad. There are performances, ballet, show, sometimes – a classic, but modern drama and modern dance prevail. The second stage is so-called Frascati WG (Wilhelmina Gasthuisterrein), there are a hall and several studios, the whole stage is given to young talented, but as yet not well-known performers. Beginning directors, actors, dancers and choreographers – all they perform here. The third stage is located in the Flemish cultural centre (Vlaams Cultuurhuis deBrakke Grond). It's not a big studio, here mostly small concerts take place. Also, this area welcomes all forms of theatrical experiment – it is one of the most eccentric stages in the city. Frascati 4 (formerly the Engelenbak) located at Nes 71 includes a theater hall and several smaller studios. The role of the Engelenbak as a theater laboratory was acquired by Frascati 4. Students from the Amsterdam Theaterschool use this hall. Also there are shown works of young talent performers and there are research and debate evenings place.
At this theater you can see great plays established by theater makers and at the same time this theater is a home to young and upcoming performers. Frascati is the place where young people are challenged to meet contemporary and multidisciplinary theater offerings. The performances, that are shown in Frascati, fit well with the experiences of young people by form and content. The theater of Frascati are rooted in the city and constantly relate to the world and the society in which we live. The theater makers use recognizable themes and fresh styles in theater, dance, mime and performances that are accessible and instructive inspiring.
See more at: www.frascatitheater.nl
De dood van haar grootmoeder was theatraler dan theater- en filmmaker Floor Houwink ten Cate zich had kunnen voorstellen. 'Het standaard leven van een standaard vrouw' (@FrascatiTheater) is een poging om in het reine te komen met dat verlies. Tot ...

Asscher (PvdA) verzoekt een uitgebreid herstelfonds te creëren.

Verzoekt de bezuiniging van 8,6 miljoen op het @FPodiumkunsten ongedaan te maken.

Verzoekt fair practice als uitgangspunt hoog te houden.

Verzoekt BIS-budget te verruimen voor Eurosonic.

#tkcultuur

@LauravanDolron zit op een lege Dam en schrijft woorden, een opmaat naar de stilte op het stille stille plein.
Omdat taal de stilte mogelijk maakt en de stilte taal.
Omdat we stilstaan in onze huizen bij het onuitsprekelijke. #4mei
https://t.co/qKZb1eBBVn

In C-unst: Kunst in tijden van Corona delen we op onregelmatige basis de verbeelding van theatermakers. Zoals het ontroerende filmpje 'Laat de stilte zinderen, op 4 mei en alle dagen.' dat Laura van Dolron maakte in het kader van 75 ...

Aanmelden voor de wekelijkse nieuwsbrief met normaliter de weekagenda en momenteel "C-unst: Kunst in tijden van Corona" kan via deze link: https://t.co/wDdofduubw

Ook wij hebben alle voorstellingen t/m maandag 6 april afgelast (ipv t/m 31 maart). Wij zijn nu op zoek naar vervangende data.

En oh wat voelen wij ons gesteund en geliefd door alle berichtjes die we van jullie hebben ontvangen. ...

Ook wij zijn tot onze grote spijt genoodzaakt alle voorstellingen (in Frascati én op tournee) t/m 31 maart af te gelasten tgv de maatregelen tegen verspreiding coronavirus. We zijn momenteel op zoek naar vervangende data en tickethouders ontvangen zsm bericht.

Waarom voelt een groeiende groep jonge mensen zich tot het conservatisme aangetrokken? Wat zijn de verleidingen van een nostalgische, romantische, conservatieve ideologie? Morgen vr 28 feb komt dit allemaal aan bod in het contextprogramma na de #voorstelling van #CaroDerx. (3/3)

Regisseur Charli Chung staat nu in de theaters met zijn stuk 'Wolven huilen niet alleen'. Het toneelstuk vertelt het verhaal van zes broers die jarenlang zaten opgesloten. Maar welke kunstenaars hebben zijn werk beïnvloed? Je leest het via https://t.co/Tckip1MkH7 #vpromondo ...

In Me, Myself and Sir Roger Scruton onderzoekt #CaroDerkx het spanningsveld tussen het 'ik' en de 'ander'. Derkx ensceneert een aantal fictieve ontmoetingen tussen haarzelf en de Britse conservatieve filosoof #RogerScruton en raakt gefascineerd door zijn gedachtengoed. 1/2

Vanavond in @FrascatiTheater Amsterdam is er een voorstelling met het thema 'spijt'. Being wrong and how to admit it, gaat over een politicus dat worstelt om echt sorry te zeggen. Dit wil je niet missen! #uitinams Meer informatie over deze ...

Bijgeboekt: succesvoorstelling Ons Wereldrijk in @FrascatiTheater vr 29 en za 30 mei.
Frascati
Pros
Great little theater.