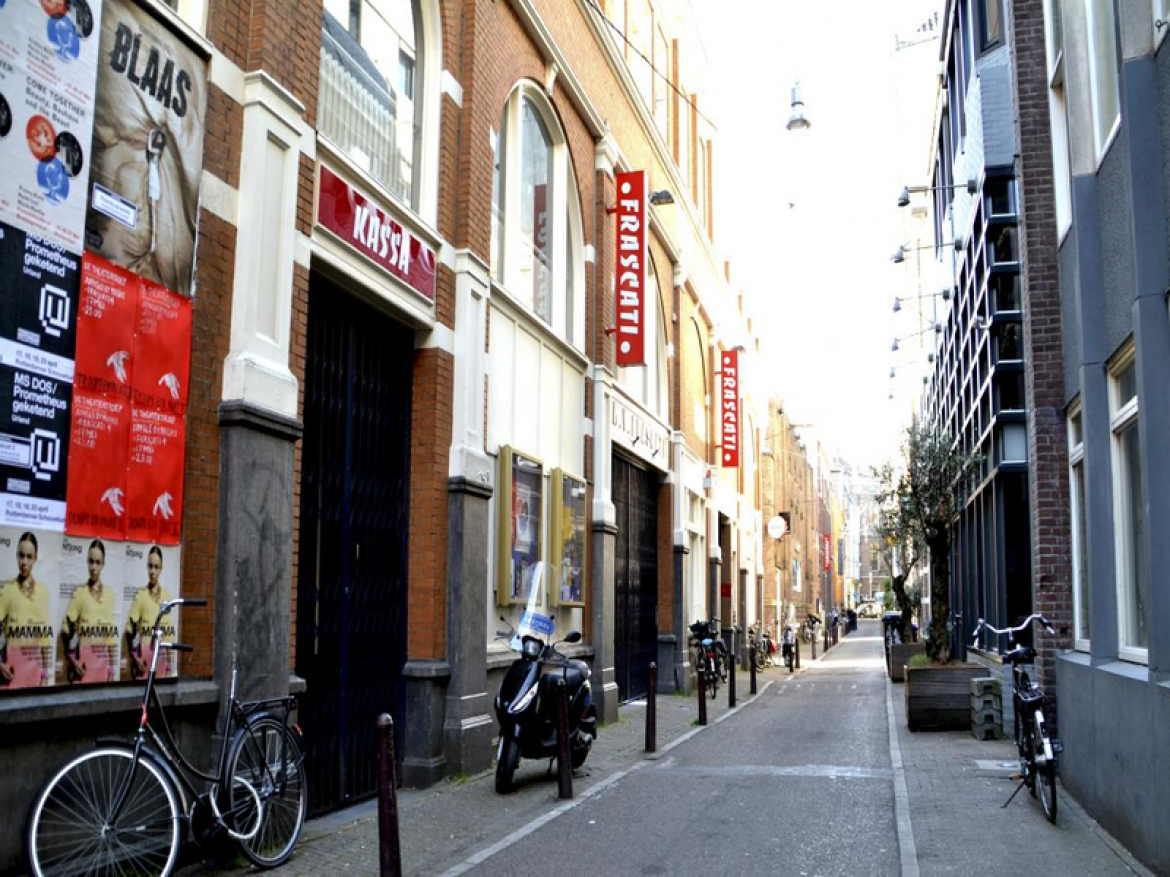 Frascati
Frascati is an innovative theater located in Amsterdam that presents annually around 450 national and international performances. Some words about history of the of theater. Frascati has a long history, but that does not mean that this theater is old-fashioned. During the 19th century the nightlife in the Nes street was flourishing. In 1810, the Italian coffee house Frascati was opened. Fourteen years later this it was expanded by an impressive and elegant ballroom with a capacity of 1,500 people, where song and dance performances were regularly given. Frascati has four theatre spaces on the Nes, namely Frascati 1, 2 & 3 located on Nes 63 and Frascati 4 located on Nes 71, where leading works from the Netherlands and abroad are performed.
Frascati theater is unusual for several reasons. The first is the fact that it has several stages. The second – one of these stages is entirely given to beginning performers. The third – in its program there are very few classical works – almost all of them are contemporary. Fourth – the part of the works is not just modern -they are ultramodern, some of the plays still are not available in all countries in the form of the book at the time of the local premiere .
The main and oldest stage of the Frascati theater is Frascati Nes. There are 3 halls, a building was built in 1824, and as an extension to the much older "coffee house". In Britain such "coffee houses" were rebuilt to gentleman's clubs, but in this case to the theater. This theater has its regularly performing troup, but in the program there are both its own productions as well as from abroad. There are performances, ballet, show, sometimes – a classic, but modern drama and modern dance prevail. The second stage is so-called Frascati WG (Wilhelmina Gasthuisterrein), there are a hall and several studios, the whole stage is given to young talented, but as yet not well-known performers. Beginning directors, actors, dancers and choreographers – all they perform here. The third stage is located in the Flemish cultural centre (Vlaams Cultuurhuis deBrakke Grond). It's not a big studio, here mostly small concerts take place. Also, this area welcomes all forms of theatrical experiment – it is one of the most eccentric stages in the city. Frascati 4 (formerly the Engelenbak) located at Nes 71 includes a theater hall and several smaller studios. The role of the Engelenbak as a theater laboratory was acquired by Frascati 4. Students from the Amsterdam Theaterschool use this hall. Also there are shown works of young talent performers and there are research and debate evenings place.
At this theater you can see great plays established by theater makers and at the same time this theater is a home to young and upcoming performers. Frascati is the place where young people are challenged to meet contemporary and multidisciplinary theater offerings. The performances, that are shown in Frascati, fit well with the experiences of young people by form and content. The theater of Frascati are rooted in the city and constantly relate to the world and the society in which we live. The theater makers use recognizable themes and fresh styles in theater, dance, mime and performances that are accessible and instructive inspiring.
See more at: www.frascatitheater.nl
'Kunt u zich een leven voorstellen in een land dat niet van u is, omdat anderen het hebben ingenomen?' Afgelopen maanden publiceerden Mister Motley en het Holland Festival tientallen artikelen rondom landloosheid. A.s. za sluiten zij deze serie in Frascati ...

'Als Honey is ze veelkleurig en balanceert ze op prachtige wijze tussen kracht en kwetsbaarheid.'

Geweldig! Rosa van Leeuwen heeft een Colombina nominatie in de pocket voor haar rol in Wie is er bang voor Virginia Woolf!

Fotografie: Sanne Peper
...

De nominaties Toneelprijzen 2019 zijn bekend! "De subtiele details die ze in haar spel legt, geven blijk van een uitmuntende controle over haar personage. Het is bijzonder hoe De Proost iedere avond flexibel en overtuigend weet te reageren op de confrontatie met de realiteit."
Trots zijn ...

Trots zijn we op 'onze' Kristien De Proost voor haar Theo d'Or nominatie voor All Inclusive! https://t.co/UfIWp8KRFf

Vanaf morgen t/m vr 14 juni presenteren studenten Mami Kang, Netti Nüganen & Elisabeth Raymond hun afstudeervoorstellingen in Frascati. Voor het SNDO Graduation Performances 2019 Program Two!

Tickets via http://bit.ly/sndo2fras.

Hoe spreken we met elkaar anno 2019? La Isla Bonita - Performance Collective gaat met elkaar om tafel en vergadert tijdens het Over het IJ Festival live over de lichaamstaal van macht.

De Managers | 5 t/m 14 juli | ...

William Kentridge, Blind Mass Orchestra en Phuphuma Love staan van morgen t/m zondag in Frascati met Defence of the Less Good Idea: Een muzikale lecture-performance over DURVEN.

Wees er snel bij want er zijn nog enkele tickets beschikbaar, via http://bit.ly/deffras

www.frascatitheater.nl Wordt dit jouw nieuwe werkplek? Wij zoeken een Hoofd Marketing & Communicatie! Solliciteren kan t/m 27 juni.

Met dit zonnetje krijg je toch overmatig veel zin in het Over het IJ Festival? Wij gaan en nemen mee: La Isla Bonita - Performance Collective en Degasten Jongerentheater. Met wie ga jij?

Foto's: Moon Saris (2018)
Frascati is feeling ...

Deze week één en al Holland Festival. Met in Frascati de spotlights op grootmeesters William Kentridge (ZA) en Faustin Linyekula (DRC). www.frascatitheater.nl/hf-frascati

Photos from Frascati's post De try-out van onze productie Radio van Deyssel op locatie in Nieuw-West was een feestje! Nog t/m zondagmiddag 2 juni voorstellingen. www.frascatitheater.nl/radiovandeyssel4-hannatimmers
Foto's: Lisa Maatjens

Een daverend applaus voor de try-out van Radio van Deyssel#4! Zaterdag 1 en zondag 2 juni nog voorstellingen. Gaat dat zien! www.frascatitheater.nl/radiovandeyssel4-hannatimmers
Frascati is feeling excited at Lodewijk van Deysselstraat 91.

Photos from Frascati's post Vandaag is het zover: de laatste aflevering van het seizoen van Radio van Deyssel. We starten dit keer bij de Social Garden op de Lodewijk van Deysselstraat 61 waar afgelopen week al hard werd gerepeteerd. Radio van Deyssel - Frascati ...

De Managers | Over het IJ Festival De kaartverkoop van Over het IJ Festival is vandaag van start gegaan! En dat betekent dat je je vanaf nú kunt verzekeren van een plek bij de voorstelling van De Managers - Frascati Producties / La Isla Bonita / Over ...

'De verhalen bij Van Dolron laten naast veel treurnis, juist de onverwacht morele kanten zien van deze mensen op de vlucht, met teveel alcohol, heel veel stemmen in hun hoofd of die ronduit crimineel zijn geweest.' schreef het Eindhovens Dagblad ...

Mijn kind, mijn gevaarlijke kind Gevierd actrice en theatermaker Romana Vrede: 'Ik maak een voorstelling over mijn zoon Charlie, mijn enige kind. Het theaterstuk heet Who's afraid of Charlie Stevens? want de maatschappij is bang voor hem. Onze cultuur heeft moeite met alles dat afwijkt, ...

We gaan naar buiten! Ga je mee? Samen met @frascatitheater werkt Rochdale aan leefbaarheid en participatie in de Van Deysselbuurt. Hanna Timmers maakt 4 voorstellingen met en voor bewoners vd Van Deyssel.
31 mei t/m 2 juni -> tickets nu ...
Frascati
Pros
Great little theater.