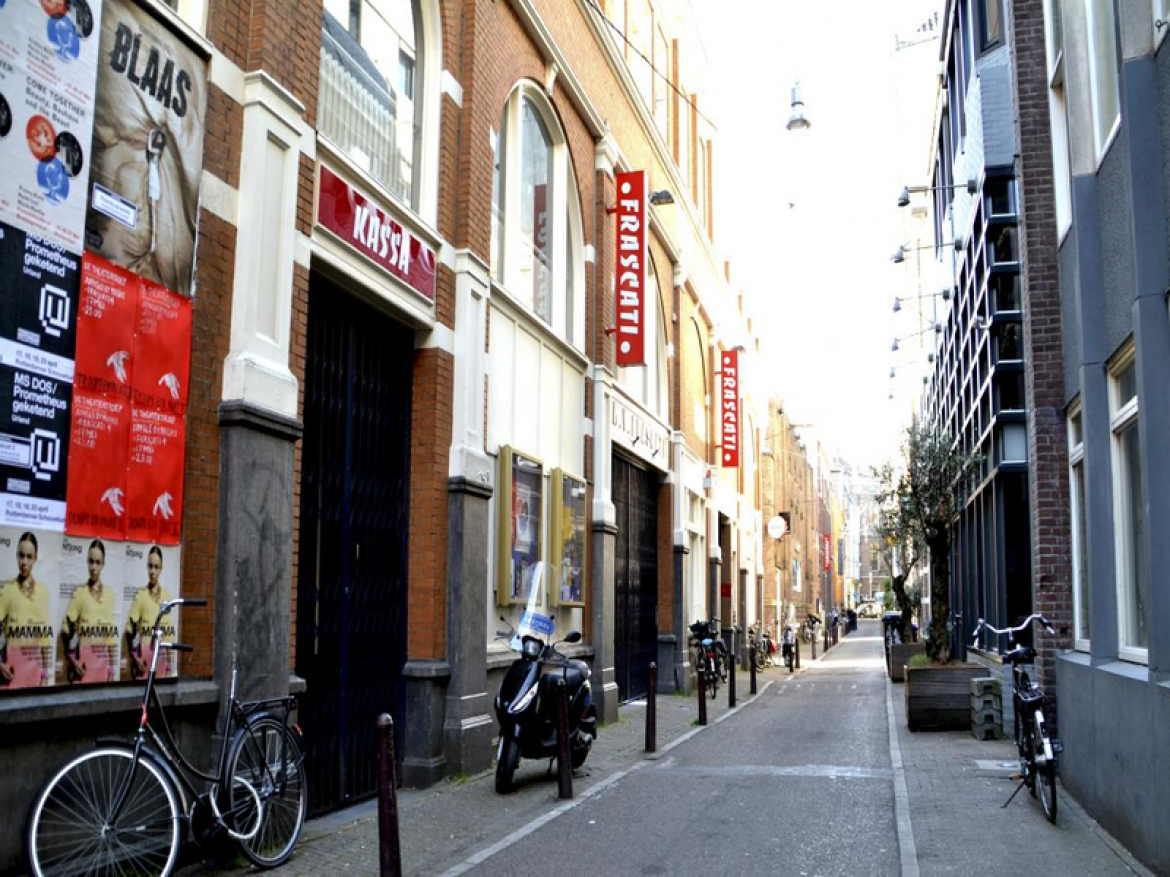 Frascati
Frascati is an innovative theater located in Amsterdam that presents annually around 450 national and international performances. Some words about history of the of theater. Frascati has a long history, but that does not mean that this theater is old-fashioned. During the 19th century the nightlife in the Nes street was flourishing. In 1810, the Italian coffee house Frascati was opened. Fourteen years later this it was expanded by an impressive and elegant ballroom with a capacity of 1,500 people, where song and dance performances were regularly given. Frascati has four theatre spaces on the Nes, namely Frascati 1, 2 & 3 located on Nes 63 and Frascati 4 located on Nes 71, where leading works from the Netherlands and abroad are performed.
Frascati theater is unusual for several reasons. The first is the fact that it has several stages. The second – one of these stages is entirely given to beginning performers. The third – in its program there are very few classical works – almost all of them are contemporary. Fourth – the part of the works is not just modern -they are ultramodern, some of the plays still are not available in all countries in the form of the book at the time of the local premiere .
The main and oldest stage of the Frascati theater is Frascati Nes. There are 3 halls, a building was built in 1824, and as an extension to the much older "coffee house". In Britain such "coffee houses" were rebuilt to gentleman's clubs, but in this case to the theater. This theater has its regularly performing troup, but in the program there are both its own productions as well as from abroad. There are performances, ballet, show, sometimes – a classic, but modern drama and modern dance prevail. The second stage is so-called Frascati WG (Wilhelmina Gasthuisterrein), there are a hall and several studios, the whole stage is given to young talented, but as yet not well-known performers. Beginning directors, actors, dancers and choreographers – all they perform here. The third stage is located in the Flemish cultural centre (Vlaams Cultuurhuis deBrakke Grond). It's not a big studio, here mostly small concerts take place. Also, this area welcomes all forms of theatrical experiment – it is one of the most eccentric stages in the city. Frascati 4 (formerly the Engelenbak) located at Nes 71 includes a theater hall and several smaller studios. The role of the Engelenbak as a theater laboratory was acquired by Frascati 4. Students from the Amsterdam Theaterschool use this hall. Also there are shown works of young talent performers and there are research and debate evenings place.
At this theater you can see great plays established by theater makers and at the same time this theater is a home to young and upcoming performers. Frascati is the place where young people are challenged to meet contemporary and multidisciplinary theater offerings. The performances, that are shown in Frascati, fit well with the experiences of young people by form and content. The theater of Frascati are rooted in the city and constantly relate to the world and the society in which we live. The theater makers use recognizable themes and fresh styles in theater, dance, mime and performances that are accessible and instructive inspiring.
See more at: www.frascatitheater.nl
Schrijvers en theatermakers Anoek Nuyens en Rebekka de Wit maken sociaal bewogen, documentair theater, met als onderliggende vraag: hoe kan het theater bijdragen aan een betere wereld? Het gesprek dat zij starten in hun voorstellingen strekt zich uit over verschillende ...

Voor All Inclusive, een voorstelling over de esthetisering van geweld, vertrekt Julian Hetzel van het paradoxale principe van 'creatie door destructie' en onderzoekt hij de explosieve kracht van oorlogsbeelden. Een productie van CAMPO in coproductie met Frascati Producties.

All Inclusive ...

Morgen werd alles anders Een documentair onderzoek, een intieme voorstelling, over het al dan niet krijgen van kinderen, onze verantwoordelijkheid voor de toekomst en de prijs van vooruitgang, In een intieme setting creëert Yinka een auditieve, associatieve en persoonlijke voorstelling voor iedereen die wel ...

La Pretenza Decadentie, verandering, drama, oorlog, liefde, tranen en gedachten over volk versus elite. Acteurs, muziek, een duur decor: La Pretenza heeft alles wat je mag verwachten van een theatershow anno nu.

La Pretenza is di 17 t/m za 28 sep te ...

In de 'Rubriek: tip van de jury' raden de juryleden van Het TheaterFestival hun favoriete voorstellingen uit de selectie aan. Karel Vanhaesebrouck, dramaturg en docent theater- en cultuurgeschiedenis, koos Don Caravaggio. En dat niet zonder reden:

"Vijf jonge honden halen ...

Julian Hetzel / CAMPO in coproductie met Frascati Producties All Inclusive plaatst kunst naast oorlog, toeristen naast vluchtelingen, en verbindt realiteit met verbeelding tijdens een rondleiding doorheen een tijdelijke expositieruimte. Het publiek wordt uitgenodigd om te kijken naar een bezoek aan een museum waar de realiteit terugslaat

★★★★★ Theaterkrant ...

Jan Hulst en Kasper Tarenskeen schrijven en regisseren stukken over het epische en het alledaagse, de grote geschiedenis en persoonlijke geschiedenissen. Met een feilloos gevoel voor ironie nemen ze de prangende en minder prangende levensvragen van hun generatie onder de ...

Actrice en theatermaakster Yinka Kuitenbrouwer verzamelt verhalen: belevenissen, herinneringen, zorgen en verlangens van mensen zoals jij en ik. Deze verhalen schikt ze bijéén tot intieme vertelvoorstellingen over het leven anno nu, voorstellingen die raken in hun eenvoud en herkenbaarheid en ...

Twee jonge theatermakers wentelen zich gulzig in Tolstojs meesterwerk

Na het succesvolle Bloomsbury beklimmen Florian Myjer en Kim Karssen de Mount Everest van de wereldliteratuur: Oorlog en Vrede van Tolstoj. Dit wordt geen gewone romanbewerking, maar een persoonlijke, explosieve, megalomane ...

All Inclusive plaatst kunst naast oorlog, toeristen naast vluchtelingen, en verbindt realiteit met verbeelding tijdens een rondleiding doorheen een tijdelijke expositieruimte. Het publiek wordt uitgenodigd om te kijken naar een bezoek aan een museum waar de realiteit terugslaat.

All Inclusive ...

Het werk van regisseur Charli Chung is talig, energiek en schaamteloos romantisch. Vertrekkend vanuit de verschillende manieren waarop de mens in staat is lief te hebben, maakt hij stukken die persoonlijk zijn, maar nooit autobiografisch. Met zowel nieuw als bestaand ...

Toneelgroep Oostpool | Small Town Boy (trailer) Zijn we in staat ons te keren tegen alles wat opgelegd is? Kunnen we op een geheel andere manier leven of liefhebben? Kun je ooit stoppen iemands kind te zijn?

Marcus Azzini haalt speciaal voor de Pride de voorstelling Small ...

Tintelfris en adembenemend spel op theaterfestival Over het IJ Buitengewoon! Trouw geeft Bloomsbury ★★★★: 'De manier waarop de romantische vlucht uit de werkelijkheid oplost in gekte en kwetsbaarheid is adembenemend. Tintelfris en intelligent spel. IJzersterk én subtiel.'

Kim Karssen en Florian Myjer zijn t/m zo te zien op Over ...

Interview: Kim Karssen en Florian Myjer Over het IJ Festival bezocht Kim Karssen en Florian Myjer in Frascati tijdens de repetities voor Bloomsbury. Het belooft een verrijking voor je leven te worden dus mis het niet!

Bloomsbury is nog deze week vanaf wo 10 t/m zo ...

Interview Naomi Namutebi In 'My name before Naomi' vertelt Naomi Namutebi over haar leven. Een persoonlijk verhaal over mensenrechten, religie, seksualiteit, mensenhandel en migratie.

My name before Naomi is a.s. vr 12 en za 13 juli te zien tijdens het Over het IJ ...

De nieuwste voorstellingen van seizoen 19/20 als eerste zien nog vóór de première en voor een fijne prijs ? Dat kan met het Try-out Abonnement!

Volg de link voor meer informatie: http://bit.ly/to-fr

Photos from Frascati's post 'Het is kolderiek en goed bedacht en er zitten scènes tussen van grote schoonheid. In de parallelle fantasiewereld van La Isla Bonita komen menselijke verhoudingen even symbolisch als concreet aan de orde.' - NRC ★★★★

di 9 t/m zo 14 ...

Ben jij communicatief vaardig, praktisch ingesteld en heb jij affiniteit met sociaal-artistiek werk? Per 1 oktober 2019 zijn we voor Pop-Up Theater van Deyssel in Nieuw-West op zoek naar een Coördinator! Voor meer informatie: https://t.co/zjItSzO5nH

Solliciteren kan t/m 19 aug!

door kunnen gaan. Wij houden jullie z.s.m. op de hoogte. Mail voor meer informatie naar kassa@frascatitheater.nl

Opgelet: Vanwege een blessure bij een van de spelers kan de 'Who's afraid of Charlie Stevens?' voorstelling van vanavond 27 juni helaas niet gespeeld worden. Er wordt naar gestreefd om de voorstelling enigszins aan te passen waardoor de speelbeurten vrijdag ...

Hoera! De Nederlandse Toneeljury heeft Julian Hetzel's All Inclusive geselecteerd voor het Nederlands Theater Festival in september! https://t.co/7mtWDC6WLl

La Isla Bonita komt terug naar #OHIJ19 met De Managers: een voorstelling over vergaderen, macht en... hobby horsing. Kom alvast in de stemming met deze making-of movie en koop je tickets via https://t.co/7UfbTzIbeJ. Productie: @FrascatiTheater i.s.m. Over het IJ Festival. ...
Frascati
Pros
Great little theater.