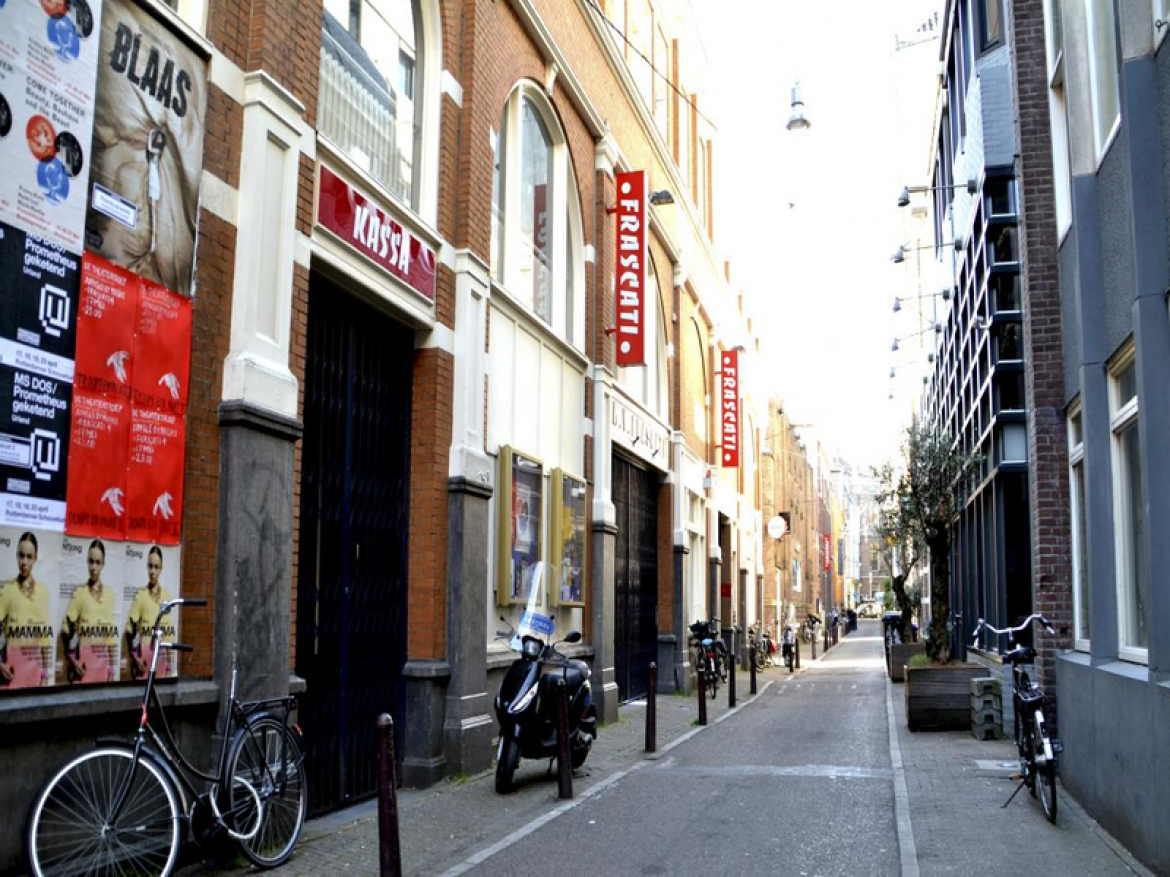 Frascati
Frascati is an innovative theater located in Amsterdam that presents annually around 450 national and international performances. Some words about history of the of theater. Frascati has a long history, but that does not mean that this theater is old-fashioned. During the 19th century the nightlife in the Nes street was flourishing. In 1810, the Italian coffee house Frascati was opened. Fourteen years later this it was expanded by an impressive and elegant ballroom with a capacity of 1,500 people, where song and dance performances were regularly given. Frascati has four theatre spaces on the Nes, namely Frascati 1, 2 & 3 located on Nes 63 and Frascati 4 located on Nes 71, where leading works from the Netherlands and abroad are performed.
Frascati theater is unusual for several reasons. The first is the fact that it has several stages. The second – one of these stages is entirely given to beginning performers. The third – in its program there are very few classical works – almost all of them are contemporary. Fourth – the part of the works is not just modern -they are ultramodern, some of the plays still are not available in all countries in the form of the book at the time of the local premiere .
The main and oldest stage of the Frascati theater is Frascati Nes. There are 3 halls, a building was built in 1824, and as an extension to the much older "coffee house". In Britain such "coffee houses" were rebuilt to gentleman's clubs, but in this case to the theater. This theater has its regularly performing troup, but in the program there are both its own productions as well as from abroad. There are performances, ballet, show, sometimes – a classic, but modern drama and modern dance prevail. The second stage is so-called Frascati WG (Wilhelmina Gasthuisterrein), there are a hall and several studios, the whole stage is given to young talented, but as yet not well-known performers. Beginning directors, actors, dancers and choreographers – all they perform here. The third stage is located in the Flemish cultural centre (Vlaams Cultuurhuis deBrakke Grond). It's not a big studio, here mostly small concerts take place. Also, this area welcomes all forms of theatrical experiment – it is one of the most eccentric stages in the city. Frascati 4 (formerly the Engelenbak) located at Nes 71 includes a theater hall and several smaller studios. The role of the Engelenbak as a theater laboratory was acquired by Frascati 4. Students from the Amsterdam Theaterschool use this hall. Also there are shown works of young talent performers and there are research and debate evenings place.
At this theater you can see great plays established by theater makers and at the same time this theater is a home to young and upcoming performers. Frascati is the place where young people are challenged to meet contemporary and multidisciplinary theater offerings. The performances, that are shown in Frascati, fit well with the experiences of young people by form and content. The theater of Frascati are rooted in the city and constantly relate to the world and the society in which we live. The theater makers use recognizable themes and fresh styles in theater, dance, mime and performances that are accessible and instructive inspiring.
See more at: www.frascatitheater.nl
Wanneer treft ons hetzelfde lot en worden ook wij overbodig? Voor 'Wim Klein, de laatste menselijke computer' was het dé reden om zijn leven ten volle te leven; overvol van humor en tragiek.

Première 25 oktober in het @FrascatiTheater Amsterdam ...

Terugkijktip! Echo uit de Stemmen uit Beton-reeks van Naomi Steijger en Timo Tembuyser (Frascati Producties 2021). Over voormalige en huidige bewoners van de flat Groeneveen in Amsterdam Zuidoost, waar in 1992 de Bijlmervliegramp plaatsvond.
https://t.co/1ofk4Pt9zs

Heb je al kaartjes voor de estafette van de collectieven? Op 7 & 8 september zetten we @FrascatiTheater op z'n kop met 7 geweldige voorstellingen! Bestel je losse kaartjes of een passe-partout met een korting op het bezoeken van meerdere ...

@Collette75P Bij onze test doet hij het. Mocht je toch hulp nodig hebben, bel dan onze kassa na 13u op 020-6266866. Succes!

@Collette75P Hi Patricia, punten voor je omschrijving! Welke voorstelling wil je boeken? Die van Kim Karssen? Cookies zouden niet iets moeten blokkeren.

Een Unieke Theatergeschiedenis is een brede uitgave van 18 hoofdstukken & meer dan 50 fotospreads over collectief theater maken. Tijdens het @theaterfestival kunt u het boek met korting bestellen: mail vóór 12 september uw naam + telefoonnummer naar toneelgroepdiscordia@gmail.com https://t.co/ovvA5huW4G

Nog even en we maken het volledige programma bekend van het Afrovibes Festival Editie 2022 'Rupture | Rapture'. Van 5 tot en met 16 oktober te zien in Amsterdam, Utrecht en Rotterdam.

De première vindt plaats in @FrascatiTheater en daarna ...

Tijdens de première van het Afrovibes Festival 2022 in @FrascatiTheater op 5 oktober zal ook Hominideos te zien zijn van Marlin Nyakam. Een avontuurlijke odyssee van moderne en Afrikaanse dans waarin zes dansers de complexiteit van menselijke relaties zichtbaar maken. ...
Frascati
Pros
Great little theater.