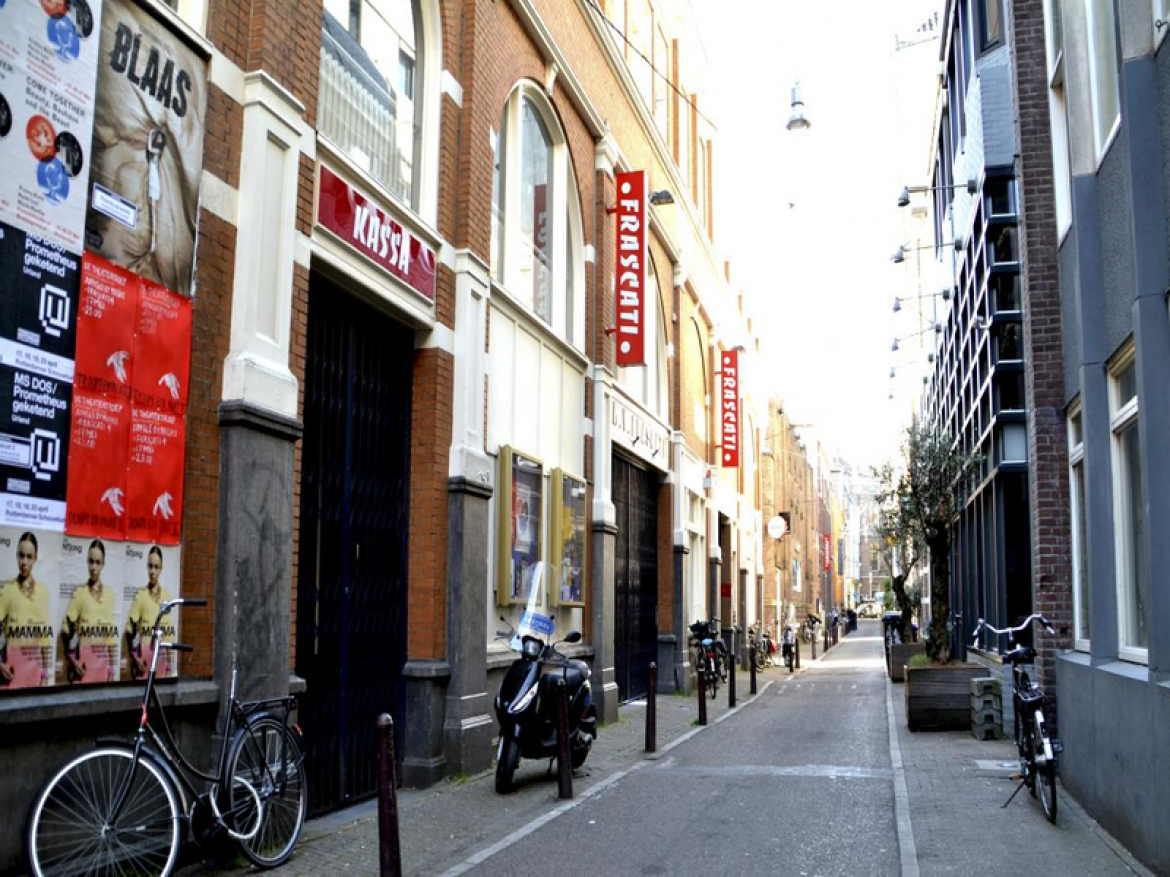 Frascati
Frascati is an innovative theater located in Amsterdam that presents annually around 450 national and international performances. Some words about history of the of theater. Frascati has a long history, but that does not mean that this theater is old-fashioned. During the 19th century the nightlife in the Nes street was flourishing. In 1810, the Italian coffee house Frascati was opened. Fourteen years later this it was expanded by an impressive and elegant ballroom with a capacity of 1,500 people, where song and dance performances were regularly given. Frascati has four theatre spaces on the Nes, namely Frascati 1, 2 & 3 located on Nes 63 and Frascati 4 located on Nes 71, where leading works from the Netherlands and abroad are performed.
Frascati theater is unusual for several reasons. The first is the fact that it has several stages. The second – one of these stages is entirely given to beginning performers. The third – in its program there are very few classical works – almost all of them are contemporary. Fourth – the part of the works is not just modern -they are ultramodern, some of the plays still are not available in all countries in the form of the book at the time of the local premiere .
The main and oldest stage of the Frascati theater is Frascati Nes. There are 3 halls, a building was built in 1824, and as an extension to the much older "coffee house". In Britain such "coffee houses" were rebuilt to gentleman's clubs, but in this case to the theater. This theater has its regularly performing troup, but in the program there are both its own productions as well as from abroad. There are performances, ballet, show, sometimes – a classic, but modern drama and modern dance prevail. The second stage is so-called Frascati WG (Wilhelmina Gasthuisterrein), there are a hall and several studios, the whole stage is given to young talented, but as yet not well-known performers. Beginning directors, actors, dancers and choreographers – all they perform here. The third stage is located in the Flemish cultural centre (Vlaams Cultuurhuis deBrakke Grond). It's not a big studio, here mostly small concerts take place. Also, this area welcomes all forms of theatrical experiment – it is one of the most eccentric stages in the city. Frascati 4 (formerly the Engelenbak) located at Nes 71 includes a theater hall and several smaller studios. The role of the Engelenbak as a theater laboratory was acquired by Frascati 4. Students from the Amsterdam Theaterschool use this hall. Also there are shown works of young talent performers and there are research and debate evenings place.
At this theater you can see great plays established by theater makers and at the same time this theater is a home to young and upcoming performers. Frascati is the place where young people are challenged to meet contemporary and multidisciplinary theater offerings. The performances, that are shown in Frascati, fit well with the experiences of young people by form and content. The theater of Frascati are rooted in the city and constantly relate to the world and the society in which we live. The theater makers use recognizable themes and fresh styles in theater, dance, mime and performances that are accessible and instructive inspiring.
See more at: www.frascatitheater.nl
Ariah Lester Fraslab goes Something Raw! Met Ariah Lesters WHITE [ARIANE] en Milou van Duijnhovens Horns. Meer info & tickets via de site: http://bit.ly/srfras18
HEART N2 /// Less than a week for our premiere. WHITE [ARIANE] at Fraslab goes Something Raw Festival. ...

Met de performance [THE BRAIN] organiseert Orion Maxted een live experiment, gebaseerd op de nieuwste inzichten uit de cybernetica, neurowetenschap en netwerk theorie. Altijd al eens deel willen uitmaken van een collectieve intelligentie? Breng je mobiele telefoon en oplader mee ...

De Staat van de Man Wat betekent het vandaag de dag om man te zijn? Er lijkt een ware klopjacht op hem gaande: wie is de man in een tijd van #metoo, street harassment, male privilege en mansplaining? Een nieuwe generatie mannen staat op om ...

Photos from Frascati's post UR van URLAND in coproductie met Theater Rotterdam is 'een liefdesbetuiging aan het theater. Komt dat zien'. ★★★★ aldus de Volkskrant. Van 27 t/m 29 maart in Frascati.

Fotografie: Julian Maiwald
Frascati added 3 new photos.

Something Raw's Club Fatal Komen jullie volgende week zaterdag 17 maart naar Frascati voor Club Fatal - Something Raw Club Night? Dé clubnacht waarin je meegenomen wordt naar het volgende niveau van de 'performancekunst'. Op het programma (excl. surprise acts):
22.00 – 22.10 Cherish ...

Amadeus - De Warme Winkel icm Nieuw West '…een grenzeloze en mateloos boeiende voorstelling' ★★★★ NRC.
'Amadeus is een spannende verkenning naar de verschillende identiteiten en posities die een kunstenaar kan innemen.' ★★★★ Het Parool. 'Beurtelings bizar en wreed, groots en vol idioterie komt de schrijnende tegenstelling geleidelijk ...

Photos from Frascati's post Wij stellen graag voor: Anna Verkouteren Jansen. Ze studeerde in de zomer van 2017 af aan de Regie Opleiding van de Toneelacademie Maastricht en maakt nu samen met Hendrik Kegels PLANKTON bij Frascati Producties. In haar werk legt Anna gedetailleerd ...

Romeo en Julia in Frascati Deze week gaat Romeo & Julia van Toneelgroep Oostpool de tweede week in. Bart Beurt Rijnink Reitinga componeerde alle muziek. Een fijn voorproefje - of juist even nagenieten indien je afgelopen week al bent geweest.

Het Parool "Ik ga graag eerst een hapje eten, bij Café de Paris bijvoorbeeld, en dan lekker naar Frascati. Daar ga ik bijna altijd naar voorstellingen van mensen die ik ken. Zo stond mijn A'dam - E.V.A.-collega Sanne den Hartogh er laatst ...

We zijn op zoek naar een nieuw Hoofd Productie! Hij/zij draagt zorg voor de aansturing en de bedrijfsvoering van afdeling productie, geeft leiding aan de productieleiders en de medewerkers productie en fungeert als meewerkend voorman/-vrouw. Het Hoofd Productie maakt deel ...

Something Raw 2018 Heb jij je Something Raw 2018 programma (14-17 maart) al samengesteld? Via onze website koop je voor EUR 45 een passe-partout waarmee je jezelf kunt onderdompelen in meerdere performances. Het hele programma en alle verdere info over het passe-partout vind ...

Fraslab goes Something Raw: WHITE [Ariane] Ariah Lester [Lester Arias] maakt binnen Fraslab goes Something Raw: WHITE [ARIANE]. Een voorstelling als een lang gedicht over metamorfose en nuance; tussen een concert en een theaterstuk, een one-man-show-opera en een burleske-act, gecreëerd in samenwerking met lichtontwerper Katinka Marac.
...

Club Fatal - Something Raw Club Night Het eindfeest van Something Raw 2018 hebben we in een Club Night gegoten met performances van o.a. Ariah Lester, Cactus Truck en Izabella Finch alias Priestess Pussylicious. Next level performance art in Frascati 1 van 22:00 tot 03:00!
Club Fatal ...

Met [THE BRAIN] organiseert Orion Maxted een live experiment, gebaseerd op de nieuwste inzichten uit de cybernetica, neurowetenschap en netwerk theorie. Tegelijk doemen er vragen op over de maatschappij, de democratie en de menselijke conditie. Onderdeel van Something Raw 2018. ...

Fraslab goes Something Raw: Horns Tijdens Something Raw 2018 presenteren we twee Fraslab-voorstellingen, waaronder Horns van Milou van Duijnhoven waarin een nieuwe, mythische creatuur het strijdperk betreedt.
A new, mythical creature enters the era of struggle. In full armour, this as yet unknown DNA is ...

Romeo & Julia - Toneelgroep Oostpool Vanaf vanavond in Frascati. Deze hele week al vol, maar volgende week zijn er nog plaatsen beschikbaar! Regisseur Marcus Azzini kiest voor een talentvolle spelersgroep van jonge acteurs. Diewertje Dir en Abe Dijkman zijn de gedroomde Julia en Romeo. Met ...

Wij zijn op zoek naar een nieuwe INSPICIËNT, ter ondersteuning van de afdeling techniek (38 u p/w, deadline 18 maart). De afdeling is verantwoordelijk voor de technische werkzaamheden ten behoeve van alle activiteiten van de afdelingen productie en het artistiek ...

Frascati tipt: Het Grote Amsterdamse Kunst- en Cultuurdebat op ma 12 maart: het enige verkiezingsdebat in Amsterdam over het kunst- en cultuurbeleid. Meer info via de site van @AFK020: https://t.co/QKsgMPYSBb

Psst! Net bevestigd.. en nog niet eens te vinden op onze site: eind mei staan ze weer in Frascati: Wunderbaum. Nu met WIE IS DE ECHTE ITALIAAN? Hou onze social kanalen in de gaten voor de aankondiging van de start ...

Psst! Net bevestigd.. en nog niet eens te vinden op onze site. Eind mei staan ze weer in Frascati: Wunderbaum. Nu met WIE IS DE ECHTE ITALIAAN? Hou onze social kanalen in de gaten voor de aankondiging van de start ...

Photos from Frascati's post Waar ga jij naartoe? Deze week hebben we Theater Adhoc (Jan van den Berg & componist Jacq Palinckx), t Barre Land en Toneelgroep Oostpool in huis. Dat betekent theater als vrolijke wetenschap; bewuste aandachtige traagheid als alternatief voor de haastige ...

After talk with composer Tom Parkinson, choreographer @KerenLevi_NL, artist Krijn de Koning about their translation of Feldmans composition Crippled Symmetry into the performance Footnotes (for Crippled Symmetry) premiering tomorrow @FrascatiTheater https://t.co/EBDyia0O0b

Upcoming Saturday 19:00 @FrascatiTheater Amsterdam, we'll play Morton Feldmans wonderful Crippled Symmetry, followed by a new choreography by Keren Levi (@KerenLevi_NL) based on the same work. The later will be performed in an object by Krijn de Koning. Tickets still ...
Frascati
Pros
Great little theater.