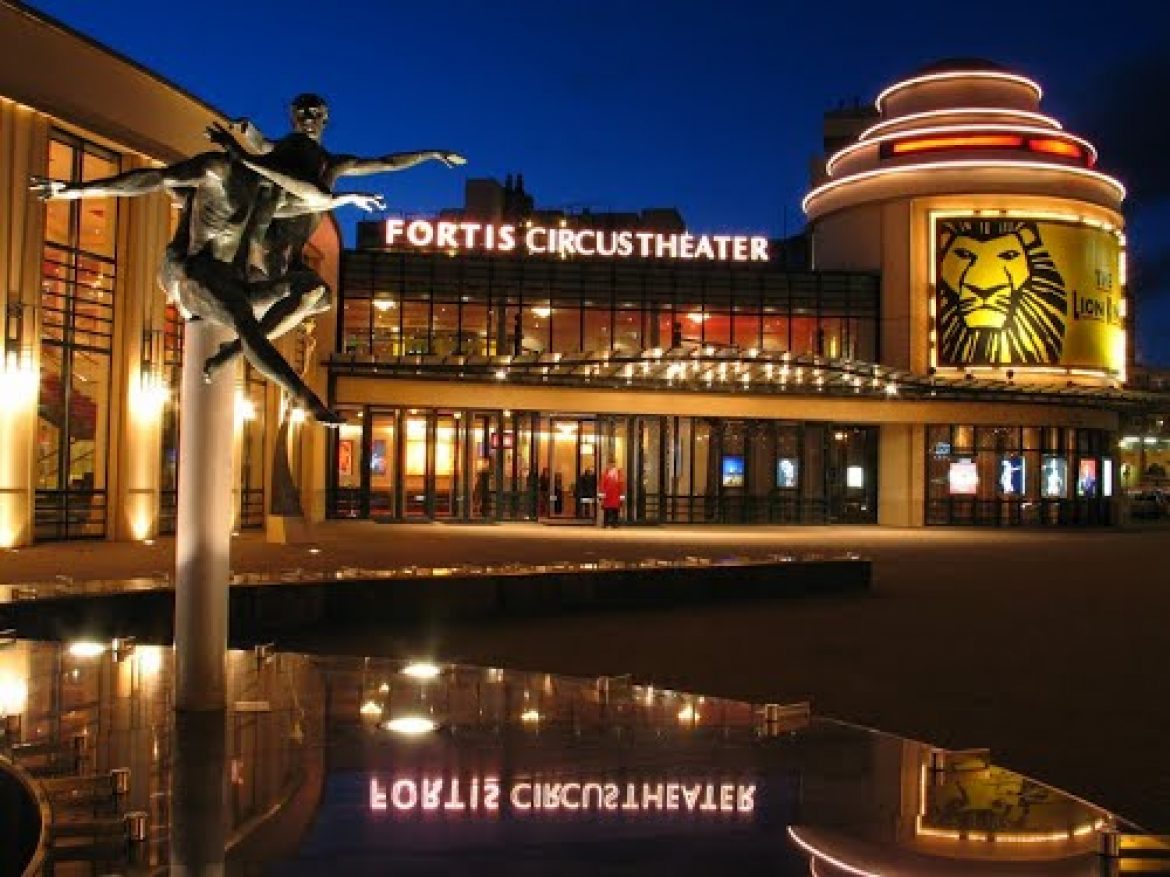 AFAS Circustheater
The AFAS Circustheater is a theater located in the Dutch seaside resort of Scheveningen, The Hague. Originally, the theater was opened as Circus Schumann on July 16, 1904. The building was designed by the architect Wilhelmus Bernardus van Liefland. The Circus, when the building was a real circus in the 1960s, was only open in the summer months. Later, the building was named Circus Strassburger. In the following years,the circus building was used as a concert venue. There was held a solo concert of the famous pianist Arthur Rubinstein as part of his last tour in 1968. In 1991, the Dutch businessman and producer Joop van den Endethe bought the circus building for a symbolic sum of one guilder. The municipality of The Hague made a deal like that on the condition that Van den Ende will make the theater from the circus building.
At the end of the year the musical Les Miserables that moved here from The Royal Theatre Carré. After that the theater was closed for renovation, which was led by the architect Arno Meijs. Updated Circus has opened the musical Phantom of the Opera on August 15, 1993. In 1998, Joop van den Ende creates a theater company Stage Entertainment, to which theater Circus belongs now. On october 5, 2004 the copy of the theater building was installed  in the park of miniatures Madurodam in honor of the centennial anniversary of the theater. In the theater there were celebrations. From February to March of 2010 Circus became a platform for the performances of the third season of the Dutch version of the project X Factor. In the past twenty years the theater attracted legendary musicals such as The Phantom of the Opera, Miss Saigon, Elizabeth, Aida, The Lion King, Tarzan, Mary Poppins, Wicked, Billy Elliot the Musical Sister Act and millions of visitors.
This unique building has grown over the years into an impressive and stylish location that during is excellent for the most diverse purposes. The magnificent foyers and halls of the AFAS Circus Theatre also ideal for corporate events. The theater offers ten multipurpose rooms with excellent facilities for meetings, product presentations, fashion shows or conferences. As an additional option, the auditorium can be reduced to a capacity of 200 people (normally 1840 people).
The AFAS Circus Theatre lends itself as a little Dutch venues for spectacular events. The location has a lively, informal atmosphere in a business environment with an unprecedented diversity of foyers, conference rooms and lounges, and a stone's throw from the beach of Scheveningen!
You can find more information on the official site: www.stage-entertainment.nl
Anastasia NL Met trots presenteren wij de prachtige cast van Anastasia 👑 Vanavond kwam onze cast samen voor een 'staatsbanket' met koninklijke allure op een passende locatie, het Kurhaus in Scheveningen! De start van de weergaloze reis van Anastasia wordt feestelijk gevierd! ...

AFAS Circustheater We hebben ook dit jaar weer leuke kindervoorstellingen op het programma staan! Ben jij er ook bij?

Kijk voor info en kaartverkoop op onze website www.stage-entertainment.nl
Kijk voor info en kaartverkoop op onze website www.stage-entertainment.nl!
AFAS Circustheater shared a post.

Start repetities voor Brandweerman Sam Live!

In de Van Hoorne Entertainment Studio's zijn gisteren de repetities begonnen van de familiemusical 'Brandweerman Sam Live! - Het Grote Kampeeravontuur'. Als startsein van de repetitieperiode heeft de cast en crew een heerlijke slagroomtaart ...

Anastasia NL De reis gaat beginnen! Vandaag start de cast van de nieuwe Broadway musical ANASTASIA met repeteren. ❤️ Vanaf september is ANASTASIA te zien in het AFAS Circustheater in Scheveningen. Ga mee op een weergaloze reis! ✨
AFAS Circustheater shared a ...

Voor wie de tropische sferen nu al zat is en uit kijkt naar de winter hebben wij een mooi vooruitzicht...

Het AFAS Circustheater zal namelijk op maandag 16 december omgetoverd zijn in betoverende kerstsferen en zal René Froger een groot ...

Zanger Mike Peterson ziet op 9 december 2019 een langgekoesterde droom in vervulling gaan. Die dag geeft hij met volledige live band een concert in het AFAS Circustheater in Scheveningen!

Wees er snel bij want de kaartverkoop gaat hard!
Koop ...

Anastasia NL Tessa Sunniva van Tol op zoek naar het mysterie van Anastasia in ST. PETERSBURG! Bekijk in deze video wat zij heeft beleefd in de stad waar het mysterie van Anastasia is begonnen! Anastasia is vanaf september te zien in het ...

The Lion King - Musical leeuwinnen wensen de oranjeleeuwinnen veel succes toe voor de WK finale vanmiddag. 🎼Sta paraat!! 🎼
⚽️🏆🥇

Iedereen mooie musical De lion king
Goede service en veel personeel die erg vriendelijk en beleefd en betrokken waren. Goede sfeer. Echt een aanrader voor mensen die nog moeten gaan

Michael Starring Ben Terugblik op de Michael Jackson Tribute dat maandagavond plaatsvond in het AFAS Circustheater. De cast had in ieder geval genoten. Jij ook⁉️
Words cannot express the incredible response we received from our recent tour of Holland!

We are so so ...

Anastasia NL Op 29 juni kun jij een exclusief optreden van de Broadway musical Anastasia bijwonen op een unieke locatie in Amsterdam! De reis van Anastasia gaat nu echt van start… Schrijf je NU in en maak kans om aanwezig te zijn ...

Anastasia NL De reis van ANASTASIA gaat beginnen…

29 juni 2019 vindt een exclusief optreden plaats van de musical Anastasia op een unieke locatie. Zet deze datum alvast in je agenda. Vanaf woensdag 19 juni 10.00u kun jij je inschrijven! #binnenkortmeer #anastasianl
...

Tien jaar na zijn plotselinge overlijden wordt Michael Jackson herdacht met een wervelend concert die in Groot-Brittannië lovende recensies kreeg, en waarin alle grote hits oor en oog passeren in het AFAS Circustheater Scheveningen op maandag 17 juni aanstaande.

Dit ...

Kijk voor info en kaartverkoop op onze website www.stage-entertainment.nl!

Op maandag 10 juni aanstaande (2e pinksterdag, om 14.15 uur!) geeft Django samen met zijn orkest voor het eerst een groot theaterconcert in het AFAS Circustheater Scheveningen.

Er zijn nog maar 74 1e rangkaarten beschikbaar! Dus boek nu de laatste ...

Op maandag 10 juni, 2e Pinksterdag, staat de Tribute to The Cats Band na het grote succes van vorig jaar in het AFAS Circustheater Scheveningen. Dit bijzondere en grote The Cats theaterconcert van 2019 begint om 20.15 uur.

'Lea', 'Why', ...

Gisteren stond het al in de Eventim Nederland nieuwbrief: Dennis van Aarssen sluit zijn theatourtour ''start spreading the world'' af op 23 december in het AFAS Circustheater.

Samen met zijn BOSCO band zie je hier zijn eerste... https://t.co/vvuAv2gIsn

Het was gisteren fantastisch met André Hazes en zijn band in het AFAS Circustheater Scheveningen.
En vanavond mogen ze nog een keer! Je kan er nog bij zijn...

Boek nu de allerlaatste kaarten via... https://t.co/9sazgwIaX4

Tip: Er zijn nog een paar kaarten vrij gekomen voor Arjen Lubach Live ‼️‼️

Dus grijp nu je laatste kans om bij dit spektakel aanwezig te zijn 🤪
https://t.co/tSfhanUkcb

22 april mogen wij Ruth Jacott wederom ontvangen in ons theater! Om 14:15 staat zij klaar met haar mooiste liedjes en dat allemaal in het kader van 35 jaar Sterren aan Zee concerten. Deze middag zal Ruth met... https://t.co/Vn2l7ZUleZ
AFAS Circustheater
Pros
Nicely furnished, excellent quality catering and of course wonderful performances.
Cons
Parking is extremely crowded.