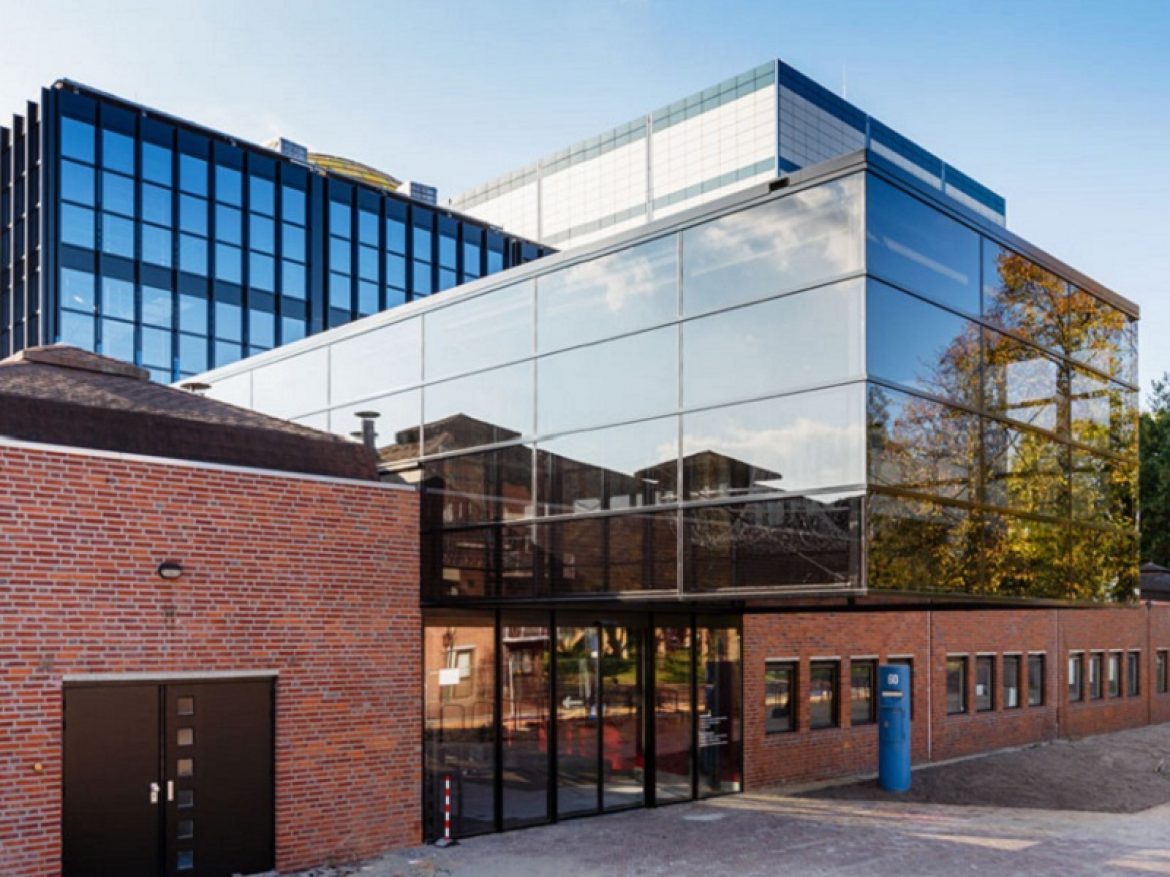 Flint
Flint is a charming theater located in the center of Amersfoort. It was built in 1977 to a design by Onno Greiner. The Flint program includes theater, musicals, cabaret and children's theater. On Sunday, November 25th, 1990 Flint burned down. The damage amounted to more than ten million guilders and although arson was not ruled out the cause remained unknown. Flint was rebuilt at the same location.
Flint has two large halls: Rabobank Theater hall and AFAS hall.  You can feel the real theater atmosphere when you enter the Rabobank Theater hall with the hundreds of lights, red chairs and velvet curtains.This hall has 800 seats and the most important and famous theatrical performances take place here. The AFAS hall has an industrial appearance but it can be turned into any desired location. It has 600 seats. Flint also has access to a hall in downtown of Amersfoort: St. Aegtenkapel. This charming historic hall can accommodate about 130 visitors, and is used primarily for classical concerts.
In this theater you can seat in a red plush upholstered chair and enjoy the best performances and real theater atmosphere. With more than 180 shows per year Flint offers a broad program: from dance to the top of Dutch theater, from rock to blues, from cabaret and musicals. The youngest theater lovers are welcome in Flint, with an extensive range of family shows. Before the show in Flint, you can enjoy a meal in its restaurant Pull Theatre Kitchen & Café. Pull theater kitchen & café is creatively decorated and has an open kitchen, surprising, tasty cuisine and a cozy atmosphere. The staff keep you eye on the time so that you can enjoy carefree and on time is in the hall. Afterwards this is the place to eat some delicious after talking while enjoying a drink. Theater rooms are used regularly for parties, meetings or other events. The central location, excellent catering and various sub halls making Flint the perfect venue for any event, from birthday party with representation at a major conference. In addition to the larger venues Flint also has several smaller rooms, suitable for meetings of up to 100 people. Enjoy the inspiring environment and atmosphere of a theater!
The Flint building has a rich history. On 25 November, 1990 Flint burned down. The damage amounted to more than ten million guilders and although arson was not ruled out the cause remained unknown. Flint was rebuilt at the same location. In the summer of 2014, the building was renovated to be completely a new building with more opportunities in the different areas.
For more information go here: www.flint.nl
Photos from Flint Amersfoort's post Er zijn kaarten vrijgekomen voor 'De Verleiders' op 5 april. Dit keer richten De Verleiders hun pijlen op de handelaren in big data: de Facebooks, Apples, Googles en Übers van deze wereld. Ze hebben ongekende macht, maar wat houden zij ...

Noem het maar liefde - wo 1 mei in Flint De gloednieuwe komedie 'Noem het maar liefde' van Ilja Leonard Pfeijffer is jubelend ontvangen. Hoofdrolspelers Anniek Pheifer en Jeroen Spitzenberger spelen een reeks van ontmoetingen die zich afspelen in het fameuze Majestic Imperial Hotel. Check jij ook in op wo ...

Photos from Flint Amersfoort's post Vandaag vindt het theatercollege van de voorstelling 'De Passie' voor jongeren plaats in Flint! 'De Passie' is een muzikale ontmoeting tussen de 'Matthäus Passion' van Johann Sebastian Bach en de musical 'Jesus Christ Superstar' van Andrew Lloyd Webber en Tim ...

Zondag is het zover; de Amersfoort City Trail! Hardlopen langs de mooiste plekjes van Amersfoort en door de meest verrassende gebouwen. Speciaal voor alle renners hebben we een leuke winactie: maak een foto van jezelf (of je hardloopmaatje) op het ...

Cyndi Lauper won een Tony Award voor de muziek in de hitmusical Kinky Boots. Eindelijk kan Nederland kennismaken met de suffe schoenenfabriek die het roer radicaal omgooit... met alle gevolgen van dien! Over 2 weken kun je kaarten bestellen!

Photos from Flint Amersfoort's post Masha en de Beer komen voor het eerst naar Flint met hun eigen familiemusical. Beer denkt eindelijk de rust te hebben gevonden, maar zijn ondeugende buurmeisje Masha kan geen seconde stilzetten. Het duurt niet lang voordat ze samen in een ...

Elvis For Everyone Voor de Elvis fans!
Bijgeboekt: The Elvis Concert 2019 met oud-bandleden van Elvis Presley en Dwight Icenhower - Live uit de USA! Voor het eerst te zien in theater de Flint. Reserveer nu de best plaatsen!
Flint Amersfoort shared a ...

Photos from Flint Amersfoort's post Het boek 'Turks Fruit' komt naar het toneel. Turks Fruit vertelt het verhaal van de heftige liefde tussen een beeldhouwer en een lifster. Hun ongekend passionele relatie krijgt een dramatische wending als de jonge vrouw ernstig ziek wordt. Op 19 ...

Kijk je vandaag naar Koffietijd? Het programma maakte in Flint een leuke reportage over Stichting Vier het Leven.

Casablanca - 15 mei in Flint Stefan Rokebrand (Celblok H, Chez Brood) en Jamie Grant (KLEM, LEEF!) spelen de gedoemde geliefden waartussen de passie onvermijdelijk oplaait in 'Casablanca'. Een fonkelnieuwe muziektheatervoorstelling die het klassieke verhaal verbindt met de prangende actualiteit en hierop reflecteert. 15 mei te ...

Niek Baar - Violinist Niek Baar - Violinist speelde zondag de sterren van de hemel in Podium Witteman. Op zondag 14 april speelt hij met het Nederlands Jeugd Strijkorkest in verfrissend ochtendconcert rond Tsjaikovski in de Sint Aegtenkapel. Reserveren: https://bit.ly/2u5tKAZ
Last Sunday Ben Kim ...

Jaarlijks Koningsdagconcert in Flint Zojuist is door Het Koninklijk Huis bekend gemaakt dat op maandag 15 april Zijne Majesteit Koning Willem-Alexander en Hare Majesteit Koningin Máxima het jaarlijks Koningsdagconcert aanbieden in Flint. Wij zijn hier natuurlijk supertrots op en kijken ernaar uit! Het concert ...

Wegens groot succes is er op 24 mei een extra kampvuurconcert! Vers bereid eten wordt gecombineerd met live muziek. Wie heeft er al zin in? Wij wel! Bestel kaarten via: https://bit.ly/2CkcpJ7

Hier krijg je toch trek van? Een aantal weken geleden was Ester Overmars Fotografie bij ons en heeft zij deze prachtige foto's geschoten. Benieuwd naar de rest? Deze vind je op https://bit.ly/2CexrbU

Heb je 1 april al in je agenda staan? Dan kun je reserveren voor de Broadway-hit 'Kinky Boots'! De heerlijke feelgood-musical is wereldwijd al onder prijzen bedolven en komt in een Nederlandse versie naar Flint. Mis het niet, hoor!

Conny Janssen Danst - 4 april in Flint 'BROOS' van Conny Janssen Danst is een sprankelende voorstelling over de breekbaarheid van het leven en het verglijden van de tijd. Het toont de kwetsbaarheid van het leven, van de eerste schreeuw tot de laatste zucht. Op 7 april te ...

Photos from Flint Amersfoort's post Van Whitney Houston tot Beyoncé: Donna Summer is hét inspirerende voorbeeld voor elke muziekdiva die in haar voetsporen trad. Carolina Dijkhuizen en The Gare du Nord Orchestra brengen Donna's roerige leven en onweerstaanbare dance hits tot leven in een spectaculaire ...

Amersfoort City Trail Wel eens hardgelopen door Flint? Dit is je kans! Door de foyers, over het toneel, de trappen op naar de Panoramalounge... En ben je niet sportief, maar wel muzikaal? Dan kun je je opgegeven om tijdens de run akoestisch te ...

De laatste hand is gelegd aan onze kerstshow met @sauza5 aka 'Loïs Lane'. Morgen voor iedereen en overmorgen besloten, zijn we te gast in de @FlintAmersfoort, daarna volgende week donderdag Roozendaal en vrijdag Ittervoort. Mooie vooruitzichten! https://t.co/foeNx1fgyv

Volgende week is het zover: het NVM-najaarscongres in @FlintAmersfoort! Het thema is 'Innovatief denken en doen'. Hoe ziet de toekomst van de mondzorg er uit? Tijdens het congres op 15 & 16 november lichten we een tipje van de sluier ...
Flint
Pros
Nice and friendly staff.