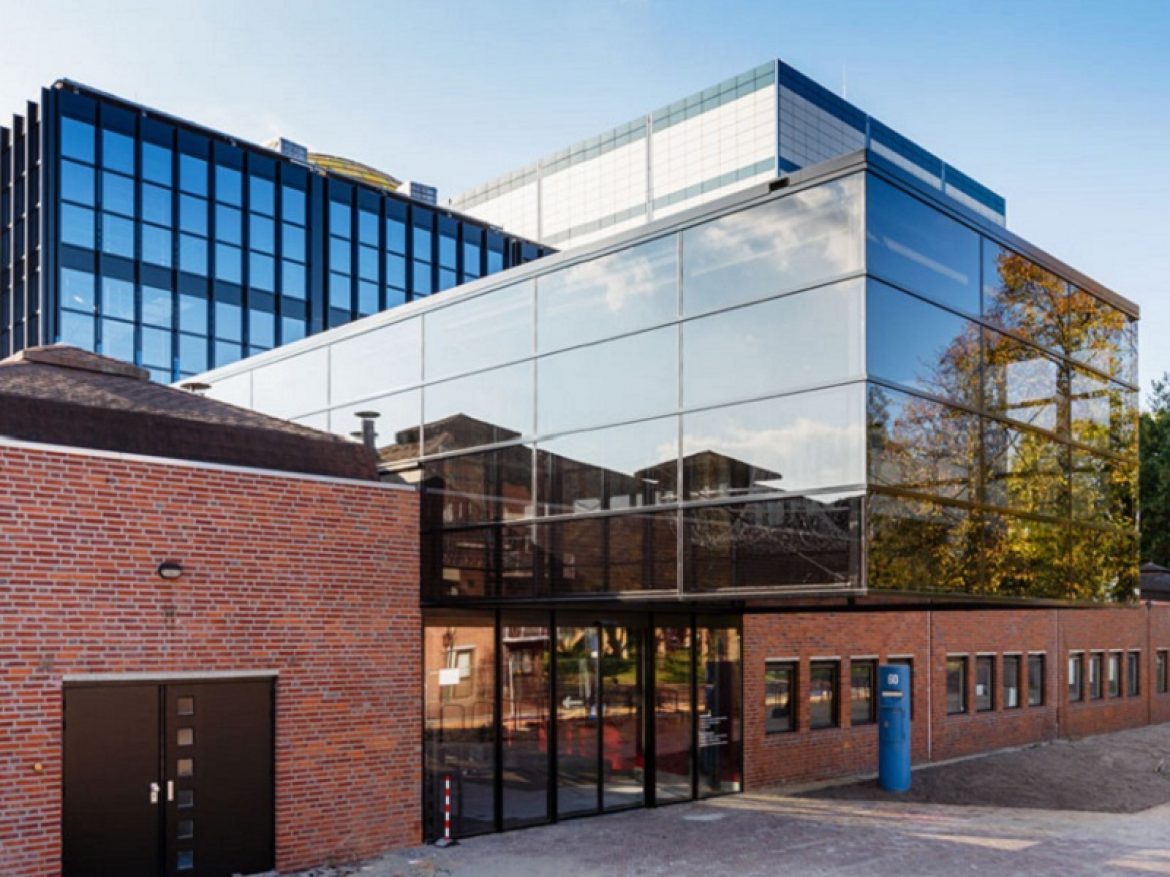 Flint
Flint is a charming theater located in the center of Amersfoort. It was built in 1977 to a design by Onno Greiner. The Flint program includes theater, musicals, cabaret and children's theater. On Sunday, November 25th, 1990 Flint burned down. The damage amounted to more than ten million guilders and although arson was not ruled out the cause remained unknown. Flint was rebuilt at the same location.
Flint has two large halls: Rabobank Theater hall and AFAS hall.  You can feel the real theater atmosphere when you enter the Rabobank Theater hall with the hundreds of lights, red chairs and velvet curtains.This hall has 800 seats and the most important and famous theatrical performances take place here. The AFAS hall has an industrial appearance but it can be turned into any desired location. It has 600 seats. Flint also has access to a hall in downtown of Amersfoort: St. Aegtenkapel. This charming historic hall can accommodate about 130 visitors, and is used primarily for classical concerts.
In this theater you can seat in a red plush upholstered chair and enjoy the best performances and real theater atmosphere. With more than 180 shows per year Flint offers a broad program: from dance to the top of Dutch theater, from rock to blues, from cabaret and musicals. The youngest theater lovers are welcome in Flint, with an extensive range of family shows. Before the show in Flint, you can enjoy a meal in its restaurant Pull Theatre Kitchen & Café. Pull theater kitchen & café is creatively decorated and has an open kitchen, surprising, tasty cuisine and a cozy atmosphere. The staff keep you eye on the time so that you can enjoy carefree and on time is in the hall. Afterwards this is the place to eat some delicious after talking while enjoying a drink. Theater rooms are used regularly for parties, meetings or other events. The central location, excellent catering and various sub halls making Flint the perfect venue for any event, from birthday party with representation at a major conference. In addition to the larger venues Flint also has several smaller rooms, suitable for meetings of up to 100 people. Enjoy the inspiring environment and atmosphere of a theater!
The Flint building has a rich history. On 25 November, 1990 Flint burned down. The damage amounted to more than ten million guilders and although arson was not ruled out the cause remained unknown. Flint was rebuilt at the same location. In the summer of 2014, the building was renovated to be completely a new building with more opportunities in the different areas.
For more information go here: www.flint.nl
Ze is grof, ze is direct, ze maakt je aan het lachen om de ergste dingen en ze heeft een klein hartje. Sara Kroos pakt extra uit met haar nieuwe show: 'Verte'. Met verrassende visuals en een 2.0 muziekstijl met ...

Jon van Eerd - 18 mrt in Flint Harrie Vermeulen is terug in de spiksplinternieuwe, gierend absurde komedie 'Herrie in de Keuken' van Jon van Eerd. Krank- en dubbelzinnig spelen zes acteurs meer dan twintig rollen en vliegen de petten, snorren en pruiken door Flint. Het wordt een ...

Photos from Flint Amersfoort's post Er zijn kaarten vrijgekomen voor The Analogues, Najib Amhali en Daniël Arends. Wil jij volgend seizoen deze toppers zien? Reserveer dan snel je kaarten via www.flint.nl. Wie weet zien wij jou in Flint.

Maaike Ouboter Maaike Ouboter gaat weer op tour en ze komt ook naar Flint! Je kent haar vast van haar hitsingle 'Dat ik je mis' of haar debuutalbum 'En Hoe Het Dan Ook Weer Dag Wordt'. In deze solotheatershow gaat ze terug ...

Verliefd op Ibiza - 8 & 9 mei in Flint Na het film- en tv-succes is er nu eindelijk ook een feelgoodmusical over het eiland waar de zon altijd schijnt, verleidingen op de loer liggen en hormonen gierend in het rond stuiteren: Verliefd op Ibiza. De hoofdrollen zullen gespeeld worden ...

The Choir of Man - 6 okt in Flint The Choir of Man komt voor het eerst naar Nederland. Het wereldberoemde koor met getalenteerde hunks brengt het gezelligste theaterconcert ooit! Van folk en rock tot pop met meezingers van onder meer Adele, Queen, Katy Perry en Avicii. De laatste ...

Ga mee op waanzinnige reis naar de ruimte met astronaut André Kuipers. Hij neemt je samen met journalist Sander Koenen mee naar een wereld waar je kan hardlopen op de muur en waar water niet in druppelt valt, maar zweeft. ...

Photos from Flint Amersfoort's post De laatste kaarten voor Youp van 't Hek zijn nu in de verkoop!

Op di 17 en wo 18 september is Youp opnieuw in Flint te zien met zijn voorstelling 'Met de kennis van nu'. In dit programma praat Youp ...

De Graaf & Cornelissen Entertainment Lone van Roosendaal speelt Francesca in de romantische musical The Bridges of Madison County. Deze rol werd wereldberoemd in de gestalte van Meryl Streep in de gelijknamige filmklassieker. Zie hier hoe Lone wordt omgetoverd tot de Italiaanse huisvrouw, die de ...

Hendrik Groen De knuffelbejaarde van Nederland, Hendrik Groen, komt terug naar Flint met 'Zolang er leven is', een nagelnieuwe komedie over ouder worden en alles wat daarbij komt kijken. Humor, ontroering en levenslust voeren de boventoon. Op woensdag 15 april in Flint. ...

Flint Amersfoort Het was weer een fantastische editie van het kampvuurconcert! Nog even nagenieten? Bekijk hier de foto's! (Fotograaf: Peter Putters / Nozem Fotografie)
Flint Amersfoort shared an album.

Photos from Flint Amersfoort's post 📣📣 Deze maand is de laatste sirene sale van dit theaterseizoen. Deze keer kun je 24 uur lang met 50% korting kaarten bestellen voor The Bridges of Madison County. Een romantische musical met René van Kooten en Lone van Roosendaal. ...

Flint zoekt vanaf september 2019 voor minimaal 4 maanden een: Stagiair(e) Marketing

De afdeling Marketing & Sales is verantwoordelijk voor alle publiciteit omtrent voorstellingen, evenementen en congressen. We bieden verschillende stageplekken aan met de focus op voorstellingen, b-to-b of horeca ...

Bij de #locatietour doen we het graag net even anders 😉 Geen voorstelling kijken, maar zelf maken. Heb jij jouw gasten weleens op het podium ontvangen? Of een kleedkamer of artiestenfoyer ingezet als vergaderruimte of subruimte?
Ervaar het 24/6 https://t.co/slSvCRCRxh ...

Volgend seizoen komt Bert Visscher (di 3 & wo 4 mrt) weer met zijn voorstelling 'Hij wordt vanzelf moe' naar Flint. In het AD kreeg die maar liefst 5 (!) sterren. Eentje om niet te missen. Er zijn nog kaarten ...

Word een musicalster in 4 dagen Voor de eerste keer in Amersfoort; word een musicalster in 4 dagen!

Hou jij van zingen, dansen en acteren en ben jij tussen 6 tot 12 jaar?
Deze zomervakantie komt, in samenwerking met Flint, De Musical4daagse naar Amersfoort. Maak een ...

Covebo Payroll & HR Mooi evenement van onze Drager Covebo Payroll & HR! Bedankt voor jullie komst!
*Covebo Horeca Event Geslaagd✅*

'The Morning After' kijken we met trots terug op de 1e editie van het Covebo Horeca Event 2019 van Covebo Payroll & HR.😍

...

@StansDenekamp Dat is fijn om te horen Stans. Veel plezier vanavond bij De Partizanen!

@aarclay Dat heb je goed uitgerekend :-) ! Wij laten nu 600 bezoekers per uur door op onze website. Zo blijft onze site stabiel en kan iedereen uiteindelijk bestellen.

De kaartverkoop voor seizoen 19-20 is van start gegaan! Naar welke voorstelling ga jij? #laathetonsweten

@bjham59 Hallo Linda, waarschijnlijk bent u niet ingelogd op de website, kunt u dat doen? Daardoor wordt u herkend als Vriend en kunt u bestellen.

@mamajos01 Wij snappen dat het erg frusterend is, maar wij vragen nog even uw geduld. Wij verwachten dat u binnenkort uw kaarten kunt bestellen want wij zien steeds meer bestellingen binnenkomen.
Flint
Pros
Nice and friendly staff.