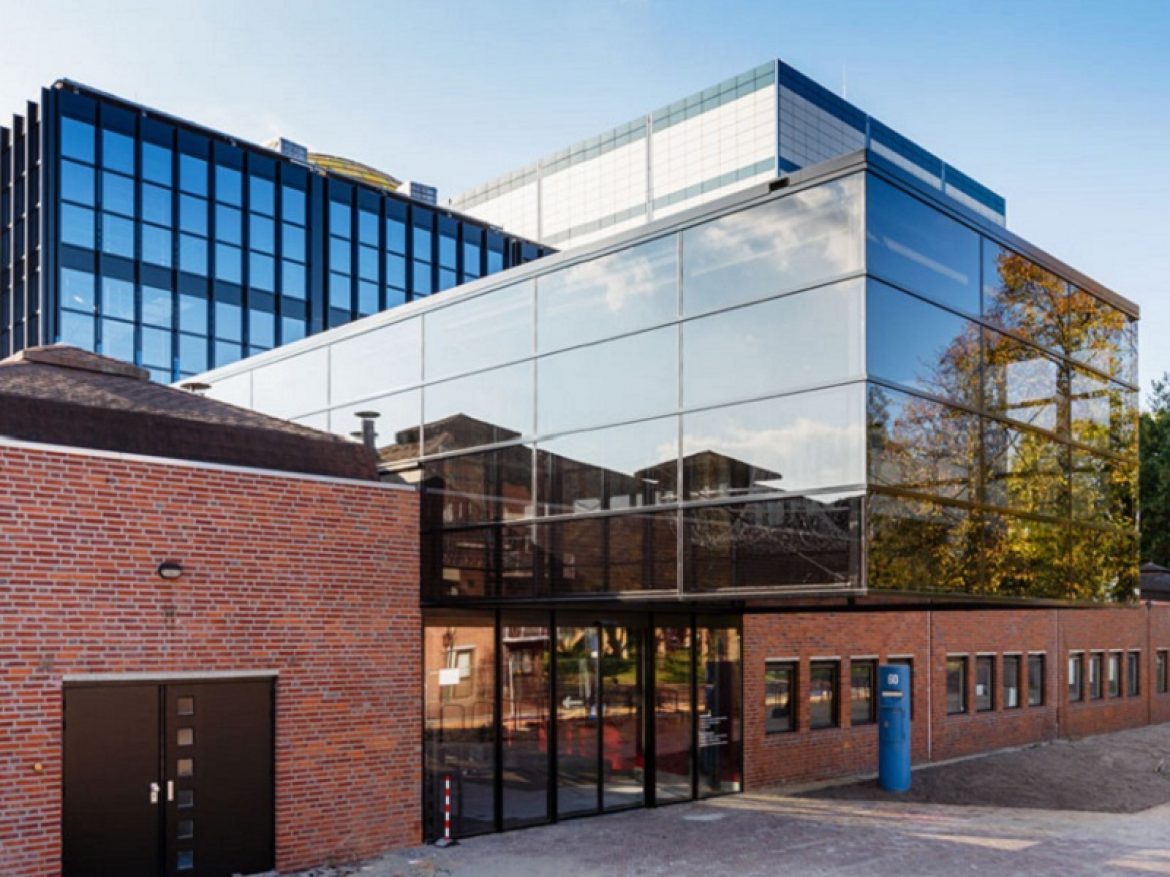 Flint
Flint is a charming theater located in the center of Amersfoort. It was built in 1977 to a design by Onno Greiner. The Flint program includes theater, musicals, cabaret and children's theater. On Sunday, November 25th, 1990 Flint burned down. The damage amounted to more than ten million guilders and although arson was not ruled out the cause remained unknown. Flint was rebuilt at the same location.
Flint has two large halls: Rabobank Theater hall and AFAS hall.  You can feel the real theater atmosphere when you enter the Rabobank Theater hall with the hundreds of lights, red chairs and velvet curtains.This hall has 800 seats and the most important and famous theatrical performances take place here. The AFAS hall has an industrial appearance but it can be turned into any desired location. It has 600 seats. Flint also has access to a hall in downtown of Amersfoort: St. Aegtenkapel. This charming historic hall can accommodate about 130 visitors, and is used primarily for classical concerts.
In this theater you can seat in a red plush upholstered chair and enjoy the best performances and real theater atmosphere. With more than 180 shows per year Flint offers a broad program: from dance to the top of Dutch theater, from rock to blues, from cabaret and musicals. The youngest theater lovers are welcome in Flint, with an extensive range of family shows. Before the show in Flint, you can enjoy a meal in its restaurant Pull Theatre Kitchen & Café. Pull theater kitchen & café is creatively decorated and has an open kitchen, surprising, tasty cuisine and a cozy atmosphere. The staff keep you eye on the time so that you can enjoy carefree and on time is in the hall. Afterwards this is the place to eat some delicious after talking while enjoying a drink. Theater rooms are used regularly for parties, meetings or other events. The central location, excellent catering and various sub halls making Flint the perfect venue for any event, from birthday party with representation at a major conference. In addition to the larger venues Flint also has several smaller rooms, suitable for meetings of up to 100 people. Enjoy the inspiring environment and atmosphere of a theater!
The Flint building has a rich history. On 25 November, 1990 Flint burned down. The damage amounted to more than ten million guilders and although arson was not ruled out the cause remained unknown. Flint was rebuilt at the same location. In the summer of 2014, the building was renovated to be completely a new building with more opportunities in the different areas.
For more information go here: www.flint.nl
UITweekend 2017 9 en 10 september was het in heel Amersfoort UITweekend. Op verschillende locaties in de stad stelden de culturele instellingen zich open om te laten zien wat zij de stad te bieden hebben. In het kader van het 40-jarig bestaan ...

De top 5 best verkochte voorstellingen van afgelopen week
1. Ernst, Bobbie & de rest (3+) – 1 oktober 2017
2. Yentl en De Boer in Concert– 6 oktober 2017
3. Ma / naar Hugo Borst (15+) – 18 april ...

Gek op voorstellingen en concerten? En wil je dit enthousiasme graag op anderen overbrengen in ruil voor vrijkaarten? Word dan vrijwilliger Promoteam bij Flint! http://bit.ly/2weNdi3

Jong muzikaal talent opgelet: Karin Bloemen zoekt lokaal talent dat zij tijdens haar voorstelling op 6 april een podium kan bieden! Interesse? Lees dan snel verder en meld je aan: http://bit.ly/2xqiQIC

Trailer Hans en Grietje Het suikerzoete sprookje Hans en Grietje komt 27 februari naar Amersfoort! Niemand minder dan Janouk Kelderman, die bekend werd als presentatrice Keet! bij RTL Telekids, speelt in deze vrolijke familievoorstelling. Kaarten bestellen kan via de website: http://bit.ly/2fcVkEX

Timeline Photos Boekenwurmen opgelet! Vannacht is de Nacht van de Literatuur en voor de gelegenheid hebben wij de 5 leukste literatuurvoorstellingen op een rij gezet. Benieuwd welke boekenvoorstellingen je echt niet mag missen? Bekijk ze hier: http://bit.ly/2xX4DnM

Photos from Flint Amersfoort's post In de Rabobank Theaterzaal wordt druk gebouwd voor de voorstelling Vero! Het is een ingewikkelde constructie waar de hele dag voor uitgetrokken is. Vero, een unieke voorstelling met dans en acrobatiek, is 24 september in Flint te zien. Mis het ...

Kei Foute Party Vrijdag 13 oktober is er weer een Kei Foute Party! Kom alvast in de stemming met deze video van de vorige editie💃
Beste mensen, het was ons weer een waar genoegen! Petje af voor de mooie outfits, jullie dansmoves en ...

Yentl en De Boer bij Max Yentl en De Boer doen het gewoon nog een keer! Ditmaal met een hilarisch nummer over de laatste 'originele' trends voor in huis bij omroep Max. Kijk voor het lied vanaf minuut 4. Deze dames zijn 6 oktober in Flint ...

Hoera! Flint staat in de top 10 van de verkiezing voor Meest Gastvrije Theater van Nederland! Bedankt voor alle stemmen! 4 oktober is de bekendmaking van de winnaar van deze theaterverkiezing. Duimen jullie met ons mee? Verder lezen: http://bit.ly/2fCBXFT

TOEKOMST – De officiële videoclip van Tina de musical Hier is hij dan! De officiële videoclip van Tina de musical met Ridder van Kooten en de beroemde, zingende tweeling Mylène & Rosanne. Kijk voor meer informatie over deze musical over het bekendste meidenweekblad van Nederland, in Amersfoort te zien ...

Flirting with the Blues - za 2 december in Flint Flirting with the Blues -

Indoor Bluesfestival in coproductie met Flint

Op zaterdag 2 december vormt Flint wederom het decor voor het indoor blues festival 'Flirting with the Blues'. Met deze editie: SaRon Crenshaw, Junior Mack, Joey Delgado, David Gogo, ...

Geef je mening! Kapers dreigen een gekaapt vliegtuig neer te laten storten op een vol stadion. Een piloot van een F16 besluit, zonder bevel, het passagierstoestel uit de lucht te schieten om zo de levens van de mensen in het ...
Flint
Pros
Nice and friendly staff.