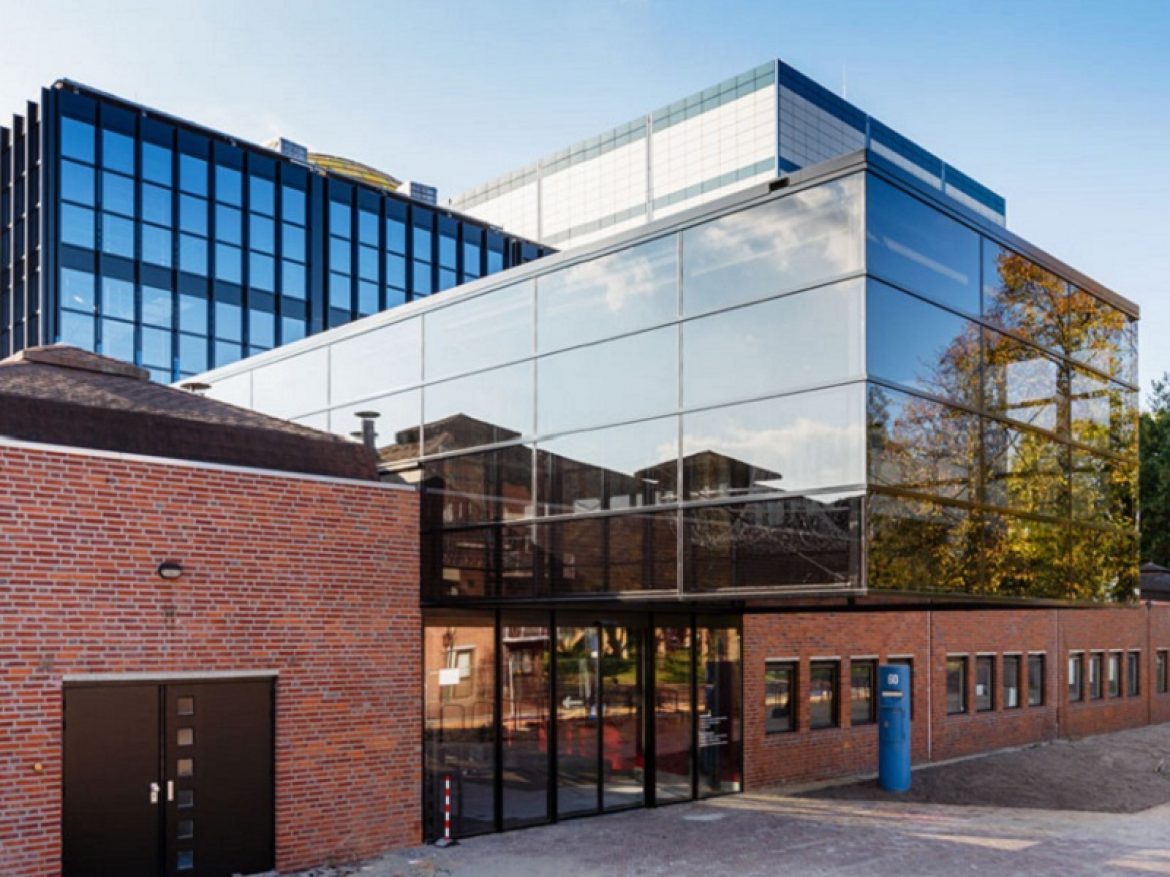 Flint
Flint is a charming theater located in the center of Amersfoort. It was built in 1977 to a design by Onno Greiner. The Flint program includes theater, musicals, cabaret and children's theater. On Sunday, November 25th, 1990 Flint burned down. The damage amounted to more than ten million guilders and although arson was not ruled out the cause remained unknown. Flint was rebuilt at the same location.
Flint has two large halls: Rabobank Theater hall and AFAS hall.  You can feel the real theater atmosphere when you enter the Rabobank Theater hall with the hundreds of lights, red chairs and velvet curtains.This hall has 800 seats and the most important and famous theatrical performances take place here. The AFAS hall has an industrial appearance but it can be turned into any desired location. It has 600 seats. Flint also has access to a hall in downtown of Amersfoort: St. Aegtenkapel. This charming historic hall can accommodate about 130 visitors, and is used primarily for classical concerts.
In this theater you can seat in a red plush upholstered chair and enjoy the best performances and real theater atmosphere. With more than 180 shows per year Flint offers a broad program: from dance to the top of Dutch theater, from rock to blues, from cabaret and musicals. The youngest theater lovers are welcome in Flint, with an extensive range of family shows. Before the show in Flint, you can enjoy a meal in its restaurant Pull Theatre Kitchen & Café. Pull theater kitchen & café is creatively decorated and has an open kitchen, surprising, tasty cuisine and a cozy atmosphere. The staff keep you eye on the time so that you can enjoy carefree and on time is in the hall. Afterwards this is the place to eat some delicious after talking while enjoying a drink. Theater rooms are used regularly for parties, meetings or other events. The central location, excellent catering and various sub halls making Flint the perfect venue for any event, from birthday party with representation at a major conference. In addition to the larger venues Flint also has several smaller rooms, suitable for meetings of up to 100 people. Enjoy the inspiring environment and atmosphere of a theater!
The Flint building has a rich history. On 25 November, 1990 Flint burned down. The damage amounted to more than ten million guilders and although arson was not ruled out the cause remained unknown. Flint was rebuilt at the same location. In the summer of 2014, the building was renovated to be completely a new building with more opportunities in the different areas.
For more information go here: www.flint.nl
Dit account wordt niet meer actief gebruikt. Wil je Flint volgen? Leuk! Doe dat dan op Facebook, Instagram of Linkedin.

Ook de concerten in de Sint Aegtenkapel worden afgelast. Bezoekers die kaarten hebben voor voorstellingen, worden per email geïnformeerd. Het streven is om alle uitvoeringen op een later moment in te halen. Wij betreuren deze ontwikkelingen en vragen om uw ...

Als landelijke maatregel tegen de verspreiding van het Corona-virus, heeft de overheid bepaald dat evenementen met meer dan 100 mensen dienen te worden afgelast. Flint geeft gehoor hieraan en annuleert de voorstellingen en evenementen tot en met 31 maart. 1/2

Bij de #locatietour doen we het graag net even anders 😉 Geen voorstelling kijken, maar zelf maken. Heb jij jouw gasten weleens op het podium ontvangen? Of een kleedkamer of artiestenfoyer ingezet als vergaderruimte of subruimte?
Ervaar het 24/6 https://t.co/slSvCRCRxh ...

@StansDenekamp Dat is fijn om te horen Stans. Veel plezier vanavond bij De Partizanen!

@aarclay Dat heb je goed uitgerekend :-) ! Wij laten nu 600 bezoekers per uur door op onze website. Zo blijft onze site stabiel en kan iedereen uiteindelijk bestellen.

@bjham59 Hallo Linda, waarschijnlijk bent u niet ingelogd op de website, kunt u dat doen? Daardoor wordt u herkend als Vriend en kunt u bestellen.

@mamajos01 Wij snappen dat het erg frusterend is, maar wij vragen nog even uw geduld. Wij verwachten dat u binnenkort uw kaarten kunt bestellen want wij zien steeds meer bestellingen binnenkomen.

@KimK78 Beste Kim, Alles is stabiel nu op onze website en er is (op Ilse DeLange en Nienke Plas na) nog niks uitverkocht. Dus wij vragen nog even uw geduld!

@mamajos01 Door een technisch probleem was de verkoop een half uur uitgesteld. Inmiddels hebben al meer dan 250 Vrienden hun bestelling afgerond. Wij vragen nog even uw geduld.

@attaque4 Waarschijnlijk komt dit omdat u niet bent ingelogd en de website u dus niet herkend als Vriend ;-)

@boenkie Wij vragen nog even uw geduld. Door technische problemen was de kaartverkoop iets later van start gegaan.

@MarcovanHoek Dat komt waarschijnlijk omdat u niet bent ingelogd en de website u daarom niet herkent als Vriend.

De laatste hand is gelegd aan onze kerstshow met @sauza5 aka 'Loïs Lane'. Morgen voor iedereen en overmorgen besloten, zijn we te gast in de @FlintAmersfoort, daarna volgende week donderdag Roozendaal en vrijdag Ittervoort. Mooie vooruitzichten! https://t.co/foeNx1fgyv
Flint
Pros
Nice and friendly staff.