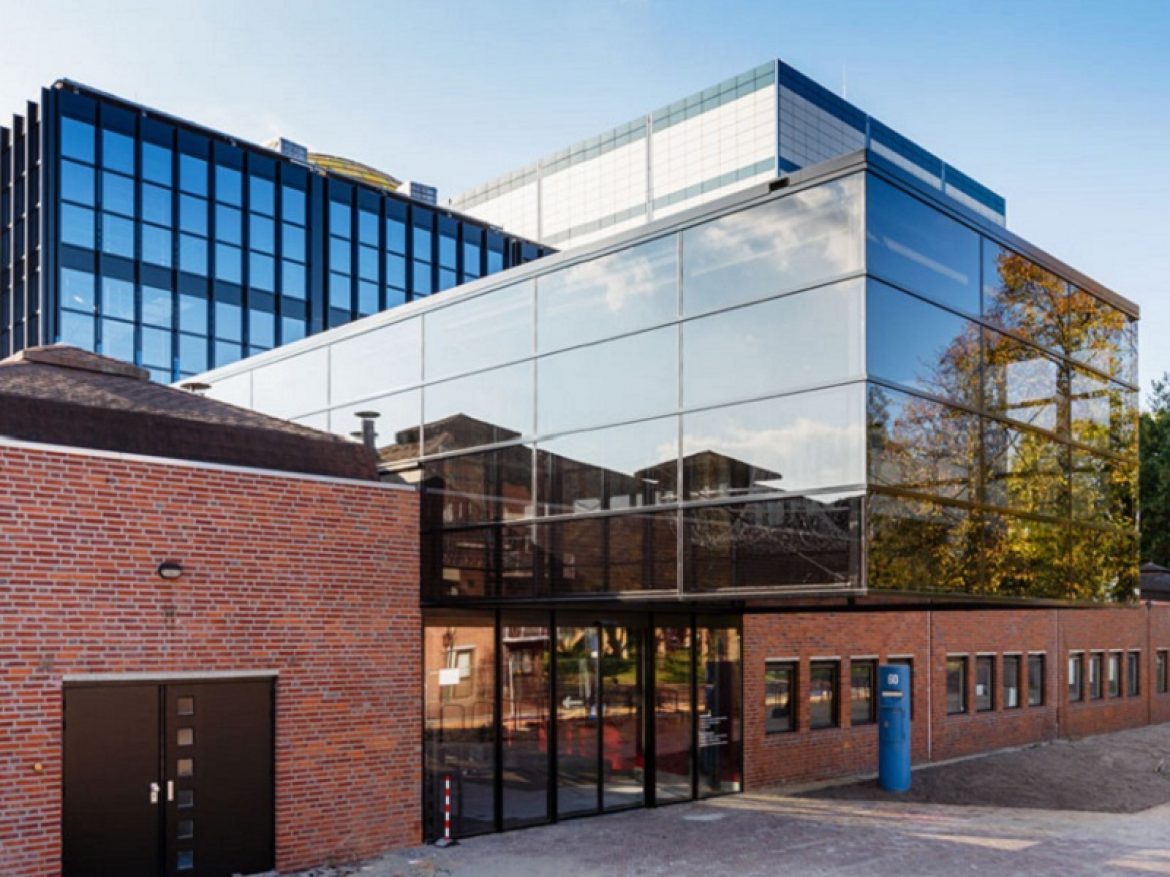 Flint
Flint is a charming theater located in the center of Amersfoort. It was built in 1977 to a design by Onno Greiner. The Flint program includes theater, musicals, cabaret and children's theater. On Sunday, November 25th, 1990 Flint burned down. The damage amounted to more than ten million guilders and although arson was not ruled out the cause remained unknown. Flint was rebuilt at the same location.
Flint has two large halls: Rabobank Theater hall and AFAS hall.  You can feel the real theater atmosphere when you enter the Rabobank Theater hall with the hundreds of lights, red chairs and velvet curtains.This hall has 800 seats and the most important and famous theatrical performances take place here. The AFAS hall has an industrial appearance but it can be turned into any desired location. It has 600 seats. Flint also has access to a hall in downtown of Amersfoort: St. Aegtenkapel. This charming historic hall can accommodate about 130 visitors, and is used primarily for classical concerts.
In this theater you can seat in a red plush upholstered chair and enjoy the best performances and real theater atmosphere. With more than 180 shows per year Flint offers a broad program: from dance to the top of Dutch theater, from rock to blues, from cabaret and musicals. The youngest theater lovers are welcome in Flint, with an extensive range of family shows. Before the show in Flint, you can enjoy a meal in its restaurant Pull Theatre Kitchen & Café. Pull theater kitchen & café is creatively decorated and has an open kitchen, surprising, tasty cuisine and a cozy atmosphere. The staff keep you eye on the time so that you can enjoy carefree and on time is in the hall. Afterwards this is the place to eat some delicious after talking while enjoying a drink. Theater rooms are used regularly for parties, meetings or other events. The central location, excellent catering and various sub halls making Flint the perfect venue for any event, from birthday party with representation at a major conference. In addition to the larger venues Flint also has several smaller rooms, suitable for meetings of up to 100 people. Enjoy the inspiring environment and atmosphere of a theater!
The Flint building has a rich history. On 25 November, 1990 Flint burned down. The damage amounted to more than ten million guilders and although arson was not ruled out the cause remained unknown. Flint was rebuilt at the same location. In the summer of 2014, the building was renovated to be completely a new building with more opportunities in the different areas.
For more information go here: www.flint.nl
DX Amersfoort WIN EEN MEET & GREET MET BEN LIEBRAND ÉN EEN HIPPE SHOULDER BAG!
Dance Xperience - vrijdag 31 maart - Flint Amersfoort
Meer info en tickets via: www.dxamersfoort.nl

Maken we jouw Grandmix Master droom waar? Doe mee en maak kans ...

Timeline Photos Er staat een mooie advertentie van De Passie in de krant! Heb jij deze al gespot in de Nu kranten uit de regio, zoals Amersfoort Nu? 13 t/m 15 april in Flint te zien: http://bit.ly/2oftJ9s

Interview met cast en makers Nieuw Geld | Actueel | Flint Op onze site staat een interview met de makers van Nieuw Geld (1 april in Flint). Deze voorstelling gaat over durfkapitalist Jan. Jan, die verslaafd is aan zijn werk, wordt gespeeld door Victor Löw: "Het lijkt misschien, door de ontkerkelijking, ...

Timeline Photos Deze week is het #Boekenweek en daarom krijgen bezoekers een klein boekenweekgeschenk van Flint! Tijdens de Boekenweek kunnen bezoekers gratis kaarten bestellen voor de inleiding van de voorstelling Twee Vrouwen. Deze voorstelling is gebaseerd op het bekende boek van Harry ...

Timeline Photos 29 maart is Comedytrain On Tour in Flint te zien. Wij mogen alvast twee namen verklappen van cabaretiers die op het podium staan: Tim Fransen en Dolf Jansen. Let op, de voorstelling is bijna uitverkocht: http://bit.ly/2o6OSWu

Teaser ISH ISH - Dance Collective is in het verleden op festival Circolo te zien geweest. Bekijk de aftermovie om een indruk van de voorstelling Elements of Freestyle, een spectaculaire show met skaters, freerunners en BMX'ers, te krijgen. Meer info: http://bit.ly/2nbzHqf

Reacties bezoekers Er was een openbare repetitie van 'Carrousel' - Noord Nederlands Toneel in de Stadsschouwburg Groningen. Een aantal bezoekers vertellen wat ze van deze voorstelling vonden. Bekijk hieronder de video. Voor meer info kijk op: http://bit.ly/2n9PqXu

Timeline Photos De top 5 best verkochte voorstellingen van afgelopen week:
1. De Passie - Matthäus Passion meets Jesus Christ Superstar – 13, 14 en 15 april 2017
2. Jon van Eerd – 5 april 2017
3. Hans Liberg – 3 mei ...

Photos from Flint Amersfoort's post Leuk! Wij hebben deze teaser foto's ontvangen die zijn gemaakt tijdens het schieten van het promotiemateriaal van de voorstelling van Scapino Ballet Rotterdam voor volgend theaterseizoen. Wij kunnen niet wachten op meer informatie! Op maandag 8 mei komt de nieuwe ...

Volle zalen vanavond in Flint. In het Theater een concert door het FKNR en swingende AFASzaal bij 'Night Fever' Have a nice weekend!

Timeline Photos Vanavond treedt het Duze Koor op als voorprogramma bij de voorstelling South African Roadtrip en Hans Aarsman. Wist je dat naprogramma's altijd gratis toegankelijk zijn, ook als je geen kaarten voor de voorstelling hebt? Wij hebben zin in vanavond om ...

Teaser My Fair Lady Inmiddels is bekend dat Esmée Dekker de rol van Eliza gaat spelen in My Fair Lady. Zelf kreeg zij dit te horen tijdens een reguliere voorstelling van A Chorus Line. Benieuwd hoe dat ging? Bekijk snel de video. My Fair ...

Timeline Photos Altijd al in het theater willen zitten op het moment dat er opnames zijn? Dat kan op 5 april! Tijdens de voorstelling Harrie let op de kleintjes van Jon van Eerd worden er dvd-opnames gemaakt. Hoe leuk is dat! Ook ...

Leuke opstelling vandaag in onze laad&los ruimte van het theater. Even geen vrachtwagen met decorstukken, maar een vergaderopstelling. Ook vergaderen op dit bijzondere plekje? Bel of mail ons gerust. #theater #vergaderen #amersfoort
Flint
Pros
Nice and friendly staff.