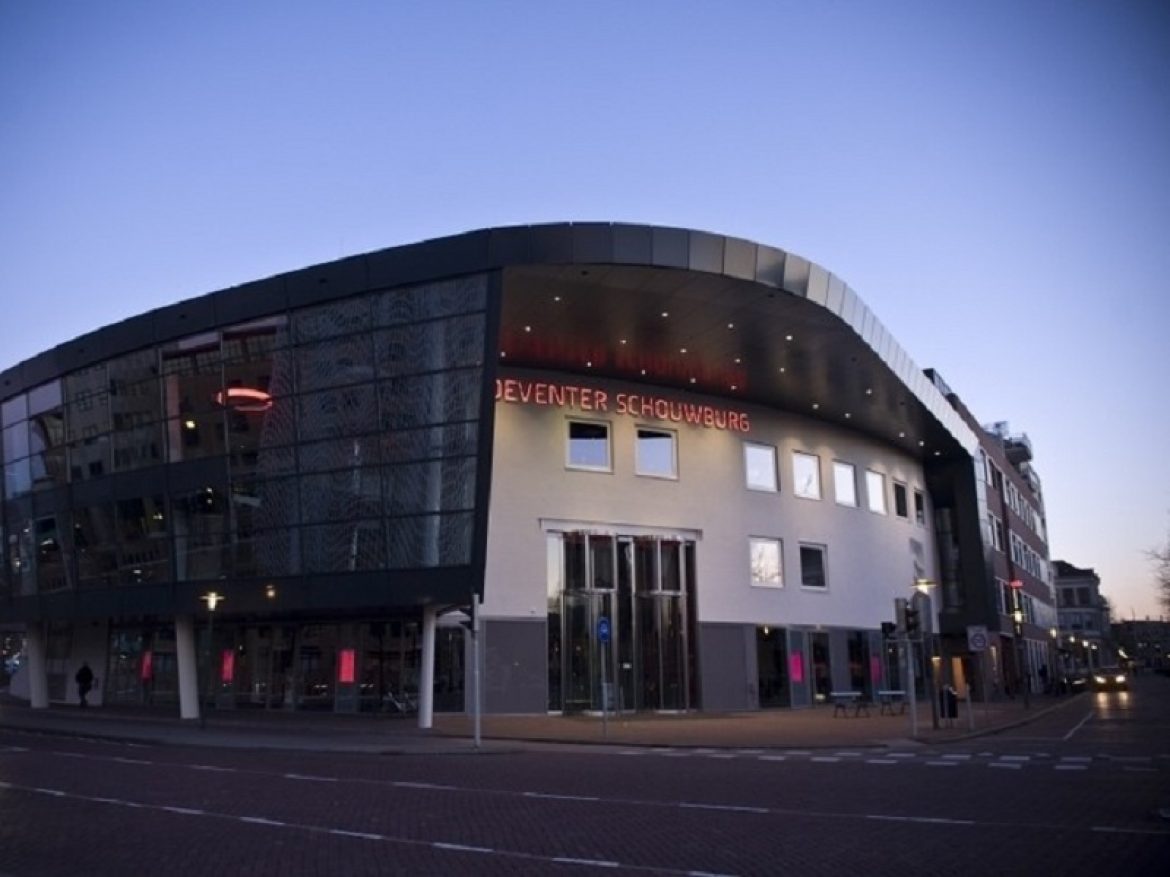 Deventer Schouwburg
Deventer Schouwburg is a professional theater with a wide and extensive range of music, dance, cabaret and theater performances. The Deventer Theatre is at the service of the theater art and the public; it is aimed at the needs and requirements of modern theater, but also creates the conditions for visitors of city and region to fully experience art and culture. The theater is working actively to bring theater closer to the public. The Deventer Theatre is a place where the audience may come in contact with the performing arts. The Deventer Theatre is also the home for the leading performers of the city, both amateurs and professionals.  The Deventer Theatre offers a wealth of different possibilities. In addition, its building can be used in whole or in parts. The different areas can independently of each other or be correctly matched to each other. There are Great Hall, Small Hall, four foyers and the stage. The stage of the Deventer Theatre is an area of ​​430 square meters suitable for giving exclusive corporate events, or organizing a festive dinner in a theatrical setting.
The history of Deventer Theatre began in 1870. When the Deventer Theatre was founded in 1870, it was the subject of ridicule, because the small building with many narrow corridors was definitely not suitable for a theater. A theater association was founded firstly to play a comedy. Later performances were housed in a larger property located nearby, but this location also was not perfect. In 1954 a totally new theater was built, which quickly grew after the opening into one of the busiest theaters in the Netherlands. After a significant renovation the Deventer Theatre was opened in 1995. Since then, the theater includes a second small room, better parking and better location, i.e. directly opposite the station. Now it is quite different: pop musicians, comedians, classical musicians and theater groups like to come from around the world to the theater located in the beautiful Hanseatic city. In addition to a stage where nationally known artists and companies perform, the Deventer Theatre also can be developed to a venue for local performances and programs. Deventer Theater cooperates with various parties and people from Deventer and surroundings. The theater will develop as an open "house for art." Deventer Theatre isa palace of dreams and illusions!
The Deventer Theatre is easily accessible by car and public transport. It is located directly opposite the main railway station, where trains from Amsterdam, Utrecht, Zwolle, Nijmegen and Enschede arrive every half hour.
Check out more here: deventerschouwburg.nl
Buurman & Buurman - A JE TO! (4+) - Deventer Schouwburg Ook Buurman & Buurman vieren vandaag Nationale Burendag!

Krijg een gratis Buurman & Buurman poster cadeau als je vandaag kaartjes voor de show op 15 april bestelt. Dit cadeau ligt voor je klaar op de dag van de voorstelling.
.

De Kist: Wim Helsen kijk je op npo.nl In de nieuwste voorstelling van Wim Helsen staat de dood centraal. Dood en humor zijn voor hem onlosmakelijk met elkaar verbonden.

Het programma De Kist sprak Wim Helsen over de dood en de voorstelling in het theater in Antwerpen.
Ooit ...

Paris de Nuit - Recirquel Wij kunnen niet wachten tot het zondag is en we seizoen 2017-2018 openen met de Recirquel Company Budapest - Paris de Nuit - Deventer. Bestel nog snel je kaarten via deventerschouwburg.nl/programma/recirquel-company-budapest-paris-de-nuit

Theatervoorstelling Was getekend, Annie M.G. Schmidt' Wat een indrukwekkend interview met Simone Kleinsma in DWDD. Over het overlijden van haar man Guus, haar rol in de musical 'Was Getekend, Annie MG Schmidt' en hoe zij zich ondanks haar gemis voorbereidt op de rol. Het kijken waard!
...

Het werk van Maudy Alferink wordt binnengebracht. Vanaf donderdag is haar expositie (gratis) te bewonderen in de Deventer Schouwburg.

Update kaartverkoop Jochem Myjer. De voorstelling is uitverkocht.

Update kaartverkoop @jochemmyjer. Er zijn nog alleen enkele losse plaatsen beschikbaar.

Update kaartverkoop Jochem Myjer.

Op dit moment zijn er alleen nog losse enkele plaatsen beschikbaar.

@vanmaanen @jochemmyjer De website kijkt nl elke x aantal minuten of het al minder druk is op de site, zodat er nieuwe bezoekers toegelaten kunnen worden

@vanmaanen @jochemmyjer Helaas kan ik je hier niet mee helpen omdat het de site van Orpheus is. Bij problemen kun je het beste even contact opnemen met 055-5270300.

Jochem Myjer ★ Adem in, adem uit ★ Deventer Nieuwe show van de populaire musicus, imitator, kinderboekenschrijver én komiek.

Je komt thuis na een lange dag werken. Eigenlijk moet je de administratie nog doen, wat klussen in huis, weer eens gaan sporten en langs oma gaan. Maar doe eens ...

Checkpoint (8+) - Trend Media - Deventer Schouwburg EXTRA VOORSTELLING CHECKPOINT

Op vrijdag 10 november om 16.00 uur hebben wij een extra voorstelling van Checkpoint (8+) - Deventer bijgeboekt!

Kom je ook naar deze spectaculaire en interactieve theatershow?
.

Lucky Live - Sander van de Pavert - Deventer 'Een uiterst vermakelijke avond' **** De Volkskrant

LuckyTV beklimt de bühne! Dit najaar reist Lucky-maker Sander van de Pavert met zijn studio door Nederland voor een onvergetelijke televisie­avond.

Een hilarische en mes­scherpe theatershow: Lucky Live. Een zinderende excursie door het ...

Sander van de Pavert gaat met Lucky TV op tournee.

De Deventer Schouwburg 1 van de slechts 10 theaters waar Lucky Live te zien is.

Bestel snel kaarten via: deventerschouwburg.nl/programma/lucky-tv-live
Deventer Schouwburg
Pros
Very atmospheric theater with many beautifully decorated rooms for different types of music.
Cons
Foyer too small. Too busy at the bar.