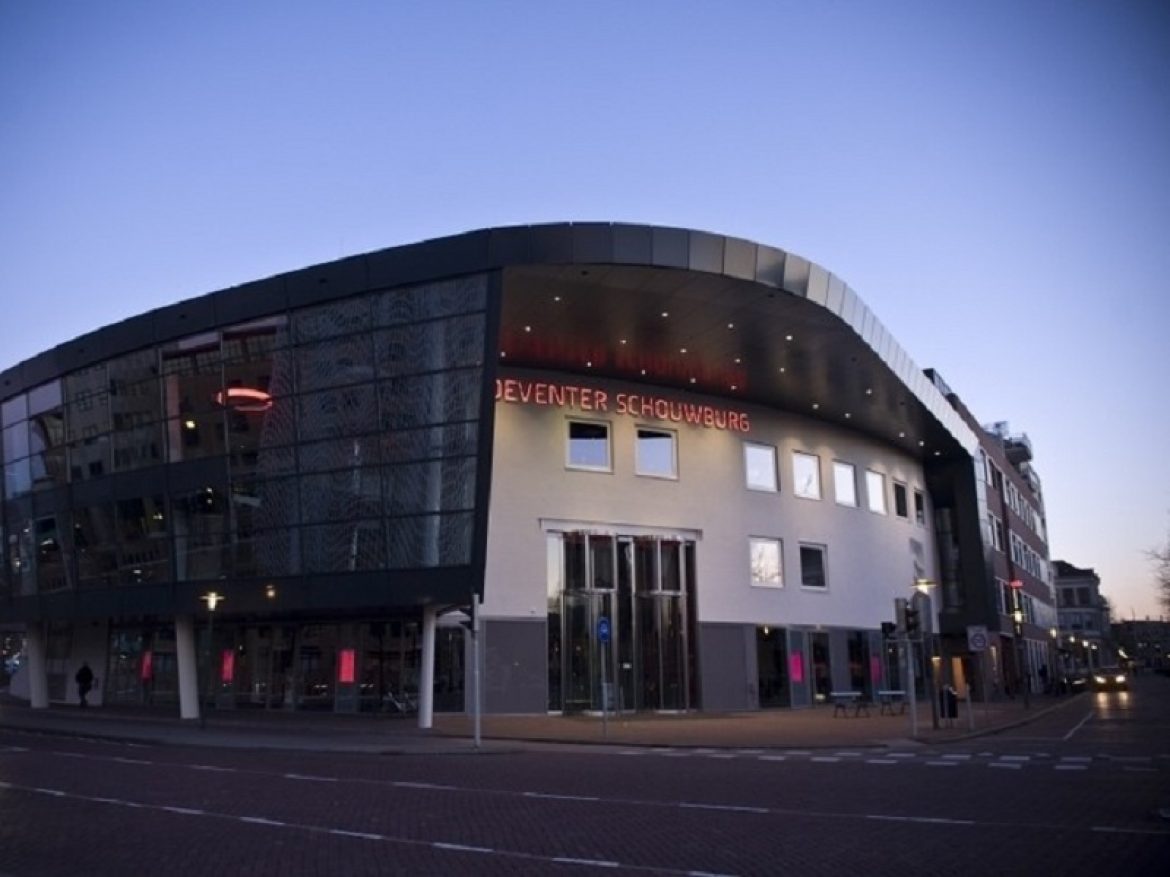 Deventer Schouwburg
Deventer Schouwburg is a professional theater with a wide and extensive range of music, dance, cabaret and theater performances. The Deventer Theatre is at the service of the theater art and the public; it is aimed at the needs and requirements of modern theater, but also creates the conditions for visitors of city and region to fully experience art and culture. The theater is working actively to bring theater closer to the public. The Deventer Theatre is a place where the audience may come in contact with the performing arts. The Deventer Theatre is also the home for the leading performers of the city, both amateurs and professionals.  The Deventer Theatre offers a wealth of different possibilities. In addition, its building can be used in whole or in parts. The different areas can independently of each other or be correctly matched to each other. There are Great Hall, Small Hall, four foyers and the stage. The stage of the Deventer Theatre is an area of ​​430 square meters suitable for giving exclusive corporate events, or organizing a festive dinner in a theatrical setting.
The history of Deventer Theatre began in 1870. When the Deventer Theatre was founded in 1870, it was the subject of ridicule, because the small building with many narrow corridors was definitely not suitable for a theater. A theater association was founded firstly to play a comedy. Later performances were housed in a larger property located nearby, but this location also was not perfect. In 1954 a totally new theater was built, which quickly grew after the opening into one of the busiest theaters in the Netherlands. After a significant renovation the Deventer Theatre was opened in 1995. Since then, the theater includes a second small room, better parking and better location, i.e. directly opposite the station. Now it is quite different: pop musicians, comedians, classical musicians and theater groups like to come from around the world to the theater located in the beautiful Hanseatic city. In addition to a stage where nationally known artists and companies perform, the Deventer Theatre also can be developed to a venue for local performances and programs. Deventer Theater cooperates with various parties and people from Deventer and surroundings. The theater will develop as an open "house for art." Deventer Theatre isa palace of dreams and illusions!
The Deventer Theatre is easily accessible by car and public transport. It is located directly opposite the main railway station, where trains from Amsterdam, Utrecht, Zwolle, Nijmegen and Enschede arrive every half hour.
Check out more here: deventerschouwburg.nl
'Zie alle mensen' was het verbindende thema van de 4e Jan Terlouwlezing. Mooi om te zien hoe @gertjansegers en Tim Hofman @debroervanroos vanuit hun eigen perspectief uitkomen bij de ander. Over het belang van luisteren, empathie en compassie. https://t.co/GqsXfF3fxj

Klassiek en volksmuziek in Deventer Schouwburg: Bariton Maarten Koningsberger laat dinsdag 19 februari in de Deventer Schouwburg horen hoe grote klassieke componisten zich bogen over volksmuziek. Samen met The Atlantic Trio (viool, cello en piano) brengt… https://t.co/hFyAnHNNXp https://t.co/XL19Mjd9YZ

⚠🤹🔜Voor de snelle beslissers🔜🤹⚠

Er zijn kaarten teruggekomen voor Enfants Terribles van de @AshtonBrothers. Onze feestelijke openingsvoorstelling op 28 september. Be there!
https://t.co/MkFxHGE9No

Visueel beperkt en circusliefhebber? Kom zondag 8 juli naar de Deventer Schouwburg en geniet van prachtig fysiek circustheater met live audiodescriptie door blindentolk!
ZO, 8 JULI OM 14:00
Blindentolk... https://t.co/Ktz9pZmcfy

Al twintig procent meer kaartjes verkocht dan vorig jaar: Rundfunk en Brigitte Kaandorp zijn uitverkocht en de Deventer Schouwburg heeft bijna geen kaartjes meer voor andere populaire cabaretiers zoals Bert Visscher en Claudia de Breij. In de voorverkoop… https://t.co/GPIjGtKqGT https://t.co/L5iLCQZhmE

#Vacature Wij zoeken een frisse, eigenwijze, proactieve en innovatieve online en CRM marketeer met grote liefde voor theater en publieksonderzoek. https://t.co/XCILLOgEoa

De ticketverkoop van de vier ticketvoorstellingen tijdens het internationaal buitentheaterfestival 'Deventer Op Stelten' in de Deventer Schouwburg, de Bergkerk en het Burgerweeshuis is van start. Koop hier je ticket(s)! https://t.co/wL8JFrglgu https://t.co/GcKaLAfs5C

**** 'Dit Lenteritueel gaat over het weerstaan van groepsdruk, regels en de macht van de massa.' Lees het vandaag in @volkskrant en kom kijken naar onze coming-of-age voorstelling van @Oostpool & @introdans: 9 & 10/5 in @orpheus Apeldoorn, 12 & ...

@Rubsel @retsevlis Hoi Ruben, vanaf 22 mei 22.00 uur staat ons nieuwe programma online. Bestellen kan vanaf 28 mei 09.00 uur. Vrienden bestellen met voorrang vanaf 23 mei.

Meesterpianist terug in Deventer Schouwburg: De gerenommeerde Duitse pianist Severin von Eckardstein speelt woendagavond opnieuw in de Deventer Schouwburg. Hij sluit het seizoen van de Stichting Kamermuziek Deventer af. Met zijn strijkersensemble behoort… https://t.co/edi6fy2BfG https://t.co/bnLzonVTlD

Koning Koos is jarig
DEVENTER - Dinsdag 1 mei, in de meivakantie, is in de Deventer Schouwburg om 13.30 en om 15... https://t.co/fjTmx2oIMf

3G-Kerk mikt niet alleen op volle kerk, maar ook op uitverkochte Deventer schouwburg: De 3G-Kerk heeft een eigen amateurtoneelgezelschap opgericht. Met de voorstelling De Venter gaan ze gelijk maar voor het twee keer uitverkopen van de grote zaal van de… ...

@D4nMan Hi Dan, Je hebt 'm gespot! De hondenkop is nog een herinnering aan de beeldentuin die vroeger aan onze gevel hing.

Een hele avond vol klassiekers
DEVENTER - De theatershow van Symphonic Rock Night is ook in Deventer te zien. Ke... https://t.co/IVsUfQ9tGv

Woensdag 28 maart is er weer een concert uit de muziekserie Deventer Internationaal. Deze keer: Gonca Akyar. De zangeres treedt om 12.00 uur op in de Deventer Schouwburg en om 21.00 uur in het Burgerweeshuiscafé. De toegang is gratis. https://t.co/MQYEq02JuK ...
Deventer Schouwburg
Pros
Very atmospheric theater with many beautifully decorated rooms for different types of music.
Cons
Foyer too small. Too busy at the bar.