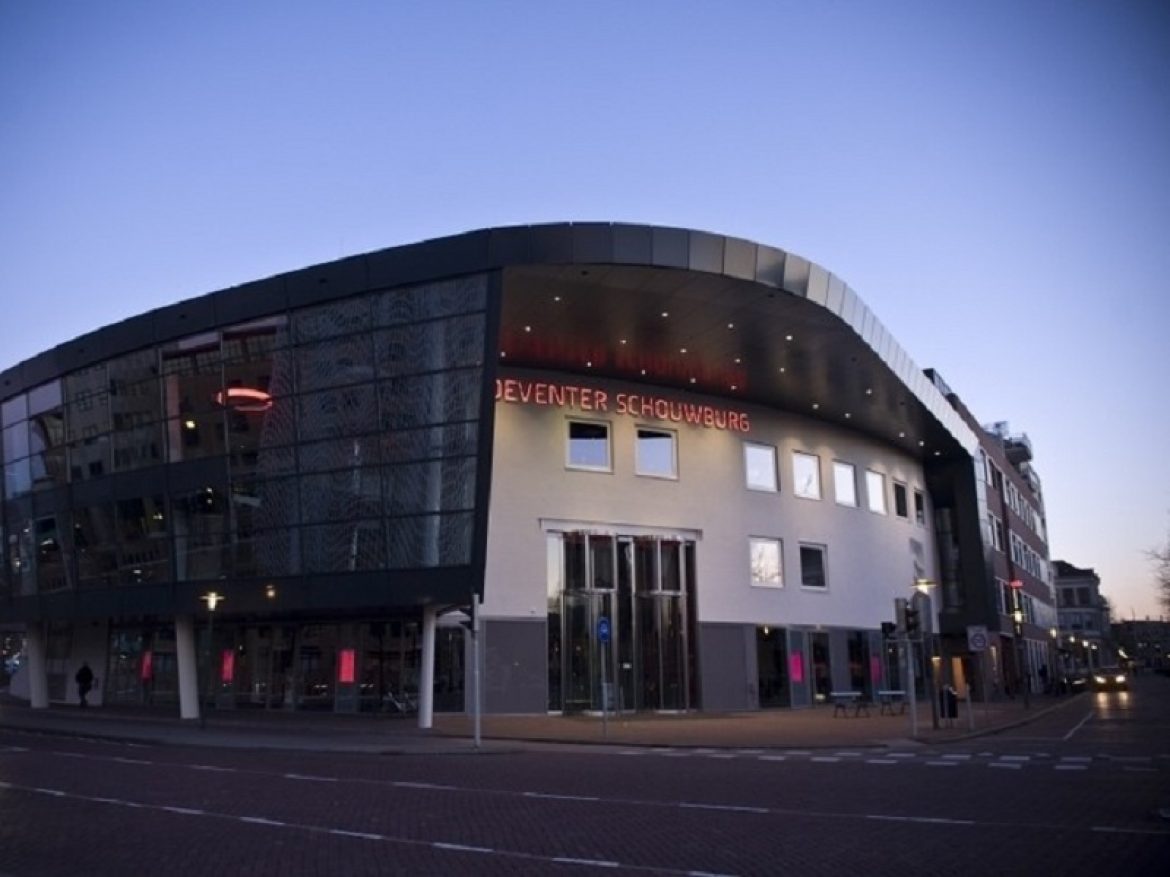 Deventer Schouwburg
Deventer Schouwburg is a professional theater with a wide and extensive range of music, dance, cabaret and theater performances. The Deventer Theatre is at the service of the theater art and the public; it is aimed at the needs and requirements of modern theater, but also creates the conditions for visitors of city and region to fully experience art and culture. The theater is working actively to bring theater closer to the public. The Deventer Theatre is a place where the audience may come in contact with the performing arts. The Deventer Theatre is also the home for the leading performers of the city, both amateurs and professionals.  The Deventer Theatre offers a wealth of different possibilities. In addition, its building can be used in whole or in parts. The different areas can independently of each other or be correctly matched to each other. There are Great Hall, Small Hall, four foyers and the stage. The stage of the Deventer Theatre is an area of ​​430 square meters suitable for giving exclusive corporate events, or organizing a festive dinner in a theatrical setting.
The history of Deventer Theatre began in 1870. When the Deventer Theatre was founded in 1870, it was the subject of ridicule, because the small building with many narrow corridors was definitely not suitable for a theater. A theater association was founded firstly to play a comedy. Later performances were housed in a larger property located nearby, but this location also was not perfect. In 1954 a totally new theater was built, which quickly grew after the opening into one of the busiest theaters in the Netherlands. After a significant renovation the Deventer Theatre was opened in 1995. Since then, the theater includes a second small room, better parking and better location, i.e. directly opposite the station. Now it is quite different: pop musicians, comedians, classical musicians and theater groups like to come from around the world to the theater located in the beautiful Hanseatic city. In addition to a stage where nationally known artists and companies perform, the Deventer Theatre also can be developed to a venue for local performances and programs. Deventer Theater cooperates with various parties and people from Deventer and surroundings. The theater will develop as an open "house for art." Deventer Theatre isa palace of dreams and illusions!
The Deventer Theatre is easily accessible by car and public transport. It is located directly opposite the main railway station, where trains from Amsterdam, Utrecht, Zwolle, Nijmegen and Enschede arrive every half hour.
Check out more here: deventerschouwburg.nl
📣Laatste kaarten📣
Nog geen kaarten voor onderstaande voorstellingen? Koop dan NU je tickets voordat de show is uitverkocht! Want zeg nou eerlijk.. dit wil je toch niet missen? Tag hieronder jouw Facebook-vriend met wie je naar een van deze voorstellingen ...

🧡WIN: 2 kaarten voor John Denver 'The Tribute'🧡
Op donderdag 28 maart viert de John Adams band het leven en muziek van de geliefde folkzanger John Denver. En jij kan bij deze tribute show aanwezig zijn! Koop je kaartjes via ...

YAMATO 倭 -Yamato The drummers of Japan. Ze komen naar Nederland! 5 april start de theatertour en 11 april zie je de Taiko-drummers al in Deventer. Wij kunnen niet wachten tot onze grote zaal gevuld is met de opwindende ritmes en ...

Bart van der Linden (24) is oud-wereldkampioen freerunning en lid van het ISH - Dance Collective. De crew tourt nu langs de theaters met Modern Samurai. Een show vol freerunning en breakdance geïnspireerd op de Franse film Yamakasi uit 2001.

...

🕺Weekendtip: Thank God it's Donna🕺
Kom morgenavond naar het spectaculaire staconcert van Carolina Dijkhuizen & het Gare Du Nord Orchestra en swing mee op de hits van dé Queen of Disco💃 Met een dijk van een stem zingt Carolina onder ...

YAMATO - Passion - Deventer Schouwburg Een onvoorstelbare hoeveelheid energie. Een 400 jaar oud instrument. Ritmes als een hartslag en explosieve beats. 🥁 De drummers van YAMATO zijn zowel fysiek van mentaal ijzersterk. Het bespelen van de soms manshoge trommels die een halve ton per stuk ...

🤩🐔 Wist je dat woensdag 🐔🤩

Wist je dat Judeska écht bestaat? Jandino Asporaat legt het je zelf uit: "Judeska is letterlijk een werknemer die ik heb gezien bij de KFC op Curaçao. Daar heb ik een situatie meegemaakt die ...

De Waarheid - Huub Stapel, Johanna ter Steege e.a. Huwelijkse trouw. Liefde en lust. Is eerlijk zijn het belangrijkste of is lust sterker? De toneelkomedie 'De Waarheid', met Huub Stapel en Johanna ter Steege, vertelt het verhaal van twee ontrouwe, bevriende stellen. Vertel je je beste vriend de waarheid? ...

RTV Oost Vanavond om 20.00 uur vindt bij ons het slotdebat van de verkiezingen plaats. Er worden zeven debatten gevoerd. Dit slotdebat is vanavond live te zien op RTV Oost.🤓 De toegang is gratis! Ben jij erbij?
Weet je nog niet waar ...

Achter de schermen zijn we druk bezig met onze nieuwe brochure. Daarin het programma voor het nieuwe theaterseizoen. Inmiddels een geliefd boekwerk onder onze Vrienden en bezoekers. Wist je dat het als bedrijf mogelijk is om te adverteren in de ...

🎶Music Monday🎶
Deze maand hebben we een paar muzikale talenten bij ons op de planken staan! Zo zijn er twee spectaculaire tribute shows: een van Donna Summer én een van John Denver. Ook komt Frank Boeijen (Official) weer met een ...

Deze week tellen we af met Naidjim Severina. Je kent hem misschien wel als Simba uit The Lion King 🦁. Binnenkort is hij te zien in de hilarische en ontroerende musical Kinky Boots. Nog maar twee weken tot de start ...

De beroemde aria van de 'Barbier van Sevilla' – Figaro – is misschien wel de bekendste opera-aria die er is. Op 24-jarige leeftijd schreef Gioachino Rossini de komische opera 'Il Barbiere di Siviglia'. Tot op de dag van vandaag blijft ...

Kar-ma cooks like Mama… - Deventer Schouwburg Jolanda Timmer van Kar-ma drink and m'eat me stelt een speciaal 'Moeder de vrouw' Boekenweek Diner samen.📚🍽 Zij gaat op zoek naar de familierecepten van de moeders van de Kar-Ma's Keuken koks. De dochters gaan koken en de mama's vertellen ...

Genomineerden Annie M.G. Schmidtprijs 2019 bekend – Theaterkrant 🎉🎉Gefeliciteerd!🎉🎉 Claudia de Breij, YENTL EN DE BOER, Mylou Frencken, Alex Klaasen, Patrick Nederkoorn en Kiki Schippers zijn genomineerd voor de Annie M.G. Schmidtprijs 2019. De prijs voor het beste Nederlandstalige theaterlied. Op 14 april wordt de winnaar bekend gemaakt.

...

Klassiek en volksmuziek in Deventer Schouwburg: Bariton Maarten Koningsberger laat dinsdag 19 februari in de Deventer Schouwburg horen hoe grote klassieke componisten zich bogen over volksmuziek. Samen met The Atlantic Trio (viool, cello en piano) brengt… https://t.co/hFyAnHNNXp https://t.co/XL19Mjd9YZ

⚠🤹🔜Voor de snelle beslissers🔜🤹⚠

Er zijn kaarten teruggekomen voor Enfants Terribles van de @AshtonBrothers. Onze feestelijke openingsvoorstelling op 28 september. Be there!
https://t.co/MkFxHGE9No

Visueel beperkt en circusliefhebber? Kom zondag 8 juli naar de Deventer Schouwburg en geniet van prachtig fysiek circustheater met live audiodescriptie door blindentolk!
ZO, 8 JULI OM 14:00
Blindentolk... https://t.co/Ktz9pZmcfy

Al twintig procent meer kaartjes verkocht dan vorig jaar: Rundfunk en Brigitte Kaandorp zijn uitverkocht en de Deventer Schouwburg heeft bijna geen kaartjes meer voor andere populaire cabaretiers zoals Bert Visscher en Claudia de Breij. In de voorverkoop… https://t.co/GPIjGtKqGT https://t.co/L5iLCQZhmE

#Vacature Wij zoeken een frisse, eigenwijze, proactieve en innovatieve online en CRM marketeer met grote liefde voor theater en publieksonderzoek. https://t.co/XCILLOgEoa

De ticketverkoop van de vier ticketvoorstellingen tijdens het internationaal buitentheaterfestival 'Deventer Op Stelten' in de Deventer Schouwburg, de Bergkerk en het Burgerweeshuis is van start. Koop hier je ticket(s)! https://t.co/wL8JFrglgu https://t.co/GcKaLAfs5C
Deventer Schouwburg
Pros
Very atmospheric theater with many beautifully decorated rooms for different types of music.
Cons
Foyer too small. Too busy at the bar.