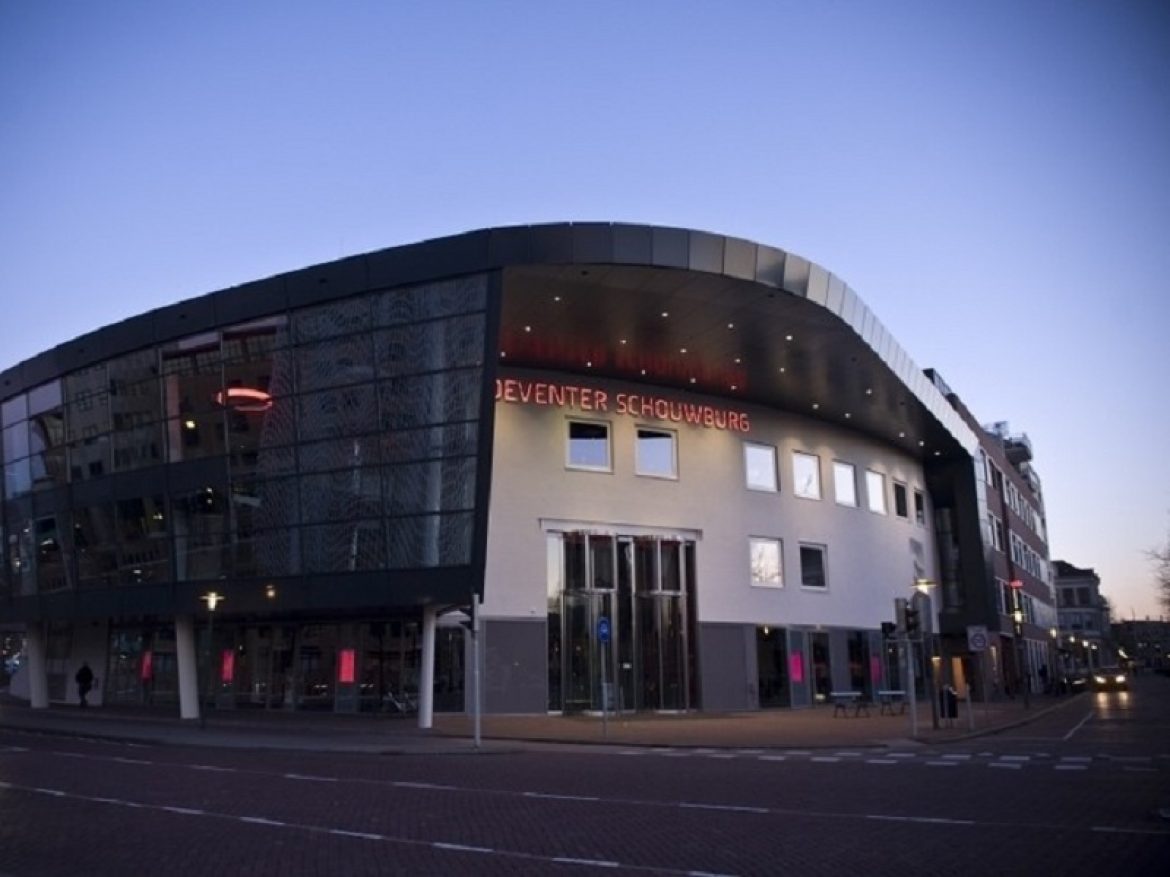 Deventer Schouwburg
Deventer Schouwburg is a professional theater with a wide and extensive range of music, dance, cabaret and theater performances. The Deventer Theatre is at the service of the theater art and the public; it is aimed at the needs and requirements of modern theater, but also creates the conditions for visitors of city and region to fully experience art and culture. The theater is working actively to bring theater closer to the public. The Deventer Theatre is a place where the audience may come in contact with the performing arts. The Deventer Theatre is also the home for the leading performers of the city, both amateurs and professionals.  The Deventer Theatre offers a wealth of different possibilities. In addition, its building can be used in whole or in parts. The different areas can independently of each other or be correctly matched to each other. There are Great Hall, Small Hall, four foyers and the stage. The stage of the Deventer Theatre is an area of ​​430 square meters suitable for giving exclusive corporate events, or organizing a festive dinner in a theatrical setting.
The history of Deventer Theatre began in 1870. When the Deventer Theatre was founded in 1870, it was the subject of ridicule, because the small building with many narrow corridors was definitely not suitable for a theater. A theater association was founded firstly to play a comedy. Later performances were housed in a larger property located nearby, but this location also was not perfect. In 1954 a totally new theater was built, which quickly grew after the opening into one of the busiest theaters in the Netherlands. After a significant renovation the Deventer Theatre was opened in 1995. Since then, the theater includes a second small room, better parking and better location, i.e. directly opposite the station. Now it is quite different: pop musicians, comedians, classical musicians and theater groups like to come from around the world to the theater located in the beautiful Hanseatic city. In addition to a stage where nationally known artists and companies perform, the Deventer Theatre also can be developed to a venue for local performances and programs. Deventer Theater cooperates with various parties and people from Deventer and surroundings. The theater will develop as an open "house for art." Deventer Theatre isa palace of dreams and illusions!
The Deventer Theatre is easily accessible by car and public transport. It is located directly opposite the main railway station, where trains from Amsterdam, Utrecht, Zwolle, Nijmegen and Enschede arrive every half hour.
Check out more here: deventerschouwburg.nl
WIJN In de thrillerkomedie 'WIJN' op 15 maart trekken zes topacteurs - o.a. Evert van der Meulen en Carine Crutzen - de fles open. De met wijn doordrenkte avond loopt volledig uit de hand. Charles en Charlotte zijn uit elkaar gegroeid, ...

Conny Janssen Danst 10 maart in Deventer!
We zijn alweer op de helft van de INSIDE OUT tour: nog 27 voorstellingen te gaan. Nog genoeg kansen om de voorstelling te zien dus! Deze week staan de volgende steden op de INSIDE OUT speellijst:
...

Dorine Wiersma - Gaan we katten? - Deventer Schouwburg Cabaretière Dorine Wiersma zet haar nagels in het leven van vandaag. Met virtuoze gitaarliedjes en vlijmscherpe teksten met komische wendingen. Haar show 'Gaan we katten?' is op 14 maart te zien in de Deventer Schouwburg.
.

Harrie & Eva "Jon van Eerd onderstreept in deze 'Harrie' zijn grote komische talent. Indrukwekkend decor barst van de gimmicks." ★★★★★ BN De Stem

Lachen, gieren en brullen met Jon van Eerd e.a. in deze paradijselijke komedie 'Harrie & Eva'. Op 8 maart ...

Sempre Crescendo Op dit moment is de slagwerkgroep aan het optreden tijdens het Open Podium in de Deventer Schouwburg!
Deventer Schouwburg shared Sempre Crescendo's post.

The Kik Hertaalt! The KIK Hertaalt! Na hun optredens in de DWDD kreeg The Kik vaak de vraag om meer (internationale) hits van een Nederlandse tekst te voorzien. Het resultaat: ruim veertig nieuwe, hertaalde liedteksten. Denk aan 'Schuilen Bij Jou' ('In Your Arms' ...

Daniël Lohues - Vlier - Deventer Schouwburg Daniel Lohues' nieuwe solo-album is uit! Zijn album 'Vlier' is gevuld met nummers over reizen en thuiskomen, verloren liefdes, vriendschap, religie en meer. Veel van de nummers zijn ontstaan in Daniëls dromen. De Drentse troubadour is met zijn theatervoorstelling op ...

Deventer Open Podium ★ 33e editie Deventer Open Podium ★ Hét amateurevenement van Deventer ★ Ruim 1000 Deventenaren presenteren zich 4 maart aan het grote publiek. Voor de zangers, dansers, muzikanten, acteurs en rockers is het Open Podium de springplank naar een professionele ...

Pepijn Schoneveld - Stante Pede - Deventer Schouwburg Geboren in Twello, bekend van de tv-series Feuten, Spangas & Dokter Deen en 24 maart in de Deventer Schouwburg te zien. Over wie hebben we het dan? Over Pepijn Schoneveld natuurlijk, met zijn voorstelling 'Stante Pede'. Pepijn vertelt smakelijk en ...

Vanuit Barcelona gaan we rechtstreeks naar Deventer en Nijmegen voor de F1 show!! Zien we je daar??? 👊🏼👊🏼👊🏼 https://t.co/u6B2DvcIK3

Raqs Eclair
zijn te zien in de foyer om 15.30 uur
op de 1e verdieping links bij de Schouwburg in Deventer op 4 maart. Daarna is er een Meet & Greet in de brasserie aan de andere kant van de ...

Johan Derksen Keeps the Blues Alive 31 maart in Deventer! De laatste kaarten...
Wie zien we waar in maart?
Deventer Schouwburg shared Johan Derksen Keeps the Blues Alive's photo.

Jandino Asporaat Er zijn nog enkele keiharde kaarten voor Jandino Asporaat! Donderdag zie je zijn nieuwste show Keihard in ons theater. Na afloop gaan we los in het theatercafé op de afterparty met DJ Willy Who.
Deze week 'Keihard' in Leidse Schouwburg, ...

Woensdag 28 februari is er weer een concert uit de muziekserie Deventer Internationaal. Deze keer: Orchestre Partout. De band speelt om 12.00 uur in de Deventer Schouwburg en om 21.00 uur in het Burgerweeshuiscafé. De toegang is gratis. https://t.co/MQYEq02JuK https://t.co/P3VsatgZOe

Gevarieerd aanbod in theater
DEVENTER - In de schouwburg is een uiteenlopend aanbod van theatervoorstellingen te... https://t.co/GzD9jtT4uu

Joep Pelt - Van Mali tot Mississippi - Deventer Schouwburg Muzikaal globetrotter en topgitarist Joep Pelt vertelt op 15 maart het verhaal van de blues. In de muzikale onemanshow 'Van Mali tot Mississippi' neemt hij je mee op een bijzonder muzikaal avontuur met verhalen, historische beelden en liedjes die hij ...

Stedelijk Orkest Lebuïnus SOL at the Movies. 14 april in ons theater!
Zet alvast in uw agenda! Deventer Schouwburg #deventer
Deventer Schouwburg shared Stedelijk Orkest Lebuïnus's post.

Met dochter Ineke naar Deventer Schouwburg geweest voor de Jan Terlouw Lezing. M'n verslag van deze avond is gepubliceerd in The Optimist van maart/april 2018.
Fotocredits: Deventer Schouwburg Daphne Meerdink-Veldboom https://t.co/uR9eAhVrPA

Home - Boekenweek Wat een feest In Boekenstad Deventer! Van 10 t/m 18 maart is er de Deventer Boekenweek. Een dikke week vol met schrijvers, columnisten in cafés, theater, kerk en boekhandel. En natuurlijk ook films, muziek, theater en wetenschap.
Boekhandel Praamstra Kunstcircuit ...

Vanavond speelde Nick Teunissen de premiere van zijn voorstelling 'Enkeltje Holandija' . Een persoonlijk verhaal over zijn grote liefde Ismir, oorlog, vluchten uit je vaderland, doorleven en liever niet achterom willen kijken. Het was een prachtige avond.

Tineke Schouten - T Splitsing ★ DEVENTER ★ Tineke Schouten komt 2 mei naar ons theater. Ze kijkt in haar show T-Splitsing kritisch naar de keuzes die zij in haar leven gemaakt heeft. Zeer persoonlijke show met alle bekende typetjes. > bit.ly/2j168rC

Maaike Ouboter - Vanaf nu is het van jou - Deventer Schouwburg In 2015 verscheen haar debuutalbum en speelde ze haar eerste theaterconcert, waarin ze jaren aan muziek, notities en zinsflarden uit haar opschrijfboekjes met het publiek deelde. Nu is Maaike Ouboter weer terug. Haar nieuwe liedjes gaan over menselijkheid en de ...
Deventer Schouwburg
Pros
Very atmospheric theater with many beautifully decorated rooms for different types of music.
Cons
Foyer too small. Too busy at the bar.