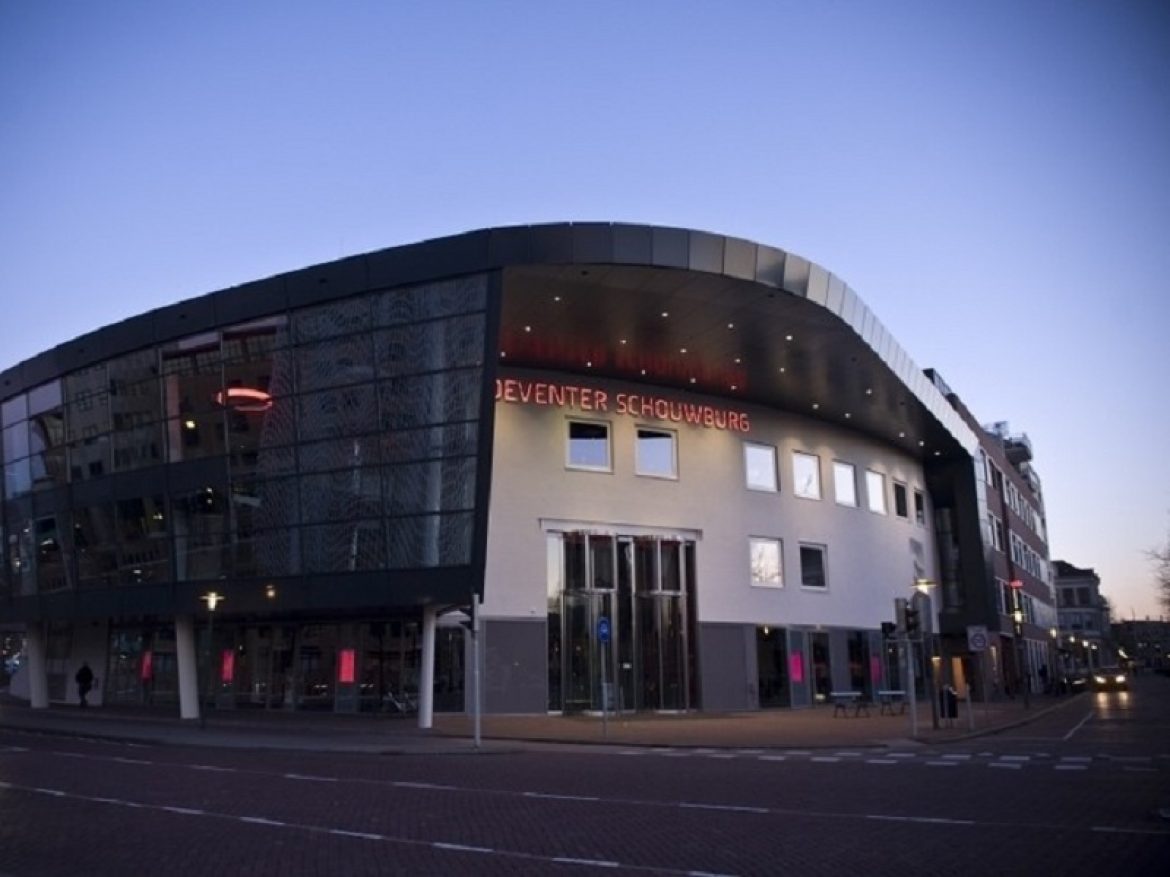 Deventer Schouwburg
Deventer Schouwburg is a professional theater with a wide and extensive range of music, dance, cabaret and theater performances. The Deventer Theatre is at the service of the theater art and the public; it is aimed at the needs and requirements of modern theater, but also creates the conditions for visitors of city and region to fully experience art and culture. The theater is working actively to bring theater closer to the public. The Deventer Theatre is a place where the audience may come in contact with the performing arts. The Deventer Theatre is also the home for the leading performers of the city, both amateurs and professionals.  The Deventer Theatre offers a wealth of different possibilities. In addition, its building can be used in whole or in parts. The different areas can independently of each other or be correctly matched to each other. There are Great Hall, Small Hall, four foyers and the stage. The stage of the Deventer Theatre is an area of ​​430 square meters suitable for giving exclusive corporate events, or organizing a festive dinner in a theatrical setting.
The history of Deventer Theatre began in 1870. When the Deventer Theatre was founded in 1870, it was the subject of ridicule, because the small building with many narrow corridors was definitely not suitable for a theater. A theater association was founded firstly to play a comedy. Later performances were housed in a larger property located nearby, but this location also was not perfect. In 1954 a totally new theater was built, which quickly grew after the opening into one of the busiest theaters in the Netherlands. After a significant renovation the Deventer Theatre was opened in 1995. Since then, the theater includes a second small room, better parking and better location, i.e. directly opposite the station. Now it is quite different: pop musicians, comedians, classical musicians and theater groups like to come from around the world to the theater located in the beautiful Hanseatic city. In addition to a stage where nationally known artists and companies perform, the Deventer Theatre also can be developed to a venue for local performances and programs. Deventer Theater cooperates with various parties and people from Deventer and surroundings. The theater will develop as an open "house for art." Deventer Theatre isa palace of dreams and illusions!
The Deventer Theatre is easily accessible by car and public transport. It is located directly opposite the main railway station, where trains from Amsterdam, Utrecht, Zwolle, Nijmegen and Enschede arrive every half hour.
Check out more here: deventerschouwburg.nl
Timeline Photos Wat een ontzettend gave foto heeft René Nobel in de toneeltoren gemaakt tijdens Blushhh

Photos from Deventer Schouwburg's post De voorbereidingen voor Blushhh zijn in volle gang!

Koop je kaarten tot 20 u nog voordelig via de website. Daarna alleen nog verkoop aan de deur.
Deventer Schouwburg added 7 new photos.

Timeline Photos Heeeelemaal van Deventer naar Apeldoorn gerend voor de musical de Marathon in Schouwburg Orpheus. Wat zien we er nog fris uit he, na 18 km rennen 😉.

Blushhh - Deventer Schouwburg Hoe divers kan een weekend zijn?

Aftrappen met Blushhh op vrijdag, zaterdag de buikspieren trainen tijdens Vrijdag vs Sandifort en zondag het afscheidsconcert van Jan Willem de Vriend bij het Orkest van het Oosten.
Blushhh - hét meest exclusieve dance-event ...

Timeline Photos De kaartverkoop van seizoen 2017-2018 start morgen om 9 uur online, telefonisch (0900 - 3000 200 - € 0,45 per minuut) én aan de balie in de Schouwburg.

@xkariin Plaatsen over blijven. Gaat dit over je kaarten voor og3ne? Dan neem ik dot morgen meteen mee. Groeten Marthe

@xkariin Hoi, helaas kan dat online niet als je 2 stoelen boekt waar er nog 3 plaatsen zijn. Dat is om te voorkomen dat er allemaal losse 1/2

@xkariin We gaan het voor je nakijken! Wil je je email adres in een prive bericht naar ons sturen? Groeten Marthe

Afscheidsconcert Jan Willem de Vriend - Orkest van het Oosten Na 10 jaar chefdirigentschap neemt Jan Willem de Vriend afscheid bij het Orkest van het Oosten. Het afscheidsconcert is op zondag 21 mei. Bekijk het filmpje over het afscheidsconcert.
BESCHRIJVING Jan Willem de Vriend sluit tien jaar chefdirigentschap af met ...

Spinvis - woensdag 17 mei 2017 om 20:30 #Tip_bij_het_Burgerweeshuis

Ter ere van het verschijnen van zijn nieuwe album 'Trein Vuur Dageraad' keert Spinvis voor een korte tour terug in de clubs. In Het Burgerweeshuis wordt het een avond vol nieuwe klassiekers die zich met geen pen laten omschrijven, ...

Blushhh - 19 mei - Deventer Schouwburg ❤❤ Welke moeder wil dit winnen?❤❤

2 kaarten voor Blushhh *Flower Power Edition* incl. een heerlijke cocktail.

Tag je kinderen of je man/vriend zodat ze weten dat dit op jouw verlanglijstje staat. Zondag (Moederdag ❤) maken we op onze Facebookpagina ...

Orkater Leuke actie!

2 combikaarten voor de soundcheck én de voorstelling voor maar €30,- (ipv €38,- voor alleen de voorstelling).
Speciaal in Deventer Schouwburg geeft SHAKING GODSPEED voorafgaand aan de voorstelling om 19.30 uur een openbare soundcheck. Profiteer nu van een ...

OG3NE - Three Times A Lady Wat kunnen de meiden van OG3NE zingen he! Vanavond voor miljoenen kijkers, op 18 januari lekker 'intiem' voor maximaal 750 gelukkigen. Er zijn nog kaarten, maar het gaat hard. Dus wil je erbij zijn? Bestel dan nu je kaarten.
OG3NE ...

Frank Boeijen - 12 mei 2017 Frank Boeijen won onlangs de Radio 5 Oeuvre Award en morgenavond staat hij in de Deventer Schouwburg. Er zijn nog kaarten!
Frank Boeijen - Theatertournee 2017

@EddyDibbink Yep! is binnen. Ik heb hem doorgestuurd naar mijn collega's van de kassa en je wordt vandaag gebeld. Groeten Marthe

@EddyDibbink Heel jammer inderdaad Eddy... we werken er hard aan om alles op te lossen. Onze excuses voor het ongemak.

Lieve vrienden, we ondervinden helaas wat problemen in de bestelomgeving. We doen er alles aan om alles zo snel mogelijk op te lossen. Onze excuses voor het ongemak.

Stefan Rokebrand schittert het hele seizoen op de voorkant van onze brochure en nu heeft hij een Musical Award gewonnen! 'Beste acteur in een kleine musical' voor zijn rol als Herman Brood. De voorstelling Chez Brood won de award 'beste ...
Deventer Schouwburg
Pros
Very atmospheric theater with many beautifully decorated rooms for different types of music.
Cons
Foyer too small. Too busy at the bar.