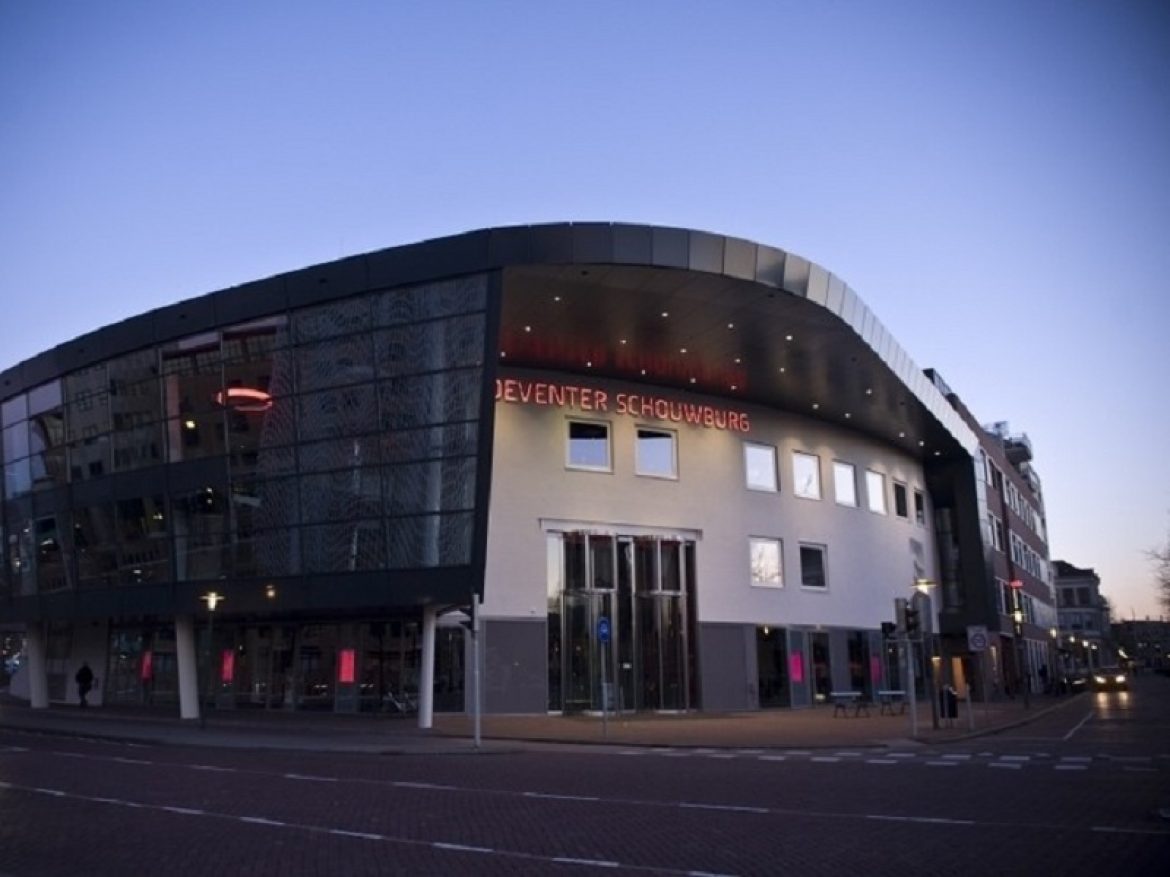 Deventer Schouwburg
Deventer Schouwburg is a professional theater with a wide and extensive range of music, dance, cabaret and theater performances. The Deventer Theatre is at the service of the theater art and the public; it is aimed at the needs and requirements of modern theater, but also creates the conditions for visitors of city and region to fully experience art and culture. The theater is working actively to bring theater closer to the public. The Deventer Theatre is a place where the audience may come in contact with the performing arts. The Deventer Theatre is also the home for the leading performers of the city, both amateurs and professionals.  The Deventer Theatre offers a wealth of different possibilities. In addition, its building can be used in whole or in parts. The different areas can independently of each other or be correctly matched to each other. There are Great Hall, Small Hall, four foyers and the stage. The stage of the Deventer Theatre is an area of ​​430 square meters suitable for giving exclusive corporate events, or organizing a festive dinner in a theatrical setting.
The history of Deventer Theatre began in 1870. When the Deventer Theatre was founded in 1870, it was the subject of ridicule, because the small building with many narrow corridors was definitely not suitable for a theater. A theater association was founded firstly to play a comedy. Later performances were housed in a larger property located nearby, but this location also was not perfect. In 1954 a totally new theater was built, which quickly grew after the opening into one of the busiest theaters in the Netherlands. After a significant renovation the Deventer Theatre was opened in 1995. Since then, the theater includes a second small room, better parking and better location, i.e. directly opposite the station. Now it is quite different: pop musicians, comedians, classical musicians and theater groups like to come from around the world to the theater located in the beautiful Hanseatic city. In addition to a stage where nationally known artists and companies perform, the Deventer Theatre also can be developed to a venue for local performances and programs. Deventer Theater cooperates with various parties and people from Deventer and surroundings. The theater will develop as an open "house for art." Deventer Theatre isa palace of dreams and illusions!
The Deventer Theatre is easily accessible by car and public transport. It is located directly opposite the main railway station, where trains from Amsterdam, Utrecht, Zwolle, Nijmegen and Enschede arrive every half hour.
Check out more here: deventerschouwburg.nl
Timeline Photos We zijn er klaar voor! De kinderen van de Tintaan gaan zo beginnen met hun optreden. Toi toi toi!

Theaterkrant Vaders in Deventer, wij zijn trots op jullie!

Want wij zien wel vaak papa's met hun kinderen in de Deventer Schouwburg. Tag de vader die met zijn kinderen naar het theater gaat en maak kans op 2 kaarten voor Brandweerman ...

In Tsjechov's 'Een Meeuw' brengt regisseur Marcus Azzini op 15 april een topcast bij elkaar, bestaande uit uitzonderlijke talenten van verschillende generaties. Waaronder tweevoudig Theo d'Or winnares Ariane Schluter, Vincent van der Valk (winnaar Arlecchino voor zijn rol in 'Angels ...

Soundos - Geboren met Ervaring - 8 april - € 18,- incl drankje De theaterkrant recenseerde de voorstelling van Soundos El Ahmadi met ★★★★!

"Wat ze deelt met Comedytrain-collega's als Hans Sibbel en Eric van Sauers, is dat ze een fantastische verhalenverteller is."
"Je blijft aan haar lippen hangen als ze eenmaal begonnen ...

Timeline Photos Wie wil dit boek lezen?
Roep JA en maak kans op dit prachtige boek.

De toneelbewerking van dit aangrijpende verhaal staat op 29 maart bij ons in het theater.

Timeline Photos Wie heeft er een ontroostbaar jongetje (of meisje) thuis zitten, omdat hij zijn auto kwijt is? Deze auto is gister blijven liggen...

Timeline Photos Zondag staat Dirk Scheele bij ons in de Schouwburg. In welke straat staat het huis van Dirk?

Laat het ons weten en wie weet valt deze cd bij jou thuis op de deurmat.

@daan__no wellicht komt er binnenkort een vacature. Hou onze Twitter en Facebook in de gaten!

Stefan Rokebrand schittert het hele seizoen op de voorkant van onze brochure en nu heeft hij een Musical Award gewonnen! 'Beste acteur in een kleine musical' voor zijn rol als Herman Brood. De voorstelling Chez Brood won de award 'beste ...
Deventer Schouwburg
Pros
Very atmospheric theater with many beautifully decorated rooms for different types of music.
Cons
Foyer too small. Too busy at the bar.