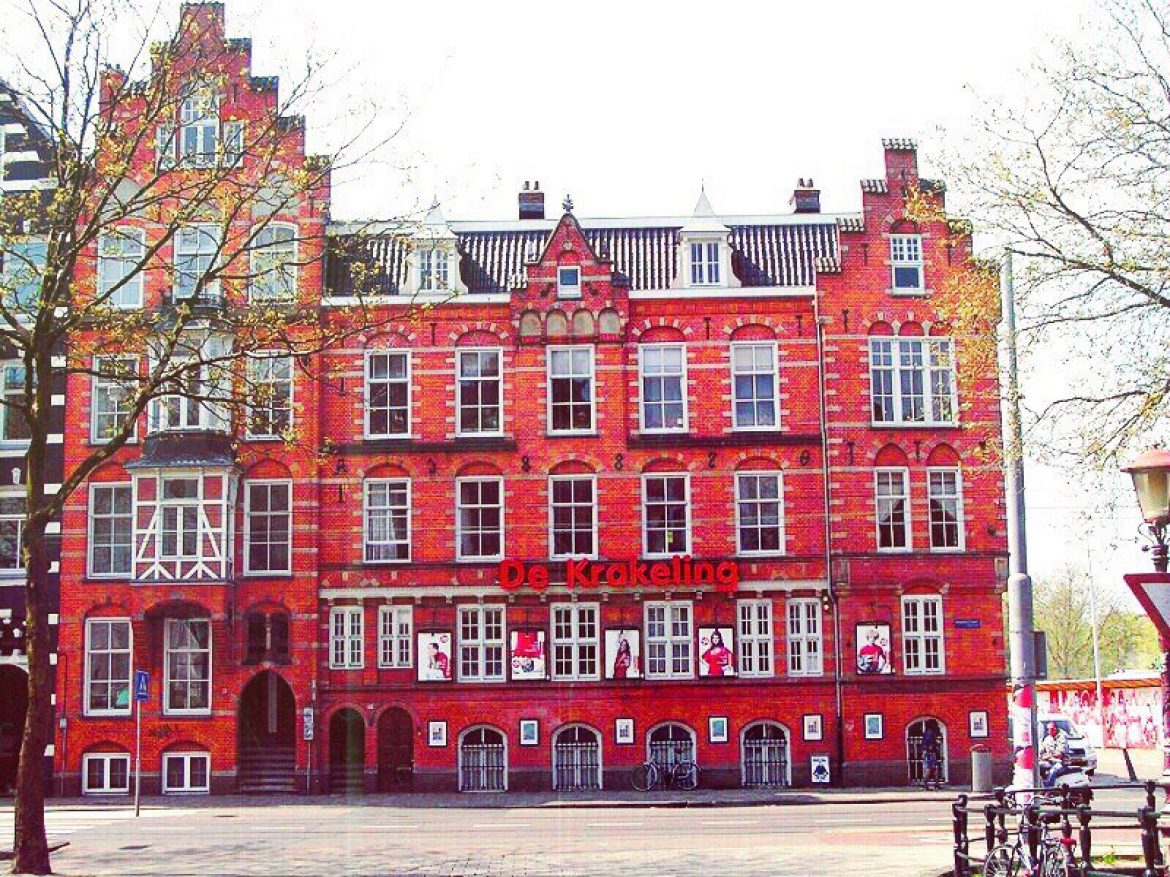 De Krakeling
The theater is part of the Foundation's Youth Theatre, that was established in 1971, the youth programs and youth performances in the Krakeling and elsewhere in and around Amsterdam. Annually in this theater 250 performances take place and approximately 40,000 visitors attend it. The theater has a flat floor. The Krakeling was founded in 1978 by Hans Snoek. It was the first theater building in the Netherlands specifically for youth theater. Children's Theatre De Krakeling in Amsterdam is not only the most popular children's and youth theater in the whole Europe, but it also organized the project of art education for teenagers. In this theater is actively practiced interaction between actors and audience that gives a unique experience to children who come to the show, but also allows you to experience new emotions and vivid memories. De Krakeling is the only one theater in the city today, offering only children's productions. In this children's theater are traditionally only the best performances for children and adolescents in such genres as puppetry, dance and music to audiences of two to 17 years.
The theater is housed in a building from 1887 made in Dutch Renaissance style, with a red brick facades and pointed Gothic-like arches. The building was originally called a gymnasium, the Turnhallen or Turn Building. There were several gymnastic clubs based, including KTV Olympia. The original gymnasium was split in commissioning as a theater in 1978 in a theater room, a cloakroom and a lobby. The low construction between the corner pavilions is more recent. This space was originally for storing gym equipment and is now the theater reception. On the facade of the theater there is a plaque commemorating the Second World War. The text on the plaque reads: "To our fallen comrades 1940 – 1945. The building was designated in 2001 as a national monument.
The Krakeling has been the theater for the youth in the heart of Amsterdam since 1978. Annually, more than 40,000 children and young people experience the best youth performances in this theater. A first encounter they will not soon forget. In addition, for more than seven years in the Amsterdam children's theater there is a special program in which other theater organizations represent here their own performances. In De Krakeling master classes, workshops, exhibitions, lectures and more also held.
The theater receive funding from the City of Amsterdam and the Performing Arts Fund. In addition, they are looking for support by various funds, private partners and friends for the project.
Check out more here: krakeling.nl
De filosofische grens tussen zichtbaarheid en onzichtbaarheid raakt in 'De onzichtbare man' van Theater Artemis prachtig aan de emotionele grens tussen lachen en huilen ***** https://t.co/OLBqUFxO6e

⭐⭐⭐⭐⭐ in de Theaterkrant!
'De onzichtbare man' van @TheaterArtemis is dit #weekend op za én zo te zien in De Krakeling. De #voorstelling gaat over alles wat je niet ziet. En stiekem ook over hoe fijn het is om niet ...

Timeline Photos ⭐⭐⭐⭐⭐ in de Theaterkrant!

'De onzichtbare man' van Theater Artemis is aankomend weekend op zaterdag én zondag te zien in De Krakeling. De voorstelling met René van 't Hof gaat over alles wat je niet ziet. En stiekem ook over ...

Update week 2: Vragen aan de architect Week 2 van de Crowdfunding #dedeurzitdicht!
Krakeling reporters Julia en Liewe willen wel eens weten hoe die nieuwe entree er nu eigenlijk uit komt te zien. Wat gaat er met het opgehaalde bedrag gebeuren? Ze vragen het aan architect Alexander.

...

Timeline Photos Op maandag 5 maart is er in een unieke kans om jongeren uit Gaza te 'ontmoeten'. De voorstelling Wervelwind van Theatre Day Productions أيام المسرح is te zien in een theater in Gaza en via livestream in De Krakeling.

Wervelwind ...

Timeline Photos Wij zijn op zoek naar muzikaal talent! Kun jij zingen en ben je dol op optreden? Met een groepje, duo, solo, met jouw band of koor? Dan zoeken wij jou! Voor de voorstelling SCHOPPEN van Theatergezelschap BonteHond kun jij je ...

Naast onze belangrijke crowdfunding campagne gaat de programmering gewoon door. Binnenkort een van de leukste festivals van het seizoen - het Internationaal Pop Arts Festival i.s.m @theater Bellevue en @De Brakke Grond. Kijk voor het programma op www.popartsfestival.nl

Dag 6 van de crowdfunding! Onze Krakeling reporter Nacif stelt kritische vragen aan directeur Kees Blijleven over de rode deuren die hij zelf NOOIT open krijgt. Die nieuwe deuren zijn hard nodig! De Krakeling wil open en toegankelijk zijn voor ...

Timeline Photos Brrrr... het wordt koud. Maar deze voorjaarsvakantie zit je bij De Krakeling lekker warm. Kom met de hele familie naar het leukste theater van Nederland voor de mooiste voorstellingen voor jong en oud. Kijk voor het volledige programma op goo.gl/q37iuT ...

#dedeurzitdicht Krakeling team Dankbaar en heeeel happy zijn we met de fantastische start van de crowdfunding!! #dedeurzitdicht Maar....we zijn er nog lang niet. Help je mee? Deel onze actie met je vrienden, familie, collega's, kennissen, buren en iedereen die De Krakeling een warm ...

Op 22 februari vindt in De Krakeling het Ideeënlab #7: 'Alle kinderen kansrijk!' plaats. Stem op de pitcher met het beste en tofste idee voor gelijke kansen voor alle kinderen in Amsterdam. En niemand minder dan Meester Bart komt een ...

Timeline Photos Het is dag 2 van onze crowdfundingcampagne #dedeurzitdicht. Vanaf vandaag hebben we nog 36 dagen te gaan om ons doel te bereiken! En jij kunt helpen. Deel onze actie met familie, vrienden, buren, kennissen en theaterliefhebbers. Je bijdrage blijft niet ...

"'Joris en de Drakentemmers' is een grootse, energieke en geweldige vertelvoorstelling (…) Deze voorstelling mag je dit seizoen niet missen." Volgens @cbtjes dan, he. https://t.co/UyAkeuMUG0
De Krakeling
Pros
Great children's theater housing in a historical building on a very nice location. Very close by Leidseplein and easy to reach even with public transportation.