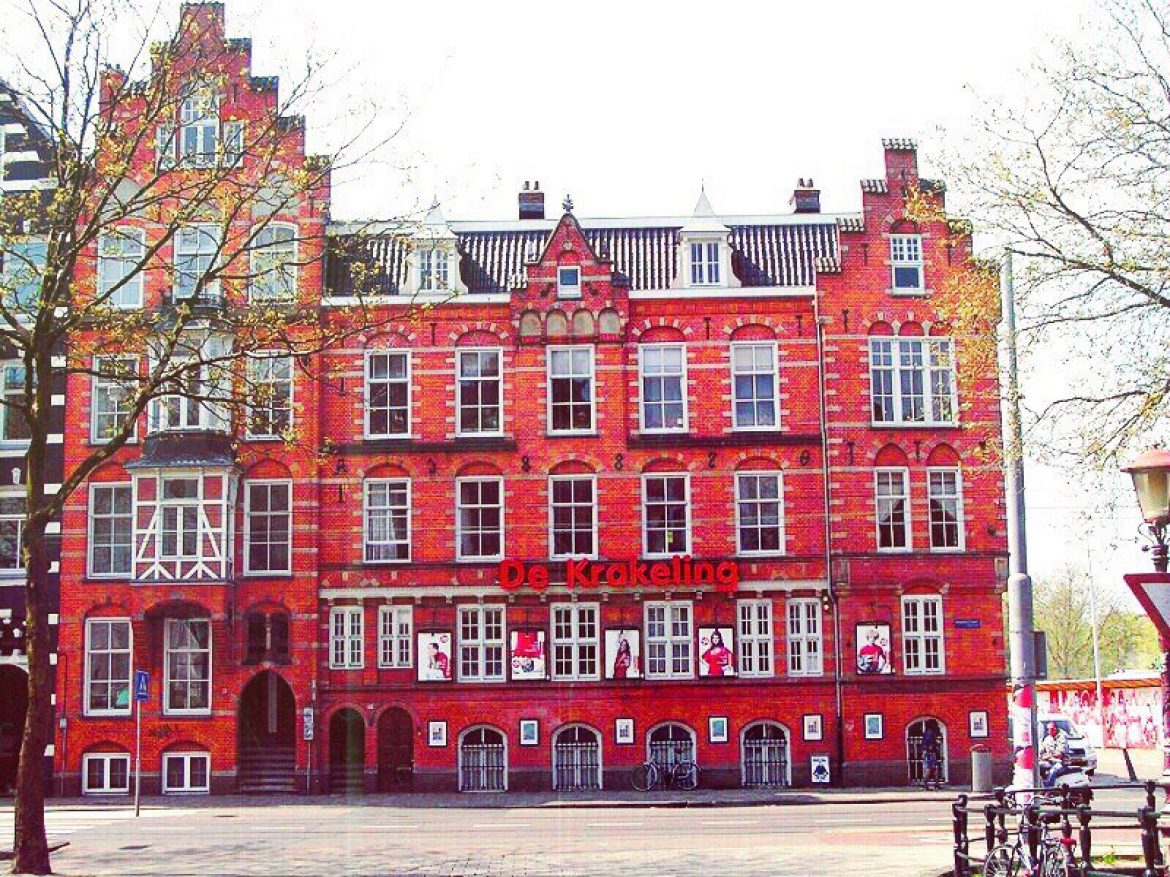 De Krakeling
The theater is part of the Foundation's Youth Theatre, that was established in 1971, the youth programs and youth performances in the Krakeling and elsewhere in and around Amsterdam. Annually in this theater 250 performances take place and approximately 40,000 visitors attend it. The theater has a flat floor. The Krakeling was founded in 1978 by Hans Snoek. It was the first theater building in the Netherlands specifically for youth theater. Children's Theatre De Krakeling in Amsterdam is not only the most popular children's and youth theater in the whole Europe, but it also organized the project of art education for teenagers. In this theater is actively practiced interaction between actors and audience that gives a unique experience to children who come to the show, but also allows you to experience new emotions and vivid memories. De Krakeling is the only one theater in the city today, offering only children's productions. In this children's theater are traditionally only the best performances for children and adolescents in such genres as puppetry, dance and music to audiences of two to 17 years.
The theater is housed in a building from 1887 made in Dutch Renaissance style, with a red brick facades and pointed Gothic-like arches. The building was originally called a gymnasium, the Turnhallen or Turn Building. There were several gymnastic clubs based, including KTV Olympia. The original gymnasium was split in commissioning as a theater in 1978 in a theater room, a cloakroom and a lobby. The low construction between the corner pavilions is more recent. This space was originally for storing gym equipment and is now the theater reception. On the facade of the theater there is a plaque commemorating the Second World War. The text on the plaque reads: "To our fallen comrades 1940 – 1945. The building was designated in 2001 as a national monument.
The Krakeling has been the theater for the youth in the heart of Amsterdam since 1978. Annually, more than 40,000 children and young people experience the best youth performances in this theater. A first encounter they will not soon forget. In addition, for more than seven years in the Amsterdam children's theater there is a special program in which other theater organizations represent here their own performances. In De Krakeling master classes, workshops, exhibitions, lectures and more also held.
The theater receive funding from the City of Amsterdam and the Performing Arts Fund. In addition, they are looking for support by various funds, private partners and friends for the project.
Check out more here: krakeling.nl
🤩 NTF Jong, de jeugdeditie van het Nederlands Theater Festival, presenteert van 5 t/m 15 september 2019 de beste jeugdtheatervoorstellingen van het afgelopen seizoen.⭐

Wat was jouw favoriete voorstelling?

https://t.co/96eUrNOwCr https://t.co/4THKy2OM75

🤩Beleef de beste jeugdtheatervoorstellingen van 5 t/m 15 september tijdens NTFJong!

www.krakeling.nl/festival/ntf-jong-2019

✨Tijdens NTFJong van 5-15 september beleef je de beste jeugdtheatervoorstellingen bij Meervaart, Bijlmer Parktheater, Podium Mozaiek, Plein Theater en Theater De Krakeling!🎭

In Theater De Krakeling kun je genieten van Martin Luther King (8+), Hallo familie (8+), In de kelder ...

NTF Jong De kaartverkoop voor NTFjong is gestart!
Van 5-15 september de beste jeugdtheater voorstellingen op verschillende locaties.
Kijk op www.ntf-jong.nl of www.krakeling.nl voor het aanbod.

Photos from De Krakeling's post 🏆Wauw! Martin Luther King (8+) staat in de top 5 beste jeugdtheatervoorstellingen van de Volkskrant van afgelopen seizoen!✨

De voorstelling van Urban Myth Amsterdam, Stip producties en Theater De Krakeling gemist? Hij is nog te zien tijdens NTFJong op 5 ...

Tip: Bij De Amsterdamse Jeugdtheaterschool starten ze in september weer leuke nieuwe theatercursussen, voor kinderen en jongeren van 8 t/m 18 jaar. Meer info en inschrijven voor de proefles ➡️ www.ajts.nl!

Werken bij het leukste theater voor de jeugd?

Wij zijn op zoek naar leuke nieuwe collega's:
- Medewerker kassa
- Medewerker bar

Meer info ➡️ krakeling.nl/organisatie

de Toneelmakerij Vanmiddag alweer de laatste keer Pavements of Gold..
Pavements of Gold neemt afscheid met de allerlaatste voorstelling in De Krakeling vanmiddag. We missen jullie nu al... 💖
#teamofgold
De Krakeling shared a post.

Gisteren is onze kinderraad naar Pavements of Gold (8+) geweest en dit is wat ze ervan vonden!

Je kunt dit hele pinksterweekend nog naar de voorstelling ➡️ www.krakeling.nl/programma/pavements-of-gold

The Cultural Lifestyle ging naar Pavements of Gold (8+) en schreef er deze blog over. Dit hele pinksterweekend kun je naar de voorstelling in Theater De Krakeling!

Lees het hier ➡️ https://t.co/B70Kskst0C

In de voorstelling Pavements of Gold speelt Cherella Gessel de rol van Angel, het dapperste meisje van de Bijlmerdreef. Op een zonnige ochtend gaat ze de straat op, de stad in. Ga met haar op pad in Theater De Krakeling... ...

✨Laat je vrijdagavond 10 mei betoveren door de magische familiemusical Aladdin en geniet daarna van een overheerlijk iftar diner.

Meer info ➡️ https://t.co/mxJAt0GYXI

✨Vrijdag 10 mei organiseren we een speciale familie-Ramadanavond voor heel Amsterdam. Eerst naar de magische familiemusical Aladdin (6+) en daarna genieten van een 1001-nacht diner/iftar.

➡️ https://t.co/LfUM256Ojw https://t.co/mhIs9yQRWe

Op 4 en 5 mei kun je In mijn hoofd is het al lente (8+) zien in Theater De Krakeling. Een voorstelling over puber zijn in de oorlog. Gemaakt ter herdenking van de Tweede Wereldoorlog en in het kader van ...

🎭Morgen in het Pop Arts Festival: Veel te veel te veel (5+).

Een speelse beeldende voorstelling waar objecten een ziel hebben, waar stilte een kleur kent, het niets een naam heeft en waar iedereen een plek verdient.

➡️ https://t.co/FNBWyG1uVv https://t.co/7DeJuODOoP

🎭Vandaag start Bewegende ruimte bij het Pop Arts Festival!🔧
Een muzikale installatie-performance waarin het publiek getuige is van het ontstaan van een machine. Enkel gemaakt van restmateriaal, afval en afgedankte spullen.
➡️ https://t.co/3gDFDiosAQ

🎭We krijgen zoveel mooie reacties van bezoekers. Daarom introduceren we een nieuw rubriek: Wat theater met je doet.💖 https://t.co/Y6VghJ1z9P

🎭Het Pop Arts Festival komt er weer aan! 16 t/m 21 april duik je in @theaterbellevue @brakkegrond en Theater De Krakeling in bijzonder en origineel poppen- en objecttheater gemixt met dans, circus, mime, beeldende kunst, film en muziek.🎪

➡️ https://t.co/DiqGVpLGVe ...

🦸‍♀️Vier superhelden zijn er helemaal klaar mee. Voorgoed. Vanaf nu moet je zelf de wereld maar verbeteren!🦹‍♂️

In Gewoon Held (8+) van @Laaglandtheater beleef je een superavontuur vol herkenbare gedachten. Dit weekend in Theater De Krakeling!

Meer info ➡️ https://t.co/4Iwt3BrqNc ...

💃💡Vrijdag en zaterdag is het alweer tijd voor de allereerste editie van het DenkStation Festival 2019!🧠☁️

Een festival voor jongeren en kinderen waar filosofie en theater samenkomen.

Volledig programma en meer info➡️ https://t.co/cMwOMUR2yn https://t.co/5O0wMU33eQ
De Krakeling
Pros
Great children's theater housing in a historical building on a very nice location. Very close by Leidseplein and easy to reach even with public transportation.