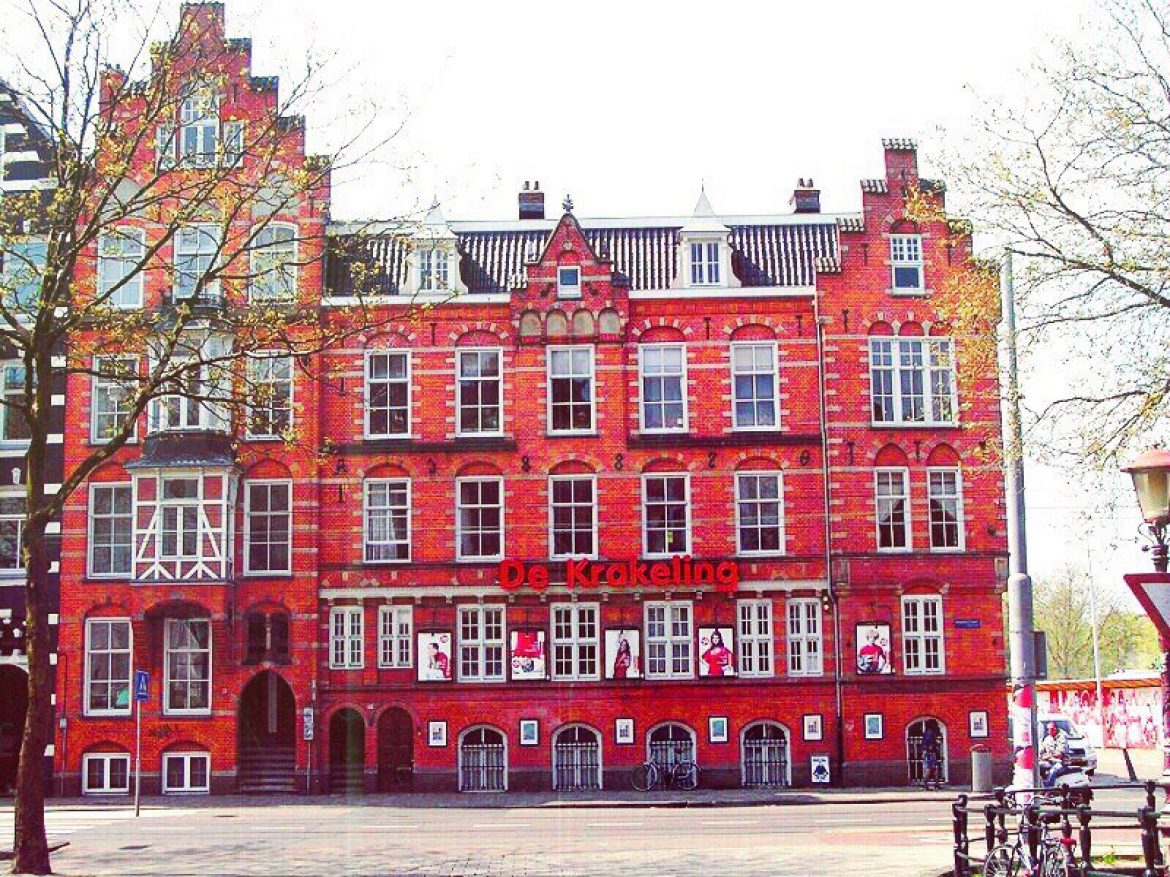 De Krakeling
The theater is part of the Foundation's Youth Theatre, that was established in 1971, the youth programs and youth performances in the Krakeling and elsewhere in and around Amsterdam. Annually in this theater 250 performances take place and approximately 40,000 visitors attend it. The theater has a flat floor. The Krakeling was founded in 1978 by Hans Snoek. It was the first theater building in the Netherlands specifically for youth theater. Children's Theatre De Krakeling in Amsterdam is not only the most popular children's and youth theater in the whole Europe, but it also organized the project of art education for teenagers. In this theater is actively practiced interaction between actors and audience that gives a unique experience to children who come to the show, but also allows you to experience new emotions and vivid memories. De Krakeling is the only one theater in the city today, offering only children's productions. In this children's theater are traditionally only the best performances for children and adolescents in such genres as puppetry, dance and music to audiences of two to 17 years.
The theater is housed in a building from 1887 made in Dutch Renaissance style, with a red brick facades and pointed Gothic-like arches. The building was originally called a gymnasium, the Turnhallen or Turn Building. There were several gymnastic clubs based, including KTV Olympia. The original gymnasium was split in commissioning as a theater in 1978 in a theater room, a cloakroom and a lobby. The low construction between the corner pavilions is more recent. This space was originally for storing gym equipment and is now the theater reception. On the facade of the theater there is a plaque commemorating the Second World War. The text on the plaque reads: "To our fallen comrades 1940 – 1945. The building was designated in 2001 as a national monument.
The Krakeling has been the theater for the youth in the heart of Amsterdam since 1978. Annually, more than 40,000 children and young people experience the best youth performances in this theater. A first encounter they will not soon forget. In addition, for more than seven years in the Amsterdam children's theater there is a special program in which other theater organizations represent here their own performances. In De Krakeling master classes, workshops, exhibitions, lectures and more also held.
The theater receive funding from the City of Amsterdam and the Performing Arts Fund. In addition, they are looking for support by various funds, private partners and friends for the project.
Check out more here: krakeling.nl
📍Het Krakeling Festival bij @theaterbellevue ! Vr 15 okt kun je naar het dansconcert Hold Your Horses🐎 van De Dansers. Op za 16 en zo 17 okt kun je naar Zilveren Krekel winnaar voor IK...eh ik (6+) van Het Houten ...

🤩Het Krakeling Festival staat voor de deur! Vrijdag 8 oktober t/m zondag 17 oktober op verschillende locaties in Amsterdam. Een belevenis voor de hele familie!
Weet jij al waar je naartoe gaat? In deze video komen alle voorstellingen even voorbij. ...

Het Krakeling Festival is terug!🎉 Een tiendaags festival vol mooie, prikkelende en inspirerende theaterbelevenissen in ons theater op Cultuurpark Westergas, op locatie én in theaters door de hele stad. Kom het ook meemaken! https://t.co/vILIPZZ0Ks https://t.co/IOFf0bGbqT

🙌Dit weekend start het nieuwe seizoen! De Krakeling viert de opening van het theaterseizoen met De Bonte Stoet 3+ van @theatertroep en Roodkapje 3+ van Het Kleine Theater. We laten je dit weekend helemaal warm lopen voor het nieuwe theaterprogramma!
...

Kunstenaar en stadstekenaar Richard Kofi creëerde dit prachtige beeld voor De Gouden Koets, het cadeau dat niemand wilde (8+) van @UrbanMythNL @STIPproducties en Theater De Krakeling. Zie als eerste de voorstelling op ma 12 juli & wo 14 t/m za ...

Zie als allereerste De Gouden Koets, het cadeau dat niemand wilde (8+) van @urbanmyth_amsterdam @stipproducties en Theater De Krakeling. We beginnen de zomervakantie goed met vijf exclusieve voorstellingen op ma 12 juli & wo 14 t/m za 17 juli! ➡ ...

Birgit Schuurman en Urvin Monte zongen het Wilhelmus voor de koning en burgemeester Femke Halsema uit de voorstelling De Gouden Koets, het cadeau dat niemand wilde (8+) bij de opening van de tentoonstelling De Gouden Koets in het Amsterdam Museum ...

De dansvoorstelling Matties (12+) van @danstheateraya komt wo 21 april 19.30 uur via een LIVESTREAM bij jou thuis! Een dansvoorstelling over het vinden van je plek op school. Met live introductie en nagesprek met de makers. ➡
https://t.co/Rwh1Ijuit8
📷: Menno ...

Tijdens de kerstperiode ondersteunt Theater De Krakeling een stichting die zich inzet voor kinderen, dit jaar is dat St. Noordje. Met jouw donatie bezorg je kinderen een bijzondere theaterervaring! ❤ https://t.co/XqeKjTZrsW https://t.co/DhoUllPld6

🗳️STEMMEN! De voorstelling Waarom is het stil in de stad? 8+ is kanshebber voor de Podiumkids Prijs! De Podiumkids Prijs is dé publieksprijs voor theater- dans- en muziekvoorstellingen voor kinderen. Je kunt online stemmen op je favoriete voorstelling ➡️https://t.co/m6bmrw9s2U https://t.co/nCKKm3UyoO

Afgelopen weekend was de start van het nieuwe seizoen met de voorstelling Waarom is het stil in de stad? 8+ van @UrbanMythNL Het Parool sprak met onze directeur Kees Blijleven, regisseur Jörgen Tjon A Fong en acteurs Birgit Schuurman en ...

𝐓𝐡𝐞𝐚𝐭𝐞𝐫 𝐃𝐞 𝐊𝐫𝐚𝐤𝐞𝐥𝐢𝐧𝐠 𝐯𝐞𝐫𝐡𝐮𝐢𝐬𝐭 𝐩𝐞𝐫 𝟏 𝐣𝐮𝐥𝐢 𝐧𝐚𝐚𝐫 𝐃𝐞 𝐖𝐞𝐬𝐭𝐞𝐫𝐠𝐚𝐬! Na 42 jaar nemen we afscheid van het monumentale Krakeling pand uit 1887, aan de Nieuwe Passeerdersstraat in het centrum van Amsterdam. ➡️ https://t.co/GLfo5pIl1B https://t.co/bCZlhHAYbh

Op 5 mei zouden we aanschuiven voor de Vrijheidsmaaltijd. Dit jaar nodigen we iedereen uit voor de #Vrijheidsmaaltijdsoep om zo toch samen te eten. Wij hebben de soep uitgedeeld bij buurtgenoten en jij kunt thuis meedoen door de soep zelf ...

Tip voor vandaag: theateropdracht: 𝑫𝒂𝒏𝒔𝒆𝒏 𝒎𝒆𝒕 𝒋𝒖𝒇 𝑫𝒊𝒂𝒏 𝑫𝑬𝑬𝑳 3! 💃🕺 Onze theaterdocent Dian legt in deze video uit hoe je ook kunt dansen als je in een huis woont waar je niet zoveel ruimte hebt. Succes! #krakelingthuis #meivakantie https://t.co/BTmg6IoYBr ...
De Krakeling
Pros
Great children's theater housing in a historical building on a very nice location. Very close by Leidseplein and easy to reach even with public transportation.