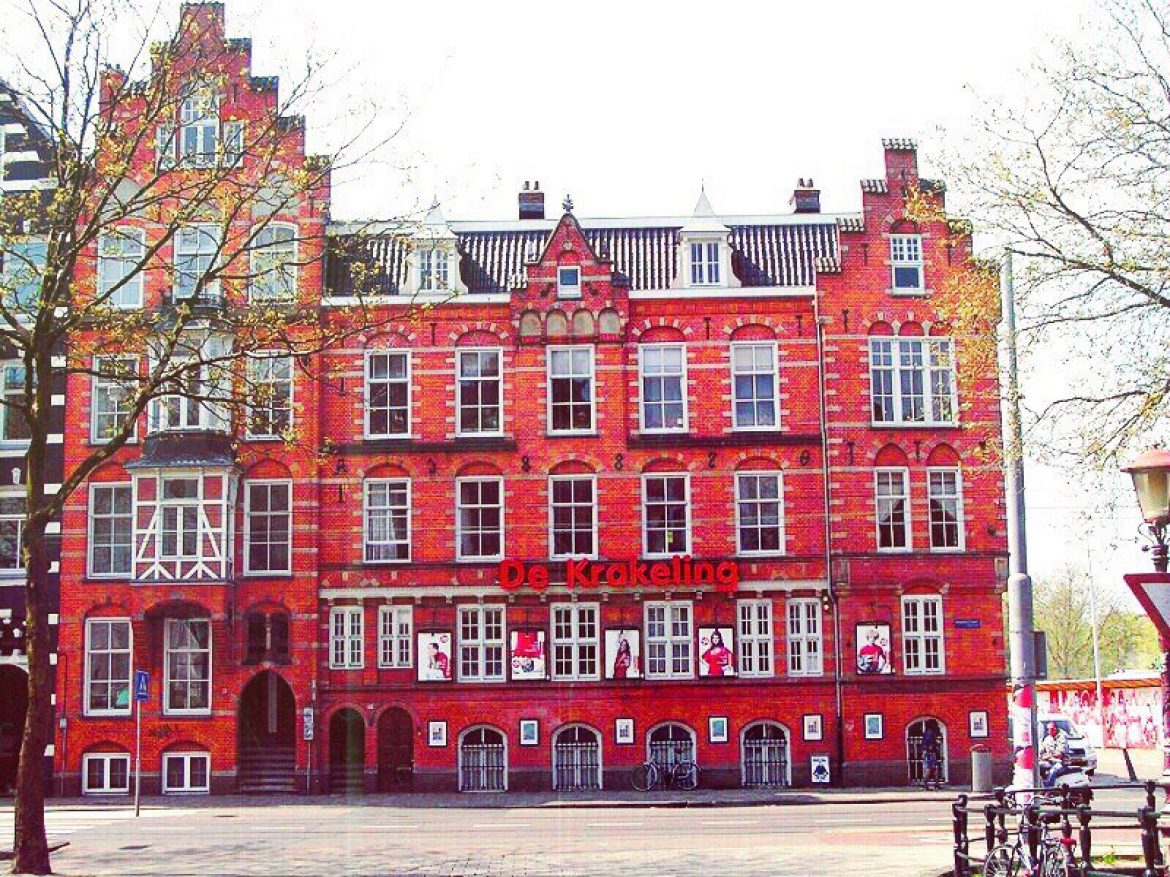 De Krakeling
The theater is part of the Foundation's Youth Theatre, that was established in 1971, the youth programs and youth performances in the Krakeling and elsewhere in and around Amsterdam. Annually in this theater 250 performances take place and approximately 40,000 visitors attend it. The theater has a flat floor. The Krakeling was founded in 1978 by Hans Snoek. It was the first theater building in the Netherlands specifically for youth theater. Children's Theatre De Krakeling in Amsterdam is not only the most popular children's and youth theater in the whole Europe, but it also organized the project of art education for teenagers. In this theater is actively practiced interaction between actors and audience that gives a unique experience to children who come to the show, but also allows you to experience new emotions and vivid memories. De Krakeling is the only one theater in the city today, offering only children's productions. In this children's theater are traditionally only the best performances for children and adolescents in such genres as puppetry, dance and music to audiences of two to 17 years.
The theater is housed in a building from 1887 made in Dutch Renaissance style, with a red brick facades and pointed Gothic-like arches. The building was originally called a gymnasium, the Turnhallen or Turn Building. There were several gymnastic clubs based, including KTV Olympia. The original gymnasium was split in commissioning as a theater in 1978 in a theater room, a cloakroom and a lobby. The low construction between the corner pavilions is more recent. This space was originally for storing gym equipment and is now the theater reception. On the facade of the theater there is a plaque commemorating the Second World War. The text on the plaque reads: "To our fallen comrades 1940 – 1945. The building was designated in 2001 as a national monument.
The Krakeling has been the theater for the youth in the heart of Amsterdam since 1978. Annually, more than 40,000 children and young people experience the best youth performances in this theater. A first encounter they will not soon forget. In addition, for more than seven years in the Amsterdam children's theater there is a special program in which other theater organizations represent here their own performances. In De Krakeling master classes, workshops, exhibitions, lectures and more also held.
The theater receive funding from the City of Amsterdam and the Performing Arts Fund. In addition, they are looking for support by various funds, private partners and friends for the project.
Check out more here: krakeling.nl
𝐊𝐫𝐚𝐤𝐞𝐥𝐢𝐧𝐠𝐓𝐡𝐞𝐚𝐭𝐞𝐫𝐌𝐚𝐤𝐞𝐧! Opdrachten om elke dag even creatief bezig te zijn en anders naar de wereld om je heen te kijken. Opdracht 3: 𝑬𝒎𝒐𝒕𝒊𝒆𝒔 𝒐𝒆𝒇𝒆𝒏𝒆𝒏😁😒😭😠Theater is de kunst van het doen alsof. Kun jij emoties nadoen?➡️ https://t.co/X7jcZ2AoQg https://t.co/fR0ltyYLKJ

𝐊𝐫𝐚𝐤𝐞𝐥𝐢𝐧𝐠𝐓𝐡𝐞𝐚𝐭𝐞𝐫𝐌𝐚𝐤𝐞𝐧! Opdrachten om elke dag even creatief bezig te zijn en anders naar de wereld om je heen te kijken. Opdracht 2: 𝒁𝒊𝒏 𝒗𝒐𝒐𝒓 𝒛𝒊𝒏 𝒗𝒆𝒓𝒉𝒂𝒂𝒍 ✏️🗒
Bekijk hoe jij je eigen verhaal kan maken➡️ https://t.co/srYenRlygV https://t.co/E62jnyBWhq

𝐊𝐫𝐚𝐤𝐞𝐥𝐢𝐧𝐠𝐓𝐡𝐞𝐚𝐭𝐞𝐫𝐌𝐚𝐤𝐞𝐧! Opdrachten om elke dag even creatief bezig te zijn en anders naar de wereld om je heen te kijken. Opdracht 1: 𝑷𝒆𝒓𝒔𝒐𝒏𝒂𝒈𝒆𝒔 𝒊𝒏 𝒉𝒆𝒕 𝒘𝒊𝒍𝒅🧐🐅
Ontdek hoe jij er zelf een personage kunt maken ➡️https://t.co/srYenR3WSl https://t.co/aTjMqwDPPW

❤️ 𝐯𝐨𝐨𝐫 𝐭𝐡𝐞𝐚𝐭𝐞𝐫 - 𝐊𝐚𝐚𝐫𝐭𝐣𝐞 𝐯𝐨𝐨𝐫 𝐋𝐚𝐭𝐞𝐫! Houd de verbeelding levend en steun de mensen van het theater. Om in deze roerige tijd door te kunnen met de programmering van inspirerende theatervoorstellingen voor een jong publiek. ➡️ https://t.co/s23Gu4Aqee https://t.co/Sma0ESB1WP

Tot onze spijt hebben we de voorstellingen in Theater De Krakeling tot en met 31 maart moeten annuleren als gevolg van de uitbraak van het Coronavirus. Meer informatie: https://t.co/25kvMEY6nf

Hij is eruit! 🎉 🎈Het ondernemersplan voor 2021-2024 van Theater De Krakeling. Hard aan gewerkt, goed gevoel - We gaan ervoor! https://t.co/SqVookkQw3

💞𝐓𝐡𝐞𝐚𝐭𝐞𝐫 𝐃𝐞 𝐊𝐫𝐚𝐤𝐞𝐥𝐢𝐧𝐠 𝐰𝐞𝐧𝐬𝐭 𝐢𝐞𝐝𝐞𝐫𝐞𝐞𝐧 𝐞𝐞𝐧 𝐠𝐞𝐥𝐮𝐤𝐤𝐢𝐠 𝐞𝐧 𝐭𝐡𝐞𝐚𝐭𝐞𝐫𝐯𝐨𝐥 𝟐𝟎𝟐𝟎!🎆
Koop een kaartje > Geef een kaartje! En geef een kaartje cadeau aan een kind waarbij theaterbezoek niet vanzelfsprekend is. https://t.co/5hNESbSVKq https://t.co/odZUWAfTrF

🎄𝐊𝐞𝐫𝐬𝐭𝐯𝐚𝐤𝐚𝐧𝐭𝐢𝐞 𝐢𝐧 𝐓𝐡𝐞𝐚𝐭𝐞𝐫 𝐃𝐞 𝐊𝐫𝐚𝐤𝐞𝐥𝐢𝐧𝐠!🎅 2 t/m 5 jan is je laatste kans om De Heelalbeuker (9+) van GOLDMUND te zien! Een muzikale voorstelling in een donkere kroeg midden in de stad, voor kinderen en volwassen.➡️ https://t.co/Lrd1wPsd6A https://t.co/ZBxlnqhAKR

Het programma van het @Theaterweekend is bekend! In Theater De Krakeling kun je naar Lampje (8+) van @tdMaas ! De theaterversie van Lampje, het boek van Annet Schaap, is een beeldende vertelling met een poëtisch uitzicht op zee, woeste drinkmuziek ...

Vandaag is alweer de laatste dag van het @theaterfestival NTFJong sluiten we traditiegetrouw af in Theater De Krakeling met de Jeugdtheaterdag voor professionals. Op deze dag worden bijv. de Zilveren Krekels uitgereikt en spreekt Moniek Merkx de Staat van het ...
De Krakeling
Pros
Great children's theater housing in a historical building on a very nice location. Very close by Leidseplein and easy to reach even with public transportation.