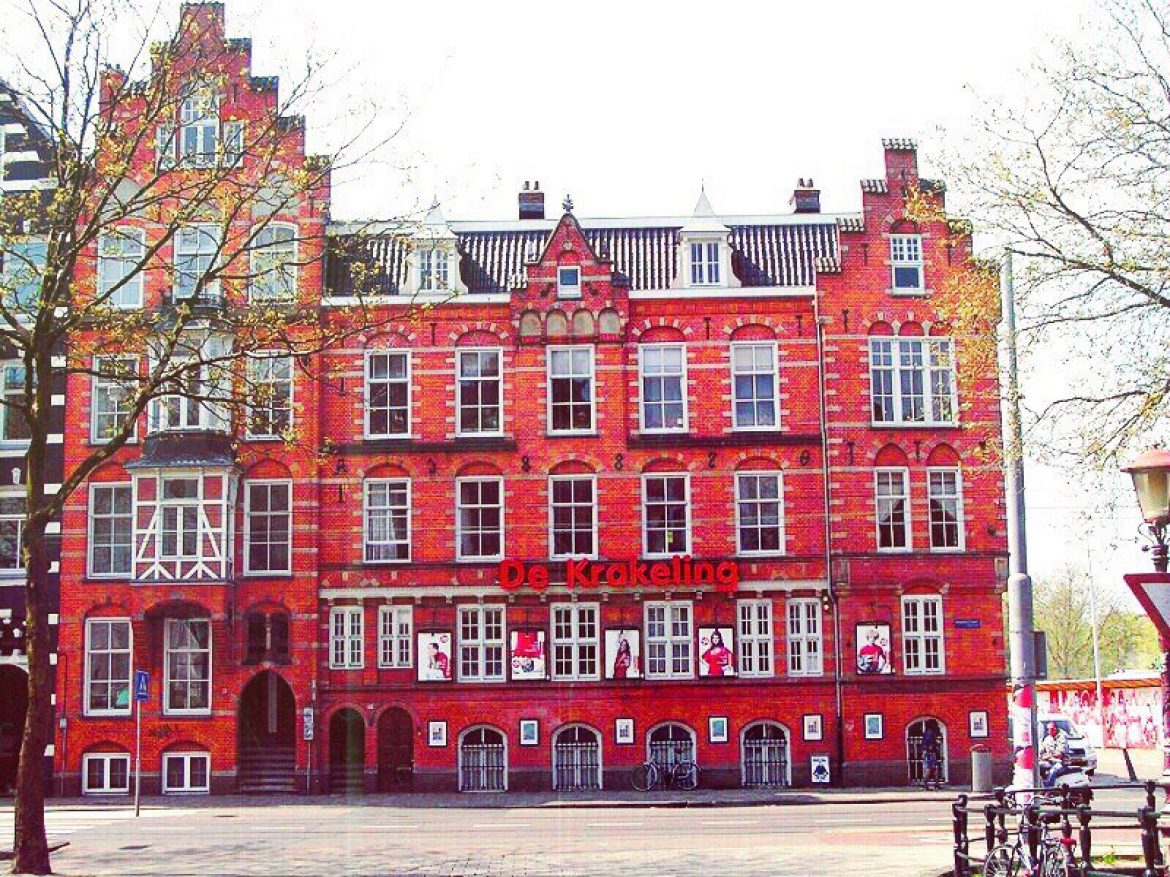 De Krakeling
The theater is part of the Foundation's Youth Theatre, that was established in 1971, the youth programs and youth performances in the Krakeling and elsewhere in and around Amsterdam. Annually in this theater 250 performances take place and approximately 40,000 visitors attend it. The theater has a flat floor. The Krakeling was founded in 1978 by Hans Snoek. It was the first theater building in the Netherlands specifically for youth theater. Children's Theatre De Krakeling in Amsterdam is not only the most popular children's and youth theater in the whole Europe, but it also organized the project of art education for teenagers. In this theater is actively practiced interaction between actors and audience that gives a unique experience to children who come to the show, but also allows you to experience new emotions and vivid memories. De Krakeling is the only one theater in the city today, offering only children's productions. In this children's theater are traditionally only the best performances for children and adolescents in such genres as puppetry, dance and music to audiences of two to 17 years.
The theater is housed in a building from 1887 made in Dutch Renaissance style, with a red brick facades and pointed Gothic-like arches. The building was originally called a gymnasium, the Turnhallen or Turn Building. There were several gymnastic clubs based, including KTV Olympia. The original gymnasium was split in commissioning as a theater in 1978 in a theater room, a cloakroom and a lobby. The low construction between the corner pavilions is more recent. This space was originally for storing gym equipment and is now the theater reception. On the facade of the theater there is a plaque commemorating the Second World War. The text on the plaque reads: "To our fallen comrades 1940 – 1945. The building was designated in 2001 as a national monument.
The Krakeling has been the theater for the youth in the heart of Amsterdam since 1978. Annually, more than 40,000 children and young people experience the best youth performances in this theater. A first encounter they will not soon forget. In addition, for more than seven years in the Amsterdam children's theater there is a special program in which other theater organizations represent here their own performances. In De Krakeling master classes, workshops, exhibitions, lectures and more also held.
The theater receive funding from the City of Amsterdam and the Performing Arts Fund. In addition, they are looking for support by various funds, private partners and friends for the project.
Check out more here: krakeling.nl
Op 30 juni & 1 juli vieren we Keti Koti in Theater De Krakeling! @toneelmakerij, Theater De Krakeling en @urbanmyth_amsterdam komen samen met IN KLEUR (8+). Verhalen in combinatie met een traditionele maaltijd vormen de basis van deze theateravond. ➡ ...

De cultuursector komt dit weekend in actie voor de inwoners van Oekraïne. Om onze solidariteit te tonen kleuren wij ons pand geel en blauw en doneren een deel van de opbrengst van dit weekend aan Giro 555.
➡ https://t.co/gDpUt0x1Vc
#🧡rtforUkraine ...

😔Helaas moeten wij melden dat de voorstelling Lucky Luuk (4+) van Meneer Monster niet door kan gaan vanwege ziekte. De voorstelling zou vanmiddag en morgenmiddag voor een uitverkochte zaal spelen. Kaartkopers worden z.s.m. op de hoogte gebracht.
https://t.co/34SFXxAzbb https://t.co/o8TLAwgbNt

20 februari is jouw allerlaatste kans om De Gouden Koets (8+) te zien en vanwege de nieuwe versoepelingen zijn er weer extra kaarten beschikbaar!🙌Deze voorstelling laat je anders kijken naar een stukje Nederlandse geschiedenis.
https://t.co/xTNN0ZEihO https://t.co/goWQEOcd9a

🙌Alle handjes in de lucht! We mogen vanaf 18 februari weer volledig open! Dat betekent dat er extra kaarten vrij zijn gekomen voor de allerleukste voorstellingen tijdens de voorjaarsvakantie. Dus neem snel een kijkje op ➡ https://t.co/J3aAaxcuc6
Tot snel! https://t.co/ss5k8KYKyM

🥪🌷Speciaal deze voorjaarsvakantie: voor of na een voorstelling genieten van een lekkere, 100% biologische lunch? Goed idee! Combineer je voorstelling met een heerlijke lunch bij Bar Kantoor op Cultuurpark Westergas.
Meer info ➡ https://t.co/1DPMil5pcP https://t.co/Ylq6AJcuCQ

We mogen weer open! 🎉🎉 Wat zijn we blij dat we ons publiek weer mogen ontvangen. Kinderen en ouders kunnen eindelijk weer lekker wegdromen bij mooie theatervoorstellingen. Bekijk snel ons programma op ➡ https://t.co/8POSR7bG85 https://t.co/xBnZiqMYHI

Het is ontzettend jammer… onze zaal blijft in ieder geval tot en met 14 januari leeg. Alle kaartkopers van de voorstellingen ontvangen z.s.m. bericht van ons.

We hopen jullie snel weer te kunnen verwelkomen. Tot snel en stay safe! https://t.co/IATJX40nkL

Niemand wordt van geven armer, het maakt je juist heel rijk: Je krijgt er iets groters voor terug! Maak ook een kind blij met een mooie theatervoorstelling en draag bij aan de nieuwjaarswens van ons en @toneelmakerij Koop een kaartje ...

📍Het Krakeling Festival bij @theaterbellevue ! Vr 15 okt kun je naar het dansconcert Hold Your Horses🐎 van De Dansers. Op za 16 en zo 17 okt kun je naar Zilveren Krekel winnaar voor IK...eh ik (6+) van Het Houten ...

🤩Het Krakeling Festival staat voor de deur! Vrijdag 8 oktober t/m zondag 17 oktober op verschillende locaties in Amsterdam. Een belevenis voor de hele familie!
Weet jij al waar je naartoe gaat? In deze video komen alle voorstellingen even voorbij. ...

Het Krakeling Festival is terug!🎉 Een tiendaags festival vol mooie, prikkelende en inspirerende theaterbelevenissen in ons theater op Cultuurpark Westergas, op locatie én in theaters door de hele stad. Kom het ook meemaken! https://t.co/vILIPZZ0Ks https://t.co/IOFf0bGbqT

🙌Dit weekend start het nieuwe seizoen! De Krakeling viert de opening van het theaterseizoen met De Bonte Stoet 3+ van @theatertroep en Roodkapje 3+ van Het Kleine Theater. We laten je dit weekend helemaal warm lopen voor het nieuwe theaterprogramma!
...

Kunstenaar en stadstekenaar Richard Kofi creëerde dit prachtige beeld voor De Gouden Koets, het cadeau dat niemand wilde (8+) van @UrbanMythNL @STIPproducties en Theater De Krakeling. Zie als eerste de voorstelling op ma 12 juli & wo 14 t/m za ...

Zie als allereerste De Gouden Koets, het cadeau dat niemand wilde (8+) van @urbanmyth_amsterdam @stipproducties en Theater De Krakeling. We beginnen de zomervakantie goed met vijf exclusieve voorstellingen op ma 12 juli & wo 14 t/m za 17 juli! ➡ ...

Birgit Schuurman en Urvin Monte zongen het Wilhelmus voor de koning en burgemeester Femke Halsema uit de voorstelling De Gouden Koets, het cadeau dat niemand wilde (8+) bij de opening van de tentoonstelling De Gouden Koets in het Amsterdam Museum ...

De dansvoorstelling Matties (12+) van @danstheateraya komt wo 21 april 19.30 uur via een LIVESTREAM bij jou thuis! Een dansvoorstelling over het vinden van je plek op school. Met live introductie en nagesprek met de makers. ➡
https://t.co/Rwh1Ijuit8
📷: Menno ...

Tijdens de kerstperiode ondersteunt Theater De Krakeling een stichting die zich inzet voor kinderen, dit jaar is dat St. Noordje. Met jouw donatie bezorg je kinderen een bijzondere theaterervaring! ❤ https://t.co/XqeKjTZrsW https://t.co/DhoUllPld6
De Krakeling
Pros
Great children's theater housing in a historical building on a very nice location. Very close by Leidseplein and easy to reach even with public transportation.