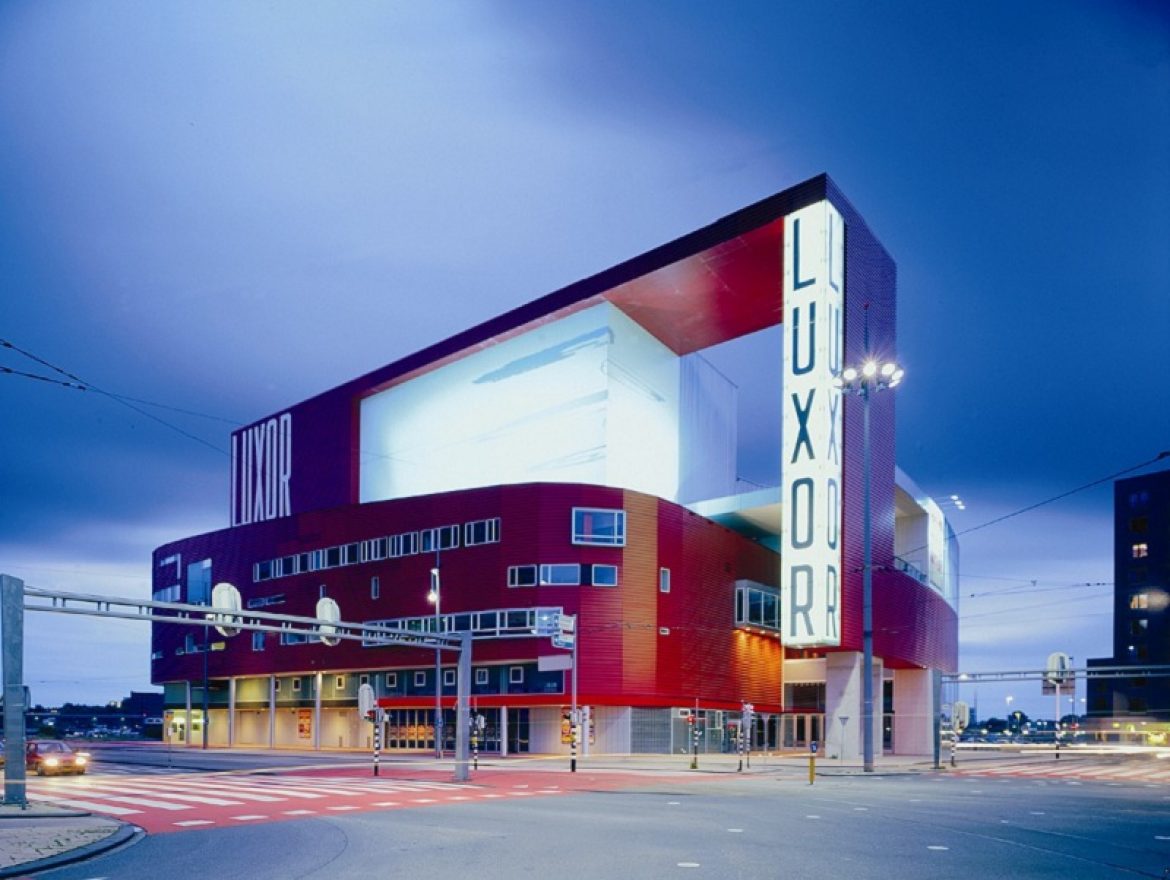 The New Luxor Theater
In the lively and modern city of Rotterdam there are two Luxor theaters. Old theater is located in a historic building, and the new one is located in a beautifully decorated and modern building. The New Luxor Theater is a unique venue at the foot of the Erasmus Bridge, and that is mainly due to its distinctive design.
Old Luxor Theater was opened in 1917. The building is almost the only one that was not affected by the bombing during the Second World War. When the war was over, the building was put in order. It regularly hosts film screenings, performances, it was held a variety of shows, theatrical productions were staged. Over time, weaknesses of the old building appeared, there was a need to build the spacious theater. But it hasn't been realizable for many years. Generally, it meant that the new theater will replace the Old Luxor. But both theaters work as before, and continue to delight visitors and locals productions.
The new theater was built at the foot of the Erasmus Bridge under the leadership of the Australian architect Peter Wilson. And in 2001, it was officially opened. In the bright monumental building, there are almost twice as many seats (1.5 thousand) than in the old theater. It has several halls and become a major theater of the light genre: there are variety shows, concerts, opera, theater, large-scale musical productions, youth shows, family productions, dance. In anticipation of the beginning of the performance, you can eat in one of the many restaurants, or enjoy the view of the bay or Rijnhaven Erasmus Bridge. On sunny days, visitors climb to the roof terrace and admire the beauty of the great outdoors.
The beautiful design of the theater has many special features. First of all, the building is made in red color, which makes the theater and the environment seem to light up. Another factor is a stunning entrance andwide staircases. From the roof terrace and the lobby thereby enjoy a spectacular view of Rotterdam.
The New Luxor Theater provides an architectural tour for groups of 10 people on request. You have the unique opportunity to see parts of the theater where you would never normally come as a visitor. An experienced guide will lead you around the building and informs you about the background, history and developments. The guided tour takes, depending on the group, about 60 minutes. The theater also can be rented for group bookings and corporate events, from 10 people up to 1,535 people. There are several possible arrangements, in which a performance is combined with for example a drink or dinner.
See more at: www.luxortheater.nl
@Adamski1987_ Goedemorgen Adam, we begrijpen dat het heel erg vervelend is! We zijn druk bezig met het vinden van een geschikte oplossing voor alle 140 voorstellingen die wij hebben moeten annuleren. Nog heel even geduld alsjeblieft :) Zodra wij zekerheid ...

@KiersPetra Ha Petra, nee helaas. Je ontvangt komende week een e-mail over de verdere gang van zaken!

@CarolinePloeger @ariebalk Ha Caroline, nee helaas. Als het goed is heb je inmiddels een e-mail, sms of telefoontje van ons gehad.

@Chantalput @ariebalk Ha Chantal, t/m 31 maart worden alle voorstellingen helaas geannuleerd. We e-mailen iedereen.

ALLE VOORSTELLINGEN T/M 31 MAART AFGELAST
Via de persconferentie van het kabinet op 12 maart hebben wij de nieuwe maatregelen rondom het Coronavirus vernomen. Op basis hiervan hebben wij besloten om ALLE voorstellingen t/m 31 maart te annuleren. Bezoekers ontvangen ...

Twee avonden in het oude Luxor Theater en beide zo goed als vol! Veel plezier Ton Kas! @ariebalk

Welkom terug in het oude Luxor Theater @HenryvanLoon! Je zaal zit helemaal vol vanavond, dus geniet ervan!

@Tikky200 Hoi Carolien, de voorstelling is inderdaad helaas geannuleerd. Je ontvangt per e-mail meer informatie!

Welkom terug in het oude Luxor Theater Frank Boeijen! Je hebt een uitverkochte zaal vanavond…veel plezier! @BoeijenMusic

Twee jaar geleden stond je ook al in het oude Luxor Theater…welkom terug Hans Sibbel! Veel plezier vanavond! #Lebbis #HansSibbel

@robdenijs, je hebt een uitverkochte zaal vanavond! Heel leuk…veel plezier in het oude Luxor Theater!

Lieve @kikischippers, welkom in het oude Luxor Theater en geniet van vanavond!

R&B Oldskool is weer terug in het oude Luxor Theater! Laat de zaal op z'n kop staan vanavond…heel veel plezier en succes! #johnwilliams

@elvalnoel Hey Elise, wat vervelend! De kassa is geopend vanaf 2,5 uur voor aanvang van de voorstelling. Je kunt ze dan ook bereiken op kassa@luxortheater.nl

Welcome Bill Bailey! Have a lovely evening…good luck and have fun! @BillBailey

André Kuipers & Sander Koenen, jullie maken het oude Luxor Theater klaar voor een waanzinnige reis naar de ruimte! Laat het publiek zweven…veel succes en plezier vandaag! @astro_andre @sanderkoenen

De hele cast & crew van Kikker en het avontuur in het oude Luxor Theater, welkom! Alle kinderen in de zaal zijn heel benieuwd naar het avontuur van Kikker…veel succes en plezier allemaal! @theaterterra

Rutger Bregman, een bomvol oude Luxor vanavond, tof! Veel plezier en succes vanavond! @rcbregman

Welkom in het oude Luxor Theater cast & crew van Enkele Reis! Het wordt een mooie avond met een lach en een traan. Veel plezier en succes vanavond! @Humstu

Drie uitverkochte zalen deze week in het oude Luxor Theater, dat wordt lachen! Rundfunk-boys, heel veel succes en plezier de komende dagen! @rundfunk_tv

Speciaal ter ere van het zestig jarig jubileum brengen jullie een ode aan meesterchoreograaf Jiří Kylián. De voorstelling staat vijf dagen lang in het nieuwe Luxor Theater…en er zijn nog maar enkele kaarten beschikbaar! Heel veel plezier en succes de ...

@wendowslive Hi Wendy, er kunnen nog kaarten retour komen dus het kan zeker dat er nog kaarten beschikbaar komen. Je kunt het beste op de speeldag zelf aan het einde van de middag even naar onze kassa bellen.
The New Luxor Theater
Pros
It is a modern and spacious concert venue with an awesome acoustics and cozy seating that features a restaurant where you have a very nice view over the water.
Cons
Parking takes time especially on busy nights.