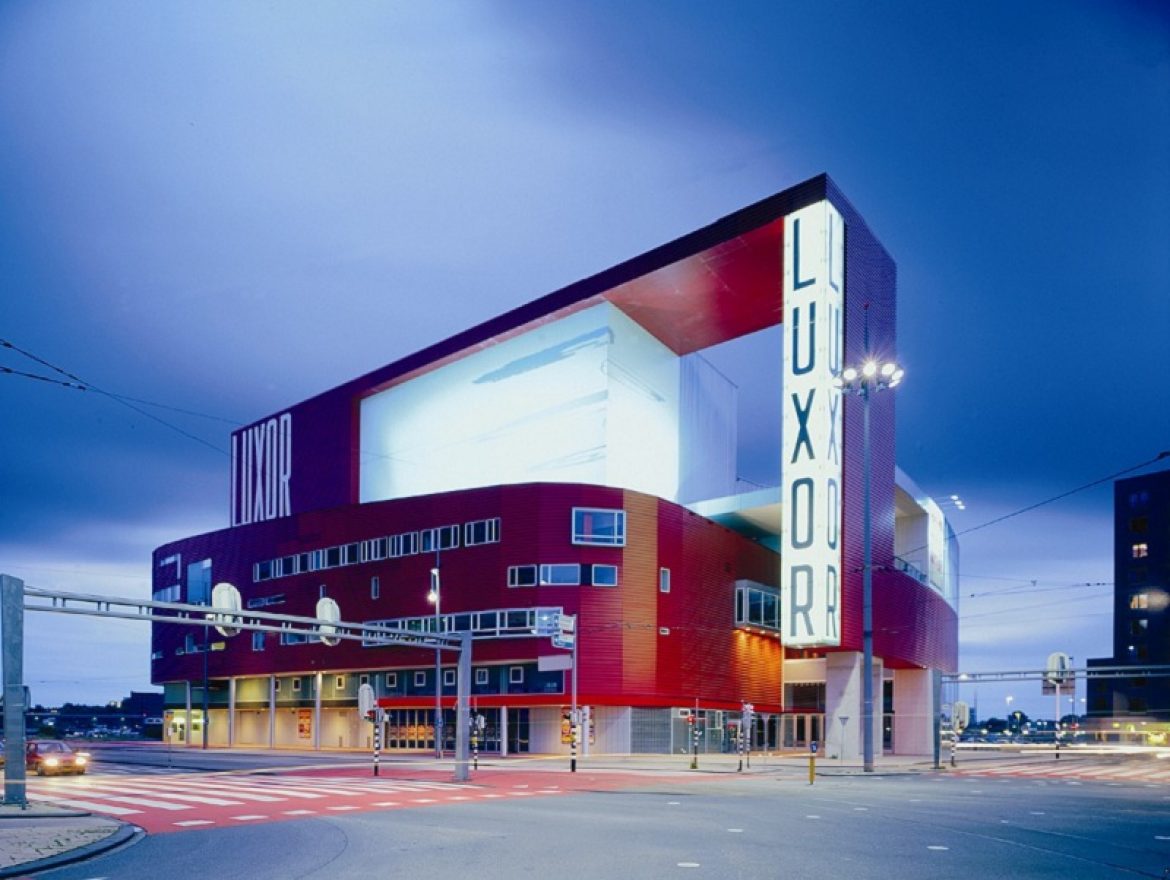 The New Luxor Theater
In the lively and modern city of Rotterdam there are two Luxor theaters. Old theater is located in a historic building, and the new one is located in a beautifully decorated and modern building. The New Luxor Theater is a unique venue at the foot of the Erasmus Bridge, and that is mainly due to its distinctive design.
Old Luxor Theater was opened in 1917. The building is almost the only one that was not affected by the bombing during the Second World War. When the war was over, the building was put in order. It regularly hosts film screenings, performances, it was held a variety of shows, theatrical productions were staged. Over time, weaknesses of the old building appeared, there was a need to build the spacious theater. But it hasn't been realizable for many years. Generally, it meant that the new theater will replace the Old Luxor. But both theaters work as before, and continue to delight visitors and locals productions.
The new theater was built at the foot of the Erasmus Bridge under the leadership of the Australian architect Peter Wilson. And in 2001, it was officially opened. In the bright monumental building, there are almost twice as many seats (1.5 thousand) than in the old theater. It has several halls and become a major theater of the light genre: there are variety shows, concerts, opera, theater, large-scale musical productions, youth shows, family productions, dance. In anticipation of the beginning of the performance, you can eat in one of the many restaurants, or enjoy the view of the bay or Rijnhaven Erasmus Bridge. On sunny days, visitors climb to the roof terrace and admire the beauty of the great outdoors.
The beautiful design of the theater has many special features. First of all, the building is made in red color, which makes the theater and the environment seem to light up. Another factor is a stunning entrance andwide staircases. From the roof terrace and the lobby thereby enjoy a spectacular view of Rotterdam.
The New Luxor Theater provides an architectural tour for groups of 10 people on request. You have the unique opportunity to see parts of the theater where you would never normally come as a visitor. An experienced guide will lead you around the building and informs you about the background, history and developments. The guided tour takes, depending on the group, about 60 minutes. The theater also can be rented for group bookings and corporate events, from 10 people up to 1,535 people. There are several possible arrangements, in which a performance is combined with for example a drink or dinner.
See more at: www.luxortheater.nl
@HumphryJoey We begrijpen dat dit omslachtig kan voelen. We zullen naar onze voorwaarden gaan kijken om dit in de toekomst te voorkomen.

@HumphryJoey Goedemorgen,

Bedankt voor je bericht! Afmelden voor de nieuwsbrief moet via je account gebeuren. Wanneer je inlogt met je gegevens kun je binnen je gestelde voorkeuren de nieuwsbrief stopzetten.

@movies90210 Hoi hoi
Dit klopt zeker, wanneer wij deze gegevens hebben ontvangen kunnen wij het terugstort proces in gang zetten. Geen zorgen! Wij gaan vertrouwelijk met de gegevens om

@jawidagi @MichaWertheim Beste Wim, de voorstelling is alleen te bekijken op een computer/laptop/iPad met werkende webcam en Safari, Chrome of Edge als internetbrowser. Mocht het hierna nog niet lukken kijk dan even op https://t.co/meuZSw4bXq

@JanineFF Goedemorgen Janine, als je een 2-persoon ticket boekt krijg je één link maar betaal je dus voor twee personen die de voorstelling aan het kijken zijn (1x2 kaarten). Voor de derde persoon op een andere locatie kan je 1x1 ...

5 jaar geleden maakte hij een voorstelling waarin hij zijn publiek verraste door niet aanwezig te zijn. Het vervolg van deze bijzondere voorstelling is binnenkort te zien: Niemand Anders, een interactieve voorstelling zonder publiek. Dit wordt speciaal👉 https://t.co/k8sTax3Kib https://t.co/qE7fwFXx3F

Omdat we de deuren van onze theaters deze feestdagen helaas gesloten moeten houden, heeft het personeel van Luxor even vakantie. Van 24 december t/m 3 januari zijn we daarom niet bereikbaar. Onze excuses voor het ongemak.

Wij wensen je fijne ...

@nicothenu Hoi Nico, kan je ons in een privé berichtje sturen met welk e-mail adres ze geboekt heeft, dan ga ik even voor je kijken.

Door de nieuwe maatregelen hebben wij helaas moeten besluiten de voorstellingen tot 10 november niet door te laten gaan. Alle kaartkopers worden snel per mail op de hoogte gesteld. Bekijk hier een overzicht van de geannuleerde voorstellingen. https://t.co/lRVlnOOtT0

@Eric_Vermeer Hi Eric, Daniel Arends speelt om 19:00 en 21:30 uur. Kan je anders even een mailtje naar kassa@luxortheater.nl sturen met je tickets? Dan kijken we het even na!

@knor68 Omdat, zoals in het nieuwsbericht staat, er aanpassingen moeten worden gemaakt voor de voorstellingen tussen 7 en 19 oktober, en het geen zin heeft voor nieuwe bezoekers kaarten te kopen voor deze voorstelling.

@knor68 De ontheffingen worden per voorstelling gegeven dus wachten we iedere keer af wat de veiligheidsregio zegt. Meer informatie komt zo snel mogelijk je kant op. Bedankt voor je geduld!

@knor68 Ha Leentje, tot 20 oktober hebben wij voor een max aantal bezoekers ontheffing gekregen. Alle kaartkopers worden hier snel van op de hoogte gesteld.

@ccmcmunsie We hebben de ontheffingsaanvraag vandaag (maandag) ingediend. Hopen dinsdag of woensdag te horen waar we aan toe zijn.

@loetje65 @JanDirkStouten We hebben de ontheffingsaanvraag vandaag (maandag) ingediend. Hopen dinsdag of woensdag te horen waar we aan toe zijn.

@Amanda130691 Ha Amanda, zou je ons in een persoonlijk bericht willen laten weten wat je vraag is en hoe we je zouden kunnen helpen? Dank!

@Nop67 @pieterderks Ha Norbert, ik snap je verwarring! Dit heeft te maken met een verhuring. Zou je ons op Twitter willen volgen? Dan kan ik het je verder uitleggen in een privébericht. Dank!

@hessel24 Voor zo ver wij nu weten, kunnen de voorstellingen gewoon doorgaan. Mocht dit onverhoopt toch niet het geval zijn, dan laten wij dit weten.

@twarie Hallo Arie, vanwege de aangepaste zaal en omstandigheden proberen wij de zaalcapaciteit zo optimaal mogelijk te benutten zodat alle bezoekers van de voorstelling kunnen genieten. We hopen dat je van de voorstelling hebt genoten!

Welkom in Club Luxor @Eefjedevisser. De shows zijn helemaal uitverkocht. TOI TOI TOI en veel plezier! 🎶👍
The New Luxor Theater
Pros
It is a modern and spacious concert venue with an awesome acoustics and cozy seating that features a restaurant where you have a very nice view over the water.
Cons
Parking takes time especially on busy nights.