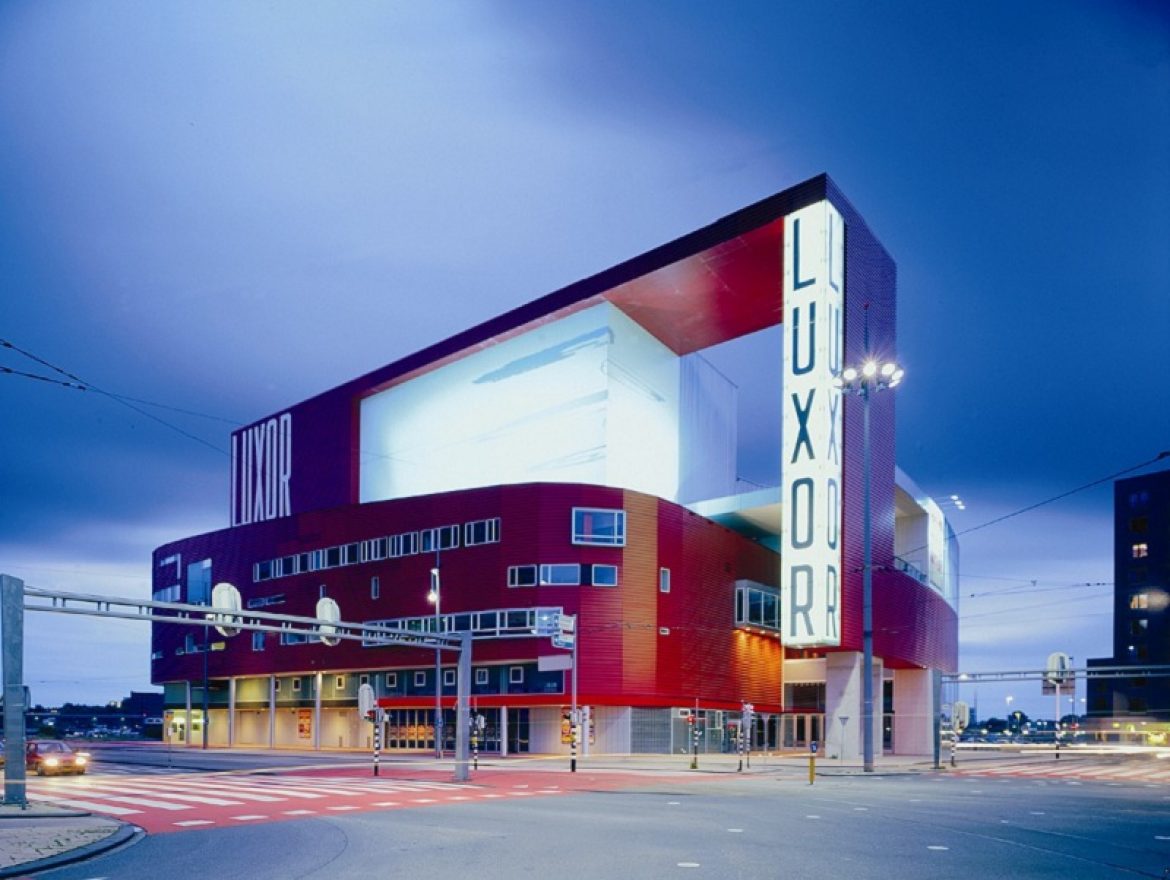 The New Luxor Theater
In the lively and modern city of Rotterdam there are two Luxor theaters. Old theater is located in a historic building, and the new one is located in a beautifully decorated and modern building. The New Luxor Theater is a unique venue at the foot of the Erasmus Bridge, and that is mainly due to its distinctive design.
Old Luxor Theater was opened in 1917. The building is almost the only one that was not affected by the bombing during the Second World War. When the war was over, the building was put in order. It regularly hosts film screenings, performances, it was held a variety of shows, theatrical productions were staged. Over time, weaknesses of the old building appeared, there was a need to build the spacious theater. But it hasn't been realizable for many years. Generally, it meant that the new theater will replace the Old Luxor. But both theaters work as before, and continue to delight visitors and locals productions.
The new theater was built at the foot of the Erasmus Bridge under the leadership of the Australian architect Peter Wilson. And in 2001, it was officially opened. In the bright monumental building, there are almost twice as many seats (1.5 thousand) than in the old theater. It has several halls and become a major theater of the light genre: there are variety shows, concerts, opera, theater, large-scale musical productions, youth shows, family productions, dance. In anticipation of the beginning of the performance, you can eat in one of the many restaurants, or enjoy the view of the bay or Rijnhaven Erasmus Bridge. On sunny days, visitors climb to the roof terrace and admire the beauty of the great outdoors.
The beautiful design of the theater has many special features. First of all, the building is made in red color, which makes the theater and the environment seem to light up. Another factor is a stunning entrance andwide staircases. From the roof terrace and the lobby thereby enjoy a spectacular view of Rotterdam.
The New Luxor Theater provides an architectural tour for groups of 10 people on request. You have the unique opportunity to see parts of the theater where you would never normally come as a visitor. An experienced guide will lead you around the building and informs you about the background, history and developments. The guided tour takes, depending on the group, about 60 minutes. The theater also can be rented for group bookings and corporate events, from 10 people up to 1,535 people. There are several possible arrangements, in which a performance is combined with for example a drink or dinner.
See more at: www.luxortheater.nl
CATS Grace Swaby 🙀🗓 Nog 1 week en dan staat CATS voor de allerlaatste keer in Luxor! ⏰ Hoe vindt de jongste actrice van het gezelschap het om mee te doen aan zo'n grote productie? Bekijk zelf hoe goed ze het doet op ...

🎶''Waar is die kleine clown...?''🎶
''Wat is zijn naam...?'' BUMBA!
Welkom cast & crew en veel plezier vandaag! https://t.co/HyA7qyMAAf

Welkom in 't Schaep Hier in 't Schaep met de 5 pooten hebben we altijd wat aan mekaar... #kootjedebeer #biertje #ballendraaien #mijnventbetaalt

LET OP! Het concert van de @EdwinEversBand begint vanavond niet om 20:00 maar om 20:30 uur!

De Edwin Evers Band speelt de komende drie dagen het dak van het Nieuwe Luxor af. Van harte welkom allemaal en geniet van het publiek! 🎸🎶 🎹🎤 #mooizo! https://t.co/EUANAx1IZd

@SardiLilia Hi! You can check our page in English for an overview of performances accessible/interesting to non-dutch speakers. Check the individual pages to see more on the amount of english within the specific show.
https://t.co/Xp8msISfZk

Luxor Musical Karaokebox | Topper van de week! René van Kooten en Brigitte Heitzer....wij zien nauwelijks verbeterpunten in deze magistrale versie van 'Huil niet om mij Argentina' opgenomen in de Luxor Karaokebox! Wat jullie? 😎😁 #nogffoefenen #douzepoints

De kaartverkoop voor Operadagen Rotterdam​ 2019 is gestart! Bekijk het complete programma op www.operadagenrotterdam.nl.

Met in Luxor Theater deze editie:
Het Bezoek - Operadagen Rotterdam en
8: Metamorphosis - Operadagen Rotterdam

Tot #ODR19!

Premièreverslag | Single Camping Welkom op camping De Groene Bosnimf! ⛺️🧚‍♂️

De hilarische kampeerkomedie met niemand minder dan happy singles Ilse Warringa (De Luizenmoeder), Tjitske Reidinga, Peter Blok, Rop Verheijen en Elise Schaap in de hoofdrol.

Kijk naar het Premièreverslag en dan snap je ...

NIEUW IN DE VERKOOP! 💥💥
Na traditionele conferences zoals de Oudejaars- en de Sinterklaasconference is het nu tijd voor een hilarische comedyshow (met Najib Amhali, Anuar en Rayen Panday) over de mooiste maand van het jaar: de Ramadan! Kaarten voor ...

Karaokebox | Topper van de week Deze drie jonge dames SLOPEN wel even een microfoon (1:10 sec 😂), maar potverdorie, wat een uithalen, wat een tekstbeheersing en wat een enthousiasme!!! 💥😁

Cats in Luxor! Van mens naar kat in 1,5 minuut? Bekijk de geweldige transformatie hieronder 😺😺! Cats is vanaf 2 april nog één week in Rotterdam te zien!

NU IN DE VERKOOP! 💥💥💥
Extra voorstelling Jochem Myjer op 11 september 2019!
Kaarten vind je hier --> https://bit.ly/2XGHjVh
Be quick...🚴‍♂️🏄‍♂️🏎🏍

TOCH NOG ÉÉN EXTRA SHOW! 💥💥
De kaartverkoop van Jochem Myjer ging afgelopen zaterdag zo snel dat we er toch nog ééntje hebben bijgeboekt. Morgen (📅 woensdag 6 maart - 11.00 uur) start de kaartverkoop van 'Adem In, Adem Uit' ...

❗️KINKY BOOTS❗️
Over +- 4️⃣ weken start de kaartverkoop van dé nieuwe feel-good Broadwayhit Kinky Boots de musical. Met o.a. Naidjim Severina, Jonathan Demoor en Vajèn van den Bosch. 📅 Zet het in je agenda! Maandag 1 april...

Luxor KaraokeboxTopper #9 ✨Deze heren laten het zware karaoke-werk over aan de echte sterren!✨🎤🎶 Wát een overgave, emotie en plezier. Van ons krijgen ze een staande ovatie 🙌🙌

De man die de afgelopen maanden 50 shows in Carré helemaal uitverkocht komt in september 2019 ook gewoon weer terug naar Rotterdam! 💥💥 Aankomende zaterdag 2 maart gaat Jochem Myjer zijn voorstelling "Adem in, Adem uit" om 10.00 uur in ...

Thomas Acda Winactie WINACTIE 💥🏆

Aankomende vrijdag 1 en zaterdag 2 maart komt Thomas Acda naar Luxortttt met zijn solo voorstelling MOTEL! Thomas zijn gloednieuwe CD winnen? 📀📀 Laat hieronder een leuk berichtje voor Thomas achter en maak kans op een van de ...

FLASHBACK FRIDAY 🤗🤩

Precies 2 jaar geleden was de LEGENDARISCHE Luxor Marathon Run...

🏃‍♀️🍻 1.500 lelijke paars met gele shirts, hardlopen door Rotterdam en onze theaters, een optreden van deze 5 helden en natuurlijk heel veel Schultenbräu bier! 💜💛

Wie ...

ROEKOE ROEKOE! Dat ging hard! In 3 uur tijd zijn alle kaarten voor Fred van Leer Live eruit gevlogen... 😮😮

Daarom heeft hij nog een extra voorstelling aangekondigd op vrijdag 22 mei 2020. De verkoop is nu gestart: https://goo.gl/g5qx66
The New Luxor Theater
Pros
It is a modern and spacious concert venue with an awesome acoustics and cozy seating that features a restaurant where you have a very nice view over the water.
Cons
Parking takes time especially on busy nights.