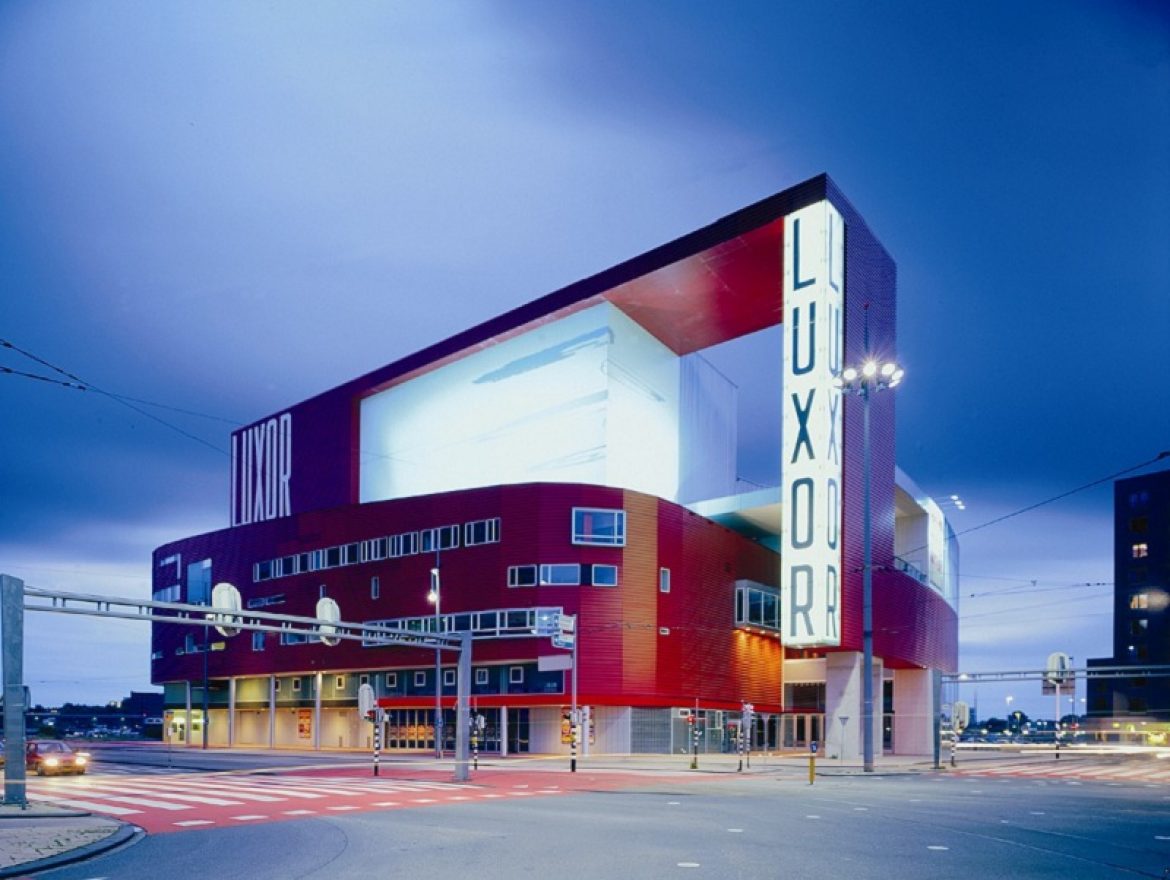 The New Luxor Theater
In the lively and modern city of Rotterdam there are two Luxor theaters. Old theater is located in a historic building, and the new one is located in a beautifully decorated and modern building. The New Luxor Theater is a unique venue at the foot of the Erasmus Bridge, and that is mainly due to its distinctive design.
Old Luxor Theater was opened in 1917. The building is almost the only one that was not affected by the bombing during the Second World War. When the war was over, the building was put in order. It regularly hosts film screenings, performances, it was held a variety of shows, theatrical productions were staged. Over time, weaknesses of the old building appeared, there was a need to build the spacious theater. But it hasn't been realizable for many years. Generally, it meant that the new theater will replace the Old Luxor. But both theaters work as before, and continue to delight visitors and locals productions.
The new theater was built at the foot of the Erasmus Bridge under the leadership of the Australian architect Peter Wilson. And in 2001, it was officially opened. In the bright monumental building, there are almost twice as many seats (1.5 thousand) than in the old theater. It has several halls and become a major theater of the light genre: there are variety shows, concerts, opera, theater, large-scale musical productions, youth shows, family productions, dance. In anticipation of the beginning of the performance, you can eat in one of the many restaurants, or enjoy the view of the bay or Rijnhaven Erasmus Bridge. On sunny days, visitors climb to the roof terrace and admire the beauty of the great outdoors.
The beautiful design of the theater has many special features. First of all, the building is made in red color, which makes the theater and the environment seem to light up. Another factor is a stunning entrance andwide staircases. From the roof terrace and the lobby thereby enjoy a spectacular view of Rotterdam.
The New Luxor Theater provides an architectural tour for groups of 10 people on request. You have the unique opportunity to see parts of the theater where you would never normally come as a visitor. An experienced guide will lead you around the building and informs you about the background, history and developments. The guided tour takes, depending on the group, about 60 minutes. The theater also can be rented for group bookings and corporate events, from 10 people up to 1,535 people. There are several possible arrangements, in which a performance is combined with for example a drink or dinner.
See more at: www.luxortheater.nl
Fiddler on the Luxor Roof Hij staat er toch echt die vioolspeler... a Fiddler on the Luxor Roof! 😍

🎻'Als ik toch eens rijk was... Dabbe-diebe-diebediebe-dom' 🎻
Luxor Theater is with Fiddler The Musical at Luxor Theater.

GUUS MEEUWIS IN LUXOR! Vanaf 11 uur koop je vandaag (10 mrt) kaarten voor zijn concert op vrijdag 7 september 2018! --> https://goo.gl/GVhdqx
Luxor Theater is feeling excited.

BREAKING! 🔥🔥 De bestseller van Astrid Holleeder, JUDAS, komt naar het theater. De psychologische theaterthriller over de zussen van crimineel Willem Holleeder is in december 2018 in Rotterdam te zien! Tickets en info op https://goo.gl/r1V23Q

We ontvingen vanavond 100 hele bijzondere gasten bij de Rotterdamse première van Fiddler The Musical 🎻🎻. Thomas Acda en zijn Fiddler familie serveerde Joodse kippensoep aan 100 ouderen van Stichting Vier het Leven. Wat een mooie avond, zo veel liefde! ...

Binnenkort in Luxor Binnenkort in Luxorttt!
- Fiddler on the Roof 🎻🎻
- Nuhr 👊👊
- John Buijsman 🕵️‍♂️🕵️‍♂️
- Opvliegers 3 🔥👠
- Harrie Jekkers & Klein Orkest 🎉🎶
- The Ramblers & Joke Bruijs 🎶🎷

@thomasacda Ja we zaten even in een poëtische bui!! 😎 Fijn dat je er bent! Zin in??

Guus Meeuwis komt naar Rotterdam! 🎈🎈 👊👊 Aankomende zaterdag 10 maart start om 10.00 uur de kaartverkoop van zijn theaterconcert op vrijdag 7 september 2018! Je vindt hier alle info --> https://goo.gl/GVhdqx
Luxor Theater is feeling happy.

@fresku040 kan niet alleen muziek maken, maar hij kan ook een geweldige theatershow neerzetten! Hij is vanavond te zien bij ons in het theater en brengt poëzie en humor zoals niemand anders dat kan! Welkom en toi toi toi! https://t.co/dXwDdd8yDL

WIN, WIN, WIN! 😍 🎻

Deze week is het eindelijk zover, de eerste voorstellingen van Fiddler on the Roof in Luxor! Woensdag 7 maart a.s. is er een feestelijke Rotterdamse première en DAAR KAN JIJ BIJ ZIJN! Luxor geeft 3x ...

Sleeping beauty wordt wakker gekust...ehhhh...gelachen 😂. De voorstelling vanavond was geweldig!! ⛸👑 #SleepingBeautyOnIce #LuxorTheater

Theaterworkshop van o.a. RUUT WEISSMAN!
Het artistieke team van de musical Fiddler on the Roof, bestaande uit regisseur Ruut Weissman, muzikaal leider Jeroen Sleyfer en choreograaf Pim Veulings gaat op zaterdag 10 maart met JOU aan de slag. Lees hier ...

NIEUW IN DE VERKOOP!

Amsterdam Sinfonietta met Blaudzun: Breder dan Klassiek

Zondag 6 januari 2019 | De verkoop is nu gestart: https://goo.gl/7M1Bej

Binnenkort in Luxor #4 Binnenkort in Luxorttt!
- Wat beweegt de hardloper 🏃‍♂️🤨
- Fresku 😂🎈
- Fiddler on the Roof 🎻🏙️
- African Mamas ❤️🇿🇦️
- Van der Laan & Woe 😂😂
- Ashton Brothers 🤡🎈
- Creedence Cleerwater Rivival 🎶🔥

Wat een prachtige voorstelling gisteravond was #sleepingbeautyonice #luxortheater
Genoten van muziek Tsjaikovski en indrukwekkend ballet op ijs!

NIEUW IN DE VERKOOP!

Na het succes van vorig jaar is Don Pescatore and his Alcatraz Orchestra terug! Kom je ook dansen op het podium van het nieuwe Luxor Theater met bert visscher !?🕺🎉

Za 16 juni 2018 | de ...

Binnenkort in Luxor #3 Binnenkort in Luxor
- Sleeping Beauty on Ice 🌹⛸️
- Vele hemels boven de 7de 👨‍👩‍👧‍👦📚
- John Buijsman 🕵️‍♂️👮‍♀️
- Pieter Derks 😂👏
- Buurman en Buurman 🔧🔨
The New Luxor Theater
Pros
It is a modern and spacious concert venue with an awesome acoustics and cozy seating that features a restaurant where you have a very nice view over the water.
Cons
Parking takes time especially on busy nights.