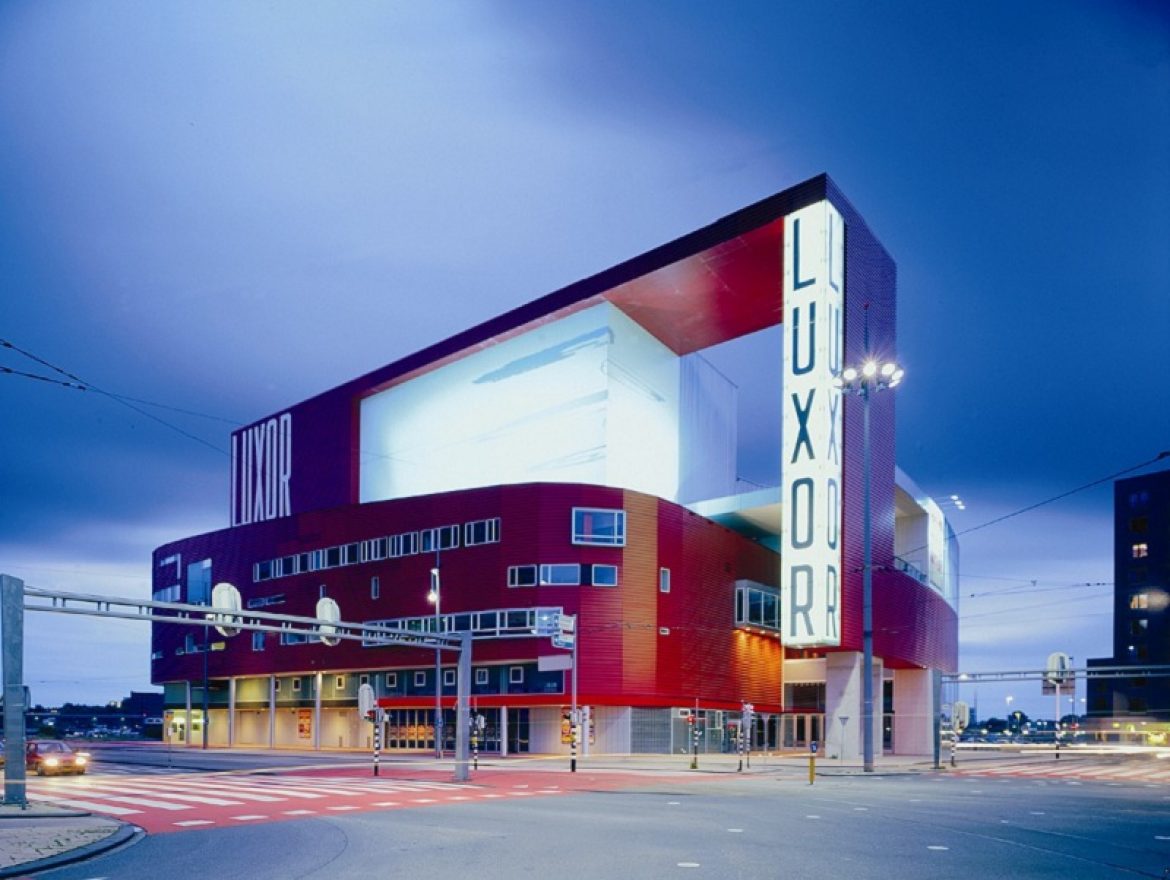 The New Luxor Theater
In the lively and modern city of Rotterdam there are two Luxor theaters. Old theater is located in a historic building, and the new one is located in a beautifully decorated and modern building. The New Luxor Theater is a unique venue at the foot of the Erasmus Bridge, and that is mainly due to its distinctive design.
Old Luxor Theater was opened in 1917. The building is almost the only one that was not affected by the bombing during the Second World War. When the war was over, the building was put in order. It regularly hosts film screenings, performances, it was held a variety of shows, theatrical productions were staged. Over time, weaknesses of the old building appeared, there was a need to build the spacious theater. But it hasn't been realizable for many years. Generally, it meant that the new theater will replace the Old Luxor. But both theaters work as before, and continue to delight visitors and locals productions.
The new theater was built at the foot of the Erasmus Bridge under the leadership of the Australian architect Peter Wilson. And in 2001, it was officially opened. In the bright monumental building, there are almost twice as many seats (1.5 thousand) than in the old theater. It has several halls and become a major theater of the light genre: there are variety shows, concerts, opera, theater, large-scale musical productions, youth shows, family productions, dance. In anticipation of the beginning of the performance, you can eat in one of the many restaurants, or enjoy the view of the bay or Rijnhaven Erasmus Bridge. On sunny days, visitors climb to the roof terrace and admire the beauty of the great outdoors.
The beautiful design of the theater has many special features. First of all, the building is made in red color, which makes the theater and the environment seem to light up. Another factor is a stunning entrance andwide staircases. From the roof terrace and the lobby thereby enjoy a spectacular view of Rotterdam.
The New Luxor Theater provides an architectural tour for groups of 10 people on request. You have the unique opportunity to see parts of the theater where you would never normally come as a visitor. An experienced guide will lead you around the building and informs you about the background, history and developments. The guided tour takes, depending on the group, about 60 minutes. The theater also can be rented for group bookings and corporate events, from 10 people up to 1,535 people. There are several possible arrangements, in which a performance is combined with for example a drink or dinner.
See more at: www.luxortheater.nl
Huub van der Lubbe speelt de hoofdrol in de musical De man van La Mancha, 15 mei tot 2 juni 2024 in het nieuwe Luxor Theater. Luxor is trots om weer een nieuwe productie in samenwerking met de Theateralliantie te ...

Vandaag vindt de Nationale Jongerenherdenking plaats in het nieuwe Luxor Theater. Een herdenking voor en door jongeren om op een geheel eigen manier stil te staan bij de oorlogsslachtoffers van alle tijden.
Lees meer: https://t.co/vWWOKwUOzf https://t.co/4EIvHGhjQH

Felicitaties voor Steef de Jong! De theatermaker heeft de Johan Kaartprijs gewonnen voor o.a. zijn veelgeprezen voorstellingen, waaronder Steefs O. Show.

(Her)beleef de hit van O. 2022 in @LuxorTheater. Steefs O. Show: 25–27 mei bij O. 2023. Tickets via https://t.co/PDhH5TIIcR. ...

De cast van de legendarische musical Les Misérables beleefde gisteren een ware Rotterdamse première. Deze première viert het feit dat de musical na 15 jaar eindelijk weer terug is in het nieuwe Luxor Theater.

Lees meer: https://t.co/b1iCszH2Rt https://t.co/R23tBE5XDg

Woensdag ging Cuban Electico van Acosta Danza feestelijk in première in Luxor. Holland Dance Festival, Luxor Theater Rotterdam en Stichting Droom en Daad zetten opnieuw Rotterdam op de kaart als locatie voor internationale dansvoorstellingen. Lees meer: https://t.co/92gIszzQz8 https://t.co/dKuo9G8xq4

Tijdens de decembermaand biedt Luxor meer dan een bomvol programma. Beleef een unieke speurtocht in het nieuwe Luxor Theater, laat kinderen hun talent ontdekken in Café Dox of kruip in de huid van Mozart.
Lees meer: https://t.co/wTwKv4hLM1 https://t.co/8oAMhunlif

De internationale sensatie SIX de musical komt in zijn originele Engelse productie naar het Luxor Theater. Wegens het grote succes in Amsterdam staat de voorstelling van 3 t/m 10 oktober 2023 nu ook in Rotterdam. Kaartverkoop start morgen om 10.00 ...

Volgend jaar is van 25-27 mei Steefs O. Show opnieuw te zien in het oude Luxor Theater in Rotterdam. De introductie van het nieuwe genre 'opera cabaret' vormt de start van een jarenlange samenwerking tussen O. en Luxor Theater. Lees ...

Vanaf januari 2023 start Ulrike Söbbeke als Zakelijk Directeur bij het Luxor Theater. Naast Algemeen Directeur Marc van Kaam zal zij bij gaan dragen aan de ambitieuze plannen van Luxor voor Rotterdam.

Lees meer: https://t.co/XClgdrCFmH https://t.co/1na3mWnyj3

@M4tts Hi Robin, je kunt het beste even contact opnemen met kassa@luxortheater.nl of bellen naar 010 - 484 33 33.

@CindyvanHamond Wat een toffe foto! We hopen dat je een fijne avond hebt gehad!😃

@MariaPluchee Hi Maria, sorry voor de late reactie. Waar kunnen we je precies mee helpen? Heb je nog ergens kaartjes voor? Je kunt ons mailen via kassa@luxortheater.nl en we zijn elke dag telefonisch bereikbaar tussen 10:00 uur en 20:00 uur. ...

@curbbcom Hi Mac, bedankt voor je melding. We gaan er gelijk mee aan de slag om dit z.s.m. op te lossen.

Waardenberg en De Jong komen weer terug in het @LuxorTheater met de uitgestelde voorstelling! Vanaf half september. De kaartverkoop begint vandaag om 15.00 uur. https://t.co/8nicgjjkx2

@SjaksTweets Goedemorgen, Is het mogelijk om een mail te sturen naar kassa@luxortheater.nl? Zodat zij het voor je in orde kunnen maken. Alvast bedankt en excuses voor het ongemak.

@SjaksTweets Goedemorgen, bedankt voor je bericht. Wij hebben een mail gestuurd naar alle oud-kaartkopers, waardoor het drukker is dan normaal.
The New Luxor Theater
Pros
It is a modern and spacious concert venue with an awesome acoustics and cozy seating that features a restaurant where you have a very nice view over the water.
Cons
Parking takes time especially on busy nights.