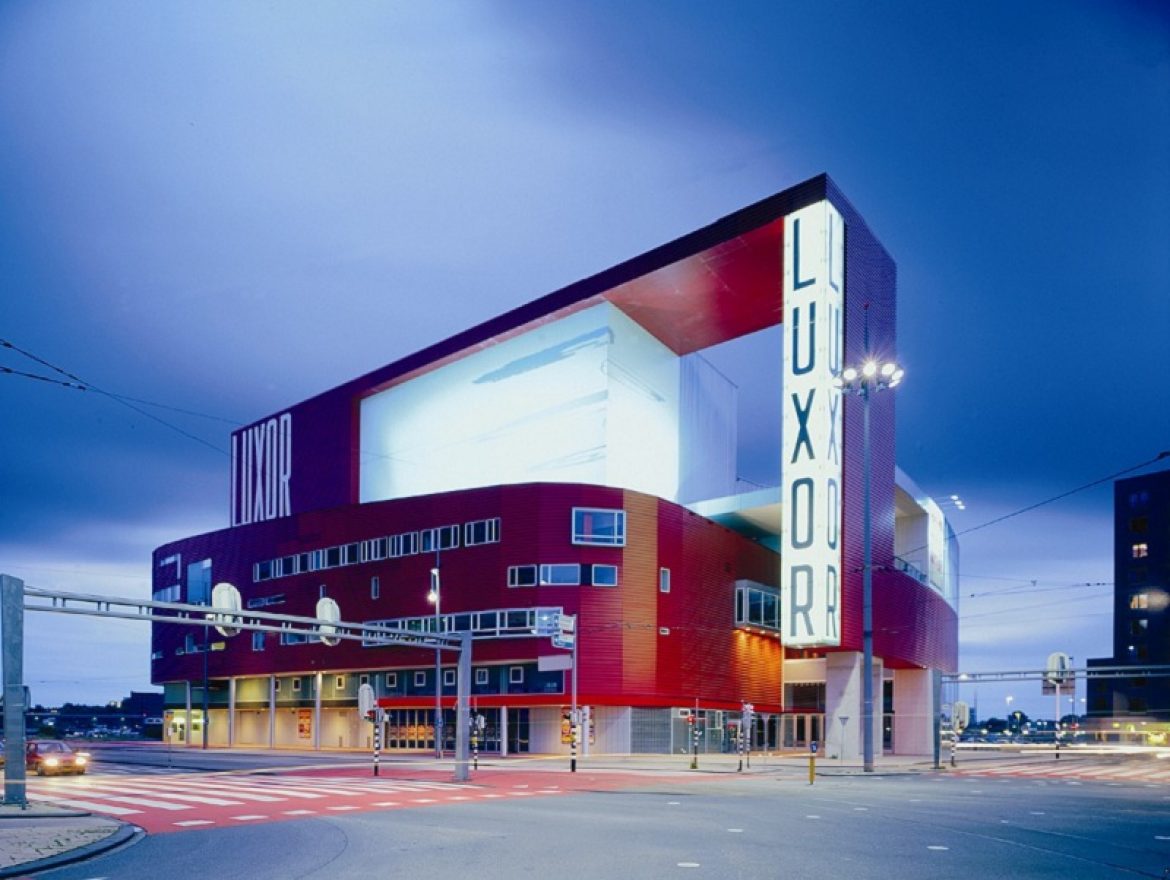 The New Luxor Theater
In the lively and modern city of Rotterdam there are two Luxor theaters. Old theater is located in a historic building, and the new one is located in a beautifully decorated and modern building. The New Luxor Theater is a unique venue at the foot of the Erasmus Bridge, and that is mainly due to its distinctive design.
Old Luxor Theater was opened in 1917. The building is almost the only one that was not affected by the bombing during the Second World War. When the war was over, the building was put in order. It regularly hosts film screenings, performances, it was held a variety of shows, theatrical productions were staged. Over time, weaknesses of the old building appeared, there was a need to build the spacious theater. But it hasn't been realizable for many years. Generally, it meant that the new theater will replace the Old Luxor. But both theaters work as before, and continue to delight visitors and locals productions.
The new theater was built at the foot of the Erasmus Bridge under the leadership of the Australian architect Peter Wilson. And in 2001, it was officially opened. In the bright monumental building, there are almost twice as many seats (1.5 thousand) than in the old theater. It has several halls and become a major theater of the light genre: there are variety shows, concerts, opera, theater, large-scale musical productions, youth shows, family productions, dance. In anticipation of the beginning of the performance, you can eat in one of the many restaurants, or enjoy the view of the bay or Rijnhaven Erasmus Bridge. On sunny days, visitors climb to the roof terrace and admire the beauty of the great outdoors.
The beautiful design of the theater has many special features. First of all, the building is made in red color, which makes the theater and the environment seem to light up. Another factor is a stunning entrance andwide staircases. From the roof terrace and the lobby thereby enjoy a spectacular view of Rotterdam.
The New Luxor Theater provides an architectural tour for groups of 10 people on request. You have the unique opportunity to see parts of the theater where you would never normally come as a visitor. An experienced guide will lead you around the building and informs you about the background, history and developments. The guided tour takes, depending on the group, about 60 minutes. The theater also can be rented for group bookings and corporate events, from 10 people up to 1,535 people. There are several possible arrangements, in which a performance is combined with for example a drink or dinner.
See more at: www.luxortheater.nl
KLM Urban Trail Rotteran 2019 | nieuwe Luxor Theater Op zondag 12 mei renden zo'n 3.500 deelnemers van de KLM Urban Trail Rotterdam door het nieuwe Luxor Theater 🏃🏃‍♀️🙌 Deze kanjers liepen er hier een feestje van te maken! Wie loopt er ook feestend z'n weekend in?

Best of Broadway | 30 mei - 2 juni 🤩🤩🤩🤩🤩 Met vijf van deze sterren op één podium kunnen het natuurlijk ook alleen maar vijf sterren recensies worden!

Dvhn (Jacques J. d'Ancona) ⭐⭐⭐⭐⭐: "zelden kom je tegen dat alles klopt"

Theaterparadijs ⭐⭐⭐⭐⭐: "Alle ingrediënten zijn aanwezig: fantastische cast, fraai ...

@WolterdeJonge Klopt! Dit stond erover op onze website: Een deel van de voorstelling Vette Pech is ontstaan toen Paul de Leeuw speciaal voor het 100 jarige Luxor de jubileumvoorstelling Defileeuw heeft gemaakt.

Vorige titel: Defileeuw, Jubileumvoorstelling Luxor 100 jaar

@jolandamos Oh das gek. Wil je je telefoonnummer even DM en? Dan bellen we je

JAAA! KOPEN, KOPEN, KOPEN! 🎉🥳

Meer dan 200 nieuwe voorstellingen voor 2019 / 2020 zijn vanaf NU in de verkoop! Klik hier om je tickets te scoren: https://bit.ly/2WTYcLq

Naar welke voorstellingen kijk jij uit komend jaar in Luxor?

Foto: MusicalBuddies

Bert Visscher in the house! De hele week zelfs! Zijn rode schoentjes staan alvast klaar... 👱‍♂️👟🎣 https://t.co/B76opmj3Zz

@Chantalput Hi Chantal, kun je ons even volgen dan kunnen we je een DM sturen. Dan kunnen we je verder helpen :).

Vanavond een witte, hetero man van middelbare leeftijd met een spijtbetuiging, een pleidooi, een ode, een donderspeech, een klaagzang, een smeekbede en een schreeuw om aandacht in één. Welkom Theo Maassen en succes vanavond! #situatiegewijzigd https://t.co/WD7oibReaI

@hgntv Zie het als een gedrukte aankondiging van wat je op de website kunt vinden.
The New Luxor Theater
Pros
It is a modern and spacious concert venue with an awesome acoustics and cozy seating that features a restaurant where you have a very nice view over the water.
Cons
Parking takes time especially on busy nights.