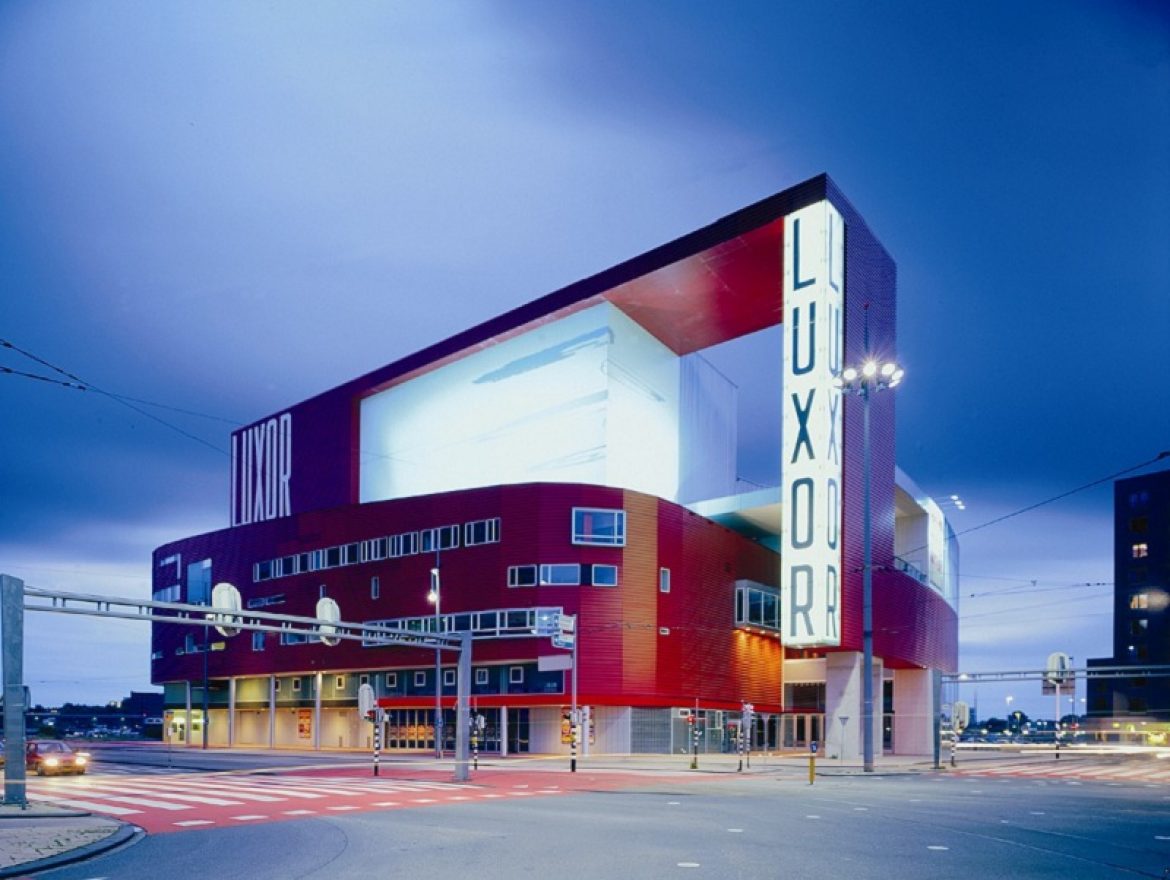 The New Luxor Theater
In the lively and modern city of Rotterdam there are two Luxor theaters. Old theater is located in a historic building, and the new one is located in a beautifully decorated and modern building. The New Luxor Theater is a unique venue at the foot of the Erasmus Bridge, and that is mainly due to its distinctive design.
Old Luxor Theater was opened in 1917. The building is almost the only one that was not affected by the bombing during the Second World War. When the war was over, the building was put in order. It regularly hosts film screenings, performances, it was held a variety of shows, theatrical productions were staged. Over time, weaknesses of the old building appeared, there was a need to build the spacious theater. But it hasn't been realizable for many years. Generally, it meant that the new theater will replace the Old Luxor. But both theaters work as before, and continue to delight visitors and locals productions.
The new theater was built at the foot of the Erasmus Bridge under the leadership of the Australian architect Peter Wilson. And in 2001, it was officially opened. In the bright monumental building, there are almost twice as many seats (1.5 thousand) than in the old theater. It has several halls and become a major theater of the light genre: there are variety shows, concerts, opera, theater, large-scale musical productions, youth shows, family productions, dance. In anticipation of the beginning of the performance, you can eat in one of the many restaurants, or enjoy the view of the bay or Rijnhaven Erasmus Bridge. On sunny days, visitors climb to the roof terrace and admire the beauty of the great outdoors.
The beautiful design of the theater has many special features. First of all, the building is made in red color, which makes the theater and the environment seem to light up. Another factor is a stunning entrance andwide staircases. From the roof terrace and the lobby thereby enjoy a spectacular view of Rotterdam.
The New Luxor Theater provides an architectural tour for groups of 10 people on request. You have the unique opportunity to see parts of the theater where you would never normally come as a visitor. An experienced guide will lead you around the building and informs you about the background, history and developments. The guided tour takes, depending on the group, about 60 minutes. The theater also can be rented for group bookings and corporate events, from 10 people up to 1,535 people. There are several possible arrangements, in which a performance is combined with for example a drink or dinner.
See more at: www.luxortheater.nl
@bigipokutoppers is terug! Vanavond krijgt het oude Luxor Theater een Surinaams tintje. De Bigi Poku Toppers nemen je swingend mee door de Surinaamse Kaseko muziekgeschiedenis. Heel veel succes en plezier vanavond.

Vanavond in het oude Luxor Theater is Six String Sessions Xl te bewonderen na een succesvolle eerste editie kon een vervolg niet uitblijven. Het belooft een fantastische gitaaravond te worden onder leiding van Joris Lutz. Heel veel succes en plezier ...

Goed nieuws! Youp van 't Hek staat vanaf woensdag weer bij ons op de planken 😀 Alle bezoekers van de voorstellingen van 1 en 2 november hebben bericht gekregen over vervangende data. Voor 6 en 7 november zijn ook nog ...

Theo Maassen staat vanaf vanavond zes avonden lang in een bomvol nieuwe Luxor Theater met zijn 10de solovoorstelling 'Situatie gewijzigd'. Heel veel plezier en succes de komende dagen!
https://t.co/wXvUXKLH7z https://t.co/teiYu5YFNr

@KritischeSarah De voorstelling is (bijna) uitverkocht, vandaar dat je niet meer stoelen kunt kiezen.

Youpie! Het gaat eindelijk beginnen vanaf vanavond staat @youpvanthek een maand lang in het oude Luxor Theater met zijn voorstelling Met de kennis van nu. Heel veel succes vanavond en veel plezier deze maand. @hekwerk

Ben jij opgegroeid in #Rotterdam? En heb je toen je dagboek volgeschreven met je Rotterdamse puberavonturen? Meld je dan snel aan bij Echt Gebeurd en kom uit je #puberdagboek voorlezen tijdens onze voorstelling in het @LuxorTheater op 17 januari! Ga ...

@KritischeSarah Dat zou zeker moeten kunnen. Voor welke voorstelling wil je boeken?

Het is nog twee dagen tot Halloween, maar vanavond spookt het al in het oude Luxor Theater, want @JakopAhlbom is vanavond te zien met de voorstelling Horror! Het belooft een spannende en angstaanjagende avond te worden. Heel veel plezier en ...

Bert Visscher staat vanaf vanavond vijfmaal achtereenvolgend in het nieuwe Luxor Theater met Hij wordt vanzelf moe! Welkom en geniet ervan de komende dagen @Visschernieuws.

Vanavond is Carmen te bewonderen in het nieuwe Luxor theater. Het belooft een mooie avond te worden met één van de bekendste opera's ter wereld opgevoerd door @TatarstanOpera. Veel plezier en succes vanavond!

"So Incredible" Vanavond staat @IlseDeLange in een uitverkocht nieuwe Luxor met haar New Amsterdam theatertour. Heel veel succes en plezier vanavond!

A cappella/vocal play group @Naturally7 will peform at the Luxor Theater Tonight! We are very excited to have you guys here and we wish you all the best.

Vanavond wordt heel bijzonder, want @jochemmyjer staat met Adem in, Adem uit als benefietvoorstelling in het nieuwe Luxor Theater. De opbrengsten gaan allemaal naar de Stichting Wakker Worden Wakker Worden. Veel succes en plezier toegewenst! https://t.co/1sMNrJVHYB

De allerlaatste zes mooie plaatsen voor de voorstelling Hier is de Mol (door Johnny de Mol) zijn nog beschikbaar. WIE?

https://t.co/cV1fA4Jr5O

Johnny de Mol staat vanavond in het oude Luxor Theater met zijn show Hier is de Mol! Een show waarin hij verhalen en leuke anekdotes over zijn familie, goede doelen en zijn rock & roll leven verteld. Heel veel plezier ...

Vanmiddag en vanavond staat Checkpoint in het Nieuwe Luxor! Na het grote succes van twee jaar geleden is Checkpoint Theater weer terug met een show vol tests die nog nooit eerder zijn uitgevoerd in het theater.😎 Heel veel succes vandaag ...

Fiesta Perez! gaat vanavond in het oude Luxor Theater in première, de show waarin Belle Perez haar 20-jarig jubileum als zangeres viert. De show belooft een avond vol latin vibes!💃. Heel veel succes vanavond @perezbelle en toi toi toi 🎵

Vanavond in het oude Luxor Theater staat Remco Veldhuis met Lang verhaal kort, waarin hij op z'n eigen, komische wijze een snelcursus bijbelkunde geeft. Heel veel plezier en succes.👍 @hekwerk

Vanavond staat @lievenscheire in het oude Luxor en hij komt op geheel eigen wijze theatercollege geven over ons DNA. Welkom Lieven en heel veel succes.👍

Tonight, one of the most popular operas of all time will perform at Luxor Theater: Il Trovatore, from @OdessaOpera. We wish you a wonderful stay and break a leg! https://t.co/JhmAeHMeXR

Release your inner dancing queen vanavond tijdens ABBA Gold in het oude Luxor Theater! Het hele ABBA repertoire komt naar voren en stil zitten kan bijna niet. 🎵🎵

The Story of George Michael is vanavond te bewonderen in het oude Luxor Theater waarin @Charlyluske een prachtig eerbetoon brengt aan zijn tiener idool. Heel veel succes vanavond en maak er een mooie show van!🎶🎶
https://t.co/JqfnLa6Re1
The New Luxor Theater
Pros
It is a modern and spacious concert venue with an awesome acoustics and cozy seating that features a restaurant where you have a very nice view over the water.
Cons
Parking takes time especially on busy nights.