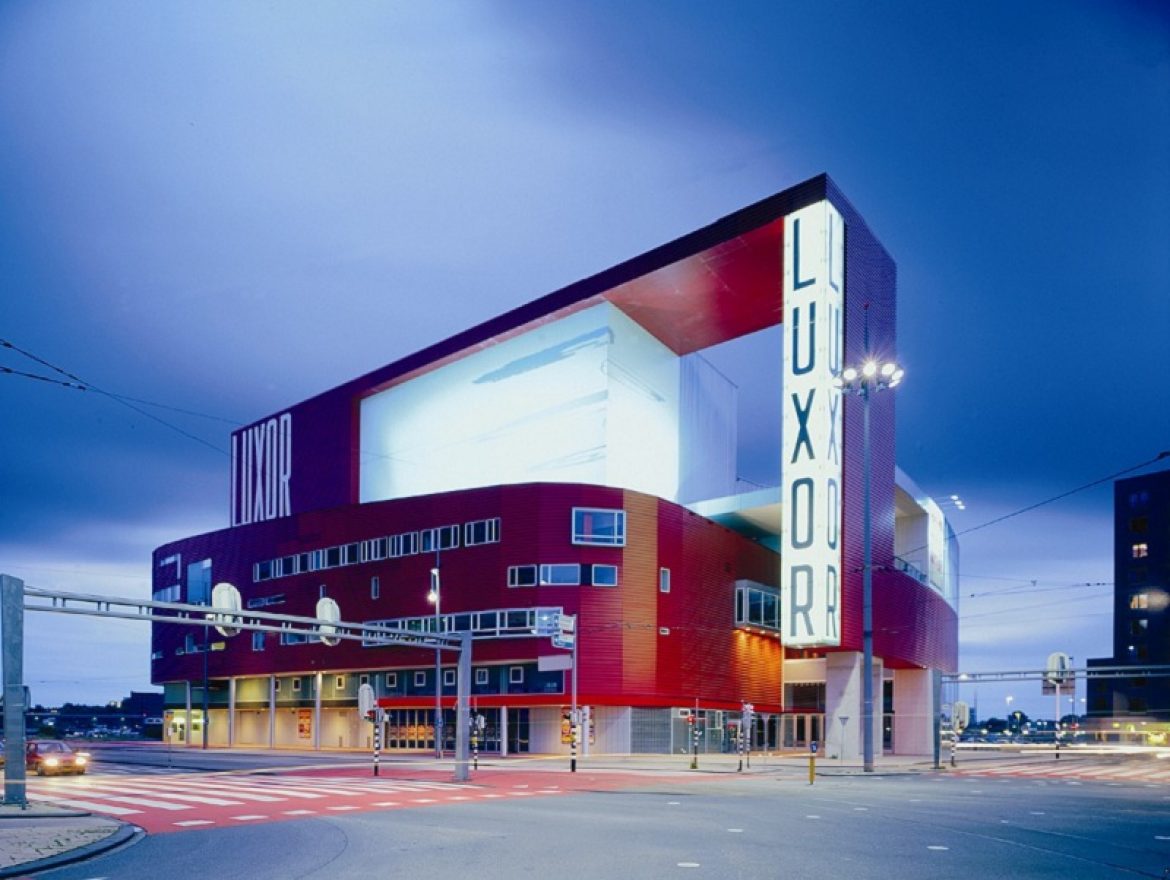 The New Luxor Theater
In the lively and modern city of Rotterdam there are two Luxor theaters. Old theater is located in a historic building, and the new one is located in a beautifully decorated and modern building. The New Luxor Theater is a unique venue at the foot of the Erasmus Bridge, and that is mainly due to its distinctive design.
Old Luxor Theater was opened in 1917. The building is almost the only one that was not affected by the bombing during the Second World War. When the war was over, the building was put in order. It regularly hosts film screenings, performances, it was held a variety of shows, theatrical productions were staged. Over time, weaknesses of the old building appeared, there was a need to build the spacious theater. But it hasn't been realizable for many years. Generally, it meant that the new theater will replace the Old Luxor. But both theaters work as before, and continue to delight visitors and locals productions.
The new theater was built at the foot of the Erasmus Bridge under the leadership of the Australian architect Peter Wilson. And in 2001, it was officially opened. In the bright monumental building, there are almost twice as many seats (1.5 thousand) than in the old theater. It has several halls and become a major theater of the light genre: there are variety shows, concerts, opera, theater, large-scale musical productions, youth shows, family productions, dance. In anticipation of the beginning of the performance, you can eat in one of the many restaurants, or enjoy the view of the bay or Rijnhaven Erasmus Bridge. On sunny days, visitors climb to the roof terrace and admire the beauty of the great outdoors.
The beautiful design of the theater has many special features. First of all, the building is made in red color, which makes the theater and the environment seem to light up. Another factor is a stunning entrance andwide staircases. From the roof terrace and the lobby thereby enjoy a spectacular view of Rotterdam.
The New Luxor Theater provides an architectural tour for groups of 10 people on request. You have the unique opportunity to see parts of the theater where you would never normally come as a visitor. An experienced guide will lead you around the building and informs you about the background, history and developments. The guided tour takes, depending on the group, about 60 minutes. The theater also can be rented for group bookings and corporate events, from 10 people up to 1,535 people. There are several possible arrangements, in which a performance is combined with for example a drink or dinner.
See more at: www.luxortheater.nl
Photos from Luxor Theater's post FAVORITES ON FRIDAY! 👈✨🤸‍♂️

Wilma is Managementassistent. Na 10 Jaar als baliemedewerkster en programmeur familievoorstellingen bij Theater De Naald werkt ze sinds mei 2017 bij Luxor.

Wilma kijkt dit jaar uit naar:

Nasrdin Dchar - JA: "Deze voorstelling heb ik ...

🌴OP VAKANTIE MET LUXOR 🌴
Last van opvliegers? Ga anders eens even lekker op safari in Luxor🦒 Op 12 en 13 februari staat het vijfde deel van de populaire vriendinnencomedy Opvliegers 5 op de planken: Lachend in de overgang 👉 ...

De vergelijking van Drake Wat gaan de miljoen mensen die Area 51 willen bestormen ontdekken? Lieven Scheire (in oktober in Luxor met een theatercollege over DNA) legt de 'vergelijking van Drake' uit waarmee de kans op buitenaards leven wordt berekend...
Lieven Scheire legt de ...

MUZIEK BATTLE TUSSENSTAND! Op 3 oktober kun je live aanwezig zijn bij de muziek battle tussen The Rolling Stones en The Beatles!

De zaal van het oude Luxor Theater is deze avond ook in twee vakken verdeeld. De tussenstand op ...

Photos from Luxor Theater's post FAVORITES ON FRIDAY! 👈✨🤸‍♂️

Lotte is assistent programmering. Ze liep in 2015-2016 stage op de afdeling Events en kwam in 2017 weer werken in Luxor.

Lotte kijkt dit jaar uit naar:

Rundfunk - Todesangstschrei: "Ik heb me de vorige keer ...

🌴OP VAKANTIE MET LUXOR🌴
De zomervakantie staat voor de deur... Nog geen keuze gemaakt tussen kamperen op de Waddeneilanden of een avontuurlijke expeditie op de Noordpool? Bij Luxor kan het allebei! In Wad Live wordt de rauwe en pure schoonheid ...

Martin Charnin, Broadwaylegende en schrijver van de musical Annie, is op 84-jarige leeftijd overleden. Het roodharige weesmeisje heeft wereldwijd miljoenen musicalharten veroverd, zo ook in Luxor.

Heel veel bewondering voor Martin Chardin, een Broadwaylegende.

SPOKENfm Op 17 december is de awardshow van de SPOKEN Awards 2019 in het oude Luxor Theater. Wil je als woordkunstenaar ook kans maken op een plek in deze finale, dan kun je je vanaf vandaag inschrijven voor de voorrondes via ...

Claudia de Breij - Zie die Leeuwinnen Zie die Leeuwinnen... Winnen! 💪 Mooie ode van cabaretleeuwin Claudia de Breij. Een dikke felicitatie voor onze Oranjedames ⚽👏 Wij kunnen niet wachten tot zondag...

Vanavond staan de legendarische Beach Boys in Luxor, met o.a. @MikeLoveOFCL! 🏄🏻‍♂️We're happy to have you, and we wish you the best of luck, tonight 🍀🏖️

EXTRA VOORSTELLINGEN! Wegens grote vraag naar The Analogues en Checkpoint (8+) zijn er van beide producties extra voorstellingen in Luxor 🎉 Koop hier je kaarten!
The Analogues, 11 feb, 20.00 uur: https://bit.ly/2JitPsq
Checkpoint (8+), 21 okt, 16.00 uur: https://bit.ly/2J2fK3o

Hou jij van Spoken Word? Dan hebben wij iets leuks!
Vanaf september verzorgt niemand minder dan Tomáš de Paauw bij ons tien workshops! De inschrijving is nu geopend...

Wees er snel bij want er is maar een beperkt aantal plaatsen...

...

Martijn Koning | Tennis Vandaag begint het tennistoernooi Wimbledon weer. Wie er gaat winnen is altijd spannend, want niemand begrijpt toch iets van de puntentelling 🎾🤔 Martijn Koning heeft alles even op een rijtje gezet:

This Is The Beach Boys, a playlist by Spotify Ahhh lekker naar het strand... 🏖️ Zand tussen je kiezen, wegwaaiende handdoeken, slokken zeewater en plakkerige zonnebrandhuid: ontspanning alom 💞💆 Op 3 juli is het gegarandeerd genieten bij The Beach Boys in de koelte van het nieuwe Luxor Theater. Ben ...

@edje_petje @GUTStickets Omdat de tickets beveiligd en en niet overdraagbaar zijn, kom je niet binnen. Omdat deze tickets die via iemand anders zijn gekocht.

The Story of George Michael Vandaag is de geboortedag van George Michael. Een goed moment om alvast vooruit te kijken naar dit mooie theaterconcert 🎙️🎶.

The Story of George Michael - met Charly Luske | 13 oktober 2019

Wat een fantastische prestatie! Maarten van der Weijden, je bent een ware held 🙌 Volgende keer dat Guido Weijers in het Luxor staat verwachten we een lofrede. Want, in Guido's woorden: Maarten is "een absolute eindbaas!" 💪
Luxor Theater shared ...

Photos from Luxor Theater's post Gister was de cast van De Kleine Zeemeermin op bezoek bij het Erasmus MC-Sophia Kinderziekenhuis, waar ze de patiënten hebben blij gemaakt met hun liedjes! 🙌🥰 A.s. zondag staan deze toppers in het oude Luxor Theater en er zijn nog ...

Er zijn zojuist mooie plekken vrijgekomen voor de bijna uitverkochte voorstelling van de Kleine Zeemeermin a.s. zondag om 13.30 uur! Ook zijn er noog mooie plekken beschikbaar bij de voorstelling van 16.30 uur. Koop snel je kaarten: https://t.co/of04amNmBw 🧜🏻‍♂️ https://t.co/XeKjKXS2Mv

Onze Rotterdammert John Buijsman brengt deze week wat Amsterdamse gezelligheid naar het Luxor in de musical 't Schaep met de 5 Pooten. Pak een kruk, drink een biertje en geniet! 🍺 Welkom cast! https://t.co/pLhxh4lJk1

De allerlaatste kaarten voor de uitverkochte Formule 1 show met @Olav_Mol en Jack Plooij, vanavond om 20:00 in het oude Luxor Theater, koop je hier: https://t.co/wtbVjqD5Vw

Vanavond maken @jackontracks en @Olav_Mol een pit-stop in het oude Luxor Theater met hun F1 Show. Welkom in Luxor, en natuurlijk veel succes en plezier gewenst, mannen! 🏎🏁
The New Luxor Theater
Pros
It is a modern and spacious concert venue with an awesome acoustics and cozy seating that features a restaurant where you have a very nice view over the water.
Cons
Parking takes time especially on busy nights.