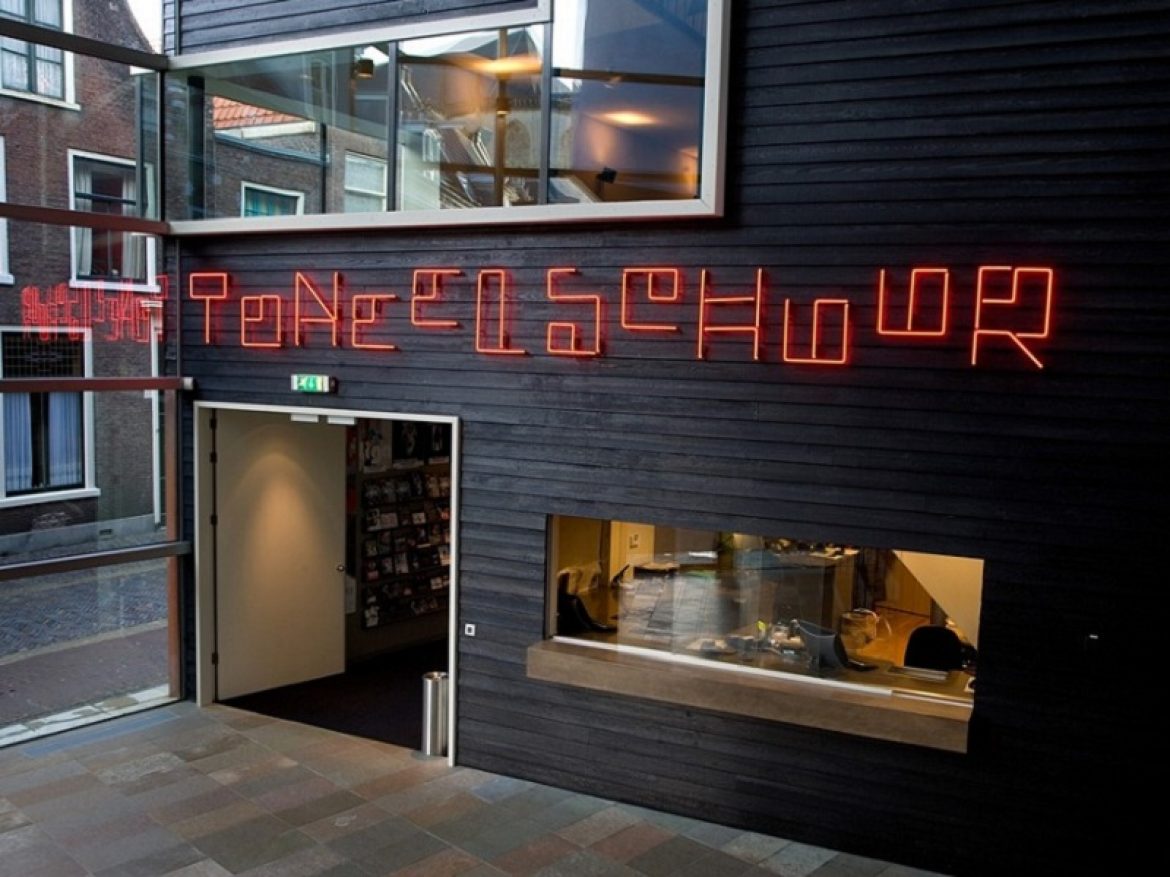 Toneelschuur
Toneelschuur is a theater located in Haarlem. In this building there are two theaters and two movie theaters. The performances and films are inspiring, innovative, and they are shown to a diverse audience appropriate to the particular movie or show.
Toneelschuur was firstly located on the Smedestraat street, but since 2003 it has housed in the new building next to the Philharmonie. On April 30, 1995 the director and some members of the Toneelschuur asked the Haarlem designer Joost Swarte to design the new building of the theater. Swarte indeed was for years responsible for the corporate identity of the Toneelschuur. The establishment of the new building is a co-production of Swarte and Mecanoo architects in Delft. On the basis of the design is the idea of ​​Swarte to create a square with around the various functions of the theater. In 1997, the draft was presented to municipal authorities and population and end in February 2003, the building was put into use.
Toneelschuur is a stage organization housed in the same theater and movie theater in the center of Haarlem. The stage organization also releases own performances under the name Toneelschuur Productions. Toneelschuur productions annually provides a select group of theater artists the opportunity to develop their artistic talents.Toneelschuur productions are diverse and surprising, with quality and professionalism as the main features. Toneelschuur wants to make a continuous contribution to the development and expansion of the performing arts. The theater is a place where something is always happening, where employees, public and players feel like home and like to come back. For over forty years Toneelschuur in Haarlem is a leading contemporary home for the Dutch theater, dance and movie. Numerous productions and modern dance performances are presented in the two halls. Also a vide range of arthouse movies are shown in the movie theater. Since 2003 Toneelschuur housed in a new building in the Long Begijnenstraat, next to the Philharmonie. In this building there are two theaters, two cinemas, a lobby and a café.
The Toneelschuur is the most visited theater of Haarlem. The program is wide and diverse and intended for all those who love quality theater, dance and (art house) movies, from young to old. Toneelschuur Productions is the largest and oldest production company in the Netherlands. Many artistic directors and directors of large companies in the Netherlands began their careers at Toneelschuur Productions.
Check out more here: www.toneelschuur.nl
Social Board: There is no feed data to display!