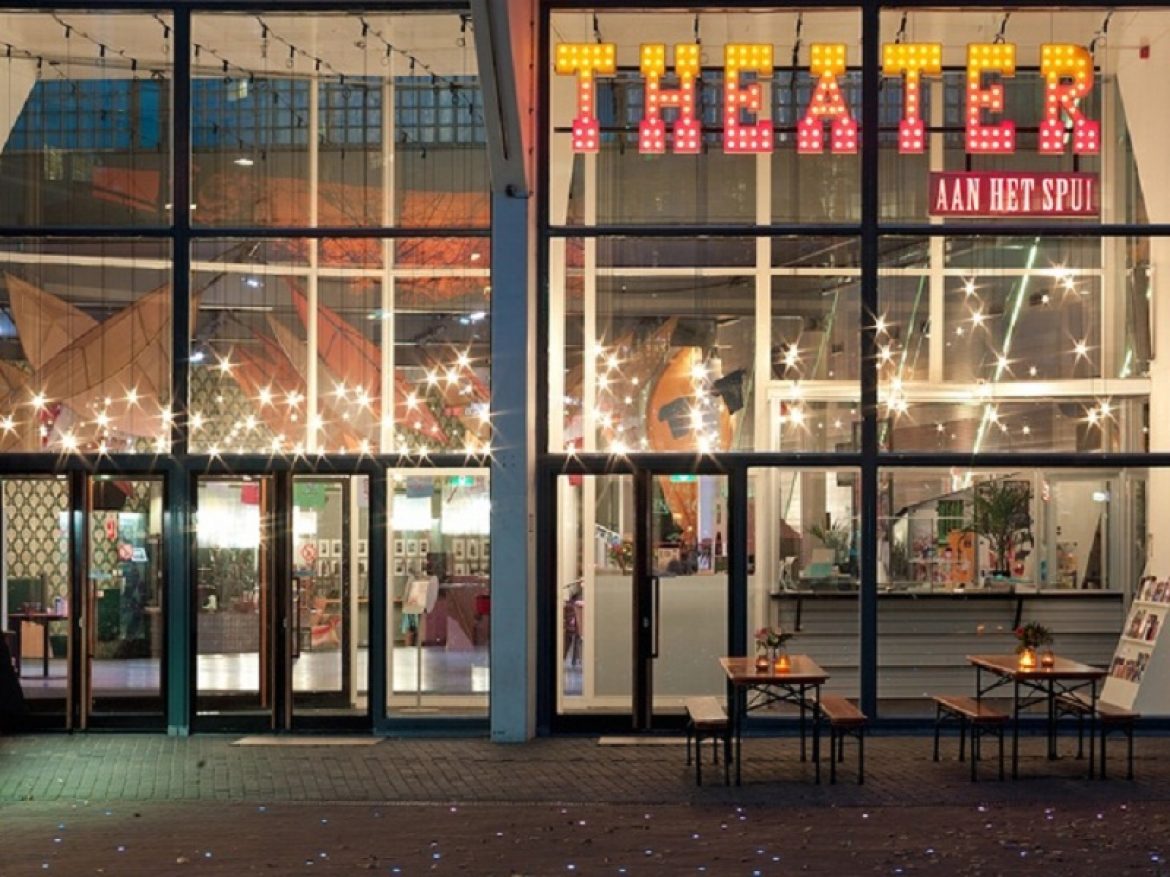 Theater aan het Spui
Theater aan het Spui is a flat-floor theater located in The Hague. Next to the theater there are Anton Philips Hall, the Lucent Dance Theatre, the Central Library and the Hague Filmhuis. The theater, designed by architect Herman Hertzberger, has two halls, the main hall that can accomodate up to 360 people and the small hall that can acommodate up to 170 people. The theater hosts a number of festivals such as TodaysArt, Holland Dance Festival and Writers Unlimited (formerly Winternachten). Theater aan het Spui also produced its own shows, including performances by the choreographers Lonneke van Leth and Jorinde Cooper and directors Annechien Koerselman and Greg Nottrot.
On March 6, 1993 was opened Theater aan het Spui. It is a large complex, designed by architect Herman Hertzberger which included the Theatre on the Spui, houses, business premises, some cultural institutions, a restaurant, cafe and cinema. The theater opened with Miau, its own production of Guusje Eijbers. In 2003, the theater and the cinema was linked with a new passage.
Theater on the Spui was opened as the first newly built flat floor theater in the Netherlands. The main idea behind the flat floor is to reduce the distance between the creator and audience. The actors are no longer on stage, but with their feet on the same floor as the spectators in the first row. There is no orchestra pit: theater literally stripped of all unnecessary frills. Theater do everything to make the distance between creator and audience so small and intrusive as possible. Also the theater has Hall 3. It is the place where young artists have the opportunity to perform. It ts a testing ground for ideas and productions.
The theater offers an excellent location for your meeting, presentation, reception or conference. You can choose rooms, including the two halls, the spacious foyer, a large studio and several meeting rooms. Theater aan het Spui is considered to be the living room of The Hague, where curiosity, wonder, innovation, movement, and of course the wonderful performances take center stage. The bar in the cozy lobby is open before the performances. Afterwards you can have a chat with the actors who previously were at the stage. In the foyer of Theater aan het Spui are also regularly seen small exhibitions of young artists. The theater is easily accessible. Theater is located within fifteen minutes walk from the station Den Haag Centraal or Hollands Spoor. You can easily park your car in one of the many parking garages nearby.
Check out this link: www.theateraanhetspui.nl
Vanavond is het na de herdenking Theater Na de Dam met in Theater aan het Spui de voorstelling 'Krassen op de... https://t.co/BaRfBprPp0

Eisler On The Go behind the scenes! Jon van Eerd repeteert met het New European Ensemble. Premiere tijdens... https://t.co/HhBDw3udJc

★★★★★ voor Firma MES EXTRA: Rishi op Theaterkrant. Wat fijn!

"Firma MES maakt de theatrale reconstructie Rishi... https://t.co/CPUkkIREx2

Vanavond ging het heel goed! Morgen tweede try-out en dan... zaterdag première!!! Toi toi toi

Zohre, een... https://t.co/GJ6tVpdWeQ

Sterrenregen voor 'Find me a boring stone' met Gijs Naber!
Trouw ***** Theaterkrant ***** Parool **** Telegraaf... https://t.co/xNN2oilB2H

Op woensdag 19 april spelen Wilfried de Jong en Wim Opbrouck 'We Free Kings' van NTGent. Een muzikale... https://t.co/Gks4Jc0CoD

Vanavond de eerste 'Rishi' van Firma MES op locatie in Pakhuis de Règâh Pakhuis de Reiger in Den Haag!

Kaarten... https://t.co/K56rbjnEZE

Vanavond URLAND in Theater aan het Spui met EXPLORER / Prometheus ontketend! Ook te bezoeken met je pasje als je... https://t.co/Umy9SGBGeC

Wil je populisten als Le Pen, Macron, Wilders en Trump begrijpen? kom naar romantiek is HOT!

Het Nationale... https://t.co/iKZRPx2UW8

Tot en met zaterdag is Movies that Matter Festival 2017 in Theater aan het Spui - Het Nationale Theater en... https://t.co/LSwOboHaVB

'Met haar sprankelende enscenering maakt regisseur Nina Spijkers van Ivanov een modern en urgent stuk zoals je... https://t.co/T5SlOA7PnM

Vrijdag start Movies that Matter Festival 2017 in Filmhuis Den Haag​ en Theater aan het Spui​. In de aanloop... https://t.co/9jlxwyZhhS

Aanstaande zondag vindt in onze Zaal 3 een hele leuke middag plaats: Pecha Kucha Den Haag #22! Pecha Kucha is een... https://t.co/BLYYKZGs1r

Op 12 april staat 'Over boeken' in Zaal 3. Een initiatief van Kees 't Hart en Hans Muiderman. Een literaire... https://t.co/V4QjQM75mo

Donderdag gaat De liefde maakt dorstig in première in Theater aan het Spui! Een nieuwe voorstelling van Elisabeth... https://t.co/X14kje6CcG

Morgen een zeer succesvolle Festival Dag in de Branding! De kaarten gaan heel hard voor deze editie. Het is ook... https://t.co/4Ws8AMR2l3

De jonge talenten van de opleiding ArtScience van Koninklijke Academie van Beeldende Kunsten hebben de hele week... https://t.co/AjFM38oUZc

Op zondag 12 maart voorafgaand aan de Tweede Kamerverkiezingen, brengen de acteurs van Het Nationale Theater Het... https://t.co/wa2tqUg4Jn

Morgen zit Nasrdin Dchar in Volle Zalen met zowel zijn vader als zijn moeder! Na zijn grote succesvoorstelling... https://t.co/orzAb7KV0k

Vanaf vrijdag 10 maart 16:30 is er iedere vrijdagmiddag een Openbare Vrijdagmiddagborrel in de HNT Studio's... https://t.co/NwZjK9FhQJ

De winnaars van het Amsterdam Fringe Festival zijn op 5 april in Theater aan het Spui te zien. Ze zitten nu in de... https://t.co/UbPi3tM4XK

Nagesprek bij een zeer geslaagde generale repetitie van Lord of the Flies van NTjong op locatie in De Nieuwe... https://t.co/4UVl6tVoBJ

Het Klokhuis acteur Rogier in 't Hout speelt in de viersterrenvoorstelling 'Lear' van de Toneelmakerij.... https://t.co/04FKYpGjUq
Theater aan het Spui
Pros
Beautiful theatre with multiple halls in the heart of the Hague. Provides amazing shows by amazingly talented directors and actors.