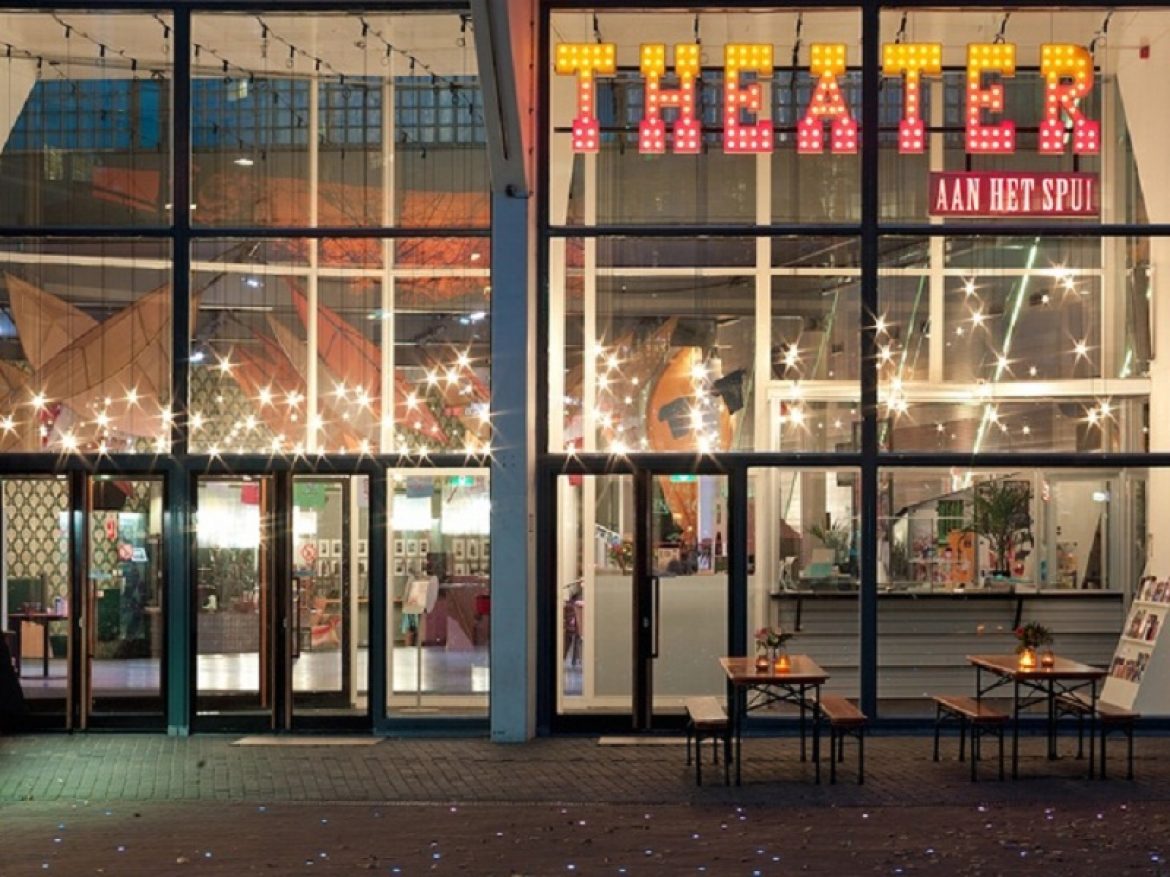 Theater aan het Spui
Theater aan het Spui is a flat-floor theater located in The Hague. Next to the theater there are Anton Philips Hall, the Lucent Dance Theatre, the Central Library and the Hague Filmhuis. The theater, designed by architect Herman Hertzberger, has two halls, the main hall that can accomodate up to 360 people and the small hall that can acommodate up to 170 people. The theater hosts a number of festivals such as TodaysArt, Holland Dance Festival and Writers Unlimited (formerly Winternachten). Theater aan het Spui also produced its own shows, including performances by the choreographers Lonneke van Leth and Jorinde Cooper and directors Annechien Koerselman and Greg Nottrot.
On March 6, 1993 was opened Theater aan het Spui. It is a large complex, designed by architect Herman Hertzberger which included the Theatre on the Spui, houses, business premises, some cultural institutions, a restaurant, cafe and cinema. The theater opened with Miau, its own production of Guusje Eijbers. In 2003, the theater and the cinema was linked with a new passage.
Theater on the Spui was opened as the first newly built flat floor theater in the Netherlands. The main idea behind the flat floor is to reduce the distance between the creator and audience. The actors are no longer on stage, but with their feet on the same floor as the spectators in the first row. There is no orchestra pit: theater literally stripped of all unnecessary frills. Theater do everything to make the distance between creator and audience so small and intrusive as possible. Also the theater has Hall 3. It is the place where young artists have the opportunity to perform. It ts a testing ground for ideas and productions.
The theater offers an excellent location for your meeting, presentation, reception or conference. You can choose rooms, including the two halls, the spacious foyer, a large studio and several meeting rooms. Theater aan het Spui is considered to be the living room of The Hague, where curiosity, wonder, innovation, movement, and of course the wonderful performances take center stage. The bar in the cozy lobby is open before the performances. Afterwards you can have a chat with the actors who previously were at the stage. In the foyer of Theater aan het Spui are also regularly seen small exhibitions of young artists. The theater is easily accessible. Theater is located within fifteen minutes walk from the station Den Haag Centraal or Hollands Spoor. You can easily park your car in one of the many parking garages nearby.
Check out this link: hnt.nl
De nieuwe aflevering van Tijd zal ons leren staat nu online! In de aflevering praten @rivrede en OTION met @NinaJurna, Raoul de Jong en Romy Rondeltap over de kracht van spiritualiteit tijdens de koloniale tijd. Beluister de aflevering hier: https://t.co/BHSiumwelF ...

In 'De dag van' krijg je een kijkje in hoe een dag van de medewerkers van Het Nationale Theater eruit kan zien. Vandaag volgen we Stef Krull, eerste medewerker van ons kostuumatelier. 🧶👗Bekijk de hele aflevering hier: https://t.co/mOIJOdikqV https://t.co/oHJOPLXENw

In de 1e aflevering van het nieuwe seizoen van Tijd zal ons leren praten @rivrede & OTION met @ReggieBaay & José Tojo. Ze praten over de oorsprong van het verzet tegen de slavernij en het kolonialisme in voormalig Nederlands-Indië en ...

Vandaag in @volkskrant: een interview met Eva Line de Boer over de voorstelling Oma is een avatar van HNTjong. Over haar fascinatie voor de dood en het internet. 'Kinderen leggen heel makkelijk het verband tussen het internet en het hiernamaals.'

...

We are glad that our next show can go on. And we are looking forward to this one! Timtim (4+) is a visual performance with humour, carpentry energy, enchanting music and a pinch of magic 🪄Read more and book here ...

Recensent @Hansznpodium kijkt uit naar Leedvermaak, schrijft hij in @theaterkrant. "Ik gun ons als theaterliefhebbers taferelen als destijds, een gulzig opdringende menigte, vanaf de deuren van het Theater aan het Spui tot ergens ver voorbij het Binnenhof"
https://t.co/4LjN4dTPhQ

"In het eerste deel speel ik de student-serveerder Hendrikje. En in het tweede deel zie je mij als Annabel. Zij komt vanuit Amerika over voor een flitsbezoek. In deel drie ben ik Xandra. Met name in die laatstgenoemde, meer inhoudelijke ...

Ensemblelid Soumaya Ahouaoui vertelt in @DenHaagCentraal over haar ambities en de rollen die ze graag zou willen spelen. Momenteel repeteert ze voor de Leedvermaak trilogie.

https://t.co/BXjXJ0FfSM

Nog even een terugblik op onze actie van gisteren. Het was een mooie middag, waarbij het publiek elkaar weer kon ontmoeten en in de Koninklijke Schouwburg één uur lang repetities en previews kon bijwonen van voorstellingen waar we op dit ...

Vandaag korte bezoekjes gebracht 4 theaters en musea. Ik wil iedereen die werkzaam is in de culturele sector een hart onder de riem steken. We missen jullie en kunnen niet wachten om weer van jullie werk te genieten. Hou vol! ...

Openbare repetitie Nationaal Toneel in de Schouwburg als protest tegen corona sluiting. Geen kapper als smoes. https://t.co/zaELElCt4N

Cultuursector protesteert met Kapsalon Theater: Koninklijke Schouwburg gaat door na waarschuwing
https://t.co/rAQpympR0E

We sluiten hiermee aan bij de acties van andere theaters en musea. Wij gaan open als theater - want dat is wat wij zijn: een theater. Een plek voor de ontmoeting, om inspiratie op te doen en verhalen te horen ...

In navolging van de landelijke protestacties en uit solidariteit met onze collega's in de cultuursector openen we morgen onze deuren. Je kan morgen in de Koninklijke Schouwburg één uur lang repetities & previews bijwonen van voorstellingen waar op dit moment ...

Een mooi artikel over aanstormend talent Daniël Kolf in @nrc! Daniël is dit seizoen te zien in onze voorstelling OustFaust in de rol van Valentino ✨ https://t.co/iIlBgb30r9

We zijn deze week begonnen met de repetities voor onze nieuwe voorstelling: de Leedvermaak trilogie. Dinsdag kwam schrijver Judith Herzberg op bezoek bij de cast, een onvergetelijke dag! Meer over Leedvermaak lees je hier: https://t.co/1d7wMunc4i https://t.co/CL22A4YiZT

Dit is een mooi initiatief zeker! Laten we als Indische gemeenschap in Den Haag dit koesteren. Kan ik iets doen? Kan de gemeente iets doen? wat is het verhaal van jouw Indische voorouders? Jongeren doen onderzoek met het Nationale Theater ...

Haagse jongeren met wortels in voormalig Nederlands-Indië kunnen tijdens ons educatieproject 'De eeuw van mijn voorouders' op onderzoek gaan naar hun roots. Ze ontdekken hun stamboom en ontrafelen familieverhalen. Meer informatie en aanmelding via: https://t.co/LsPM8Kf9BY https://t.co/y1ct3VBU77
Theater aan het Spui
Pros
Beautiful theatre with multiple halls in the heart of the Hague. Provides amazing shows by amazingly talented directors and actors.