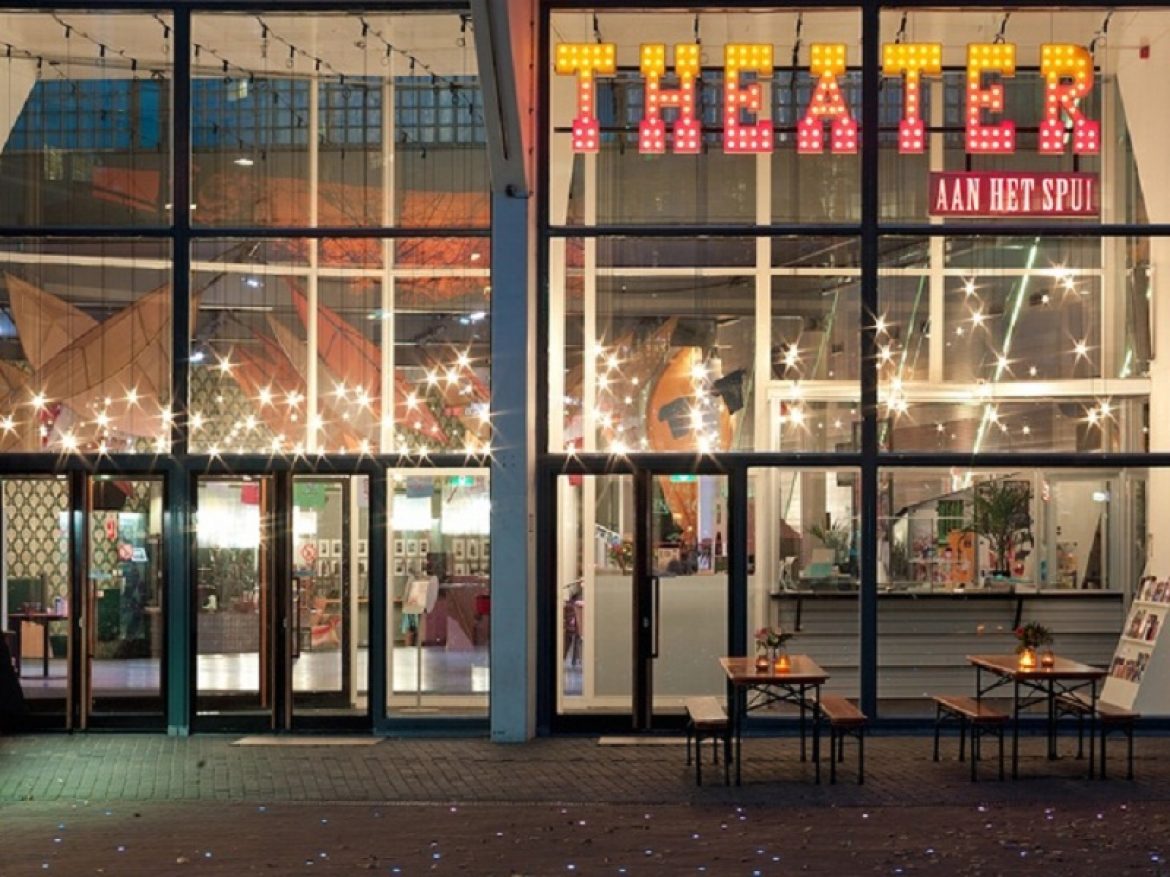 Theater aan het Spui
Theater aan het Spui is a flat-floor theater located in The Hague. Next to the theater there are Anton Philips Hall, the Lucent Dance Theatre, the Central Library and the Hague Filmhuis. The theater, designed by architect Herman Hertzberger, has two halls, the main hall that can accomodate up to 360 people and the small hall that can acommodate up to 170 people. The theater hosts a number of festivals such as TodaysArt, Holland Dance Festival and Writers Unlimited (formerly Winternachten). Theater aan het Spui also produced its own shows, including performances by the choreographers Lonneke van Leth and Jorinde Cooper and directors Annechien Koerselman and Greg Nottrot.
On March 6, 1993 was opened Theater aan het Spui. It is a large complex, designed by architect Herman Hertzberger which included the Theatre on the Spui, houses, business premises, some cultural institutions, a restaurant, cafe and cinema. The theater opened with Miau, its own production of Guusje Eijbers. In 2003, the theater and the cinema was linked with a new passage.
Theater on the Spui was opened as the first newly built flat floor theater in the Netherlands. The main idea behind the flat floor is to reduce the distance between the creator and audience. The actors are no longer on stage, but with their feet on the same floor as the spectators in the first row. There is no orchestra pit: theater literally stripped of all unnecessary frills. Theater do everything to make the distance between creator and audience so small and intrusive as possible. Also the theater has Hall 3. It is the place where young artists have the opportunity to perform. It ts a testing ground for ideas and productions.
The theater offers an excellent location for your meeting, presentation, reception or conference. You can choose rooms, including the two halls, the spacious foyer, a large studio and several meeting rooms. Theater aan het Spui is considered to be the living room of The Hague, where curiosity, wonder, innovation, movement, and of course the wonderful performances take center stage. The bar in the cozy lobby is open before the performances. Afterwards you can have a chat with the actors who previously were at the stage. In the foyer of Theater aan het Spui are also regularly seen small exhibitions of young artists. The theater is easily accessible. Theater is located within fifteen minutes walk from the station Den Haag Centraal or Hollands Spoor. You can easily park your car in one of the many parking garages nearby.
Check out this link: hnt.nl
Vanavond genoten van @hntdenhaag met Every Brilliant Thing. Prachtige voorstelling in intieme setting, zeer coronaproof. Gun het jezelf, ga het zien! ❤

Vanaf volgende week donderdag hopen wij onze deuren weer te openen! @MinPres Mark Rutte was vandaag bij ons op bezoek en onderstreepte het belang voor het #publiek dat de #theaters zo snel mogelijk weer open kunnen. Hij stak hiermee ons ...

Beste mensen, de Politieke Eindejaarsshow komt er weer aan - ja écht! Dit jaar gewoon thuis op de bank te volgen via een livestream, want ja: dit is 2020. Een mooie theateravond vanuit huis, met natuurlijk @XandervdWulp, @JoostVullings & @rietbergen!🍿📺👇
/>...

Vanavond om 22:00 gaan onze deuren helaas weer voor twee weken dicht. De voorstellingen van vanavond kunnen gelukkig doorgaan (Let op! Ademen vervroegde aanvangstijd, 19:30). Crossing Border gaat online door t/m zondag. Meer info op
https://t.co/t6uM4qoWOY

Zijn de Koninklijke Schouwburg, Theater aan het Spui en Zaal 3 nog open na de nieuw afgekondigde maatregelen op 28 september? Jazeker! Kijk hier voor meer info over je bezoek: https://t.co/ccLEBg5RoF?

Soumaya Ahouaoui laat je na 'Spoonface' bij Het Nationale Theater achter met het gevoel dat je innig treurt om iemand die er ooit niet meer zal zijn, maar dat gegeven voor lief neemt omdat je je werkelijk met iemand voelt ...

Wie komt ons team versterken? We zoeken een hoofd techniek. Zie onderstaande link voor meer informatie. https://t.co/HzqjECrngo

In de mooie bewerking van 'Skylight' van regisseur Jeroen De Man bij Oostpool en Het Nationale Theater, spelen botsende levensvisies en generatieconflicten een grote rol. https://t.co/1KB93mnYnD

Oh, wat was dit mooi! Weg met Eddy Bellegueulle van toneelschuurproducties elinearbo kreeg terecht de Toneelkijkerprijs 2019-2020 bij hetnationaletheater ❤️ @ Het Nationale Theater https://t.co/3O8h4w4K3Y

De internationaal succesvolle @SEVDALIZA uit Rotterdam gaf maandag live en via streaming haar enige concert van 2020 in de Koninklijke Schouwburg. Onze recensent hoorde bij de weinige bezoekers die de show live mocht zien. (●●●●●)
https://t.co/5FTlpgKuzU

Het Nationale Theater schrapte in reactie op de coronacrisis alle plannen en kwam met een alternatief programma met korte stukken en monologen. "Een acteursfeestje in al zijn facetten", aldus theaterredacteur @rrijghard https://t.co/TW8E6s8zOk

Je zou hopen dat de monoloog 'Liefdesverklaring' dit najaar bij iedere voorstelling als intro wordt uitgesproken. En dan graag zoals Antoinette Jelgersma nu doet bij Het Nationale Theater, met steelse blik en een verheugd soort vrolijkheid. https://t.co/E7FqW7PNd7

Nog aan het nagenieten van een bijzondere première avond bij @hntdenhaag. Drie prachtige voorstellingen in intieme setting. En alles tot in de puntjes verzorgd, klasse! 👏😀❤
Theater aan het Spui
Pros
Beautiful theatre with multiple halls in the heart of the Hague. Provides amazing shows by amazingly talented directors and actors.