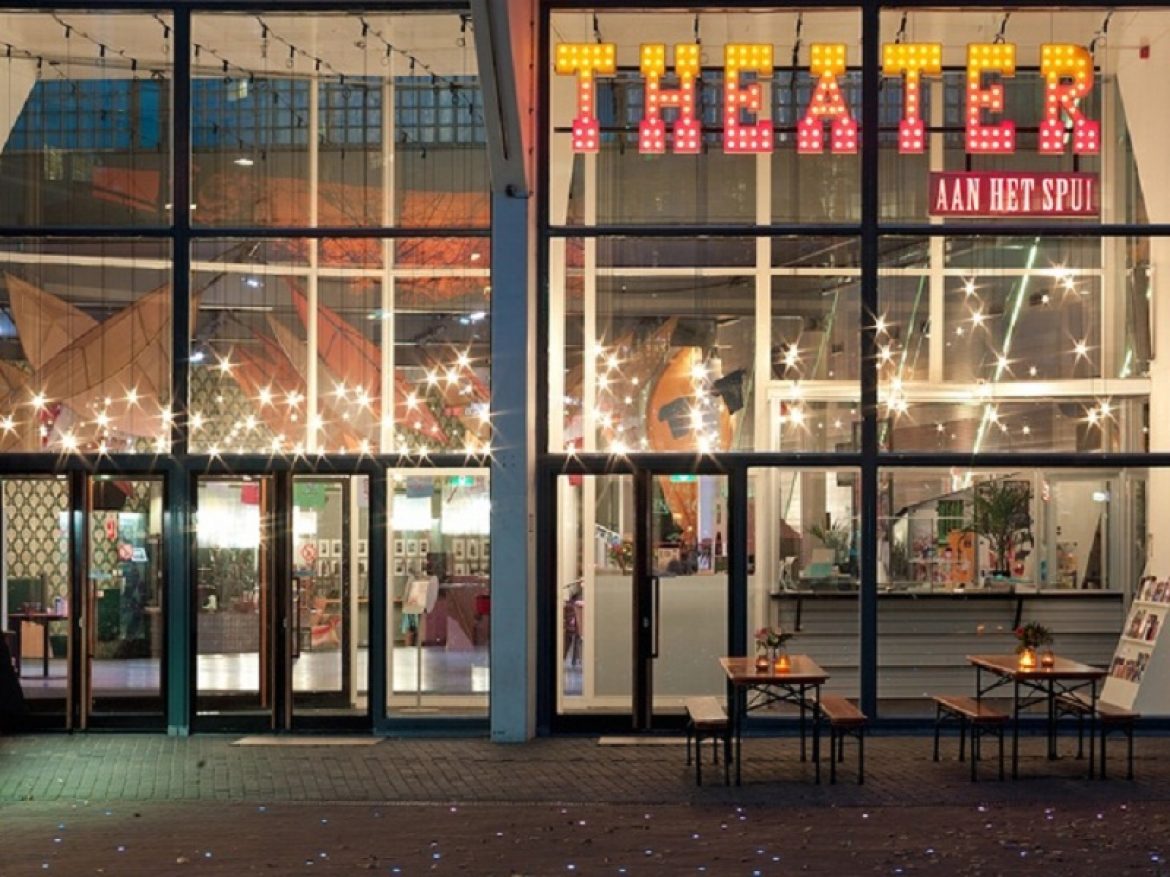 Theater aan het Spui
Theater aan het Spui is a flat-floor theater located in The Hague. Next to the theater there are Anton Philips Hall, the Lucent Dance Theatre, the Central Library and the Hague Filmhuis. The theater, designed by architect Herman Hertzberger, has two halls, the main hall that can accomodate up to 360 people and the small hall that can acommodate up to 170 people. The theater hosts a number of festivals such as TodaysArt, Holland Dance Festival and Writers Unlimited (formerly Winternachten). Theater aan het Spui also produced its own shows, including performances by the choreographers Lonneke van Leth and Jorinde Cooper and directors Annechien Koerselman and Greg Nottrot.
On March 6, 1993 was opened Theater aan het Spui. It is a large complex, designed by architect Herman Hertzberger which included the Theatre on the Spui, houses, business premises, some cultural institutions, a restaurant, cafe and cinema. The theater opened with Miau, its own production of Guusje Eijbers. In 2003, the theater and the cinema was linked with a new passage.
Theater on the Spui was opened as the first newly built flat floor theater in the Netherlands. The main idea behind the flat floor is to reduce the distance between the creator and audience. The actors are no longer on stage, but with their feet on the same floor as the spectators in the first row. There is no orchestra pit: theater literally stripped of all unnecessary frills. Theater do everything to make the distance between creator and audience so small and intrusive as possible. Also the theater has Hall 3. It is the place where young artists have the opportunity to perform. It ts a testing ground for ideas and productions.
The theater offers an excellent location for your meeting, presentation, reception or conference. You can choose rooms, including the two halls, the spacious foyer, a large studio and several meeting rooms. Theater aan het Spui is considered to be the living room of The Hague, where curiosity, wonder, innovation, movement, and of course the wonderful performances take center stage. The bar in the cozy lobby is open before the performances. Afterwards you can have a chat with the actors who previously were at the stage. In the foyer of Theater aan het Spui are also regularly seen small exhibitions of young artists. The theater is easily accessible. Theater is located within fifteen minutes walk from the station Den Haag Centraal or Hollands Spoor. You can easily park your car in one of the many parking garages nearby.
Check out this link: hnt.nl
Vandaag nagenieten van de heerlijke voorstelling Hebriana van @hntdenhaag. Er gaat niets boven live een voorstelling meemaken en die ervaring delen met anderen. 🙂 https://t.co/1ai8rwFRWo

Maandag 8 november is er weer een nieuwe HOT avond 'Never Waste a Good Crisis'. 🔥 Deze keer met: @Monika_Sie, directeur van Instituut Clingendael. De vraag: hoe staat Europa ervoor na 2 jaar in een pandemie? Ze vertelt hier alvast ...

#TIP Vr 29 okt. 20u30 @hntdenhaag over onze meest duistere drijfveer: https://t.co/u6XeacaTv4 < NIET VANDAAG SATAN (maar wel vanavond) - Elfie Tromp. Over angst en hoe ermee om te gaan (voorstelling die uitdaagt, prikkelt en uiteindelijk, verzoent en troost); actueler ...

'Als er dingen zijn die ik nog wil uitzoeken rondom mijn personage, heeft hij allang het antwoord klaar', aldus Soumaya Ahouaoui in @nrc over Erik Whien. Ze werkt momenteel voor het eerst met hem: ze speelt de titelrol in zijn ...

Mohamedou Ould Slahi zat 14 jaar vast in Guantanamo Bay. Daarover gaat dansvoorstelling Freedom, 3 november te zien in de Koninklijke Schouwburg. 'Je weet niet wat dit voor mij betekent. Jarenlang ben ik alleen een nummer geweest,' zegt hij in ...

Wil jij dansen in een grote zaalvoorstelling van HNT? Dit is je kans! Voor onze nieuwe voorstelling OustFaust zoeken wij een zo divers mogelijke groep van tien dansers. Audities vinden plaats op 11, 12 en/of 13 november in Den Haag: ...

Portretten – Als je de stad niet kunt zien - Bekijk hier de film Portretten – als je de stad niet kunt zien. Maak kennis met Leo, Marcel en Anita. Ze lopen met Erna van den Berg (programmamaker en blindentolk ...

@hntdenhaag makes unlimited theatre accessible to people with disabilities with HNTOnbeperkt. Willemijn Haasken is programme producer at HNTOnbeperkt and will be joining our panel of STET NO LIMITS. Still tickets available, also for livestream! https://t.co/NxLZf7Q3g9 https://t.co/1am7bhS3iS

Leuk nieuws! 🤩 We zijn ontzettend blij en trots dat Esther Scheldwacht na haar toneelcarrière van 30 jaar vanaf volgend jaar vast tot ons ensemble behoort. "In die zin ben ik meer een diesel, het duurt even voordat ik er ...

Zo dat was even een voorstelling zeg #trojanwars @hntdenhaag zoon en ik zijn blown away door deze theatermarathon. Wat een prachtig spel en dans en decor. Zonde dat de zaal niet bomvol zat, dat hadden ze absoluut verdiend. Ga vooral ...

Vandaag in de Volkskrant: een artikel over de grote hoeveelheid theater over Nederlands-Indië. Met aandacht voor o.a. Lichter dan ik, Nina Bobo, maar ook De eeuw van mijn moeder, die trouwens nog steeds te zien is op NPO Start: https://t.co/dV4q6u9uQK

...

Blinde mensen nemen je mee in hun wereld

Programmamaker en blindentolk bij Het Nationale Theater Erna van den Berg maakte samen met filmmaker Mink Pinster de film Portretten – als je de stad niet kunt zien.
https://t.co/or77rJ6umt

Op 1 november staat @ThomasErdbrink bij ons in de Koninklijke Schouwburg met zijn theatercollege Onze man in Teheran. Aan de hand van persoonlijke ervaringen en eigen foto's schetst Thomas een beeld van het huidige en toekomstige Iran. Leerzaam en uitdagend. ...

Na 32 jaar verhuist cabaretfestival @CAMERETTEN van Rotterdam naar Den Haag. De samenwerking met onder andere Het Nationale Theater staat volgens het festival symbool voor het talentontwikkelingstraject dat Cameretten biedt.
https://t.co/ceSx5OEbyq

Vandaag in @trouw: tips voor de beste jeugdvoorstellingen van de herfstvakantie, waaronder theaterfestival De Betovering in Den Haag. 'Aanraders zijn de openingsvoorstelling Tori van HNTjong, met theater, animatie en een live dj' 🎼🎭
https://t.co/TRVLXTNCIc

Coming soon: Hebriana - een eigenzinnig familieportret

Momenteel zijn de repetities voor onze nieuwe HNT-productie Hebriana in volle gang. Een familiedrama waarin de spanningen hoog oplopen. Vanaf 26 oktober te zien! Tickets op: https://t.co/NIqalDVCxT
https://t.co/JgA1tggIkZ

NL: Het Nationale Theater zet extra stappen om voorstellingen toegankelijk te maken - Voorafgaand aan een voorstelling een beschrijving krijgen van het decor en de kostuums. En ook alvast de stemmen van de acteurs horen.
https://t.co/OcY0SBi8fQ

How do you experience the theatre when you use a wheelchair? Yesterday, the STET team had very informative workshop by @MarianDykshoorn of Geen Beperking Meer on how to make your theatre more inviting to visitors with various disabilities. @hntdenhaag @GemeenteDenHaag ...

"De wanhoop van de crisis gaf ook een bepaald soort vrijheid: we konden alles maken, want het maakte toch niets meer uit. Ik hoop daarom dat we weer moediger durven te zijn", aldus artistiek leider Eric de Vroedt. Lees het ...

'Iedereen zou zich de vonkende voorstelling Trojan Wars van Het Nationale Theater moeten gunnen, al was het maar om wat schrijver Peer Wittenbols met de oerteksten uithaalde', schrijft @JoyceRoodnat in haar nieuwste column.
https://t.co/yKiELpMAXI
Theater aan het Spui
Pros
Beautiful theatre with multiple halls in the heart of the Hague. Provides amazing shows by amazingly talented directors and actors.