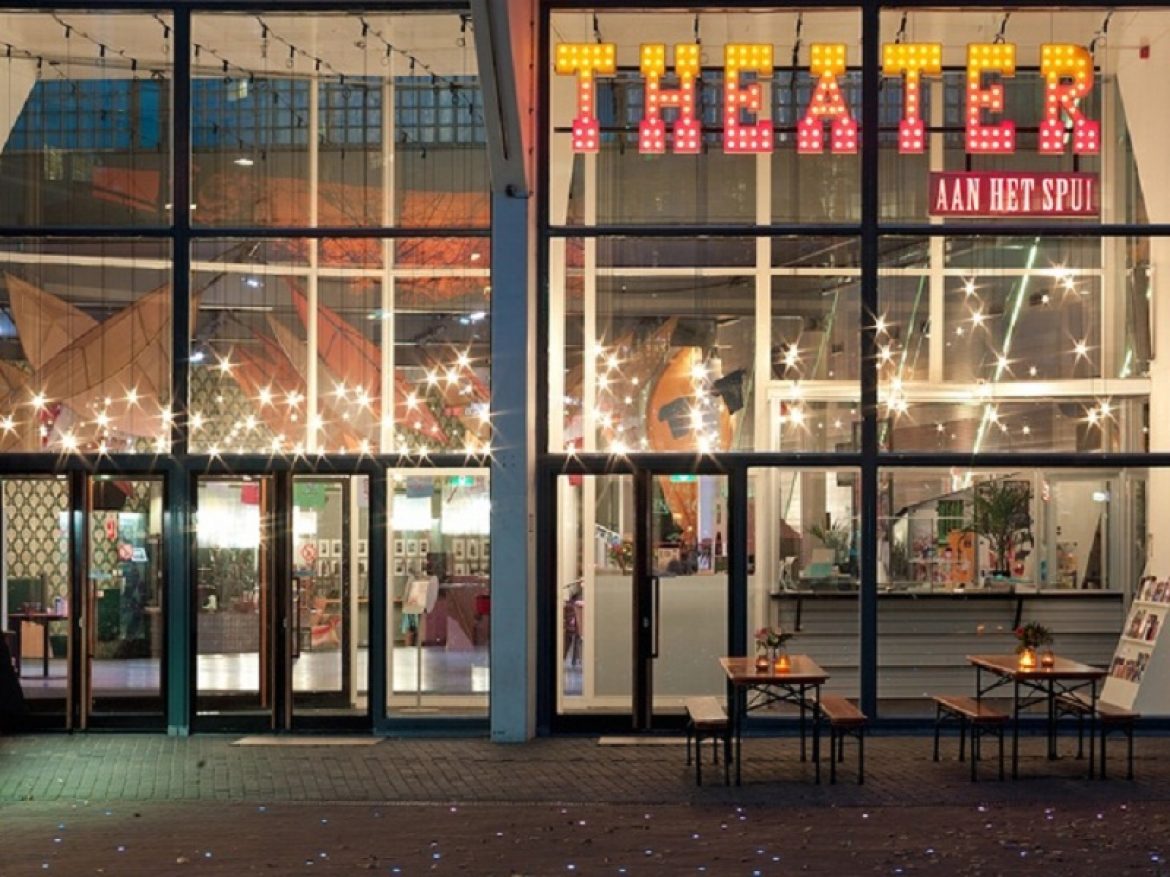 Theater aan het Spui
Theater aan het Spui is a flat-floor theater located in The Hague. Next to the theater there are Anton Philips Hall, the Lucent Dance Theatre, the Central Library and the Hague Filmhuis. The theater, designed by architect Herman Hertzberger, has two halls, the main hall that can accomodate up to 360 people and the small hall that can acommodate up to 170 people. The theater hosts a number of festivals such as TodaysArt, Holland Dance Festival and Writers Unlimited (formerly Winternachten). Theater aan het Spui also produced its own shows, including performances by the choreographers Lonneke van Leth and Jorinde Cooper and directors Annechien Koerselman and Greg Nottrot.
On March 6, 1993 was opened Theater aan het Spui. It is a large complex, designed by architect Herman Hertzberger which included the Theatre on the Spui, houses, business premises, some cultural institutions, a restaurant, cafe and cinema. The theater opened with Miau, its own production of Guusje Eijbers. In 2003, the theater and the cinema was linked with a new passage.
Theater on the Spui was opened as the first newly built flat floor theater in the Netherlands. The main idea behind the flat floor is to reduce the distance between the creator and audience. The actors are no longer on stage, but with their feet on the same floor as the spectators in the first row. There is no orchestra pit: theater literally stripped of all unnecessary frills. Theater do everything to make the distance between creator and audience so small and intrusive as possible. Also the theater has Hall 3. It is the place where young artists have the opportunity to perform. It ts a testing ground for ideas and productions.
The theater offers an excellent location for your meeting, presentation, reception or conference. You can choose rooms, including the two halls, the spacious foyer, a large studio and several meeting rooms. Theater aan het Spui is considered to be the living room of The Hague, where curiosity, wonder, innovation, movement, and of course the wonderful performances take center stage. The bar in the cozy lobby is open before the performances. Afterwards you can have a chat with the actors who previously were at the stage. In the foyer of Theater aan het Spui are also regularly seen small exhibitions of young artists. The theater is easily accessible. Theater is located within fifteen minutes walk from the station Den Haag Centraal or Hollands Spoor. You can easily park your car in one of the many parking garages nearby.
Check out this link: hnt.nl
Wat heerlijk om weer een avond in de Koninklijke Schouwburg @hntdenhaag te zijn voor de geënsceneerde lezing van #AllesWaarJeJeOpVerheugdeIsAfgelast, dat is geschreven in opdracht van de donateurs van het theater. Nu al zin in de "echte" versie van dit prachtige ...

🎭 Met de voorstelling 'De eeuw van mijn moeder' vertelt regisseur en artistiek leider van Het Nationale Theater Eric de Vroedt een persoonlijk en episch verhaal... 👇

https://t.co/FTJV4XkzOW

In het semi-autobiografische De eeuw van mijn moeder van regisseur Eric de Vroedt verdwijnen de politieke dimensies van de geschiedenis steeds meer naar de achtergrond, tot er een ontroerend persoonlijk drama resteert. https://t.co/7ihbTVLJof

Met 'De eeuw van mijn moeder' ontvouwt Eric de Vroedt op confronterende wijze de traumatische levensgeschiedenis van zijn moeder. De prestatie van Esther Scheldwacht als Winnie is groots en indrukwekkend. https://t.co/KOsbNC3NNs

De theatervoorstelling 'De eeuw van mijn moeder' gaat vandaag in première. Daarin onderzoekt regisseur Eric de Vroedt aan de hand van het levensverhaal van zijn Indische moeder hoe het koloniale verleden binnen een familie doorwerkt. https://t.co/wSdrPds9nG

In het kader van 'Theater voor Keti Koti' diepte Het Nationale Theater het ongemakkelijke toneelstuk 'Kraspoekol, of de slavernij' (1800) op. https://t.co/uUZu97i6nW

Het Nationale Theater in Den Haag zoekt Publieksmedewerkers voor gemiddeld 12 uur per week | #Vacature voor een Betaalde functie, Oproepkracht | Sluitingsdatum: 15-08-2021 - https://t.co/5KeMxFOLo9

De geschiedenis is niet geschreven door de verzetsstrijders, maar door de kolonisten. Een Afrikaans spreekwoord luidt: het verhaal van de jacht wordt niet verteld door de leeuw, maar door de jager. Tijd zal ons leren vertelt het verhaal van de leeuw. @NPO2 ...

@Hettonzo @TheaterRdam Bíjna – we kunnen bijna niet wachten om in juni 'De eeuw van mijn moeder' met jullie te delen!

Wat fijn om na 4,5 maand eindelijk weer in het theater te zijn geweest! Bij @hntdenhaag zagen we The Nether (voor het eerst voor publiek!) en die zit voorlopig nog wel onder mijn huid… Ga dat zien zodra het weer ...

Precies een jaar geleden sloten de theaters in Nederland hun deuren. Wat betekende dat voor Het Nationale Theater? Dat bespreken verschillende medewerkers vóór en achter de schermen vanmiddag om 16u live in het programma 'Altijd dichtbij'. Meekijken?https://t.co/sWF9HdRCob

Bekijk hier de livestream met naast de theatrale lezing van mijn roman De Kier door Het Nationale Theater, ook een voor- en nagesprek over verborgen vrouwen. Hun kwetsbaarheid en vooral ook hun kracht. Zeer relevant, helemaal op Internationale Vrouwendag!
https://t.co/FxUBYFNCNO ...

Hoi! Voor Het Nationale Theater willen we jouw stem laten horen. Als je nog geen 18 bent, geen Nederlands paspoort hebt, of simpelweg het gevoel hebt alsof er niet naar je geluisterd wordt!

Op 17 maart pakken wij het podium ...

Om 20:00 uur online: aflevering 2 van Tijd zal ons leren: De Talkshow! Over hoe spiritualiteit en verzet met elkaar verbonden zijn. Met Romana Vrede, OTION, Nina Jurna, Raoul de Jong en Romy Rondeltap. @rivrede https://t.co/ppHkxtCsBH
Theater aan het Spui
Pros
Beautiful theatre with multiple halls in the heart of the Hague. Provides amazing shows by amazingly talented directors and actors.