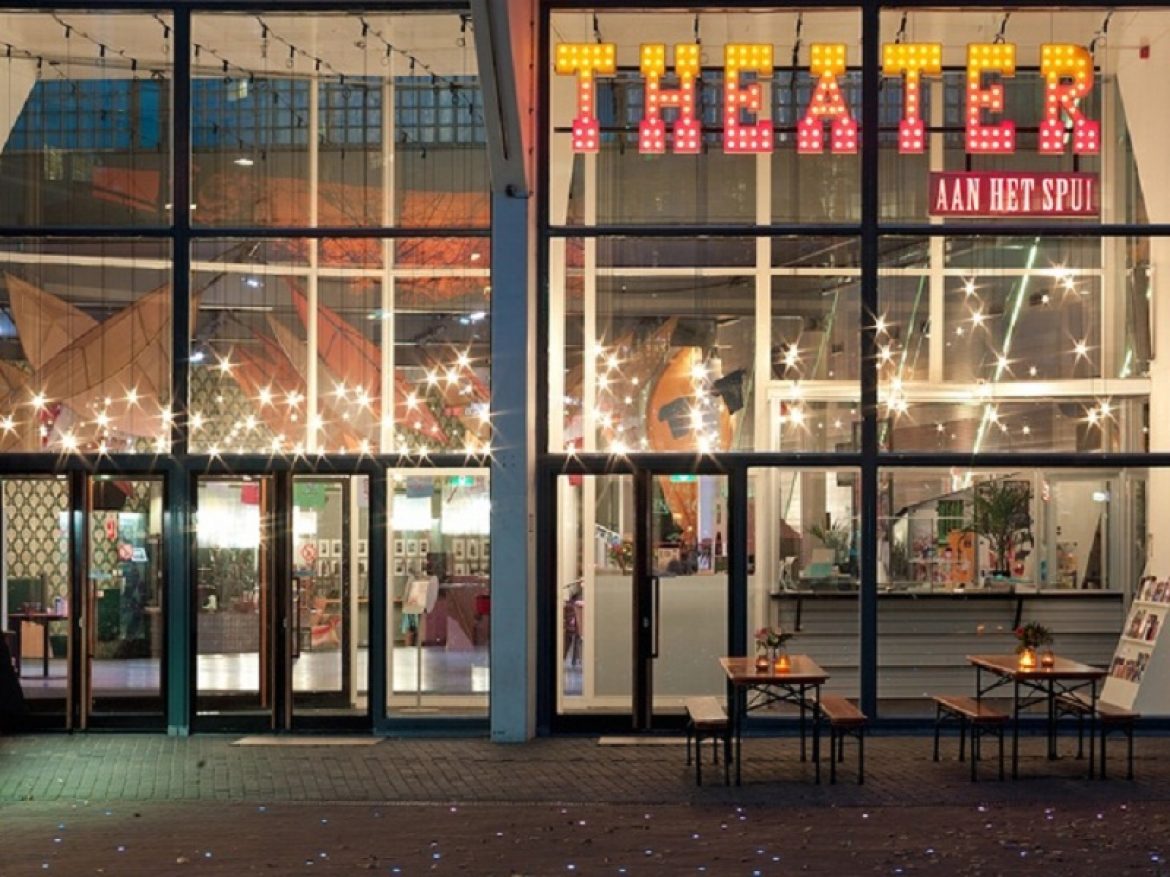 Theater aan het Spui
Theater aan het Spui is a flat-floor theater located in The Hague. Next to the theater there are Anton Philips Hall, the Lucent Dance Theatre, the Central Library and the Hague Filmhuis. The theater, designed by architect Herman Hertzberger, has two halls, the main hall that can accomodate up to 360 people and the small hall that can acommodate up to 170 people. The theater hosts a number of festivals such as TodaysArt, Holland Dance Festival and Writers Unlimited (formerly Winternachten). Theater aan het Spui also produced its own shows, including performances by the choreographers Lonneke van Leth and Jorinde Cooper and directors Annechien Koerselman and Greg Nottrot.
On March 6, 1993 was opened Theater aan het Spui. It is a large complex, designed by architect Herman Hertzberger which included the Theatre on the Spui, houses, business premises, some cultural institutions, a restaurant, cafe and cinema. The theater opened with Miau, its own production of Guusje Eijbers. In 2003, the theater and the cinema was linked with a new passage.
Theater on the Spui was opened as the first newly built flat floor theater in the Netherlands. The main idea behind the flat floor is to reduce the distance between the creator and audience. The actors are no longer on stage, but with their feet on the same floor as the spectators in the first row. There is no orchestra pit: theater literally stripped of all unnecessary frills. Theater do everything to make the distance between creator and audience so small and intrusive as possible. Also the theater has Hall 3. It is the place where young artists have the opportunity to perform. It ts a testing ground for ideas and productions.
The theater offers an excellent location for your meeting, presentation, reception or conference. You can choose rooms, including the two halls, the spacious foyer, a large studio and several meeting rooms. Theater aan het Spui is considered to be the living room of The Hague, where curiosity, wonder, innovation, movement, and of course the wonderful performances take center stage. The bar in the cozy lobby is open before the performances. Afterwards you can have a chat with the actors who previously were at the stage. In the foyer of Theater aan het Spui are also regularly seen small exhibitions of young artists. The theater is easily accessible. Theater is located within fifteen minutes walk from the station Den Haag Centraal or Hollands Spoor. You can easily park your car in one of the many parking garages nearby.
Check out this link: hnt.nl
Leuk nieuws! Bram Suijker is door de Nederlandse Toneeljury genomineerd voor een Louis d'Or voor zijn rol in Trojan Wars! 🔥

Trojan Wars is nog te zien van 6 t/m 10 juli in de Koninklijke Schouwburg. Tickets via https://t.co/JjJMFpbWT0
#Toneelprijzen ...

Dit seizoen nog drie keer naar @hntdenhaag en voor het seizoen 22/23 al 26 voorstellingen in de agenda staan 😅🎭
Dat voelt weer als vroegah and I like it! https://t.co/QOQekHiwKg

We beginnen 25 juli met de herinrichting van onze Koninklijke Schouwburg, om deze nog toegankelijker en prettiger te maken voor iedereen. Daarbij kunnen wij jouw hulp goed gebruiken. Wil je weten wat we willen veranderen en hoe je kunt doneren?
...

𝐃𝐞 𝐯𝐞𝐫𝐤𝐨𝐨𝐩 𝐯𝐚𝐧 𝐬𝐞𝐢𝐳𝐨𝐞𝐧 𝟐𝟐/𝟐𝟑 𝐢𝐬 𝐠𝐞𝐬𝐭𝐚𝐫𝐭! 🎉
Vanaf nu kun je tickets bestellen voor de producties die komend seizoen bij ons te zien zijn! Voor elk wat wils: van cabaret tot toneel, van dans tot familievoorstellingen. ❤️➡ https://t.co/duteoVfLuB ✨ ...

Een tijdje geleden was Eric de Vroedt te gast in de podcast van @DeGroene om te praten over The Nation. Kun je nog wel theater maken van de politiek, nu politiek al zo ontzettend theatraal is geworden?

https://t.co/4LGs2QY1Gg

@BertPlus Nee hoor! Ons ensemblelid Rick Paul van Mulligen staat hier op het campagnebeeld, maar de cast bestaat uit nog meer leuke acteurs, namelijk: Merel Pauw, Tessa Jonge Poerink, Fjodor Jozefzoon, Lars Brinkman, DJ Jasmin Perez, Fabienne Rutten en Joshua ...

Vanaf oktober spelen we de voorstelling QUEER PLANET in Den Haag en de rest van het land. 🌈 Een knallende voorstelling met een all queer cast, vol powersongs met acts, performances en een live dj. 🎧🎼 Kijk voor meer informatie ...

Voor het eerst wordt de Leedvermaak trilogie van Judith Herzberg in Nederland in haar geheel geënsceneerd. Een toneelavond van jewelste door @hntdenhaag https://t.co/hOJXfW2pPL

We maakten een mini-docu over Lea uit Leedvermaak, met 3 verschillende Lea's: Trudy de Jong (Toneelgroep Baal, 1982), Catherine ten Bruggencate (Film Leedvermaak van Frans Weisz, 1989) en Tamar van den Dop (Leedvermaak trilogie bij HNT, 2022). 🤍
https://t.co/HWRuMNYAub

This weekend was the world premiere of Bacchae Underworld, a unique music theatre performance with Greek spoken language and German sign language @hntdenhaag Photos: Carmen Morlon https://t.co/5Ru58b7fid

Indrukwekkende vertolking voor het eerst integraal op NL toneel van @Leedvermaak trilogie #JudithHerzberg bij @hntdenhaag . Hier en daar hindert de soms extreme vorm van #EricdeVroedt de inhoud en de emotie die aan deze familiegeschiedenis vanaf WO2 is verbonden. Maar: ...

LAST TICKETS!
Get the last tickets for the premiere of the Greek show Bacchae Underworld on 7/8 May at @hntdenhaag

In a world full of unruly instincts and pleasures, a new god appears. He proposes a new lifestyle but at ...
Theater aan het Spui
Pros
Beautiful theatre with multiple halls in the heart of the Hague. Provides amazing shows by amazingly talented directors and actors.