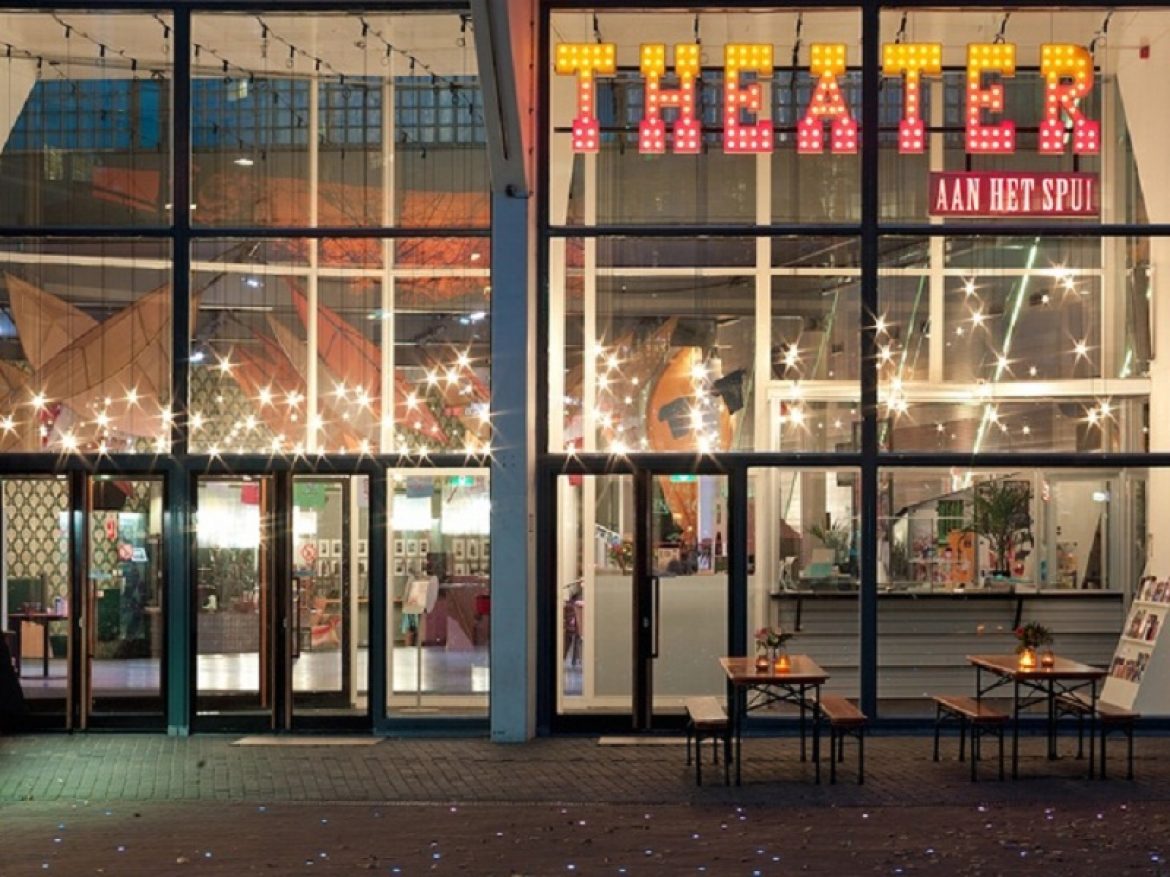 Theater aan het Spui
Theater aan het Spui is a flat-floor theater located in The Hague. Next to the theater there are Anton Philips Hall, the Lucent Dance Theatre, the Central Library and the Hague Filmhuis. The theater, designed by architect Herman Hertzberger, has two halls, the main hall that can accomodate up to 360 people and the small hall that can acommodate up to 170 people. The theater hosts a number of festivals such as TodaysArt, Holland Dance Festival and Writers Unlimited (formerly Winternachten). Theater aan het Spui also produced its own shows, including performances by the choreographers Lonneke van Leth and Jorinde Cooper and directors Annechien Koerselman and Greg Nottrot.
On March 6, 1993 was opened Theater aan het Spui. It is a large complex, designed by architect Herman Hertzberger which included the Theatre on the Spui, houses, business premises, some cultural institutions, a restaurant, cafe and cinema. The theater opened with Miau, its own production of Guusje Eijbers. In 2003, the theater and the cinema was linked with a new passage.
Theater on the Spui was opened as the first newly built flat floor theater in the Netherlands. The main idea behind the flat floor is to reduce the distance between the creator and audience. The actors are no longer on stage, but with their feet on the same floor as the spectators in the first row. There is no orchestra pit: theater literally stripped of all unnecessary frills. Theater do everything to make the distance between creator and audience so small and intrusive as possible. Also the theater has Hall 3. It is the place where young artists have the opportunity to perform. It ts a testing ground for ideas and productions.
The theater offers an excellent location for your meeting, presentation, reception or conference. You can choose rooms, including the two halls, the spacious foyer, a large studio and several meeting rooms. Theater aan het Spui is considered to be the living room of The Hague, where curiosity, wonder, innovation, movement, and of course the wonderful performances take center stage. The bar in the cozy lobby is open before the performances. Afterwards you can have a chat with the actors who previously were at the stage. In the foyer of Theater aan het Spui are also regularly seen small exhibitions of young artists. The theater is easily accessible. Theater is located within fifteen minutes walk from the station Den Haag Centraal or Hollands Spoor. You can easily park your car in one of the many parking garages nearby.
Check out this link: hnt.nl
@berjcf Wij ook – we blijven zoeken naar mogelijkheden, want deze productie willen we heel graag spelen!

Het zal niemand zijn ontgaan: de overheid heeft alle bijeenkomsten tot 1 juni verboden. Dat betekent dat onze zalen tot die tijd helaas gesloten zullen zijn en onze producties ook niet in het land zullen spelen.

In de kunstwereld zijn de gevolgen van het Corona-virus direct merkbaar. De nieuwe voorstelling 'Trojan Wars' zou 14 maart in première zou gaan. In @RadioKunststof geeft hoofdrolspeler Bram Suijker een reactie op het stopzetten van de voorstelling: https://t.co/pD52hvOzqw

Om verdere uitbraak van het coronavirus te beteugelen, kunnen alle voorstellingen en publieke evenementen in Het Nationale Theater en op tournee t/m 6 april 2020 geen doorgang vinden (was t/m 31 maart).

@marjetdouze Vooralsnog wel, maar houd de berichtgeving in de gaten of de periode na 31/3 verlengd wordt. Bel bij twijfel onze kassa.

@Laica_Jeroen @ADnl Nee, helaas zijn alle voorstellingen tot en met 31/3 op last van de overheid afgelast.

@tjans Wij balen er ook enorm van. Hopelijk kunnen we in april weer spelen!

Vanmiddag heeft de overheid alle evenementen met meer dan 100 bezoekers verboden t/m 31 maart. Alle evenementen bij Het Nationale Theater, Koninklijke Schouwburg, Theater aan het Spui en Zaal 3 zijn daarom geannuleerd. Bezoekers ontvangen bericht

Vanavond première 'Dope' van Sadettin Kirmiziyüz #TroubleMan en in Velsen de allerlaatste Othello #toitoitoi

Meer dan de helft van de meerjarig gesubsidieerde theatergezelschappen dreigt te verdwijnen, schrijft theatermaker Eric de Vroedt. "Moeten we het over iets groters hebben: de sluipende afbraak die al ruim tien jaar bezig is?"
https://t.co/MMontHJvAv

Welkom bij Holland Festival 2020!
Wij zijn erbij samen met onder anderen: Bill T. Jones, Garin Nugroho, Louis Andriessen, Sami Yusuf, Rokia Traoré, Jeroen De Man, BOG., Simon Stone, Alicia Hall Moran, Elizabeth Diller, Snarky Puppy, Micha Hamel en Germaine ...
Theater aan het Spui
Pros
Beautiful theatre with multiple halls in the heart of the Hague. Provides amazing shows by amazingly talented directors and actors.