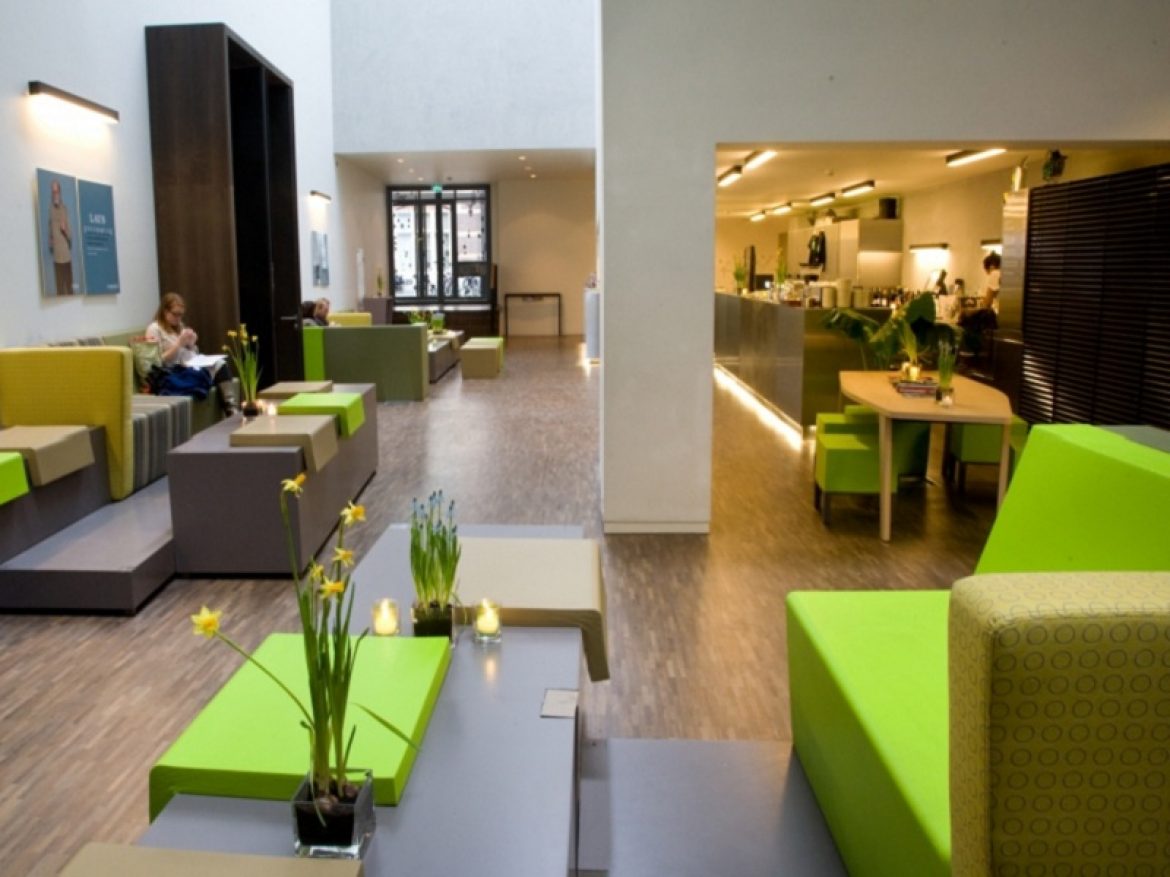 Korzo Theater
Korzo is one of those great places that you should have discovered. The theater is known as the most adventurous dance and music venue in the old city center of The Hague. But also for special forms of theater and contemporary circus can be found here. Korzo theater is also known as an adventurous platform for young talented artists. For more than thirty years Korzo is a leading home for music, dance and theater. Korzo has equally been one of the most important modern dance producers in the Netherlands. Always in combination with the names of young or leading choreographers and related initiatives that provide the Dutch dance. Korzo offers a home for young choreographers, where they can develop their talent, make plays and can present their works to the public.As artistic producer and cultural entrepreneur Korzo is an important link in the development of choreographers in the Netherlands.
Korzo was founded in 1913 as a movie theater called Corso. Sixty-six years later, the theater was closed. Afterwards, the cinema building was empty for about four years until it was occupied by a group of artists and students. The former cinema Corzo in early 80's was used as a dance theater Korzo. In the 90s it had a large and small hall, several rehearsal rooms and a lobby. Later the complex was extended with a former reformed church and a monumental office building at Nobelstraat. Korzo developed more and more a theater of dance to a production company for music and dance productions. It caused the need for more studio spaces for classes, workshops and rehearsals. And because the public power over the years greatly increased, the lobby and public facilities were no longer sufficient. In 2007, therefore started a major renovation which was completed in 2011. The program in the Korzo theater bring you close to the talents of today and tomorrow. Experience the great concerts, dance inspiring, exciting theater projects and innovative festivals. And above all, you can meet artists from all over the world in the relaxed atmosphere of the Korzo bar.
Korzo theater will impress you.
In a beautifully renovated theater with the latest technical support Korzo offers many possibilities. There are several rooms, each with its own character, which makes it ideal for all kinds of meetings, presentations, performances, concerts, conferences, seminars and get-togethers.
Inspiration, dynamism, commitment, openness, diversity and meeting are very important in this theater.Now Korzo features three brand new rehearsal studios and three rooms with theater technical facilities.
Visit the official site: www.korzo.nl
Photos from Korzo's post MONDAY MORNING UPDATE // WArd/waRD - Ann Van den Broek is weer in Korzo! Deze week blikt Ann terug op een van de sleutelwerken uit haar prijswinnende oeuvre: FF+REW.60:00. Met andere dansers en meer technische mogelijkheden. Niet zo maar een ...

Oh! Opeens meer dan 10.000 fans! Dank iedereen voor jullie support 🤗
Korzo is feeling excited.

Introduction to Nadar Ensemble EVEN VOORSTELLEN // Het Belgische Nadar Ensemble staat bekend om zijn multidisciplinaire avonturen. Tijdens Festival Dag in de Branding op 10 maart bewijzen ze met een spetterend programma dat een concert veel meer kan zijn dan alleen
klinkende muziek. Hier ...

Rewire 2018 festival and day passes Bam! Rewire maakt nog eens 24 artiesten en projecten bekend voor het festival van 6 t/m 8 april en maakt daarmee de line-up compleet. Ook Korzo is festivallocatie met o.a. Antenes presents Telegraph Music, Beatriz Ferreyra en Nadah El Shazly ...

Niño de Elche | Korzo MONDAY MORNING UPDATE // Koud met een prachtig zonnetje, wat een heerlijke start van de Voorjaarsvakantie. Lentekriebels Kindertheaterfestival is in volle gang en dit weekend hebben we een zeer divers programma met Prewire x Korzo: Laurel Halo and Colleen, flamenco ...

PREMIÈRE // Zondag starten we het Lentekriebels Kindertheaterfestival met de nieuwe voorstelling 'De Avonturen van Luc' van de Senegalese choreograaf Alioune Diagne. Luc de Haas gaat op avontuur en ontmoet onderweg allerlei dieren zoals Bouki de Hyena en Anansi de ...

WAP AVOND // Zaterdag is het We Are Public avond in Korzo. Kiezen of je naar de band Kapok gaat die het nieuwe album MIRABEL in een 360º setting presenteert of naar de dansvoorstelling We Are Nowhere Else But Here ...

De Dansers | plan-d - Roest trailer MONDAY MORNING UPDATE // Nog een weekje tot de voorjaarsvakantie. Beginnen de lentekriebels al te komen? Bij ons en Het Nationale Theater wel! Want we maken ons op voor het leukste theaterfestival voor kids: Lentekriebels Kindertheaterfestival! Met o.a. Roest van ...

Wervelende showcase voor jonge componisten Viersterren kregen de jonge componisten en het Nieuw Ensemble voor An Evening of Today in het NRC. Vanavond alleen nog te zien in Korzo!
Met 'An Evening of Today' geeft het Nieuw Ensemble zes jonge componisten carte blanche. Dit jaar ...

SUMMA video Part V: Samenvatting ...samenvatten...
Hierbij de laatste video uit de prachtige serie die Joris-Jan Bos en Maarten de Kroon maakte over SUMMA van Samir Calixto Dance Page en het Cello Octet Amsterdam.

De tour is gestart met bijna overal volle of uitverkochte zalen. ...

Molino Molino en DJ Miss D'Issi vanavond! Wordt gezellig
The Molino cogs will be well oiled tonight after a whole week of studio time. Come come come! We start at 20:30 and after the concert there will be dj set.
Fototje ...

Rewire REWIRE x KORZO // New edition coming up with Colleen and Laurel Halo. Resident Advisor went to meet with Colleen in Spain to talk about her Machine Love. Can't wait to see her live in 2 weeks time.

(P)rewire x ...

An Evening of Today 2018:KATE HONEY MEET THE COMPOSERS // Nieuw Ensemble heeft zes jonge componisten carte blanche gegeven om nieuw werk voor hen te maken. In een serie korte filmpjes stellen de componisten zich aan je voor. Deel 1: Kate Honey.

Bekijk ook de andere ...

Photos from Korzo's post MONDAY MORNING UPDATE // De roze wolk van het Holland Dance Festival is voorbij. Tijd voor totaal iets anders: en dat is Hotel Informatie van tgECHO zeker. Bekroond met ★★★★ door de Volkskrant en Dagblad van het Noorden, maar 'Wat ...

Molino - The birds EXPERIMENTELE FANFAREPOP // Als je er dan een label op moet plakken, dan is Molino zo ongeveer te omschrijven. Ze hebben de bezetting van een brass band, maar laten zich beïnvloeden door elektronische muziek, avant-garde, indie-rock en jazz.

vr 16 ...

Programma – Holland Dance Festival FESTIVAL WORKSHOPS // Op de laatste dag van het Holland Dance Festival kun je niet alleen heel veel zien, maar ook doen! De artiesten van Live from Skopje / Belfast / St. Petersburg geven alle drie een workshop. De eerste ...