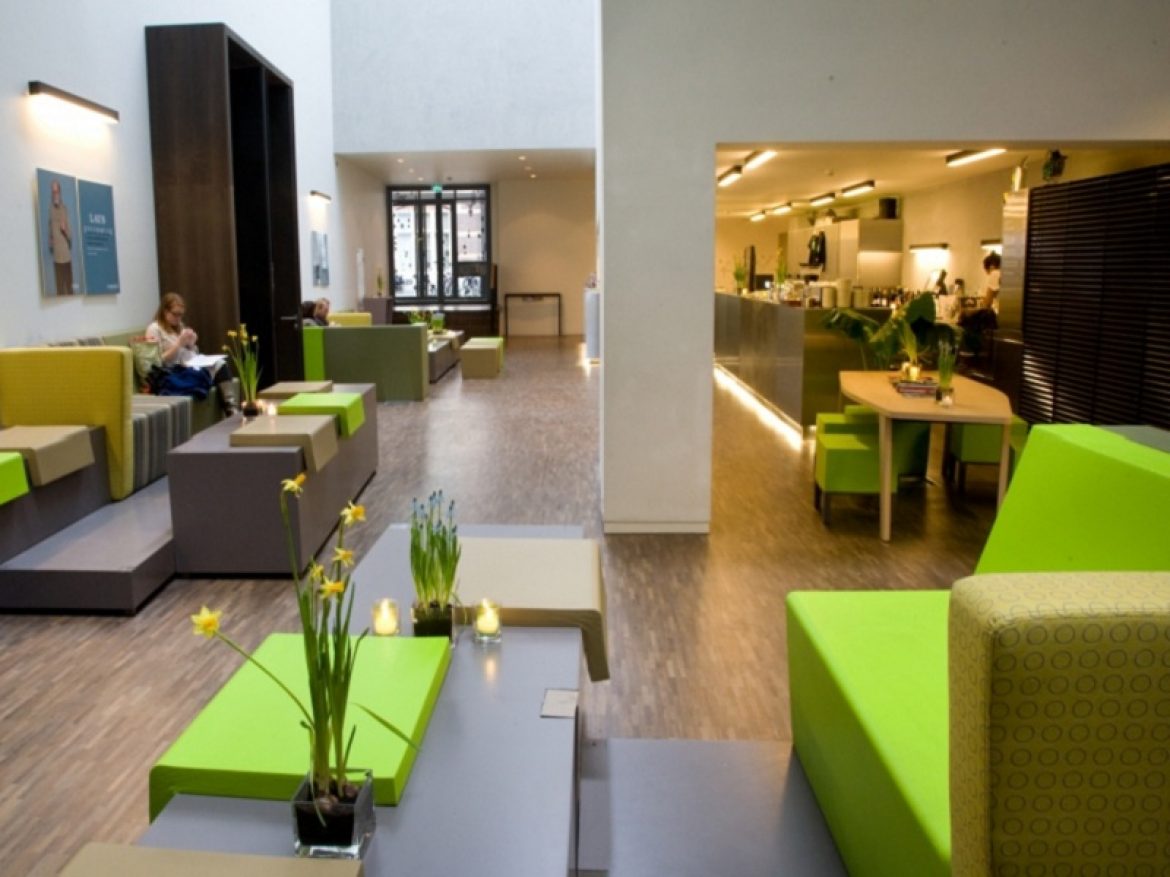 Korzo Theater
Korzo is one of those great places that you should have discovered. The theater is known as the most adventurous dance and music venue in the old city center of The Hague. But also for special forms of theater and contemporary circus can be found here. Korzo theater is also known as an adventurous platform for young talented artists. For more than thirty years Korzo is a leading home for music, dance and theater. Korzo has equally been one of the most important modern dance producers in the Netherlands. Always in combination with the names of young or leading choreographers and related initiatives that provide the Dutch dance. Korzo offers a home for young choreographers, where they can develop their talent, make plays and can present their works to the public.As artistic producer and cultural entrepreneur Korzo is an important link in the development of choreographers in the Netherlands.
Korzo was founded in 1913 as a movie theater called Corso. Sixty-six years later, the theater was closed. Afterwards, the cinema building was empty for about four years until it was occupied by a group of artists and students. The former cinema Corzo in early 80's was used as a dance theater Korzo. In the 90s it had a large and small hall, several rehearsal rooms and a lobby. Later the complex was extended with a former reformed church and a monumental office building at Nobelstraat. Korzo developed more and more a theater of dance to a production company for music and dance productions. It caused the need for more studio spaces for classes, workshops and rehearsals. And because the public power over the years greatly increased, the lobby and public facilities were no longer sufficient. In 2007, therefore started a major renovation which was completed in 2011. The program in the Korzo theater bring you close to the talents of today and tomorrow. Experience the great concerts, dance inspiring, exciting theater projects and innovative festivals. And above all, you can meet artists from all over the world in the relaxed atmosphere of the Korzo bar.
Korzo theater will impress you.
In a beautifully renovated theater with the latest technical support Korzo offers many possibilities. There are several rooms, each with its own character, which makes it ideal for all kinds of meetings, presentations, performances, concerts, conferences, seminars and get-togethers.
Inspiration, dynamism, commitment, openness, diversity and meeting are very important in this theater.Now Korzo features three brand new rehearsal studios and three rooms with theater technical facilities.
Visit the official site: www.korzo.nl
Conny Janssen Danst Na het avontuur op Theaterfestival Boulevard is Rutkay Ozpinar de studio van Conny Janssen Danst ingedoken waar ook buikdanseres Adrijana Beumer de buikdansles gaf. Nieuwsgierig naar het resultaat? Op 18 september staat Danslokaal 7 in Korzo!

#rutkaysjourney
Voor zijn werk ...

Showtime! ✨ Korzo staat vanaf vandaag t/m maandag 5 augustus op Theaterfestival Boulevard. Choreograaf Rutkay Ozpinar en buikdanseres Adrijana Beumer dansen Gönülden gelen/Wat uit de ziel komt waarin ze bruggen bouwen tussen moderne dans en Turkse buikdans. #rutkaysjourney Zien we ...

'Ik zou het mooi vinden dat mensen na het zien van mijn nieuwste creatie zouden willen dansen. Dat ze de dans in hun lichaam voelen opkomen.'

Van donderdag 1 t/m maandag 5 augustus staat Korzo in Theaterfestival Boulevard met Gönülden ...

Teaser Boulevard Rutkay Nog maar 1 week te gaan! Dan staan choreograaf Rutkay Ozpinar en buikdanseres Adrijana Beumer op Theaterfestival Boulevard. Bekijk nu de teaser! Tijdens Gönülden gelen (Turks voor: Wat uit de ziel komt) bouwen beide dansers bruggen tussen moderne- en Turkse ...

Photos from Korzo's post Ondanks dat de zomer is begonnen, zijn wij nog hard bezig met de opzet van het nieuwe seizoen. Afgelopen week waaiden we wel lekker uit op het strand tijdens de photoshoot met choreograaf Antonin Rioche, danseres Katarina van der Wouwer ...

Crosstown video Ben jij een echt podiumbeest? Of wil je een podiumbeest worden? Kom dansen bij Crosstown Xtown!

In Korzo leer je de moves, skills en attitude om je dansambities te ontwikkelen. Je krijgt les van professionals in urban, modern, theater en ...

Korzo's cover photo Gönülden gelen / Wat uit de ziel komt
1 t/m 5 augustus Theaterfestival Boulevard
info & tijden via https://bit.ly/30HPAsI

Sjoerd Derine - Dance/Theater Photographer
Korzo updated their cover photo.

Zijn eerste grote moment is aangebroken! Rutkay Özpinar staat samen met buikdanseres Adrijana Beumer van 1 t/m 5 augustus in Den Bosch op Theaterfestival Boulevard. @TFBoulevard
Gönülden gelen / Wat uit de ziel komt

1 t/m 5 augustus
Info https://t.co/0p6NHB7bI7
...

Photos from Korzo's post Maandenlang hebben we het creatieproces van choreograaf Rutkay Ozpinar op de voet gevolgd via #rutkaysjourney. Hij is druk bezig geweest met het verwerken van bewegingen uit Turkse volksdansstijlen binnen zijn repertoire en het eerste grote moment is aangebroken! Samen met ...

Choreograaf Shailesh Bahoran en IRC comapany zijn op zoek naar explosieve en theatrale dansers. Er is hierbij een voorkeur voor dansers met een achtergrond in hiphop, experimental, break, popping en funk gerelateerde stijlen. Meer info via https://t.co/6kVBYWASnv

❗️❗️❗️#auditiealert #auditionalert❗️❗️❗️

Choreograaf Shailesh Bahoran en IRC - Illusionary Rockaz Company - zijn op zoek naar explosieve en theatrale dansers. Er is hierbij een voorkeur voor dansers met een achtergrond in hiphop, experimental, break, popping en funk gerelateerde stijlen. Belangrijk ...

Ben jij tussen de 12 & 20 jaar? Ga morgen je zomervakantie zinderend van start met de zomerwerkplaats van HNTeducatie & Jong Korzo! In 4 dagen tijd maak jij onder leiding van professionele theatermakers en choreografen een voorstelling op een ...

Photos from Korzo's post #CirqueMania8 🎪🤹‍♀️
In het nieuwe seizoen in september zijn we al weer toe aan de 8ste editie van Cirque Mania #8! De deuren naar nieuwe werelden worden tijdens dit lange weekend geopend. In deze editie staan Panama Pictures, Codarts Circus ...

Het nieuwe seizoen staat weer bijna voor de deur. Dat betekent dat Korzo weer een mooi programma heeft voor UIT Festival Den Haag!

Van vrijdag 6 t/m zondag 8 september is Korzo te zien én te beleven op verschillende plekken. ...

Dit jaar bestaat DansClick uit een double bill programma. De eerste performer die we graag introduceren is choreograaf Sarada Sarita. Met de première van Q4: Quantified tijdens het CaDance Festival liet Sarita een bijzondere indruk achter. Ze is gespecialiseerd in ...

Photos from Korzo's post Afgelopen maandag hield choreograaf Antonin Comestaz de audities voor zijn nieuwe voorstelling For all we know. Nadat hij in 2018 de BNG Bank Dansprijs won, biedt de jaarlijkse voorstelling van Korzo en Nederlands Dans Theater (NDT) hem de kans een ...

Photos from Korzo's post Al de posters voor LIBI gespot? Choreograaf Ryan Djojokarso maakt in samenwerking met Scapino Ballet Rotterdam, Zuiderstrandtheater en Korzo de voorstelling LIBI. Een dansbiografie over het leven van Surinamers in Nederland. Negen dansers beginnen vandaag met de repetities! Later deze ...

Photos from Korzo's post 'Ben-Tal maakt geen middle of the road-dans, maar gaat heel doordacht en conceptueel te werk, met veel vakmanschap.' - Theaterkrant

60 van choreograaf Amos Ben-Tal & OFF Projects ging tijdens Julidans in première. Bekijk hier de scenefoto's gemaakt door Alwin ...

Het Echte Werk The word is out! Korzo heeft een nieuw designbureau. Super blij met de samenwerking met Het Echte Werk - daar gaan heel veel mooie dingen uitkomen!

Nog even geduld...
Met trots presenteren wij een nieuwe opdrachtgever: Korzo. Komende tijd gaan ...

#toitoitoi 🤩
In 60 onderzoeken Amos Ben-Tal en OFF Projects het menselijke begrip tijd en de vele dualiteiten en tegenstrijdigheden ervan. Een deel van dit onderzoek was afgelopen CaDance Festival te zien tijdens de performance installatie Seconds. Vanavond is het ...

Het muziekprogramma van het nieuwe seizoen in Korzo is bekend! Boek vanaf vandaag t/m zondag 23 juni elk tweede ticket voor een concert met een korting van 50% tijdens de #KorzoSummerSale De actie geldt alleen op de normaalprijs.

Bekijk het ...

#auditions #dancers Antonin Comestaz is looking for contemporary male & female dancers for his new production For all we know, produced by Korzo. Apply before 14 June via the application form: https://t.co/66gjU2yxwK

'Psychoses kunnen een leven diepgaand beïnvloeden. Ze brachten mij naar uithoeken van mijn geest die ik niet kende. In deze solo zoek ik momenten op waar mijn waan won van de werkelijkheid. En andersom.'

Heen met Paul van der Laan

...

Het programma van het Korzo productiehuis is bekend en de kaartverkoop is gestart! Nog geen keuze kunnen maken? Voor de echte fans hebben we een mooie aanbieding: 4 halen 3 betalen op een speciale selectie uit het aanbod voor komend ...

Vanavond wordt de Monday Movement Class gegeven door Andrea Boll & Ivan Blagajcevic. De choreografen werken al 11 jaar samen en staan a.s. zondag in Korzo met Sage. Een voorstelling waarin ze een work-in-progress presentatie laten zien. #dance #les
/>
info: ...