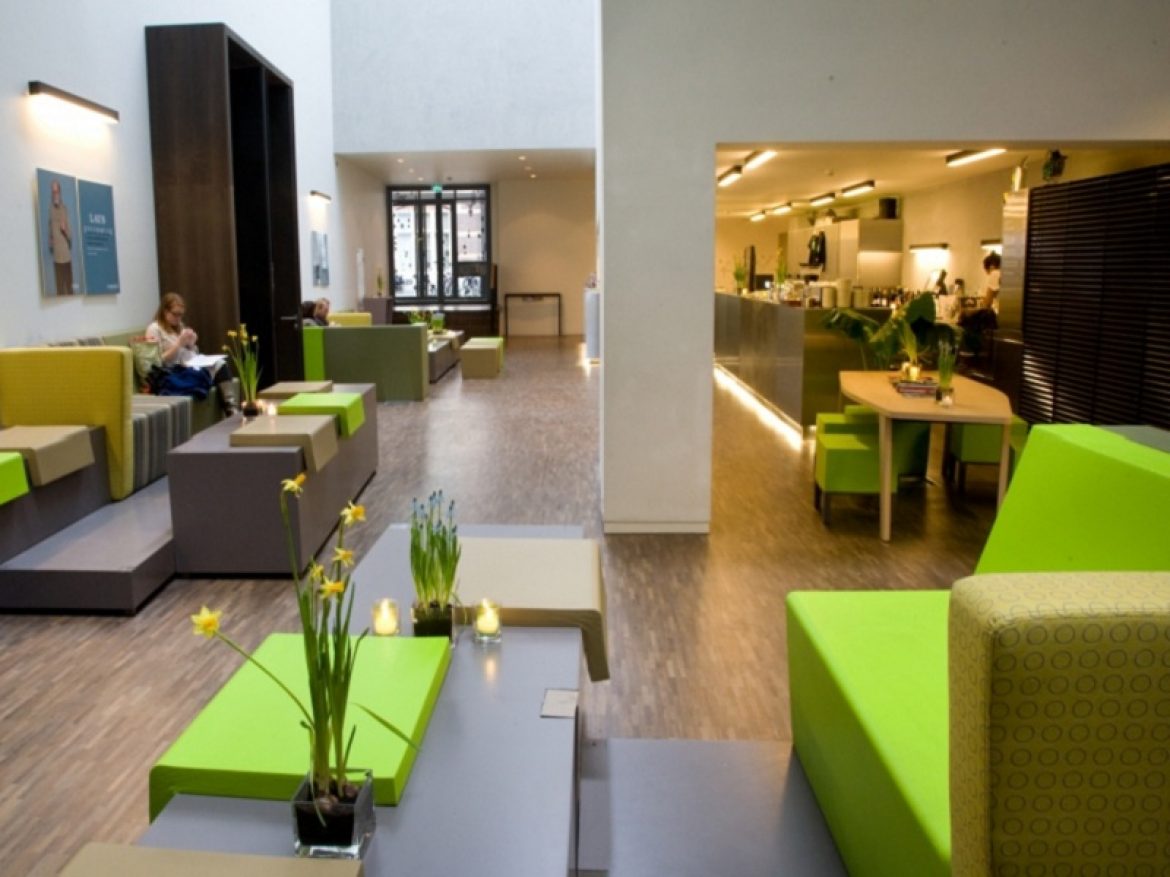 Korzo Theater
Korzo is one of those great places that you should have discovered. The theater is known as the most adventurous dance and music venue in the old city center of The Hague. But also for special forms of theater and contemporary circus can be found here. Korzo theater is also known as an adventurous platform for young talented artists. For more than thirty years Korzo is a leading home for music, dance and theater. Korzo has equally been one of the most important modern dance producers in the Netherlands. Always in combination with the names of young or leading choreographers and related initiatives that provide the Dutch dance. Korzo offers a home for young choreographers, where they can develop their talent, make plays and can present their works to the public.As artistic producer and cultural entrepreneur Korzo is an important link in the development of choreographers in the Netherlands.
Korzo was founded in 1913 as a movie theater called Corso. Sixty-six years later, the theater was closed. Afterwards, the cinema building was empty for about four years until it was occupied by a group of artists and students. The former cinema Corzo in early 80's was used as a dance theater Korzo. In the 90s it had a large and small hall, several rehearsal rooms and a lobby. Later the complex was extended with a former reformed church and a monumental office building at Nobelstraat. Korzo developed more and more a theater of dance to a production company for music and dance productions. It caused the need for more studio spaces for classes, workshops and rehearsals. And because the public power over the years greatly increased, the lobby and public facilities were no longer sufficient. In 2007, therefore started a major renovation which was completed in 2011. The program in the Korzo theater bring you close to the talents of today and tomorrow. Experience the great concerts, dance inspiring, exciting theater projects and innovative festivals. And above all, you can meet artists from all over the world in the relaxed atmosphere of the Korzo bar.
Korzo theater will impress you.
In a beautifully renovated theater with the latest technical support Korzo offers many possibilities. There are several rooms, each with its own character, which makes it ideal for all kinds of meetings, presentations, performances, concerts, conferences, seminars and get-togethers.
Inspiration, dynamism, commitment, openness, diversity and meeting are very important in this theater.Now Korzo features three brand new rehearsal studios and three rooms with theater technical facilities.
Visit the official site: www.korzo.nl
Vanaf donderdag mogen we weer open! En dat doen we dan ook met de try-out van Here we live and now ism @NDTdance. Toch liever thuis blijven? Bekijk de voorstelling op 21 en 25 nov online! #dans #cultuur #wegaandoor #ookmet30man ...

In line with the new restrictions from the Dutch health authority, Rewire x @Korzotheater on 30th Oct will go ahead with some important changes. If you have a ticket, we will email you personally today with more info. Please read ...

Due to high demand for our upcoming edition of Rewire x @Korzotheater on Friday 30 October, we have decided to move the event to @paard_denhaag, meaning there will be an increased capacity. Extra tickets are therefore available, which can be ...

Première! Om 20.00 uur gaat de korte dansfilm SAUDADES van choreografe Wubkje Kuindersma en filmmaker Ennya Larmit in première. Gecreëerd ten tijde van 'social distancing' vanwege de Covid-19 pandemie. Kijk live mee op de website: https://t.co/SbhMfTnXP4

Coming soon 🥁⠀
⠀
• SAUDADES •⠀
⠀
A short dance film by Wubkje Kuindersma (doubleyou_choreographer) and Ennya Larmit (ennya.larmit), created in times of social distancing. Stay tuned for the premiere later this… https://t.co/z4SR6PU2qa

Praat dit weekend met ons mee op za 27/6 over Artist well-being: practicing self-care and balance en op zo 28/6 over Exploring new grounds in times of turmoil. Tune in at https://t.co/Ktqexy8VhI voor Korzo @ NITE Hotel dit weekend! Programma ...

Ons heeft het verdrietige bericht bereikt dat choreograaf Jens van Daele onverwacht is overleden. Woensdag zou zijn gezelschap Burning Bridges te gast geweest zijn in Korzo. Wij wensen zijn dierbaren veel sterkte met dit grote verlies. https://t.co/pwaE3lYlDE

We mogen weer open!
Deze week: Back to move you LIVE! Én nog online programma.

Vr 12 jun en za 13 jun
20.00 | LIVE | Back to move you LIVE / Rutkay Ozpinar, Wubkje Kuindersma en Spencer Dickhaus

Vr ...

POSITIEF ADVIES BIS 21-24!!
Ondanks het feit dat wij ook denken aan de organisaties die een negatief advies hebben gekregen in deze toch al moeilijke tijd, zijn wij enorm vereerd dat wij deze rol op ons mogen nemen.

Lees het ...

Vanaf 1 juni kunnen theaters weer open voor max. 30 bezoekers. Ook Korzo bereid zich voor op heropening, we kijken er naar uit jullie weer te kunnen ontvangen! De kaartverkoop voor het juni programma start 3 juni! #backtomoveyou #SaveTheDate https://t.co/QSgVRzRTiV

#FridayDanceDay staat in het teken van choreograaf Shailesh Bahoran en zijn film SHAI. In de film gaat hij op zoek naar de impact van vroegere en toekomstige levens op zijn persoonlijkheid van nu. Vanaf 15 mei 20u te zien! #indiadansfestival ...

TARU - An experimental work that was funded by @Korzotheater and The Jiri Kylian Foundation. It was created and staged in October 2016.
The online premier was on May 10th 2020. It's available to view on YouTube until today 7.00pm ...

India Dance Festival 2020 online edition being organized by @Korzotheater. Watch Rukmini Vijayakumar portray Radha while she gives Krishna a hug as he is about to leave Vrindavan, knowing he will physically not be with her anymore, but always in ...

Van 9 t/m 23 mei organiseert Korzo een speciale online editie van het India Dans Festival 2020. Met alle artiesten die aan het festival zouden deelnemen in een alternatief programma. Check https://t.co/5pU9JudQRc voor info!

Met trots presenteren we het campagnebeeld én de nieuwe website van het India Dans Festival 2020! Dit jaar vindt het festival plaats op zaterdag 9 t/m zaterdag 23 mei in Korzo, De Nieuwe Regentes en Laaktheater.

https://t.co/2O9c5q5HuM
📸 Sunny Jagesar

...