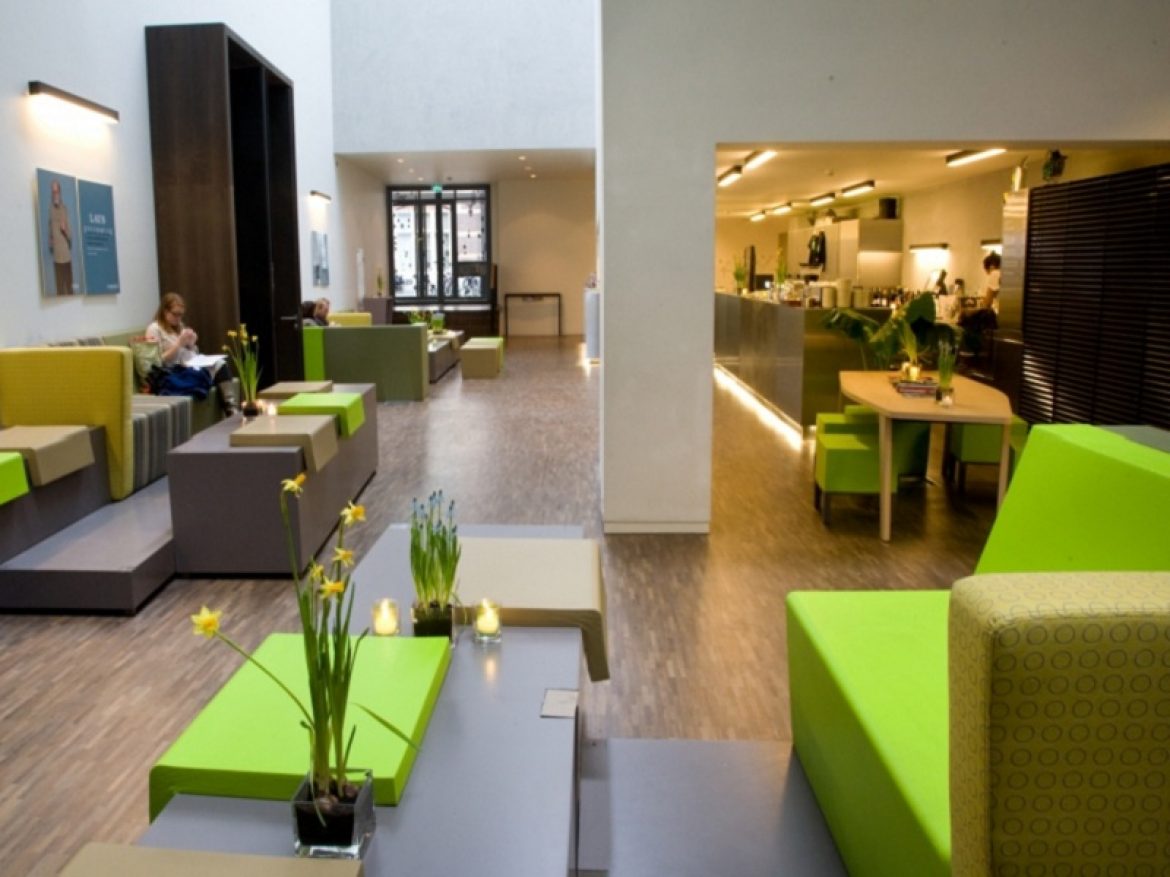 Korzo Theater
Korzo is one of those great places that you should have discovered. The theater is known as the most adventurous dance and music venue in the old city center of The Hague. But also for special forms of theater and contemporary circus can be found here. Korzo theater is also known as an adventurous platform for young talented artists. For more than thirty years Korzo is a leading home for music, dance and theater. Korzo has equally been one of the most important modern dance producers in the Netherlands. Always in combination with the names of young or leading choreographers and related initiatives that provide the Dutch dance. Korzo offers a home for young choreographers, where they can develop their talent, make plays and can present their works to the public.As artistic producer and cultural entrepreneur Korzo is an important link in the development of choreographers in the Netherlands.
Korzo was founded in 1913 as a movie theater called Corso. Sixty-six years later, the theater was closed. Afterwards, the cinema building was empty for about four years until it was occupied by a group of artists and students. The former cinema Corzo in early 80's was used as a dance theater Korzo. In the 90s it had a large and small hall, several rehearsal rooms and a lobby. Later the complex was extended with a former reformed church and a monumental office building at Nobelstraat. Korzo developed more and more a theater of dance to a production company for music and dance productions. It caused the need for more studio spaces for classes, workshops and rehearsals. And because the public power over the years greatly increased, the lobby and public facilities were no longer sufficient. In 2007, therefore started a major renovation which was completed in 2011. The program in the Korzo theater bring you close to the talents of today and tomorrow. Experience the great concerts, dance inspiring, exciting theater projects and innovative festivals. And above all, you can meet artists from all over the world in the relaxed atmosphere of the Korzo bar.
Korzo theater will impress you.
In a beautifully renovated theater with the latest technical support Korzo offers many possibilities. There are several rooms, each with its own character, which makes it ideal for all kinds of meetings, presentations, performances, concerts, conferences, seminars and get-togethers.
Inspiration, dynamism, commitment, openness, diversity and meeting are very important in this theater.Now Korzo features three brand new rehearsal studios and three rooms with theater technical facilities.
Visit the official site: www.korzo.nl
Mcdance Meyer-Chaffaud zijn voor SOUL #3 Co-creation op zoek naar de dialoog met het publiek. In aanloop naar de première op 23 mei in Korzo organiseren ze op 9 april om 19.00 uur nog een laatste Creative HUB in CLOUD ...

LAATSTE KANS! Vanavond speelt mimetheatergroep Bambie's Paul van der Laan nog één keer een try-out van Heen in Korzo en jij kunt er GRATIS bij zijn! Ga naar onze website om nog snel een plek te reserveren voor deze bijzondere ...

LAATSTE KANS! Vanavond de laatste kans op de gratis try-out bij te wonen van mimetheatergroep Bambie. In deze solo zoekt Paul van der Laan momenten op waar zijn waan het won van de werkelijkheid. En andersom.

Info, tijden tickets via ...

Dunja Jocic vertelde aan De Limburger dat zij zich voor The Protagonist heeft laten inspireren door de toekomst van haar 3-jarige dochter. Aan de ene kant een sombere, maar ook een toekomst vol technologische vooruitgang waarvan niemand precies weet wat ...

's cover photo In de april editie van All there is staan werken van Jan Martens en Martin Kilvady. Meer info over het programma via http://bit.ly/2CDnWU5
Korzo updated their cover photo.

Vanavond wordt de Monday Movement Class gegeven door Rutkay Özpinar. Op dit moment is Rutkay bezig met een onderzoek voor zijn nieuwe voorstelling. Wanneer dat precies is verklappen we nog niet, maar hij keert terug naar zijn Turkse roots.

Meer ...

Rewire | International festival for adventurous music #MondayMorningUpdate ☕️
Van een mooi weekend vol met circus gaan we deze week over naar muziek, veel muziek! Aankomend weekend neemt Rewire de stad Den Haag over en doet daarbij ook Korzo aan. We zullen niet alleen naar de muziek ...

Het is weer tijd voor muziek op zondag! Dit keer luisteren we naar Eli Keszler. Een beeldend kunstenaar, componist en percussionist uit New York, die zich beweegt op de grens van avant-garde jazz en elektronica. Hij staat bekend om zijn ...

Dinsdag 2 april keert Ensemble Klang terug naar Korzo met A Paradise built in Hell als onderdeel van het Spring Festival. Het muziektheaterwerk is het resultaat van een intensieve samenwerking tussen Ensemble Klang met de studenten van Koninklijke Academie van ...

Photos from Korzo's post Het lijkt erop dat we vandaag de dag steeds meer tegenover elkaar staan. Maar verharding is een doodlopende weg. In Black Memories worden de deuren opengezet om elkaar te blijven begrijpen. Een sterke voorstelling over macht, vrijheid en huidskleur. Met ...

h7o7Films en Hadi Moussally maakte de korte film Oh Boy! gebaseerd op de choreografie van de gelijknamige voorstelling van Antonin Rioche (Here we live and now, CaDance Festival). Een intense en poëtische ervaring is over eenzaamheid uitgevoerd door danser Benjamin ...

'Dat het Nieuw Ensemble ermee stopt is erg zonde, maar gelukkig leeft zijn jaarlijkse parade van jonge componisten voort' ★★★★☆ - de Volkskrant

Sinds 1980 zijn ze een toonaangevend ensemble in de hedendaagse muziekscene. An Evening of Today leeft wel ...

#MondayMorningUpdate 🎪Circus, circus deze week! Vanaf donderdag 21 maart barst Cirque Mania #7 los. Maar eerst de try-outs van mimetheatergroep Bambie's Paul van der Laan.

◾ We beginnen de week met de Monday Movement Class, die vandaag gegeven wordt door ...

Photos from Korzo's post Cirque Mania #7 belooft weer een festival met een innovatieve mix van circus skills, theater, dans en muziek te worden met voorstellingen die leuk zijn voor de hele familie! Internationaal gelouwerd circustheatergezelschap Compagnie Ea Eo (uit België) brengt jongleren naar ...

Broken Rosary Het is zo ver; Unheard Music Festival georganiseerd door Matangi Quartet gaat over een paar uur van start! Vanmiddag openen ze met een bijzonder programma met werk van Igor Strawinsky en Kate Moore (composer). Op het stuk Broken Rosary van ...

Photos from Korzo's post On March 30 & 31 Rewire will take over Korzo for the weekend. On Saturday the special music route developed with Festival Dag in de Branding will pass by our venue with performances by Henry Vega & Jan Willem Troost, ...

Engel - Kim-Jomi Fischer and Marta Alstadsæter (trailer) Tijdens Cirque Mania #7, presenteren Kim-Jomi Fischer en Marta Alstadsæter (Marta & Kim) de voorstelling Engel. Nadat zij in 2018 de BNG Dansprijs hadden gewonnen gingen zij met een korte versie van dit stuk op tournee. Deze keer zal er ...

Ben jij al klaar voor Cirque Mania #7 ?! 🎪 Bereid je voor op een gevarieerd programma met acrobatiek, jonglage, het spectaculaire hair hanging en zelfs een beetje dans. Met gevestigde namen als Compagnie Ea Eo uit België, Captain Sugar ...

Gisteravond was altviolist van het New European Ensemble, Emlyn Stam, te gast bij Hans Haffmans op NPO Radio 4. 'Het is een wonder als je die man hoort spelen...hoge tonen, schoonheid van klank, power, hij heeft alles in huis nog'. ...

Altviolist van New European Ensemble, Emlyn Stam, was te gast op @NPORadio4. 'Het is een wonder als je die man hoort spelen...hoge tonen, schoonheid van klank, power, hij heeft alles in huis'. Heinz Holliger en het New European Ensemble 14 ...

What a pleasure it was to hear the awesome @crashensemble at @Korzotheater performing Andrew Hamilton, Mica Levi, Dennehy, Ligeti, Riley, Glass and Adámek.

TESTPUBLIEK GEZOCHT! 🔎

Mimetheatergroep Bambie presenteert de Try-out: Heen van Bambie (Paul van der Laan).

Dinsdag 18, woensdag 19 en dinsdag 26 maart gratis te bezoeken in Korzo.

Meer info via: https://t.co/VvsdLPkDfx https://t.co/1YQ0bdUI2m

TESTPUBLIEK GEZOCHT! 🔎
mimetheatergroep Bambie presenteert de Try-out: Heen van Bambie (Paul van der Laan)

Psychoses kunnen een leven diepgaand beïnvloeden. Ze brachten Paul naar uithoeken van zijn geest die hij nog niet kende. In deze solo zoekt hij momenten ...

De nacht van 13 op 14 november 2015 was één van de meest verschrikkelijke in de hedendaagse geschiedenis van Frankrijk. Zes aanslagen werden er die nacht gepleegd in Parijs. Cécile Lassonde, speler bij Jens van Daele I Burning Bridges, maakte ...

Vandaag wordt de Monday Movement Class gegeven door Patricia van Deutekom! Patricia is speler bij Jens van Daele/Burning Bridges en staat aankomende woensdag in de voorstellinge Nachthexen II: La Parisienne.

Meer info via: https://t.co/QGZMEnXRm9 https://t.co/ACLQ8lduaD

#MondayMorningUpdate 🎻 Héél veel muziek in Korzo deze week! Met speciale aandacht voor het Unheard Music Festival dat dit weekend begint.

Tijdens het (Un)heard Music Festival presenteert het Matangi Quartet zes Nederlandse premières en een wereldpremière bij festival voor 'ongehoorde' ...