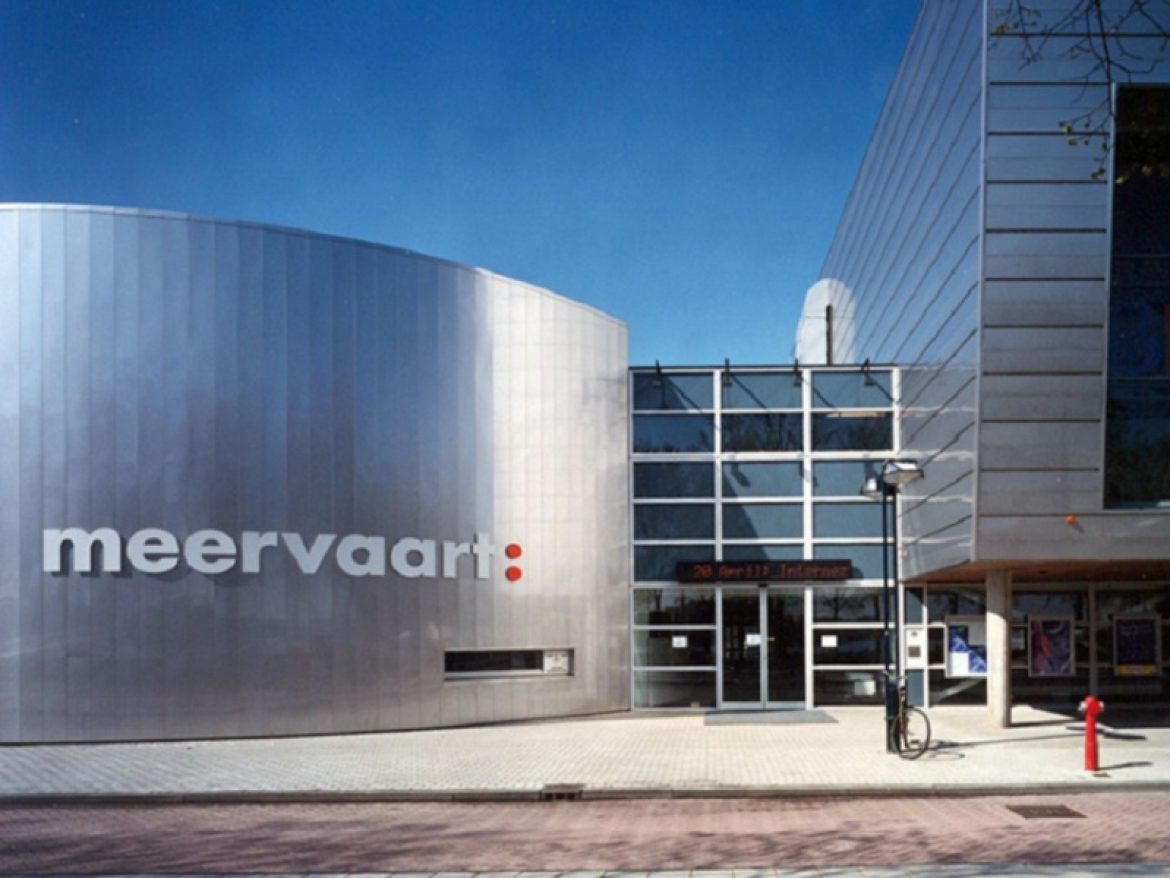 Theater de Meervaart
The Meervaart is a metropolitan theater and convention center located in the heart of Amsterdam. It can accommodate up to 1100 people and it produces about 280 performances a year. Theater considers performing as an important value in personal life and in society. Theater offers a variety of perspectives and shows in which anyone can relate to the world around them. It enriches the intellectual experience because besides highlighting the actual reality there is space for dreams, fears, desires and imagination. As a cultural institution, it actively contributes to the development of the cultural ambitions of people. With a first-class theater and great conference facilities, Amsterdam's multi-purpose Meervaart is the perfect example of how to mix business and pleasure.
In 1966, the first plans were already made for the construction of a leisure center in the new area of ​​Osdorp. The center was founded in 1977 and it is named after the street More Vaart on which it is located. Initially, it was largely kept running by volunteers. In 1981 the management was transferred to the district Osdorp. In 1999, the Meervaart was completely rebuilt. The theater now has a large hall with 800 seats (the red room) and a smaller hall with 250 seats (the blue room), both of which can be used both for performances and conferences. There are also some conference rooms. The theater program consists of about 300 performances per year: cabaret, music, theater, show, music, dance, youth and family shows. Every year about 150 conferences held in Meervaart. The Meervaart also provide activities for talented children and young people under the name Meervaart Studio. Children and young people from the neighborhood can follow year courses and workshops in their spare time. Its school give the opportunityfor children from four years old to participate in creative courses like dance playgroup, theater playgroup, street dance, classical ballet and music theater. The theater is located near the city center. The Meervaart is easy to reach by public transport and it has extensive parking facilities.
The theater program has the whole range of shows you would expect from an Amsterdam theater, from cabaret to dance and musical performances. As well as a plenty of language-no-problem performances taking place all year long. De Meervaart has become a frequent venue for top international stand-up comedy talents – significant names such as Kevin Bridges, Bill Bailey, Alan Davies and other. Dance and theater workshops are also organized regularly – particularly for young people.
For more information go here: www.meervaart.nl
𝐓𝐞𝐫𝐮𝐠𝐤𝐢𝐣𝐤𝐭𝐢𝐩: Alex Klaasen te gast bij 'Zomer met Art'. 𝐓𝐞𝐫𝐮𝐠𝐤𝐢𝐣𝐤𝐭𝐢𝐩: Alex Klaasen te gast bij 'Zomer met Art'.

Onlangs was Alex Klaasen te gast bij het programma 'Zomer met Art' waar hij sprak hij over zijn succesvolle voorstelling Showponies en het vervolg wat komend seizoen ook weer in de ...

's cover photo DREEJKLEZOEW is een politiek incorrecte hork, een mensonvriendelijke sater, de Kaffer der Lage Landen, een duivelskind. Een buitengewoon onfatsoenlijk mens. "Kortom", zoals het Algemeen Dagblad opmerkte: "André Manuel ten voeten uit."

Op vrijdag 08 november te zien in de Meervaart.
...

Vandaag is de ticketverkoop gestart voor het funky concert Cory Wong & Metropole Orkest | Future of Jazz by BNP Paribas.

De setlist bevat werk van Cory's album 'Motivational Music fort he Syncopated Soul' dat nog uit moet komen en ...

Jouw ideale theater. Hoe worden we dat? Jouw ideale theater. Hoe worden we dat?

We leren je graag beter kennen, zodat we ons aanbod en alles rondom de voorstellingen beter kunnen afstemmen op jouw wensen en behoeftes.
Samen met Podium Mozaiek, Tolhuistuin en het Bijlmer Parktheater hebben ...

Decemberdagen | Opium op Oerol Het is momenteel hartje zomer en wij genieten hier intens, maar er is geen ontkomen aan: de "Decemberdagen' komen er gegarandeerd aan.

Op Oerol, twee weken geleden, is de voorstelling 'Decemberdagen' zeer goed ontvangen! De gehele week zat de voorstelling ...

De kaartverkoop voor NTFjong 2019 is gestart. Neem een kijkje op de website www.ntf-jong.nl of bij onze evenementen om te zien welke leuke voorstellingen je in september in Meervaart, De Krakeling, Plein Theater, Bijlmer Parktheater en Podium Mozaiek kunt bezoeken.

Ticketmaster Nederland Vanaf morgen in de verkoop -->> Paul Merton.

Let op: de verkoop voor deze voorstelling vindt plaats via Ticketmaster Nederland.
De Britste comedian Paul Merton komt naar Nederland! Op zondag 29 september staat de comedian in de Meervaart in Amsterdam ...

Zin in morgen! Van 13:30-19:00 scholenfestival Het Podium @meervaart Ruim 400 scholieren van 22 basisscholen bestormen het podium met muziek (talent-battle), dans (Swing it Out) en theater (Act it Out). #meervaart… https://t.co/1HNFSrzgAY

Breakdance is een mengeling tussen kunst en sport en staat in 2024 op het programma op de Olympische Spelen in Parijs. https://t.co/lE5CUeXOBi

Afgelopen weekend streden 8 van onze Kunstbende finalisten om landelijke prijzen tijdens het Kunstbende Young Creators Festival in de Westergas. Het was een bloedhete spannende dag voor de jongeren die op 14 april jl. in de Meervaart tijdens de Noord-Hollandse ...

Tijdens de zomerperiode, van maandag 08 juli t/m zondag 01 september, is de kassa alleen geopend van maandag tot en met vrijdag van 09:00 tot 14:00 uur.

Via onze website - www.meervaart.nl - kunt u natuurlijk 24 uur per dag ...

Micha Wertheim is genomineerd voor Amsterdamprijs voor de Kunst!

De negen genomineerden voor de Amsterdamprijs voor de Kunst 2019 zijn door het Amsterdams Fonds voor de Kunst (AFK) bekend gemaakt. Eén van de genomineerde is cabaretier Micha Wertheim (categorie Beste ...

De mannen zijn in huis!
Vandaag en morgen treden Jandino Asporaat, Murth Mossel, Roue Verveer en Howard Komproe - gezamenlijk bekend als Caribean Combo - op in de Meervaart!

Voordat zij het dak van Rotterdam Ahoy afblazen, spelen zij eerst ...

's cover photo Pepijn Gunneweg, voormalig Ashton Brother, maakt een vierdimensionale show die zich voor, boven en tussen het publiek afspeelt, met trucs die al jaren zijn hoofd op hol hebben gebracht maar vanwege gevaar en absurditeit niet eerder het toneel bereikten. Pas ...

Ondanks het mooie weer was het druk op onze website de afgelopen dagen! ☀

Hieronder volgt de top 3 best verkochte voorstellingen van het afgelopen weekend:
1. Via Berlin, Orkater en het Ragazze Quartet | Lost Tango
2. Dance Company ...

Theater de Meervaart - Amsterdam Afgelopen maanden werkten de dansers van het Meervaart Studio Dans Lab onder begeleiding van Fractal dance collective toe naar een onderzoekspresentatie over verschillende bewegingstechnieken zoals breaking en contemporary dans.

Tijdens dit traject lag de focus op het unieke '360 movement' ...

4West Meervaart Jong is nog op zoek naar begeleiders voor de 'Zomerweek' (18+)!

Er staat een leuke vrijwilligersvergoeding tegenover, maar het is natuurlijk ook een super ervaring en goed voor je karmapunten ;)

Tijdens deze week volg je elke dag met ...

De succesvoorstelling 'Lastige Ouders' (Pieter Tiddens) komt na meerdere uitverkochte voorstellingen opnieuw bij ons terug!

In samenwerking met Markant, centrum voor mantelzorg, is besloten om de voorstelling 'Lastige Ouders' aan te bieden aan mantelzorgers, professionals, vrijwilligers, studenten én alle andere ...

Komend seizoen is er opnieuw een eigen productie bij ons te zien, samen met onze makers George en Eran Producties en Amsterdams Andalusisch Orkest.

'Jihad van Liefde' is een rauwe, muzikale en inspirerende voorstelling gebaseerd op het waargebeurde verhaal en ...

's cover photo Het Scapino Ballet is één van de best verkochte voorstellingen van onze voorverkoop!

Twee topstukken door één van de succesvolste Nederlandse choreografen in één voorstelling: 'Holland & Le Chat Noir' van Ed Wubbe. In dit sfeervolle tweeluik wordt de toeschouwer ...
Theater de Meervaart
Pros
All the newest techniques are applied to this theatre, which makes it an amazing experience.
Cons
Parking is fine, but it is a bit expensive.