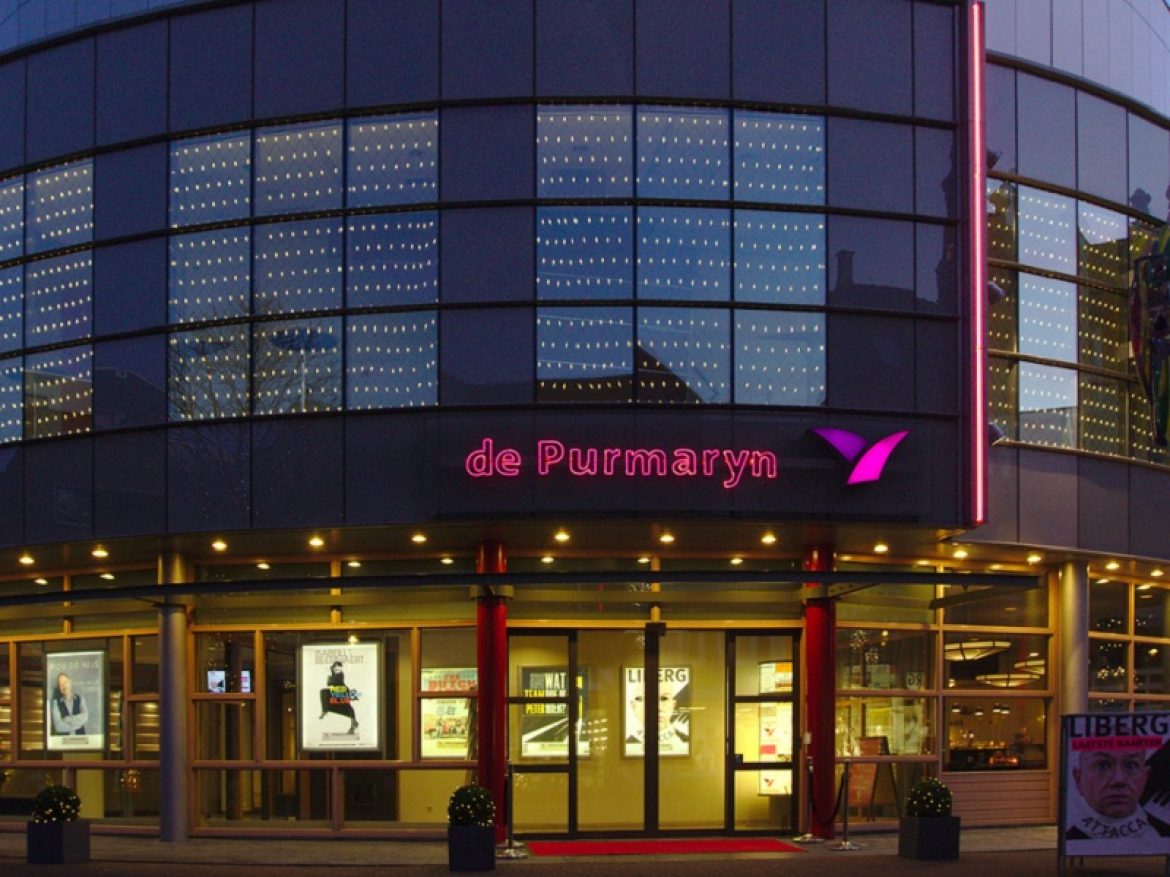 Theater de Purmaryn
Theater de Purmaryn is a medium-sized theater located at the Waagplein in the historic center of Purmerend with several restaurants and cafés nearby. Theater de Purmaryn is approximately 20 minutes from Amsterdam. The theater is easily accessible both by car and by public transport. During the day there is paid parking in the city center, the evening is free (except shopping evenings). In this theater you can enjoy a nice variety of professional and amateur performing arts. You also can enjoy various professional exhibitions during the entire theater season. Theater de Purmaryn is in every way comparable to the larger theatres in Amsterdam and offers a full range of shows like comedy, plays, musicals, concerts and dance performances for adults as well as for children. Extensive and varied theater program consists of more than 200 performances and 50 cultural rentals and 70,000 visitors a year.
The Purmaryn has a large and a small hall. The large hall can acommodate up to 520 people, the small hall can acommodate up to 200 people. The small hall is cozy and intimate and it is suitable for smaller performances. With two professional and fully equipped theater halls and a cozy lobby, the theater can be transformed into a perfect place for your corporate event or conference; an intimate dinner on the stage, to a large corporate event or a meeting in one of the halls. The large hall has a table stage and 520 seats. There's a new climate control system and in both halls there is infrared amplification for the hearing with or without a hearing aid.
It is a nice theater. And it is accessible for the disabled. A really nice place and also recommended for children.  There are performances in such genres as music, theater, cabaret, dance, etc. The variety of performances given there is of good quality and there is something for all ages to go. In addition, a great Grand Café guarantees a good break and drink after a performance. The staff is extremely helpful and friendly.
For more information go here: depurmaryn.nl
Javier Guzman in Purmerend | vr 6 april Ga-bie-jer

Javier stelt zich opnieuw voor. Hij laat zien dat hij eigenlijk beleefd en goed gemanierd is. Dat hij echt zijn woede wel kan beheersen. Dat hij in een tijd van spanningen, angst en een hoop geschreeuw, juist de kalmte ...

Muziekvereniging Kunst Na Arbeid Purmerend Muziekvereniging Kunst Na Arbeid Purmerend presenteert op zaterdag 14 april: At The Movies in De Purmaryn
250 Posters en 5000 flyers;
Purmerend zal weten dat we weer de show gaan maken in Theater de Purmaryn! 💪
Theater de Purmaryn shared ...

Judas (Astrid Holleeder) in Purmerend 13 & 14 dec Primeur voor het nieuwe seizoen: naar de bestseller Judas van Astrid Holleeder. Nu al in de verkoop!

Dertig jaar lang terroriseert crimineel Willem Holleeder zijn familie. Om dit te stoppen verraden zijn zussen Astrid en Sonja hem en leggen belastende ...

Primeur voor het nieuwe seizoen. Vanaf nu in de verkoop! Judas, naar het boek van Astrid Holleeder https://t.co/e25j6bgb9n

Judas Breaking news! De bestseller Judas van Astrid Holleeder komt naar het theater. En dus ook naar De Purmaryn. Een primeur voor volgend seizoen en vanaf nu in de verkoop. Mis het niet en reserveer je kaarten: https://depurmaryn.nl/programma-20182019/judas/
De bestseller van ...

Het is nog steeds koud buiten, dus kom vanmiddag lekker opwarmen bij de prachtige kindervoorstelling 'Welterusten, Kleine Beer' van Theater Terra. We beginnen om 14.00 uur.

American Country Legends in Purmerend | za 31 maart Vorig seizoen was het al een hit, nu komen ze met een vervolg. Leading ladies Lana Wolf, Pam MacBeth (Nashville), zanger/gitarist Wim van de Vliert en de andere artiesten, bezorgen u kippenvel!

Wat krijg je, als je wereldhits uit de ...

You're The Top | do 29 maart in Theater de Purmaryn Zowel publiek als pers is laaiend enthousiast over deze geweldig mooie musical met humor You're The Top, te zien in Purmerend op do 29 maart:
★★★★ Paul Groot excelleert als Cole Porter (NRC)
★★★★ Intieme musical die in zang, dans ...

This is the Voice of Purmerend!

Uit alle inzendingen voor de cover Private Dancer van Tina Turner, hebben we maar liefst 4 zangeressen uitgekozen voor de voorselectie van de voostelling Legendary Albums Dire Straits, Brothers in Arms. Alle deelnemers bedankt, ...

In de Vlaamsche Pot op vrijdag 23 maart Hitserie In de Vlaamsche Pot maakt theaterdebuut!
Op vr 23 maart - twintig jaar na de laatste aflevering - brengt Theater van de Klucht (eerder Boeing Boeing) een avondje ongeremd en keihard lachen. Met Bas Muijs, Onno Innemee, Arijan van ...

Absolutely Fabulous advies in deze tijden van griep...! 👌🍾💁

Zaterdag 7 april staan Le Roux & d'Anjou in onze grote zaal #echteliefde 》kaarten: depurmaryn.nl

#absolutelyfabulous #eddie #patsy #Purmerend #muziek #cabaret #muzikaalcabaret #theater #vriendinnen @bostheaterproducties

Johan Fretz | zaterdag 3 maart | Purmerend Johan Fretz ken je misschien van zijn optredens in 'Pauw!' of van zijn voorstellingen met het duo 'Gebroeders Harteveld & Fretz'. Aanstaande zaterdag staat hij voor het eerst helemaal solo op het toneel: humorvol en ontwapenend.

Kaarten bestel je via ...

Bedankt voor de mooie Purmerendse avond in Zaandam Jochem Myjer! En natuurlijk heel graag weer eens tot ziens in De Purmaryn.

Jochem Myjer voor publiek van Theater de Purmaryn Opgelet voor onze Facebookvrienden die vanavond naar Jochem Myjer gaan. Hij speelt vanavond NIET IN PURMEREND, maar in Zaandam. We willen natuurlijk niet dat er vanavond tevergeefs mensen voor onze deur staan, dus ken je mensen die naar Jochem gaan: ...

Roué Verveer Er zijn net mooie plaatsen voor Roué Verveer teruggekomen! En die zijn meestal razendsnel weer weg, dus wil je er bij zijn wacht dan niet te lang met reserveren...
Cabaretier en stand-upper Roué Verveer behoort tot de top van de ...

Op 3 februari treed ik samen met mijn zoon op in @depurmaryn in Purmerend. In een interview met @Lotjeenco blik ik vooruit: "Dat hij een zaal toe kan spreken, mensen kan boeien en ontroeren, geeft mij een mateloos gevoel van ...

De voorstelling van Hans Dorrestijn vanavond is geannuleerd. Nieuwe datum volgt... Beterschap @VrouwkjeTuinman
Theater de Purmaryn
Pros
The thater with great acoustic. Close to the stage, thus lots of interaction with the artist.
Cons
Theatrical performances are of course very nice, but sometimes very expensive.