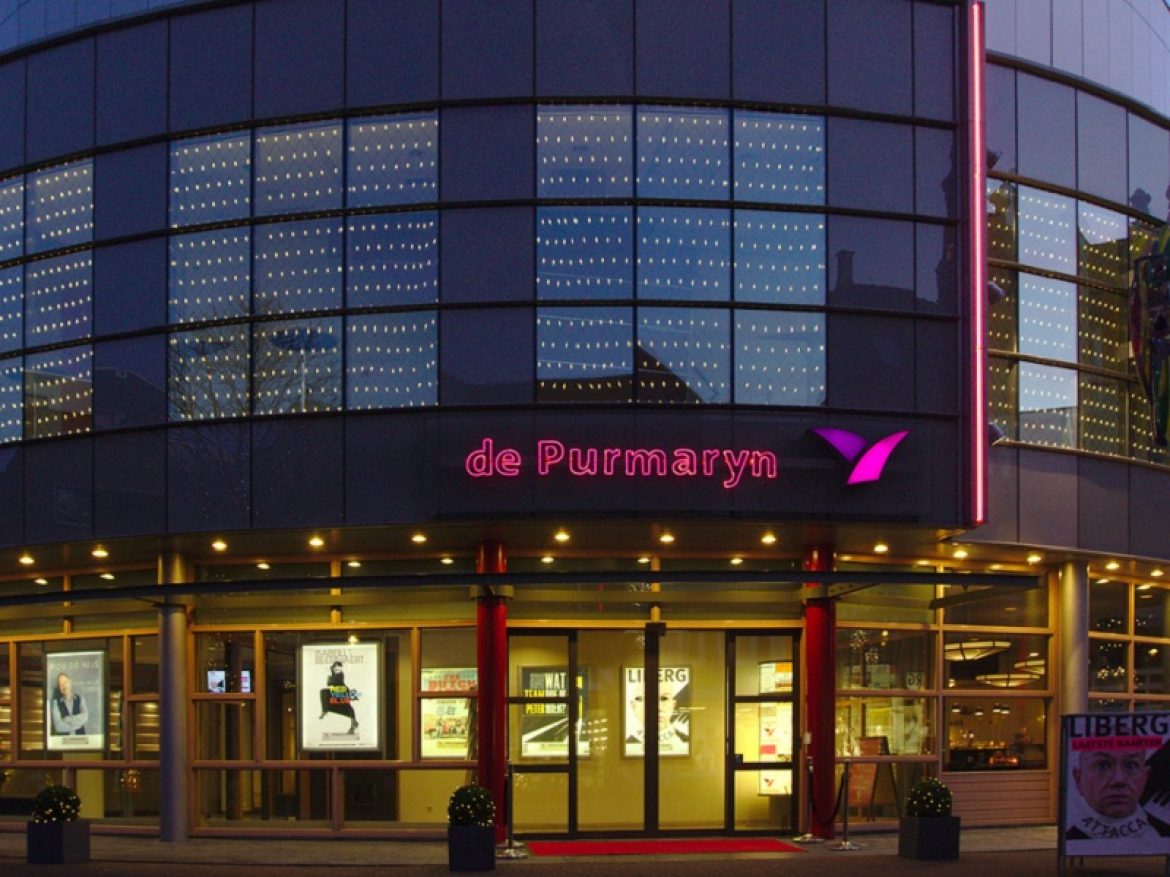 Theater de Purmaryn
Theater de Purmaryn is a medium-sized theater located at the Waagplein in the historic center of Purmerend with several restaurants and cafés nearby. Theater de Purmaryn is approximately 20 minutes from Amsterdam. The theater is easily accessible both by car and by public transport. During the day there is paid parking in the city center, the evening is free (except shopping evenings). In this theater you can enjoy a nice variety of professional and amateur performing arts. You also can enjoy various professional exhibitions during the entire theater season. Theater de Purmaryn is in every way comparable to the larger theatres in Amsterdam and offers a full range of shows like comedy, plays, musicals, concerts and dance performances for adults as well as for children. Extensive and varied theater program consists of more than 200 performances and 50 cultural rentals and 70,000 visitors a year.
The Purmaryn has a large and a small hall. The large hall can acommodate up to 520 people, the small hall can acommodate up to 200 people. The small hall is cozy and intimate and it is suitable for smaller performances. With two professional and fully equipped theater halls and a cozy lobby, the theater can be transformed into a perfect place for your corporate event or conference; an intimate dinner on the stage, to a large corporate event or a meeting in one of the halls. The large hall has a table stage and 520 seats. There's a new climate control system and in both halls there is infrared amplification for the hearing with or without a hearing aid.
It is a nice theater. And it is accessible for the disabled. A really nice place and also recommended for children.  There are performances in such genres as music, theater, cabaret, dance, etc. The variety of performances given there is of good quality and there is something for all ages to go. In addition, a great Grand Café guarantees a good break and drink after a performance. The staff is extremely helpful and friendly.
For more information go here: depurmaryn.nl
Sioen: Graceland Wist je dat het vandaag exact 33 jaar geleden is dat het legendarische album Graceland werd uitgebracht? Komend seizoen brengt singer-songwriter Sioen Paul Simon's meesterwerk naar het theater met het concert 'Sioen Plays Graceland': https://youtu.be/8_L-piP4QoI
Sioen covert met een indrukwekkende ...

Cultuurparade Purmerend En óf het een succes was! Wij verwelkomen Harmonie Crescendo Purmerend met liefde opnieuw in het theater tijdens de Cultuurparade Purmerend. Genieten jullie met ons mee?
In maart j.l. stonden ze al in Theater de Purmaryn met een zeer succesvolle, ...

Cultuurparade Purmerend David Nathan Magic is ook dit jaar weer van de partij bij de Cultuurparade. Wij kijken er naar uit!
➡️KINDERTHEATER⬅️
Na het grote succes van vorig jaar is ook David Nathan Magic terug op de CultuurParade op zondag 15 september ...

PARADETIPS (van 9 t/m 25 augustus in Amsterdam):
Wist je dat een aantal voorstellingen van ons nieuwe theaterseizoen komende zomer alvast als losse act of voorproefje op Theaterfestival de Parade te zien is? Hierbij een vijftal tips (in willekeurige volgorde ...

De schoolvakanties zijn begonnen! We wensen iedereen een fijne vakantie. En omdat het best lastig is om de kids 6 weken te vermaken hier alvast een klein zoethoudertje van ons én van Buurman & Buurman.

Deze kleurplaat is ook te ...

De afgelopen twee weken speelden 13 basisscholen uit Purmerend en Beemster bij ons hun eindmusical. Alle leerlingen stonden op ons podium te schitteren. En het was echt één groot feest op de Feestplaneet!
Dank aan alle enthousiaste basisscholen en de ...

De Nederlandse Toneeljury maakte vandaag de twaalf beste voorstellingen van het moment bekend. Een daarvan is GAS van Toneelgroep Jan Vos. "Groots theater over nationale tragedie" schreef het NRC eerder over deze voorstelling en gaf het stuk maar liefst 5 ...

RUMAG gaat het theater in! De internetsensatie die iedereen kent van de zwart/witte ongecompliceerde en grappige slogans krijgt een eigen theatertournee. Mis deze belevenis niet en bestel je kaarten hier: https://depurmaryn.nl/programma-1920/rumag/

Aanstaande donderdag gaat het Reuring Festival weer van start. Wij mogen vrijkaarten weggeven voor de voorstelling van Le Collectif G. Bistaki. Tag met wie jij naar deze voorstelling zou willen gaan en maak kans op kaartjes!
Meer info over deze ...

Een zonnig begin van de dag voor Kees van Amstel met geweldige recensie voor zijn nieuwste show. #flamingo #zomer #recensie #cabaret

De posters liggen klaar. Om 10.30 uur gaan we beginnen #posterweggeefdag

Nominaties cabaretprijzen - Theater De Purmaryn De nominaties voor de cabaretprijzen 2019 zijn bekend. Lenette van Dongen en Pieter Derks horen tot de kanshebbers voor de Poelifinario én zijn volgend seizoen nog een keer bij ons te zien!
Nieuws Nominaties cabaretprijzen De nominaties voor de cabaretprijzen ...

Aanstaande dinsdag, 18 juni, geven we de posters van theaterseizoen 2018/2019 weg. Wil je posters voor in je klas, repetitieruimte of studio? Heb je posters nodig voor een creatief project? Ben je fan van een van de artiesten die afgelopen ...

Ouderenkoor gezocht! - Theater De Purmaryn Komend theaterseizoen komt de voorstelling 'Zolang er leven is' van Hendrik Groen naar het theater. In deze voorstelling mag een ouderenkoor meespelen en -zingen.
We zijn op zoek naar een koor van ongeveer 15 personen met koorleden van boven de ...

Cultuurparade Purmerend Zondag 15 september op de Cultuurparade Purmerend: theater, muziek, dans en nog veel meer tijdens de opening van het culturele seizoen in Purmerend!
Hoera! We zijn nu echt van start met een mooi nieuw logo voor de Cultuurparade Purmerend, vroeger ...

Dirk Scheele - Feest!!! trailer Theatertip met de kleinsten: aanstaande zondag zingt kinderpopster Dirk Scheele samen met zijn rock & rollband de leukste kinderliedjes tijdens een echt popconcert. Voor iedereen vanaf 2 jaar! https://youtu.be/gsqCOMZJBcA Komen jullie ook?
Het popconcert Feest!!! (2+) speelt in theaters en ...
Theater de Purmaryn
Pros
The thater with great acoustic. Close to the stage, thus lots of interaction with the artist.
Cons
Theatrical performances are of course very nice, but sometimes very expensive.