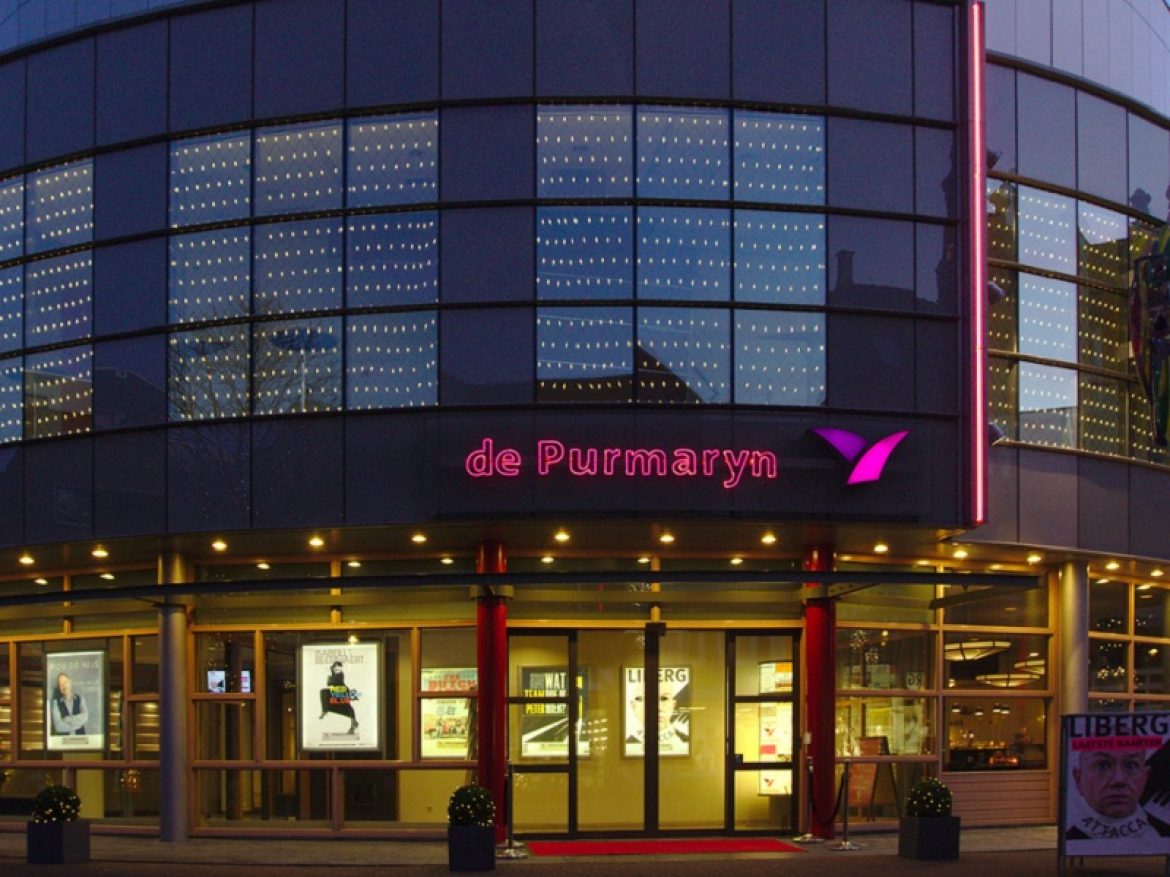 Theater de Purmaryn
Theater de Purmaryn is a medium-sized theater located at the Waagplein in the historic center of Purmerend with several restaurants and cafés nearby. Theater de Purmaryn is approximately 20 minutes from Amsterdam. The theater is easily accessible both by car and by public transport. During the day there is paid parking in the city center, the evening is free (except shopping evenings). In this theater you can enjoy a nice variety of professional and amateur performing arts. You also can enjoy various professional exhibitions during the entire theater season. Theater de Purmaryn is in every way comparable to the larger theatres in Amsterdam and offers a full range of shows like comedy, plays, musicals, concerts and dance performances for adults as well as for children. Extensive and varied theater program consists of more than 200 performances and 50 cultural rentals and 70,000 visitors a year.
The Purmaryn has a large and a small hall. The large hall can acommodate up to 520 people, the small hall can acommodate up to 200 people. The small hall is cozy and intimate and it is suitable for smaller performances. With two professional and fully equipped theater halls and a cozy lobby, the theater can be transformed into a perfect place for your corporate event or conference; an intimate dinner on the stage, to a large corporate event or a meeting in one of the halls. The large hall has a table stage and 520 seats. There's a new climate control system and in both halls there is infrared amplification for the hearing with or without a hearing aid.
It is a nice theater. And it is accessible for the disabled. A really nice place and also recommended for children.  There are performances in such genres as music, theater, cabaret, dance, etc. The variety of performances given there is of good quality and there is something for all ages to go. In addition, a great Grand Café guarantees a good break and drink after a performance. The staff is extremely helpful and friendly.
For more information go here: depurmaryn.nl
Casablanca | vr 19 april in Purmerend Casablanca behind the scenes! De voorstelling beleefde afgelopen zaterdag haar première en is enthousiast ontvangen door zowel publiek als pers. Op vrijdag 19 april is dit "Indrukwekkend eerbetoon" aan de film klassieker live te zien in ons theater.

Meer info ...

''Een Indrukwekkend eerbetoon aan Casablanca''- aldus Brabants Dagblad en meer positieve reacties op de première van de voorstelling Casablanca, in de Purmaryn te zien op vrijdag 19 april: https://depurmaryn.nl/programma/casablanca/

Anúna Het is vandaag St. Patrick's Day, dé nationale feestdag van Ierland en hoe kun je dat beter vieren dan met de nieuwe single van het internationaal beroemde koor uit Ierland: ANÚNA?! Op woensdag 10 april live bij ons in het ...

Op donderdag 21 maart gaat de voorstelling Je kunt op me rekenen bij ons in première, een komedie op leven en dood met Wivineke van Groningen, Margo Dames en Lieneke Le Roux, geschreven door Theo Nijland en geregisseerd door Mette ...

Lenette van Dongen Lovende recensies voor Lenette van Dongen - Paradijskleier:
NRC (****): "(...) Van Dongen is ook in dit programma weer een wonder van expressiviteit. Ze kan zaken die al honderd keer door andere cabaretiers zijn bespot, geheel nieuw leven inblazen. "
...

Tim Knol - vrijdag 5 april in Theater de Purmaryn Elegante melodiën en prachtige verhalen. Op vrijdag 5 april komt Tim Knol met zijn theaterconcert naar de Purmaryn, waar hij een aantal mooie covers zal spelen en natuurlijk ook werk van zijn laatste album met de daarbij horende verhalen. Geniet ...

De Bende van Ernest Beuving Op zondag 17 februari speelde Ernest Beuving een gastrol tijdens het optreden van Rockkoor Let's Rock in P3 Purmerend Pop- & Cultuurpodium en op zaterdag 16 maart zijn de rollen omgedraaid. Geniet van het cabareteske muziektheaterprogramma 'De bende van Ernest ...

Tijd voor MAX - MAX Vandaag Leuk als jullie meekijken!

Vanavond is de hele cast van Casablanca te gast bij het TV-programma Tijd voor MAX!
Stefan Rokebrand en Jamie Grant zullen vertellen over de rollen van Rick en Ilsa en de hele cast zal een nummer ...

Celia! | wo 6 maart in Purmerend Morgen wo 6 maart staat LIVE op ons podium: Celia! Omlijst door de swingende #salsa van latinband Timbazo met de muziek van de Buena Vista Social Club.

Een feestelijke, temperamentvolle voorstelling over twee Cubaanse iconen, Celia Cruz - de gevluchte ...

Daisy Correia zingt fado in Theater de Purmaryn Komend weekend viert Daisy Correia haar 10-jarig jubileum als fadozangeres met een prachtig concert in onze kleine zaal. Geniet van de klanken van de Portugese guitarra, het gevoel van 'saudade' en waan jezelf deze avond in een intiem kroegje in ...

De Verleiders in Theater de Purmaryn "sterk geschreven [...] scherp gespeeld", "een verrukkelijke rol van Pierre Bokma" en "humoristische scènes en lekkere oneliners".

#niksteverbergen van De Verleiders wordt door de pers goed ontvangen. Vanavond zitten De Verleiders aan tafel bij DWDD om in gesprek te gaan ...
Theater de Purmaryn
Pros
The thater with great acoustic. Close to the stage, thus lots of interaction with the artist.
Cons
Theatrical performances are of course very nice, but sometimes very expensive.