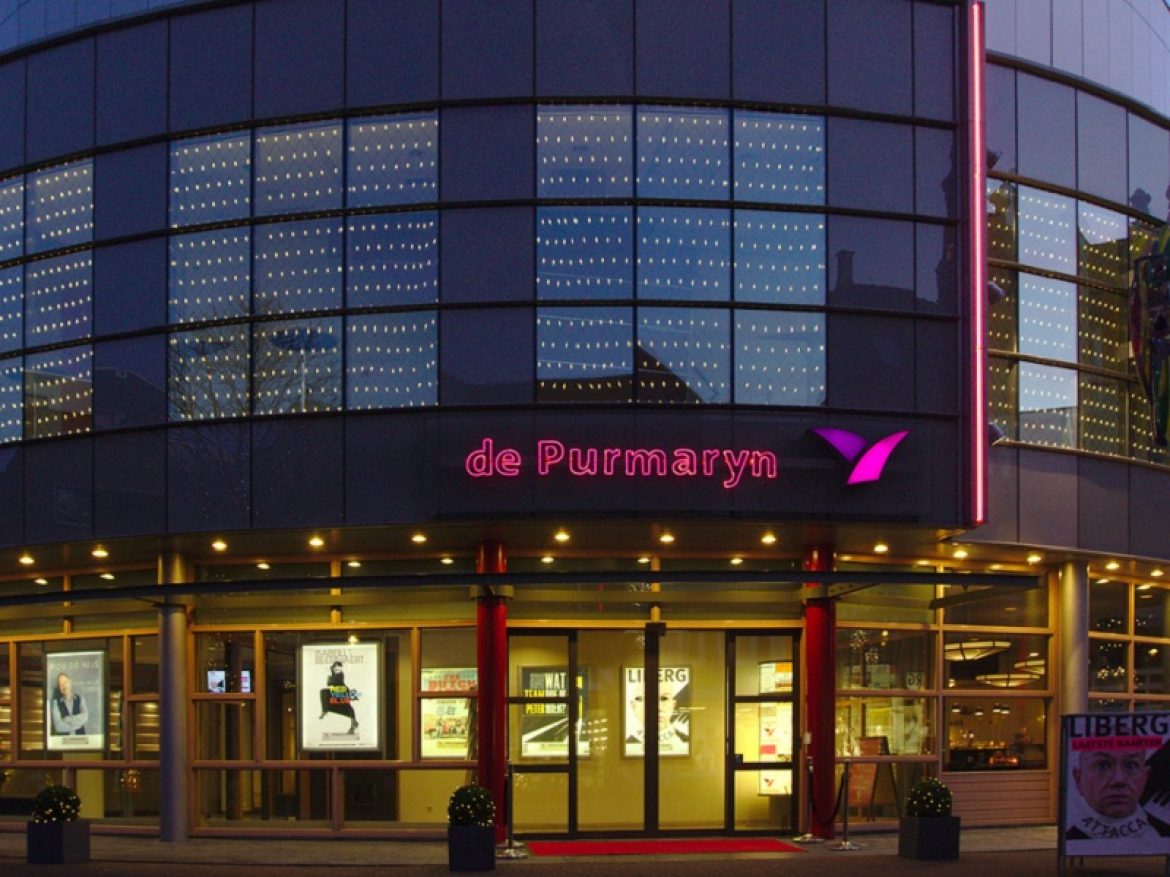 Theater de Purmaryn
Theater de Purmaryn is a medium-sized theater located at the Waagplein in the historic center of Purmerend with several restaurants and cafés nearby. Theater de Purmaryn is approximately 20 minutes from Amsterdam. The theater is easily accessible both by car and by public transport. During the day there is paid parking in the city center, the evening is free (except shopping evenings). In this theater you can enjoy a nice variety of professional and amateur performing arts. You also can enjoy various professional exhibitions during the entire theater season. Theater de Purmaryn is in every way comparable to the larger theatres in Amsterdam and offers a full range of shows like comedy, plays, musicals, concerts and dance performances for adults as well as for children. Extensive and varied theater program consists of more than 200 performances and 50 cultural rentals and 70,000 visitors a year.
The Purmaryn has a large and a small hall. The large hall can acommodate up to 520 people, the small hall can acommodate up to 200 people. The small hall is cozy and intimate and it is suitable for smaller performances. With two professional and fully equipped theater halls and a cozy lobby, the theater can be transformed into a perfect place for your corporate event or conference; an intimate dinner on the stage, to a large corporate event or a meeting in one of the halls. The large hall has a table stage and 520 seats. There's a new climate control system and in both halls there is infrared amplification for the hearing with or without a hearing aid.
It is a nice theater. And it is accessible for the disabled. A really nice place and also recommended for children.  There are performances in such genres as music, theater, cabaret, dance, etc. The variety of performances given there is of good quality and there is something for all ages to go. In addition, a great Grand Café guarantees a good break and drink after a performance. The staff is extremely helpful and friendly.
For more information go here: depurmaryn.nl
Aanstaande dinsdag, 18 juni, geven we de posters van theaterseizoen 2018/2019 weg. Wil je posters voor in je klas, repetitieruimte of studio? Heb je posters nodig voor een creatief project? Ben je fan van een van de artiesten die afgelopen ...

Ouderenkoor gezocht! - Theater De Purmaryn Komend theaterseizoen komt de voorstelling 'Zolang er leven is' van Hendrik Groen naar het theater. In deze voorstelling mag een ouderenkoor meespelen en -zingen.
We zijn op zoek naar een koor van ongeveer 15 personen met koorleden van boven de ...

Cultuurparade Purmerend Zondag 15 september op de Cultuurparade Purmerend: theater, muziek, dans en nog veel meer tijdens de opening van het culturele seizoen in Purmerend!
Hoera! We zijn nu echt van start met een mooi nieuw logo voor de Cultuurparade Purmerend, vroeger ...

Dirk Scheele - Feest!!! trailer Theatertip met de kleinsten: aanstaande zondag zingt kinderpopster Dirk Scheele samen met zijn rock & rollband de leukste kinderliedjes tijdens een echt popconcert. Voor iedereen vanaf 2 jaar! https://youtu.be/gsqCOMZJBcA Komen jullie ook?
Het popconcert Feest!!! (2+) speelt in theaters en ...

Wist je dat vet een orgaan is? Dat het communiceert met onze hersenen? En dat weinig slaap funest is voor het bioritme van ons vet? Alle feiten en fabels over VET hoor je vanavond in het theatercollege van dr. Mariëtte ...

De dag dat ik Robert Long ontmoette... Dit theaterseizoen zou Robert Long 75 jaar oud zijn geworden. Een mooi moment om zijn liedjes opnieuw ten gehore te brengen tijdens het theaterconcert 'De dag dat ik Robert Long ontmoette..', gezongen door vier muzikanten die de liedjes met elkaar ...

Martijn Koning Hilarisch, absurd en bovenop de actualiteit: in zijn nieuwe show Koning van de dieren (vr 31 mei) wijdt Martijn Koning een avond aan onze beste vrienden. Met veel snelheid, grappen en absurdisme. Volgens de theaterkrant: ''het beste dat Koning tot ...

Javier Guzman Tip! Er zijn mooie plaatsen vrij gekomen voor de voorstelling van Javier Guzman aanstaande donderdag.

Reserveer ze nu op www.depurmaryn.nl
In zijn programma 'Guzmán' kijkt Javier Guzman terug op zijn grillige leven, zijn stormachtige carrière en vertelt hij dingen die ...

Wat een energie hebben we in huis vandaag! Carlo Boszhard geeft workshops aan alle groep 8 leerlingen die hier hun eindmusical komen spelen. #defeestplaneet #genieten

Vrijdag & Sandifort - Voorlopig Voor Altijd | woe 29 mei De vorige show werd uitgeroepen tot meest indrukwekkende cabaretvoorstelling van het seizoen en ook de nieuwe voorstelling is lovend ontvangen door de pers. We hebben het natuurlijk over Vrijdag en Sandifort, op woensdag 29 mei bij ons te zien, met ...

De vrije verkoop voor seizoen 19/20 begint nu! Er zijn plaatsen bij veel populaire voorstellingen zoals de 3JS, Ton Kas, Plien en Bianca, Tania Kross, Yentl en de Boer, Huub Stapel, Dennis van Aarssen, Rundfunk en heel veel andere. Bestel ...

💿📻WIN DE CD VAN DIRK SCHEELE!📻💿
Kinderpopster Dirk Scheele komt op zondag 2 juni naar de Purmaryn. En wij mogen onder de bezoekers van zijn show 2 CD's verloten! HOE DOE JE MEE?

1. Geef ons een duimpje op dit ...

depurmaryn.nl - Theater De Purmaryn Let op! Vandaag is de laatste dag van onze voorverkoop. En bestel je dit jaar je kaarten in de voorverkoop dan krijg je volgend jaar voorrang. Dus twijfel niet langer en reserveer nu: www.depurmaryn.nl
Bekijk ons theaterprogramma met cabaret, toneel, ...

Dahldiner Ook de kaartjes voor het Dahldiner vliegen als broodjes over de toonbank; een smakelijke afwisseling tussen de gerechten en verhalen van Roald Dahl. Extra show geboekt op dinsdag 12 november: https://depurmaryn.nl/programma-1920/dahldiner/
Dahldiner Dahldiner Toneel Prijzen 1e rang: € 40,00 Een ...
Theater de Purmaryn
Pros
The thater with great acoustic. Close to the stage, thus lots of interaction with the artist.
Cons
Theatrical performances are of course very nice, but sometimes very expensive.