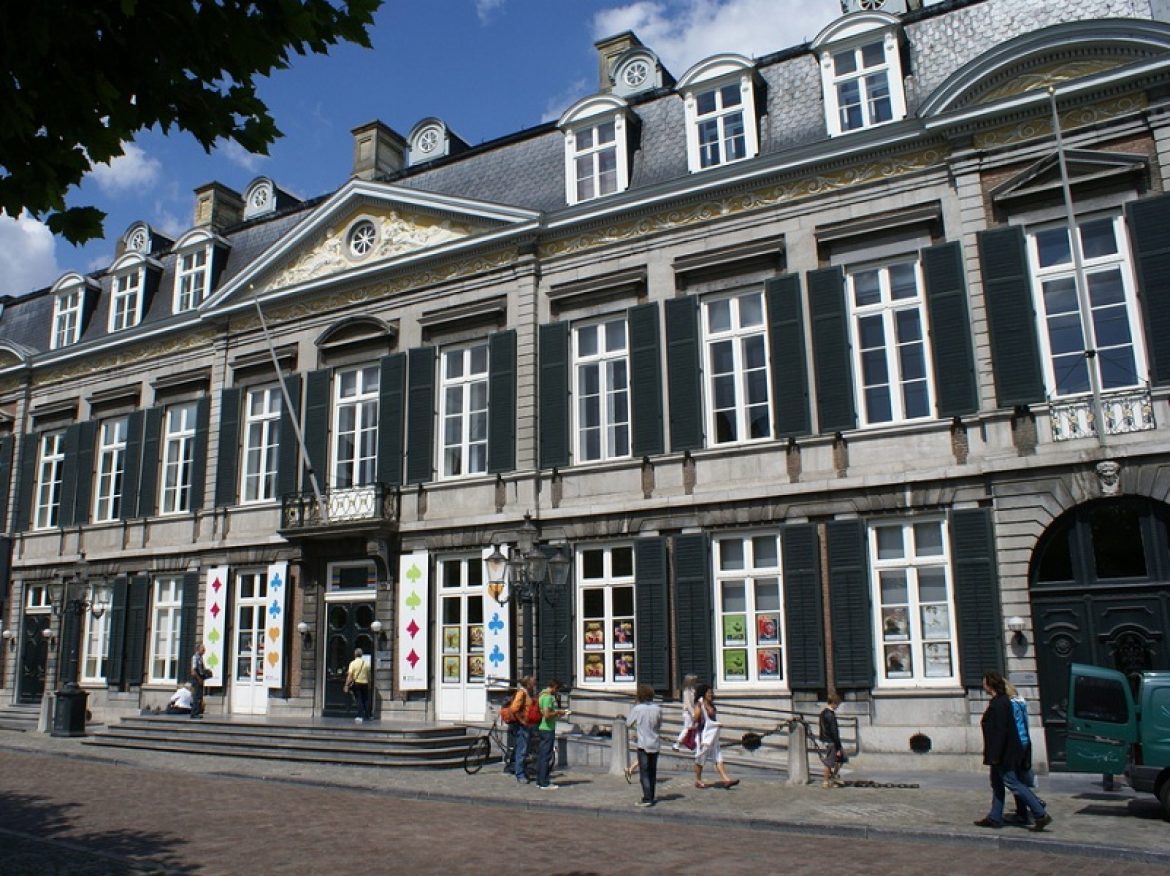 Theater aan het Vrijthof
The Vrijthof Theatre is a beautiful theater located at the Vrijthof square in Maastricht. The theater is located partly in the General House, a residential palace, partly in the new building behind it. The General House is a magnificent palace from 1805, which was rebuilt in 1985 to theater. In 1985 began the restoration of the General House. In order to serve as a theater to be built a theater behind the General House. In December 1989 began the construction of the hall, to a design by architect Arno Meijs. The Vrijthof Theatre was officially opened in spring 1992 as theater and concert hall in Maastricht. Theater at the Vrijthof provides (inter) national theater, opera, musical theater, cabaret, dance, musicals and much more! Vrijthof Theatre has three theater halls.
Papyrus Hall, the large hall in the new building can accommodate from 800 to 855 people. This hall is perfect for large performances. In this hall most of the performances take place. There is also a small upper hall on the second floor of the old General House, which can accommodate up to 110 people. A third hall is the Edmond Huistinxzaal (Huistinx hall). This hall is mainly used for weddings, luxurious dinners or meetings.
In addition to these three magnificent halls in the Theatre  Vrijthof there are also three magnificent foyers. Even if you want to have a party you're at the right place at the Vrijthof Theater. The theater offers many opportunities for an enjoyable evening. Both before and after a show, you can enjoy a snack and a drink. Theater aan het Vrijthof is a multifunctional building that serves as a concert hall and the theater. There is a wide range of performances including opera, musical, classical and world music, jazz, ballet, modern dance, theater and cabaret. Approximately 60% of the programm of the theater is filled with "artistic works"; 40% with "popular performances." In the theater exhibitions are regularly organized, which can be visited free of charge during opening hours. If you want to spend cultural night out in Maastricht then you've come to the right place. Every night of the week there are theater, ballet, musicals, cabaret and dance shows here.
During the theater season some festivals such as Musica Sacra, Dutch Dance Festival, Global Culture Festival ant other take place here.
In the theater regularly exhibitions are organized, which can be visited free of charge during opening hours.
Theater aan het Vrijthof offers attractive rooms and locations. They can be rented for receptions, weddings, meetings or conferences. You can also visit a show with your company. It is also possible for you to take care of your party, exclusive concerts and performances.
Visit the official site: www.theateraanhetvrijthof.nl
THEATER IN REGENBOOGKLEUREN #ONELOVE 🌈 ✊
Wij leven in een vrije wereld waarin iedereen zichzelf moet kunnen zijn. Ook Theater aan het Vrijthof hult zich daarom vanavond in regenboogkleuren en geeft zo een signaal af aan Hongarije.
#equality #pride #europeanunion ...

"Ik heb vastbesloten dat ik, nu ik op leeftijd ben, de lasten en verantwoordelijkheden van mij afschudt en ze overlaad op jongere schouders, zodat ik verlicht, richting de dood kan kruipen." - King Lear

Kaartjes via https://t.co/W5CJsbUEBc https://t.co/iIxpXTW3sT

Hoe écht ben je als je op het toneel staat? @rivrede had het hier gisteravond over bij @vprozomergasten. Oordeel 14 t/m 18 november zelf! Dan is ze met @hntdenhaag te zien in de tragikomedie 'We zijn hier voor Robbie', in ...

Vandaag stonden wij in @delimburger! De verbouwing van onze Papyruszaal is namelijk begonnen en wij kunnen niet wachten om jullie te weer te mogen ontvangen in onze vernieuwde zaal in oktober! https://t.co/Xtg40enHee

Morgen om 10.00 uur start de kaartverkoop, als je naar vier of meer voorstellingen gaat! De vrije verkoop start zaterdag 12 mei om 10.00 uur. Ga naar https://t.co/yzlAmqnpYm voor ons nieuwe seizoensprogramma. https://t.co/fFGwrqujxU

Ons nieuwe theaterprogramma 2018/2019 is bekend! Ga naar https://t.co/yzlAmqnpYm voor het volledige programma, of neem een kijkje in onze digitale brochure https://t.co/SZV2rHmhP9. Wil je toch liever een exemplaar? Vraag 'm dan aan via onze website.

'Hoe noem je een stuk dat beter is dan heel erg goed? Dat indringender is dan indringend? Neem een willekeurige superlatief, hij is op dit stuk van toepassing. Zo goed, zo mooi, zo indringend, ga dit zien! Echt. Gewoon doen.' ...

Gebaseerd op de bestseller van Astrid Holleeder is Judas vanaf september 2018 te zien in het theater. Deze aangrijpende voorstelling laat zien hoe het is als je leven dagelijks wordt beheerst door angst. De kaartverkoop is vandaag gestart! https://t.co/TddFaATY2K https://t.co/7qfOxAsdRQ

@nickensimon staan vanavond in ons theater. Hun concert #Aangenaam is een mooie gelegenheid om kennis te maken met hun gloednieuwe werk. Meer dan ooit tevoren geven zij de verhalen achter hun liedjes prijs. Hun grote hits komen natuurlijk ook aan ...

Het is geen Rome, geen Venetië. Om de schoonheid te ontdekken zul je je letterlijk moeten verliezen in de oude binnenstad. De adembenemende lofzang van Ilja Leonard Pfeijffer op de stad Genua: "La Superba" met @TgMaastricht. 4 dagen in Theater ...

'Spannend vierluik waarbij je geen minuut achterover kunt leunen'.
In het vierluik "Metropolis" van @hntdenhaag en Trouble Man staan de grote stad en de stedeling centraal met als deel 1: onderwijs. 20 t/m 24 maart in Theater aan het Vrijthof: ...

Vrijdag is #tabularasa van @Isa_Beernaert te zien in ons theater. Een van de dansers is oud-leerlinge van Opleiding Dans #Maastricht, Sofie Konings, die tijdens deze tour stage loopt bij het dansgezelschap. Met wie kom jij naar deze ontroerende en persoonlijke ...

De voorstelling van Harrie Jekkers en Klein Orkest in Maastricht was na 2 dagen helemaal uitverkocht. Vrijdag 3 mei 2019 komt hij samen met zijn Klein Orkest nog één keer terug. De ticketverkoop is al gestart: https://t.co/qZuX1u4ECy https://t.co/J1TCNhRQ2x

In "La voix humaine" hoorde en zag het publiek een vrouw die voor de laatste keer met haar ex-geliefde belt. Op 9/1, in "de andere stem", is Ramsey Nasrs weerwoord van de man. Beide blijken beschadigd uit de liefdesgeschiedenis te ...

Vanavond om 17.55 uur schuiven @angelaschijf en Servé Hermans aan bij @L1avondgasten. In de uitzending vertellen ze meer over 'La Superba' van @TgMaastricht. Op 2, 3 en 4 maart en op 1 mei ziet u de voorstelling in Theater aan ...

De reis naar Genua is begonnen! Gistermiddag vond in onze bovenzaal de eerste lezing plaats van La Superba. Artistiek leider van @TgMaastricht, Servé Hermans, vertelde over zijn regie. Door de de tekst en muziek veranderde Maastricht langzaam in Genua https://t.co/QnwnkrDbIG ...
Theater aan het Vrijthof
Pros
Magnificent theater with beautiful halls and friendly staff.
Cons
Drinking is a bit on the expensive side. Seating areas are not spacious.