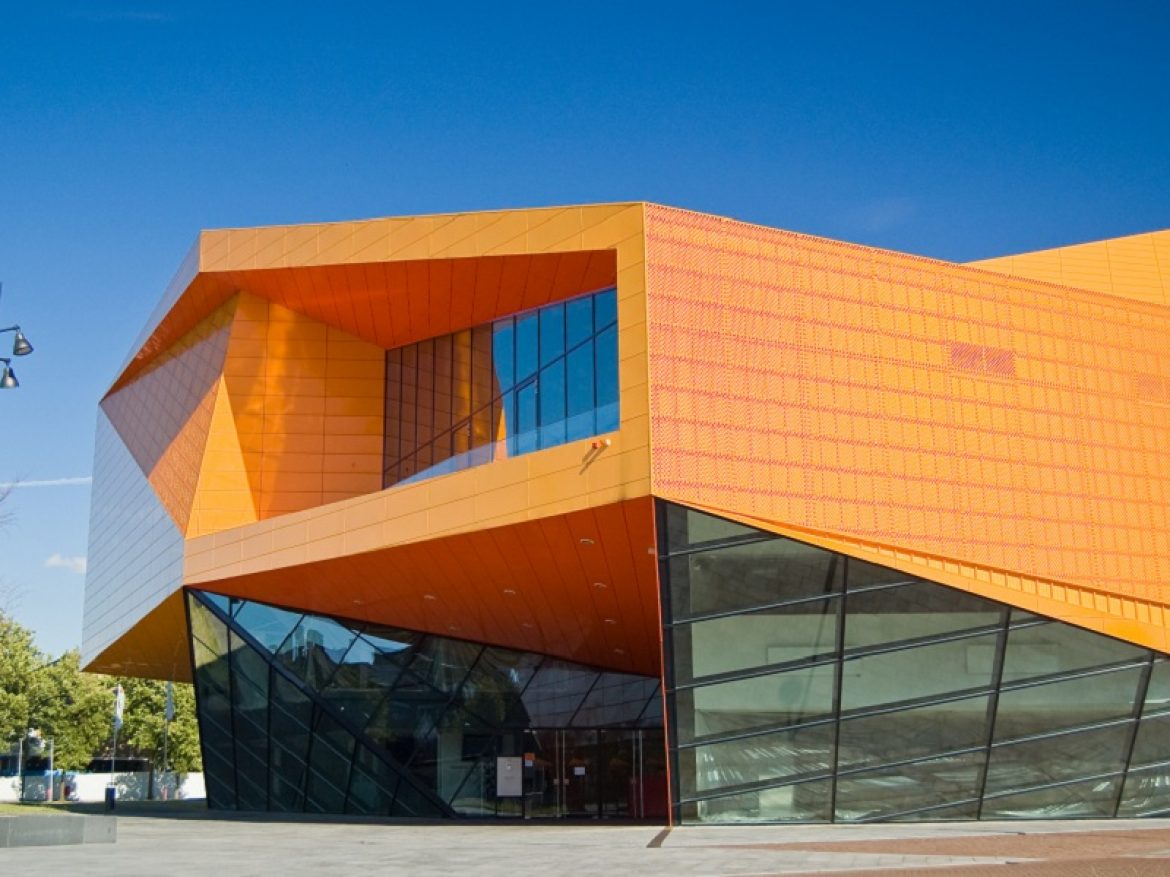 Agora Theater Lelystad
Agora Theater is a bright orange building, designed by Ben van Berkel of UNstudio (also known by the Erasmus Bridge in Rotterdam) is located in the center of Lelystad. Ben van Berkel was inspired by the ever-changing skies above Lelystad. Both interior and exterior are therefore to be regarded references to the skies. The exterior is bright orange, while the foyers just a combination of white and pink. The main hall of the theater is warm red while the small hall once again exhibits a dark color.
The new Agora Theater is a colorful and distinctive place, built on the joint draft of the Amsterdam architectural studio UNStudio and their Dutch colleagues. The unusual building is a part of the Lelystad by Adriaan Geuze program plan, that was designed to actively develop the central part of Lelystad. Foyer, multifunctional halls, cafes, restaurants, are made in contrasting styles and color solutions, and the public space disposes to meetings, rest and communication. Bright and extravagant walls in the halls of the theater are equipped with acoustic panels. The theatre is a reply to the current mission of reviving and recovering the post-war Dutch new towns by focusing on the archetypal function of a theatre: that of creating a world of fascination. Both inside and outside the theater, walls are sagnificantly important for the reconstructio of the kaleidoscopic experience of the world of the stage, where you can never be sure of what is real and what is not.
Agora Theater offers near 140 performances a year in the genres of drama, children's theater, dance, classical music, world music and jazz, cabaret and musical show and an unforgettable evening for everyone. Agora theater has two large halls. Both halls guarantee a comfortable evening where you can undisturbed enjoy one of the performances. Agora also offers a contemporary and inspiring environment for every business meeting. Its beautiful, colorful and controversial building is perfect setting for conferences, meetings, parties, TV programs and product presentations. All theater genres are represented: theater, children's shows, music, cabaret, dance, and shows and musicals. The various multifunctional theater and cinema halls and foyers offer endless possibilities. Equipped with all technical facilities and excellent catering. Agora Theater is easily accessible by car and public transport. In addition, Agora also has a varied film program with big current movies, the latest 3D movies, family movies and arthouse films. The theater has not only the impressive exterior, but also the especially breathtaking interior. Experience Theatre & Film in Lelystad!
Check out this link: agora-lelystad.nl
De hartverwarmende, lieve, grappige, Rotterdamse, zorgzame en levendige Marja van Katendrecht staat garant voor een onvergetelijke theateravond in #AGORA. Lees het artikel van #keesbakker in de @FlevoPost_nl

Ode aan vergeten en minder vergeten sterren https://t.co/6S6hn0p5UF

#Vrijheid is niet vanzelfsprekend. Om de inwoners van Oekraïne te steunen, kleurt AGORA dit weekend van binnen blauwgeel en we doneren een deel van de opbrengst van de voorstelling 'T Is hier geen Hotel aan Giro 555. Doneer jij ook? ...

evenement geboekt, zullen wij persoonlijk benaderen.

Houd onze website en sociale media in de gaten voor de actuele ontwikkeling. https://t.co/UhOnuBg505

Blijf goed op jezelf én elkaar passen!

Team AGORA (3/3)

overige (zakelijke) evenementen die in AGORA gepland staan. Wij brengen de exacte gevolgen nu in kaart en zullen morgen richting al onze gasten meer duidelijkheid verschaffen omtrent de activiteiten in de komende periode.
Iedereen die bij ons kaarten gekocht heeft ...

Voor AGORA Bioscoop hebben we nog geen uitsluitsel ontvangen. Hierover is de veiligheidsregio nog in gesprek. Tot nader bericht zal voor de bioscoop dan ook het maximum van dertig bezoekers per zaal gelden (2/2)

AGORA Theater heeft van veiligheidsregio Flevoland op 1 oktober een ontheffing gekregen om meer dan dertig bezoekers toe te laten bij culturele voorstelling in de komende drie weken. Dit betekent dat de geplande theatervoorstellingen zonder wijzigingen doorgaan. (1/2)

Vr 3 juli hebben 11 Lelystedelingen een koninklijke onderscheiding in ontvangst genomen.🎖 2 van hen mogen zich vanaf nu Ridder in de Orde van Oranje-Nassau noemen,negen zijn Lid in de Orde van Oranje-Nassau. Namens AGORA van harte gefeliciteerd #koninklijk #lintje ...

Wij wensen jullie een hele fijne en ontspannen zomervakantie toe! Voor ons is deze zomer extra bijzonder, want na lange tijd mogen we jullie eindelijk weer verwelkomen in onze bioscoop!🎬🎉

En wat hebben wij jullie gemist! Tot ziens in AGORA😁 ...

Vandaag bereikte ons het verdrietige bericht dat danser en choreograaf Jens van Daele onverwachts is overleden. Hij was meermaals in AGORA te bewonderen met zijn energieke, poëtische en ongepolijste dansvoorstellingen. Wij wensen zijn geliefden veel sterkte met dit grote verlies. ...

Mei is de maand waarin we altijd vol trots het programma van het nieuwe seizoen presenteren. Een feestelijke maand waarin het extra bruist in ons theater. Maar nu even niet. AGORA is stil en we missen de reuring in het ...

@FredWilcke @pa3heb Je moet nog een maand geduld hebben. Vanaf 1 juli zal de bioscoop weer open gaan. Tot dan!

Graag feliciteren wij onze collega's van de Deventer Schouwburg met hun 150ste verjaardag! @DevSchouw
Agora Theater Lelystad
Pros
Very modern theater, great hall is very comfortable and beautiful. The rooms are spacious, so you never have to stand in the crowd. The wardrobes are generally well staffed.
Cons
In the small hall the legroom is somewhat limited.