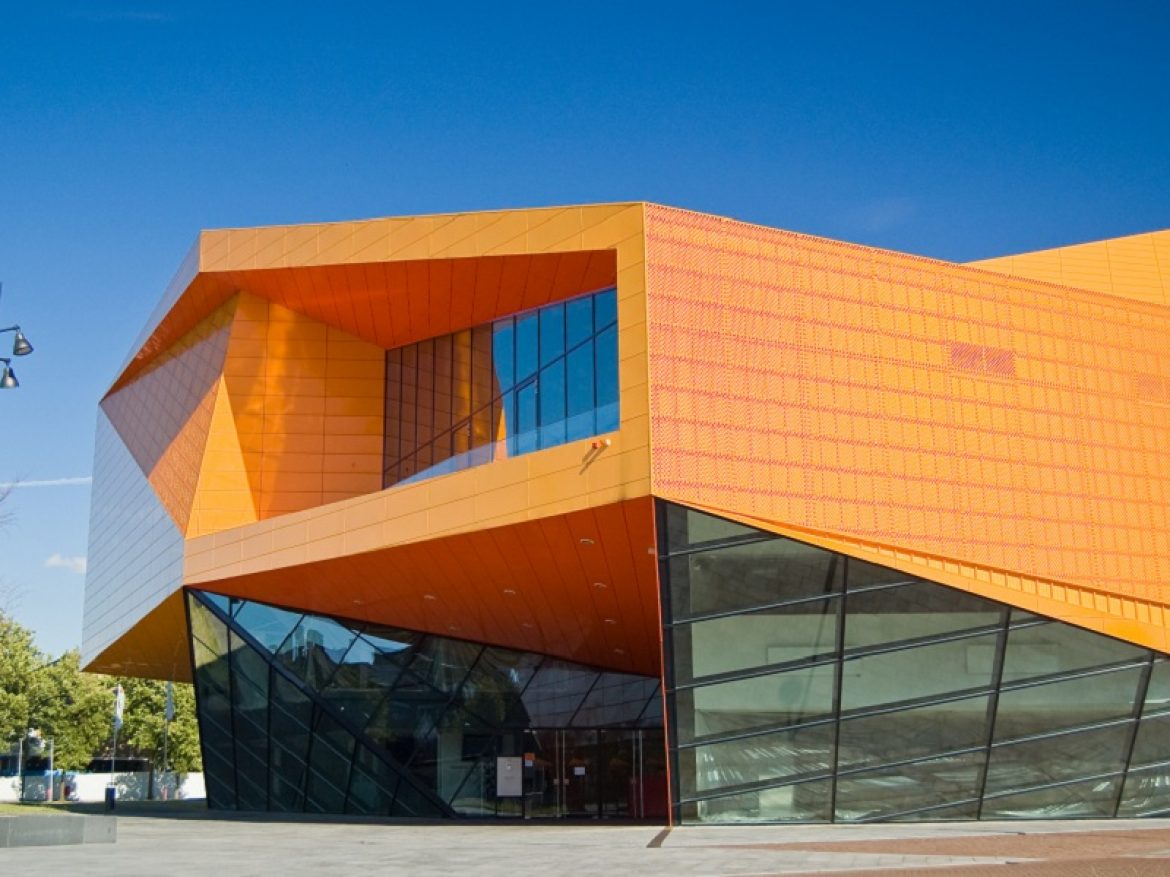 Agora Theater Lelystad
Agora Theater is a bright orange building, designed by Ben van Berkel of UNstudio (also known by the Erasmus Bridge in Rotterdam) is located in the center of Lelystad. Ben van Berkel was inspired by the ever-changing skies above Lelystad. Both interior and exterior are therefore to be regarded references to the skies. The exterior is bright orange, while the foyers just a combination of white and pink. The main hall of the theater is warm red while the small hall once again exhibits a dark color.
The new Agora Theater is a colorful and distinctive place, built on the joint draft of the Amsterdam architectural studio UNStudio and their Dutch colleagues. The unusual building is a part of the Lelystad by Adriaan Geuze program plan, that was designed to actively develop the central part of Lelystad. Foyer, multifunctional halls, cafes, restaurants, are made in contrasting styles and color solutions, and the public space disposes to meetings, rest and communication. Bright and extravagant walls in the halls of the theater are equipped with acoustic panels. The theatre is a reply to the current mission of reviving and recovering the post-war Dutch new towns by focusing on the archetypal function of a theatre: that of creating a world of fascination. Both inside and outside the theater, walls are sagnificantly important for the reconstructio of the kaleidoscopic experience of the world of the stage, where you can never be sure of what is real and what is not.
Agora Theater offers near 140 performances a year in the genres of drama, children's theater, dance, classical music, world music and jazz, cabaret and musical show and an unforgettable evening for everyone. Agora theater has two large halls. Both halls guarantee a comfortable evening where you can undisturbed enjoy one of the performances. Agora also offers a contemporary and inspiring environment for every business meeting. Its beautiful, colorful and controversial building is perfect setting for conferences, meetings, parties, TV programs and product presentations. All theater genres are represented: theater, children's shows, music, cabaret, dance, and shows and musicals. The various multifunctional theater and cinema halls and foyers offer endless possibilities. Equipped with all technical facilities and excellent catering. Agora Theater is easily accessible by car and public transport. In addition, Agora also has a varied film program with big current movies, the latest 3D movies, family movies and arthouse films. The theater has not only the impressive exterior, but also the especially breathtaking interior. Experience Theatre & Film in Lelystad!
Check out this link: agora-lelystad.nl
► Marcel de Groot met een bijzonder muziekprogramma ◄

We kennen Marcel de Groot (zoon van Boudewijn de Groot) vooral van het nummer 'Mag ik naar je kijken'. Over een paar weken staat hij bij ons op het podium met ...

► Festival Oude Muziek wint prestigieuze prijs ◄

Het Festival Oude Muziek is bekroond met de prestigieuze Europese prijs EFFE voor het beste festival van Europa. En op 21 oktober staan ze gewoon bij ons in Agora, hoe gaaf is ...

LelySTART 2017 LelySTART verbindt muziek, dans, literatuur, poëzie, beeldende kunst, theater, cabaret, cultuur tot een grote culturele explosie. LelySTART is gratis te bezoeken.
AgoraTheater Lelystad added 255 new photos to the album: LelySTART 2017.

► Het oude logo ◄

Wie heeft gezien waar ons oude logo tegenwoordig hangt? #backstage #theater

► VET VET VET ◄

Wat een super leuk filmpje hebben ze gemaakt van VET kindercabaret, speciaal voor ons. Of eigenlijk, voor jullie!
Ze komen komende woensdag al met hun gave cabaretvoorstelling voor kinderen vanaf 6 jaar naar Agora! VET ...

► Volle bak: Nationaal Filmfestival voor Scholieren ◄

We hebben vandaag het NFFS in huis! Het Nationaal Filmfestival voor Scholieren. Jongeren vanuit heel Nederland zijn bij ons vandaag en ik maakte even een korte impressie :)

Een mooie dag met veel leuke dingen op LelySTART. Wie geniet er nog even mee met dit filmpje?

Morgen nog allerlei leuke activiteiten overdag, bekijk hier het programma:http://www.lelystart.nl/programma-2017
AgoraTheater Lelystad is feeling excited.

Dag 2 van LelySTART zit er op! Morgen (straks) nog 1 dagje! Nu nog even nagenieten met een sfeerfilmpje: https://t.co/PTzvafjJCY

LelySTART Op het moment is het terrein HELEMAAL VOL! We verzoeken iedereen om tot nader bericht niet meer naar het festivalterrein te komen! #veiligheid #lelystart17
AgoraTheater Lelystad shared LelySTART's post.

Er wordt vanmiddag nog hard gewerkt op het LelySTART festivalterrein naast Agora, vanaf vanavond barst het los! Wie heeft er ook zo'n zin in?

Het hele programma: http://www.lelystart.nl/programma-2017
AgoraTheater Lelystad is feeling excited.

► Winnaar vrijkaarten ◄
We hadden in de zomervakantie een leuk filmpje draaien in de bioscoop maar ook hier op Facebook waarin mensen letters konden vinden en vervolgens de oplossing naar ons konden sturen. De oplossing was 'The Ruggeds'.

Fred ...

► Waar is deze mooie gang ◄

Ik ben benieuwd wie wel eens in deze gang is geweest bij ons, en wie weet waar hij is? Door deze gang zijn al vele artiesten je voor gegaan!

► Routebeschrijving tijdens LelySTART ◄

Morgen beginnen ze al met opbouwen van onder andere het podium, op vrijdag en zaterdag zullen er delen van het centrum afgesloten worden. Daarom even een bericht over de bereikbaarheid van Agora tijdens die dagen!

...

► De nieuwe foyer ◄
Afgelopen zaterdag was de voorstelling 'Welterusten, Kleine Beer' van Theater Terra de eerste voorstelling van ons theaterseizoen, daarmee werd ook voor het eerst echt gebruik gemaakt van het prachtige nieuwe meubilair, super gaaf 😍

Wie ...

► Cabaret: Brokstukken ◄

De mannen van Brokstukken hebben een gave trailer gemaakt voor hun cabaretvoorstelling 'Maximum Overdrive' welke ze zaterdag 7 oktober bij ons komen spelen. Het is een bizarre actiekomedie: een absurde en hilarische lachshow die zijn weerga ...

► Jetty Mathurin stopt er mee! ◄

Theatermaakster Jetty Mathurin stopt ermee. Met het nieuwe stuk 'De Overdracht' neemt de diva van het geëngageerd cabaret afscheid van haar beroemde solovoorstellingen. Tijdens dit theaterstuk gaat Jetty op zoek naar de vrouw ...

► Een bijzondere locatietheater voorstelling ◄

Prins te Paard komt met een bijzondere locatietheater voorstelling op Schokland: Prins te Paard staat garant voor beeldend locatietheater pur sang, met een flinke dosis rauwe poëzie, humor en spektakel. Kijk hier de prachtige ...

►Trots op onze jubileumkrant ◄

Er komt deze week weer een prachtige jubileumkrant bij iedereen (zonder sticker op de brievenbus natuurlijk) op de mat. Hier alvast een voorproefje met bijzondere herinneringen, interviews en natuurlijk ons programma voor de rest van ...

► Wie weet het antwoord?◄

Wie weet waar deze foto gemaakt is in ons prachtige pand? Ook dit is net zoals vorige week een backstage foto. Wie is hier allemaal al eens geweest? ☝️☝️☝️

Volgende week zaterdag is het alweer tijd voor onze eerste officiële voorstelling van het seizoen! https://t.co/8sRD79chKx
Agora Theater Lelystad
Pros
Very modern theater, great hall is very comfortable and beautiful. The rooms are spacious, so you never have to stand in the crowd. The wardrobes are generally well staffed.
Cons
In the small hall the legroom is somewhat limited.