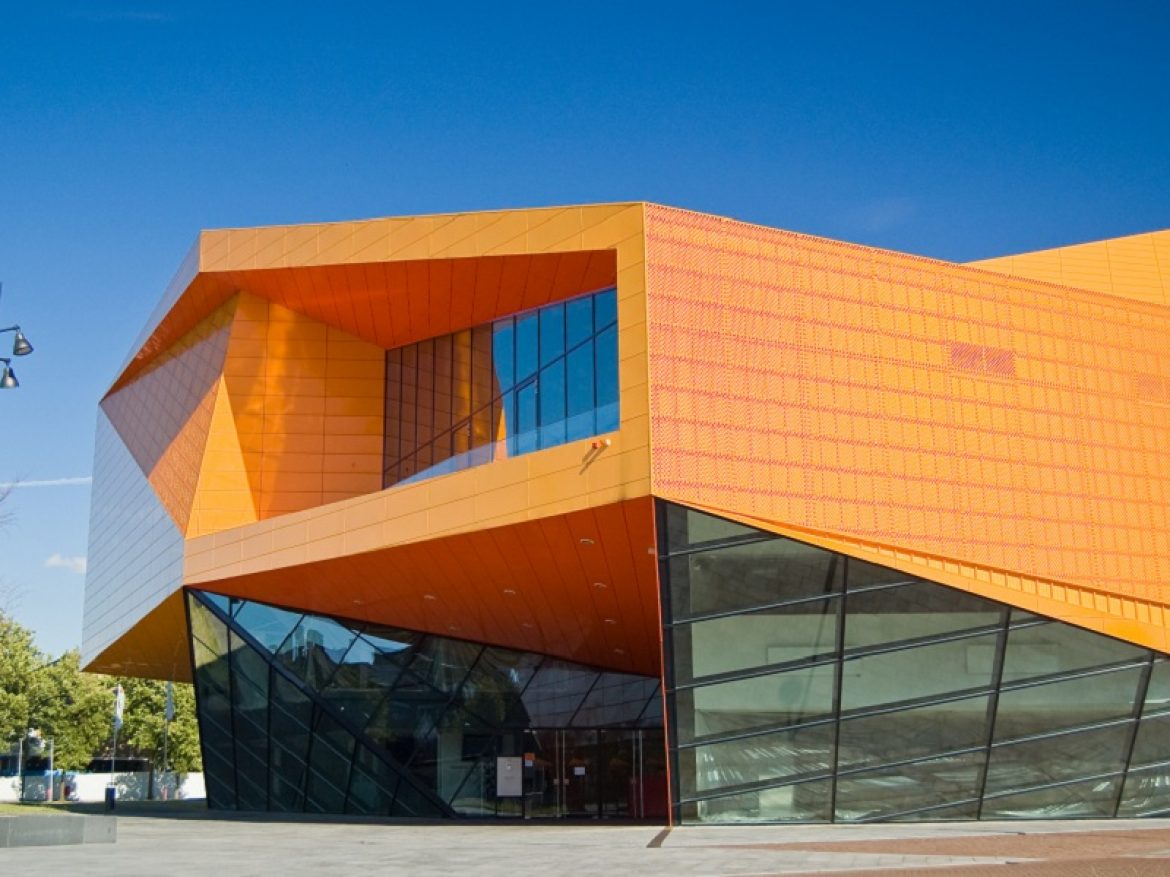 Agora Theater Lelystad
Agora Theater is a bright orange building, designed by Ben van Berkel of UNstudio (also known by the Erasmus Bridge in Rotterdam) is located in the center of Lelystad. Ben van Berkel was inspired by the ever-changing skies above Lelystad. Both interior and exterior are therefore to be regarded references to the skies. The exterior is bright orange, while the foyers just a combination of white and pink. The main hall of the theater is warm red while the small hall once again exhibits a dark color.
The new Agora Theater is a colorful and distinctive place, built on the joint draft of the Amsterdam architectural studio UNStudio and their Dutch colleagues. The unusual building is a part of the Lelystad by Adriaan Geuze program plan, that was designed to actively develop the central part of Lelystad. Foyer, multifunctional halls, cafes, restaurants, are made in contrasting styles and color solutions, and the public space disposes to meetings, rest and communication. Bright and extravagant walls in the halls of the theater are equipped with acoustic panels. The theatre is a reply to the current mission of reviving and recovering the post-war Dutch new towns by focusing on the archetypal function of a theatre: that of creating a world of fascination. Both inside and outside the theater, walls are sagnificantly important for the reconstructio of the kaleidoscopic experience of the world of the stage, where you can never be sure of what is real and what is not.
Agora Theater offers near 140 performances a year in the genres of drama, children's theater, dance, classical music, world music and jazz, cabaret and musical show and an unforgettable evening for everyone. Agora theater has two large halls. Both halls guarantee a comfortable evening where you can undisturbed enjoy one of the performances. Agora also offers a contemporary and inspiring environment for every business meeting. Its beautiful, colorful and controversial building is perfect setting for conferences, meetings, parties, TV programs and product presentations. All theater genres are represented: theater, children's shows, music, cabaret, dance, and shows and musicals. The various multifunctional theater and cinema halls and foyers offer endless possibilities. Equipped with all technical facilities and excellent catering. Agora Theater is easily accessible by car and public transport. In addition, Agora also has a varied film program with big current movies, the latest 3D movies, family movies and arthouse films. The theater has not only the impressive exterior, but also the especially breathtaking interior. Experience Theatre & Film in Lelystad!
Check out this link: agora-lelystad.nl
Trailer Frank Boeijen ► Mooie liedjes ◄

Zijn onmiskenbare stem, de liedjes uit het hart, zijn band die past als een warme jas. Frank Boeijen raakt met zijn persoonlijke verhaal het hart van de theaterbezoeker.

Na afloop van de voorstelling een 80's Afterparty!

...

Veldhuis en Kemper ► Veldhuis & Kemper ◄

Veldhuis & Kemper namen een sabbatical en kwamen met een frisse blik weer bij elkaar. Eindelijk snappen ze het: in het uur van de waarheid zit er maar één ding op…

Do 12 apr / ...

Tania Kross ► Bijzondere artiesten ◄

'De Uitdaging' is al jaren een begrip bij publiek en artiesten. Thijs Borsten verzamelt bijzondere artiesten met unieke stemmen en verenigt verschillende muzikale werelden. Tania Kross en Maria de Fatima zijn op 8 maart te gast ...

new ► 'Who's side are you on' ◄

De lange muzikale carrière van de Britse groep Matt Bianco van Mark Reilly begon in de vroege jaren '80. Het album 'Who's side are you on' uit 1984 zorgde voor een wereldwijde doorbraak. ...

You're the Top - 15 maart in Agora ► Het verborgen leven van Cole Porter ◄

In 1995 vertolkte niemand minder den Willem Nijholt de rol van Cole Porter in 'You're the Top', dit keer is het de beurt aan Paul Groot. Een geestig en indringend portret van ...

► Winnaars Prijzenpakket◄

Rob Groen en zijn kleinzoon Sanjay zijn de gelukkige winnaars van het Dummie de Mummie Prijzenpakket! Gefeliciteerd en heel veel plezier ermee!!! :-)

African Mamas & Leoni Jansen ► Afrikaanse sferen ◄

Zoals Nelson Mandela de vader van Afrika wordt genoemd, zo staat Miriam Makeba bekend als 'Mama Africa'. In hun enerverende theaterconcert brengen de African Mamas samen met Leoni Jansen een muzikaal eerbetoon aan de zangeres die ...

Timeline Photos ► Er was eens...◄

Het is vandaag 'Vertel een sprookje-dag'. Een goede aanleiding om de dansvoorstelling 'GRIMM' uit te lichten.

GRIMM is een spectaculaire reis door een grimmig sprookjeswereld. Het gaat over twee jongens die in een fantasiewereld belanden, waar ...

Waarom Salam? ► Waarom Salam, Guy Weizman? ◄

Guy Weizman vertelt waarom hij Salam wilde maken.

"Om de cultuurclash tussen het westen en de Arabische wereld bespreekbaar te maken, keer ik terug naar de bron: het verhaal van Abraham."- regisseur Guy Weizman

...

WINNAARS FARBOD EN KASPER OVER LEIDS CABARET FESTIVAL ► nieuwe grote namen van de Nederlandse cabaretwereld◄

Najib Amhali, Paulien Cornelisse en Erik van Muiswinkel stonden allen in de finale van het Leids Cabaret Festival voordat ze doorbraken bij het grote publiek. Grote kans dus, dat je op 4 ...

De sterren van 5★★★★★ ► Maak kennis met de sterren van 5★★★★★ ◄

Maak kennis met de dansers van 5★★★★★. In vijf sterchoreografieën, gemaakt door vijf sterchoreografen, geeft Introdans zijn dansers de kans om de sterren van de hemel te dansen.

za 28 april ...

Timeline Photos ► Ben jij een echte muziekkenner? ◄

Zondag staat Festival Oude Muziek met Harthor Consort in Agora. Om alvast in de stemming te komen hebben we een leuke muziekquiz. Hoeveel vragen weet je juist te beantwoorden?
Quiz: https://nl.surveymonkey.com/r/F6ZDTH2

zo 25 ...

Dummie de Mummie 27 feb in Agora ► Voorjaarsvakantie tip: Dummie de Mummie◄

Het is alweer bijna voorjaarsvakantie: op dinsdag 27 februari hebben wij de gave familie musicla Dummie de Mummie op het toneel staan. Dummie de Mummie is een Nederlandse kinderboekenserie geschreven door Tosca Menten. De ...

Chippendales in Agora The Chippendales komen naar #Lelystad om jullie een geweldige Ladies Night te geven

AgoraTheater Lelystad ► Laatste kans: Win een prachtige CD◄

Binnenkort staan Mike Boddé en Mike del Ferro met hun muziekprogramma Mike Kwadraat bij ons op het podium. En wij mogen een gesigneerde CD weggeven! Wie vindt hun muziek ook zo prachtig? Pak ...

Ma - Eric Corton - Dementie - Agora Lelystad ► Wil je geraakt worden? Dan moet je komen! ◄
'Ma' is een indrukwekkende solo voorstelling van Eric Corton over dementie, naar het gelijknamige boek van Hugo Borst. "Een heel indringend & menselijk portret", "Een echte aanrader voor iedereen". Dat ...

Bedankt iedereen voor het mooie jaar! Hopelijk genieten jullie vandaag van het gezelschap van vrienden of familie, wij wensen jullie een gezellige kerst. 🎄❤️
We zijn vandaag, morgen (en de rest van de week) wel geopend voor de film! https://t.co/t17M36eTxy ...

@bjornregterink De verwachting is 2x 50 minuten. Maar om dat een deel van de inhoud door het publiek bepaald wordt (de vragen) kan het iets afwijken! Heel veel plezier vanavond!

De namen voor het #theaterweekend zijn bekend! Wie gaat er ook mee naar een leuke cabaret- of muziekvoorstelling voor slechts € 10,-? #Cabaret: Vrijdag & Sandifort, Thijs van de Meeberg, Anne Neuteboom. Muziek: Vive Piaff - Nadja Filtzer. Meer info: ...
Agora Theater Lelystad
Pros
Very modern theater, great hall is very comfortable and beautiful. The rooms are spacious, so you never have to stand in the crowd. The wardrobes are generally well staffed.
Cons
In the small hall the legroom is somewhat limited.