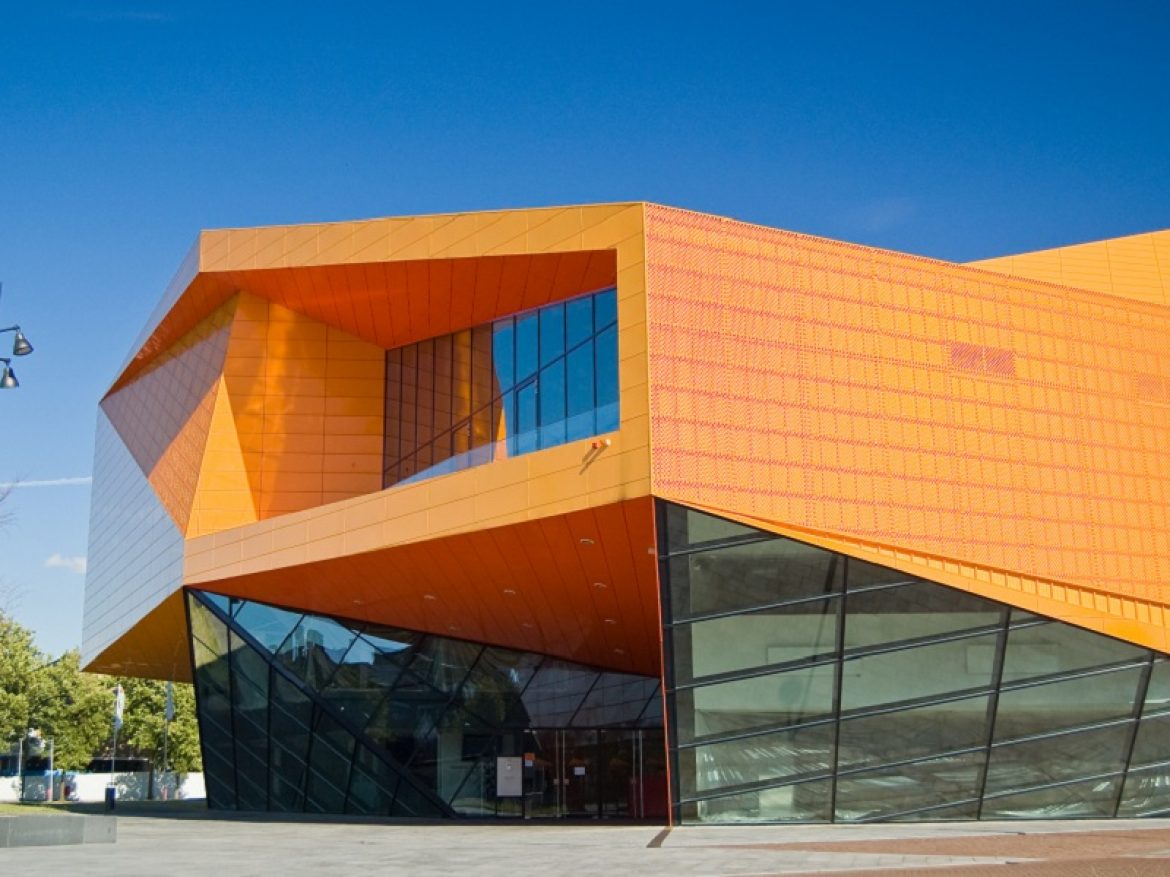 Agora Theater Lelystad
Agora Theater is a bright orange building, designed by Ben van Berkel of UNstudio (also known by the Erasmus Bridge in Rotterdam) is located in the center of Lelystad. Ben van Berkel was inspired by the ever-changing skies above Lelystad. Both interior and exterior are therefore to be regarded references to the skies. The exterior is bright orange, while the foyers just a combination of white and pink. The main hall of the theater is warm red while the small hall once again exhibits a dark color.
The new Agora Theater is a colorful and distinctive place, built on the joint draft of the Amsterdam architectural studio UNStudio and their Dutch colleagues. The unusual building is a part of the Lelystad by Adriaan Geuze program plan, that was designed to actively develop the central part of Lelystad. Foyer, multifunctional halls, cafes, restaurants, are made in contrasting styles and color solutions, and the public space disposes to meetings, rest and communication. Bright and extravagant walls in the halls of the theater are equipped with acoustic panels. The theatre is a reply to the current mission of reviving and recovering the post-war Dutch new towns by focusing on the archetypal function of a theatre: that of creating a world of fascination. Both inside and outside the theater, walls are sagnificantly important for the reconstructio of the kaleidoscopic experience of the world of the stage, where you can never be sure of what is real and what is not.
Agora Theater offers near 140 performances a year in the genres of drama, children's theater, dance, classical music, world music and jazz, cabaret and musical show and an unforgettable evening for everyone. Agora theater has two large halls. Both halls guarantee a comfortable evening where you can undisturbed enjoy one of the performances. Agora also offers a contemporary and inspiring environment for every business meeting. Its beautiful, colorful and controversial building is perfect setting for conferences, meetings, parties, TV programs and product presentations. All theater genres are represented: theater, children's shows, music, cabaret, dance, and shows and musicals. The various multifunctional theater and cinema halls and foyers offer endless possibilities. Equipped with all technical facilities and excellent catering. Agora Theater is easily accessible by car and public transport. In addition, Agora also has a varied film program with big current movies, the latest 3D movies, family movies and arthouse films. The theater has not only the impressive exterior, but also the especially breathtaking interior. Experience Theatre & Film in Lelystad!
Check out this link: agora-lelystad.nl
🏵 𝗧𝗼𝗽 𝟯 𝗦𝗽𝗲𝗰𝗶𝗮𝗹𝘀 🏵
Sinds onze start kaartverkoop zijn deze Specials het meest populair:
1. Fred van Leer 👠 (laatste kaarten 🏃‍♀️🏃‍♂️!!)
2. Zoutmus 🤣
3. George van Houts 🤔
Waar kijk jij het meeste naar uit 🌟?
🎟 agora-lelystad.nl/theater

💃 𝗧𝗼𝗽 𝟯 𝗗𝗮𝗻𝘀𝘃𝗼𝗼𝗿𝘀𝘁𝗲𝗹𝗹𝗶𝗻𝗴𝗲𝗻 🕺
Deze dansproducties gaan het hardst:
1. 𝗡𝗼𝘁𝗲𝗻𝗸𝗿𝗮𝗸𝗲𝗿 (Nationale Ballet van Oekraïne Odessa)
2. 𝗦𝗰𝗮𝗽𝗶𝗻𝗼 𝗕𝗮𝗹𝗹𝗲𝘁 𝗥𝗼𝘁𝘁𝗲𝗿𝗱𝗮𝗺
3. 𝗥𝗼𝗺𝗲𝗼 & 𝗝𝘂𝗹𝗶𝗲𝘁 ❤️ (The Royal Moskow Ballet)
Ook nog kaartjes bestellen? 🎟 agora-lelystad.nl/theater/

🎻 𝗧𝗼𝗽 𝟯 𝗞𝗹𝗮𝘀𝘀𝗶𝗲𝗸𝗲 𝗺𝘂𝘇𝗶𝗲𝗸 🎵
Sinds onze start kaartverkoop zijn deze klassieke voorstellingen het meest populair:
1. 𝗧𝗮𝗻𝗶𝗮 𝗞𝗿𝗼𝘀𝘀
2. 𝗟𝗮 𝗕𝗼𝗵𝗲̀𝗺𝗲
3. 𝗗𝗼𝗻 𝗖𝗼𝘀𝘀𝗮𝗰𝗸𝗖𝗵𝗼𝗶𝗿 𝗼𝗳 𝗥𝘂𝘀𝘀𝗶𝗮
Waar kijk jij het meeste naar uit 🌟? 🎟 agora-lelystad.nl/theater

🤩 𝗧𝗼𝗽 𝟯 𝗠𝘂𝘀𝗶𝗰𝗮𝗹 & 𝗦𝗵𝗼𝘄 🤩
Deze musical & shows gaan op dit moment heel hard:
1. Het Groot Niet Te Vermijden (afscheidstournee 😭)
2. Rhythm of the Dance 🎻
3. Kinky Boots The Musical 🎤
Waar kijk jij ...

🌟 𝗧𝗼𝗽 𝟯 𝗽𝗼𝗽𝘂𝗹𝗮𝗶𝗿𝗲 𝗞𝗶𝗱𝘀 & 𝗙𝗮𝗺𝗶𝗹𝗶𝗲𝘃𝗼𝗼𝗿𝘀𝘁𝗲𝗹𝗹𝗶𝗻𝗴𝗲𝗻 🌟
Yeeha! Bekijk hier de meest populaire familievoorstellingen voor het nieuwe theaterseizoen:
1. 𝗗𝗼𝗼𝗿𝗻𝗿𝗼𝗼𝘀𝗷𝗲
2. 𝗣𝗲𝘁𝗲𝗿 𝗣𝗮𝗻
3. 𝗞𝗶𝗸𝗸𝗲𝗿
Heb jij al kaartjes 🤩? 🎟 bit.ly/Kaarten19-20🌟🌟

🎶 𝗧𝗼𝗽 𝟯 𝗽𝗼𝗽𝘂𝗹𝗮𝗶𝗿𝗲 𝗠𝘂𝘇𝗶𝗲𝗸 🎶
Deze concertkaarten gaan het hardst voor het nieuwe theaterseizoen:
1. 𝗧𝗵𝗲 𝗔𝗻𝗮𝗹𝗼𝗴𝘂𝗲𝘀
2. 𝗢𝗚𝟯𝗡𝗘
3. 𝗤𝗨𝗘𝗘𝗡 𝘁𝗵𝗲 𝗠𝘂𝘀𝗶𝗰
Naar welk concert kijk jij het meeste uit 🤩?
🎟 𝗞𝗮𝗮𝗿𝘁𝗲𝗻 𝟭𝟵-𝟮𝟬: bit.ly/Kaarten19-20

🌟 𝗧𝗼𝗽 𝟯 𝗽𝗼𝗽𝘂𝗹𝗮𝗶𝗿𝘀𝘁𝗲 𝗮𝗿𝘁𝗶𝗲𝘀𝘁𝗲𝗻 🌟
Sinds onze start kaartverkoop van vanmorgen zijn dit de koplopers 🥁:
1. Nienke Plas
2. Daniël Arends
3. Jandino Asporaat
Ook kaartjes bemachtigen 🏃‍♀️🏃‍♂️? 🎟 bit.ly/Programma19-20

🎊 𝗞𝗮𝗮𝗿𝘁𝘃𝗲𝗿𝗸𝗼𝗼𝗽 𝟭𝟵-𝟮𝟬 𝗴𝗲𝘀𝘁𝗮𝗿𝘁 🎊
Koop nu je kaarten voor jouw favoriete artiest!! #NienkePlas #DaniëlArends #AliB #TheAnalogues #DeNotenkraker #VanderLaanenWoe #HendrikGroen #RUMAG #PattyBrard #RouéVerveer #LaBohème #JandinoJudeska #OG3NE
Wees er snel bij 🏃‍♀️🏃‍♂️😃
🎟 bit.ly/Programma19-20

☀️ 𝗚𝗹𝘂𝗿𝗲𝗻 𝗯𝗶𝗷 𝗱𝗲 𝗕𝘂𝗿𝗲𝗻: 𝗟𝗲𝗹𝘆𝘀𝘁𝗮𝗱𝘀𝗲 𝗛𝗶𝗽𝗽𝗶𝗲𝗺𝗮𝗿𝗸𝘁 ☀️

Op 5, 6 en 7 juli wordt de kust van Lelystad een beetje veranderd in het prachtige IBIZA ☀️. Waan je tussen de prachtige hippiekramen gevuld met fashion, lifestyle- en beautyproducten, woonaccessoires ...

🎭𝗧𝗼𝗽 𝟯 𝗽𝗼𝗽𝘂𝗹𝗮𝗶𝗿 𝗧𝗼𝗻𝗲𝗲𝗹 𝗶𝗻 𝗩𝗼𝗼𝗿𝘃𝗲𝗿𝗸𝗼𝗼𝗽 🎭
De meest populaire 𝘵𝘰𝘯𝘦𝘦𝘭𝘷𝘰𝘰𝘳𝘴𝘵𝘦𝘭𝘭𝘪𝘯𝘨𝘦𝘯 19-20 in onze voorverkoop zijn:
1. 𝗘𝗻𝗸𝗲𝗹𝗲 𝗥𝗲𝗶𝘀 (Bram van der Vlugt e.a.)
2. 𝗗𝗲 𝗔𝗮𝗻𝘀𝗹𝗮𝗴 (Victor Löw e.a.)
3. 𝗩𝗘𝗥𝗟𝗘𝗜𝗗𝗘𝗥𝗦: 𝗙𝗲𝗺𝗮𝗹𝗲 (Jelka van Houten e.a.)
Naar welke artiest ...

🎵 𝗦𝗲𝗮𝗯𝗼𝘁𝘁𝗼𝗺 𝗙𝗲𝘀𝘁𝗶𝘃𝗮𝗹 𝟮𝟬𝟭𝟵 🎵
Een groot feest met 5 verschillende podia, variërend van soul, jazz, blues en funk 🎶. Kom zaterdag 25 mei genieten van o.a The Aretha Franklin Experience, The Legends met een ode aan James Brown, Marvin ...

🌟 𝗧𝗼𝗽 𝟱 𝗽𝗼𝗽𝘂𝗹𝗮𝗶𝗿𝗲 𝗮𝗿𝘁𝗶𝗲𝘀𝘁𝗲𝗻 AGORA 𝟭𝟵-𝟮𝟬 🌟
Twee dagen na onze 𝙨𝙩𝙖𝙧𝙩 𝙫𝙤𝙤𝙧𝙫𝙚𝙧𝙠𝙤𝙤𝙥 zijn de volgende artiesten het meest populair 😎:
1. Lenette van Dongen
2. Plien & Bianca
3. Van der Laan en Woe
4. The Analogues
5. ...

Niet lachen is geen optie! 🤣 𝗡𝗶𝗲𝘁 𝗹𝗮𝗰𝗵𝗲𝗻 𝗶𝘀 𝗴𝗲𝗲𝗻 𝗼𝗽𝘁𝗶𝗲 🤣.
Stichting Flevoland Fietst Tegen Kanker 🚴‍♀️ staat vrijdag 17 mei met dit avondvullende, hilarische programma in AGORA. Op 31 mei vertrekken zij naar Frankrijk om daar de Alpe d'Huez fietsend te beklimmen en ...

Onze 𝗩𝗼𝗼𝗿𝘃𝗲𝗿𝗸𝗼𝗼𝗽 𝟭𝟵-𝟮𝟬 is 𝗴𝗲𝘀𝘁𝗮𝗿𝘁 🎊! Boek als eerste kaarten voor je favoriete artiesten 🤩(minimaal 2 voorstellingen)! Vroegboekers die voor minimaal voor 4 voorstellingen kaarten boeken, belonen wij met vele voordelen 🎁! 🎟 https://t.co/KGDF2JJcNl https://t.co/iL2J7L0bSE

🎊 𝗩𝗼𝗼𝗿𝘃𝗲𝗿𝗸𝗼𝗼𝗽 𝟭𝟵-𝟮𝟬 𝗴𝗲𝘀𝘁𝗮𝗿𝘁! 🎊
Yes, het is zover 🥳: boek als eerste kaarten voor je favoriete artiesten 🤩!! Als je nu voor 2 of meer voorstellingen kaarten koopt heb je namelijk voorrang op de rest van de theaterliefhebbers die ...

@KaspervanKooten Wij hebben ook van jou genoten @KaspervanKooten, bedankt hiervoor!! Heb je nog interessante antwoorden gekregen op je vragen? Wij wensen je in ieder geval een mooie zaal toe 11 dec 😁 in Agora (Angora 😂).

🎊 𝗠𝗼𝗿𝗴𝗲𝗻 𝟭𝟰 𝗺𝗲𝗶: 𝘀𝘁𝗮𝗿𝘁 𝘃𝗼𝗼𝗿𝘃𝗲𝗿𝗸𝗼𝗼𝗽 𝟭𝟵-𝟮𝟬 🎊
Zorg dat je klaar zit, want morgenochtend om 𝟭𝟬:𝟬𝟬 𝘂𝘂𝗿 start onze Voorverkoop voor het nieuwe theaterseizoen 🤩! Dat betekent dat je voor 2 of meer voorstellingen kaarten koopt. Koop je kaarten ...

🎉 𝗩𝗮𝗻𝗮𝘃𝗼𝗻𝗱 𝗩𝗼𝗼𝗿𝗽𝗿𝗼𝗲𝗳𝗷𝗲𝘀𝗮𝘃𝗼𝗻𝗱 🎉
Voor slechts €𝟭𝟬,- krijg je een preview van ons nieuwe theaterprogramma 😃🌟. Met live optredens van o.a. '𝗔𝘀𝗵𝘁𝗼𝗻 𝗕𝗿𝗼𝘁𝗵𝗲𝗿' Joost Spijkers, regisseur 𝗨𝗿𝘀𝘂𝗹 𝗱𝗲 𝗚𝗲𝗲𝗿, cabaretières 𝗞𝗶𝗸𝗶 𝗦𝗰𝗵𝗶𝗽𝗽𝗲𝗿𝘀 en 𝗬𝘃𝗼𝗻𝗻𝗲 𝘃𝗮𝗻 𝗱𝗲𝗻 𝗘𝗲𝗿𝗲𝗻𝗯𝗲𝗲𝗺𝘁 en het 𝗔𝗽𝗼𝗹𝗹𝗼 ...

Eindelijk is er de teaser van de met prijzen overladen feel-good musical '𝗞𝗶𝗻𝗸𝘆 𝗕𝗼𝗼𝘁𝘀'🎉 ! Check it out 🤩! De hilarische en ontroerende Broadwayhit met swingende choreografieën en muziek van wereldster Cyndi Lauper 🎶!
19 & 20 𝘮𝘳𝘵 2020 🎟 ...

Ken je die wereldberoemde albumcover van het Woodstock festival? Het stel in de deken is nog altijd bij elkaar én is naar Nederland gehaald om het tribute-concert van @woodstockthesto te aanschouwen. Vanavond zijn ze bij ons in het theater! Hoe ...
Agora Theater Lelystad
Pros
Very modern theater, great hall is very comfortable and beautiful. The rooms are spacious, so you never have to stand in the crowd. The wardrobes are generally well staffed.
Cons
In the small hall the legroom is somewhat limited.