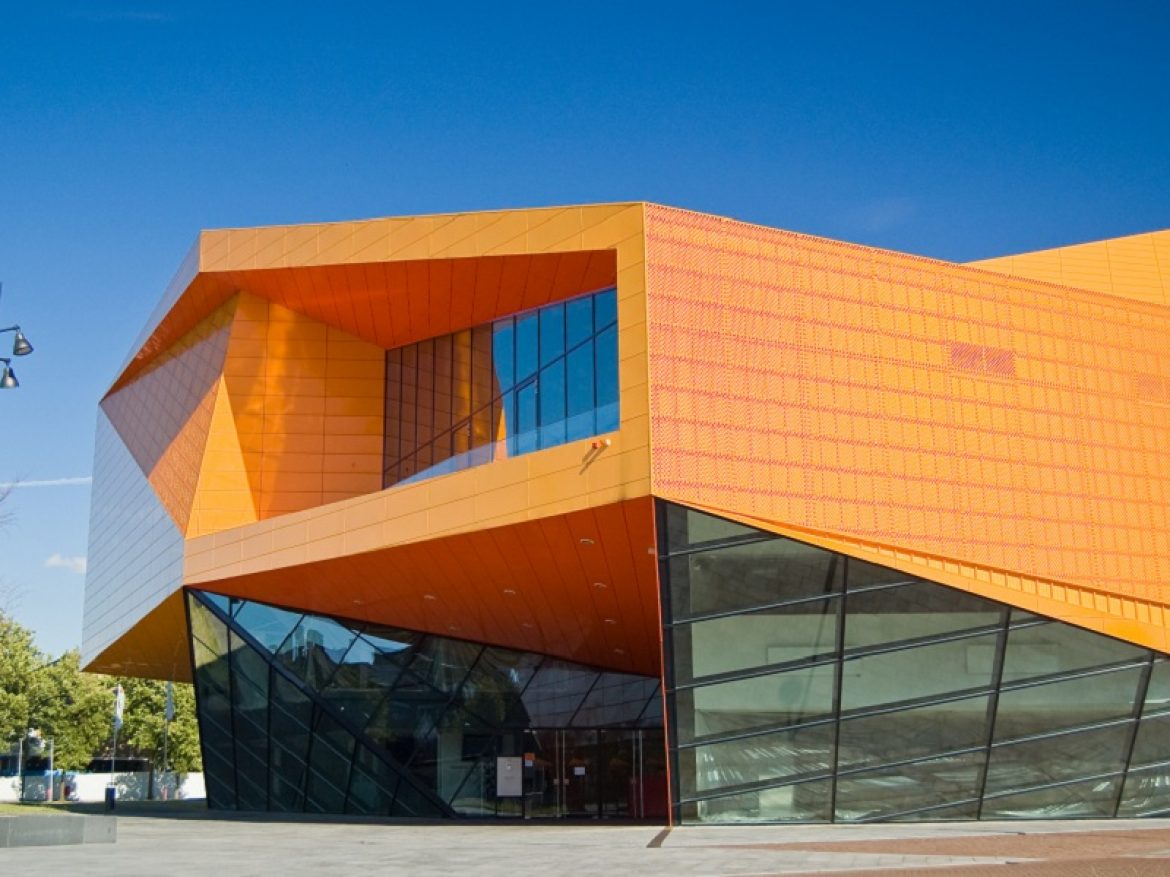 Agora Theater Lelystad
Agora Theater is a bright orange building, designed by Ben van Berkel of UNstudio (also known by the Erasmus Bridge in Rotterdam) is located in the center of Lelystad. Ben van Berkel was inspired by the ever-changing skies above Lelystad. Both interior and exterior are therefore to be regarded references to the skies. The exterior is bright orange, while the foyers just a combination of white and pink. The main hall of the theater is warm red while the small hall once again exhibits a dark color.
The new Agora Theater is a colorful and distinctive place, built on the joint draft of the Amsterdam architectural studio UNStudio and their Dutch colleagues. The unusual building is a part of the Lelystad by Adriaan Geuze program plan, that was designed to actively develop the central part of Lelystad. Foyer, multifunctional halls, cafes, restaurants, are made in contrasting styles and color solutions, and the public space disposes to meetings, rest and communication. Bright and extravagant walls in the halls of the theater are equipped with acoustic panels. The theatre is a reply to the current mission of reviving and recovering the post-war Dutch new towns by focusing on the archetypal function of a theatre: that of creating a world of fascination. Both inside and outside the theater, walls are sagnificantly important for the reconstructio of the kaleidoscopic experience of the world of the stage, where you can never be sure of what is real and what is not.
Agora Theater offers near 140 performances a year in the genres of drama, children's theater, dance, classical music, world music and jazz, cabaret and musical show and an unforgettable evening for everyone. Agora theater has two large halls. Both halls guarantee a comfortable evening where you can undisturbed enjoy one of the performances. Agora also offers a contemporary and inspiring environment for every business meeting. Its beautiful, colorful and controversial building is perfect setting for conferences, meetings, parties, TV programs and product presentations. All theater genres are represented: theater, children's shows, music, cabaret, dance, and shows and musicals. The various multifunctional theater and cinema halls and foyers offer endless possibilities. Equipped with all technical facilities and excellent catering. Agora Theater is easily accessible by car and public transport. In addition, Agora also has a varied film program with big current movies, the latest 3D movies, family movies and arthouse films. The theater has not only the impressive exterior, but also the especially breathtaking interior. Experience Theatre & Film in Lelystad!
Check out this link: agora-lelystad.nl
Onze handige mannen zijn druk bezig geweest om deze in elkaar te zetten gisteren. Het resultaat mag er zijn, toch? 👌👌

Timeline Photos ► Bijzondere inleidingen◄

Meer achtergrondinformatie over de toneel of dansvoorstelling zorgt er vaak voor dat u de voorstelling beter begrijpt én meer waardeert. Voor diverse voorstellingen hebben we vooraf een inleiding: er komt dan iemand vertellen over de voorstelling, over ...

Timeline Photos ► Er zijn nog kaarten voor Youp◄
De kaarten vliegen de deur uit, gelukkig zijn er wel nog wat te krijgen. Wilt u absoluut zijn oudejaarsconference 2017 zien? Boek dan snel nog uw kaarten.

Vrijdag 15-12 zijn nog maar enkele ...

Timeline Photos ► Komend seizoen: Hans & Grietje◄

Een oud sprookje keert terug in een spiksplinternieuw én kleurrijk jasje. Swingende meezingliedjes en een prachtig decor. De kinderen kunnen mee doen aan een verkleedwedstrijd of een Meet & Greet na afloop. Grietje wordt ...

Timeline Photos ►Vanaf 10:00u start kaartverkoop◄

Over precies een uur gaan de kaarten in de losse verkoop: zowel online als offline is het mogelijk om kaarten te bestellen voor het nieuwe seizoen. Have fun!

https://agora-lelystad.nl/

Timeline Photos ►Een kijkje in onze keuken◄

Onze artistiek directeur en programmeur Jan Gras schrijft regelmatig een blog zodat jullie een kijkje achter de schermen krijgen over alles wat er gebeurt in ons prachtige theater.
Dit keer over onze start kaartverkoop morgenochtend ...

Timeline Photos ►Morgen: start losse kaartverkoop◄

Morgen is het zo ver: om 10.00 u start de losse kaartverkoop voor het nieuwe seizoen. Vanaf dan is het mogelijk om ook losse voorstellingen te boeken.

De verkoop zal zowel online áls offline gebeuren.

Het ...

De posters hangen al! Zaterdag begint de losse verkoop van het nieuwe seizoen om 10.00u. Zowel online als bij onze theaterkassa! #lelystad #theater

Timeline Photos ► Foutje in de krant◄

We moeten even iets recht zetten, het beste paard struikelt ook wel eens..

Stef Bos is per abuis terecht gekomen in de agenda van de FlevoPost, helaas is deze voorstelling al eerder dit jaar geannuleerd. ...

Timeline Photos ► Komend seizoen: Nick & Simon◄
Nog meer leuks uit ons nieuwe seizoen: Nick en Simon komen volgend jaar februari naar Lelystad. Ze gaan op tournee door de theaters met hun nieuwe album, hun grote hits en het publiek wordt ...

Timeline Photos ►Komend seizoen: Rundfunk◄

De mannen van Rundfunk waren de afgelopen jaren op TV met hun absurde komedie, verdeeld in verschillende sketches die zich afspelen op een middelbare school. Dit seizoen staan ze bij ons op het podium!

Zaterdag om 10.00u ...

@kemmetnico We hebben zeker nog wenslijstje hoor, in de vroegboekperiode is dat lastig, vanaf zaterdag in de losse verkoop dan wordt alles makkelijker!

@kemmetnico Hoi Kenneth, online is het nu niet mogelijk om achteraf bij te boeken. Het beste is om even contact op nemen met de kassa morgen!

Afgelopen maandag is onze nieuwe brochure uit gekomen. Heb jij hem al gezien? De mensen die de afgelopen 2 jaar meer dan 2 voorstellingen hebben bezocht bij ons ontvangen hem deze week op de mat.
En anders is het programma ...

Volle bak vandaag! Het is de dag voor Koningsdag dus dat betekend #lintjesregen
Agora Theater Lelystad
Pros
Very modern theater, great hall is very comfortable and beautiful. The rooms are spacious, so you never have to stand in the crowd. The wardrobes are generally well staffed.
Cons
In the small hall the legroom is somewhat limited.