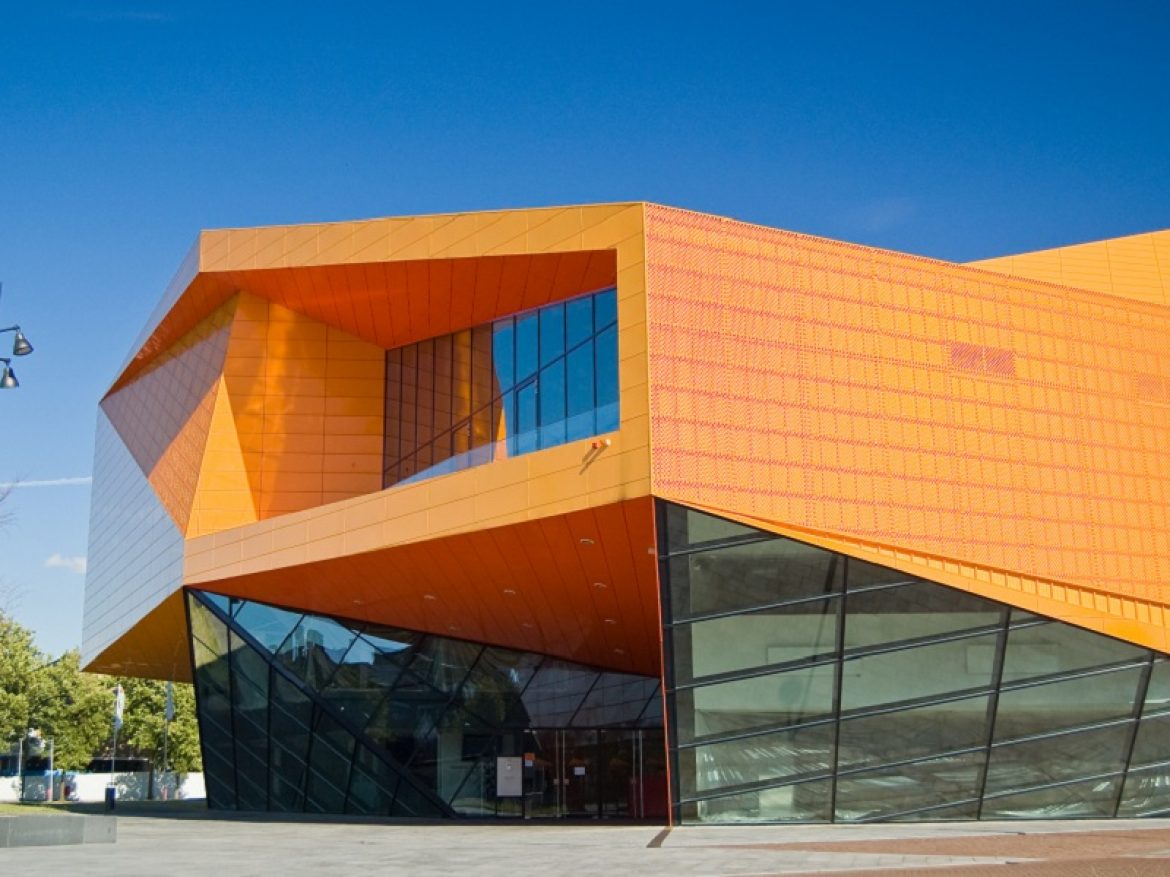 Agora Theater Lelystad
Agora Theater is a bright orange building, designed by Ben van Berkel of UNstudio (also known by the Erasmus Bridge in Rotterdam) is located in the center of Lelystad. Ben van Berkel was inspired by the ever-changing skies above Lelystad. Both interior and exterior are therefore to be regarded references to the skies. The exterior is bright orange, while the foyers just a combination of white and pink. The main hall of the theater is warm red while the small hall once again exhibits a dark color.
The new Agora Theater is a colorful and distinctive place, built on the joint draft of the Amsterdam architectural studio UNStudio and their Dutch colleagues. The unusual building is a part of the Lelystad by Adriaan Geuze program plan, that was designed to actively develop the central part of Lelystad. Foyer, multifunctional halls, cafes, restaurants, are made in contrasting styles and color solutions, and the public space disposes to meetings, rest and communication. Bright and extravagant walls in the halls of the theater are equipped with acoustic panels. The theatre is a reply to the current mission of reviving and recovering the post-war Dutch new towns by focusing on the archetypal function of a theatre: that of creating a world of fascination. Both inside and outside the theater, walls are sagnificantly important for the reconstructio of the kaleidoscopic experience of the world of the stage, where you can never be sure of what is real and what is not.
Agora Theater offers near 140 performances a year in the genres of drama, children's theater, dance, classical music, world music and jazz, cabaret and musical show and an unforgettable evening for everyone. Agora theater has two large halls. Both halls guarantee a comfortable evening where you can undisturbed enjoy one of the performances. Agora also offers a contemporary and inspiring environment for every business meeting. Its beautiful, colorful and controversial building is perfect setting for conferences, meetings, parties, TV programs and product presentations. All theater genres are represented: theater, children's shows, music, cabaret, dance, and shows and musicals. The various multifunctional theater and cinema halls and foyers offer endless possibilities. Equipped with all technical facilities and excellent catering. Agora Theater is easily accessible by car and public transport. In addition, Agora also has a varied film program with big current movies, the latest 3D movies, family movies and arthouse films. The theater has not only the impressive exterior, but also the especially breathtaking interior. Experience Theatre & Film in Lelystad!
Check out this link: agora-lelystad.nl
De eerste smurfjes zijn zojuist ons kantoor binnen gedruppeld. Komende zaterdag hier een Mega Kids Party met de nieuwste smurfen film. En daarbij: een leuke speurtocht, schminken en natuurlijk wat lekkers 💪

Timeline Photos ► Winnaars vrijkaarten Jip & Janneke ◄

Wat een mooie inzendingen hebben we gekregen, het was enorm lastig kiezen. Wat hebben jullie ontzettend jullie best gedaan zeg.

De winnaars hebben vandaag telefonisch bericht van ons gehad. Gefeliciteerd Mandy, Lieke & ...

Timeline Photos ► Trouwen in ons prachtige theater◄

Elkaar het ja-woord geven op het podium? Of backstage zoals in onze prachtige artiestenfoyer? Een theatrale omlijsting of een gospelkoor bij uw huwelijksplechtigheid? Het kan! We zijn een erkende trouwlocatie en we werken samen ...

Timeline Photos ► Hoe gelukkig ben jij?◄

Guido Weijers geeft in deze voorstelling een Masterclass geluk. Laat vooral je telefoon lekker aan staan bij deze show. En vrijwel zeker ga je 13 mei gelukkiger naar buiten. Geen gedoe met zelfhulpboeken of mindfulness-cursussen. ...

► Edje Rust wil nog even wat vertellen over Kaseko◄

Nog heel even over dat Surinaamse feestje hier 9 april. Edje Rust van Kaseko in Concert wil nog even wat kwijt!

Lelystad - Dulfer verkiest Lelystad boven Amsterdam ► Hans Dulfer blij met enthousiast Lelystad ◄

Gisteren kwam Omroep Flevoland hier om een paar posters te filmen van het Seabottom Jazzfestival ze hebben die shot verwerkt in een filmpje van een interview met Hans Dulfer, super leuk!

Hij ...

De opbouw voor het Seabottom jazzfestival komt langzaam op gang. Morgen in deze zaal: Daan Express, Ruben Hoeke en The Jig. Zaterdag komen in dezelfde zaal nog Jon Tarifa, Sinas, Rootsriders & Hans Dulfer.

#festival #jazz #jazzfestival #lelystad

Timeline Photos ► Winnaar vrijkaarten bekend ◄

Jaa, Joke van Zeeland, jij hebt de 2 vrijkaarten gewonnen. Neem je even contact met ons op over de afhandeling? Veel plezier!

Timeline Photos ► Lovende recensies Pieter Derks ◄
De show 'Spot' van Pieter Derks krijgt maar liefst ★★★★.

Dagblad van het Noord over zijn show: "Hij pakt maatschappelijke situaties bij de kop en is niet tevreden met gebeitelde definities", "Lekker en veelbelovend."

...

AgoraTheater Lelystad's cover photo Surinaamse avond met stands waar Surinaamse lekkernijen te koop zijn.

Kaseko is één van de belangrijkste muziekstromingen uit Suriname en de basis voor vele internationale succesvolle nummers. 'Kaseko in Concert Twee', uitgevoerd door een 16 mans band, betekent een mooie ...

Rayen Panday ► He, psst. Niet verder vertellen!◄

Cabaretier Rayen Panday neemt in zijn nieuwe voorstelling 'Niet verder vertellen' geen blad voor de mond. Met scherpe humor, muzikaal talent, vermakelijke publieksinteractie en verrassende invalshoeken weet Rayen Panday weer een fantastische theatervoorstelling neer ...

Timeline Photos ►Een kijkje in de keuken◄

Onze directeur en programmeur Jan Gras maakt regelmatig tijd om een blog te schrijven zodat jullie een kijkje achter de schermen krijgen over alles wat er gebeurt in ons prachtige theater.

Dit keer over: nieuwe ...

Maandag 20 maart hebben we een hilarische cabaretvoorstelling SIRENE (voor maar 5 euro!). Tijdens de voorstelling zullen we ook een ontruimingsoefening doen, weet jij de weg naar buiten te vinden in ons prachtige theater?

#theater #nooduitgang #ontruiming #cabaret #lelystad
Agora Theater Lelystad
Pros
Very modern theater, great hall is very comfortable and beautiful. The rooms are spacious, so you never have to stand in the crowd. The wardrobes are generally well staffed.
Cons
In the small hall the legroom is somewhat limited.