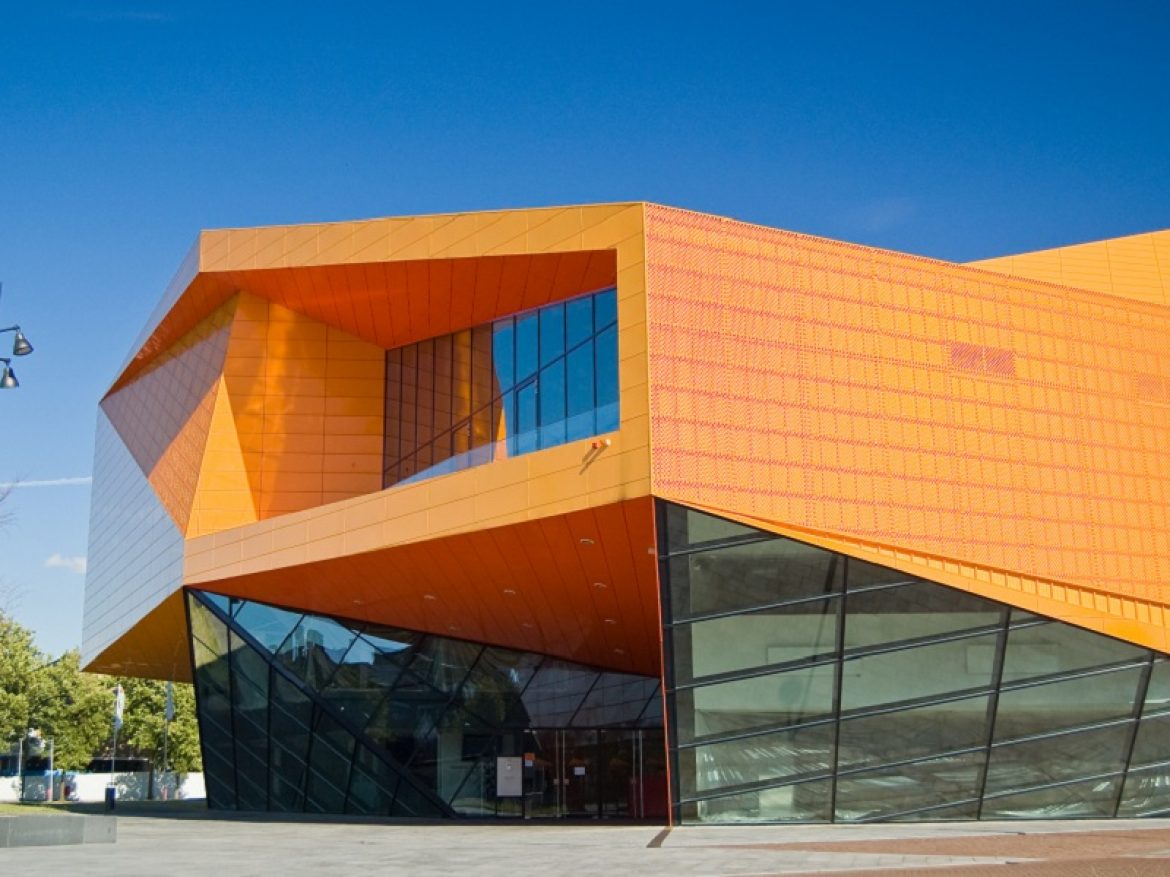 Agora Theater Lelystad
Agora Theater is a bright orange building, designed by Ben van Berkel of UNstudio (also known by the Erasmus Bridge in Rotterdam) is located in the center of Lelystad. Ben van Berkel was inspired by the ever-changing skies above Lelystad. Both interior and exterior are therefore to be regarded references to the skies. The exterior is bright orange, while the foyers just a combination of white and pink. The main hall of the theater is warm red while the small hall once again exhibits a dark color.
The new Agora Theater is a colorful and distinctive place, built on the joint draft of the Amsterdam architectural studio UNStudio and their Dutch colleagues. The unusual building is a part of the Lelystad by Adriaan Geuze program plan, that was designed to actively develop the central part of Lelystad. Foyer, multifunctional halls, cafes, restaurants, are made in contrasting styles and color solutions, and the public space disposes to meetings, rest and communication. Bright and extravagant walls in the halls of the theater are equipped with acoustic panels. The theatre is a reply to the current mission of reviving and recovering the post-war Dutch new towns by focusing on the archetypal function of a theatre: that of creating a world of fascination. Both inside and outside the theater, walls are sagnificantly important for the reconstructio of the kaleidoscopic experience of the world of the stage, where you can never be sure of what is real and what is not.
Agora Theater offers near 140 performances a year in the genres of drama, children's theater, dance, classical music, world music and jazz, cabaret and musical show and an unforgettable evening for everyone. Agora theater has two large halls. Both halls guarantee a comfortable evening where you can undisturbed enjoy one of the performances. Agora also offers a contemporary and inspiring environment for every business meeting. Its beautiful, colorful and controversial building is perfect setting for conferences, meetings, parties, TV programs and product presentations. All theater genres are represented: theater, children's shows, music, cabaret, dance, and shows and musicals. The various multifunctional theater and cinema halls and foyers offer endless possibilities. Equipped with all technical facilities and excellent catering. Agora Theater is easily accessible by car and public transport. In addition, Agora also has a varied film program with big current movies, the latest 3D movies, family movies and arthouse films. The theater has not only the impressive exterior, but also the especially breathtaking interior. Experience Theatre & Film in Lelystad!
Check out this link: agora-lelystad.nl
Reserveer vanaf vandaag je kaarten voor LelySTART bij AGORA!🎉 Beleef cultureel Lelystad in AGORA tijdens de 'Carrousel', Comedy Night, Kamerconcert, de film: 100% Coco en de film: Mirai📽🎭

Ga naar https://agora-lelystad.nl/lelystart/ en bestel vandaag je kaarten nog! LelySTART ComedyNight | ...

𝗡𝗶𝗲𝘂𝘄𝗲 𝘃𝗮𝗰𝗮𝘁𝘂𝗿𝗲 🎊:
𝗛𝗼𝗿𝗲𝗰𝗮 𝗠𝗲𝗱𝗲𝘄𝗲𝗿𝗸𝗲𝗿 (𝐞𝐞𝐫𝐬𝐭𝐞 𝐚𝐬𝐬𝐢𝐬𝐭𝐞𝐧𝐭) m/v (parttime)

Kijk voor meer info op: agora-lelystad.nl/vacatures

🎹 𝗟𝗮𝗮𝘁 𝗷𝗲 𝗵𝗼𝗿𝗲𝗻 𝗼𝗽 𝗟𝗲𝗹𝘆𝗦𝗧𝗔𝗥𝗧! 🎹
Om de start van het culturele seizoen, LelySTART, nóg feestelijker 🎊 te maken, zoeken wij vrijwillige pianisten die het leuk vinden een uur of meer op onze crazy piano te spelen 🎶 in ...

Album 'Graceland' live door Sioen - zo 3 nov AGORA 𝗩𝗲𝗿𝗷𝗮𝗮𝗿𝗱𝗮𝗴 '𝗚𝗿𝗮𝗰𝗲𝗹𝗮𝗻𝗱' 🎶🎊
Hiep Hiep....! Vandaag is het exact 33 jaar geleden dat het legendarische 'Graceland' door Paul Simon werd uitgebracht 📀 en alle verkooprecords brak 💰. De Belgische 𝘀𝗶𝗻𝗴𝗲𝗿-𝘀𝗼𝗻𝗴𝘄𝗿𝗶𝘁𝗲𝗿 𝗦𝗶𝗼𝗲𝗻 komt 3 nov naar AGORA om met zijn geweldige, ...

𝗡𝗶𝗲𝘂𝘄𝗲 𝘃𝗮𝗰𝗮𝘁𝘂𝗿𝗲 🎊:
𝗛𝗼𝗿𝗲𝗰𝗮 𝗠𝗲𝗱𝗲𝘄𝗲𝗿𝗸𝗲𝗿 (𝘁𝘄𝗲𝗲𝗱𝗲 𝗮𝘀𝘀𝗶𝘀𝘁𝗲𝗻𝘁) m/v (parttime)

Kijk voor meer info op: agora-lelystad.nl/vacatures

𝗪𝗶𝗻𝗻𝗮𝗮𝗿 𝗥𝗶𝘁 𝗙𝟭 𝗠𝗲𝗱𝗶𝗰𝗮𝗹 𝗖𝗮𝗿 𝗯𝗲𝗸𝗲𝗻𝗱! 🥳 Degene die thuis opgehaald wordt door de Formule 1 Medical Car wordt in dit filmpje bekend gemaakt. Wij nemen contact op met de gelukkige winnaar ☎️. Kaartjes Formule 1 Show: https://t.co/ap5TOtcZCS https://t.co/3RWS8miSYd

𝗪𝗶𝗻𝗻𝗮𝗮𝗿 𝗥𝗶𝘁 𝗙𝟭 𝗠𝗲𝗱𝗶𝗰𝗮𝗹 𝗖𝗮𝗿 naar AGORA 𝗯𝗲𝗸𝗲𝗻𝗱! 𝗪𝗶𝗻𝗻𝗮𝗮𝗿 𝗥𝗶𝘁 𝗙𝟭 𝗠𝗲𝗱𝗶𝗰𝗮𝗹 𝗖𝗮𝗿 𝗯𝗲𝗸𝗲𝗻𝗱! 🥳
De gelukkige die een ritje in de Formule 1 Medical Car mag maken, wordt in dit filmpje bekend gemaakt door Mitchel van Dijk van Kartcentrum Lelystad (3e plaats bij het Wereldkampioenschap karten 🥉🎉). ...

Van Hier naar Daar ✨𝗡𝗶𝗲𝘂𝘄𝗸𝗼𝗺𝗲𝗿𝘀𝘃𝗲𝗿𝗵𝗮𝗹𝗲𝗻 𝗶𝗻 '𝗩𝗮𝗻 𝗛𝗶𝗲𝗿 𝗻𝗮𝗮𝗿 𝗗𝗮𝗮𝗿' ✨
'Van Hier naar Daar' gaat 𝗼𝘃𝗲𝗿 𝗱𝗲 𝗿𝗲𝗹𝗮𝘁𝗶𝗲 𝘁𝘂𝘀𝘀𝗲𝗻 𝗺𝗼𝗲𝗱𝗲𝗿𝗹𝗮𝗻𝗱 𝗲𝗻 𝗡𝗲𝗱𝗲𝗿𝗹𝗮𝗻𝗱: de alledaagse en niet alledaagse dingen in het leven van nieuwkomers. Amleset, Natasha, Hanane, Yohanna, Mary, Salwan, Rabab en Ziad hebben ...

De Formule 1 Show met Olav Mol & Jack Plooij (trailer) 🏁 🏎𝗩𝗲𝗿𝘀𝘁𝗮𝗽𝗽𝗲𝗻 𝗺𝗮𝗴𝗶𝘀𝘁𝗿𝗮𝗮𝗹 𝗶𝗻 𝗢𝗼𝘀𝘁𝗲𝗻𝗿𝗶𝗷𝗸 🏎🏁
De GP van Oostenrijk was een wedstrijd waarin alles zat wat het Formule 1-seizoen miste: inhaalacties, felle gevechten, spanning en boven alles een onverwachte winnaar.
Kun je niet wachten tot de GP op 12 ...

GAS 𝗩𝗼𝗼𝗿𝘀𝘁𝗲𝗹𝗹𝗶𝗻𝗴 '𝗚𝗔𝗦' 𝗼𝗽 𝗡𝗲𝗱𝗲𝗿𝗹𝗮𝗻𝗱𝘀 𝗧𝗵𝗲𝗮𝘁𝗲𝗿 𝗙𝗲𝘀𝘁𝗶𝘃𝗮𝗹 🎉
'GAS' is geselecteerd voor het prestigieuze @NederlandsTheaterFestival waar de beste voorstellingen van afgelopen theaterseizoen te zien zijn. Van harte gefeliciteerd 🎊😄!!!
Komend seizoen te zien in AGORA op 12 september.
𝘎𝘈𝘚 | 𝘋𝘰 ...

𝗪𝗶𝗻 𝗲𝗲𝗻 𝗿𝗶𝘁𝗷𝗲 𝗶𝗻 𝗱𝗲 𝗙𝟭 𝗠𝗲𝗱𝗶𝗰𝗮𝗹 𝗖𝗮𝗿 𝟭! Iedereen die kaarten heeft/koopt voor de Formule 1 Show op 9 juli, maakt kans op een ritje met de échte F1 Medical Car 🙌! 𝗗𝗲 𝘄𝗶𝗻𝗻𝗮𝗮𝗿 𝘄𝗼𝗿𝗱𝘁 𝗱𝗼𝗻𝗱𝗲𝗿𝗱𝗮𝗴 𝟰 𝗷𝘂𝗹𝗶 𝗯𝗲𝗸𝗲𝗻𝗱𝗴𝗲𝗺𝗮𝗮𝗸𝘁! ...

😱 𝗧𝗵𝗲𝗮𝘁𝗲𝗿𝘃𝗲𝗿𝘀𝗶𝗲 𝘃𝗮𝗻 𝗥𝗨𝗠𝗔𝗚 𝗶𝘀 𝗲𝗲𝗻 𝗯𝗲𝗹𝗲𝘃𝗲𝗻𝗶𝘀 😱
De stem die al jouw diepste verlangens en gedachten hardop uitspreekt krijgt een eigen theatertour 🙌🤩. Een gezonde mix van het randje opzoeken en er net overheen gaan. Een show waarin alle ...

Photos from AgoraTheater Lelystad's post 🏁🏎 𝗪𝗶𝗻 𝗲𝗲𝗻 𝗿𝗶𝘁𝗷𝗲 𝗶𝗻 𝗱𝗲 𝗙𝟭 𝗠𝗲𝗱𝗶𝗰𝗮𝗹 𝗖𝗮𝗿 𝟭!🏎🏁
Iedereen die kaarten heeft of koopt voor de Formule 1 Show op 9 juli, maakt kans op een ritje met de échte F1 Medical Car 😱🙌🎊!!! Je wordt 𝘁𝗵𝘂𝗶𝘀 𝗼𝗽𝗴𝗲𝗵𝗮𝗮𝗹𝗱 ...

✨'𝗩𝗮𝗻 𝗛𝗶𝗲𝗿 𝗻𝗮𝗮𝗿 𝗗𝗮𝗮𝗿' 𝘄𝗼𝗻𝗱𝗲𝗿𝘀𝗰𝗵𝗼𝗼𝗻 ✨

𝘐𝘬 𝘸𝘢𝘴.
𝘕𝘶 𝘣𝘦𝘯 𝘪𝘬 𝘯𝘪𝘦𝘮𝘢𝘯𝘥 𝘮𝘦𝘦𝘳.
𝘐𝘬 𝘩𝘦𝘣 𝘯𝘢𝘢𝘳 𝘮𝘦𝘻𝘦𝘭𝘧 𝘨𝘦𝘻𝘰𝘤𝘩𝘵, 𝘮𝘢𝘢𝘳 𝘪𝘬 𝘣𝘦𝘯 𝘮𝘦𝘻𝘦𝘭𝘧 𝘬𝘸𝘪𝘫𝘵.
𝘐𝘬 𝘣𝘦𝘯 𝘷𝘦𝘳𝘭𝘰𝘳𝘦𝘯, 𝘷𝘦𝘳𝘥𝘸𝘢𝘢𝘭𝘥 𝘨𝘦𝘳𝘢𝘢𝘬𝘵 𝘰𝘱 𝘻𝘦𝘦.
𝘛𝘶𝘴𝘴𝘦𝘯 𝘸𝘢𝘵 𝘰𝘰𝘪𝘵 𝘵𝘩𝘶𝘪𝘴 𝘸𝘢𝘴 𝘦𝘯 𝘥𝘢𝘢𝘳 𝘸𝘢𝘢𝘳 𝘸𝘦 𝘩𝘦𝘦𝘯 ...

De Formule 1 Show 🏎Formule 1 Show🏎
Kijk jij dit weekend ook naar Max tijdens de GP van Frankrijk?📺 🇫🇷 Dan kun je weer genieten van het gevatte commentaar van Olav Mol en Jack Plooij.🎙 Op 9 juli zijn beide mannen in het AGORA ...

Jan Beuving 🎊 𝗝𝗮𝗻 𝗕𝗲𝘂𝘃𝗶𝗻𝗴 𝗴𝗲𝗻𝗼𝗺𝗶𝗻𝗲𝗲𝗿𝗱 𝘃𝗼𝗼𝗿 𝗣𝗼𝗲𝗹𝗶𝗳𝗶𝗻𝗮𝗿𝗶𝗼 𝟮𝟬𝟭𝟵 🎉
En hij is komend theaterseizoen bij ons te bewonderen 🤩! De vakjury: "Jan Beuving laat andermaal zien dat hij tot de beste liedjesschrijvers van Nederland behoort 🎵, maar ook als geëngageerd cabaretier ...

🏵 𝗧𝗼𝗽 𝟯 𝗦𝗽𝗲𝗰𝗶𝗮𝗹𝘀 🏵
Sinds onze start kaartverkoop zijn deze Specials het meest populair:
1. Fred van Leer 👠 (laatste kaarten 🏃‍♀️🏃‍♂️!!)
2. Zoutmus 🤣
3. George van Houts 🤔
Waar kijk jij het meeste naar uit 🌟?
🎟 agora-lelystad.nl/theater

💃 𝗧𝗼𝗽 𝟯 𝗗𝗮𝗻𝘀𝘃𝗼𝗼𝗿𝘀𝘁𝗲𝗹𝗹𝗶𝗻𝗴𝗲𝗻 🕺
Deze dansproducties gaan het hardst:
1. 𝗡𝗼𝘁𝗲𝗻𝗸𝗿𝗮𝗸𝗲𝗿 (Nationale Ballet van Oekraïne Odessa)
2. 𝗦𝗰𝗮𝗽𝗶𝗻𝗼 𝗕𝗮𝗹𝗹𝗲𝘁 𝗥𝗼𝘁𝘁𝗲𝗿𝗱𝗮𝗺
3. 𝗥𝗼𝗺𝗲𝗼 & 𝗝𝘂𝗹𝗶𝗲𝘁 ❤️ (The Royal Moskow Ballet)
Ook nog kaartjes bestellen? 🎟 agora-lelystad.nl/theater/

Onze 𝗩𝗼𝗼𝗿𝘃𝗲𝗿𝗸𝗼𝗼𝗽 𝟭𝟵-𝟮𝟬 is 𝗴𝗲𝘀𝘁𝗮𝗿𝘁 🎊! Boek als eerste kaarten voor je favoriete artiesten 🤩(minimaal 2 voorstellingen)! Vroegboekers die voor minimaal voor 4 voorstellingen kaarten boeken, belonen wij met vele voordelen 🎁! 🎟 https://t.co/KGDF2JJcNl https://t.co/iL2J7L0bSE

@KaspervanKooten Wij hebben ook van jou genoten @KaspervanKooten, bedankt hiervoor!! Heb je nog interessante antwoorden gekregen op je vragen? Wij wensen je in ieder geval een mooie zaal toe 11 dec 😁 in Agora (Angora 😂).

Eindelijk is er de teaser van de met prijzen overladen feel-good musical '𝗞𝗶𝗻𝗸𝘆 𝗕𝗼𝗼𝘁𝘀'🎉 ! Check it out 🤩! De hilarische en ontroerende Broadwayhit met swingende choreografieën en muziek van wereldster Cyndi Lauper 🎶!
19 & 20 𝘮𝘳𝘵 2020 🎟 ...
Agora Theater Lelystad
Pros
Very modern theater, great hall is very comfortable and beautiful. The rooms are spacious, so you never have to stand in the crowd. The wardrobes are generally well staffed.
Cons
In the small hall the legroom is somewhat limited.