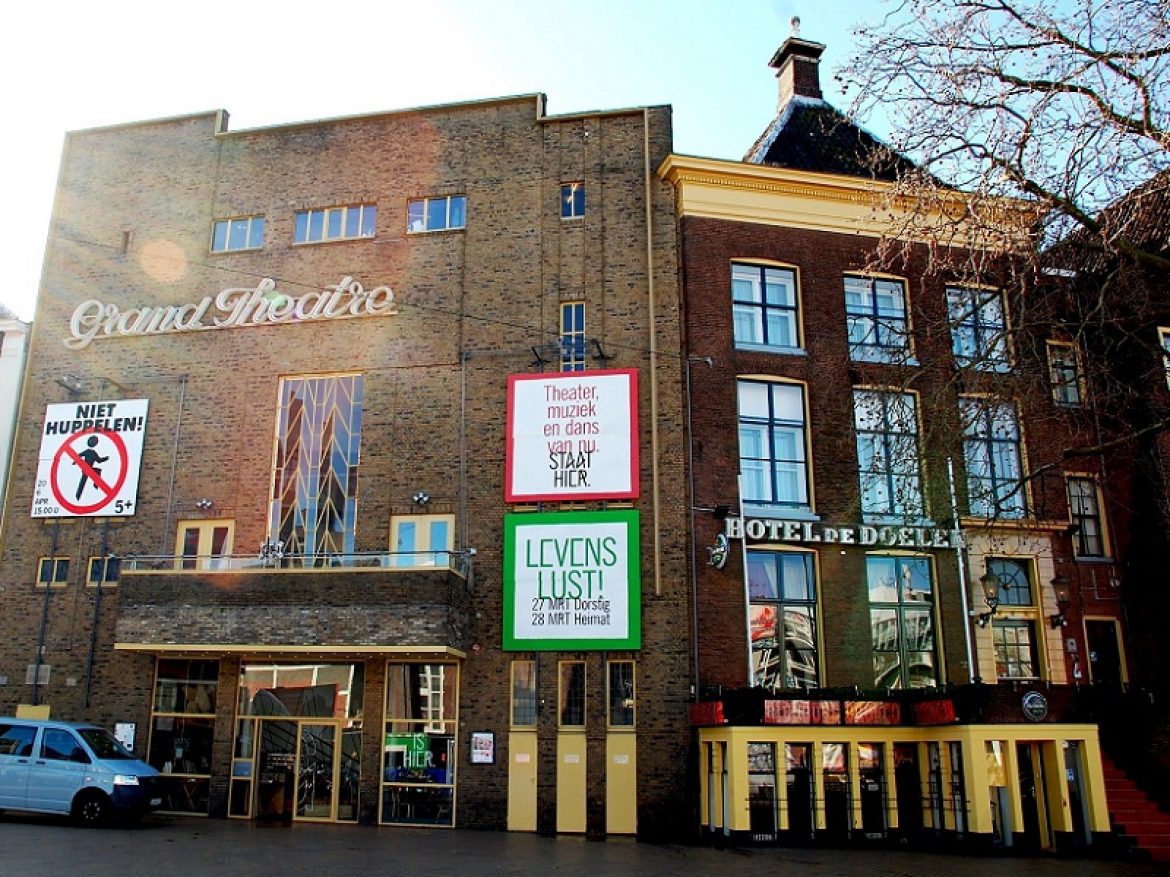 Grand Theatre Groningen
The Grand Theatre is a cultural building located in Groningen. Originally it was a movie theater. It was the fourth major movie theater in the city. It is the most beautiful theater in Groningen. The best shows, the best performers are here. The Grand Theatre was designed in 1929 by British architect G. Saville (1881-1973) in a style with elements of Art Deco. In particular, the facade is one of the few examples of Art Deco in Groningen. In 1994, Grand Theatre has been designated a national monument because of "its cultural, historical and architectural historical value" and for his "great significance for the Groninger cultural history" as a former movie theater. In the Netherlands, the grand theater is the fourth largest movie theater of the city of Groningen. It is unique, beautiful and affordable for everyone.
The Grand Theatre is located in the center of Groningen. In the theater's lobby, you can enjoy a nice cup of coffee or tea before the performance begins. The Grand Theatre offers performances and concerts for a wide and varied audience. The Grand Theatre on the Grote Markt in Groningen is a beautiful flat floor theater. The lower hall of the Grand Theatre has many possibilities and is therefore very popular among theater artists and visitors from around the world. This stunning, flexible theater is ideal for meetings, conferences, lectures and parties.
History
The Grand Theatre was built around 1930 on the Grand Place in the place where hotel The Seven Provinces stood. The Groningen has a pretty unique facade. From 1930 to 1977 the building serves as a movie theater with about 800 seats. Also it provided space for various performances. Famous names that have performed at the Grand include Lou Bandy, Wim Kan, Toon Hermans and André van Duin. After World War II the interior undergoes sagnificant changes. Competition with major cinema groups such as Wolff and Tuschinsky grows and Grand Theatre was closed in 1977, and the building was empty for three years. A plan to demolish the building for new construction does not appear feasible. In 1980 it was refurbished as "alternative culture palace". The building retained its original name. After the nationwide cuts to culture the Grand Theatre had difficulties in 2012, in March 2015 the foundation went bankrupt. A few months later the theater was put into use again.
Although the emphasis is on theater, music performances are from the beginning a substantial part of the theater program. In the early days there were playing local bands.
You can find more information on the official site: grandtheatregroningen.nl
Tijdens 'Unfinished Business' in Grand Theatre zie je in juni nieuw en onaf werk van jonge, noordelijke makers. 🏁❌

Zo drukt Joachim Rümke (WERC/Illustere Figuren) je op 25 juni de videocontroller in de hand voor de game WERC / Illustere ...

Photos from Grand Theatre's post Volgende week zetten we amateurkunstenaars in het zonnetje tijdens de Grand Theatre Amateurweek! 🌞

Van 17 tot en met 23 juni zijn optredens te zien van (het danscollectief van) Usva - Cultureel Studentencentrum, A-Way Productions, improvisatievereniging Ulteam Theatersport en de ...

Welcome to The Village Het theaterseizoen loopt op z'n eind maar gelukkig is er voor theaterliefhebbers ook genoeg te beleven tijdens het festivalseizoen. Zoals tijdens het performanceprogramma van Welcome to The Village 2019.

O.a. met Teddy's Last Ride, MOHA en Sieger Baljon.
Alle namen ...

Noorderzon Groningen Doe je mee aan 'invisble' van Cie Yan Duyvendak ? 👀

Komende donderdag ben je met een kleine groep medespelers tegelijkertijd de initiator én de toeschouwer van een ietwat ongewone situatie. Er zijn acht plekjes per spel, dus wacht niet ...

Babaddaar kan natuurlijk niet ontbreken tijdens 🌙 Theaternacht 🌙. Ze verzorgen op 31 mei een muzikale opening van de avond vol verrassingen.

Het volledige programma bekijk je hier 👉 http://bit.ly/2Q3ei2t

Legendarisch was 'A Hard Days Night' van Nieuw West in 1991. Acteur en theatermaker Mads Wittermans bewerkt de monoloog tot een interdisciplinaire voorstelling met dans door Milan Schudel en hemzelf als acteur. Tijdens 🌜Theaternacht 🌜(VR 31 MEI) laat hij alvast ...

Come and explore the art of party through performances, music and installations with us tomorrow at Raw Cuts #2 w/ Volcov, Cracken & Broken Toaster Records!

With Volcov - Neroli, Cracken and a one-off performance by Broken Toaster Records 🔥

Noorderzon Groningen Heb jij je Early Bird kaartje voor Noorderzon 2019 al? Vandaag is je laatste kans! 🏁

Op het programma staan onder andere de wereldberoemde choreografen Colin Dunne & Eastman - Sidi Larbi Cherkaoui met 'Session', waarvan ze eerder dit jaar ...

🌜Nog maar heel even en dan... Theaternacht!! 🌜

Kan jij ook niet wachten? Mads, Teuntje en Olympia nemen je alvast mee achter de schermen.

Check hier het volledige programma: https://bit.ly/2XxJytF

Op VR 31 MEI in de Stadsschouwburg (van SPOT Theater), ...

Tomorrow Mezrab in the House Groningen is back in Grand Theatre with new stories and music. Take a pillow and become part of a ritual that has been taking place for thousands of years around the world 👉

Photos from Grand Theatre's post Vorige week ging Well Made Productions - Clybourne Park in première en vanavond en morgen zie je de voorstelling in Grand Theatre!

"Met Clybourne Park brengt Well Made Productions relevante en zeer actuele thematieken op de planken, en dat is ...

🌟 🌜31 mei = Theaternacht 🌜🌟

UITGELICHT PROGRAMMA: met 'Pornopop & Electrorock' brengt nieuwe theatermaker Nina Iggy (samen met Urban House Groningen en Up North) een cross over performance vol van energie en humor in een absurde futuristische clubvibe.

Het ...

Shelfish Wauw! De teaser van 'What Lies Beneath' maakt nieuwsgierig naar meer. De docu-performance van Veerle van Overloop / Shelfish gaat over het schemergebied tussen feit en fictie en de gruweldaden die het nieuws niet halen.

Te zien op do 30 ...

Samora en Sergio van Well Made Productions - Clybourne Park vertellen in Koffietijd / 5 Uur Live meer over de voorstelling die je komende donderdag 16 en vrijdag 17 mei in Grand Theatre ziet!

Bekijk het item hier 👉 https://bit.ly/2VPKKe8.

Noorderzon Groningen Volgende week woensdag start de Early Bird voorverkoop van Noorderzon 2019. Op het programma staan onder andere voorstellingen van Colin Dunne & Sidi Larbi Cherkaoui en Gravity & Other Myths, waar ons Grand Theatre trotse coproducent van is.

Meer info ...

Photos from Grand Theatre's post 💥 NU online: het programma van de Theaternacht. 💥
Check het hier: https://bit.ly/2XxJytF

Met: Mads Wittermans, Rosa da Silva, Karin Noeken, Veerle van Overloop (Shelfish), Theater de Steeg, Teuntje Post (DE NOORDERLINGEN vooropleiding theater), Maarten Smit (Het Houten Huis), Nina ...

❗ STAGE ALERT ❗
Ben jij op zoek naar een leuke stageplek vol leermogelijkheden? Vanaf september komen er weer twee plekken vrij bij ons Grand Theatre:

🖤 Stagiair(e) marketing & communicatie
🖤 Stagiair(e) programmering

Check de vacatures via: https://bit.ly/2AEGKSn.

Shirt uit Fahd! Vanavond trekt Fahd Larhzaoui zijn shirt uit in zijn opzienbarende solo Fahd Larhzaoui - Shirt uit Fahd!. Hij gaat op zoek naar die ene persoon die de pijn, woede schaamte en desillusie kan laten verdwijnen.

Tickets: https://bit.ly/2Yo2Fq3

Dark Numbers: Dutchbatters vertellen rauwe verhalen over Srebrenica Zaterdag brengt de Bosnische theatermaker Tea Tupajić met Frascati Producties / Tea Tupajic - Dark Numbers een ongecensureerd verhaal over het drama van Srebenica naar Grand Theatre. Veteranen van het Nederlandse bataljon Dutchbat III, waaronder Gerry uit Vries, zijn performers ...

Clybourne Park Een kijkje achter de schermen bij de repetities van Well Made Productions - Clybourne Park!

Op 16 en 17 mei geeft Well Made Productions in Grand Theatre een inkijk in hoe verschillende groepen mensen omgaan met het opeisen van een ...

Photos from Grand Theatre's post 16 + 17 MEI - Well Made Productions - Clybourne Park

Well Made Productions geeft je met hun nieuwe voorstelling een ingenieuze inkijk in hoe verschillende groepen mensen omgaan met het opeisen van een plek.

Tickets 16 mei: https://bit.ly/2VhIwF0.
Tickets ...

Photos from Grand Theatre's post 🌞 Groninger amateurkunstenaars in het zonnetje! 🌞 Van 17 t/m 23 juni bieden wij het podium aan een aantal van de mooie amateurgroepen die Groningen rijk is tijdens de 'Grand Theatre Amateurweek 2019'. Lees hier meer: https://bit.ly/2UPh3oU

Op het programma:
...

Photos from Grand Theatre's post Op 11 mei luister je tijdens Frascati Producties / Tea Tupajic - Dark Numbers naar intense en ongecensureerde verhalen van de Dutchbat-veteranen.

Trouw sprak Tea Tupajić over de voorstelling:

"Dit is een universeel verhaal. Voor de toekomst is het belangrijk ...

Theaternacht bezoekers, maak je klaar: 'The Others' are coming! Onze lievelingsgekkies van Teddy's Last Ride zijn op 31 mei de slotact van de avond vol Gronings theatertalent.

🌜⭐ Meer info en tickets via: https://bit.ly/2vt87LC

De Theaternacht vindt plaats in De ...

Komende zondag is alweer de laatste editie van Onder de vulkaan van dit seizoen. Met onder andere culinair bakker Toine Akersloot die een recept presenteert voor genadebrood. 👉
Grand Theatre Groningen
Pros
Very unusual theater with great performances and nice coffee.