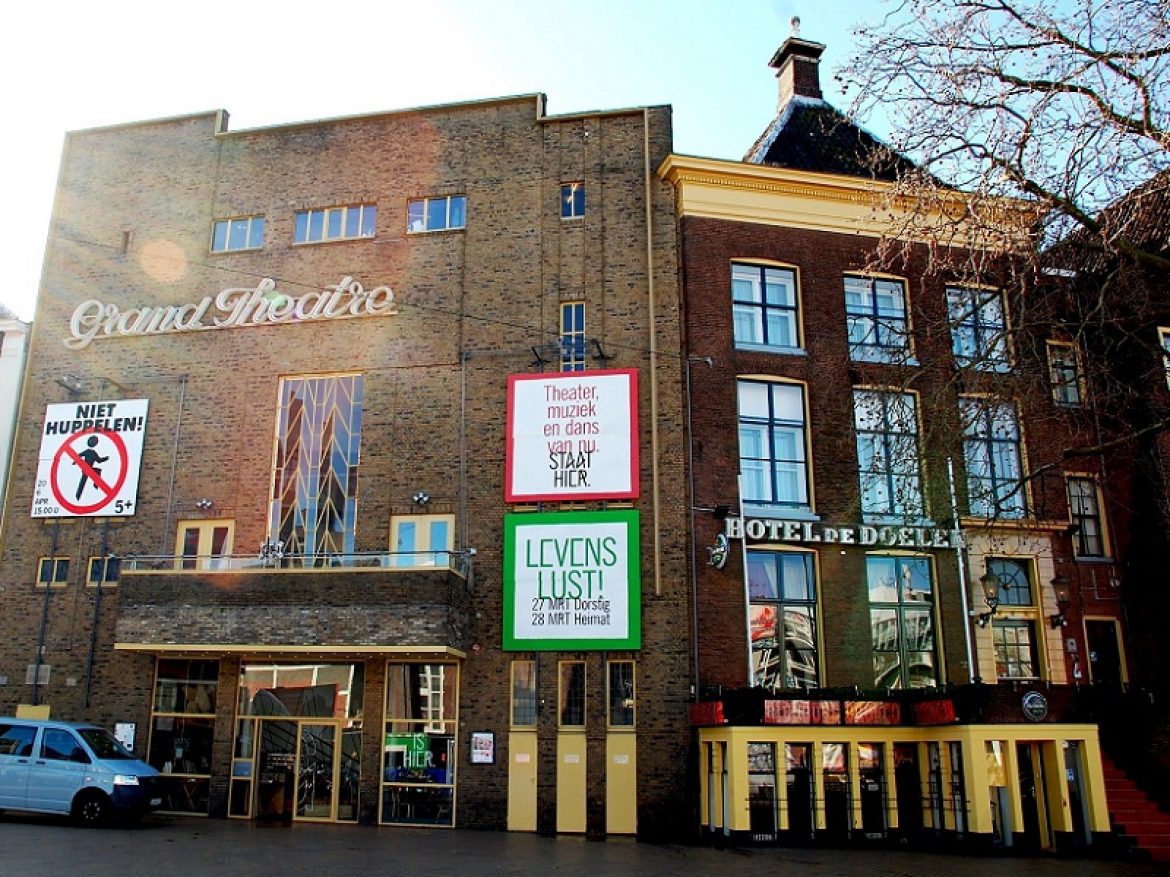 Grand Theatre Groningen
The Grand Theatre is a cultural building located in Groningen. Originally it was a movie theater. It was the fourth major movie theater in the city. It is the most beautiful theater in Groningen. The best shows, the best performers are here. The Grand Theatre was designed in 1929 by British architect G. Saville (1881-1973) in a style with elements of Art Deco. In particular, the facade is one of the few examples of Art Deco in Groningen. In 1994, Grand Theatre has been designated a national monument because of "its cultural, historical and architectural historical value" and for his "great significance for the Groninger cultural history" as a former movie theater. In the Netherlands, the grand theater is the fourth largest movie theater of the city of Groningen. It is unique, beautiful and affordable for everyone.
The Grand Theatre is located in the center of Groningen. In the theater's lobby, you can enjoy a nice cup of coffee or tea before the performance begins. The Grand Theatre offers performances and concerts for a wide and varied audience. The Grand Theatre on the Grote Markt in Groningen is a beautiful flat floor theater. The lower hall of the Grand Theatre has many possibilities and is therefore very popular among theater artists and visitors from around the world. This stunning, flexible theater is ideal for meetings, conferences, lectures and parties.
History
The Grand Theatre was built around 1930 on the Grand Place in the place where hotel The Seven Provinces stood. The Groningen has a pretty unique facade. From 1930 to 1977 the building serves as a movie theater with about 800 seats. Also it provided space for various performances. Famous names that have performed at the Grand include Lou Bandy, Wim Kan, Toon Hermans and André van Duin. After World War II the interior undergoes sagnificant changes. Competition with major cinema groups such as Wolff and Tuschinsky grows and Grand Theatre was closed in 1977, and the building was empty for three years. A plan to demolish the building for new construction does not appear feasible. In 1980 it was refurbished as "alternative culture palace". The building retained its original name. After the nationwide cuts to culture the Grand Theatre had difficulties in 2012, in March 2015 the foundation went bankrupt. A few months later the theater was put into use again.
Although the emphasis is on theater, music performances are from the beginning a substantial part of the theater program. In the early days there were playing local bands.
You can find more information on the official site: grandtheatregroningen.nl
Guillermo Calderón Noorderzon 2019 is begonnen! Elf dagen lang worden we verwend met de allermooiste voorstellingen, muziek en natuurlijk: gezelligheid.

In Grand beginnen we meteen goed met de Europese première van Dragón door Guillermo Calderón (Chili). Vanavond is uitverkocht maar voor 16 ...

Wanneer deed jij voor het laatst iets ondeugends? 👀

Cie Yan Duyvendak nodigt je uit om op Noorderzon 2019 mee te doen aan zijn radicaal rebelse maar uiterst elegante voorstelling 'invisible'.

---

Eerder dit jaar was Yan al bij ons ...

Tijdens Noorderzon 2019 zie je een aantal coproducties van Grand Theatre x Noorderzon Groningen 🔥

Wat te denken van 'Out of Chaos'? In Theater de Machinefabriek toont het wereldberoemde gezelschap Gravity & Other Myths hun atletische kunsten. En dat doen ...

Voor haar nieuwste voorstelling 'What Lies Beneath' werkt Veerle van Overloop samen met een aantal jonge, zeer getalenteerde performers zoals de Australische danseres Olympia Kotopoulos en de veelzijdige Schotse kunstenaar Robbie Thomson. In september staat de confronterende docu-performance tweemaal in ...

DO 26 SEP in Grand Theatre: Wunderbaum - Daar gaan we weer (White Male Privilege) 🚂

Drie hoogopgeleide, witte West-Europeanen zakken weg in een moreel moeras, waarbij vermoeidheid en overgevoeligheid nooit veraf zijn.

"Zelden zag ik zo slim en komisch ...

Photos from Grand Theatre's post Eerder deze maand oefende het wereldberoemde circusgezelschap Circa Contemporary Circus in Grand Theatre!

De talenten zijn later dit jaar weer bij ons te zien met hun adembenemende voorstelling Circa Contemporary Circus - Circa's Peepshow. De kaartverkoop hiervoor start op 20 ...

Nog drie weekjes tot Noorderzon 2019! 🌞

In Grand Theatre zie je onder andere een levensechte robot als enige speler in 'Uncanny Valley' door Rimini Protokoll en het bloedmooie improvisatiespektakel 'Transfiguration' van Olivier de Sagazan - Officiel.

Bekijk het gehele ...

In september is BOG. terug in Grand Theatre!💡

Theatermaker Judith de Joode, muzikant Harald Austbø en lichtontwerper David de Joode doen in 'FIK.' een poging om 'momenten van lichtheid' te her-maken in woord, beeld en klank. 👉

Daar gaan we weer In Wunderbaum - Daar gaan we weer (White Male Privilege) reageren drie hoogopgeleide, witte West-Europeanen van bijna veertig op een opgehouden spiegel waarin ze een onfris verleden en een complex heden gereflecteerd zien.

DO 26 SEP zie je Wunderbaum in ...

'Fair practice' niet zo fair voor theater en muziekpodium.

"Als de minister theaters en concertzalen niet helpt met stijgende kosten, leidt het tot verschraling op de podia."

De vertegenwoordigers van 270 Nederlandse podia reageren met een uitgebreid statement in NRC ...

👏 Wanneer 👏 Mogen 👏 We 👏 Weer?

De komkommertijd staat voor de deur, ook in Grand Theatre. Gisteren zwaaiden we Illustere Figuren uit en daarmee staan er even geen openbare activiteiten op het programma. Voor wie niet kan wachten ...

👏 Wanneer 👏 Mogen 👏 We 👏 Weer?

Het is komkommertijd, maar voor wie niet kan wachten om weer in de theaterzaal te zitten: check onze website! Daar vind je al een flinke lijst met de tot nu toe bekend ...

Theatercollectief Illustere Figuren neemt dit weekend intrek in Grand Theatre!

Zondag zie je in onze Bovenzaal een presentatie van 'Wie is toch die man die elke zondag de vleesvervangers snijdt' (of: 'Vaders'), waar ze samen met Hendrik Aerts aan werken.

...

Geen grote gezelschappen in TF-selectie – Theaterkrant 'Vincent Rietveld gaat voor de Louis d'Or' is geselecteerd voor het Nederlands Theater Festival als een van de twaalf beste voorstellingen van het moment. Trots op deze coproductie met Theatergroep De Warme Winkel. 🎉
'De ambitie, impact en artistieke kwaliteit ...

Word jij onze GrandVerwant? ❤️🖤❤️

Voor slechts €36 nemen we je komend theaterseizoen aan de hand mee door ons programma én de verhalen die ons pand rijk is. Dit is de deal:

✅ Je mag gratis naar 6 voorstellingen die ...

Photos from Grand Theatre's post Vanavond presenteert de Groninger componist en songwriter Bart Bruinsma (Dieven) in Grand Theatre een aantal nieuwe elektronische tracks vol hartzeer 💔

De performance is onderdeel van 'Unfinished Business'. Reserveer je gratis kaartje en kies na afloop zelf wat je wil ...

Deze week zie je in Grand Theatre nieuw en onaf werk van jonge, noordelijke makers tijdens 'Unfinished Business'!

In een intieme setting krijgen zowel makers als publiek de kans om te zien hoe nieuwe ideeën in de praktijk uitpakken. Na ...

Orkestrepetitie VRIJDAG presenteert Filmmuziek Ter afsluiting van de Grand Theatre Amateurweek nemen de verschillende koren, orkesten en bands uit het orkestproject van Bij Vrijdag het publiek vanmiddag mee op een muzikale reis in een uitverkochte Benedenzaal.

Ze geven je alvast een kijkje achter de ...

Hoe herken je een weerwolf? En wie is er te vertrouwen? 👀

Vanavond combineert Ulteam Theatersport - de grootste improvisatievereniging van Groningen - improvisatietheater met het populaire kaartspel 'Weerwolven'. Lukt het ze om de weerwolven te vangen voor het te ...

Photos from Grand Theatre's post Makers die bij ons blijven logeren doen dat binnenkort in stijl! 🛏

Een aantal studenten van Academie Minerva Groningen heeft ons verblijf aan de Oosterstraat namelijk een nieuwe look gegeven. Logees sluiten hun ogen straks in kamers vol rustgevende, frisse ...

OOG Radio & Televisie Vanavond laat A-Way Productions je zien welke vooroordelen rondom leven met depressies en burn-outs niet waar zijn in de voorstelling A-Way Productions | Labyrinth of Lines (try-out). OOG Radio & Televisie bezocht de repetities in Grand Theatre 👇

'Labyrinth of ...

Vanavond staat het danscollectief van de Usva - Cultureel Studentencentrum in Grand Theatre met een double bill van twee dansvoorstellingen: 'Strata' & 'Alma Mater'.

'Alma Mater' werd vorige week pas voor het eerst gespeeld en ontving meteen lovende reacties! 👉 ...

Tijdens 'Unfinished Business' in Grand Theatre zie je in juni nieuw en onaf werk van jonge, noordelijke makers. 🏁❌

Zo drukt Joachim Rümke (WERC/Illustere Figuren) je op 25 juni de videocontroller in de hand voor de game WERC / Illustere ...

Photos from Grand Theatre's post Volgende week zetten we amateurkunstenaars in het zonnetje tijdens de Grand Theatre Amateurweek! 🌞

Van 17 tot en met 23 juni zijn optredens te zien van (het danscollectief van) Usva - Cultureel Studentencentrum, A-Way Productions, improvisatievereniging Ulteam Theatersport en de ...

Welcome to The Village Het theaterseizoen loopt op z'n eind maar gelukkig is er voor theaterliefhebbers ook genoeg te beleven tijdens het festivalseizoen. Zoals tijdens het performanceprogramma van Welcome to The Village 2019.

O.a. met Teddy's Last Ride, MOHA en Sieger Baljon.
Alle namen ...

Noorderzon Groningen Doe je mee aan 'invisble' van Cie Yan Duyvendak ? 👀

Komende donderdag ben je met een kleine groep medespelers tegelijkertijd de initiator én de toeschouwer van een ietwat ongewone situatie. Er zijn acht plekjes per spel, dus wacht niet ...

Babaddaar kan natuurlijk niet ontbreken tijdens 🌙 Theaternacht 🌙. Ze verzorgen op 31 mei een muzikale opening van de avond vol verrassingen.

Het volledige programma bekijk je hier 👉 http://bit.ly/2Q3ei2t

Legendarisch was 'A Hard Days Night' van Nieuw West in 1991. Acteur en theatermaker Mads Wittermans bewerkt de monoloog tot een interdisciplinaire voorstelling met dans door Milan Schudel en hemzelf als acteur. Tijdens 🌜Theaternacht 🌜(VR 31 MEI) laat hij alvast ...
Grand Theatre Groningen
Pros
Very unusual theater with great performances and nice coffee.