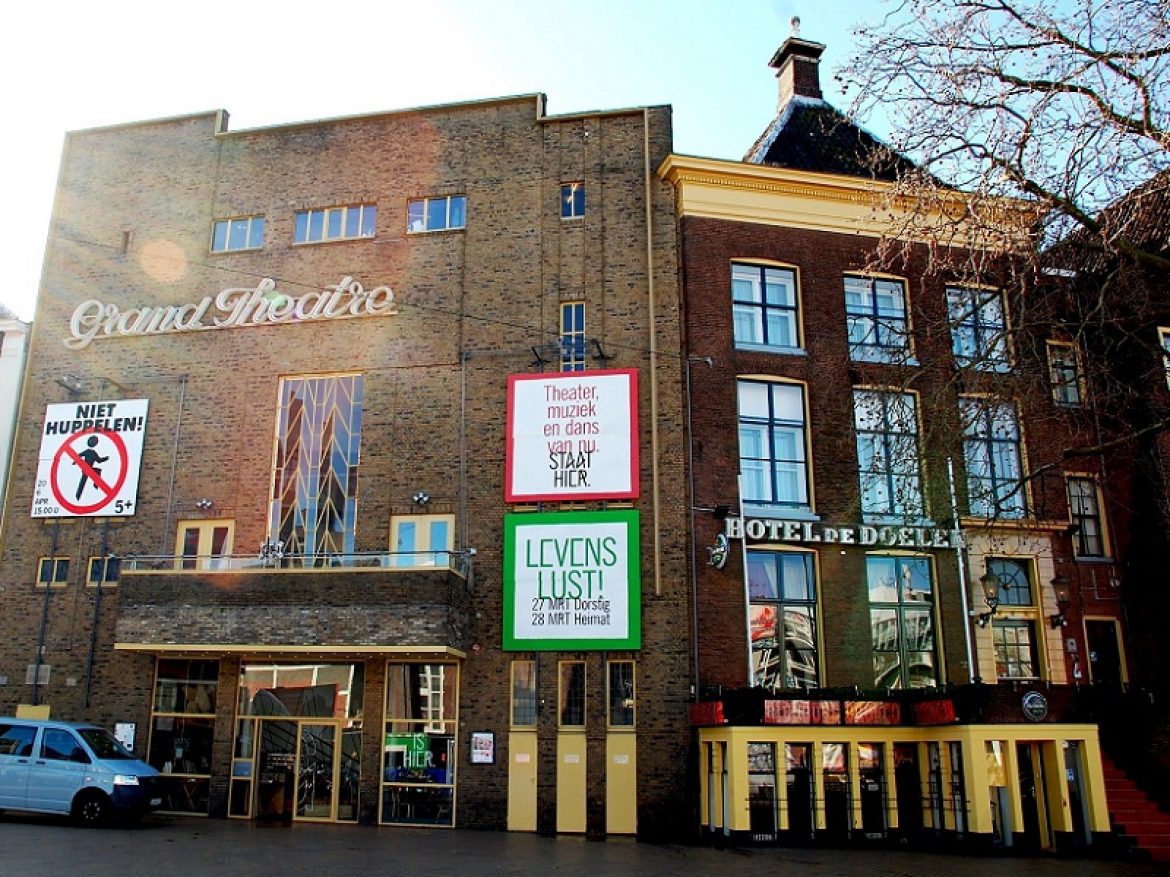 Grand Theatre Groningen
The Grand Theatre is a cultural building located in Groningen. Originally it was a movie theater. It was the fourth major movie theater in the city. It is the most beautiful theater in Groningen. The best shows, the best performers are here. The Grand Theatre was designed in 1929 by British architect G. Saville (1881-1973) in a style with elements of Art Deco. In particular, the facade is one of the few examples of Art Deco in Groningen. In 1994, Grand Theatre has been designated a national monument because of "its cultural, historical and architectural historical value" and for his "great significance for the Groninger cultural history" as a former movie theater. In the Netherlands, the grand theater is the fourth largest movie theater of the city of Groningen. It is unique, beautiful and affordable for everyone.
The Grand Theatre is located in the center of Groningen. In the theater's lobby, you can enjoy a nice cup of coffee or tea before the performance begins. The Grand Theatre offers performances and concerts for a wide and varied audience. The Grand Theatre on the Grote Markt in Groningen is a beautiful flat floor theater. The lower hall of the Grand Theatre has many possibilities and is therefore very popular among theater artists and visitors from around the world. This stunning, flexible theater is ideal for meetings, conferences, lectures and parties.
History
The Grand Theatre was built around 1930 on the Grand Place in the place where hotel The Seven Provinces stood. The Groningen has a pretty unique facade. From 1930 to 1977 the building serves as a movie theater with about 800 seats. Also it provided space for various performances. Famous names that have performed at the Grand include Lou Bandy, Wim Kan, Toon Hermans and André van Duin. After World War II the interior undergoes sagnificant changes. Competition with major cinema groups such as Wolff and Tuschinsky grows and Grand Theatre was closed in 1977, and the building was empty for three years. A plan to demolish the building for new construction does not appear feasible. In 1980 it was refurbished as "alternative culture palace". The building retained its original name. After the nationwide cuts to culture the Grand Theatre had difficulties in 2012, in March 2015 the foundation went bankrupt. A few months later the theater was put into use again.
Although the emphasis is on theater, music performances are from the beginning a substantial part of the theater program. In the early days there were playing local bands.
You can find more information on the official site: grandtheatregroningen.nl
Photos from Grand Theatre's post De laatste dag van de krokusvakantie betekent helaas ook de laatste dag van Krokus Kriebels Jeugdtheaterfestival 2018. Gelukkig kunnen we vandaag nog genieten van Korzo/Bram Jansen & Ryan Djojokarso - Jij bent 'm (6+), om 14.30 bij ons in Grand. ...

We krijgen fijn bezoek in maart! De Poolse theatermaker Janek Turkowski komt naar Groningen met twee van zijn voorstellingen. Hij is niet alleen bij ons in Grand Theatre te zien (met 'Smalfilm'). Ook gaat hij de wijk Beijum in met ...

Grand Theatre's cover photo "What's in a name!" verzucht Julia wanhopig. Voor haar gaat het er niet om hoe Romeo heet, maar om wie hij is. Deze maand zien wij wel iets in een naam. Wij hebben namelijk een hechte band met drie Jannen!

...

De Oosterpoort De eerste artiest voor 7 Layers Sessions - Grand Theatre op 26 maart is bekendgemaakt: Billie Marten! De pas 18-jarige singer-songwriter uit London staat al een tijdje op het netvlies van Dotan. Hij kan dan ook niet wachten om haar ...

Deze hele week staan De Oosterpoort, Stadsschouwburg Groningen en Grand Theatre nog in het teken van Krokus Kriebels Jeugdtheaterfestival 2018!

Met de sneeuw die buiten tegen het raam waait is het een fijn moment om morgenmiddag naar de Stadsschouwburg te ...

Weekend Break Festival Nog meer reden om uit te kijken naar de lente. Club Guy & Roni's Weekend Break Festival komt er weer aan. 🎉🎉 Op vrijdag 6 en zaterdag 7 april is het tijd voor een verrassend programma vol dans, theater, muziek, ...

Vanavond zie je de vaandeldrager van de elektronische jazz in Grand Theatre! De Noorse Bugge Wesseltoft speelt samen met drummer Christian Prommer een unieke mix van jazz, dance en elektronica.

Meer info & tickets: http://bit.ly/2DQGr5U.

GT Music: Bugge Wesseltoft & ...

Agrupación Señor Serrano Work in progress in onze mooie bovenzaal. De Spaanse groep Agrupación Señor Serrano is deze hele week bij ons in huis om te werken aan hun nieuwe voorstelling 'Kingdom'. Het ziet er veelbelovend uit!
Before the censorship of the arts, ...

Tussenland TIP! Vanaf morgen speelt 'Tussenland' van theatermaker Sijas de Groot i.s.m. De Peergroup, een bijzondere luisterwandeling langs de stadsrand van Groningen. Met een koptelefoon op ervaar je op meditatieve manier het grensgebied tussen stad en land en leer je vragen ...

Richard Bolhuis presents Performance in progress De Groningse muzikant en beeldend kunstenaar Richard Bolhuis is al sinds november bij ons te gast voor een langdurige werkperiode die in mei zal resulteren in een performance met zijn Nederlands-Ierse collectief House of Cosy Cushions​.

Op vrijdag 9 maart ...

De Poolse theatermaker Janek Turkowski liep in 2008 over een Noord-Duitse markt en stuitte op een doos met 64 rollen film (8mm). Op elke filmrol stonden beelden van dezelfde vrouw: Margeret Ruhbe. Janek raakte geïntrigeerd door de beelden: wie heeft ...

New Conception of Jazz (Live) Aanstaande vrijdag komt de vaandeldrager van de elektronische jazz naar Grand Theatre!

De Noorse Bugge Wesseltoft speelt een unieke mix van jazz, dance en elektronica. Samen met drummer Christian Prommer creëert hij een unieke live performance met vele improvisatie momenten.

...

Suze Milius / Het Zuidelijk Toneel - TALK SHOW "Een afscheid van al wat mooi was, een afscheid van mijn jeugd." - Suze Milius

In haar show 'TALK SHOW', bouwt regisseur Suze Milius een talkshow-studio op scène na, om dit symbool van het televisietijdperk te onderzoeken. Het is een ...

Vandaag is het alweer de tweede dag van Moving Futures Festival Groningen en er staan weer een aantal mooie voorstellingen op het programma. Zoals 'Transitioning Performance' van Connor Schumacher. Een kleurrijke wereld van projecties, muziek en beweging dat voelt als ...

Komend weekend in Grand Theatre: Moving Futures!

Op het programma staat onder andere de voorstelling 25 Feet van The 100Hands. Met een open en speelse houding nodigt dit duo het publiek uit onderdeel te worden van de voorstelling. Met tape ...

Jan Fedinger - land[e]scapes 3 ✨Joepie! Nog een nieuwe bevestiging voor maart!✨

Vorig seizoen was beeldend kunstenaar en (licht)ontwerper Jan Fedinger bij ons te gast om te werken aan zijn nieuwe installatie 'land[e]scapes 3'. Van 21 t/m 25 maart keert hij terug om de installatie ...

Kunst is geen fastfood. Of toch? Tussen 13 en 14 uur trek je niet alleen je eierbal, maar ook vrijkaartjes uit de snackmuur van onze buren. https://t.co/bUVtjtGp0J

Wie heeft al plaatsgenomen in 'facing faces'? Bezoek de installatie vanavond, morgen of overmorgen nog (gratis!). https://t.co/l1Phofh4qk

Mis je ons al? Wij jullie wel! Gelukkig start ons theaterseizoen bijna! Over twee weken is ons openingsweekend.
https://t.co/2lPUpUEDNO
Grand Theatre Groningen
Pros
Very unusual theater with great performances and nice coffee.