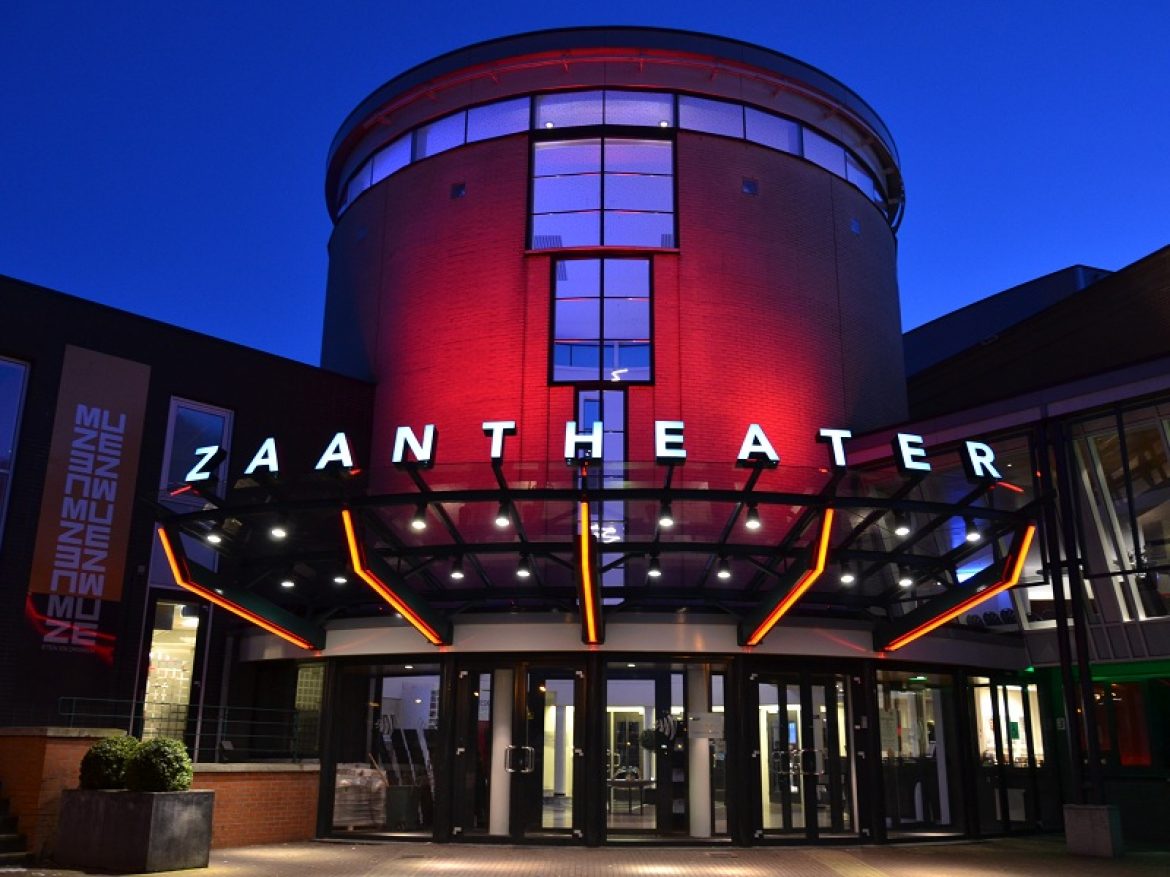 Het Zaantheater
Zaantheater is a regional theater with two halls and a large lounge with stunning views over the Zaan. Zaantheater was designed by the architects Wim Wester, Paul Carree and Jan Zijlstra. The theater is located in a prominent place on the river Zaan, right in the heart of Zaandam. On December 11, 1998 the Zaantheater was opened by Her Majesty Queen Beatrix. The theater offers approximately 275 theater productions per year, ranging from show and dance to opera and children's theater. There are family festivals, there are a lot of performances in the field of youth and young people. The Zaantheater is the cultural center of Zaandam. There are premieres of major national productions, but also projects for specific target groups such as the Children's Gala, Toddler Festival, the Festival of Classical Zaan Festival and Istanbul on the Zaan. There is a Tuesday afternoon series for anyone who would rather go out during the day, a Together Off Salon for anyone who prefers not just go out and many activities for children and youth. Zaantheater was proclaimed by the ANWB Explorers the most child-friendly theater in the Netherlands.
Zaantheater has two concert halls. A large hall can acommodate up to 890 people and a small hall that can acommodate up to 209 people. Both of them are equipped with theater lighting, sound and Flybar. The great hall (Albert Heijn Hall) has an orchestra pit for a large orchestra and a huge balcony. The small hall (Forbo Flooring Hall) has a collapsible stand with 209 seats. Zaantheater has its own restaurant where you can dine before the show. In the Zaantheater there are two meeting rooms, the Forbo Flotexzaal and the Junior Chamber. Zaantheater is a very suitable location for conferences, company presentations or meetings. It's not a typical conference resort, but an inspiring environment with a warm, welcoming atmosphere. The various rooms and spaces can be rented for events. Also amateur groups, ballet and music schools and primary and secondary schools rent Zaantheater for a final performance or presentation. Because what could be better than giving a presentation in a real theater?
For those who prefer to just go to the theater, there is the Zaantheater Samen Uit Salon. Samen Uit Salon is very simple. You buy a ticket for the show and one hour before you are welcome at the red couch in the lobby for free coffee or tea and something sweet.
Zaantheater is also a unique venue for corporate events, conferences, receptions and for performances by amateurs.
For more information click here: zaantheater.nl
Vanavond zou Dangerous Liaisons te zien geweest zijn in het @Zaantheater. Dat gaat niet door, net als alle andere theatervoorstellingen. Het NRC geeft een kijkje in de keuken: Hoeveel mensen houden zich eigenlijk bezig met één uitvoering?
https://t.co/EvKwtX8Jgn

Zin om vanmiddag iets leuks te doen met je (klein)kind? Kom naar het gratis toegankelijke familiefestival in het Zaantheater: het Grote Avonturenfestival van 13 tot 17 uur https://t.co/oS6pNbOISJ

Nina de la Parra staat dit weekend uitgebreid in @volkskrant Magazine. In december komt ze terug in het Zaantheater met haar voorstelling en aangezien ze nu overal is uitverkocht, kun je alvast kaarten kopen voor december 😉 https://t.co/QgeMkwi6zp

Wat was Zaans Zilver, het open podium voor 60+ers, een feestje zondagmiddag! Maar liefst 96 talenten stonden op ons podium! https://t.co/cmexjKscCi

Laatste kans om deze grootse mannen live in het theater te zien! Boudewijn de Groot, Henny Vrienten en George Kooymans komen donderdag 16 april voor het laatst naar het Zaantheater met Vreemde Kostgangers https://t.co/L37nwSscWO https://t.co/jS6KBS0LbF

Yes! Het allereerste concert van de Dolly Dots is bij ons! Woensdag 30 september - kom je ook? https://t.co/1JTJIdizQf

@Assie1601 @GemZaanstad Gelukkig is het Zaantheater vanaf de Provincialeweg en Hogendijk gewoon bereikbaar en dat blijft zo. Vanaf de Burcht kun je lopend of met de fiets de tijdelijke pontonbrug over die rechtstreeks naar het Zaantheater gaat. Dus we zien ...

Mooi verhaal over het ligconcert van Jeroen van Veen 'The Best of Einaudi' - zondagmiddag 5 april mag je liggen in het Zaantheater! https://t.co/PzOXmtTQFU

@Loussie_ Hoi Marlous, de kassa is vanaf 19u open, dus dan kun je even bellen of er nog kaarten teruggebracht zijn. Of je gaat gewoon heen en in de hal wachten, er zijn altijd mensen met een kaartje over. Succes!

Erg leuke en interessante talkshow in de foyer onder leiding van Margriet Brandsma voor aanvang van de voorstelling Gas van Toneelgroep Jan Vos. https://t.co/j7ybsILmin

We zoeken nieuwe collega's! Ben jij onze nieuwe Online Marketeer, Gebouwbeheerder of horecamedewerker?
https://t.co/KkZwWeRIuV

Wij feliciteren Schouwburg Amphion in Doetinchem en directeur Charles Droste met het winnen van de Theater van het Jaar-prijs van de VVTP!
Het Zaantheater
Pros
Good program and friendly staff.
Cons
Seats in the small hall are somewhat cramped. Small number of wheelchair spaces.