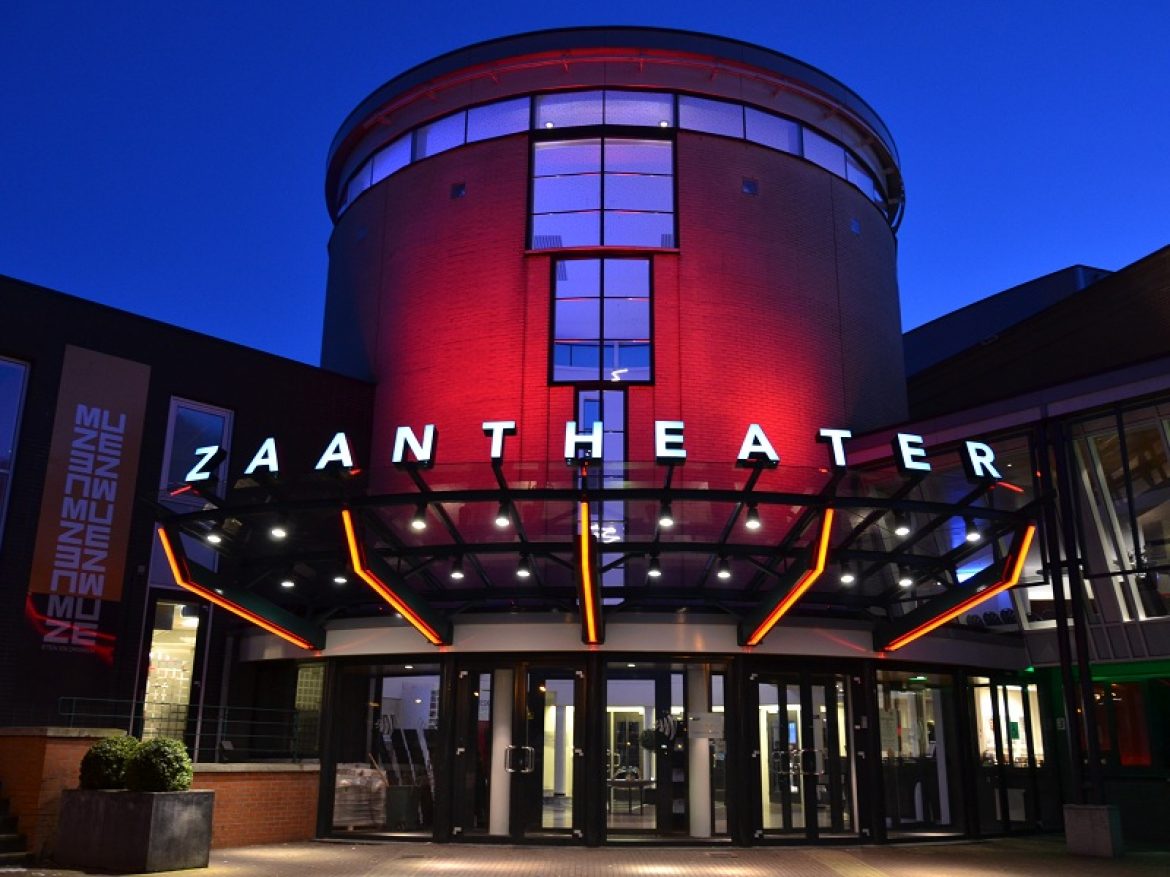 Het Zaantheater
Zaantheater is a regional theater with two halls and a large lounge with stunning views over the Zaan. Zaantheater was designed by the architects Wim Wester, Paul Carree and Jan Zijlstra. The theater is located in a prominent place on the river Zaan, right in the heart of Zaandam. On December 11, 1998 the Zaantheater was opened by Her Majesty Queen Beatrix. The theater offers approximately 275 theater productions per year, ranging from show and dance to opera and children's theater. There are family festivals, there are a lot of performances in the field of youth and young people. The Zaantheater is the cultural center of Zaandam. There are premieres of major national productions, but also projects for specific target groups such as the Children's Gala, Toddler Festival, the Festival of Classical Zaan Festival and Istanbul on the Zaan. There is a Tuesday afternoon series for anyone who would rather go out during the day, a Together Off Salon for anyone who prefers not just go out and many activities for children and youth. Zaantheater was proclaimed by the ANWB Explorers the most child-friendly theater in the Netherlands.
Zaantheater has two concert halls. A large hall can acommodate up to 890 people and a small hall that can acommodate up to 209 people. Both of them are equipped with theater lighting, sound and Flybar. The great hall (Albert Heijn Hall) has an orchestra pit for a large orchestra and a huge balcony. The small hall (Forbo Flooring Hall) has a collapsible stand with 209 seats. Zaantheater has its own restaurant where you can dine before the show. In the Zaantheater there are two meeting rooms, the Forbo Flotexzaal and the Junior Chamber. Zaantheater is a very suitable location for conferences, company presentations or meetings. It's not a typical conference resort, but an inspiring environment with a warm, welcoming atmosphere. The various rooms and spaces can be rented for events. Also amateur groups, ballet and music schools and primary and secondary schools rent Zaantheater for a final performance or presentation. Because what could be better than giving a presentation in a real theater?
For those who prefer to just go to the theater, there is the Zaantheater Samen Uit Salon. Samen Uit Salon is very simple. You buy a ticket for the show and one hour before you are welcome at the red couch in the lobby for free coffee or tea and something sweet.
Zaantheater is also a unique venue for corporate events, conferences, receptions and for performances by amateurs.
For more information click here: zaantheater.nl
@zaantheather dit is mijn foto met m'n kaartje voor furtjuh.live 27 oktober!✨
Hopelijk win ik de meet en Greet! Zou heel gaaf zijn!!!❤️

Ik ben karen boots geboren in zaandam 20_09_196_ ik heb in zaandam 2 jaar gewoond
Ik woon nu in zutphen ik ga 21 oktober naar henk poort ik zou hem als het kan ontmoeten

The Play That Goes Wrong NL Hebben jullie de pagina van The Play That Goes Wrong al ontdekt, vol heerlijke repetitievlogs? Als dat maar goed komt. Succes regisseur Bruun Kuijt!
Lijk spelen is ook een vak.
Zaantheater shared The Play That Goes Wrong NL's video.

Na een zomer vol restylen is het vanavond dan eindelijk zover: over een paar uur openen we officieel de deuren en heten we u van harte welkom bij de voorstelling Terror (try-out). Bent u er niet bij? Kom dan vooral ...

Photos from Zaantheater's post Vanochtend zocht Freek de Jonge in het Gemeentearchief foto's uit voor de tentoonstelling die in november te zien is in de publiekshal van het stadhuis. Vanmiddag hadden we samen met Filmtheater De Fabriek, Zaans Museum en het archief overleg over ...

Het is weer zover: onze geweldige vrijwilligers pakken de jeugdfolders in voor alle Zaanse basisschoolleerlingen. Een jaarlijkse megaklus, maar ook heel gezellig!

In het Oerwoud - Peuterfestival (van 1,5 tot 4 jaar) Extra bijgeboekt: De kaarten voor het Peuterfestival (van 1,5 tot 4 jaar) vliegen als broodjes over de toonbank. Daarom hebben we een extra voorstelling geboekt van Casier & Co – Moes op zondag 29 oktober om 11.45 uur. Kijk voor ...

Hebben jullie de nieuwste singel van Ridder van Kooten, Official Mylène & Rosanne al gezien en gehoord? Zo niet, zet dan gauw de televisie aan en kijken maar naar de Kids Top 20 op NPO Zapp#TinaDeMusical#première#Toekomst

The Fureys 2017 Promotie https://youtu.be/jB140tQten0
Er zijn nog enkele kaartjes voor concert Fureys van 2 november in de Forbo Flooringzaal, mis ze niet, deze geweldige muzikanten.
The Fureys van 2 tot 19 November 2017 in Nederland op tour. Voor meer informatie bekijk www.thefureys.nl

EXPO: Conny Janssen Danst 25 - Conny Janssen Danst Nog geen weekendplannen en hou je van dans? In de Kunsthal in Rotterdam is t/m 1 oktober een expositie te zien rond 25 jaar Conny Janssen Danst. Deel van de expo is een spannende video-installatie waarbij je het decor van ...

The Nation - marathonvoorstelling (5 uur) De prachtige en inspirerende actrice Romana Vrede is welverdiend genomineerd voor de Theo d'Or, de prijs voor de beste vrouwelijke hoofdrol in een toneelstuk. Aanstaande zondag, 17 september, vindt de prijsuitreiking plaats en op dinsdag 16 januari komt ze naar ...

Vorige week groots in het nieuws: Tineke Schouten maar liefst 35 jaar aan de top! Ook wij feliciteren haar van harte en kijken uit naar haar voorstelling T-Splitsing op vrijdag 10 november https://zaantheater.nl/tickets/tineke-schouten/

Het Nationale Theater Alle 37 stukken van Shakespeare met 1834 personages in één avond op het toneel, gespeeld door 3 acteurs. Ja, dat kan! Als je van razendsnelle komedie en slapstick houdt, komt dat zien. 4 sterren in de Volkskrant, vrijdag 13 oktober ...

Timeline Photos Wij zijn begonnen! Het gezellige Hembrug Happening met oa Theater Koekla. En we hebben prachtig weer! Kom je ook?

@maaike1561 ze worden doorlopend verstuurd. Je kunt 't beste even onze kassa mailen kaartverkoop@zaantheater.nl dan kunnen ze het nakijken

Wat een heerlijk weer voor het festival Hembrug Happening op het Hembrugterrein van 11-19u. Wij zijn er natuurlijk ook!

Het programma van Hembrug Happening is inmiddels bekend en natuurlijk zijn wij er ook! Zondag tussen 11.00 - 19.00 uur kun je bij ons komen relaxen in de zithoek, meedoen aan de quiz of speurtocht en natuurlijk komen kijken bij ...

De Zaanse Uitmarkt was supergeslaagd! Wat hebben veel Zaankanters weer zin in het nieuwe culturele seizoen. https://t.co/OTxnYA5L6O

Diplomauitreikingen Trias College in het Zaantheater Wat zien ze er mooi uit met hun hoeden! Gefeliciteerd allemaal! https://t.co/e4dtUYlL1c
Het Zaantheater
Pros
Good program and friendly staff.
Cons
Seats in the small hall are somewhat cramped. Small number of wheelchair spaces.