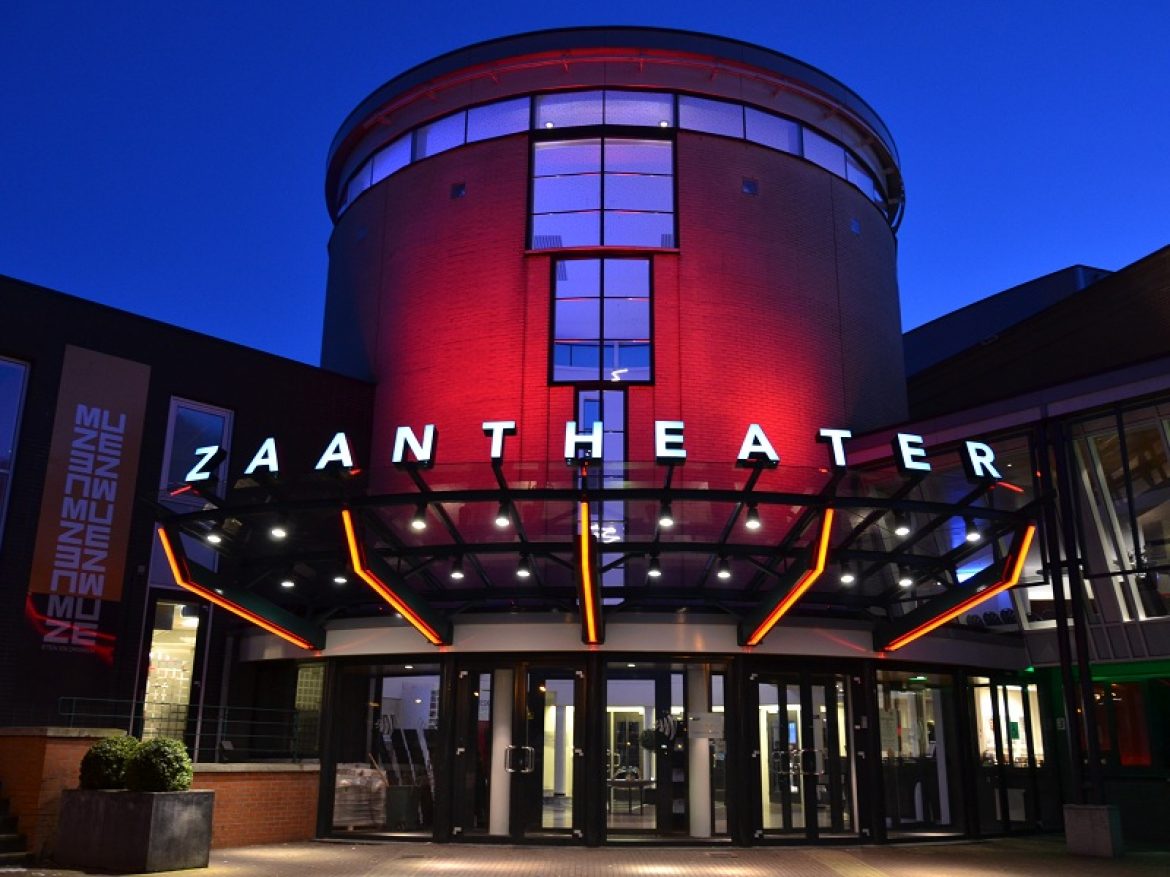 Het Zaantheater
Zaantheater is a regional theater with two halls and a large lounge with stunning views over the Zaan. Zaantheater was designed by the architects Wim Wester, Paul Carree and Jan Zijlstra. The theater is located in a prominent place on the river Zaan, right in the heart of Zaandam. On December 11, 1998 the Zaantheater was opened by Her Majesty Queen Beatrix. The theater offers approximately 275 theater productions per year, ranging from show and dance to opera and children's theater. There are family festivals, there are a lot of performances in the field of youth and young people. The Zaantheater is the cultural center of Zaandam. There are premieres of major national productions, but also projects for specific target groups such as the Children's Gala, Toddler Festival, the Festival of Classical Zaan Festival and Istanbul on the Zaan. There is a Tuesday afternoon series for anyone who would rather go out during the day, a Together Off Salon for anyone who prefers not just go out and many activities for children and youth. Zaantheater was proclaimed by the ANWB Explorers the most child-friendly theater in the Netherlands.
Zaantheater has two concert halls. A large hall can acommodate up to 890 people and a small hall that can acommodate up to 209 people. Both of them are equipped with theater lighting, sound and Flybar. The great hall (Albert Heijn Hall) has an orchestra pit for a large orchestra and a huge balcony. The small hall (Forbo Flooring Hall) has a collapsible stand with 209 seats. Zaantheater has its own restaurant where you can dine before the show. In the Zaantheater there are two meeting rooms, the Forbo Flotexzaal and the Junior Chamber. Zaantheater is a very suitable location for conferences, company presentations or meetings. It's not a typical conference resort, but an inspiring environment with a warm, welcoming atmosphere. The various rooms and spaces can be rented for events. Also amateur groups, ballet and music schools and primary and secondary schools rent Zaantheater for a final performance or presentation. Because what could be better than giving a presentation in a real theater?
For those who prefer to just go to the theater, there is the Zaantheater Samen Uit Salon. Samen Uit Salon is very simple. You buy a ticket for the show and one hour before you are welcome at the red couch in the lobby for free coffee or tea and something sweet.
Zaantheater is also a unique venue for corporate events, conferences, receptions and for performances by amateurs.
For more information click here: zaantheater.nl
Dennis van Aarssen & Bigband Wat je kunt verwachten bij Dennis van Aarssen? Een heerlijke liedjesavond waarin The voice of Holland 2019-winnaar zijn publiek meeneemt in een muzikale reis vol herkenbare en memorabele momenten uit de rijke muziekhistorie. Voor wie alvast wil proeven van zijn ...

Hoera, #vakantie! Van vandaag t/m 26 augustus is het Zaantheater gesloten en zijn wij met vakantie! Gedurende deze periode zijn wij zowel telefonisch als via social media niet bereikbaar. U kunt wel een e-mail sturen naar [email protected] Deze inbox wordt ...

Het Huwelijk Huub Stapel speelde eerder de zeer succesvolle voorstelling 'Mannen komen van Mars, Vrouwen van Venus' en komt in februari terug met de solovoorstelling 'Het Huwelijk', een pijnlijk grappige voorstelling voor iedereen die getrouwd is, getrouwd is geweest, nooit getrouwd is, ...

The Summer of Love Kom op donderdag 19 september genieten van muziek uit vervlogen tijden: 'The Summer of Love'. Maak die legendarische zomer uit 1967 (opnieuw) mee. Ondersteund door originele filmbeelden brengt een live-band nummers als: 'California Dreaming,' 'San Francisco,' 'Turn Turn, Turn,' 'Somebody ...

Reunited Komende zaterdag 6 juli start de kaartverkoop voor Reunited 'special edition'. Tussen 9.00 en 17.00 uur kun je Early Birds tickets bestellen. De Early Birds zijn enkel te verkrijgen via onze webite of bij Hair4U. Ze zijn slechts € 15 ...

WAD Live - Openingsvoorstelling Zaantheater We beginnen in september het nieuwe theaterseizoen goed met de muzikale filmhommage aan de rauwe en pure schoonheid van de Nederlandse wadden, WAD LIVE. In deze voorstelling wordt de Gouden Film 'WAD, overleven op de grens van water en land' ...

Nog maar 5 dagen om een van de 5 overheerlijke bierpakketten van Brouwerij Hoop te winnen. Koop vóór vrijdag 5 juli 10 uur kaarten voor T Schaep de musical, en maak direct kans. Zorg dat je deze actie niet misloopt!
...

't Bier vloeit rijkelijk in Café 't Schaep! Wij mogen vijf heerlijke bierpakketten van Brouwerij Hoop weggeven. Koopt u tussen vrijdag 28 juni en vrijdag 5 juli 10.00 uur kaarten voor de voorstelling T Schaep met de 5 Pooten in ...

NIEUWS! Zojuist is bekend geworden dat de voorstelling GAS van Toneelgroep Jan Vos i.s.m. NNT - Noord Nederlands Toneel is geselecteerd voor het prestigieuze Nederlands Theater Festival waar de beste voorstellingen van afgelopen theaterseizoen te zien zijn. Komend seizoen te ...

Lezen, schrijven, luisteren, praten en heel veel water drinken...vandaag ontvingen wij Stichting Lezen & Schrijven in het Zaantheater. De grote groep vrijwilligers konden diverse workshops volgen, en dat op deze warme dag! Maar aandacht voor laaggeletterdheid...is enorm belangrijk!

Vandaag zou George Michael 56 jaar zijn geworden. Wij missen hem nog steeds, maar gelukkig is daar Charly Luske die met zijn band op vrijdag 27 september een ode brengt aan de illustere zanger en zijn onstuimige leven. Met onvergetelijke ...

RUMAG Met bijna een miljoen volgers is #Rumag hét lifestylemerk van Nederland. Tijdens deze theaterversie ben je als bezoeker onderdeel van een show waarin de grenzen worden opgezocht. Wat kan nog net? En wat absoluut niet? Kaarten via https://zaantheater.nl/tickets/rumag
De theaterversie ...

Heb je nog geen kaarten voor de voorstelling 'History of Musical'? 13 musicalperformers in de leeftijd van 16 t/m 26 jaar, allen afkomstig uit Zaanstad en omstreken, bedachten en produceerden dit concert. En ze voeren het zelf uit. Doen dus! ...

GRATIS af te halen: Heb je altijd al een poster van een voorstelling boven je bed willen hangen? Buurman en Buurman, Jan Smit, 3JS, Evita... Vanaf 16u kun je ze ophalen bij het Zaantheater! OP=OP!
Zaantheater is looking for a ...

Kom vanmiddag jouw favoriete poster ophalen in het Zaantheater! Welke kies jij?
Zaantheater was live — looking for a date night at Zaantheater.

Waylon Vanavond komt zanger Waylon Music langs bij DWDD Summerschool, 21.35 uur op NPO 1, waarin hij zal vertellen over een aantal van zijn grote idolen. Allemaal typische outlaws uit de wereld van de countrymuziek.

Zondag 15 december brengt hij met ...

Gratis theaterposters uitzoeken Aanstaande donderdag 20 juni tussen 16.00 en 17.00 uur is het weer postermiddag. En dat betekent gratis theaterposters uitzoeken van je favoriete artiest! Leuk voor boven je bed of voor in de kinderkamer. Kom je ook even langs?
Het is ...

History of Musical History of Musicals neemt u mee door de rijke historie van musicals. Bekende musicalnummers worden gebracht door 13 getalenteerde jongeren afkomstig uit Zaanstad en omstreken. Met deze voorstelling wordt het festival van iktoon de Zaanstreek in samenwerking met @FluXusZaanstad officieel ...

'We benne op de wereld om mekaar, om mekaar, te helpen nietwaar?" Wie kent ze niet: de heerlijke personages uit 't Schaep met de 5 Pooten''. Kom alvast in de stemming met de trailer!

Ik sta op de Zaanse Kinderboekenmarkt op de Zaanse Schans met de stand van het Zaantheater. Kom je ook langs? https://t.co/iTLiD3zDio

Teams kunnen zich vanaf 1 juni inschrijven voor de Grote Zaanse Geschiedenis Quiz in het @Zaantheater! Wie gaf de allereerste voorstelling in het Zaantheater? Wat is een affuit? Zomaar wat vragen uit de vorige editie. Inschrijven doe je via @ZaansErfgoed ...

Benieuwd waar al die drukte rond t @zaantheater vandaan komt? Vandaag en morgen bezoeken meer dan duizend scholieren de musical Het Geheim van de Zaanstreek! https://t.co/P3yDf10lIV

Twee mooie plaatsen teruggekomen voor verder helemaal uitverkochte @HenryvanLoon vanavond om 20.30u in het Zaantheater. Grijp je kans en bel snel met onze kassa: 075-6555 302

Vanaf 10 uur start de kaartverkoop voor de Vrienden, donderdag 16 mei mag iedereen bestellen. Onze helpdesk zit klaar! https://t.co/FRdQCkVtFJ
Het Zaantheater
Pros
Good program and friendly staff.
Cons
Seats in the small hall are somewhat cramped. Small number of wheelchair spaces.