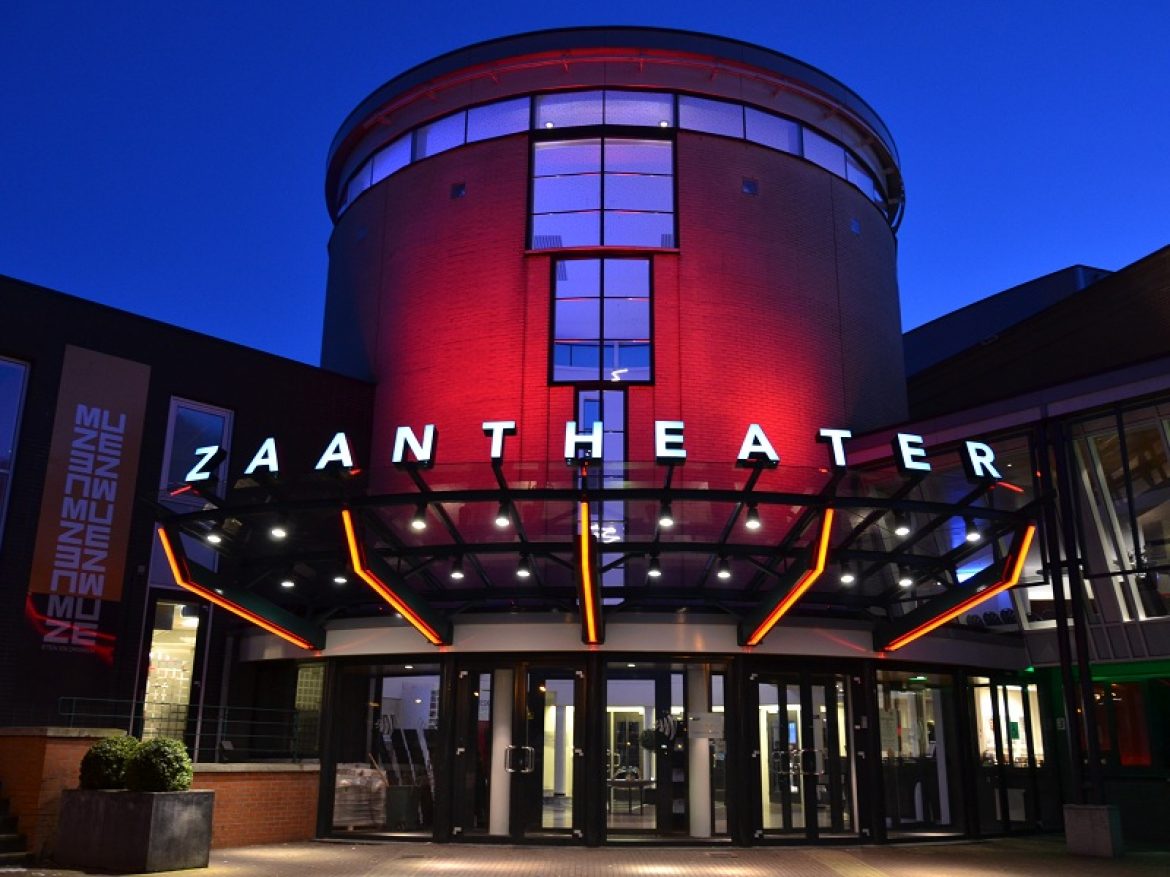 Het Zaantheater
Zaantheater is a regional theater with two halls and a large lounge with stunning views over the Zaan. Zaantheater was designed by the architects Wim Wester, Paul Carree and Jan Zijlstra. The theater is located in a prominent place on the river Zaan, right in the heart of Zaandam. On December 11, 1998 the Zaantheater was opened by Her Majesty Queen Beatrix. The theater offers approximately 275 theater productions per year, ranging from show and dance to opera and children's theater. There are family festivals, there are a lot of performances in the field of youth and young people. The Zaantheater is the cultural center of Zaandam. There are premieres of major national productions, but also projects for specific target groups such as the Children's Gala, Toddler Festival, the Festival of Classical Zaan Festival and Istanbul on the Zaan. There is a Tuesday afternoon series for anyone who would rather go out during the day, a Together Off Salon for anyone who prefers not just go out and many activities for children and youth. Zaantheater was proclaimed by the ANWB Explorers the most child-friendly theater in the Netherlands.
Zaantheater has two concert halls. A large hall can acommodate up to 890 people and a small hall that can acommodate up to 209 people. Both of them are equipped with theater lighting, sound and Flybar. The great hall (Albert Heijn Hall) has an orchestra pit for a large orchestra and a huge balcony. The small hall (Forbo Flooring Hall) has a collapsible stand with 209 seats. Zaantheater has its own restaurant where you can dine before the show. In the Zaantheater there are two meeting rooms, the Forbo Flotexzaal and the Junior Chamber. Zaantheater is a very suitable location for conferences, company presentations or meetings. It's not a typical conference resort, but an inspiring environment with a warm, welcoming atmosphere. The various rooms and spaces can be rented for events. Also amateur groups, ballet and music schools and primary and secondary schools rent Zaantheater for a final performance or presentation. Because what could be better than giving a presentation in a real theater?
For those who prefer to just go to the theater, there is the Zaantheater Samen Uit Salon. Samen Uit Salon is very simple. You buy a ticket for the show and one hour before you are welcome at the red couch in the lobby for free coffee or tea and something sweet.
Zaantheater is also a unique venue for corporate events, conferences, receptions and for performances by amateurs.
For more information click here: zaantheater.nl
Wat is het beste theaterrestaurant van Nederland? Dat is natuurlijk MUZE eten & drinken van het Zaantheater. Stem en stuur vóór maandag 27 mei uw favoriete top 3 naar [email protected] en maak kans op een diner voor twee bij het ...

Wij feliciteren Rosalie Kats als beste student en Tuna Kinik als beste docent van het Regio College Zaandam.
Regiocollegeuitblinker...het was een zeer geslaagde avond! Iedereen heeft genoten van het spetterende optreden van Kimberly (Voice of Holland) en uiteraard van de ...

Het belooft een spannende avond te worden in het Zaantheater. Vol trots ontvangen wij het ROC Regio College Zaandam. In onze theaterzaal vindt de verkiezing van beste student en beste docent van het jaar plaats tijdens het Uitblinkersgala. Wat een ...

JB Meijers is een van Nederlands bekendste muzikanten. Het grote publiek leerde hem kennen als lid van The Common Linnets en De Dijk. Hij speelde en produceerde jarenlang met bands als Acda en De Munnik, Go Back To The Zoo, ...

Gaat u 22, 23, 27 of 28 mei naar een voorstelling in het Zaantheater?
Kom dan vooraf een hapje eten in ons theaterrestaurant MUZE-eten en drinken!

We serveren op deze vier avonden een Proeverijmenu voor €21,50 per persoon. Het menu ...

Gemaakt door en voor iedereen uit de Zaanstreek: de FluXusZaanstad familiemusical 'Het Geheim van de Zaanstreek', het verhaal van weversdochter Brechtje en de dramatische en verborgen geschiedenis van de Zaanstreek. Houd je van de Zaanstreek, dan moet je hier natuurlijk ...

Afgelopen donderdag opende koningin Máxima de nieuwe werf van Feadship in de Amsterdamse haven. Vandaag haakte onze burgemeester daarop in en verwelkomde samen met het kapiteinskoor de vloot. Het Zaantheater verzorgde een 'walking lunch' op de pier, heerlijk in het ...

De kaartverkoop voor de Vrienden van het Zaantheater is nu begonnen! Wij zijn er klaar voor!

Vanaf 10 uur start de kaartverkoop voor de Vrienden, donderdag 16 mei mag iedereen bestellen. Onze helpdesk zit klaar! https://t.co/FRdQCkVtFJ

Nog vier nachtjes slapen en dan is het zover: de START van kaartverkoop seizoen 2019-2020 van het Zaantheater!

Donderdag 16 mei om 10.00 uur

The Bridges of Madison County Wie de film met Meryl Streep en Clint Eastwood heeft gezien, mag The Bridges of Madison County als musical niet missen. Wie van musical houdt, mag deze ontroerende musical óók niet missen. Eigenlijk mag je deze parel uit het musicalrepertoire ...

Janne Schra put uit haar hele oeuvre van van Room Eleven en Schradinova tot haar solowerk en weer terug. In een intieme bezetting klinken haar lievelingsnummers als in een rokerig klein theatertje in #Parijs in de jaren '60 of een ...

Timeline Photos Ons nieuwe MUZEterras aan het water is gisteravond geopend door de cast van Single Camping, de kampeerkomedie! Kom je als straks het zonnetje weer doorbreekt ook heerlijk barbecueën vanavond? Daarna kun je ook deze avond nog genieten van deze vrolijke ...

Voor een uitverkochte Albert Heijnzaal presenteerde programmeur Kim Muller 6 mei het nieuwe seizoen. Het was een feestelijke theateravond en wat kwamen er een hoop spannende, grappige, ontroerende, mooie en spectaculaire voorstellingen voorbij. Dat belooft weer een heerlijk theaterjaar te ...

✦ MOEDERDAGACTIE ✦
Verwen je moeder en bestel tussen dinsdag 7 en zondag 12 mei kaarten voor Kinky Boots de musical. Je krijgt dan op vertoon van je aankoopbewijs bij de Douglas Zaandam een luxe Estée Lauder Nederland toilettas (mét ...

Vanavond de presentatie van het nieuwe seizoen Kims Keuze Live helemaal uitverkocht! Maar het is ook te volgen via een livestream: https://t.co/v5TBrolYfZ

Vanavond vanaf 21 uur is er Theater Na de Dam in het Zaantheater: Café Chantant. Loop binnen in onze foyer en geniet van prachtige liedjes https://t.co/SVdxBp5Ulh

@3112cvdsteen Hoi Christel, sorry voor m'n enorm late reactie, maar je hoeft e-tickets niet te printen, we kunnen ze ook op je telefoon bekijken. Tot ziens in het Zaantheater!

We hebben vanavond nog twee hele mooie plaatsen in de zaal vrij bij een verdere helemaal uitverkochte Night Fever BeeGees Tribute! Bel snel met de kassa op 075 - 6 555 333. https://t.co/lWeGfvvyTJ

Boeken, oude foto's, een tafel met drie stoelen, poëzie, muziek en mooie gesprekken.
Om vier uur bent u van harte welkom in het @zaantheater voor de literaire salon @mensdurftelezen.
Over vader Simon en zoon Herman Gorter en mét William Spaaij ...

We hebben nog 2 mooie plaatsen voor Daniël Arends vanavond! Bel nu met 075-6555301 en heb een superleuke avond!
Het Zaantheater
Pros
Good program and friendly staff.
Cons
Seats in the small hall are somewhat cramped. Small number of wheelchair spaces.