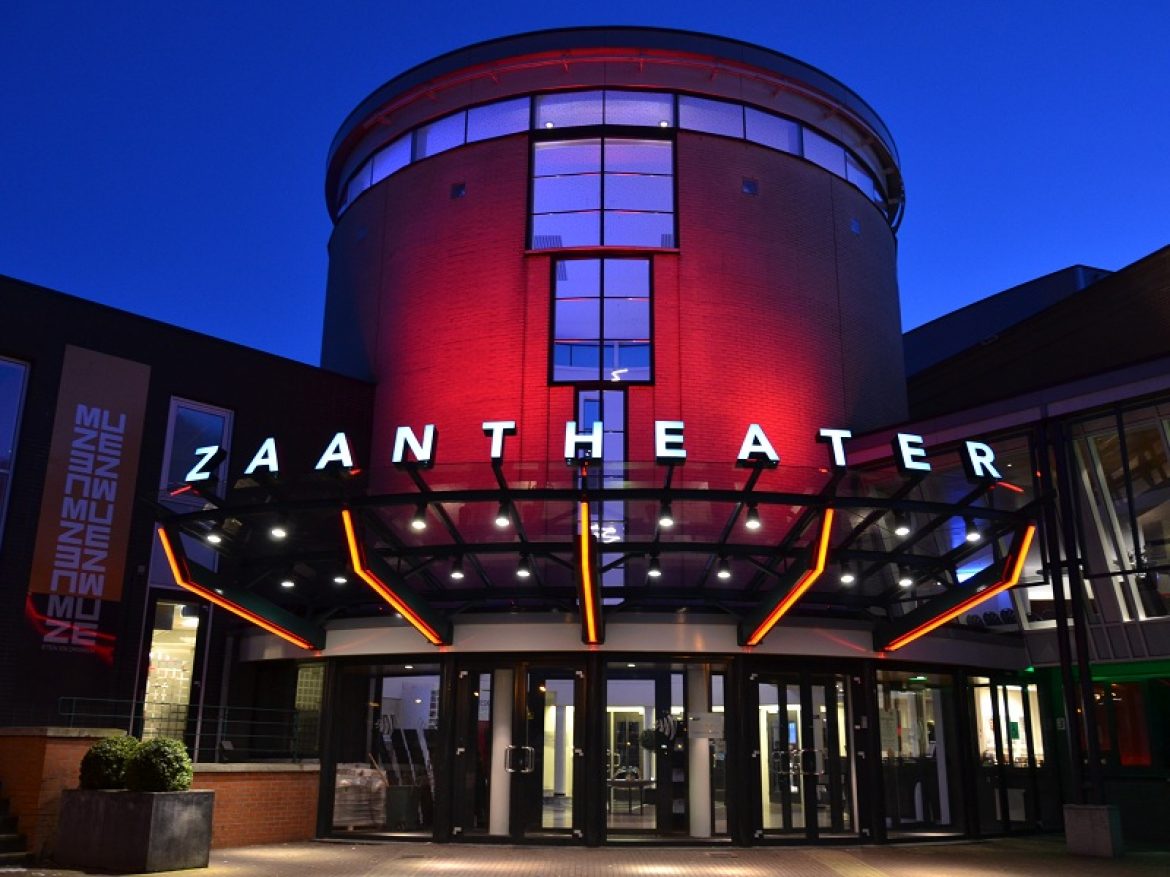 Het Zaantheater
Zaantheater is a regional theater with two halls and a large lounge with stunning views over the Zaan. Zaantheater was designed by the architects Wim Wester, Paul Carree and Jan Zijlstra. The theater is located in a prominent place on the river Zaan, right in the heart of Zaandam. On December 11, 1998 the Zaantheater was opened by Her Majesty Queen Beatrix. The theater offers approximately 275 theater productions per year, ranging from show and dance to opera and children's theater. There are family festivals, there are a lot of performances in the field of youth and young people. The Zaantheater is the cultural center of Zaandam. There are premieres of major national productions, but also projects for specific target groups such as the Children's Gala, Toddler Festival, the Festival of Classical Zaan Festival and Istanbul on the Zaan. There is a Tuesday afternoon series for anyone who would rather go out during the day, a Together Off Salon for anyone who prefers not just go out and many activities for children and youth. Zaantheater was proclaimed by the ANWB Explorers the most child-friendly theater in the Netherlands.
Zaantheater has two concert halls. A large hall can acommodate up to 890 people and a small hall that can acommodate up to 209 people. Both of them are equipped with theater lighting, sound and Flybar. The great hall (Albert Heijn Hall) has an orchestra pit for a large orchestra and a huge balcony. The small hall (Forbo Flooring Hall) has a collapsible stand with 209 seats. Zaantheater has its own restaurant where you can dine before the show. In the Zaantheater there are two meeting rooms, the Forbo Flotexzaal and the Junior Chamber. Zaantheater is a very suitable location for conferences, company presentations or meetings. It's not a typical conference resort, but an inspiring environment with a warm, welcoming atmosphere. The various rooms and spaces can be rented for events. Also amateur groups, ballet and music schools and primary and secondary schools rent Zaantheater for a final performance or presentation. Because what could be better than giving a presentation in a real theater?
For those who prefer to just go to the theater, there is the Zaantheater Samen Uit Salon. Samen Uit Salon is very simple. You buy a ticket for the show and one hour before you are welcome at the red couch in the lobby for free coffee or tea and something sweet.
Zaantheater is also a unique venue for corporate events, conferences, receptions and for performances by amateurs.
For more information click here: zaantheater.nl
VAMOS Ter voorbereiding op Vamos! - de musicalcomedy heeft Rick Engelkes Producties - REP Lenette van Dongen, Carolina Dijkhuizen en Cystine Carreon alvast op stage gestuurd gestuurd naar Spanje. Wij zijn heel benieuwd wat ze hebben geleerd!
Zaantheater shared VAMOS's post.

Photos from Zaantheater's post Vandaag zijn wij aanwezig op de Zaanse Schans bij de Zaanse Kinderboekenmarkt! Kom quizen en maak kans op vrijkaarten voor een jeugdvoorstelling van het nieuwe theaterseizoen. Zien we je daar?
Zaantheater added 3 new photos.

Luistertip: vandaag tussen 12.00 en 14.00 uur zijn Tom de Ket en George van Houts Theatermaker Acteur Activist te gast bij het Radioprogramma Spijkers met Koppen (Radio 2) om te vertellen over de nieuwe voorstelling De Verleiders - Stem Kwijt ...

@nicolec42 mmm, dat is gek, dat zou niet moeten. Het handigst is om even te mailen naar info@zaantheater.nl, dan kunnen ze het voor je nakijken.

Ik dacht vanavond naar een heerlijk avondje cabaret te gaan. Wat een teleurstelling. Ipv een avondje lachen zat ik naar iets te kijken wat op een voorstelling moest lijken. Ik vond de scherpheid en de humor van Micha Wertheim in ...

Zaantheater De kaartverkoop voor de maar liefst 253 nieuwe voorstellingen die na de zomer in het Zaantheater te zien zijn, is gestart!

Waar ga jij heen?

Vanavond in onze kleine zaal cabarettalent @kikischippers om 20.30u Je kunt er nog bij zijn!

Er zijn nog 6 plaatsen vrijgekomen voor het verder uitverkochte U2-concert van de @driejs 'Joshua Tree' vanavond! Bel snel: 075-6555 333

Er zijn nog een paar mooie zaalplaatsen vrijgekomen voor Yamato volgende week woensdag 24 mei, boek snel! https://t.co/6TeVOzP2za

Timeline Photos De kaartverkoop is begonnen, wij zijn klaar voor het nieuwe theaterseizoen! Bij welke voorstellingen mogen we u begroeten?

FluXusZaanstad Het was inderdaad een prachtverjaardag gister! Wat een talent hebben we toch in de Zaanstreek!
Zo'n verjaardag willen we allemaal wel!

Vandaag trad heel veel talent op in het Zaantheater voor 'de verjaardag van oma'. Dat was het thema van ...

Krijg de melding dat ik een ongeldig emailadres heb ingevoerd om te kunnen bestellen als vriend. Volgens mij is het emailadres correct. Zijn er problemen?

het is 10:00 uur geweest. ik ben vriend van het Zaantheater. inloggen? mooi niet. ook dit jaar weer niet soepel....

Zaanstormend Vandaag om 15.30 uur zijn meer dan 100 Zaanse talenten te zien met Zaanstormend. Meld je voor een voorproefje alvast aan op Snapchat en volg onze reporters!
VANDAAG is het zo ver! Meer dan 100 Zaanse talenten staan op het ...

In mei leggen alle vogels een ei! Leuke actie van N.E.W.S., bij ons te zien op zaterdag 28 oktober. Help mee om Lina te laten bewegen, trommelen en dansen. Tot en met 18 mei krijg je bij een donatie van € 25 N.E.W.S. percussie-eieren.
Dat geldt ook ...

Spannend! Zijn jullie er al klaar voor? Vanavond om 21.00 uur zingen de zussen van OG3NE 'Lights and Shadows'. Wij verheugen ons al op dit prachtige optreden en zullen zeker duimen voor een finaleplaats #Eurovisie Songfestival#Three Times a Lady | ...

voorverkoop jochem myjer loopt niet!!!! site verwijst steeds terug naar startpagina!!!1

Kims Keuze Live 2017 Het was een feestje!
Kims Keuze Live: presentatieavond over seizoen 2017-2018.
Foto's: Bart Homburg.
Zaantheater added 24 new photos to the album: Kims Keuze Live 2017 — with Andreas Suntrop and Joost Spijkers.
Het Zaantheater
Pros
Good program and friendly staff.
Cons
Seats in the small hall are somewhat cramped. Small number of wheelchair spaces.