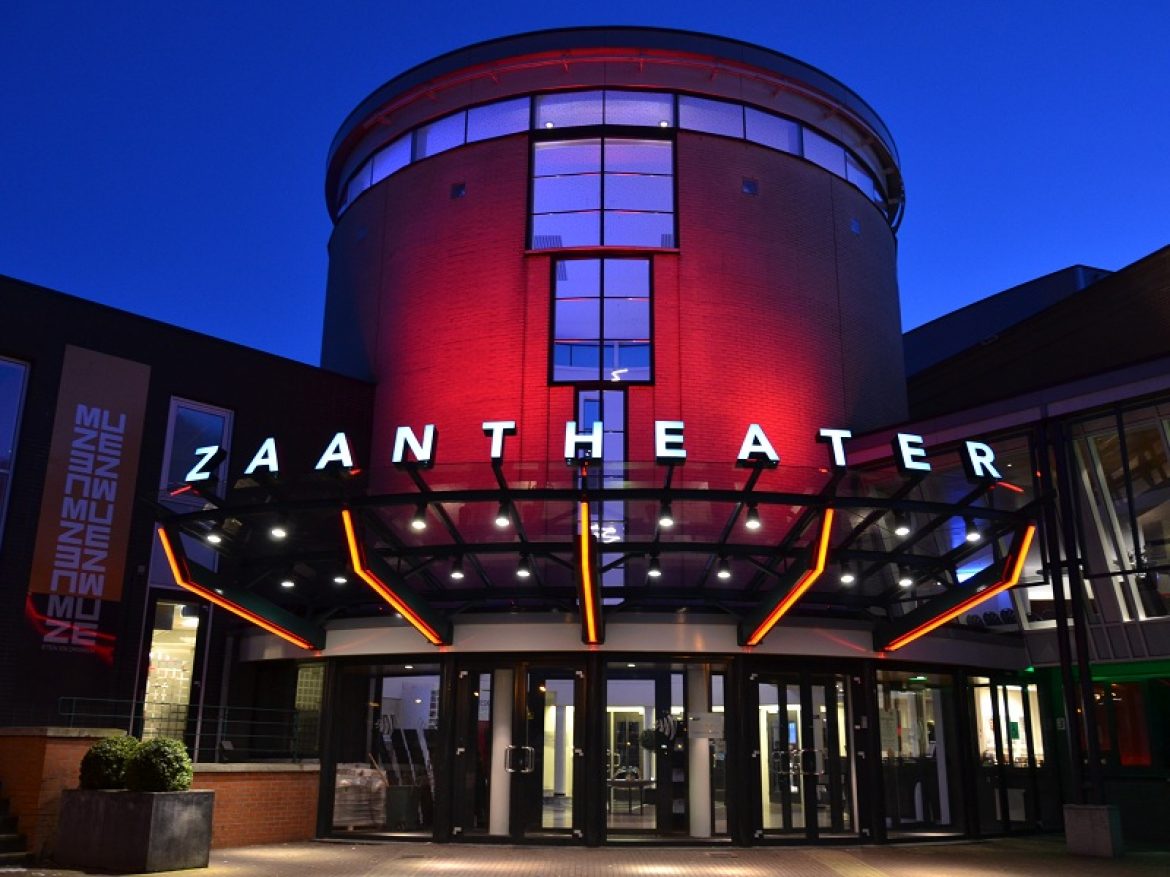 Het Zaantheater
Zaantheater is a regional theater with two halls and a large lounge with stunning views over the Zaan. Zaantheater was designed by the architects Wim Wester, Paul Carree and Jan Zijlstra. The theater is located in a prominent place on the river Zaan, right in the heart of Zaandam. On December 11, 1998 the Zaantheater was opened by Her Majesty Queen Beatrix. The theater offers approximately 275 theater productions per year, ranging from show and dance to opera and children's theater. There are family festivals, there are a lot of performances in the field of youth and young people. The Zaantheater is the cultural center of Zaandam. There are premieres of major national productions, but also projects for specific target groups such as the Children's Gala, Toddler Festival, the Festival of Classical Zaan Festival and Istanbul on the Zaan. There is a Tuesday afternoon series for anyone who would rather go out during the day, a Together Off Salon for anyone who prefers not just go out and many activities for children and youth. Zaantheater was proclaimed by the ANWB Explorers the most child-friendly theater in the Netherlands.
Zaantheater has two concert halls. A large hall can acommodate up to 890 people and a small hall that can acommodate up to 209 people. Both of them are equipped with theater lighting, sound and Flybar. The great hall (Albert Heijn Hall) has an orchestra pit for a large orchestra and a huge balcony. The small hall (Forbo Flooring Hall) has a collapsible stand with 209 seats. Zaantheater has its own restaurant where you can dine before the show. In the Zaantheater there are two meeting rooms, the Forbo Flotexzaal and the Junior Chamber. Zaantheater is a very suitable location for conferences, company presentations or meetings. It's not a typical conference resort, but an inspiring environment with a warm, welcoming atmosphere. The various rooms and spaces can be rented for events. Also amateur groups, ballet and music schools and primary and secondary schools rent Zaantheater for a final performance or presentation. Because what could be better than giving a presentation in a real theater?
For those who prefer to just go to the theater, there is the Zaantheater Samen Uit Salon. Samen Uit Salon is very simple. You buy a ticket for the show and one hour before you are welcome at the red couch in the lobby for free coffee or tea and something sweet.
Zaantheater is also a unique venue for corporate events, conferences, receptions and for performances by amateurs.
For more information click here: zaantheater.nl
Fieperdepiep Festival & Prentenboekjes Festival *Winactie*!
Aankomende zondag 2 april staat het theater in het teken van het Fieperdepiep Festival met de leukste activiteiten en voorstellingen voor kinderen vanaf 2 jaar en er worden kaarten verloot voor de Fiepbus (4+). Kans maken? Lees gauw verder!
...

Geslaagde Theater Salon gistermiddag in het Zaantheater

Kim Muller en Bruun Kuijt weten er altijd weer een feestje van te maken

De zaal zat bom vol

@Nasrdin_Dchar Prachtige en ontroerende voorstelling gisteravond. Had na afloop behoefte om het hele Zaantheater te knuffelen. Dank je man.

Chiem Vreeken speelt Edmond in 'Lear' van de Toneelmakerij Dit is Chiem. Chiem speelt de rol van Edmond in de voorstelling 'Lear' van de Toneelmakerij. Een vereenvoudigde versie van een stuk van Shakespeare dat zeer goed is ontvangen door de pers: ''Voor de zoveelste keer laat regisseur Liesbeth Colthof ...

@petermid en dan krijg je alle tickets die je nog hebt staan meteen gemaild door onze kassa. Sorry voor het ongemak! En tot binnenkort weer bij ons!

@petermid Je krijgt voortaan je e-tickets meteen gemaild. Als je nu nog kaarten in Mijn Theater hebt staan, kun je even mailen met info@zaantheater.nl

De Dijk Gisteravond waren ze te zien in DWDD, vrijdag 14 april staan ze in het Zaantheater: De Dijk. Zij presenteren hun nieuwe album Groef. Kijk voor meer informatie en kaarten op https://zaantheater.nl/tickets/de-dijk/
Fotografie: Bob Bronshoff
Overal in het Nederlandse muzieklandschap heeft ...

Gratis: 29 Maart, Zaantheater vanaf 15:00.
Maakt Geld Gelukkig: Zaanse jongeren informeren over omgaan met geld.
https://t.co/Kugpz12tqU

Ila van der Pouw Tip voor het gezin: Aankomende zondag komt Roald Dahls meesterwerk 'De Grote Vriendelijke Reus' naar het Zaantheater. Een reuzespektakel voor alle kinderen vanaf 6 jaar! De voorstelling van 14.00 uur is zo goed als uitverkocht, maar om 16.00 uur is ...

Goedemorgen, de website ligt er al vanaf zondag uit. Ik hoop dat jullie dit lezen.

Timeline Photos Dag 2 van de audities van Tina de musical van Homemade Productions. 600 jongens en meiden over de vloer dit weekend. Toitoitoi allemaal!

Onderhuids kokend toneelspel Heeft u afgelopen week de kranten gelezen? Hedda Gabler van Theater Utrecht stond volop in het nieuws en werd beloond met een grote hoeveelheid aan sterren. Het Parool **** vond Hedda Gabler ''genadeloos, maar levensecht''. De voorstelling is vanavond om ...

50% lastminute-korting | Zaantheater Jongelui onder de 30 jaar opgelet: Vanavond en morgen hebben wij drie te gekke voorstellingen voor jullie in petto die je met maar liefst 50% korting kunt bezoeken. Kom vanavond om 19.30 uur naar Danstheater Aya & DOX - Guerrilla ...

Photos from Zaantheater's post Het is groot feest hier in het Zaantheater bij het Grote Avonturenfestival! Nog tot 17.00 uur kun je meedoen aan alle leuke activiteiten: dansen, toneelspelen, ponyrijden, een avonturenanimatie maken, meekneden aan de grote kneedreus en nog veel meer!
Zaantheater added ...

Podium De Flux Vorig jaar stond Dirk Scheele bij ons in het theater met de voorstelling 'Pepernotenpret'. Op zaterdag 18 maart komt hij terug naar Zaandam en speelt hij 'Op stap met Dirk Scheele, gaan jullie mee?' in DE FLUX. De show van ...

Timeline Photos Wat gaaf! De voorbereidingen voor Into The Woods - met Paul Groot, Lone van Roosendaal e.a. vanavond zijn in volle gang. Het decor staat, of beter gezegd, hangt ;-) en de technici zijn druk bezig met het inhangen van de ...

Oma Miep heeft GROOT NIEUWS! | #Furtjuh Live on Tour YouTuber Furtjuh brengt dit jaar zijn YouTube-kanaal live naar het theater! In deze spannende voorstelling wordt zijn YouTube-kanaal verwijderd. De ergste nachtmerrie van elke YouTuber. Benieuwd hoe dat afloopt? Kom kijken op vrijdag 27 oktober (in de herfstvakantie) om 15.30 ...

Timeline Photos Deel twee van de fotoshoot met Bart Homburg voor de nieuwe seizoensbrochure. Zijn jullie ook zo benieuwd?

Timeline Photos Hoera, aanstaande zondagmiddag 5 maart hebben we weer een gratis toegankelijk familiefestival: het Grote Avonturenfestival! Er zijn bijna te veel gratis activiteiten om op te noemen.

Maak een avonturenanimatie op een meterslange rol papier met LSD Kunst Collectief, dans mee ...

Vanavond gezellig samen met mijn broertje een avondje uit. Eerst even lekker eten en daarna even lekker lachen. Heb er zin an. 👭🍽🍷🎭
Het Zaantheater
Pros
Good program and friendly staff.
Cons
Seats in the small hall are somewhat cramped. Small number of wheelchair spaces.