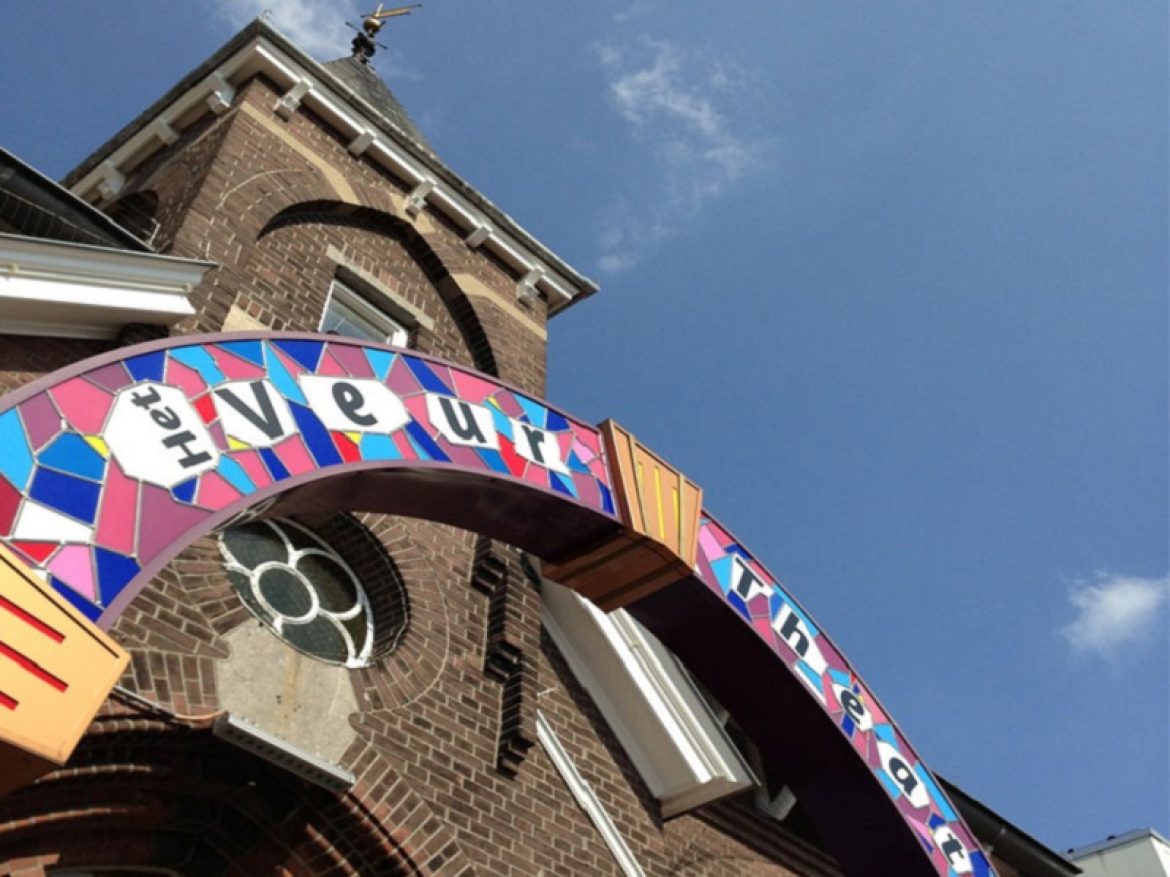 Het Veur Theater
In Leidschendam you can find this beautiful theater in a church building with many nice children's shows and movies. The Veur Theatre is located in the premises of the former Theater Camuz. This theater foundation felt forced out of the building by municipal cuts. Together with the municipality and with the support of the theater management it was decided to continue to run the theater entirely without subsidy in the characteristic church. The Veur Theatre focuses on emerging talent, but also famous actors find their way in this magnificent theater. In addition, there is plenty of room for youth performances and films. The film program is previously announced once a month, so that newer quality films are rotated. But the program also has a few established names.
Every human being has the need to experience for shorter or longer time something that is not commonplace. Just to relax or unusual to break persistent patterns. The Veur Theatre, partly located in the emblematic church wants as attractive and welcoming independent theater is a right place for this need. Everyone is welcome. Due to the small size of the theater you always have a good place and you can watch performances closer than in big club venues. The theater offers rather diverse annual program with well-known and lesser-known performers. It is a really cozy and intimate theater. It is (partly) run by volunteers that run this theater in a very professional manner. The prices are at a very acceptable level and you get a lot for it!
The Veur Theater, in addition to the regular shows, is for many years "the place" where people come to have parties and celebrations! For a "formal cocktail", but also for a fully catered family party with snacks, drinks and possibly entertainment in a cozy and unique setting with a friendly staff. Only the location of the theater is very special. The foyer of the Theatre Veur is very unique. The special architecture of the former church is still visible, along with the chosen color combination it creates an airy, bright yet intimate homely atmosphere. Both the lower and upper halls with bamboo flooring is multifunctional and used for receptions, social gatherings, high tea, parties and meeting locations. The Veur Theatre has officially designated as a wedding venue. If you want to get married in an atmospheric environment, Het Veur Theater is a perfect place for this. Het Veur Theater team specializes in creating special experiences.
For more information go here: www.hetveurtheater.nl
Bijgeboekt! Ellen ten Damme live! (try-out)
Samen met haar toetsenist nodigt Ellen u uit om toe te treden tot haar hofhouding. Haar nieuwe show is een meertalig bal demasqué vol verrassende en herkenbare songs. Meer info: https://t.co/62AUPpASpW Kaartverkoop start 26 ...

𝗔𝗮𝗱𝗷𝗲 𝗣𝗶𝗿𝗮𝗮𝘁𝗷𝗲 𝘃𝗶𝗲𝗿𝘁 𝗳𝗲𝗲𝘀𝘁 𝗶𝗻 𝗛𝗲𝘁 𝗩𝗲𝘂𝗿 𝗧𝗵𝗲𝗮𝘁𝗲𝗿! (4+)
Samen met de kinderen gaat Ton Meijer op reis met Aadje en alle andere piraten aan boord. Je leert ze allemaal kennen. Meer info en kaarten: https://t.co/3M3AYOQChB https://t.co/YxhJAeHIFV

Wie komt ons gezellige, jonge en enthousiaste horecateam versterken bij borrels, feesten, pubquizzen en meer? Makkelijk in te passen naast jouw studie! Bezoek https://t.co/gf4TGduyrS

Eindelijk! De eerste voorstelling waar wij weer een volle zaal mogen ontvangen is het theaterconcert van flamencogitarist Johan Frauenfelder. Bij de naborrel zorgen wij dat u, met de muziek nog in de oren, kunt napraten onder het genot van een ...

Na bijna 15 jaar toeren met "De Meiden van LOS", gaat Femke Vernij in haar muzikale cabaretvoorstelling OP VOLLE KRACHT vrijdag 25 februari de strijd aan met de grillen van Moeder Aarde. Kaarten via https://t.co/8bYq0rQsC3 https://t.co/pJEILOjdsy

Johan Frauenfelder behoort tot de bekendste flamencogitaristen van Nederland. Zondag 20 februari staat hij met "Zij" in ons theater. Een unieke combinatie van hoog niveau flamencogitaarspel en persoonlijke serieuze en vrolijke teksten. Meer info: https://t.co/bTONKCVynd https://t.co/vNhPKytprM

@ariekoomen We hebben weer heerlijk gelachen en het vloog voorbij inderdaad! Dank!

Morgen worden div. theaters in heel NL eenmalig omgebouwd tot kapsalon. Doordat o.a. onze zaal al in gebruik is (educatie) en benodigde medewerkers elders werken, kunnen wij helaas om praktische redenen niet open als kapsalon. Wij ondersteunen deze ludieke actie ...

Winnaar publieksprijs van cameretten Tobi Kooiman is cabaretier, stand-up comedian, wiskundige, stoïcijn en vrijdag bij ons te zien. Kaarten à €16,50 incl. drankje zijn te bestellen via https://t.co/sfq2IzZITl https://t.co/MSp2bwOjTW

'Vlamousse roeit dapper dwars tegen de stroom in en zet het publieke debat op hilarische wijze op scherp' - De Telegraaf. Vlamousse is morgenavond bij ons te zien. Kaartjes à €16,50 incl. drankje zijn te bestellen via https://t.co/ToDlaDihO8 https://t.co/OSzXusnBaW

Vanavond is Hors Normes te zien van de makers van Intouchables. €10 incl drankje https://t.co/g0SUja1K4y De film vertelt het bijzondere verhaal van twee goede vrienden die zich met hart en ziel inzetten voor autistische kinderen die zonder hen geen plek ...

@thijskemperink is een rasechte verhalenverteller, geboren en getogen Tukker, en maakte met zijn laatste programma ook naam in de rest van NL. Volgende week zat staat hij met "Eerlijk duurt het kortst!" in ons theater.
Kaarten à €16,50 te bestellen ...

Zondag 10 okt is een super snelle, knotsgekke voorstelling Fiep Heeft Haast te zien voor 4+ over druk druk druk zijn, het verkeer, van A naar Beter willen en… tijd nemen om iets werkelijk te zien. Met illustraties van Fiep ...

Donderdagavond weer Veur Klassiek met Klarinettrio LEA. Kegelstatt trio van Mozart, sprookjes van Schubert en meer
Lars Wouters van den Oudenweijer - klarinet, Esra Pehlivanli – altviool en Anastasia Safonova – piano. Info en kaarten via https://t.co/pdHbWWNYDt https://t.co/9cVa26t8x0

21 okt vertonen wij Hors normes. De film vertelt het bijzondere verhaal van twee goede vrienden die zich met hart en ziel inzetten voor autistische kinderen die zonder hen geen plek hebben in de maatschappij. De ontwapenende kinderen winnen meteen ...

Janneke de Bijl observeert er a.s. vrijdag op los. Ze hoeft maar om zich heen of in de spiegel te kijken, en de absurditeit van de worstelende mens dient zich alweer aan. (Het filmpje is een trailer van haar vorige ...
Het Veur Theater
Pros
Theater with great atmosphere and nice staff.