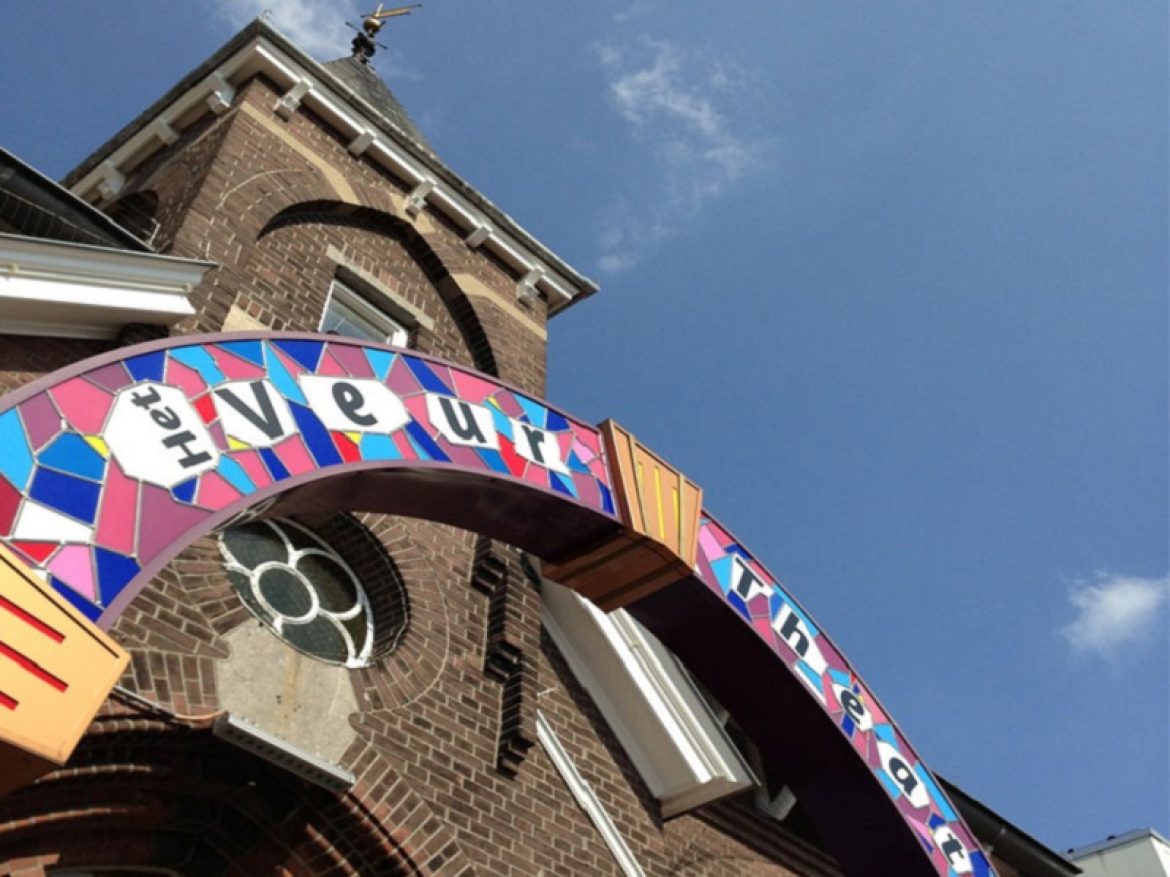 Het Veur Theater
In Leidschendam you can find this beautiful theater in a church building with many nice children's shows and movies. The Veur Theatre is located in the premises of the former Theater Camuz. This theater foundation felt forced out of the building by municipal cuts. Together with the municipality and with the support of the theater management it was decided to continue to run the theater entirely without subsidy in the characteristic church. The Veur Theatre focuses on emerging talent, but also famous actors find their way in this magnificent theater. In addition, there is plenty of room for youth performances and films. The film program is previously announced once a month, so that newer quality films are rotated. But the program also has a few established names.
Every human being has the need to experience for shorter or longer time something that is not commonplace. Just to relax or unusual to break persistent patterns. The Veur Theatre, partly located in the emblematic church wants as attractive and welcoming independent theater is a right place for this need. Everyone is welcome. Due to the small size of the theater you always have a good place and you can watch performances closer than in big club venues. The theater offers rather diverse annual program with well-known and lesser-known performers. It is a really cozy and intimate theater. It is (partly) run by volunteers that run this theater in a very professional manner. The prices are at a very acceptable level and you get a lot for it!
The Veur Theater, in addition to the regular shows, is for many years "the place" where people come to have parties and celebrations! For a "formal cocktail", but also for a fully catered family party with snacks, drinks and possibly entertainment in a cozy and unique setting with a friendly staff. Only the location of the theater is very special. The foyer of the Theatre Veur is very unique. The special architecture of the former church is still visible, along with the chosen color combination it creates an airy, bright yet intimate homely atmosphere. Both the lower and upper halls with bamboo flooring is multifunctional and used for receptions, social gatherings, high tea, parties and meeting locations. The Veur Theatre has officially designated as a wedding venue. If you want to get married in an atmospheric environment, Het Veur Theater is a perfect place for this. Het Veur Theater team specializes in creating special experiences.
For more information go here: www.hetveurtheater.nl
De film voor 19 jan is bekend! Onze filmbezoekers kozen voor "Ticket to Paradise" met George Clooney en Julia Roberts. Een romantische komedie over tweede kansen die verrassend kunnen uitpakken.
Deze film is voor slechts €10,50 incl. pauzedrankje te zien. ...

"Over de doden niets dan goeds!" zegt Erwin Nyhoff die zondag 15 jan de overleden legendes van de popmuziek zal eren. Gewapend met zijn gitaar en fantastische stem zal Erwin op eigen pure en onnavolgbare wijze de schitterende songs vertolken. ...

Aanstaande woensdag staat de band PANGEA in ons theater met Alexander Broussard en Mo Ali die tijdens de opnames van het TV programma "The Tribute: Battle of the Bands" een muzikale vriendschap hebben gesloten.
Kaarten: https://t.co/IO9vb52AaM https://t.co/XgPGcMhh6d

𝐈𝐭'𝐬 𝐛𝐞𝐠𝐢𝐧𝐧𝐢𝐧𝐠 𝐭𝐨 𝐥𝐨𝐨𝐤 𝐚 𝐥𝐨𝐭 𝐥𝐢𝐤𝐞 𝐂𝐡𝐫𝐢𝐬𝐭𝐦𝐚𝐬!
Musicalacteurs Esmée Dekker en Yoran de Bont zorgen 23 december voor de perfecte start van je feestdagen. Ook met driegangen kerstdiner mogelijk!
https://t.co/G3gpuahSV0 https://t.co/afe23oyqCa

De film voor december is bekend en dit is de Kerstfilm "Last Christmas" geworden.
"𝙒𝙝𝙤 𝙙𝙤𝙚𝙨𝙣'𝙩 𝙝𝙖𝙫𝙚 𝙖 𝙡𝙞𝙩𝙩𝙡𝙚 𝘾𝙝𝙧𝙞𝙨𝙩𝙢𝙖𝙨 𝙗𝙖𝙜𝙜𝙖𝙜𝙚?"
Te zien op don 22 dec om 20:00 uur. Kaarten vanaf €10,50 zijn te bestellen via https://t.co/rrZ8BJelnz https://t.co/j2EqCYPH8A

Voor de negende keer (!) zijn ze 10 december terug! The Raspers!
Heeft u al kaarten? Het is bijna vol! Boek ze snel: https://t.co/SpZHQBXv1p

Tijdens deze avond zal een deel van de tribune ingeschoven worden zodat u kunt kiezen of ...

Zin om weer eens ouderwets te lachen vrijdag met Op Sterk Water? Vier vrijdag alvast Kerst met dé toonaangevende en grappigste ImproCabaretgroep van Nederland. Bezoek voor meer info: https://t.co/ZvR5XHgcv2 https://t.co/ANfmWMIms2

Zin om 3 try-outende cabaretiers of comedians te komen bekijken volgende week donderdag? Voordat het grote publiek ze ontdekt heeft, brengt TRYO deze cabaretiers naar het theater. Iedere TRYO is anders, elke show een wisselende line-up met nieuw talent. https://t.co/WvK16omb5i ...

Er zijn (op dit moment) nog slechts 5 kaarten voor Beperkt Houdbaar a.s. zat! Met Andries Tunru (finalist De Slimste Mens en winnaar Persoonlijkheidsprijs van Cameretten) en Stefan Hendrikx (winnaar Leids Cabaret Festival '22. Boek snel via deze link: https://t.co/u4G6sscUdd ...

Dit jaar vindt het vierde Leidschendamse Walking Whisky Dinner plaats op 22 november. Dit unieke evenement wordt georganiseerd door Het Veur Theater en Drankenspeciaalzaak Peet. Voorgaande edities waren steevast uitverkocht, dus koop snel jouw kaarten via https://t.co/bzs9SWfTxG https://t.co/jZ1n3jUHCd

Neut studeerde af aan de Koningstheateracademie , won in 2014 de juryprijs van het Griffioen Zuidplein Cabaretfestival en in 2015 de jury- én publieksprijs van Cameretten. Nu is ze met haar 3e programma terug. Info en kaarten https://t.co/kX2tcYtt3k https://t.co/LSC2JFpoZr

Cystine Carreon begon in Miss Saigon. Aansluitend was ze te zien in Fame, A Chorus Line, Rocky over the Rainbow, Copacabana, Dolfje Weerwolfje, Grease en nog veel meer. Nu staat ze bij ons in het theater met haar eigen one-woman ...

De inhoud van Kim Schuddeboom haar eerste stand-up show is ongefilterd en voor sommige mensen absoluut niet herkenbaar, maar dat geeft niet. Uit ervaring weet Kim dat je prima kunt functioneren in een omgeving waar je de mensen niet begrijpt.
...

A.s. zaterdag: @martijnkardol - De Situatie (cabaret)
"De situatie is echt een lekker programma geworden van deze verhalenverteller die met elke voorstelling beter en ook prikkelender wordt." (Theaterkrant, keuze van de criticus). Meer info en kaarten: https://t.co/QYVhxJIghN https://t.co/Bl8YKiHpim

De prachtige prenten uit de boeken "Hé, wie zit er op de wc?" en "Retteketet, we gaan nog niet naar bed" komen tot leven in een fysieke theatervoorstelling vol verrassingen en humor. Extra voorstelling op 18 sep om 14:30 uur. ...

Zijn stinkende best is een cabaretprogramma waarin Jochen Otten (o.a. Comedytrain, Sluipschutters) de meest hilarische en treffende stukken uit zijn oeuvre verzameld heeft. Te zien op 15 september. Meer info en kaarten: https://t.co/gFFtczaNxi https://t.co/P9wjxmDYws
Het Veur Theater
Pros
Theater with great atmosphere and nice staff.